Why Visit Xianggong Mountain?
Xianggong Mountain or Xianggong Hill is one of Guilin's Karst hills. However, nobody would think it special after one photographer shot from there and won the bronze prize on the 10th International Photography Exhibition, as it perfectly showed the unbelievably stunning view of Yangshuo, Li River and the best composition of natural lights and shadows. After the surprising discovery of this ideal viewing spot to see Li River and the whole Yangshuo in a totally different angle, it is changed into a magnet for numerous visitors to enjoy their Yangshuo tour in an extraordinary way.
What to Shoot/See at Xianggong Mountain
Xianggong Hill is one of the top best shooting spots in Yangshuo, Guilin, and it holds diverse surprising beauties to please your eyes and enrich your photography works.
1. Sunrise, Mists, Morning Glows, Sea Of Clouds
The most famous scene shot from Xianggong Mountain is the sunrise. With the golden and orange lights of the rising sun illuminating little by little, strings of sunshine pass through the space between mountains, rosy sunglow is dyed with richer color with golden rims, and the sky outstandingly shows its gradient of blue, purple, rosy, pink, orange, golden and yellow to update your imagination of nature's power of beauty creation. Besides, sometimes the rolling soft sea of clouds submerging the lower half part of the mountains and the mists floating in the air in front of you will make you doubt if you are standing in the heaven.
>> 6 Days Guilin In-depth Photography Tour
2. Karst Landforms
Standing on the mountain top, you will have the terrific bird's eye view of the vast grove of Guilin Karst landform mountains rising from the ground to different levels. Rolling layer by layer and fading gradually till the end of the world, the ragged mountains together present the typical Chinese ink painting to get your thumb up.
3. Li River
As it lies between Yellow Cloth Shoal and the Nine Horses Fresco Hill, on the west bank of Li River, Xianggong Hill also enjoys a cool location to admire the scenic Li River, however, the experience to see the big bend rather than to enjoy by cruising on the river is quite fresh and exciting. Furthermore, in clear days, you can feel the simple daily life of Yangshuo villagers from their pieces of farming lands, smoke from the kitchen chimney, etc., which is also fine for life photos.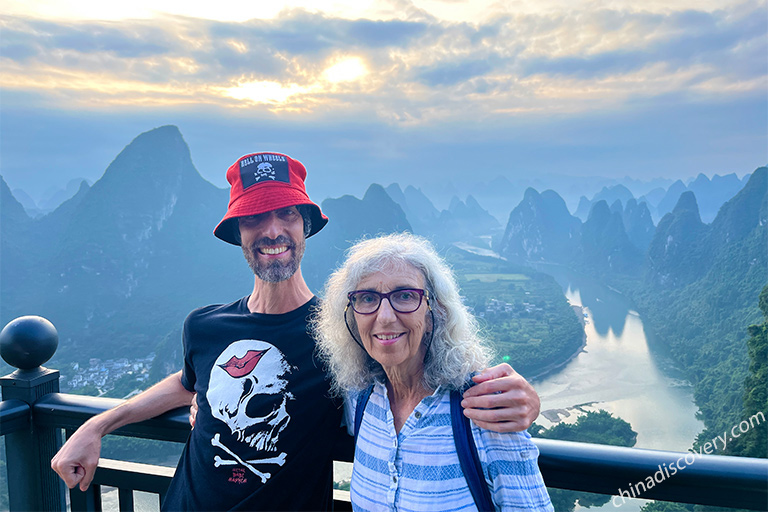 Xianggong Mountain Sunrise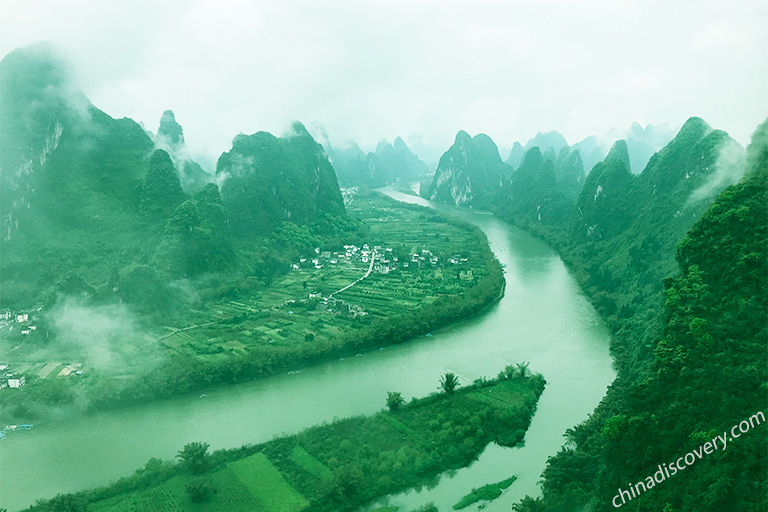 Li River Mists from Xianggong Hill
Best Time to Visit Xianggong Mountain
Travelers can visit Xianggong Hill all year round, however, the best photography time is from April to November, since clear sunny days for shooting appear more frequently, and you can appreciate sea of clouds in sunny days after rains. During a day, the best shooting time is in the early morning. Prepare your camera for the gorgeous sunrise, sunglow and shadow and outlines of karst mountains. As weather changes quite frequently at Xianggong Hill, the mists show and disappear are also charming for sip.
To shoot the sunrise, it usually needs an early get up at 05:00 in winter and 04:00 in summer.
>> Check more about Yangshuo Weather & Best Time to Go.
Location Maps & How to Get to Xianggong Mountain
Xianggong Mountain is situated within the Xianggongshan Scenic Area, Hebaoshan Village, Yangshuo, Guilin and is 28 kilometers from Yangshuo center. As there is no public transportation to the scenic area, visitors can get there only by hiring a local car or use our private transfer. To go by car, it takes about 1 hour from the West Street in Yangshuo to get to the foot of mountain, via multiple winding paths. If you go from Xingping Town, it usually needs about 1.5 hours to detour the Li River. >> Check more about Yangshuo Maps.
Recommended Hot Tours in Guilin & Yangshuo:
>> 3 Days Classic Guilin & Li River Cruise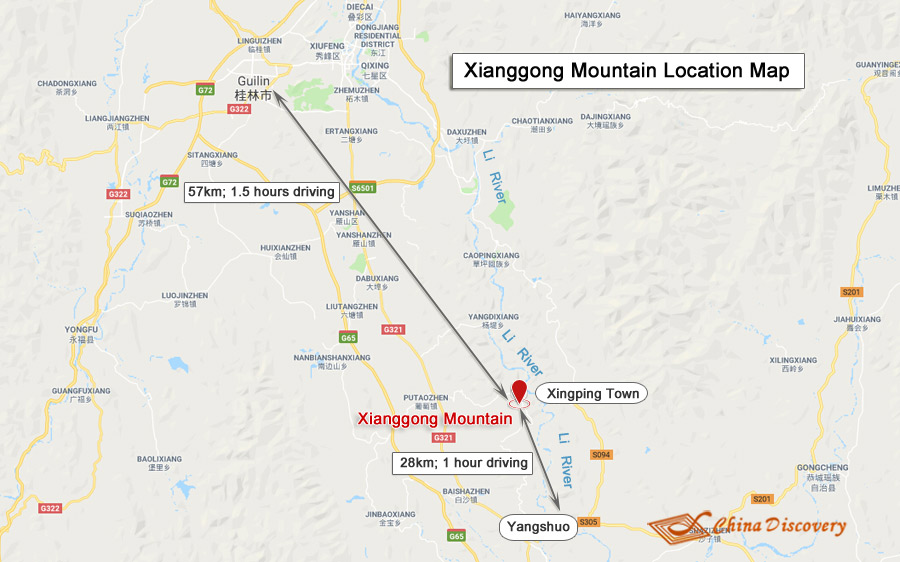 Xianggong Mountain Location Map
Xianggong Mountain Travel Tips
● Ticket
Entrance fee is 60RMB/person.
● Viewing Decks
On the mountain top, there is a viewing deck of 4 storeys. For the popularity, there will be many photographers gather very early there to shoot the sunrise, so if you are planning to shoot beautiful sceneries, it is highly recommended to get up very early to reach the decks.
● Stone Stages up to the Mountain
From the foot of Xianggong Mountain to the viewing deck for sightseeing and photographing, there is only a way paved with the stone stages, which needs about 15-20 minutes by foot.
● Take Your Torch
Although there are some road lamps on the side of the path up to the peak, you are also advised to prepare a torch if you go in early morning or leave at dusk or evening.
● Photography Tips
To get more satisfying photographs, you are suggested to prepare a tripod. Bugeye lens, wide-angle lens, medium telephoto lens, and standard lens are all suitable for your shooting. >> Check more about Yangshuo Photography.
● Accommodation
You can accommodate in Yangshuo to have more choices with better facilities, amenities and services. However, if you want to shoot the sunrise and do not want to get up very early, you can stay in the several local hostels or lodges at the foot of Xianggong Hill. But the equipment is very simple and basic with hot water, no English service.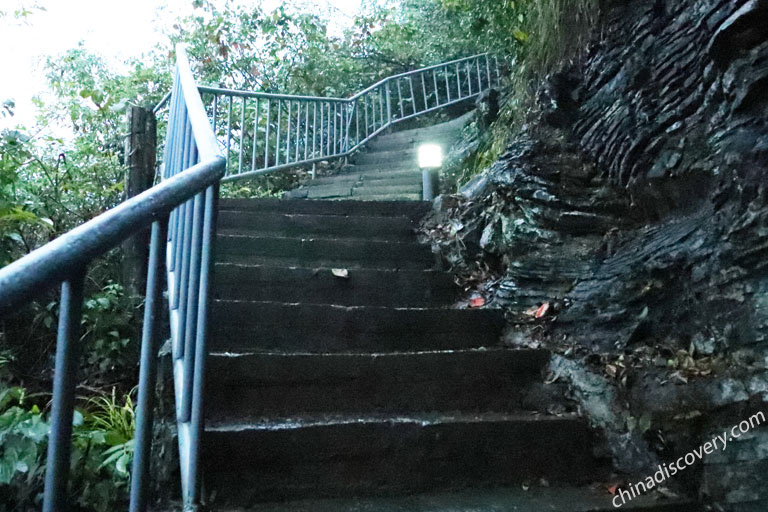 Stone Stages to Mountain Peak
Travel Xianggong Mountain with China Discovery
Are you planning a tour with Xianggong Hill but do not want to arrange the complicated transportation? Travel with us China Discovery, and our local travel guide and driver will escort you from your hotel to the scenic area with comfortable vehicle, so you can pay more attention on the highlights on the way. Furthermore, our travel expert will help you customize your own photography tour to visit more places in Yangshuo, Guilin and Longsheng, and other popular destinations in China, including Beijing, Shanghai, Xian, Hong Kong, Chengdu, Zhangjiajie, Huangshan, Yunnan, Yangtze River, Lhasa, etc. with professional and helpful suggestions. If you are interested, please feel free to tell us directly.
Top Attractions in Guilin
Extending Readings for Guilin Travel Planning
Recommended Yangshuo Tours
Top 3 Yangshuo tours chosen by most customers to explore Yangshuo in the best way. Check the detailed itinerary, or tailor your own trip now with us.
4 Days Guilin Highlights Tour (Li River, Yangshuo & Longji Terraces)

Guilin / Yangshuo / Longsheng
5 Days Best Guilin In-depth Vacation (Li River, Yangshuo & Longji Terraces)

Guilin / Longsheng / Guilin / Yangshuo
6 Days Guilin In-depth Photography Tour including Xianggong Mountain

Guilin / Longsheng / Guilin / Yangshuo / Guilin
Start planning your tailor-made holiday to China by contacting one of our specialists. Once inquired, you'll get a response within 0.5~23.5 hours.
Customize a Trip
Have a question? Get answers from our travel experts or guests
Your Question:

Your Name:

Your Email: