Where to Stay in Guangzhou - Best Guangzhou Accommodation Areas
Guangzhou as one of the top 4 cities in China is really large. So where to stay in Guangzhou during your discovery of this metropolis to savor its culture, history, food, language, and other fun? Where offers the best accommodation with convenient transportation links to those popular attractions, easy accessible shopping sites, and good prices? Check at below to find your satisfying answer!
Top Best Places to Stay in Guangzhou
For travelers and business people, you have several good options of the best areas for accommodation in Guangzhou, including Tianhe District, Yuexiu District, Haizhu District, Liwan District, around Guangzhou Baiyun Airport, Chimelong tourist area, and Pazhou exhibiting area. Check the different highlights and advantages of each one and choose the best one to suite your arrangement and likes.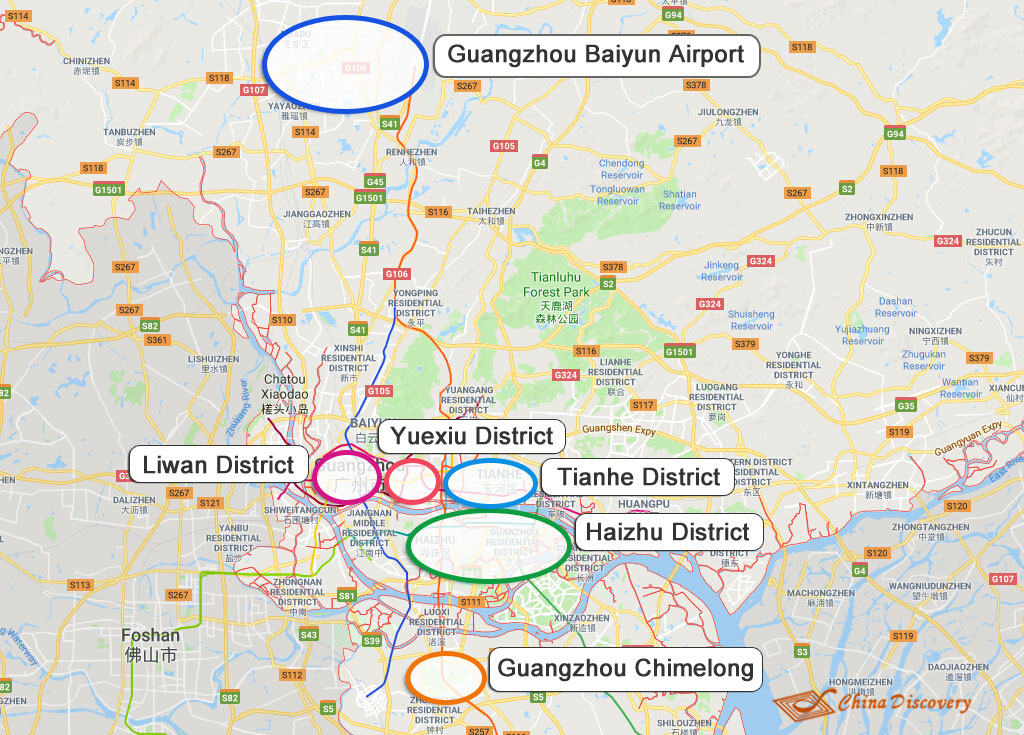 Map of Places to Stay in Guangzhou
Tianhe Commercial District - First Choice to See Modern Guangzhou
This is where you will see the modern cityscape of Guangzhou, with the uprising skyscrapers including Guangzhou IFC, CTF Finance Center, etc., at the glittering Zhujiang New Town, multiple grand shopping malls, various high end western restaurants, and convenient Guangzhou metro connection of Line 1, Line 3 and APM Line as well as BRT buses. Top popular sites like Guangzhou Opera House, Guangdong Museum, Haixinsha, Flower City Plaza, are handy within this fabulous district. Besides, Guangzhou East Railway Station is in the northern Tianhe District, where you can take Through Train directly to Hong Kong with convenience. Staying there, a wide choice of luxury 5-star hotels to budget 3-star hotels and hostels can easily be found. However, as Tianhe is the new commercial area in Guangzhou with averagely more expensive land, room rates of this area are usually a little higher than those of other areas in Guangzhou.
Recommended Hotels:
Oakwood Premier Guangzhou (5 Star)
The Ritz-Carlton, Guangzhou (5 Star)
Four Seasons Hotel (5 Star)
W Guangzhou (5 Star)
Leeden Hotel (4 Star)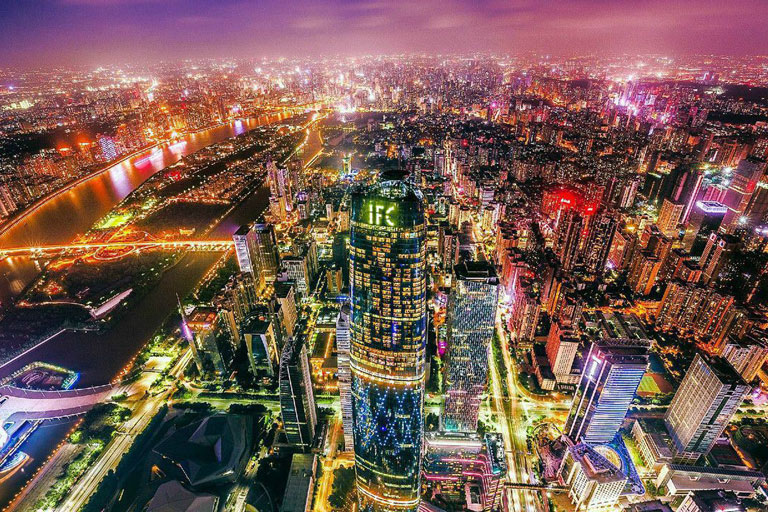 Splendid Guangzhou Tianhe District Night View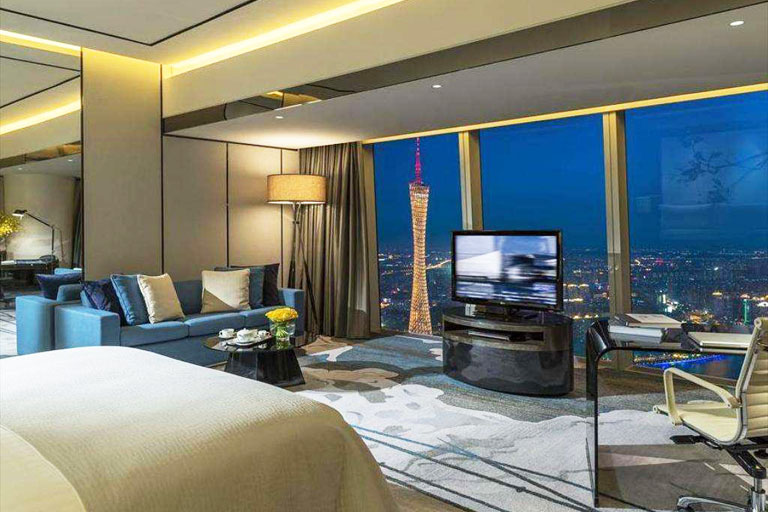 Guangzhou Four Seasons Hotel
Yuexiu District - Real Old Downtown with Most Attractions
Visitors who look for the old charm of Guangzhou usually accommodate at Yuexiu District. As the real old city of Guangzhou, here preserves many historical sites, old streets with arcades from the 19th to 20th centuries and other essences to experience. Moreover, the famous Yuexiu Park, Sun Yat-sen Memorial Hall, Temple of Six Banyan Tree, Museum of the Mausoleum of Nanyue King, Sacred Heart Cathedral Guangzhou and so forth are very easy to visit if you stay in this downtown area. Furthermore, most famous restaurants to taste Cantonese food and morning tea usually gather on the old streets there, and the famous Beijing Road shopping street are there for your leisure shopping experience in Guangzhou. A lot of hotels and hostels from luxury, comfort to low cost are abundantly offered with moderate prices. Places around Huanshi East Road, Peal Plaza, Beijing Road, Gongyuanqian, etc. are recommended with many nice accommodating selections.
Recommended Hotels:
Baiyun Hotel (5 Star)
Asia International Hotel (5 Star)
Hotel Landmark Canton (4 Star)
Euro Asia Hotel (3 Star)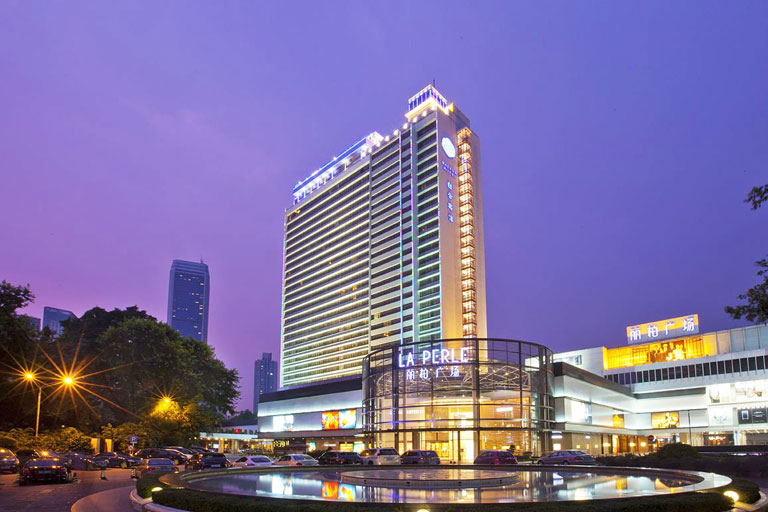 Guangzhou Baiyun Hotel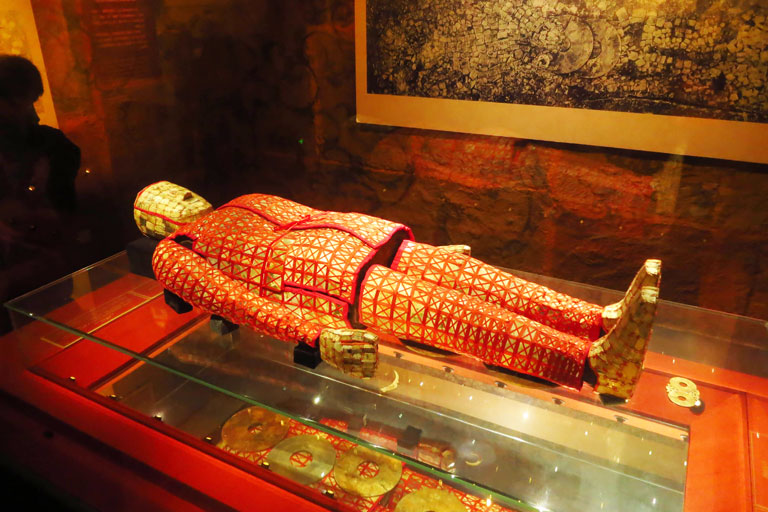 Jade Burial Suit with Silk Thread at Museum of the Mausoleum of Nanyue King
Liwan District - Budget Choices to Seek Guangzhou History
Liwan District is another part of Guangzhou old city. Visitors who are seeking for the old days there are really recommended to stay there, which is also a great way to control your budget on accommodation. Shangxiajiu Pedestrian Street lined with bustling shopping malls, stores and snack shops is just in Liwan District with wide range of hotels and hostels. Furthermore, living at the nearby Shamian Island can create some time to appreciate the international styled colonial architectures and past historical stories once happened. What' more? The iconic Chen Clan Ancestral Hall, locally featured Xiguan old houses, Liwan Lake Park are also located in Liwan District for your historical and cultural exploration.
Recommended Hotels:
White Swan Hotel (4 Star)
Holiday Inn Guangzhou Shifu (4 Star)
>> 2 Days Guangzhou Best Essence Savory Tour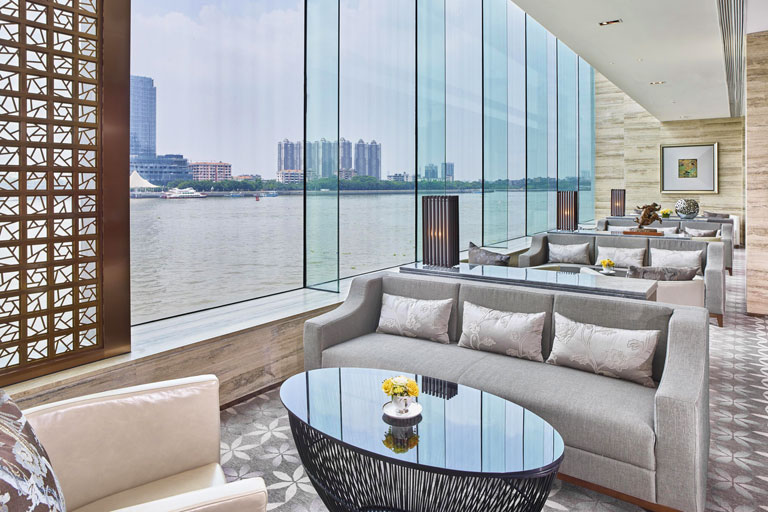 White Swan Hotel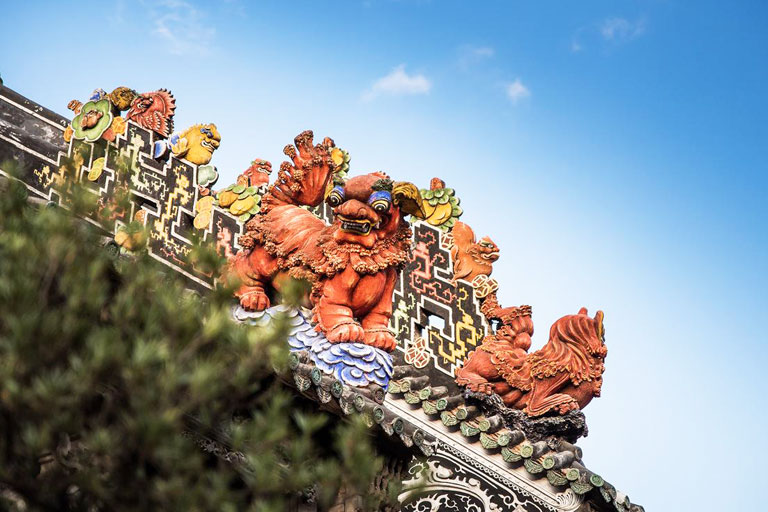 Chen Clan Ancestral Hall
Pazhou Exhibition Area & Haizhu District - Most Favored for Canton Fair
Every year, enormous groups of people visit Guangzhou for the internationally famous Canton Fair, so staying near and around Pazhou International Convention and Exhibition Center in Haizhu District in Guangzhou is the top advice. The symbolic Canton Tower also stands in Haizhu District, not very far from the exhibition center. You can find a series of global brands including Shangri-La, Intercontinental, Westin, etc.
Recommended Hotels:
Shangri-La Hotel Guangzhou (5 Star)
Langham Palace Guangzhou (5 Star)
Aloft Guangzhou University Park (3 Star)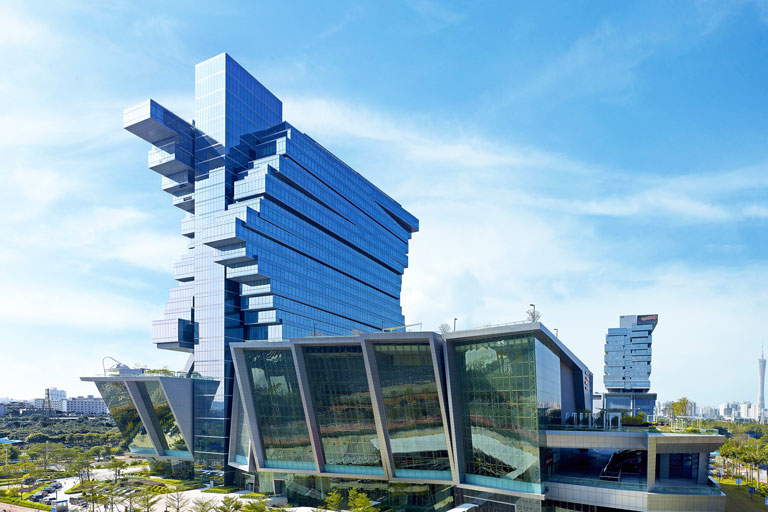 Langham Palace Guangzhou
Guangzhou Baiyun Airport - Worry-free Stay for Early Flights
If you are going to catch an early morning flight or land in Guangzhou after an early morning or long-haul flight, staying around the airport is really a good way to have a sound rest. Therefore, you do not have to worry about the long distance from the city center to miss your flight nor endure another long time car transfer after getting really exhausted from hours of flying.
Recommended Hotels:
Pullman Guangzhou Baiyun Airport (4 Star)
Crown Plaza Guangzhou Huadu (4 Star)
Hao Yin Gloria Plaza Hotel Guangzhou (3 Star)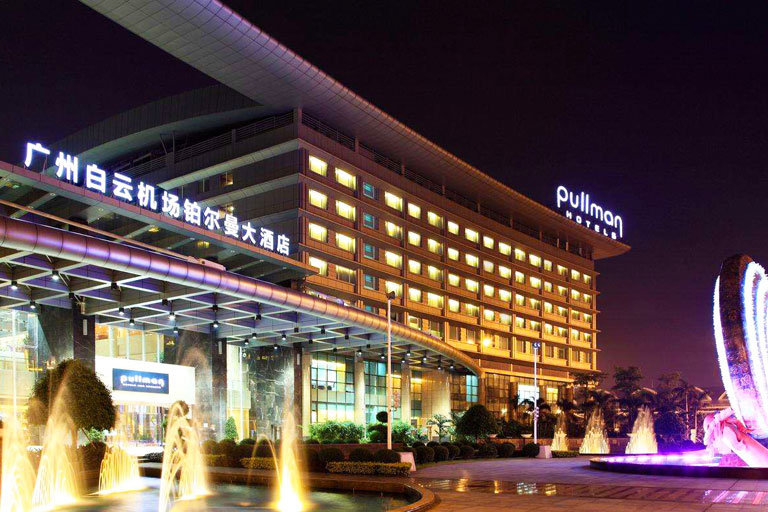 Pullman Guangzhou Baiyun Airport
Chimelong Park - Thorough Relax for Family Trip
Planning a family trip to visit Chimelong in Guangzhou? Since one full day is really far from enough to enjoy all the highlights in this wide entertainment park, why not staying overnight there to have fun to the most? After your enjoyment with the animals, shows and activities on the first trip day, get fully relaxed with your kids and continue your fun time to get more joyous laughter.
Recommended Hotels:
Chimelong Hotel (5 Star)
Chateau Star River Hotel (3 Star)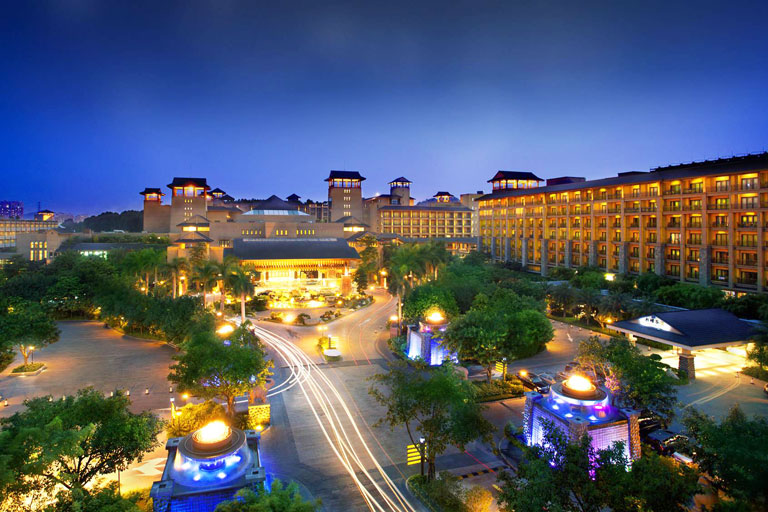 Guangzhou Chimelong Hotel
Useful Links:
Learn More about Guangzhou Luxury Hotels >>
Learn More about Guangzhou Comfortable Hotels >>
Travel with China Discovery
Traveling with China Discovery, we can help you arrange well everything about accommodation in Guangzhou according to your likes and budget, so you can worry free from that. To enjoy a relaxing and joyous trip experience, you can also choose our private transfer service for traveling in and around Guangzhou. Our professional local guide and driver will escort you from your hotel, train station, airport to all attractions with comfortable private car with speed and convenience and let you catch the highlights of every site and this city, so you can get really relaxed on the way and focus on what you are interested. Please contact us directly to tell your needs if you are interested!
How to Plan Your Guangzhou Tour
For most regular travelers to Guangzhou, they spend 2-4 days to enjoy the best highlights of the culture, history, food, architectures and development of this City of Flowers, including Chen Clan Ancestral Hall, Yuexiu Park, Canton Tower, Temple of Six Banyan Trees, Museum of The Mausoleum of The Nanyue King, dim sums, etc. You can also spend 1 more day to have fun at Chimelong Safari Park with you family. Besides, for many visitors, they also combine a trip to Guangzhou together with Hong Kong, Guilin, Macau, Guizhou, and other nearby cities like Shenzhen, Foshan, etc. to enjoy more delicious food and explore the southern China deeper!
If you are considering a personal trip to Guangzhou and other destinations in China but do not want to do the detailed planning of every transportation, hotel and connection of each attraction, you can feel free to contact our travel expert for professional advices and recommendations, and we will help you sincerely with your Guangzhou tour planning according to your interests, needs and budget!
Top Attractions in & around Guangzhou
Other Useful Travel Articles of Guangzhou
Recommended Guangzhou Tours
Top 3 Guangzhou tours chosen by most customers to explore Guangzhou in the best way. Check the detailed itinerary, or tailor your own trip now with us.
Start planning your tailor-made holiday to China by contacting one of our specialists. Once inquired, you'll get a response within 0.5~23.5 hours.
Customize a Trip
Have a question? Get answers from our travel experts or guests
Your Question:

Your Name:

Your Email: