Top 6 Things to Do in Guangzhou at Night
Guangzhou is such a flourishing, prosperous, fast developing city that travelers cannot sit still during your visit or business travel. When night falls and lights put on, many of the parts of Guangzhou come alive, presenting itself in a different and charming way. Your nightlife is going to be very "COLORFUL" and you can choose to go out for sightseeing/shopping or stay indoor to spend an either peaceful or breathtaking evening.
Here are our picks for the best choices for nightlife for night owls. Among the top 6 things to do in Guangzhou at night, taking a Pearl River cruise to see stunning views along each bank and be dazzled by the Canton Tower is chose by most travelers. Which one do you prefer? Just feel free to select your likes.
Top 1: Take Night Cruise along Pearl River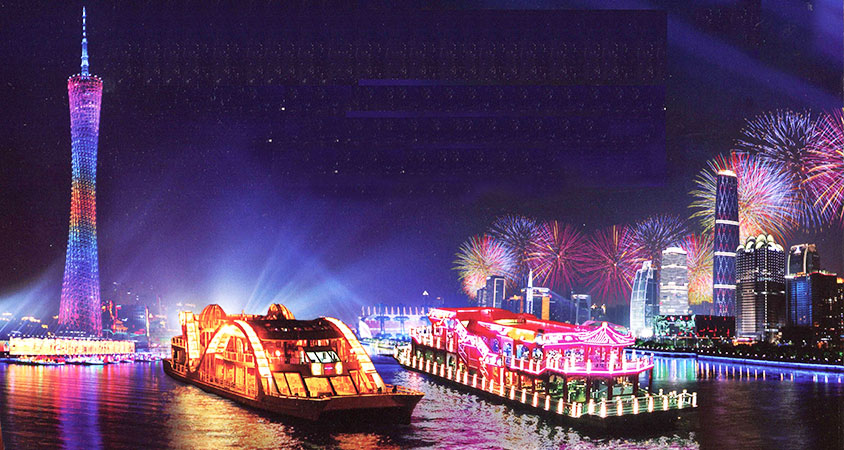 The Pearl River is the second largest river by volume (after the Yangtze River) and the third longest river in China (after the Yangtze River and the Yellow River), stretching about 2320 meters. Pearl River night cruise is listed into "Top Eight Sights of Guangzhou" and it is highly recommended for travelers who want to spend a relaxing and memorable night outdoor. Embarking on the Pearl River cruise at night, you have the great chance to enjoy fantastic night view of Guangzhou when everything lit up, witness the flourishing "city of business" in close distance, see many historical buildings along the riverside as well as learn more about Guangzhou profound history and splendid folk culture. You won't miss the landmark of Guangzhou - Canton Tower during 70-minute cruise.
Type: Cruise & Bodies of Water
Opening Hours: 18:30 - 23:00
Recommended Length of Visiting: around 70 minutes
Pier Used for Pearl River Cruise: Dashatou Pier (the largest and most frequently used pier)
Pier Detailed Address: No.466, Yanjiang East Road, Yuexiu District, Guangzhou
Routes & Highlights: Dashatou Pier → Haiyin Bridge → Haiyin Park → Xinghai Concert Hall → Guangzhou Bridge → Canton Tower → Liede Bridge → Zhujiang InBev International Beer Museum, and get back to Dashatou Pier.
Recommended Trip: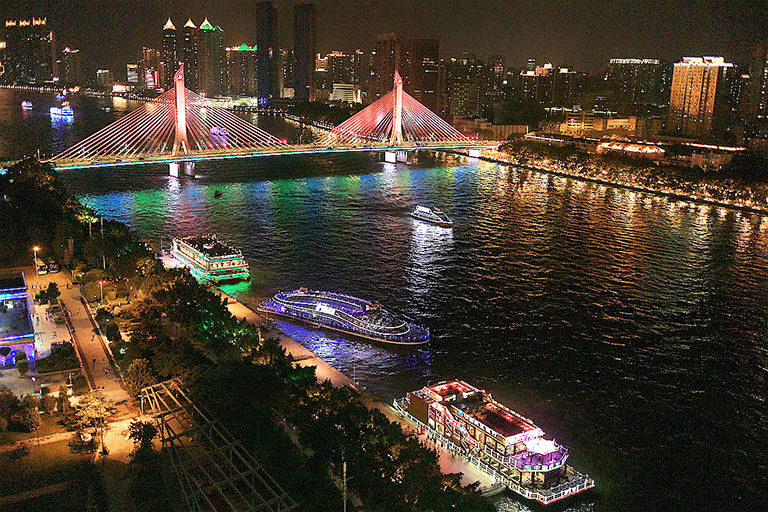 Guangzhou Dashatou Pier for Pearl River Cruise
Top 2: Ascend to the Top of Canton Tower to Appreciate Night View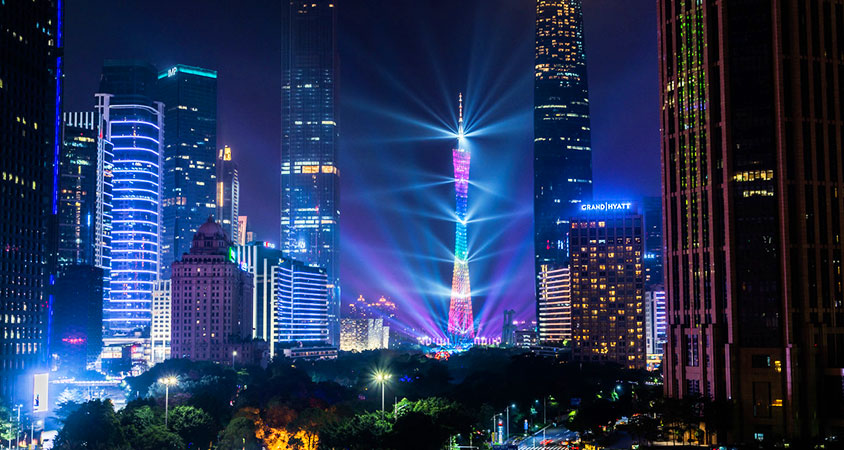 Canton Tower, also called Guangzhou TV Astronomical and Sightseeing Tower, is a 600 meters tall observation tower located on the banks of the Pearl River in Guangzhou. Till 2019, it has been the third tallest sightseeing tower in the world. There are some nicknames to describe its beauty and features, including "Slim Waist", "Twisted Firewood", and "Peak of the Ram City".
Travelers can get atop of Canton Tower before sunset around 16:30-17:00 to enjoy the beautiful sunset. After sunset, the whole Canton Tower itself is illuminated in a light display of changing colors through an integrated system of LED fixtures, ensuring it highly visible feature of the Guangzhou skyline during the night. For travelers who want to stand highly and see in different perspective, it is a good choice to ascend to 488 meters to overlook fabulous Guangzhou city and Pearl River night view in 360 degree. Furthermore, there are more thrilling activities to experience if you like.
Type: Buildings & Landmarks
Opening Hours: 17:30 - 22:30
Recommended Length of Visiting: about 1~2.5 hours
Tickets: sky wheel (CNY 180 per ticket), sky drop (CNY 100 per ticket) and more packages range from CNY 150 to CNY 398.
Highlights: 1. Take the world's highest horizontal sky wheel to take the panoramic view of Guangzhou; 2. Take the all-in-one supreme package and ascend to 488 meters to have a better view of Guangzhou and illuminating night. 3. It is a good spot to enjoy sunset.
Recommended Trip: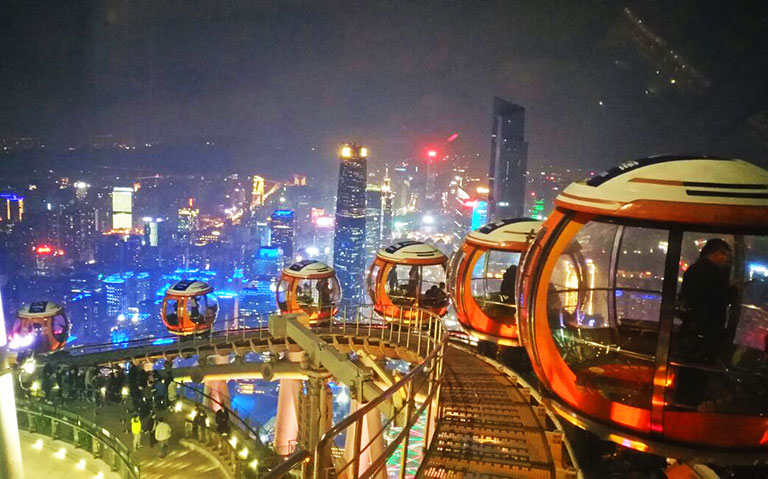 Canton Tower Sky Wheel Experience
Top 3: Have Leisure Time / Do Shopping along Beijing Road / Shangxiajiu Pedestrian Street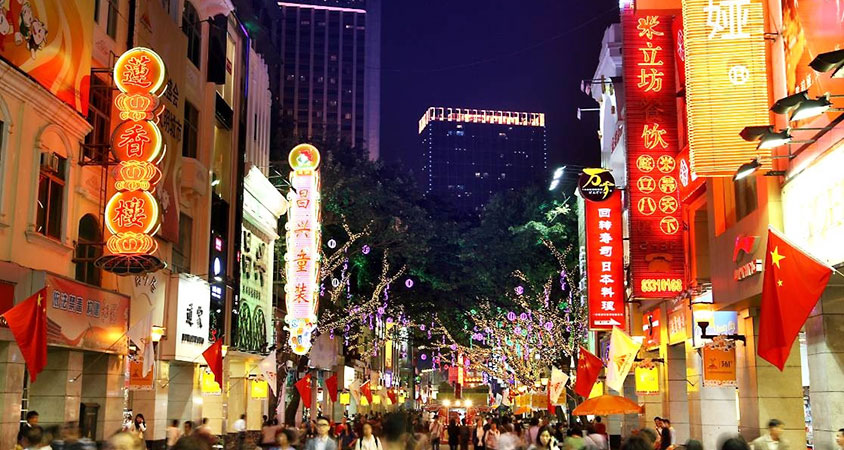 Immersing yourselves into the busy streets and crowds is a good way to feel the authentic life in a local way. When lights are lit, it is time to go out and take a nice stroll along Beijing Road or Shangxiajiu Pedestrian Street.
Beijing Road, located in the center of Guangzhou close to Haizhu Square and Pearl River, is a cultural, entertainment and commercial street. This street is very famous in Guangzhou with a history dating back to the Qing Dynasty. Now, Beijing Road is a mix of history of modernity. Along this 1450-meter street, travelers can find all kinds of shops, restaurants, clothing & fashion outlets, department stores, footwear, jewelry, leather good stores, boutique shops and large shopping malls. Wander leisurely and make a stop to try some local snacks or do some shopping along this No.1 commercial street in Guangzhou.
Another street called Shangxiajiu Pedestrian Street is also recommended to have a walk at night. Located in the old town of Xiguan (Liwan), it streches from Shangjiu Lu and Xiajiu Lu in the east to Dishifu Lu in the west, about 1200 meters along with more than 300 stops. It is characterized by various stores with cheap clothes, restaurants with delicious food which are decorated with traditional Guangzhou folk residence style. It is not only a good place to do some night shopping or kill your time at night, but also a unique commercial street to feel Lingnan folk customs.
Recommended Trip: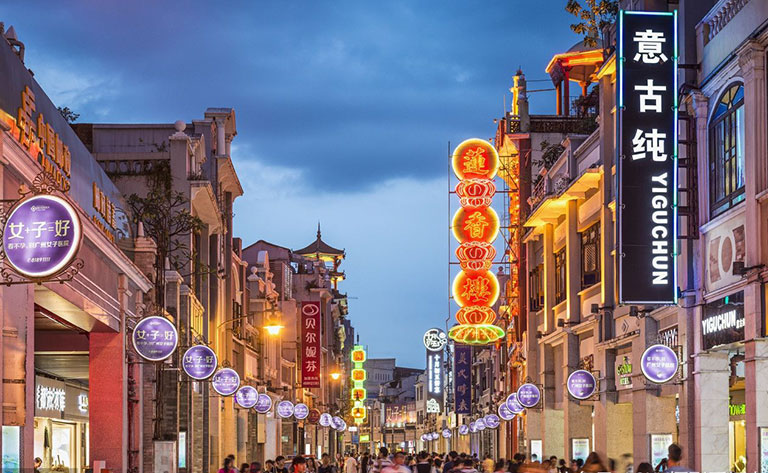 Shangxiajiu Pedestrian Street in Guangzhou
Top 4: Enjoy Excellent Chimelong International Circus Performance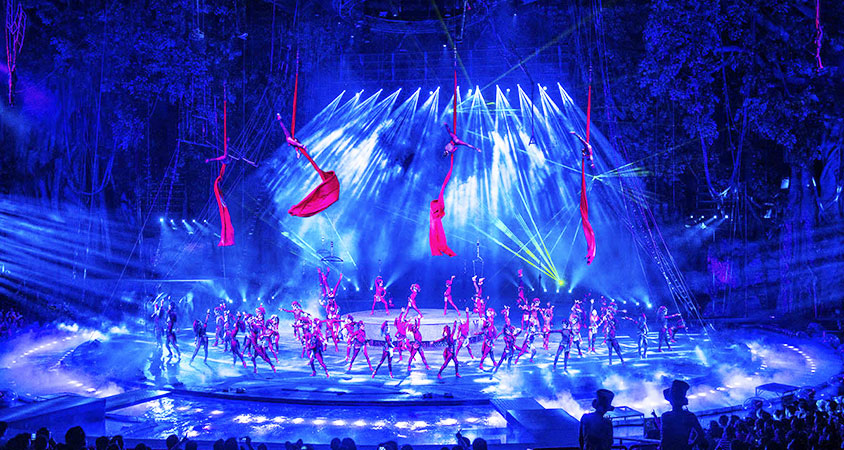 If you are traveling with kids in Guangzhou, the world-class Chimelong International Circus is a recommended activity to do at night. The night at the circus is will be a night you will not forget. Located in the Chimelong Paradise, Chimelong International Circus has the largest live-action circus stage in the world which was listed into the Guinness Book of Records. Besides, it has the largest number of performers and animals to display different kinds of fantastic and glorious performances. The large international cast of performers are from throughout North and South America, Russia and China. The entire show covers an impressive performance with amazing acrobatics, horse riders, spring-board divers and motor bike riders. There is no doubt to use "spectacular" "brilliant" "amazing" to describe the performance from the very start to the end.
Type: Shows & Theaters
Opening Hours: 17:00 - 21:00; performance time: 19:30 - 21:00
Recommended Length of Visiting: around 1.5 hours
Tickets: Normal Ticket: CNY 350 per ticket; First-class Ticket: CNY 430 per ticket; VIP Ticket: CNY 550 per ticket
Highlights: More than 15 programs are designed into the circus performance, like Fantastic Opening, Magic Envoy, Kung Fu Bears, Romance in the Sky, Funny Diving & Trampoline Show.
Address: Chimelong Paradise, Yingbin Road, Panyu Street, Guangzhou City
Travel Tips: It is a good idea to add Chimelong Safari Park into your family tour in one day.
Recommended Trip: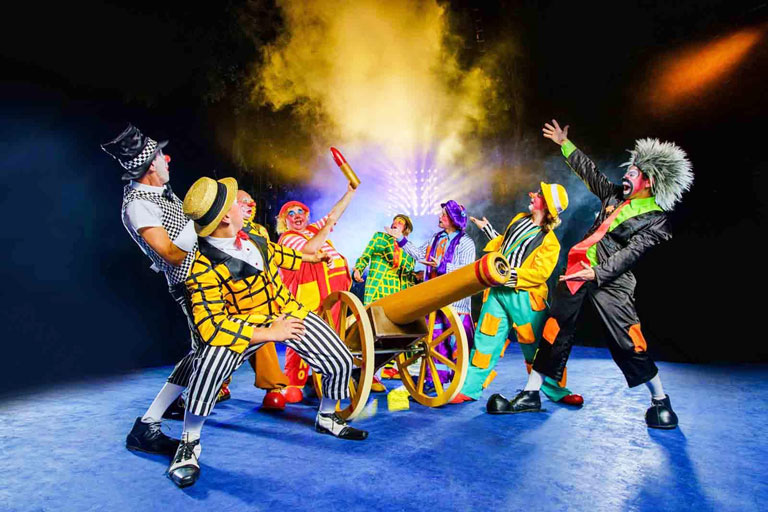 Chimelong International Circus in Guangzhou
Top 5: Appreciate Cantonese Opera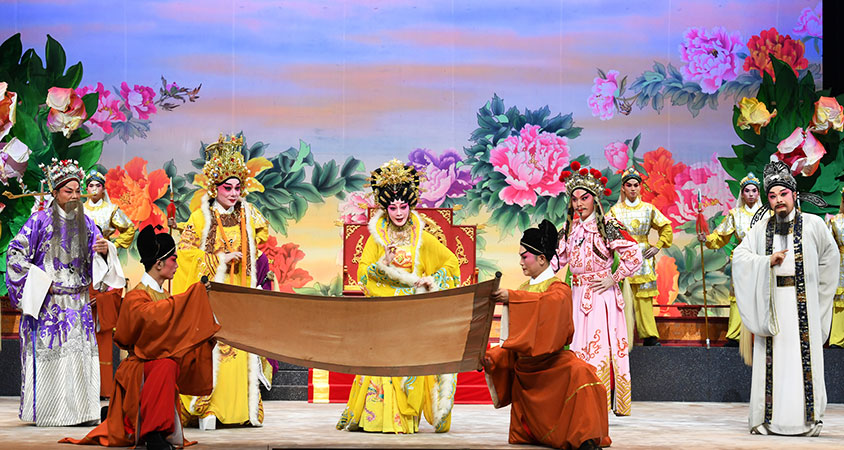 Appreciating Cantonese opera is a special way to have a better understanding about the traditional, profound Cantonese culture. Cantonese opera is one of the major categories in Chinese opera, originating in Southern China's Guangdong Province and is popular in Guangdong, Guangxi, Hong Kong and Macau. Like other Chinese opera, Cantonese opera is a traditional Chinese art form, involving music, singing, martial arts, acrobatics and acting. There are four types of roles - "Sheng", "Dan", "Jing" and "Chou". The classic performances include "the Legend of Purple Hairpin", "the Tale of the White Serpent", "Peony Pavilion", "Princess Cheung Ping", "Wuqi and the Princess", "Han Emperor Liu Bang", and more. Guangzhou Opera House is the recommended place to enjoy Cantonese opera, and if you choose to appreciate the opera in a free way, you can also go to a featured tea house.
Guangzhou Opera House Address: No.12, Guihuagang First Street, Yuexiu District, Guangzhou City
Nearby Sites: Sun Yat-sen Memorial Hall, Yuexiu Park, Beijing Road, Museum of the Mausoleum of the Nanyue King
Travel Tips: Travelers can add Cantonese opera into your classic city day tour.
Recommended Trip:
Top 6: Go for a Drink at Famous Bar Streets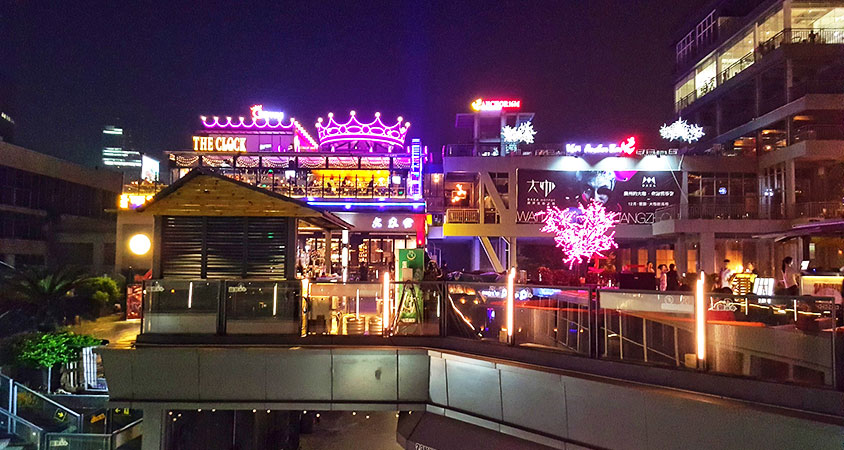 After a full day exploration in Guangzhou, you can choose another way to spend a night with your partners. Maybe go for a drink at a bar to relax and see what local young people usually do. In Guangzhou, there are four famous bar streets called - Bar Street at Paxing, Bar Street at Yanjiang Road, Bar Street at Huanshi Road, as well as Bar Street at Bai E' Tan Street.
Bar Street at Paxing: Located close to the Zhujiang Beer Factory, this street offers the chance to enjoy different kinds of art exhibitions. Besides, you can feel the beer culture by visiting the Zhujiang InBev International Beer Museum. Have a cup of drink, feel the gentle breeze, try some snacks...the night will be memorable, romantic and peaceful.
Bar Street at Yanjiang Road: With featured buildings and architectures, this bar street attracts many travelers for a walk. When night falls, the street become charming and attractive. Sit and order a drink, and enjoy your time!
Bar Street at Huanshi Road: It is located in the typical international commercial street gathering many foreigners and expats. The distinctive feature of this bar street is that almost all bars are separated blocks of garden villas.
Bar Street at Bai E' Tan Street: It is the only street under Guangzhou government's plan which is close to Fangcun (芳村站) of metro line 1 with convenient transportation. Designed in European style, different kinds of lights, it is very harmonious. "The True Color Club" is located here and you can go here.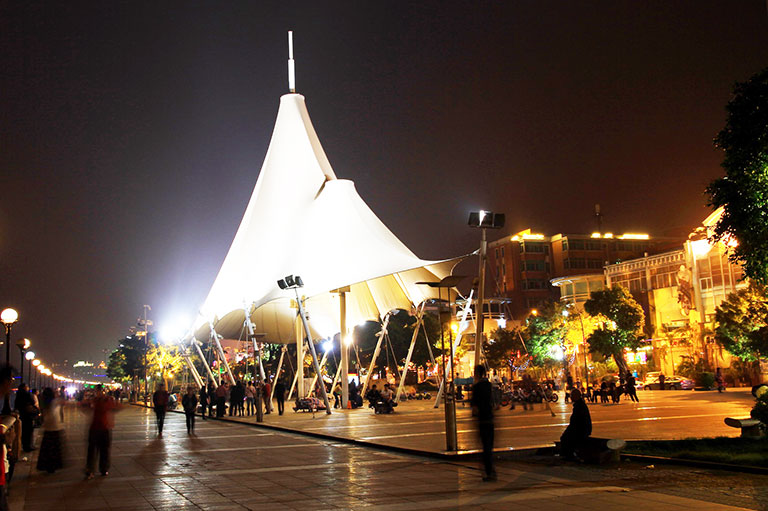 Bar Street at Bai E' Tan
How to Plan your Guangzhou Tour?
The above top 6 things to do in Guangzhou at night is a good way to enrich your nightlife in Canton. While, do you know clearly what to do during the daytime? To explore in a classic and unique way, you are advised to see different types of sites, including Museum of the Mausoleum of the Nanyue King, Temple of the Six Banyan Trees, Chen Clan Ancestral Hall, Sun Yat-sen Memorial Hall, Canton Tower and Yuexiu Park; if you want more thrilling challenge, you can head to Chimelong Safari Park, Chimelong Water Park to experience something breathtaking.
Usually, spending 2-3 days is the most suitable length in Guangzhou and then you can move towards to Hong Kong, Shenzhen, Macau and Guilin and more destinations in China. Discover with China Discovery now!
Top Attractions in & around Guangzhou
Other Useful Travel Articles of Guangzhou
Recommended Tours
Top 3 tours chosen by most customers to explore in the best way. Check the detailed itinerary, or tailor your own trip now with us.
Start planning your tailor-made holiday to China by contacting one of our specialists. Once inquired, you'll get a response within 0.5~23.5 hours.
Customize a Trip
Have a question? Get answers from our travel experts or guests
Your Question:

Your Name:

Your Email: