Where to Stay in Zhangye| Recommended Zhangye Hotels 2023/2024
Some travelers may stay 1 or 2 nights in Zhangye to visit the amazing Danxia Lanform Geopark and else attractions. One important thing you should be aware that, due to the influence of geographic environment and economy, the overall accommodation condition and choice in Northwestern China is far less than that in Beijing, Shanghai and those developed cities. And Zhangye doesn't have same accommodation level as the capital city - Lanzhou. However, Zhangye has many starred mid-range hotels, comfortable, clean and basically could cover your quick trip. Meanwhile, there are also cheap guest house, hostels and interesting local accommodation for your choice.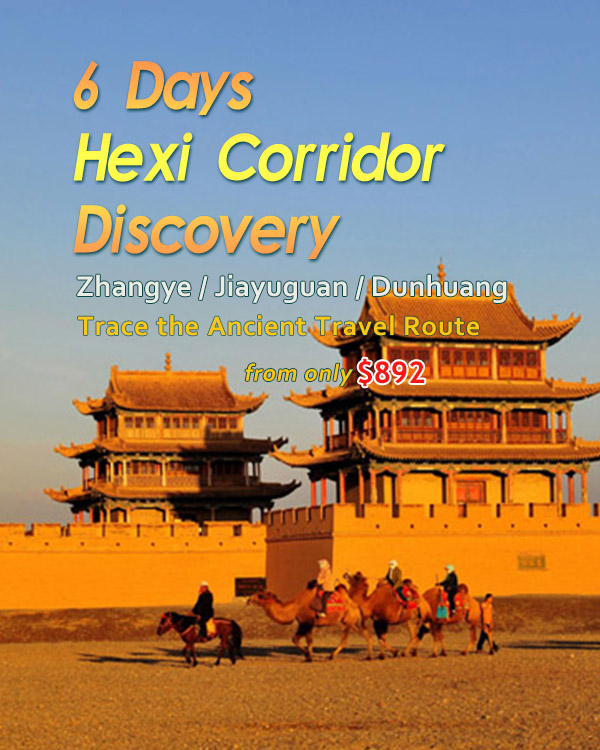 Two Main Places and Areas to Stay in Zhangye
Zhangye is relatively a small prefecture-level city in Gansu Province with moderate accommodation. Tourists usually choose two places to stay in Zhangye: hotels near the Zhangye Danxia Landform Geopark and hotels in Zhengye City center. It is mainly determined by your travel itinerary and personal habit. And, some trippers book hotels near the Zhangye West Railway Station or Zhangye Railway Station to catch trains to further destinations for convenience.
Tips: It's suggested to visit Mati Temple (Matisi) in the daytime and return to downtown for accommodation, because there is not much choice around the temple.
Check our recommended accommodation guide one by one to better plan your Zhangye Danxia Tour.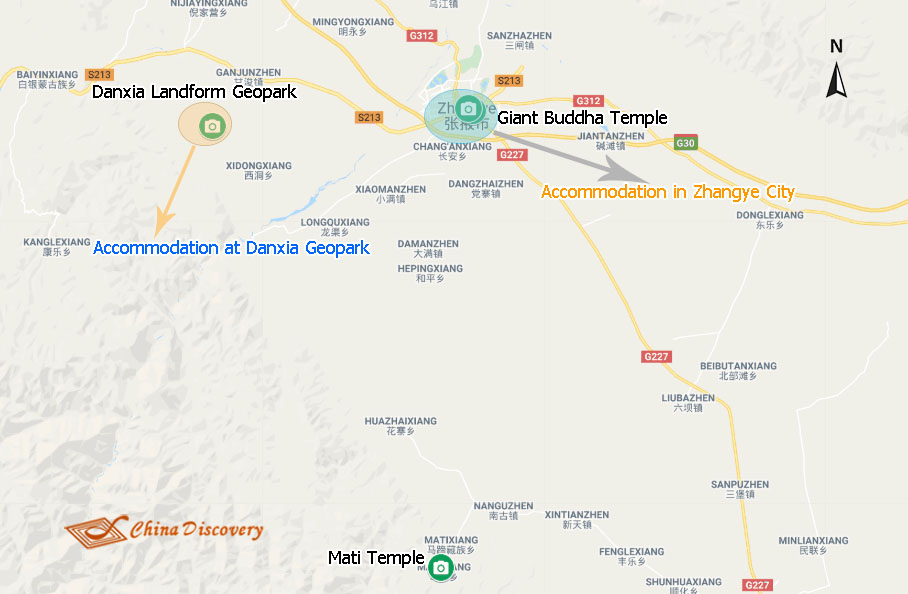 Map of Two Major Accommodation Areas in Zhangye
A majority of tourists prefer to stay in downtown Zhangye, because there has more accommodation and shopping choices, more attractions and the most convenient transportation (train stations) leaving from Zhangye to Jiayuguan, Dunhuang and Urumqi. To get around conveniently, it's popular to choose hotels near attractions in city center, such as hotels near the Bell & Drum Tower, nearby the Giant Buddha Temple and close to Zhangye West Railway Station and Zhangye Railway Station.
Top Attractions:
Bell & Drum Tower, Giant Buddha Temple (Dafo Temple), Wooden Pagoda Temple (Muta Temple)
Recommended Accommodations:
1. Danxia Business Hotel 张掖丹霞大酒店 (4 Star)
Location: downtown Zhangye, about 38 km, 1 hour'drive to Danxia Landform Geopark; about 60km, 1 hour and 20 minutes to Mati Temple by car; less than 500 meters to Giant Buddha Temple.
2. Zhangye Huachen International Hotel 张掖华辰国际大酒店(4 Star)
Location: about 1 km, 15 minutes' walking to Bell & Drum Tower; about 1.7km, 25 minutes' walk to Giant Buddha Temple; about 40km, 1 hour's drive to Danxia Landform Geopark; within 1.5 hours' to Mati Temple.
3. Zhangye Liangmao Hotel 张掖粮贸宾馆 (comfort hotel)
Location: about 40 km, 1 hour to Danxia Landform by car; less than 1.5km, 20 minutes to Giant Buddha by walking, and 500 meters to Bell & Drum Tower; about 60km, 1hour and 20 minutes to Mati Temple by car.
4. Holiday Inn Express Zhangye 张掖智选假日酒店
Location: Northwest of City Center, about 5km/15 minutes' ride to Giant Buddha Temple; nearly 40km, 1 hour's driving to Danxia Landform Geopark; 60 km, 1hour & 20 minutes to Mati Temple by car.
Recommended Zhangye Tours: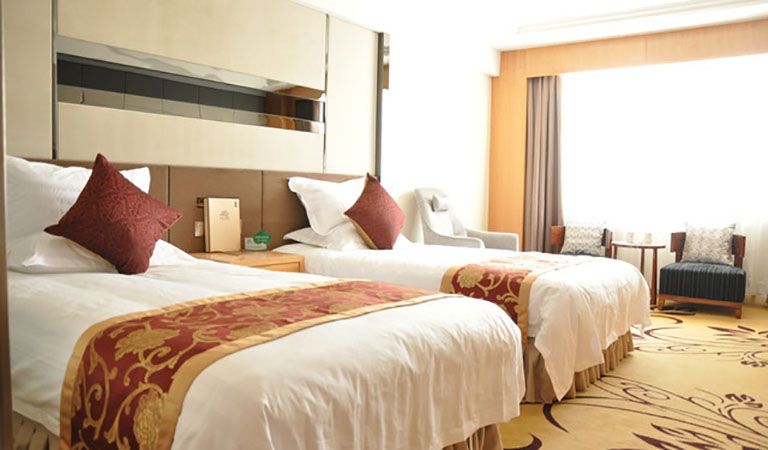 Zhangye Danxia Business Hotel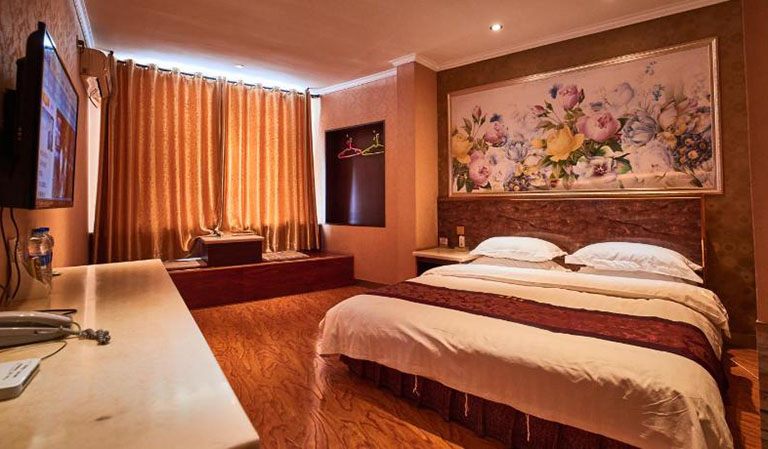 Deluxe Twin Room of Liangmao Hotel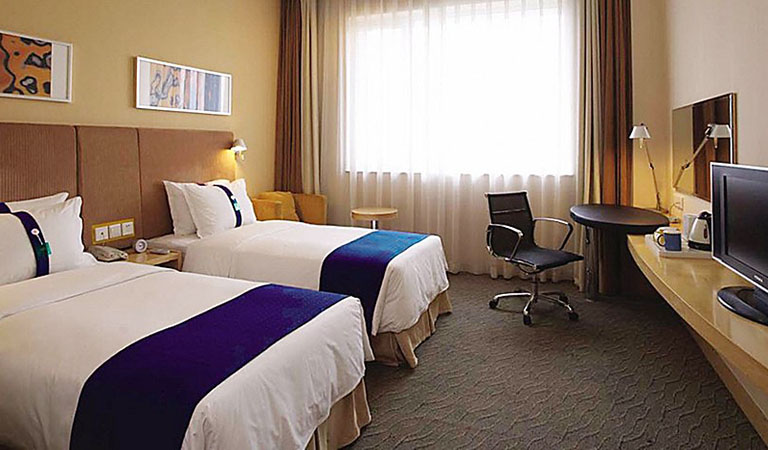 Standard Room of Zhangye Holiday Inn Express
For some adventurers, after travelling so far, it's more meaningful and interesting to view the sunrise and sunset, different landscape of Danxia "Rainbow Mountains" both. (Warm Tips: The ticket of Zhangye Danxia Geopark is valid for two days, once a day only and the second visit need extra fee of tourist sightseeing bus.) Fortunately, there are plenty of accommodation choices next to the Danxia Landform Geopark. Especially, near the West and North Entrance Gates, you can find many comfort and economy hotels and hostels (most are in West and North Gate), homestays and even the special Mongolian Yurt.
Advantages: convenient location (several hundred meters away, within a few minutes' walking and a quarter driving distance to the geopark), may have good view of the colorful Danxia mountains, rest well for watching next morning sunrise.
Optional Activities: You can take a drive for a few minutes to Danxiakou Theatre to watch a nice night show, Huidao Zhangye (回道张掖). It performs local customs and tells story of Zhangye as an essential trade and transportation point on ancient "Silk Road".
Highly Rated Hotels:
① Danxia Photography International Hotel 临泽丹霞摄影国际酒店
Location: Central Square, Qicai Town, near the North Entrance of Danxia Landform Geopark, Linze County, Zhengye, Gansu
Newly-built in 2018, Danxia Photography International Hotel is a new and nice theme hotel with more than 100 guestrooms. It only takes about 15 minutes to walk to the North Entrance Gate of Danxia Landform Geopark and around 10 minutes to drive to the West Gate for watching sunrise. Inside the hotel, there are not only clean and comfortable rooms, free WIFI, dining, nice service and facilities, but also a special Photography Museum to learn the history of photography.
② KaoShan Tent 靠山大营
Location: Near the West Gate of Danxia Landform Geopark, Nijiaying Town, Linze County, Zhangye, Gansu
The KaoShan Tent, opened in 2017, is situated back again the colorful Danxia mountains. The camping area is just 500 west of the West Entrance, and offers more than 70 tents for accommodation. It has excellent location, unique experience in a Mongolian Yurt, nice scenery around, featured night activities, hot waters, etc. Pay attention that guests need to use toilets, water and bathroom in the public area, and the tents is not available during off seasons (cold winters). If you are interested in such novel experience, contact us to arrange one for you in opening periods.
Zhangye Danxia Tianyu Yododo Inn 张掖天宇之家游多多客栈
...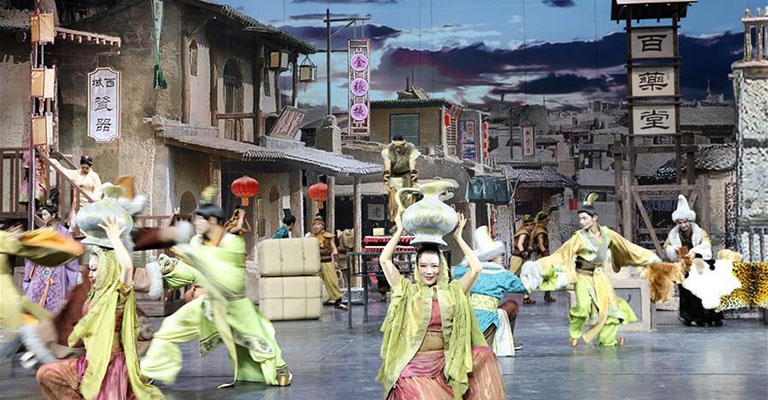 Huidao Zhangye Show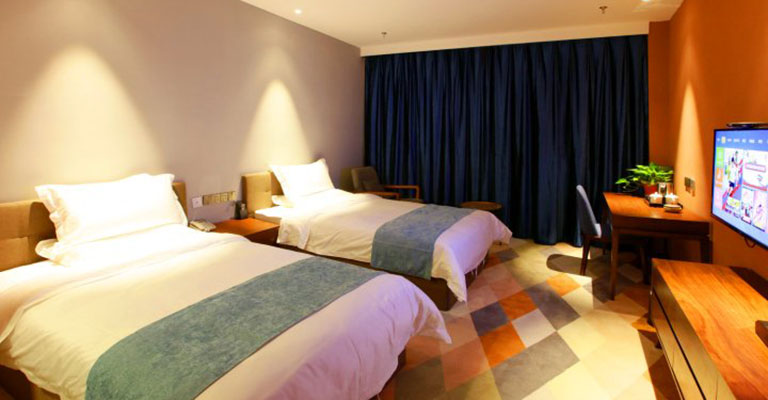 Zhangye Photography International Hotel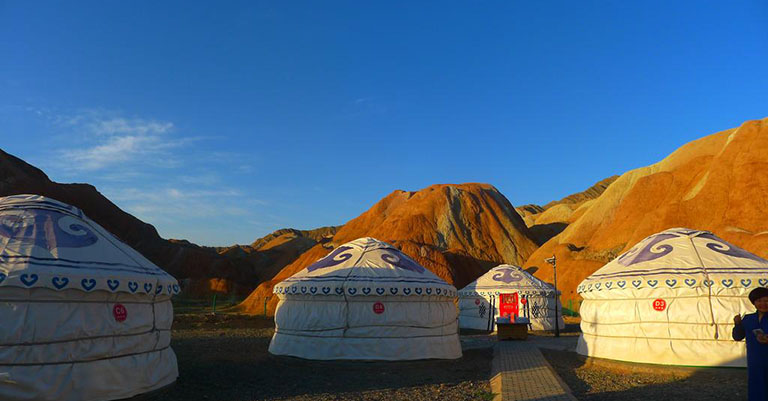 Mongolian Yurt in Kaoshan Tent
How to Plan Your Zhangye Tour
Zhangye is most suitable for 1 ~ 3 days' quick visit, touring major landmarks. The top must-see attraction is the Zhangye Danxia Landform Geopark, which presents large scale of colorful "Rainbow Mountains". For one day's trip in Zhangye, you can visit the geopark with Giant Buddha Temple or Mati Temple. If you have two days, spend some time to visit the Binggou Danxia Landform around to see imposing Danxia formations in different kinds of peculiar shapes, and tour the two significant temples both. People going to stay in Zhangye for 3 days can spare half a day to Pingshanhu Grand Canyon and leave time for departure.
Useful Links: Popular Zhangye Tours / Zhangye Travel Guide / Zhangye Attractions
Recommended Zhangye Tours:
>> 3 Days Zhangye Danxia Classic Private Tour
Our Guests Enjoyed Trip to Zhangye Danxia Landform Geopark
Travel Zhangye with China Discovery
China Discovery is a professional, reliable and experienced travel companion offering best tour services for our guests. We not only provide travel guide and tips online, but also try our best to make sure you enjoy your China travel, supporting you on Chinese Visa application, transportation, sightseeing, accommodation, dining and more details. Travel with us, we will choose best hotel according to your requirements, to ensure you travel worry-free! You may select from our popular tour packages, or contact us to customize a special one based on your own budget and itinerary.
Most Popular Zhangye Tours
Useful Zhangye Travel Guide
Zhangye to More Silk Road Destinations
Recommended Zhangye Tours
Top 3 Zhangye tours chosen by most customers to explore Zhangye in the best way. Check the detailed itinerary, or tailor your own trip now with us.
3 Days Zhangye Danxia Classic Private Tour

Zhangye / Danxia / Matisi / Zhangye
8 Days Qinghai Lake Zhangye Danxia Badain Jaran Desert Wonders Tour

Xining - Zhangye - Badain Jaran Desert
8 Days Miraculous Land Tour from Dunhuang to Zhangye Xining

Dunhuang - Jiayuguan - Zhangye - Xining
Start planning your tailor-made holiday to China by contacting one of our specialists. Once inquired, you'll get a response within 0.5~23.5 hours.
Customize a Trip
Have a question? Get answers from our travel experts or guests
Your Question:

Your Name:

Your Email: