Located in the northwest of Gansu and the middle of Hexi Corridor, Zhangye (literally meaning "to extend arms") was named after a Chinese old saying which goes like that "Extend the arm of the country, lead the way to Western Realm". Zhangye is a key town of the Silk Road, the major thoroughfare of New Eurasian Land Bridge and national historical and cultural city. Hei River, the second largest river running through Zhangye makes Zhangye the commodity grain base of Gansu Province. So it's not strange that Zhangye has been entitled as "Golden Zhangye" from ancient times.
Why visit Zhangye:
Picturesque Natural Landscape. Zhangye breeds vast oasis with the moistening of Hei River. There are rich natural landscapes like beautiful primitive wetland, colorful Danxia landform, wild scenery of Qilian Mountain and the glacier and towering peak of Gobi Desert. A sea of rape flowers are bloomed here and the highest number of army horse of the Asia are galloping here. Snow, iceberg, forest, grassland, lake and grit contrasting finely with each other, you can hardly tell whether this picture portraying the view of north broad desert or south poetic waterside town.
Long History. In 1954, an archaeologist found Sibatan Relics Site which belongs to the Neolithic Age. In 1984 and 1987, axe and painted pottery also made in the Neolithic Age were found in "Heishui Kingdom" Relic Sites successively. In the following years, more cultural relics were excavated. They are all taken as proof that the ancestors of Zhangye began to be engaged in primitive agricultural production and animal husbandry in about 5,000 years ago. They were also able to make clothing, pottery and bronze ware.
Bright Culture. Zhangye is dotted with multitudinous scenic spots and cultural sites. You can not only feast your eyes on ancient buildings in various styles but also experience the ethnic customs of Chinese minorities like Tibetan nationality, Hui nationality and especially Yugu nationality. Ancient people concluded as "Mountains are reflected in one lake, half of the city is covered with pagodas, the reeds and brook become one whole and ancient temples are everywhere".
Top Attractions
Zhangye owns two national natural reserves, one is the city located in the wetland which is a combination of "green mountains blue sky and clear water" and excellent for living, traveling and study. Another is natural scenery spots including national wetland protection unit, Ganquan Park, Desert Park, Hei River Village etc. The following part shows the TOP amazing attractions in Zhangye.
Situated in the north foothill of Qilian Mountain and occupying an area of 510 kilometers square, Zhangye Danxia Geopark (also known as "Rainbow Mountains") is the unique composition of Danxia Landform and colorful upland. The natural but magic beauty about this place is so surreal and peaceful that it lifts your spirits.
Matisi Temple is one famed Tibetan and Chinese Buddhist temple gathering grotto art, Buddhist culture as well as Yugu nationality folk custom. With kilometers of trails leading high ridges, it shows a wonderful viewpoint to overlook the Hexi Corridor. Mati Monastery is quite solemn and imposing and makes people acclaim as the wonder.
Dafo Temple, or the Great Buddha Temple, originally built in 1098 contains a 35m-long sleeping Buddha and surrounded by clay Arhat and murals which can dating back to Qing Dynasty. The whole Temple is divided into Main Hall, Scripture Library and Wooden Pagoda. The main Hall is one of the rare wooden structure from this time still exist today.
Binggou Danxia Geopark
10 km away from Zhangye National Geopark lies Binggou Danxia Geopark in Sunan County. Different from the former one, Binggou Danxia Geopark is known for its vividly shaped rocks and landforms rather than its color. Here, you can see many interesting rocks like camels, palace, couples, toads, etc.
Pingshanhu Grand Canyon
Located in the northeast of Zhangye, about 60 km to the downtown area, Pingshanhu Grand Canyon is a wild and primitive wonderland for hikers, geologists, and photographers. The reddish rocks are shaped variously and some visitors even compare it to Colorado Grand Canyon in US.
Muta Temple
Muta Temple, with a history dating back to the Northern Zhou Dynasty, is a 32.8 m-high tower. This octahedral tower has nine stories with decorative design in the doors and windows of each story. Climbing up to the peak of this tower, you can have a panorama view of Zhangye city standing peacefully in the front of Qilian Mountain.
Featured Activities
Photography
The rainbow mountains offers great scenery in Zhangye, which attracts lots of visitors and photographers to capture their beauty. Especially during the sunset and sunrise at Zhangye National Geopark and Binggou Danxia Geopark, you can take amazing pictures which can not find anywhere else in the world.
Zhangye Danxia Hiking
If you are a hiking lover, Zhangye is definitely a nice place for you, at which you could spend half a day hiking around different view platforms at Zhangye National Geopark to enjoy the rainbow mountains. If you would like to explore and hike more, Binggou Danxia Geopark and Pingshanhu Grand Canyon are also amazing destinations.
Hot Air Balloon Soaring
Imagine yourself getting on a Hot Air Balloon with breath-taking rainbow mountains just underneath you. Zhangye National Geopark offers some qualified tourists seasonal activities to get on a Hot Air Balloon, Glider, and even helicopter to have a overlook of the amazing scenery of Danxia Landscape.
Zhangye Sand Dance Show
Located in Zhangye Danxia Town, near Zhangye National Geopark, Danxiakou Grand Theater offers amazing sand dance show, which tells the stories about the Silk Road and its history in the Sui Dynasty with beautiful exotic costumes, lovely dance, breath-taking acrobatics. The stunning feature of the show is how it applies sand on the stage to show the desert land and sandstorms.
Buddhism Sculptures and Architectures
If you are interested in Buddhism culture and architectures, you can visit the largest reclining Buddha Sculpture at Dafo Temple, and go the city center to appreciate Muta Pagoda have get atop of it to have an panoramic view of Zhangye City. Also, you can go future to Mati Temple to enjoy the amazing grottoes and murals there.
Minority Culture Experience
Zhangye is a multi-ethnic city. At present, there are over 20 ethnic minorities in the city, including Yugu people, Tibetan and Hui people. There are many ethnic groups living at the foot of Qilian Mountain. If you go to the Mati temple, you may have a chance to meet Yugu people, watching their performances and tasting their local food.
Weather & When to Go
Zhangye has a cold desert climate with a warm summer but cold and extremely dry winter with quite rare snow. The monthly 24-hour average temperature ranges from -9.2 °C in January to 21.5 °C in July while annual rainfall is about 130 mm, equivalent to which falls from May to September.
Because of this whether, the best season for tour in Zhangye is summer and autumn (June ~ September). On account of the big difference in temperature between day and night, it is important to keep warm at night. Sunblock and sand-proof are also necessary.>>Learn More about Zhangye Weather
Transportation
By Air
Zhangye Ganzhou Airport is about 25 km away from Zhangye City. There are flights connecting Zhangye with Xian, Xining, Lanzhou and Dunhuang. But the schedules are not very often, so you need to book a flight on line in advance if you want to travel Zhangye by air.>>Learn More Zhangye Airport and Flights
By Train
There are frequent high speed trains connecting Lanzhou, Xining, Jiayuguan, Dunhuang and Xinjiang. Taking a high-speed train, you can reach to Zhangye within 3 hours from Lanzhou and less than 2 hours from Xining. Some ordinary trains are also available.>>Learn More about Zhangye Railway Stations
Land Driving
There is a convenient highway system connecting Zhangye with other hot tourist destinations in Gansu,such as Dunhuang, Xining, and Lanzhou. Xiguan Bus Station is the biggest station in Zhangye and you can take buses to the different cities in Gansu. Grabing a taxi in the city is easy and convenient.
Accommodation
As a tourist city, Zhangye is equipped with sufficient great hotels and small hostels. Here we selected several hotels for you according to the good service and best scenic locations.
Zhangye Hotel is a five-star hotel located in Binhe New District and is just 10 minute-drive way from Zhangye Railway Station of Lanzhou-Xinjiang Railway. It is a garden-like hotel mixed with modern architectural art, professional service means, and cultural elements of Silk Road. Here you will appreciate a pleasing view of lakes &mountains, green grassland as well as flying waterfall and rare birds. You can completely have fun and release yourself in this hotel.
Hua Chen International Hotel is a four-star hotel located in downtown area and close to Giant Buddha Temple. With a gorgeous appearance of modern style and elaborately designed insider decoration manifesting fashion and elegance, it became one symbolic building of Zhangye. This hotel is equipped with different kinds of rooms like president suite, luxurious suite, business suite, standard room and so on. Accommodation, catering, coffeehouse, bookstore, flower shop and gym are all available.
Zhangye Danxia Hotel
, a four-star hotel, is also located in the prosperous downtown area and close to Giant Buddha Temple. It earns the reputation of the most cost-effective hotel in Zhangye with new facilities, excellent service, and perfect environment. They offer different kinds of dishes to cater for different tastes of people from different countries and districts. Very near to the Central Plaza, you can enjoy some wonderful performance at night.
Zhangye Maps
Top help you learn better about Zhangye's location, attractions, etc, we have collected following tourist maps which are latest, downloadable and printable.>>Learn More Zhangye Maps
Zhangye in Silk Road
Other Destinations in Gansu
Besides Zhangye, there are some other destinations in Gansu well worth your visit. Transfer to the following destinations and explore Gansu natural and cultural sites - Dunhuang, Lanzhou, Xiahe and Mogao Caves. Discover now!
Chinese Name: 张掖
Chinese Pinyin: zhāngyè
English IPA: /zi'ɑːnː 'je/
Population: 1.2 million
Language: Mandarin & Gansu Dialect
Tel Code: 0936
Zip Code: 734000
Time Zone: (UTC+8)
Plan your Zhangye Tour
At least 3 days are needed to explore Zhangye and surrounding. The highlights of Zhangye include Danxia Geopark, Mati Monastery, and Giant Buddha Temple.
From Zhangye, you can extend your trip to Lanzhou – transport and economic center of Gansu, Dunhuang – Buddhist wealth of Mogao Grottoes and Labrang Monastery – known as the "World Tibetan University".
Travel with China Discovery
We have helped many global travelers enjoy their memorable wonderful trips to Gansu for the past few years. Among them, Marcin and his friends traveled with us and spent 13-Day to explore the Silk Road from Lanzhou to Kashgar, visiting Zhangye, Jiayuhuan, Dunhuang... in Gansu province, and shared us their special travel story! Travel with China Discovery to create your great China trip memories!
Recommended Tours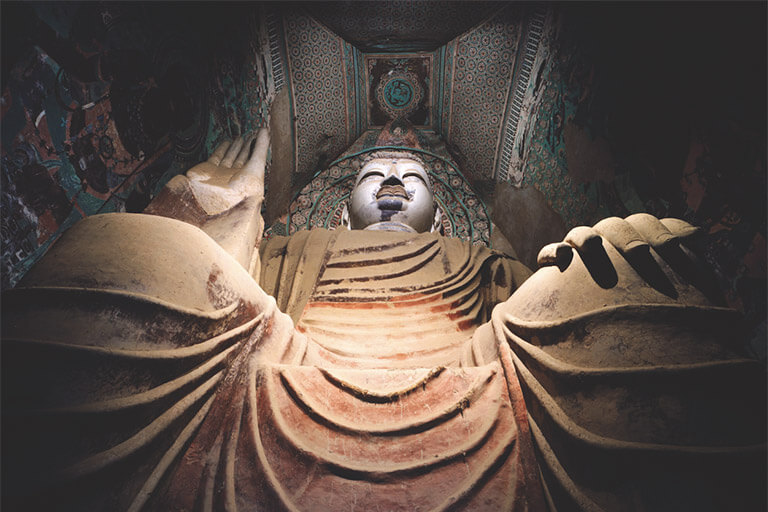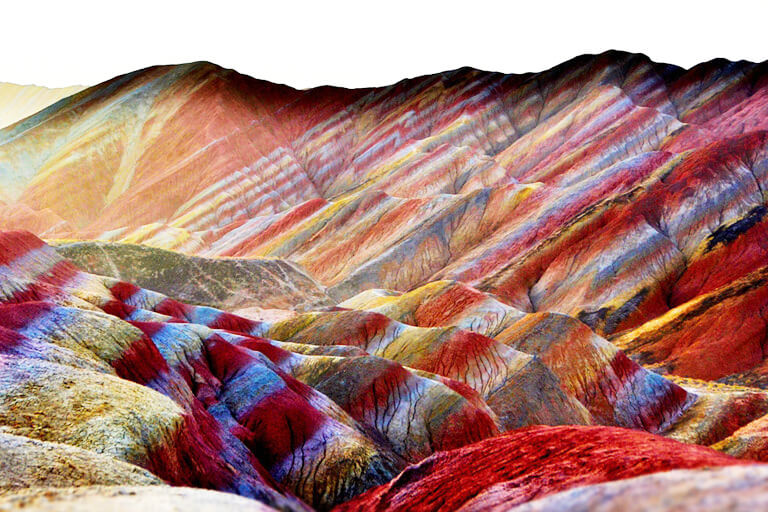 MORE