Latest, Updated Zhangye Maps 2023/2024
Zhangye is located in the northwest of Gansu Province, about 500km to the provincial capital, Lanzhou. It used to be an important outpost of the Silk Road in the ancient time and is worldly renowned for its stunning Danxia landscape. To have a better understanding of Zhangye and its attractions, you may read these Zhangye Maps below like Zhangye Location Map, Zhangye Tourist Map, Zhangye Transportation Map, etc.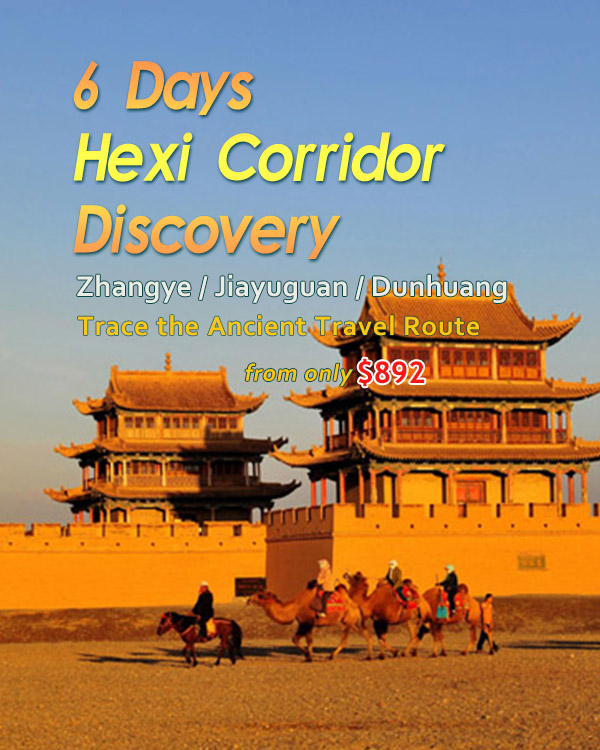 Zhangye Location Maps
Zhangye City (97° 20′ - 102° 12′E, 37° 28 ′ - 39° 57′N) is located in the west of Gansu Province, in the middle of Hexi Corridor, with Wuwei and Jinchang to the East, Jiayuguan and Jiuquan to the west, Qinghai Province to the South and Inner Mongolia to the north. Zhangye City has jurisdiction over six districts and counties, including Ganzhou District, Linze County, Gaotai County, Shandan County, Minle county and Sunan Yugu Autonomous County. It is inhabited by 26 ethnic groups, including Han, Hui, Yugu, Tibetan and Mongolian. The famous Danxia Geoparks are mainly located in Linze and Sunan county.
Zhangye Tourist Maps
Known for its amazing natural landscape and Danxia landform, Zhangye attracts lots of tourists to visit Zhangye National Geopark, Binggou Danxia Geopark, Pingshanhu Grand Canyon, Dafo Temple, etc. The maps of its major attractions are offered for your Zhangye Danxia adventure!
▶ Useful Links: >>Zhangye Danxia Map | >>Zhangye Attractions Map | >>How to Get to Zhangye Danxia
Zhangye Transportation Maps
With one airport and two train stations, Zhangye is easily accessible by train and flight from Xian, Lanzhou and many other cities. Besides travelling Zhangye alone, you are recommended to visit other cities along the Silk Road from/via Zhangye, such as Dunhuang, Jiayuguan, Urumqi, etc.
How to Plan Your Zhangye Tour
In one or two days, you can visit the main scenic spots in Zhangye, including Zhangye Danxia Geological Park, Binggou Danxia Park, Pingshan Grand Canyon, Mati Temple, and Dafo Temple. If you have more time, we also suggest you follow the steps of Marco Polo along the Silk Road to visit various other cities, such as Jiayuguan, Xining, Xi'an, Dunhuang, etc.
Since the main scenic spots in Zhangye are outside the city downtown, public transportation is not very convenient, so it is recommended that you make transportation plans before your travel.
★ Top-Recommended Zhangye Tour
>>6 Days Hexi Corridor Discovery Tour(Zhangye/Jiayuguan/Dunhuang)
>> 8 Days Gansu Highlights Tour
>> 9 Days In-Depth Northwestern China Silk Road Tour
Travel Zhangye with China Discovery
Travel with China Discovery, our professional local guide and driver will escort you from your hotel, train station, airport to all attractions with comfortable licensed private car, to catch the highlights of Zhangye. If you are interested, please do not hesitate to contact us and tell us your needs, and we will customize a memorable tour for you!
Zhangye Attractions
Most Popular Zhangye Tours
Useful Zhangye Travel Guide
Zhangye to More Silk Road Destinations
Recommended Zhangye Tours
Top 3 Zhangye tours chosen by most customers to explore Zhangye in the best way. Check the detailed itinerary,or tailor your own trip now with us.
6 Days Hexi Corridor Discovery Tour(Zhangye/Jiayuguan/Dunhuang)

Lanzhou - Zhangye - Jiayuguan - Dunhuang
8 Days Gansu Highlights Tour

Lanzhou / Xiahe / Jiayuguan / Dunhuang
8 Days Miraculous Land Tour from Dunhuang to Zhangye Xining

Dunhuang - Jiayuguan - Zhangye - Xining