Overview of Giant Buddha Temple
Zhangye Giant Buddha Temple, also called Great Buddha Temple or Dafo Temple, was built in 1098 in the Western Xia Dynasty (A.D. 1038-1227). It was originally called Kasyapa Buddha Temple (迦叶如来寺). Then its name has been changed to Baojue Temple (宝觉寺), Hongren Temple (宏仁寺), and finally the present Dafo Temple (大佛寺). In Chinese, Dafo means Great Buddha or Giant Buddha. In 1996, it was listed as a major national historical and cultural site.
Covering 60000㎡, Zhangye Dafo Temple is the existing largest and best-preserved Western Xia imperial temple. It has the largest reclining Buddha made of clay on a wooden frame in Asia, most complete original Daming Sanzhang Shengjiao Beicang (a precious sutra), and over 10000 valuable cultural relics. So this temple is of high value in art, history, Buddhism, and architecture.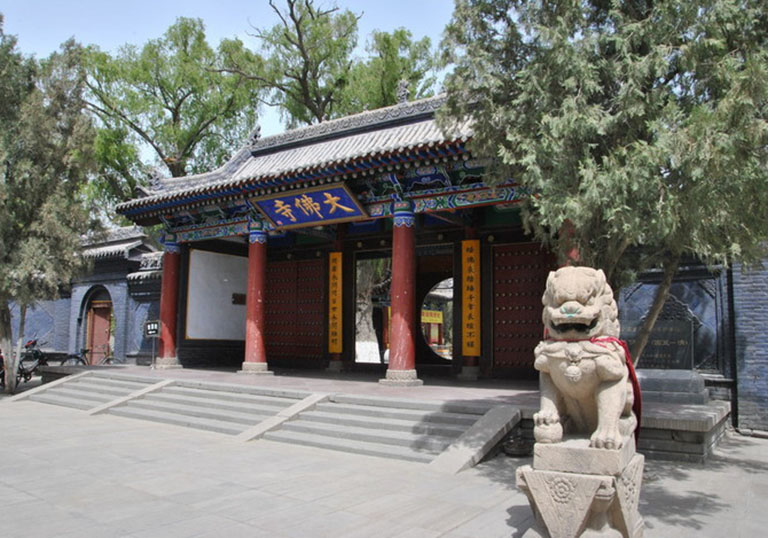 Giant Buddha Temple
What to See in Giant Buddha Temple
The Giant Buddha Temple is actually composed of several buildings including the Giant Buddha Hall, Sutras Exhibition Hall, Earthen Tower, Gold Tower Hall, Buddhist Art Exhibition Hall, Shanxi Provincial Guild Hall, etc. Among them the first three are most famous and representative, so they will be further introduced below.
Giant Buddha Hall (大佛殿) - Reclining Buddha
Giant Buddha Hall is where the enormous Reclining Buddha is placed. The wooden hall itself is grandly built. It has a width of 11 rooms, depth of 9 rooms, and a height of 20.2m.
Stepping inside, you will see the 34.5m long reclining Buddha. His shoulder is 7.5m, ear is 4m and foot is 5.2m. One finger of his is long enough for a person to lie down there and 8 people can sit side by side on his ear. So you can image how huge the Buddha is. It depicts the Gautama Buddha's attainment of nirvana, with his ten disciples standing behind him. His eyes are half closed and he wears a peaceful smile. For years after years, many visitors want to figure out whether he is sleeping and what his smile is for, but the answer varies from person to person.
Apart from that, there are murals telling the story of Journey to the West and the Classic of Mountains and Seas, both are famous legends in China.
Sutras Exhibition Hall (佛教经籍陈列厅)
As the name shows, Sutras Exhibition Hall is where the sutras are stored. It is 21.3 m wide and 10.5 m long. The exhibition is divided into four units, namely Zhangye gold sutras, sutras binding, emperor-granted sutras, and xylographs sutras. There are over 6000 volumes sutras given by emperor Yingzong of Ming Dynasty in A.D. 1445, including the Daming Sanzhang Shengjiao Beicang(大明三藏圣教北藏) which is reputed as the Buddhism encyclopedia. All the sutras are well preserved thanks to the efforts of the abbot or nun of the temple generation after generation. Among them, the ones written in gold and silver powder still can be seen clearly and are the most precious. These sutras are of great research significance and can be called national treasures.
Earthen Tower (土塔)
This 35.2m high Lamaism typed Earthen Tower is right behind the Sutras Exhibition Hall. Actually, you can see it the moment you step into this temple. It was first built in the Ming Dynasty (A.D. 1368-1644), consisting of the tower footing, body, and spire. It looks a little like the White Tower in Beijing, but this is more special with four little towers in four directions on its first and second pedestal respectively. What's more, it is decorated with 36 copper tiles and 36 tassel bells on the top. Inside many Buddha statues are worshipped here.
★Recommended Zhangye Tour: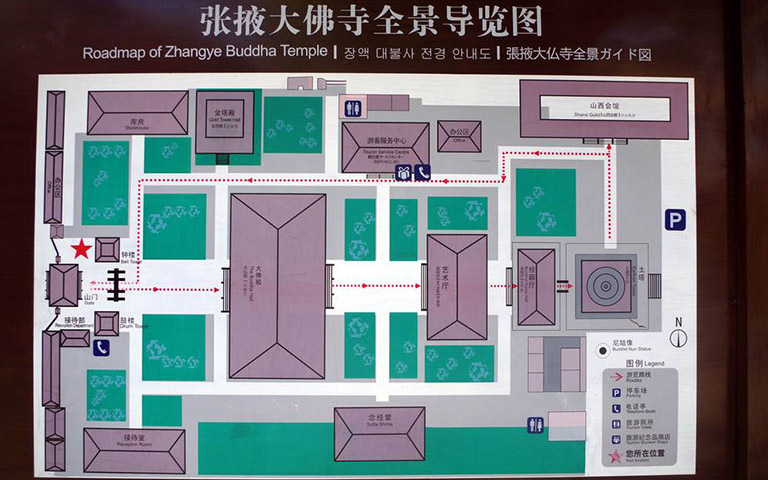 Giant Buddha Temple Guide Map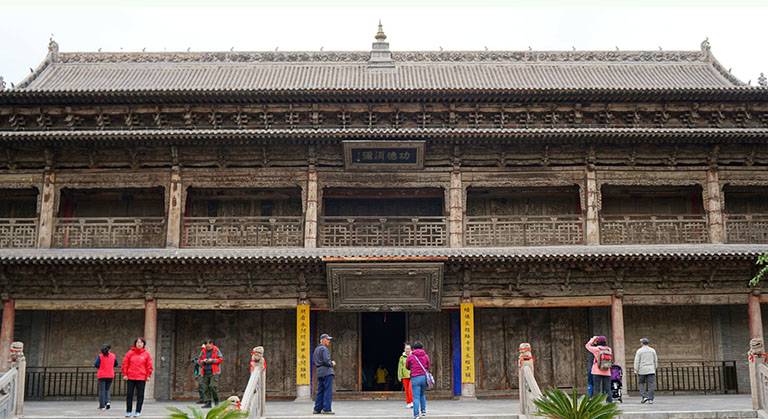 Giant Buddha Hall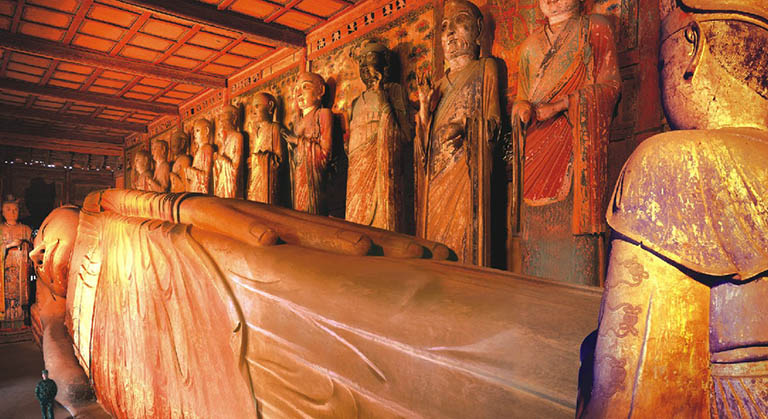 Reclining Buddha and His Ten Disciples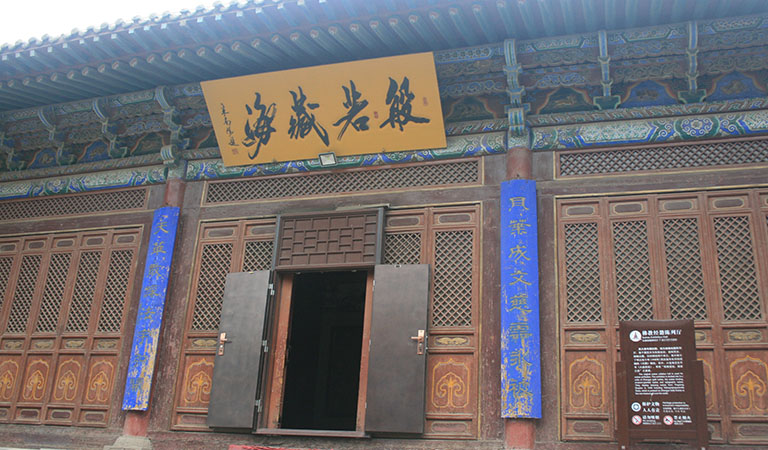 Sutras Exhibition Hall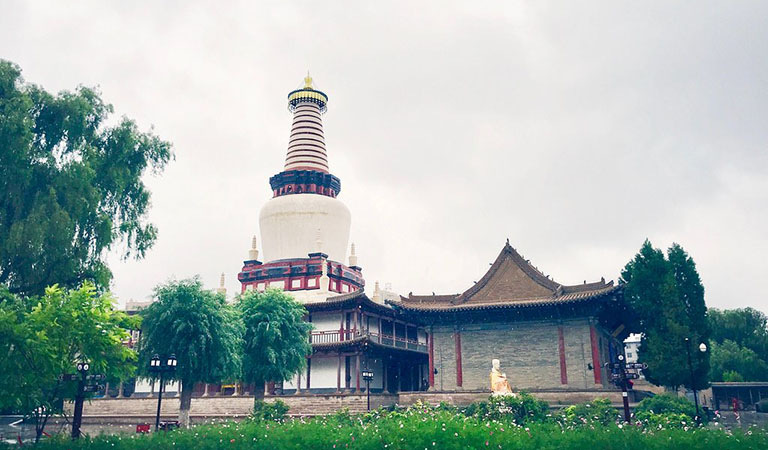 Earthen Tower
Where is and How to Get to Giant Buddha Temple
Giant Buddha Temple is in Dafosi Alley, Minzhu West Road, Ganzhou District, Zhangye (甘肃省张掖市甘州区民主西街大佛寺巷). It is right in Zhangye downtown, so it is easy to get around city center and the train stations. For independent travellers, if you want to go to further attractions such as Danxia Geopark and Matisi Temple, you need to take a taxi there or go to Zhangye Bus Station or Zhangye South Bus Station to take a bus.
Travel with China Discovery
Want to have a worry-free Zhangye Tour? Travel Zhangye with us China Discovery, and all of your problems will be solved. In every city, our professional local guide and driver will escort you from your hotel, train station, airport to all attractions with comfortable licensed private car and let you catch the highlights of every site and city, so you can get really relaxed on the way and focus on what you are interested in. The tour can be tailor made according to your plan, time and interests and demands. If you are interested, please feel free to contact us and tell us your needs, and we will customize a memorable tour for you!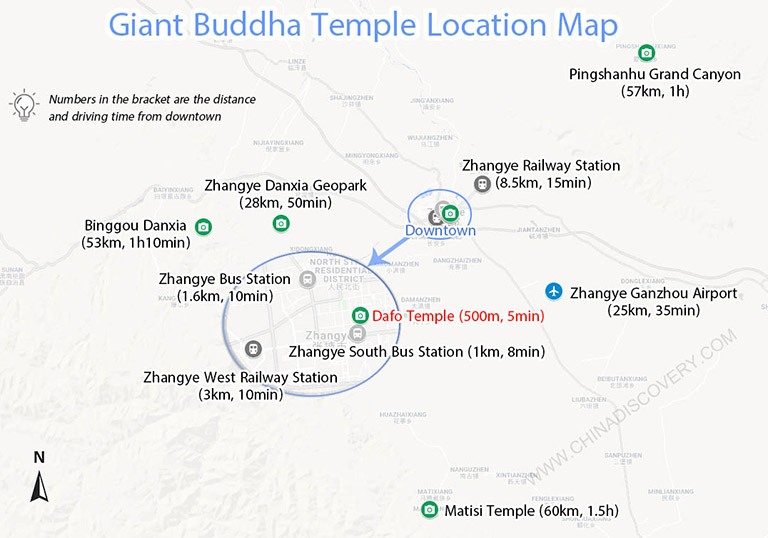 Giant Buddha Temple Location Map (click to enlarge)
How to Plan a Zhangye Tour with Giant Buddha Temple
Zhangye Danxia National Geopark
Most Popular Zhangye Tours
Useful Zhangye Travel Guide
Zhangye to More Silk Road Destinations
Recommended Zhangye Tours
Top 3 Zhangye tours chosen by most customers to explore Zhangye in the best way. Check the detailed itinerary, or tailor your own trip now with us.
6 Days Hexi Corridor Discovery Tour(Zhangye/Jiayuguan/Dunhuang)

Lanzhou - Zhangye - Jiayuguan - Dunhuang
8 Days Qinghai Lake Zhangye Danxia Badain Jaran Desert Wonders Tour

Xining - Zhangye - Badain Jaran Desert
8 Days Miraculous Land Tour from Dunhuang to Zhangye Xining

Dunhuang - Jiayuguan - Zhangye - Xining
Start planning your tailor-made holiday to China by contacting one of our specialists. Once inquired, you'll get a response within 0.5~23.5 hours.
Customize a Trip
Have a question? Get answers from our travel experts or guests
Your Question:

Your Name:

Your Email: