Gansu Accommodation: Dunhuang, Lanzhou, Zhangye, Jiayuguan
Compared to hot and developed areas, such as Beijing, Xian, Shanghai, Guangzhou, Chengdu, Gansu doesn't have plenty of luxury hotels for accommodation. But as the development of the economy, to meet the increasing demand for better accommodation, Gansu has established hundreds of quality hotels from economy class to luxury ones.
As the capital city and transportation hub of Gansu, Lanzhou offers the best accommodation. There are many different hotels for you to choose from. All hotels are fully equipped with amenities. Dunhuang is one of the most popular travel destinations in northwestern China, there are many great hotels of different standards. Besides Lanzhou and Dunhuang, lots of tourists would like to have a stay in Zhangye while visiting the stunning Danxia Geopark, and head to Jiayuguan fortress on their way to Dunhuang. We have selected multiple top-rated hotels in Gansu from luxury hotels to cozy homestays.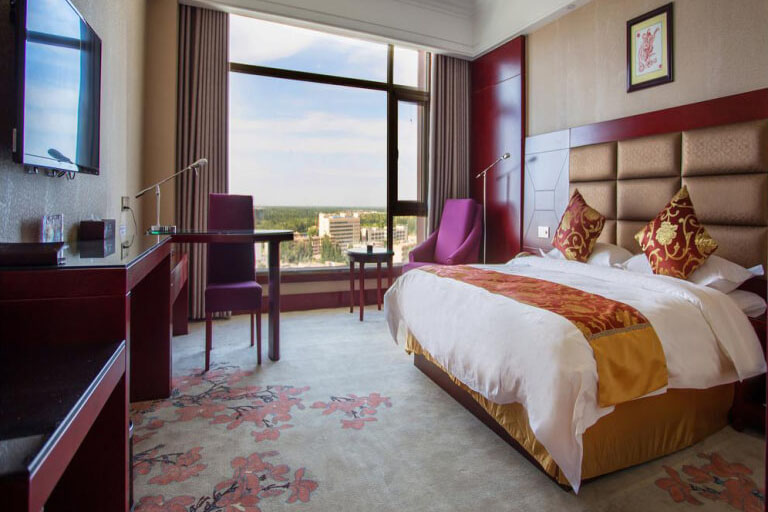 Deluxe Room of Dunhuang Silk Road Hotel
Mongolian Yurt in Kaoshan Tent in Zhangye
Recommended Gansu Tours
Top 3 Gansu tours chosen by most customers to explore Gansu in the best way. Check the detailed itinerary, or tailor your own trip now with us.
6 Days Hexi Corridor Discovery Tour(Zhangye/Jiayuguan/Dunhuang)

Lanzhou - Zhangye - Jiayuguan - Dunhuang
8 Days Qinghai Lake Zhangye Danxia Badain Jaran Desert Wonders Tour

Xining - Zhangye - Badain Jaran Desert
8 Days Gansu Highlights Tour

Lanzhou / Xiahe / Jiayuguan / Dunhuang