Why Visit South Putuo Temple ?
South Putuo Temple (Nanputuo Temple, "南普陀寺" in Chinese) is a 1000 years old Buddhist resort in southern Fujian. Since the 1920s, Nanputuo Temple has been the center of Buddhism exchange at home and abroad. It is also a national key Buddhist temples in Han areas and one of the eight scenic spots in Xiamen City. 
South Putuo Temple covers an area of 258,000 square meters. With a thousand-year-old history, the temple was first built in the late Tang Dynasty and was called Sizhou Temple (泗洲寺). During the Reign of Emperor Kangxi of the Qing Dynasty, Shi Lang recovered Taiwan and garrisoned in Xiamen. He built the Great Mercy Hall here to worship Guanyin, and changed the name of the temple to Nanputuo, matches the Guanyin Dojo on Putuo Mountain in Zhejiang province.
Located at the foot of Wulao Peak in the southeast of Xiamen City in Fujian, it is next to Xiamen University with azure sea in hundreds meters reach. It is the most prosperous temple in Xiamen and many tourists come here to pray for health and wealth. Landscape architecture, lush plants, animals and people live in harmony with one another. Visitors can enjoy a pleasant leisure time and inner peace in the temple. Besides that, tourists can also taste the delicious vegetarian food in the temple, and if you have more time, climbing the Wulao Peak behind the temple is a great experience.
Top Recommended South Putuo Temple, Xiamen Tours:
► 5 Days Cultural Tour to Xiamen & Fujian Tulou
Attractions & Highlights in South Putuo Temple
South Putuo Temple is facing the azure sea in the south with a serene mountain in its back. The main architectures in the central axis are Tianwang Hall, Daxiong, Dabei Hall and Depository of Buddhist Sutras. There is a square in front of Tianwang Hall, and a 30m quadrate Free Life Pond and a bigger lotus pool.
Tianwang Hall situates at the forefront of the central axis and worships Maitreya Buddha. The entrance door of the temple is just in the front of Tianwang Hall. Entering the hall, you'll see Four Devarajas with fierce stares on the two sides of the hall, with the smiling Maitreya Buddha in the center.
Daxiong Hall is the center of the temple, splendid and magnificent. Built in 1926, Daxiong Hall is a wooden architecture with green titles on the roof and stone pillars as support, and the beam is carved and the pillar is painted, which represents the traditional architecture skill in Southern Fujian. Monks will do morning and even lessons in here. Dharma assembly, worship and other Buddhism activities will also be held in Daxiong Hall.
Dabei Hall is another main shrine in the temple. Worshiping Thousand-Hand Kwan-yin, it's built in Qing Dynasty. It's situated on the high platform behind Daxiong Hall, with nearly 30 stone stairs between them. The main hall of Dabei hall is an octagon shape, and the structure is very delicate and tight, like a spider web. People in Southern Fujian believes in Kwan-yin, thus Dabei Hall is very prosperous and many locals come here to burn incense.
Depository of Buddhist Sutras is the highest building among the architectures in central axis. Built in 1936, it's a two-floor building. The first floor is dhammasala, a place used to speak Dharma, and the second place is used to store Buddhist texts and other cultural relics. Lotus Sutra written in blood from Ming Dynasty, White Porcelain Kwan-yin Statue created by He Chaozong, a famous sculptor in Ming Dynasty, 28 Burmese jade Buddhas and other Buddhist scriptures and cultural relics are all stored in here.
Nanputuo Temple
Tianwang Hall
Dabei Hall
Activities at South Putuo Temple
In Chinese lunar calendar, every February 19th, June 19th and September 19th will celebrate the enlightenment of Kwan-yin. At these time, South Putuo Temple will hold grand Buddhist activities, and many believers will light incense and kowtow to the Kwan-yin statues in the temple to pray for health and wealth. Tourists can taste the famous vegetarian food in the temple.
Besides that, there are five large-scale Dharma Assemblies every year.
Sanqianfo Dharma Assembly: January 16th ~ January 18th in Chinese lunar calendar
Buddha Showering Grand Dharma Assembly: April 8th in Chinese lunar calendar
Yulanpen Grand Dharma Assembly: July 15th in Chinese lunar calendar
Shuilu Dharma Assembly: October 15th ~ October 21st in Chinese lunar calendar
Wanfo Grand Assembly: December 8th ~ December 17th in Chinese lunar calendar
Vegetarian Food in the Temple
The vegetarian cuisine is famous because of South Putuo Temple, and it attracts more tourists to the temple in return. The food here is reputed as the most authentic vegetarian food in Fujian Province. With a history over 100 years, the original vegetarian food was provided for believers after they worship the Buddha. As Xiamen's opening to public, more and more people visit the temple and taste the vegetarian food here.
Dharma Assembly
Vegetarian Food
How to Get to South Putuo Temple
The South Putuo Temple, surrounded by the graceful sea and with the Wulao Peaks behind, is located in the southwest part of Xiamen Island. It's about 14km from Xiamen Gaoqi International Airport, 5km form Xiamen Train Station and 28km from Xiamen North Station. Most tourists would fly or take high-speed trains to Xiamen city first and then transfer to private car, taxi and bus to get to South Putuo Temple.
By Private Car - Most Convenient Way to Travel around Xiamen
Take a private tour with China Discovery and you will no longer need to worry about how to get to Xiamen or transfer from to South Putuo Temple, and our experienced private car driver will pick you up from airport, train stations or any other places in Xiamen city and send you directly to South Putuo Temple. Along the trip, our local guide and driver would well arrange every steps to provide you with a comfortable trip. If interested, you can also pay a visit to other attractions nearby, such as Xiamen University, Xianmen Botanical Garden, Huandao Road, Zhongshan Road etc.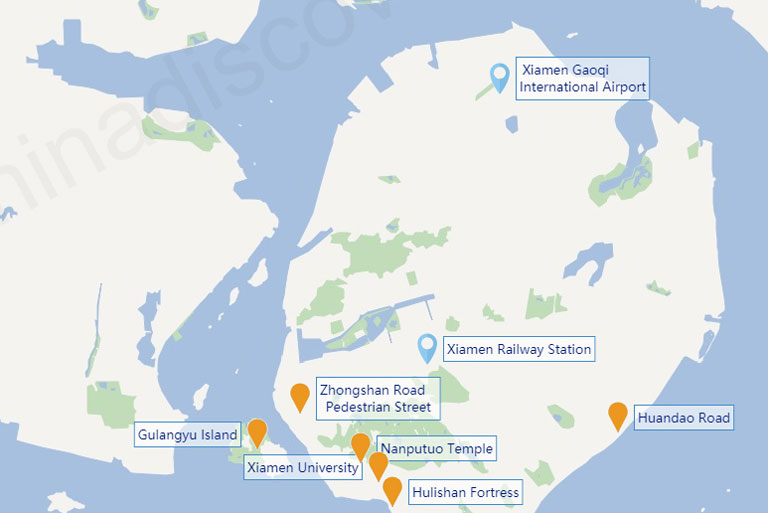 Xiamen Tourist Map
By Taxi - Recommended to Independent Travelers
Xiamen enjoys a busy taxi system. You can easily find a taxi to go around Xiamen. Here are some information about distances and estimated consuming times between South Putuo Temple and other famous spots in Xiamen Island for your reference:
From
To
Distance
Estimated Time
Xiamen Gaoqiao International Airport
South Putuo Temple
(Nanputuo Temple)
14km
Takes about 20 minutes
Xiamen Train Station
5km
Takes 10-15 minutes
Xiamen North Train Station
28km
Takes 35-40 minutes
Zhongshan Road
4km
Takes 15-20 minutes
Xiamen International Cruise Center
7km
Takes 20-25 minutes
Get to South Putuo Temple by Bus
South Putuo Temple is just outside the South Gate of Xiamen University. Therefore, you can take buses to reach Xiamen Univerisity first and walk several hundreds meters to get to the temple. There are numebrous buses can get to Xiamen University.
More detailed information about how to get to Xiamen, please visit Xiamen Transportation: Get to Xiamen by Flight, Train, Ferry, Bus & Taxi 2023 >>
Attractions Nearby South Putuo Temple
There are many attractions around South Putuo Temple quite worth visiting, such as Xiamen University, Xiamen Botanical Garden on Wulao Mountain, Zeng Cuo An and Hulishan Fortress on Huandao Road, Sha Po Wei, and Zhongshan Road, etc.
More attractions & things to do in and around Xiamen, please visit the Top 13 Attractions in Xiamen | Xiamen Top 8 Activities >>
Xiamen University
Against the mountains and overlooking the sea, Xiamen University is praised as one of the most beautiful universities in China. The campus is backed by the rolling Wulao Peak, facing ripping Xiamen Bay in the front. The wind brings the scent of the salty sea. Visitors may hear the whistle of fishing boats in the early morning. For travelers, Jiageng architecture is the highlight of Xiamen University. This "Chinese and Western Combination" style of architecture was created by Chen Jiageng in a common form of "dovetailed roof with western building body(Roman column)".
Huandao Road
Huandao Road is located on the southeast part of Xiamen Island, surrounded by tropical flowers, azure blue sea, comfortable wooden footpaths and bicycle paths. It is the best place to enjoy the island and beach scenery in Xiamen. Zeng Cuo An, Baicheng Beach, Hulishan Fortress, Huangcuo Beach and International Convention and Exhibition Center, etc. are all highlights you can't miss on Huangdao Road. Considering the distances of each scenic spot, riding a bike is the best way to fully appreciate beaches, architecture, status and highlights on the road. Visitors can also take the No. 29 bus and Island tour bus to appreciate the coastal scenery of Xiamen.
Xiamen Univerisity
Huandao Road
More Travel Tips of South Putuo Temple
1. Weather & Best Time to Visit
Xiamen's weather is very suitable for tourism. No severe cold winter nor an extremely hot summer. The lowest temperature is about 9℃ in January, while the highest temperature is about 33℃ in August. Nanputuo Temple is suitable to visit all year around, especially in spring and autumn. Typhoons may hit Xiamen in August, and the flight may be canceled for this reason. South Putuo Temple is situated on the seaside, so it's better to avoid the typhoon season. However, if you are lucky to avoid visiting Xiamen in typhoon days summer, Lotus in the Pond are in their full bloom, perfume the whole area. You may smell the faint fragrance even in a distance. More detailed information about the weather, please Xiamen Weather, Climate & Best Time to Visit >>
2. Accommodation and Where to Stay
There are lots of hot tourist attractions nearby South Putuo Temple, which makes the area one of the most popular places to stay overnight. Joyze Hotel Xiamen Curio Collection By Hilton and Conrad Xiamen are the top recommended hotels in this area. More detailed information, please visit Where to Stay in Xiamen | Xiamen Hotels & Hostels >>
3. Climbing Wulao Mountain
Bypassing the Depository of Buddhist Sutras and about 10-feet-high Buddha character carved stone, visitors entered the range of Wulao Peak (五老峰). Walking slowly upward, visitors can see the panoramic view of Xiamen University. Overlook in a distance across the Lujiang river, Nantaiwu Mountain rises, like guarding the gate of Nanputuo temple. Another 10 minutes walk from the peak viewing platform, you can reach the Xiamen Botanical Garden (also known as Wanshi Botanical Garden) directly.
4. Other Tips for Visiting Nanputuo Temple
Don't clamor loud, doodling, spitting everywhere, throwing the cigarette butt, the peel and paper scraps. Dress appropriately, avoid revealing and strange clothes. Don't enter temples with meat or greasy food. Don't fiddle with stuff in the temple, touching or scratching status in the temple is forbidden.
Nanputuo Temple in Summer
Joyze Hotel Xiamen Curio Collection By Hiltony
Panoramic View from Wulao Peak
How to Plan Your Xiamen Tour
Most visitors prefer to spend 2-4 days covering the highlights of Xiamen City and surrounding. They usually spend one day visiting the best attractions in the city area including Gulangyu Island, South Putuo Temple, Hulishan Fortress, Zhongshan Road, etc. And enjoy 1-2 days to Fujian Tulou clusters in Nanjing and Yongding to see the famous earthen buildings listed as World Cultural Heritage. If you want to explore Xiamen deeply, plan 1 more day to discover Huandao Road, Jimei School Village, The Eighth Seafood Market, Wanshi Botanical Garden, etc. !
✔ 2 Days Xiamen City Tour with Gulangyu Island
Besides, you can also plan as many other visitors to spend 5-6 days visiting Wuyishan together with Xiamen and Fujian Tulou to appreciate more natural and cultural charm of Fujian Province.
✔ 5 Days Xiamen, Nanjing Tulou & Mount Wuyi Discovery Tour
If you are interested in photography, you can add 2-4 days to shoot Xiapu Mudflat in Ningde.
✔ 4 Days Fujian Xiapu Mudflat Photography Tour
If you want to discover more culture and nature highlights to Fuzhou, Quanzhou, etc., plan 1-2 more days for each destination.
Beyond Fujian, China boasts a lot of wonderful nature, culture, history and city charm to discover, such as Beijing, Shanghai, Guangzhou, Guilin, Chengdu, Huangshan, Hangzhou, Yunnan, etc. Extend your Fujian trip to more popular destinations to enrich your exploration of China in one go!
► Check more popular Xiamen Tour Packages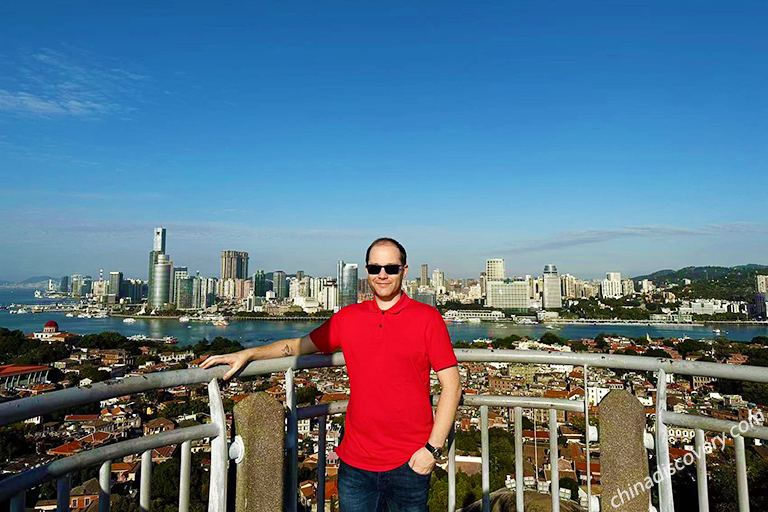 Gulangyu Island in Xiamen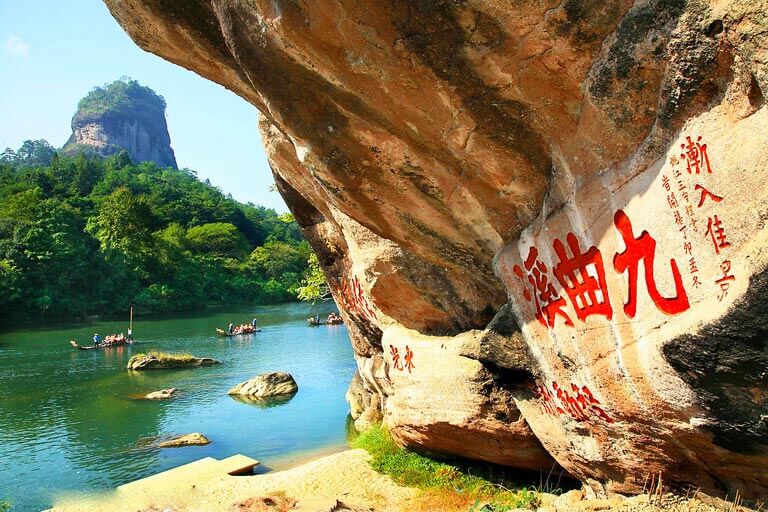 Wuyi Mountain
Travel Xiamen & Fujian with China Discovery
China Discovery is an experienced, professional and reliable travel companion devoted to offering high-quality and the best tour services for all travelers to China. In order to have a hassle-free travel and focus on the trip itself, it's highly recommended travelling with China Discovery. So, you can enjoy convenient airport pick-up and drop-off service and transportation to all scenic spots in a safe, clean, comfortable, air-conditioned and non-smoking vehicle. Also, we will arrange knowledgeable local English-speaking tour guide, excellent accommodation and dining arrangements to ensure you rest well and get better understanding of highlights in Xiamen and Fujian. The tour can be tailor-made according to your interests, time, group size, budget and every special need. If you are interested, please feel free to contact us to customize your tour!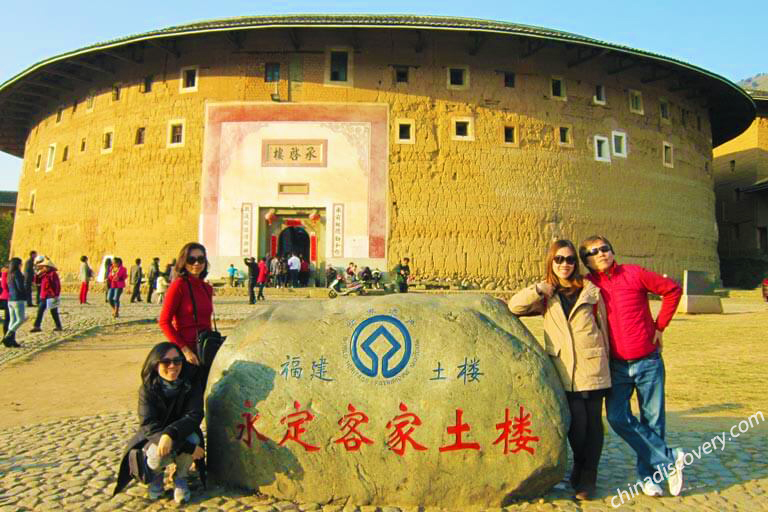 Our Customers Traveling in Fujian
More about Fujian Travel Guide
Recommended Xiamen Tours
Top 3 Xiamen tours chosen by most customers to explore Xiamen in the best way. Check the detailed itinerary, or tailor your own trip now with us.
5 Days Xiamen, Fujian Tulou & Mount Wuyi Discovery Tour

Xiamen / Nanjing Tulou / Yongding Tulou / Xiamen / Wuyishan
3 Days Classic Xiamen and Fujian Tulou Tour

Xiamen / Nanjing Tulou / Yongding Tulou / Xiamen
2 Days Xiamen Essence Tour with Nanjing Tulou

Xiamen / Nanjing Tulou / Xiamen
Start planning your tailor-made holiday to China by contacting one of our specialists. Once inquired, you'll get a response within 0.5~23.5 hours.
Customize a Trip
Have a question? Get answers from our travel experts or guests
Your Question:

Your Name:

Your Email: