Why Visit Gulangyu Island?
With splendid natural scenery, colonial styled architectures and numerous interesting museums, Gulangyu Island attracts countless visitors to come every year. On July 8th, 2017, Gulangyu Island was declared a UNESCO World Heritage Site, and it is now the 52nd World Heritage site in China. Even Gulangyu is young comparing with other heritages in China. However, for over 100 years, the 931 constructions of various styles, periods, and cultures have formed the feature of this unique place, and it perfectly represents the inclusive, multi-cultural, kind characteristics of Gulangyu and also the harmonious mixture of the modern human resident concept and local traditional culture. With such romantic and flexible scenery, Gulangyu Island earns a reputation of "Exhibition of the World's Architecture".
Meanwhile, Gulangyu is also known as "The Hometown of Music". Whether you are wondering around deep alleys or lost yourself at pathways between exquisite villas, you can always hear the sound of sweet piano, melodious violin, lilting guitar and beautiful songs singing by locals, plus the beats made by waves, different sounds corresponding with each other and made the most beautiful ensemble.
Subsistent and illusory, firm and soft, worldly and detached, natural and artistic. If you have to find a place that can match all the adjectives that mentioned above, it must be Gulangyu Island. The daytime in Gulangyu is fresh and elegant, and the night is dazzling and enchanting. Tall and straight rocky outcrops on the island. Secluded valley and steep cliffs form a delightful contrast. The weather on the island is cozy and fine, and there is no car on the island, with such a tranquil environment, Gulangyu Island is also praised as "Garden on the Sea".
Top Recommended Gulangyu Xiamen Tour
► 2 Days Xiamen City Tour with Gulangyu Island
► 5 Days Cultural Tour to Xiamen & Fujian Tulou
Main Attractions on Gulangyu Island
Gulangyu Island is full of attractions, an old mansion, a specific museum, a featured shop or just a quiet street. Strolling around the island to find some special shops, and sip a cup of coffee or milk tea in dessert shop when you are tired – this is the best way to enjoy the island. Besides, there are many interesting attractions, which are definitely the must-goes on the island for tourists.
Sunlight Rock Scenic Area
Sunlight Rock Scenic Area is located at the south-central of Gulangyu Island, and it can be divided into two parts – Sunlight Rock and Qin Garden. Sunlight Rock refers to two huge rocks, and they lean on each other, with one horizontal and the other vertical. With an altitude of 92.7m, Sunlight Rock is the highest point on the island. On the top of Sunlight Rock, there is a small platform, and tourists can overview Xiamen Island, Gulangyu Island, Dadan Island and Erdan Island on it. It's the best observation point on the island. Qin Garden is connected with Sunlight Rock by cable car, and there are mainly modern entertainment projects, which combines with the natural scenery in Sunlight Rock perfectly.
Sunlight Rock is the symbol of Xiamen. When the national hero – Zheng Chenggong (A.D. 1624 ~1662) recaptured Taiwan, he had stationed his troops here, leaving behind a lot of moving stories.
Shuzhuang Garden
Built in 1913, sitting in the southern part of Gulangyu Island, facing the sea with Sunlight Rock sitting behind it, Shuzhuang Garden was once the private garden of Lin Erjia – a wealth Taiwan merchant. In 1955, the garden was donated to the government, and it's a public garden since then. The garden has two parts – Garden Hiding the Sea and Garden Making-up Hills, and both of them were layout taking the advantage of the natural terrain. Shuzhuang Garden has not only the delicacy and elegance of Jiangnan garden, but also the bright of Southern Fujian gardens. The most special part of the garden is about "Hiding the Sea": when you walk into the garden, a high wall will block your sight, however, once you walk out of the wall, boundless sea and sky will appear in front of you. This garden takes the sea, reef in the sea and even the tidal water as its decoration. It's impossible to see another garden with this design in China, and this is the most beautiful part about Shuzhuang Garden.
Piano Museum
Piano Museum is an interesting attraction in Shuzhuang Garden. Located at Tintaoxuan, it covers an area of 450m². The museum has two floors, and it displays over 70 old pianos donated by Hu Youyi – an overseas Chinese pianist and piano collector born in Gulangyu Island. Many of the pianos are very precious, like the gold-plating piano, the oldest and largest upright piano, ancient hand-operation piano, etc. Many of the pianos had survived the two World Wars, and even the piano candle sticks have a history over a hundred years. A trip to the Piano Museum is just like browse the development history of world piano.
Haoyue Garden
Haoyue Garden situates at the southeast of Gulangyu Island, with Lu River next to it. It's a memorial garden built to memory Zheng Chenggong, who successfully recaptured Taiwan in 1661. The garden is centered on Zheng Chenggong's sculpture, a 15.7m high granite rock sculpture, and architectures modeled after the architecture style in Ming Dynasty distribute around the sculpture. Together with the blue sky, white beach, grand sea tide, green trees and giant rocks, the garden represents a magnificent and beautiful picture. After arriving at the Ferry Quay, turn left and walk about five minutes, you can reach Haoyue Garden.
Organ Museum
Organ Museum is located at Bagua Mansion in the northwest of Gulangyu Island, and it's the largest organ museum in the world (the only one in China). The exhibitions in the museum are also donated by Hu Youyi, just like the Piano Museum. The building of the museum combines various architectural style, including ancient Chinese architecture, Pakistani mosque, Athenian temple and Roman catholic church. The most important and largest collection in the museum is the giant pipe organ purchased at Boston by Hu Youyi, with 13m high, 12.5m wide and a weight of 35 tons. It's the largest pipe organ in China.
For more detailed information, please visit Top 10 Attractions on Gulangyu Island >>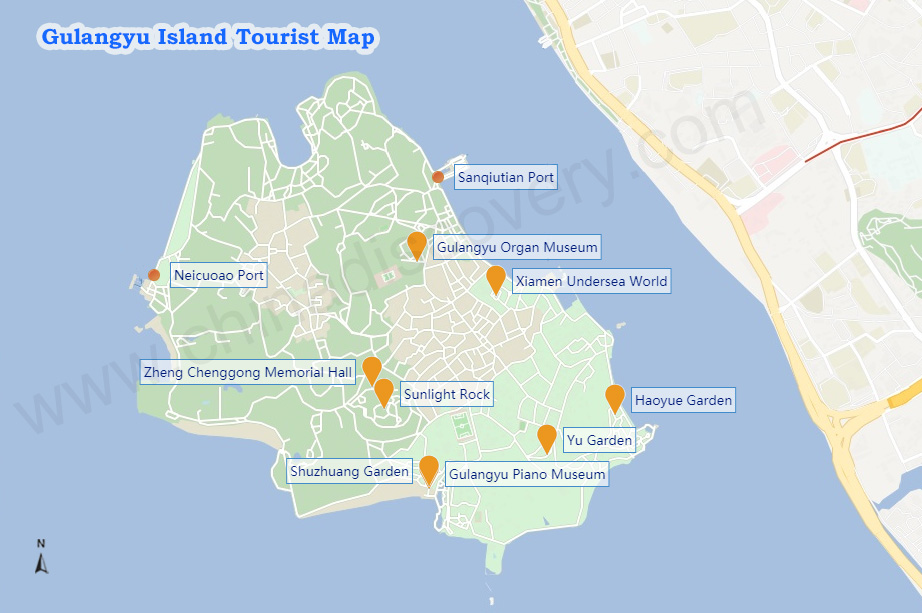 Gulangyu Island Tourist Map
Sunlight Rock
Shuzhuang Garden
Piano Museum
Haoyue Garden
Organ Museum
Top Things to Do on Gulangyu Island
1. Tracing the 100-year-old History of Gulangyu Island
After arriving at the island, you can visit the Organ Museum nearby, which is in the Eight Diagrams Building. Then you can go to Hi! Heaven! (which is also called Hai Tian Tang Gou), where the World Architecture Exhibition Hall will give you a brief introduction of the history and culture of Gulangyu Island. You can also visit the beautiful Huang Rongyuan Hall by the joint ticket. Next, don't forget to pay a visit to the famous Shuzhuang Garden to appreciate the original and innovative architectural idea of "The sea is in the garden and the garden is on the sea".
2. Exploring World's Architecture in Lanes and Alleys
There are more than 1,000 historic buildings on the small island. Numberous old villas, historical buildings and religious architcture scattered in Guxin Road, Quanzhou Road, Anhai Road, Zhonghua Road, etc. The island has not only exquisite churches like the pure white Catholic Church, the Union Church and holy Trinity Church, but also famous villas like Huang Family Garden, Jingua Building, Yang Family Yard, etc. Also, don't miss the only two remaining Minnan buildings on the island - Four Red Brick Ancient Dwelling and Scholar-official Mansion
3. Spending a leisure Afternoon and Enjoy the Sunset Scenery
After wandering around Gulangyu Island for a whole day, slow yourself down in the late afternoon. You can climb up to the top of Gulangyu Island - Sunlight Rock, enjoy the wind blowing from the sea and watching the colorful sunset. If you still think the villas that you have visited are not enough, you can take a walk along secluded Bishan Road and Jishan Road. With cicadas singing and birds chirping, you can slow yourself down and play with stray cats on the island. Along the way, Yizu Villa, Guancai Building and Chuncao Hall are just as wonderful as the top ten villas. Or you can choose to do nothing but rest in an old-villa converted restaurant or cafe to enjoy a moment break.
4. Enjoying Local Snacks on Gulangyu Island
Eating on Gulangyu Island is not only a great feature, but definitely a enjoyment. You can savor the delicious food in luxurious hotel; or enjoy a afternoon tea in bourgeoisie coffee shop; or feast in the street stalls; or just pick up local snacks at stand stalls and eat while you tour around. All foods are delicious, and all eating methods are suitable here. Of course, seafood shall not be missed when you visit an island.
5. Wandering around Exquisite Gift Shops
Gulangyu has many specialties, so if you are here, don't forget to purchase some as small gifts for family or friends. The most classic specialties are Gulangyu pie, dried meat floss and seafood products. Gulangyu pie has various stuffing, like mung bean, ormosia, chesnut, etc. and famous brands are Sunlight Rock Pie and Wangji Pie. The most famous dried meat floss is Huangshengji Dried Meat Floss, and you can taste the flavor first, then choose the favorite one to buy. As for the seafood products, most of the specialty stores will sell various seafood products, like dried shredded squid and dried fish, and they are tasteful with rather fair prices.
Besides the food, you can buy some beautiful postcards to send to your friends. Other featured handiworks on the island are also good choices. Most of these specialties can be purchased at the small stores in Longtou Road.
Recommended Xiamen Gulangyu Tour Packages
>> 2 Days Xiamen City Tour with Gulangyu Island
The Eight Diagrams Building
The Catholic Church on Gulangyu Island
Sunlight Rock
Eat on Gulangyu Island
Gift Shop
Recommended Tour Route of Gulangyu Island
Type: Deep Tour Route
Time Consuming: 5-7 hours
Highlights on the Way: Sunlight Rock, Shuzhuang Garden, Piano Museum, Hi! Heaven!...
Part 1: Sanqiutian Wharf - HSBC House (0.5 - 1 hour)
After disembarkation from Sanqiutian Ferry Terminal (三丘田码头), turn right and walk along Yanping road on the coastal side for about 200 meters, you will arrive at the Imperial Palace Gulangyu Foreign Cultural Relics Museum (故宫鼓浪屿外国文物馆). After touring around, leave from the back door and go straight, Xiamen Customs and Ship Office Site (厦门海关理船厅公所旧址) is on your right side. Continue walking, turn right at the end of the road, go uphill, then turn left, go ahead about 30 meters and turn right at the intersection of folks, go uphill, you will close to the top of the mountain after a hundred meters, don't miss the historical site of the HSBC House (汇丰银行公馆旧址), you can go in to have a coffee break.
Part 2: HSBC House - Chuncao Hall - The Sanyi Hall - Sunlight Rock (2 - 2.5 hours)
After leaving the old HSBC premises, continue your way along Drum New Road and look left, you can see the red dome of the Eight Diagrams Building (八卦楼). After passing a meadow, the Old Site of HSBC Staff Apartment (汇丰银行职员公寓旧址) will appear on your left. Continue to move on, take the path to the right of the fork to reach the top of Bijia Mountain (笔架山). Down from the top of the mountain, Chuncaotang (春草堂) would appear on your right side, the walls are not high, so it won't blow your shot. Guancai Building (观彩楼) in the front is small but unique. Turn left and enter the Bishan Road next to the Guancai Building. Descend the stairs, you will see the iconic dome of the Eight Diagrams Building again. Turn right at the bottom of the slope, and you will also see the exquisitely carved front door of the Yizu Villa (亦足山庄). Go ahead to the old site of Gulangyu Joint Trial Court (鼓浪屿会审公堂旧址), then turn left and walk downhill for a few steps. You will see the Sanyi Hall on Gulangyu Island. Walk along Yongchun Road behind the Sanyi Hall (三一堂) and turn right into Quanzhou Road. Follow the crowd, you will arrive at Xilin Gate of the Sunlight Rock Scenic Area (日光岩). After entering the park, don't rush to climb up, Zheng Chenggong Memorial Hall (郑成功纪念馆) on the left is also worth visiting. Then climb to the highest point on the island and overlook Xiamen Island with the sea breeze on your face.
Part 3: Sunlight Rock - Shuzhuang Garden - Piano Museum - Hi! Heaven! - Union Church - Sanqiutian Wharf (2 - 3 hours)
After going down the hill and getting out from Riquan Yansi, continue to walk about 200 meters along the Huangyan Road to Shuzhuang Garden (菽庄花园). After appreciating the unique architectural composition of "Hidden the Sea in the Garden", get out from the back door and turn left. Turn right after passing through the lush and green Tianwei Road. Go through a "Tree Gate" and then turn right into Zhonghua Road. The Dagonghou Yanhuo Building (大宫后验货楼) is on your left side. Through the low walls, you can see the imposing colonial veranda. Then walk pass Zhangzhou Road and Fuxing Road, you will finally arrive at Fujian Road, the tallest villa - Yanggao Villa (昂高别墅) in Hi! Heaven! come into view. Past the Wormhole Bookstore, and turn left, you will see Hi! Heaven! (海天堂构) and Huang Rongyuan Hall (黄荣远堂) face each other. Keep walking, and pure white Cathedral Church (天主堂) on the island will appear on your right, and then the Union Church (协和礼拜堂) across the road. So far, the essence of Gulangyu Island has been basically swept over. If you still have strength, you can choose to go through the crowded Longtou Road to visit the Organ Museum in the Eight Diagrams Building, or you can go downhill along the Lujiao Road down to the sea to walk back to the Sanqiutian wharf to take boats.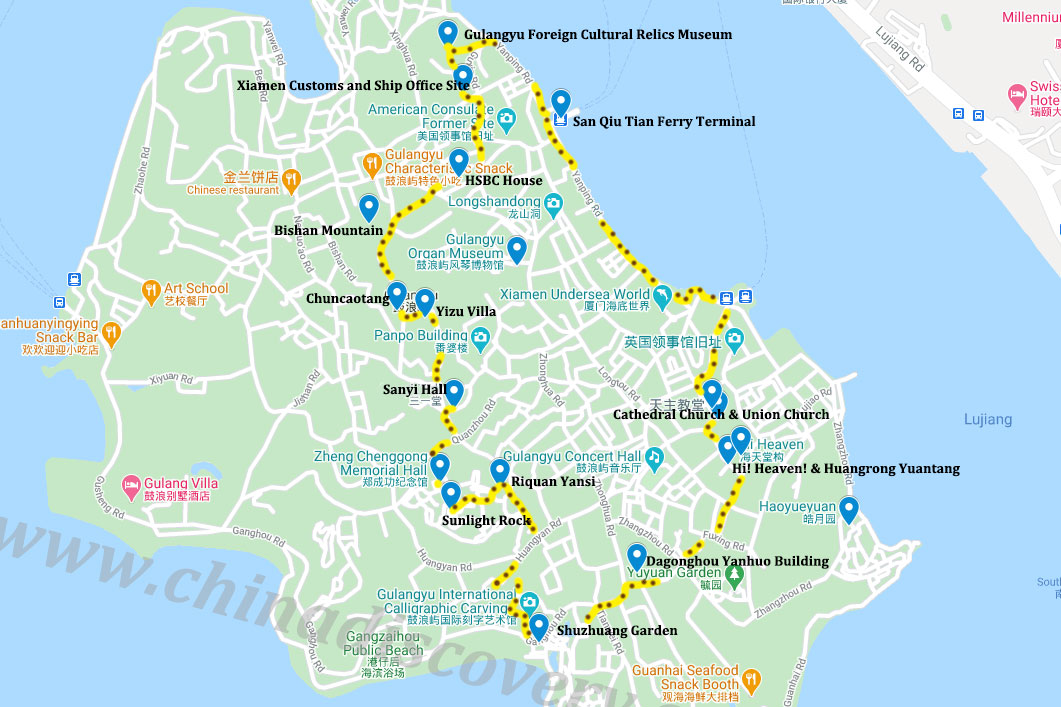 Click to Enlarge Recommended Touring Route of Gulangyu Island
San Qiu Tian Ferry Terminal
Zheng Chenggong Memorial Hall
Panoramiv View from Sunlihgt Rock
Hi! Heaven!
How to Get to & around Gulangyu Island
Sea travel is the only way to get to Gulangyu, which usually takes a short time of only 7~20 minutes. Tourists who want to tour around Gulangyu need to get to Xiamen first. There are 3 commonly used ports in Xiamen and 2 on Gulangyu Island.
Ports in Xiamen
There are three ports that have ferries to Gulangyu, International Cruise Terminal (轮渡中心) on Xiamen Island and Songyu Port (嵩屿码头) in Haicang District are used during daytime. Xiamen Lundu Port (厦门轮渡码头) is for night.
International Cruise Terminal has ferries to both Sanqiutian Port and Neicuoao Port, but Songyu Port only has a route to Neicuoao Port. Lundu port is only used during the night, running ferry from Lundu Port - Sanqiutian Port. Information about the ferry to Gulangyu Island below is only for your reference. If you have any other questions, want to book the ship or tailor your Gulangyu trip. Please feel free to contact us.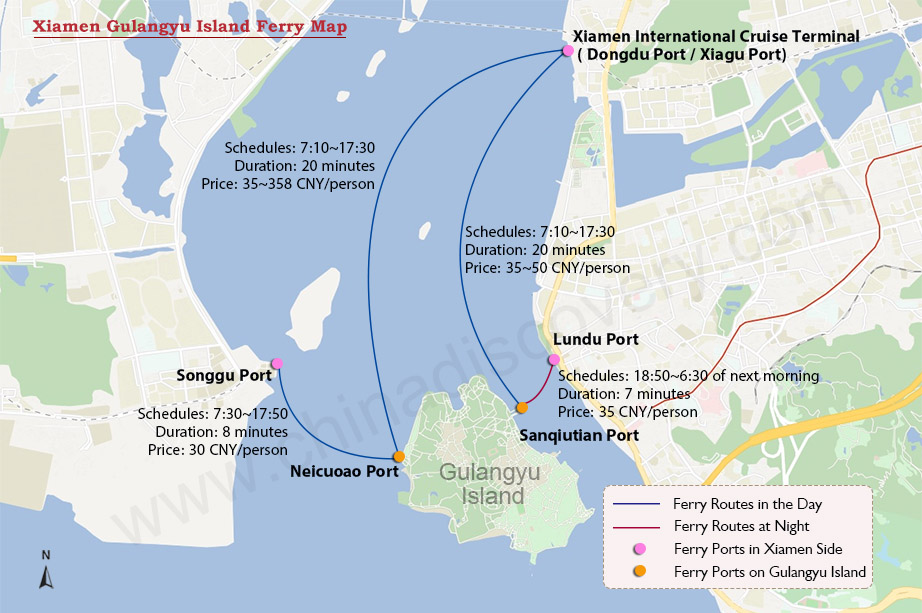 Click to Enlarge Gulangyu Ferry Map
Time
From - To
Schedules
Duration
Day Time
Xiamen International Cruise Terminal - Sanqiutian Port
7:10 ~ 17:30
About 20 minutes
Xiamen International Cruise Terminal - Neicuoao Port
7:10 ~ 17:30
About 20 minutes
Songgu Port - Neicuoao Port
7:30 ~ 17:50
About 8 minutes
Night Time
Lundu Port - Sanqiutian Port
18:50 ~ 6:30(+1)
About 7 minutes
Ports on Gulangyu Island
Gulangyu Island has two common used ports, Neicuoao Port and Sanqiutian Port. Sanqiutian Port (三丘田码头) is the most popular tourist wharf on Gulangyu Island, located in the northeast of the island, not far from the Eight Diagram Building. Neicuoao Port (内厝澳码头) is located in the northwest of Gulangyu Island. If you plan to stay one night on Gulangyu Island and live near Neicuoao Road, it is better to arrive at Neicuoao Wharf rather than Sanqiutian Port.
Time
From - To
Schedules
Duration
Shift
Day Time
Sanqiutian Port- Xiamen International Cruise Terminal
7:10 ~ 17:30
About 20 minutes
20 minutes a shift
Neicuoao Port - Xiamen International Cruise Terminal
7:10 ~ 17:30
About 20 minutes
20 minutes a shift
Neicuoao Port - Songgu Port
7:30 ~ 17:50
About 8 minutes
30 minutes a shift
Night Time
Sanqiutian Port - Lundu Port
18:50 ~ 7:00(+1)
About 7 minutes
30-60 minutes a shift
More infrmation about ferries to Gulangyu Island, please visit How to Get to Gulangyu Island >>
Get around Gulanngyu Island
There is no public transport; even bicycles are banned on the island. The only way for you to tour around is by walking. The only battery car is for sightseeing only. Electric Sightseeing buses near Sanqiutian Port can take you on a quick tour around Gulangyu Island. The whole trip takes about 20 minutes and stops at 4 places. Yanwei Mountain Ecological Park, Neicuoao Port, Gulang Villa and Shuzhuang Garden Get on and off in the middle is allowed.
More Tips for Visiting Gulangyu Island
1. Ticket
To get to the island, the ferry fee is ¥35/person for most routes, and the luxury ferry is ¥50/person, and this is a round way ticket. The island itself has no entrance tickets; however, some attractions on the island need entrance fees. Information below is only for your reference, which might change according to the real situation. For more current news, please feel free to contact us.
Sunlight Rock Scenic Area: ¥60/person
Shuzhuang Garden (including Piano Museum): ¥30/person
Haoyue Garden: ¥15/person
Organ Museum: ¥20/person
International Calligraphic Carving Art Gallery: ¥10/person
The coupon ticket for the above five attractions: ¥100/person
Weather & Best Time to Go and What to Wear
Gulangyu Island is featured in subtropical maritime monsoon climate, and it's warm and humid all year round. Temperature in summer and winter is also comfortable. The best time to go is spring and autumn. Spring is the rainy season, so prepare rainproof. Summer is the tourist peak season, and it's great time to play water; however, the island is easily hit with typhoons, and the ferry will be suspended when there is a typhoon. Autumn is comfortable, and this is the season for tea-picking, tourists can experience the slow life here. Winter is also very warm here, and the trees and flowers are still nourishing during this time. There is no car on the island, so tourists need to walk a lot. Make sure you wear a pair of comfortable shoes.(Learn more about Xiamen Weather)
3. Accommodation
There are many accommodations on the island, and basically, they are all distributed in the ferry area, ancient building area, and the seaside area, etc. The most famous and popular accommodations on the island are home inns, which are very suitable for petty bourgeoisie. Most home inns are converted from old villas, ancient but elegant, sweet and romantic. The accommodation on Gulangyu island is slightly higher than in Xiamen and with limited hotel types, therefore, most tousits would choose accommodation in Xiamen downtown. (Learn more about Xiamen Accommodation)
Gulangyu Weather
Family Inn on Gulangyu Island
How to Plan Your Xiamen Tour
Most visitors prefer to spend 2-4 days covering the highlights of Xiamen City and surrounding. They usually spend one day visiting the best attractions in the city area including Gulangyu Island, South Putuo Temple, Hulishan Fortress, Zhongshan Road, etc. And enjoy 1-2 days to Fujian Tulou clusters in Nanjing and Yongding to see the famous earthen buildings listed as World Cultural Heritage. If you want to explore Xiamen deeply, plan 1 more day to discover Huandao Road, Jimei School Village, The Eighth Seafood Market, Wanshi Botanical Garden, etc. !
✔ 2 Days Xiamen City Tour with Gulangyu Island
Besides, you can also plan as many other visitors to spend 5-6 days visiting Wuyishan together with Xiamen and Fujian Tulou to appreciate more natural and cultural charm of Fujian Province.
✔ 5 Days Xiamen, Nanjing Tulou & Mount Wuyi Discovery Tour
If you are interested in photography, you can add 2-4 days to shoot Xiapu Mudflat in Ningde.
✔ 4 Days Fujian Xiapu Mudflat Photography Tour
If you want to discover more culture and nature highlights to Fuzhou, Quanzhou, etc., plan 1-2 more days for each destination.
Beyond Fujian, China boasts a lot of wonderful nature, culture, history and city charm to discover, such as Beijing, Shanghai, Guangzhou, Guilin, Chengdu, Huangshan, Hangzhou, Yunnan, etc. Extend your Fujian trip to more popular destinations to enrich your exploration of China in one go!
► Check more popular Xiamen Tour Packages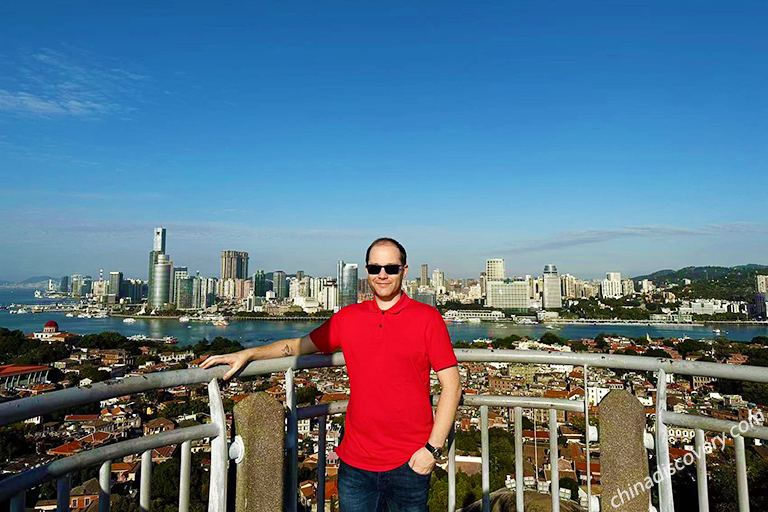 Gulangyu Island in Xiamen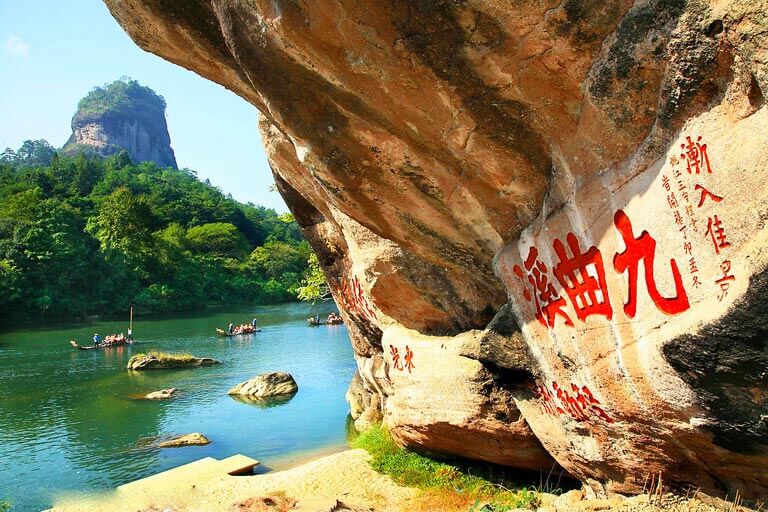 Wuyi Mountain
Travel Xiamen & Fujian with China Discovery
China Discovery is an experienced, professional and reliable travel companion devoted to offering high-quality and the best tour services for all travelers to China. In order to have a hassle-free travel and focus on the trip itself, it's highly recommended travelling with China Discovery. So, you can enjoy convenient airport pick-up and drop-off service and transportation to all scenic spots in a safe, clean, comfortable, air-conditioned and non-smoking vehicle. Also, we will arrange knowledgeable local English-speaking tour guide, excellent accommodation and dining arrangements to ensure you rest well and get better understanding of highlights in Xiamen and Fujian. The tour can be tailor-made according to your interests, time, group size, budget and every special need. If you are interested, please feel free to contact us to customize your tour!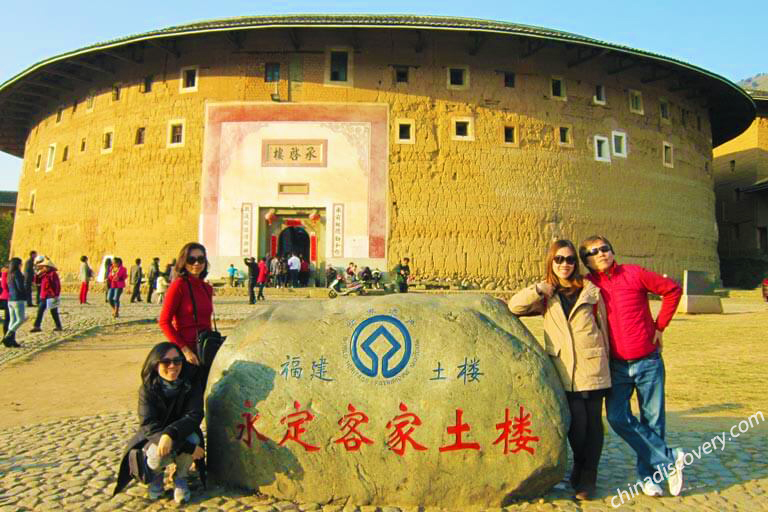 Our Customers Traveling in Fujian
More about Fujian Travel Guide
Recommended Xiamen Tours
Top 3 Xiamen tours chosen by most customers to explore Xiamen in the best way. Check the detailed itinerary, or tailor your own trip now with us.
3 Days Classic Xiamen and Fujian Tulou Tour

Xiamen / Nanjing Tulou / Yongding Tulou / Xiamen
2 Days Xiamen Essence Tour with Nanjing Tulou

Xiamen / Nanjing Tulou / Xiamen
3 Days Joyous Xiamen & Tulou Tour with Huandao Road Cycling

Xiamen - Nanjing - Xiamen
Start planning your tailor-made holiday to China by contacting one of our specialists. Once inquired, you'll get a response within 0.5~23.5 hours.
Customize a Trip
Questions & Discussions
Following are latest questions and answers from our webusers and customers. You can learn many useful information from the discussion and cases. You can also join in the discussions or ask your own question. Our experts will help you ASAP.
Ferry tickets
Do we need to buy ferry tickets to Gulangyu Island in advance or can we buy it at the ferry terminal. Thanks.
Hello Tom,

Good morning from China Discovery. If you go in off season, you can buy tikcets at Xiamen International Cruise Terminal for the ferry to Gulangyu Island. Or, if you visit during holidays, it is recommended to buy tickets in advance.

Have a nice trip in Xiamen!
Mei Hua Life Health Center
Where is the Mei Hua Life Health Center located on Gulangyu?
Dear Ardis,

Mei Hua Life Health Center is located middle western Gulangyu Island. Detailed address is No. 18, Jishanlu, Gulangyu (思明区鼓浪屿鸡山路18号). Only about 1km's waking from Gulang Stone (鼓浪石).
Have a question? Get answers from our travel experts or guests
Your Question:

Your Name:

Your Email: