Zeva's 4 Days Southern Sichuan Road Trip in Southern Sichuan with Foodie Exploration
Departure Date

2017-01-27

Travel Length

4 Days

Travel Theme

Food, Culture, Family

Group Size

7

Travel Route

Chengdu - Xichang - Huili County - Chengdu

Highlights

Xichang, Huili County, Qionghai National Wetland Park, Copper Hot Pot, Kongming Lantern etc.

Story Tags

#Southern Sichuan Tour#Xichang Tour#Visit Huili County#Southern Sichuan Road Trip#Photography#Culture Tour#Food Tour#Hiking
In the beginning of year 2017, my family members had rarely gathered together and planned a road trip to South Sichuan.
Day 1 Xichang arrival, Yi Minority, Brazier Barbecue
Our journey starts early morning driving from Chengdu. The road trip is fun with family entertainments and beautiful scenery along the way. After 6 hours' driving on highway, we arrived Xichang, where people call it Little Spring City. Xichang is sunny more than 200 days every year, on the day of our arrival, it's also a bright and sunny day. Xichang is the capital of Liangshan Yi Autonomous Prefecture in Sichuan Province, with more than 50% of minorities population, in particular, the Yi Minority. Yi nationality is the sixth largest minorities in China, a friend from Yi entertained us with a feast Xichang barbecue, or so-called Brazier barbecue, because it's grilled on the brazier directly. We tried the traditional Yi ethnic flavors and local specialties such as barbecued tuotuomeat, fried silkworm pupa and roasted potatoes.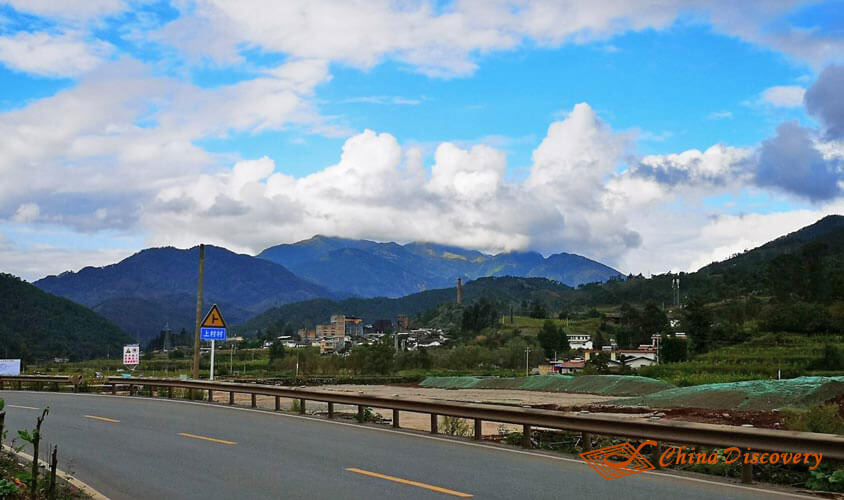 -Beautiful scenery along the way-
Tuotuomeat is a famous Yi-style cuisine. Sichuan dialect calls "large lump" as "tuo", so "Tuotuomeat" means grilled huge lumps of meat. The way of cooking is to cut beef, sheep, pig, chicken or beast meat into lumps and grill them on brazier. For dinning, the Yi people are accustomed to use the suckling pig as the material, the taste is crisp, fragrant and delicate, fat but not greasy. Skewer the tuotuomeat on thick bamboo sticks and bake it on the firewood directly, it is an extensive and wild method of grilling, which fully reflects the Yi people's boldness spirit of "eat meat in large chunks, drink in large bowls".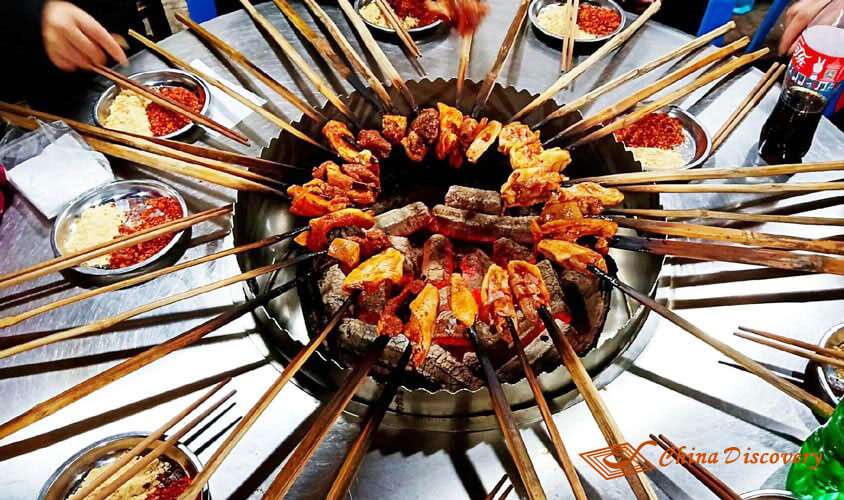 -Tuotuo Meat-
The roasted silkworm pupa is another traditional dish on Yi minorities' table. When living in poverty in the past, the Yi people will do everything they can to fill their stomach. They found that the roasted silkworm is very fragrant and full of satiety, cause silkworm pupa is a kind of food that rich in high protein. Gradually this roasted silkworm has become a family dish of the Yi people and nowadays also used to entertain guests. Indeed, the dish itself looks creepy, but if you just close your eyes and try a bite, you will find the rich flavor of it.
Fried potatoes, the street snack you can find everywhere, is just a bit different from anywhere else. This is because the potatoes grow up in high plateau with strong sunshine, the starch content of potato is higher than the ones produced in other regions. So here in Xichang, the fried potatoes are golden-look and crispy on the outside, soft and delicious on the inside, with the chili powder specially made in Xichang, foodies just can't stop eating.
Day 2 Xichang, Qionghai National Wetland Park, Fisherman's Banquet
Today is another sunny day, we headed to the Qionghai National Wetland Park to appreciate the beautiful landscape. Though Qionghai's "hai" in Chinese means "sea", geographically speaking, it is actually an inland lake. However, the reason Qionghai is not been called 'Qiong Lake' is because of its huge capacity and marvelous landscape that ancient people thought it is a sea. Thanks to the good weather, we appreciated the beautiful scenery along the embarkments and bridges, and visited rare species such as heron, egret, grey crane and seagull living worriless inside the wetland.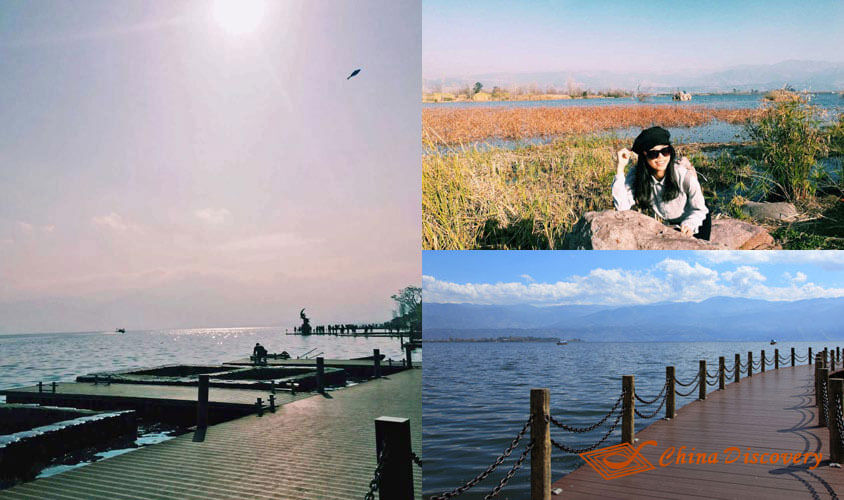 -Zeva in Qionghai National Wetland Park-
Qionghai is the second largest freshwater lake in Sichuan, rich in fish and shrimp, and is also a famous natural fishing ground. At dinner time we enjoyed the Fisherman's Banquet, with all kinds of unique fresh lake food like whitebait and hairy crab, in all kinds of methods of cooking such as steamed, fried, fresh braised and etc. Drunken shrimp is the most unique dish. The shrimps are raw shrimps. After cleaning the live shrimps, they are buried directly in the white spirit filled with condiments and then slowly drunk in the wine. Then, after the shrimp gets totally drunk, you can enjoy the food.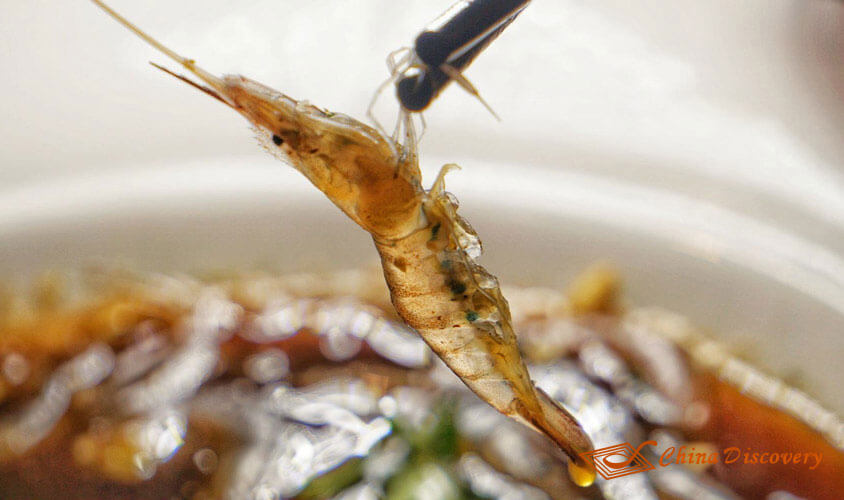 -Drunken shrimp-
Day 3 Huili County, Local Specialties, Copper Hot Pot, Kongming Lantern
This morning, driving from Xichang to Huili (about 2.5 hours), we spent a whole day wondering in Huili County. The Huili Ancient City (Huili County) is a typical southwest plateau city and well-preserved. Without commercialization, the local residents are still located along the streets, you can see tourists and visitors harmonized with locals' life. Unlike other bright and colorful ancient towns at night, people here in Huili are chattering on the streets in twos and threes, dancing on the squares, watching Baba movies (an old-style open-air movie) and so on. Walking around, I can feel the breath of life everywhere.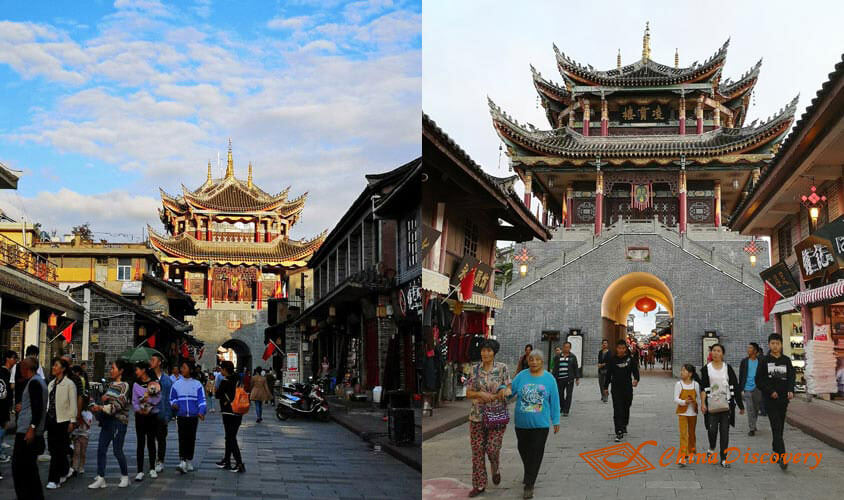 -Huili Ancient City-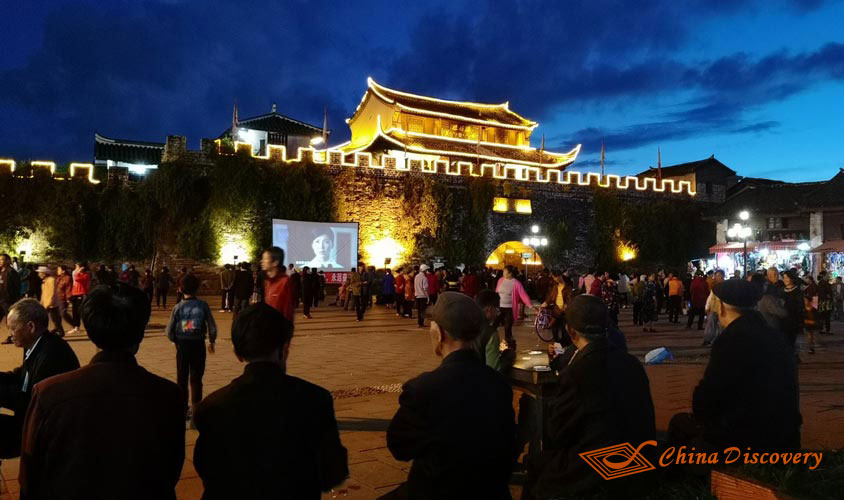 -Locals are watching Baba movies-
Regarding the special cuisine, since the locals also dinning here, so basically inside the Huili County you can find all kinds of special dishes. West Street eats bobbin bones, mutton rice noodles, and North Street buy local flatbreads (this has many stalls, other streets can also buy, local people's breakfast, so only in the morning), sliced chicken thick noodles are everywhere.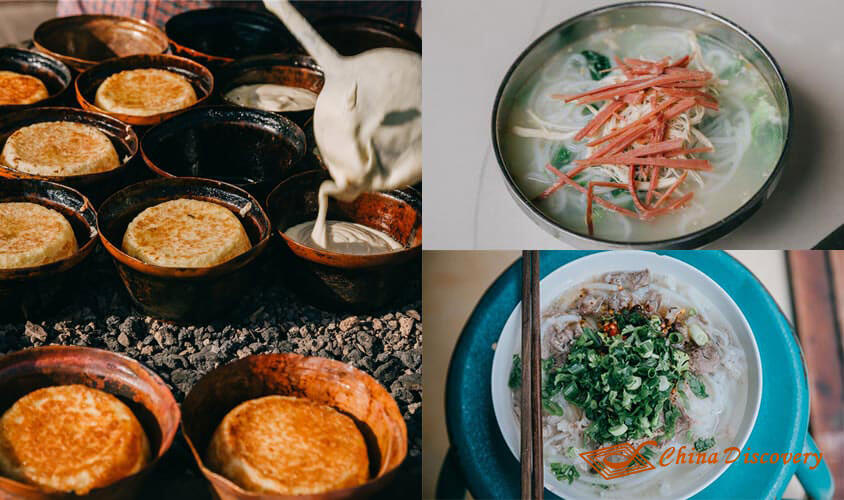 -Special dishes in Huili County-
Huili County has been rich in copper since ancient times, and it still preserves the hand-made skills of making copper hot pots. This process, according to research, has a history of more than 600 years. Huili people cook copper hot pot all year round. Almost every family member has a copper hot pot, the folk custom is to boil copper hot pot especially in winter and spring time, use charcoal as fuel, stew with pork ribs, lamb ribs, beef, beef offal, chicken and duck with soup, season with pepper, ginger, green onion and etc. The flavor dish used is made of home-made watercress, chili oil, minced green onion, millet spicy and garlic puree. The secret for Huili people to make the flavor tasteful and fragrance is adding a spoonful of soup to the dipping sauce when the soup is rotten. We visited Huili in winter time, so luckily have a chance to experience the atmosphere that everyone sat around the charcoal fire waiting for mutton in copper hot pot and putting boiled soup stock into each dip, which was full of joy.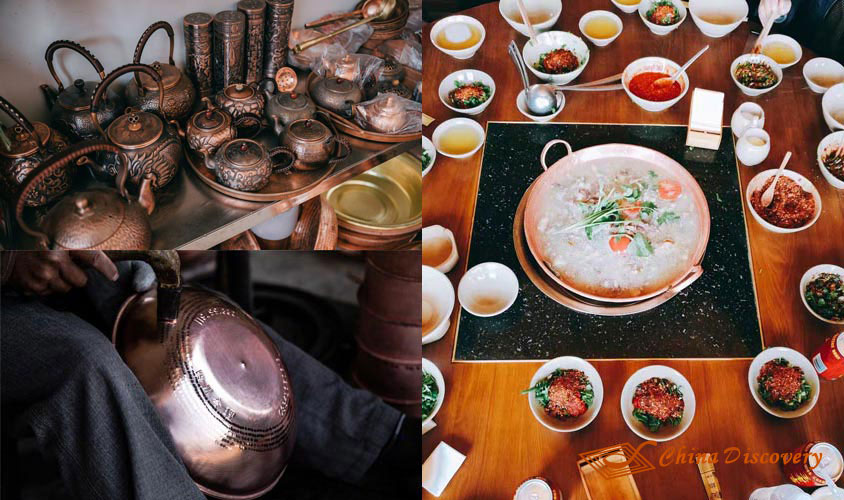 -Copper hot pots in Huili County-
Near to the New Year, there were activities of lighting the Kongming Lantern, an ancient Han handicraft, also called Wishing Lantern. It used to be a method to pass message in military purpose in ancient time, nowadays it evolves into a popular praying activity that people write down their wishes on the red lantern paper, light it up and send their wishes to the sky. In this New Year atmosphere, me and my cousins also lighted one Kongming Lantern, putting our good wishes to the new year.
Day 4 Huili Departure
This morning, after a hearty breakfast (for me I had sliced chicken thick noodles and local flatbreads), we returned back to Chengdu in a 7-hours driving.
Travel Tips:
The southern Sichuan region is located on a plateau with strong ultraviolet rays and the temperature various from day and night. Pay attention to the addition and subtraction of clothing, and also sun protection all year round.
The food in Southern Sichuan is mostly hot and spicy, prepare some stomach medicine if needed.
Travel with Me
Hi, I'm Zeva. Are you interested in my 4 Days Southern Sichuan Road Trip with Foodie Exploration? Feel free to contact me, and I will be glad to tell you more stunning stories about the places I have visited. Or, if you want to customize a tour on your own, I'm always ready to help at any time. With my passion, knowledge and understanding of the essence of travel, I promise I will try my best to make the tour memorable and meaningful for you.
Zeva

Travel Consultant
Recommended Tours
Top 3 tours chosen by most customers to explore in the best way. Check the detailed itinerary, or tailor your own trip now with us.
4 Days Chengdu Essence with Shunan Bamboo Forest Summer Vacation

Chengdu / Shunan Bamboo Forest
5 Days Brilliant Culture Tour through Ancient Shu Roads to Xian

Chengdu / Guangyuan / Xian
3 Days Chengdu & Langzhong Ancient City Tour

Chengdu / Langzhong / Chengdu
Have a question? Get answers from our travel experts or guests
Your Question:

Your Name:

Your Email: