Travel with Wendy: National Holiday to Ordos, Inner Mongolia
Departure Date

2016-10

Travel Length

4 Days

Travel Theme

Nature, Culture & Sightseeing,

Group Size

2

Travel Route

Chengdu - Ordos - Chengdu

Highlights

Ordos Grassland, Mausoleum of Genghis Khan, Resonant Sand Bay

Story Tags

#Ordos#Ordos Grassland#Mausoleum of Genghis KhanMongolian YurtResonant Sand Bay
As a travel consultant, we always advise our clients to avoid traveling in China during some big holidays in China, like May Day Holiday (usually May 1st -3rd), National Holiday (usually Oct.1st -7th)& Chinese new year holiday (often in late January or February, and lasting at least 7 days). As everybody knows, China has a large population, you can imagine what a splendid scene it would be at the tourist scenic spots during the precious public holidays. Nevertheless, there are still some niche tourist destinations that are much less crowded even in the holidays and Inner Mongolia is one of them.
When the 7 days national holiday was coming in 2016, I set my goal to Ordos, Inner Mongolia. What would you think about when mentioning Inner Mongolia? Endless blue sky, vast grasslands, ethnic Mongols, Naadam Festival in summer, or legend of Genghis Khan? Yes, they are all the landmarks of this mysterious land. As the provincial administrative region with the widest longitude in China, Inner Mongolia is endowed with rich natural and cultural resources, which have contributed to its rapid development of tourism in recent years.
Ordos and Hohhot in the west and middle of Inner Mongolia
Day 1 Chengdu flight to Ordos, visit Kangbashi new area in the afternoon
Our trip starts on Oct.1st and ends on Oct.4th. After 3 hours' flight on the first day, we arrived at Ordos Ejin Horo International Airport in the late morning. After check in to the hotel, we started the exploration in Kangbashi New District, Ordos.
Ordos, namely "numerous palaces" in Mongolian, is mainly composed of Kangbashi New District, Dongsheng District, and seven counties including Ejin Horo, etc. Kangbashi New District is the new political, cultural & financial center, scientific research, and education center, etc. and is also the first 4A-level tourist scenic spot named after the urban landscape in China.
Kangbashi is famous for its rapid rise from the wilderness into a modern city. The scenic area is composed of seven theme squares, four theme parks, three major museums, an ancient site, an urban landscape lake, and six cultural buildings. There are the largest Ike Aobao, the hip flask square, the Mongolian chess square, the Erdos wedding square, with each having its own characteristics with strong Mongolian style.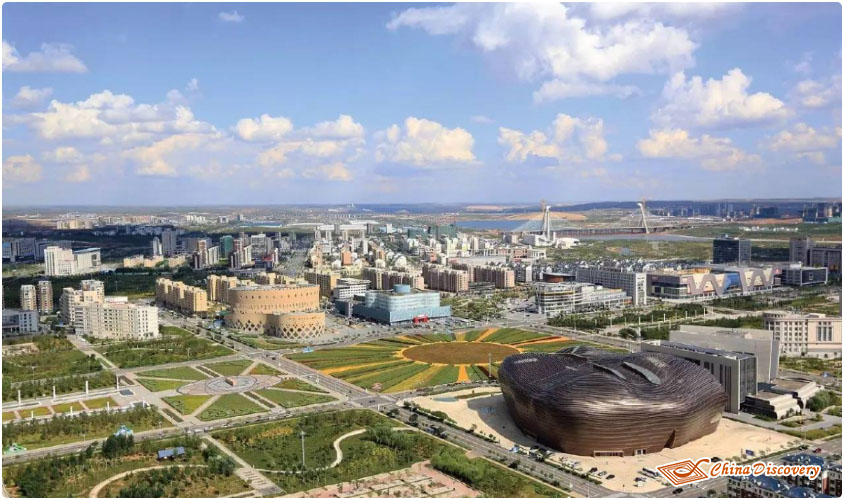 Ordos Kangbashi New District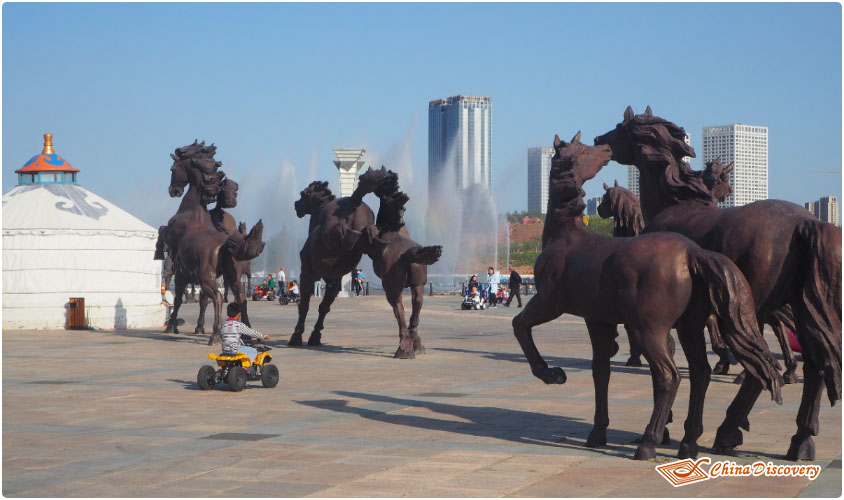 Ordos Square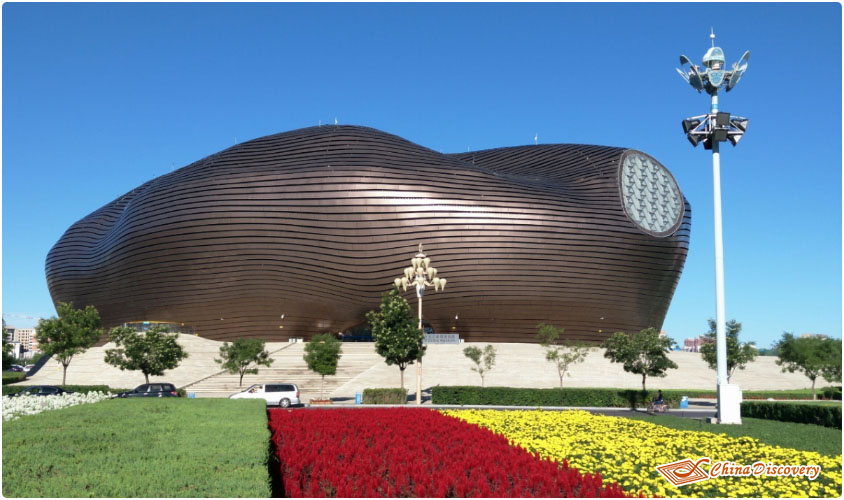 Ordos Museum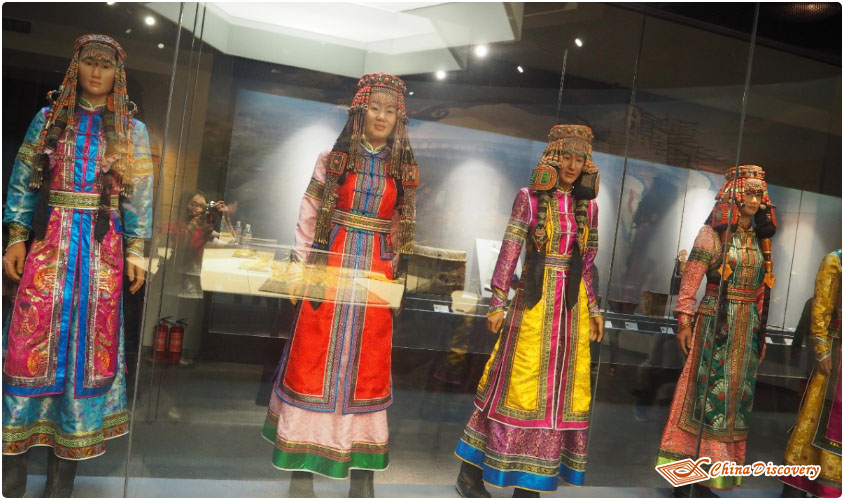 Traditional Mongolian Robe in the museum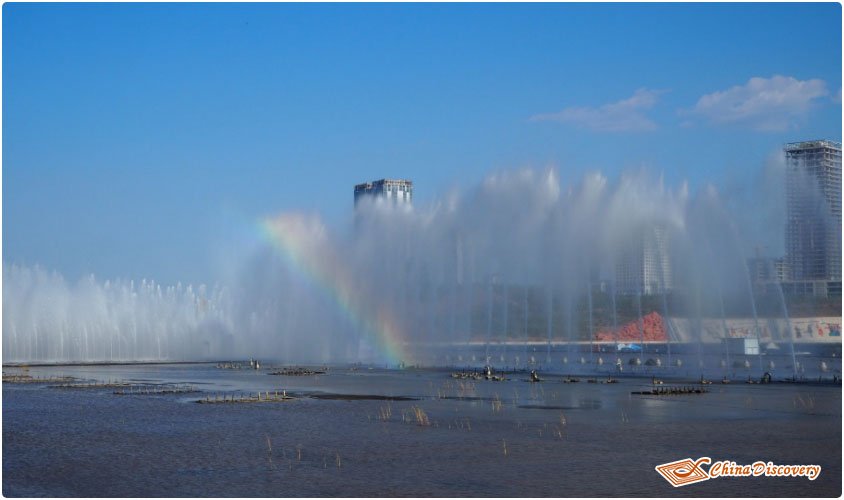 Ordos has the largest music fountain in Asia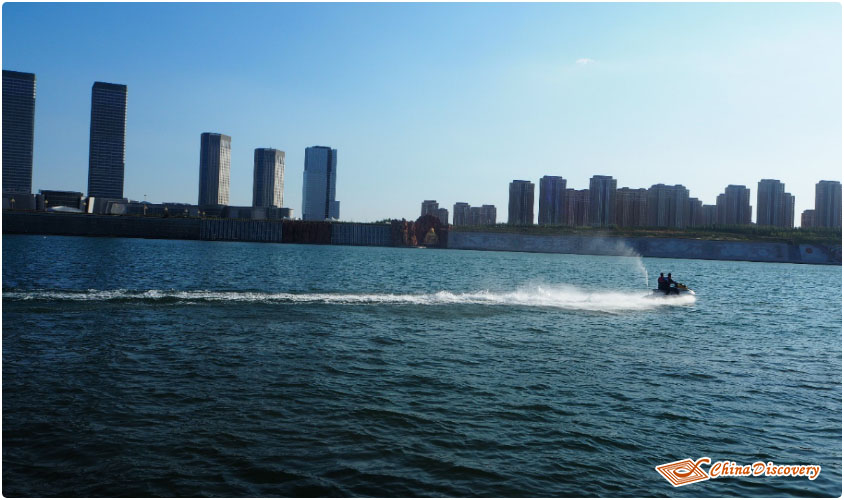 It's hard to guess this is an inland desert city
Day 2 Ordos- Mausoleum of Genghis Khan- Ordos Grassland-Ordos
After breakfast this morning, our guide picked us up from the hotel around 8:30 am, then we headed for our first destination for today-Mausoleum of Genghis Khan. Located 40km away from the urban areas of Ordos, it is a cenotaph tomb devoted to the worship of Genghis Khan, the founder and Great Khan of the Mongol Empire. As secret burials were prevalent in Mongolians, it was quite hard to find out where the real Genghis Khan tomb was. With a beautiful grassland environment and mysterious cultural landscape, the Mausoleum of Genghis Khan is the most reputed tourist attraction in Inner Mongolia. When traveling in the Mausoleum, travelers could not only learn about the great achievements of Genghis Khan but also experience the unique Mongolian history and culture.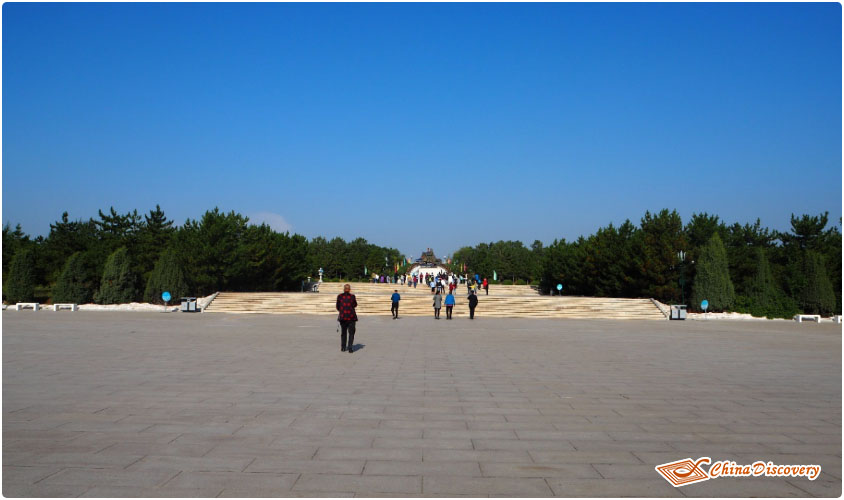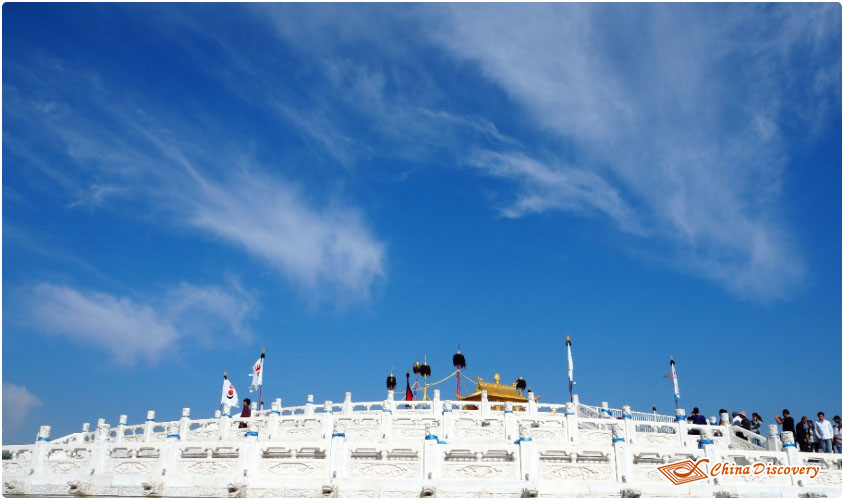 Mausoleum of Genghis Khan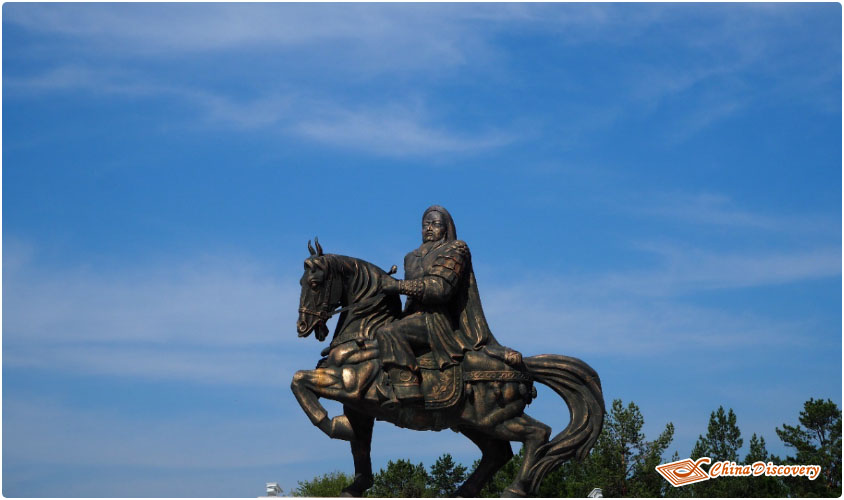 Statue of Genghis Khan
After the visit, our next destination was the Ordos Grassland, 120 km away from the Mausoleum of Genghis Khan. It is quite essential to do natural sightseeing at the right time, and any misalignment of visiting time may cause a huge difference in scenery sightseeing. Affected by the plateau terrain and continental monsoon climate, Inner Mongolia is usually colder than many other provinces in China, the best time to explore the grassland there should be late June to August.
It was already October when we visited, we knew there would be no surprise to see the grassland shriveled, nevertheless, we still determined to go. What a shame it might be if missing the grassland when visiting Inner Mongolia! We don't want to leave regrets.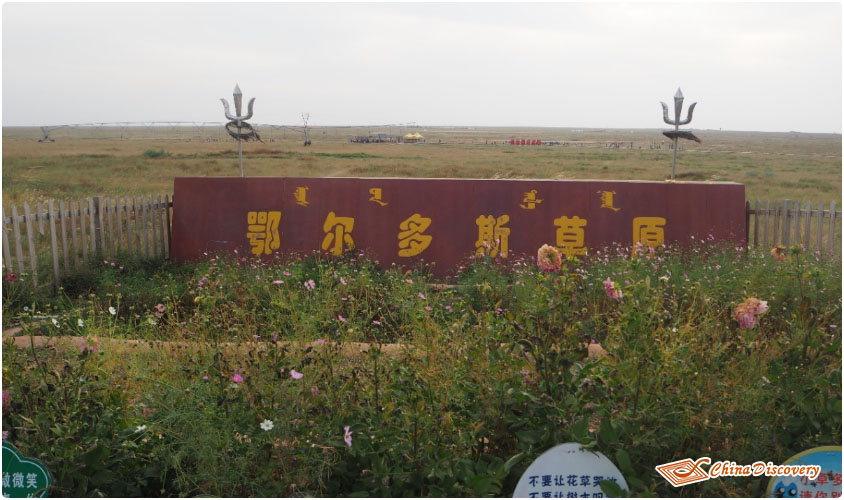 Ordos Grassland in October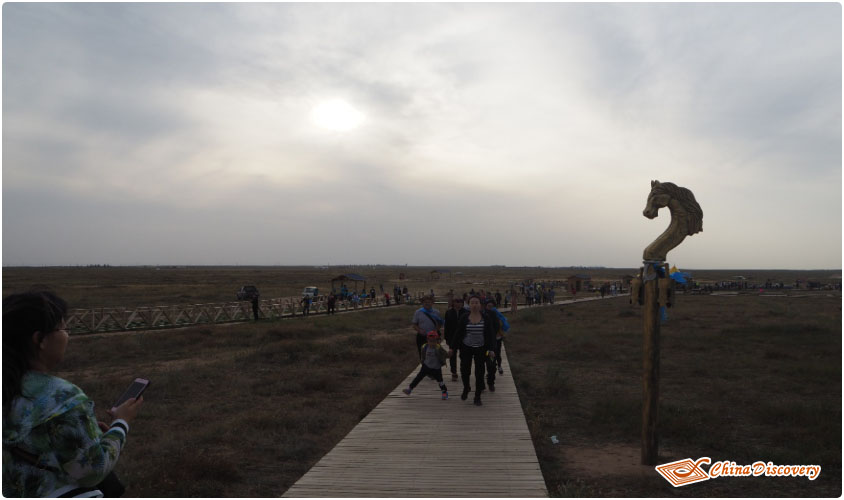 There is already no much grass left on grassland in autumn.
There are a lot of entertainment items provided on the grassland, including horse riding, archery, Ordos wedding, Naadamu real equestrian show, night bonfire party, grassland rail car, entertainment kart, grass sliding, flying saucer, children's playground, etc. Apart from the pity without seeing much grass, we really had fun enjoying various activities and could feel from them the wisdom and braveness of the Mongolian nation on the horseback.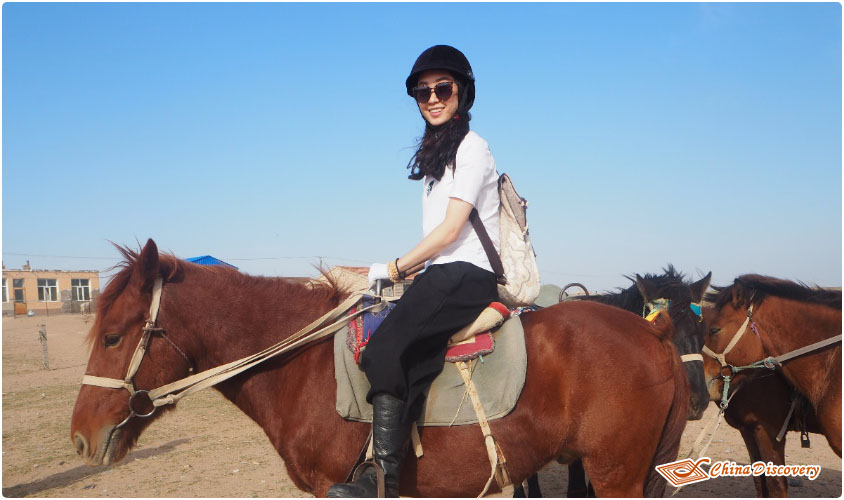 Wendy experienced horse riding on the grassland.
When the nightfall came by, we said goodbye to the grassland and returned to Dongsheng District, Ordos, for accommodation. If you'd love to, you could choose to stay overnight in the Mongolian Yurt and enjoy the marvelous sunrise on the grassland in the early morning.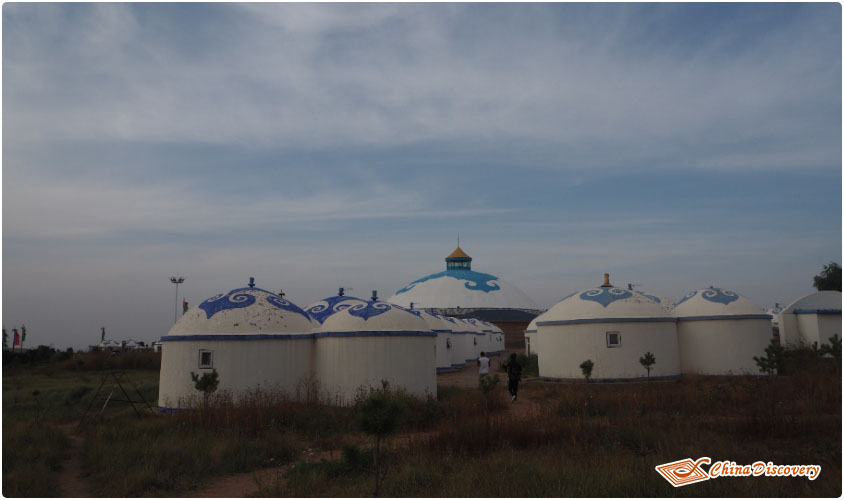 Classic Mongolian Yurt
Note for visiting the grassland: There is a large temperature difference on the grassland from morning to night, a warm coat is necessary to be prepared in advance.
Day 3 Ordos-Resonant Sand Bay-Ordos
Today our only stop is Resonant Sand Bay. Situated 44 km to the south of Dongsheng District of Ordos and 55 km to the north of Baotou City, Resonant Sand Bay( Or Sounding Sand Bay)is featured by its amazing desert landscape and the whispering sand dunes. On conditions of the dry climate, people could hear sounds like a bugle and drumbeat in the sand if they surf along the slopes of the dunes. The sand dunes stretch as far as eyes could see and make up a magnificent landscape.
It was a cloudy morning when we reached Resonant Sand Bay, then we started our exploration in the sandy bay. Travelers could spend half a day or a full day trip on the Resonant Sand Bay. If you have a half-day only for this trip, you could visit either Xiansha Island or Yuesha Island, however, if you have 1 full day, both of the islands could be visited.
Similar to the grassland, various entertainment activities are offered on the Resonant Sand Bay, camel riding, motor racing, target practice, arrow shooting, sand baths, and swimming, etc. Besides, you could also appreciate the spectacular & lifelike sand sculptures and enjoy Ordos songs & dances as well as unique Ordos wedding performances by the Xiangshawan Artistic Troupe.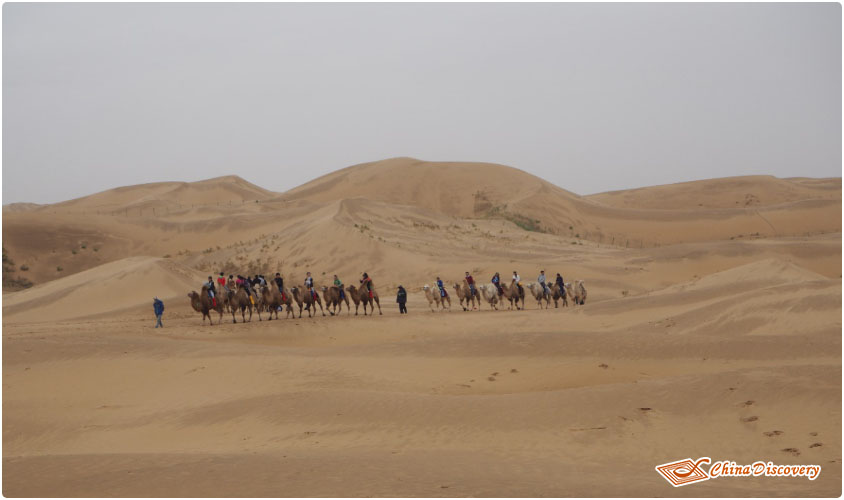 Camel Riding on the Sounding Sand Bay on a cloudy morning.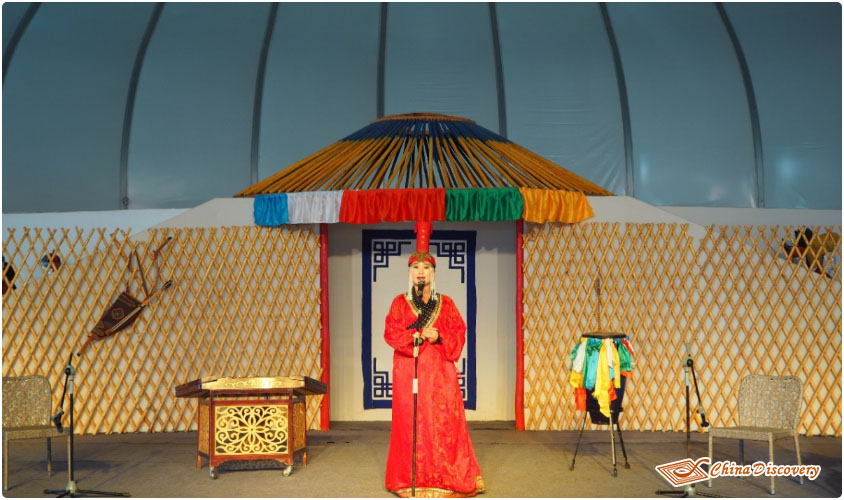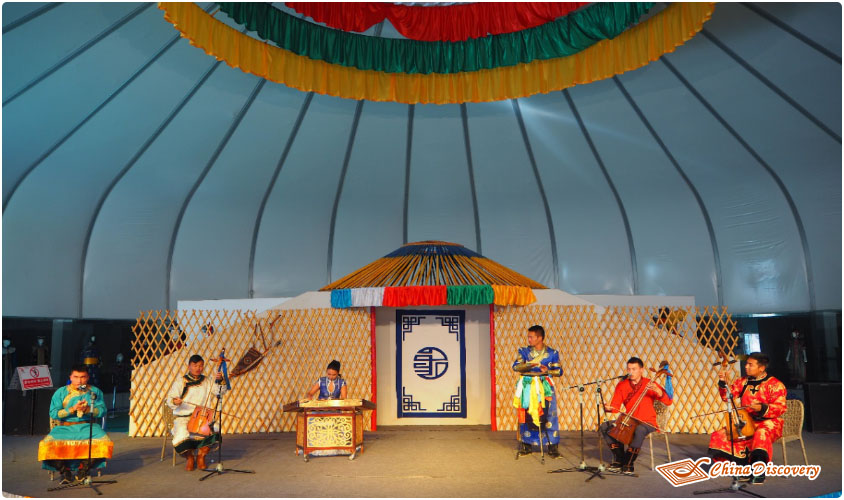 Music shows in the Scenic Area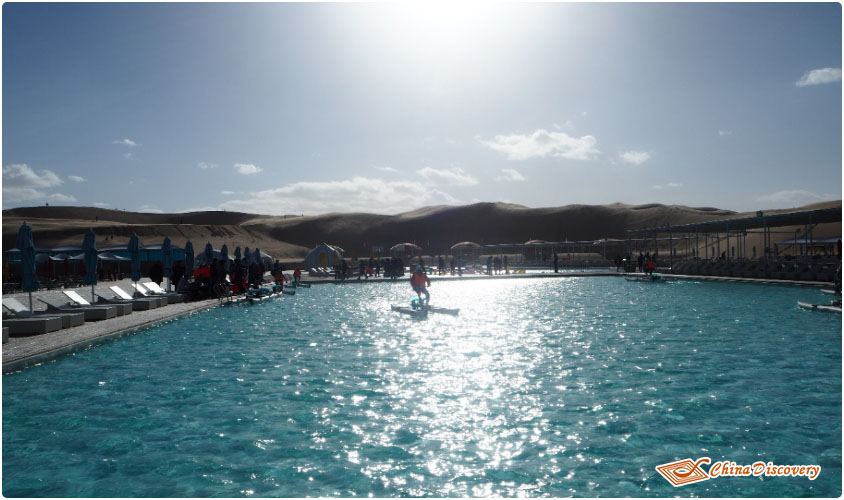 Swimming Pool in the desert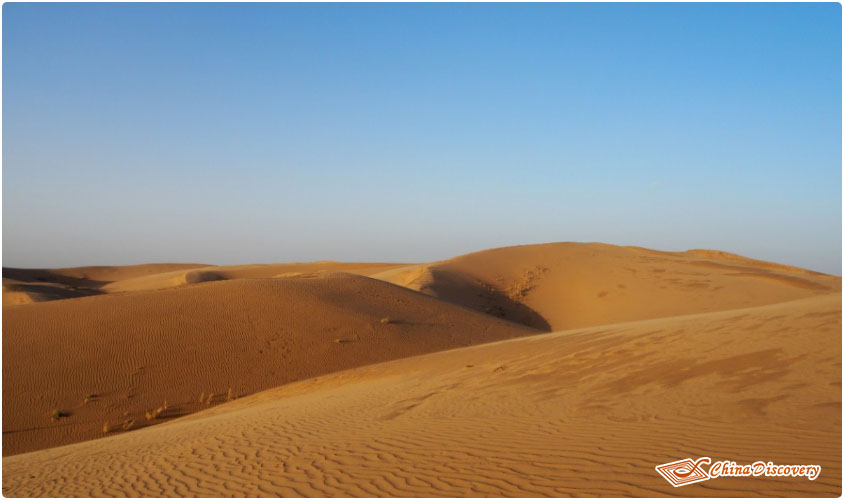 Resonant Sand Bay on sunny afternoon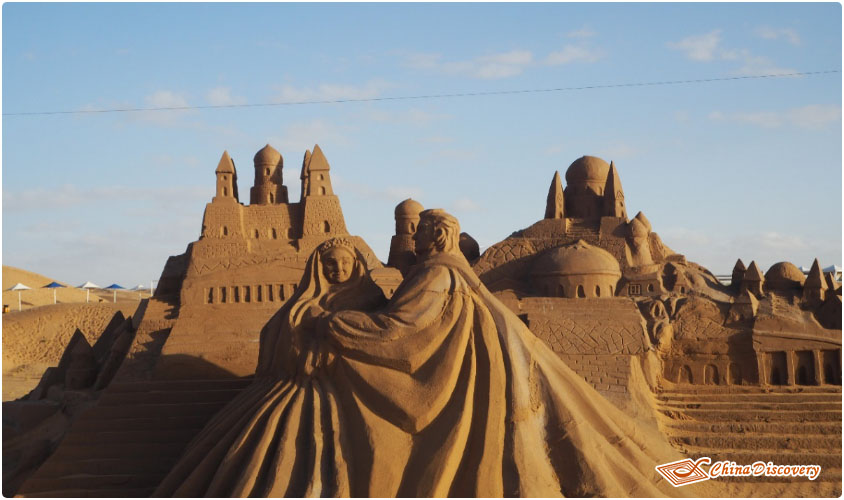 Sand Sculptures on Resonant Sand Bay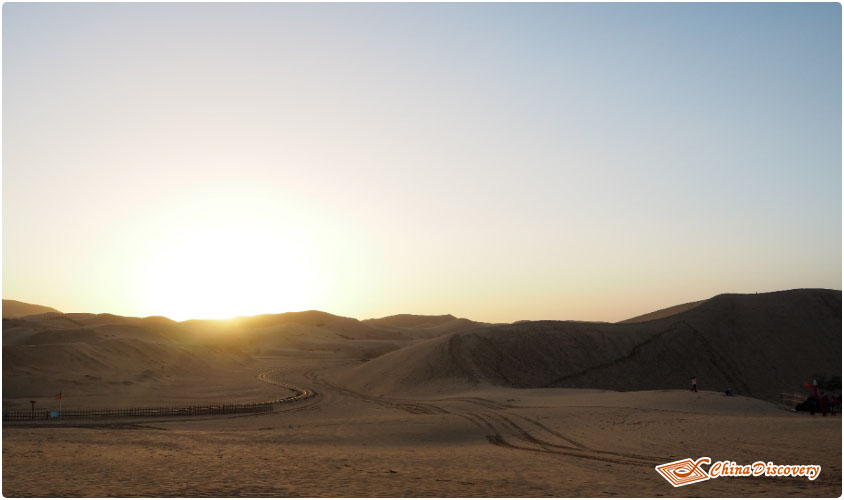 Resonant Sand Bay on sunny afternoon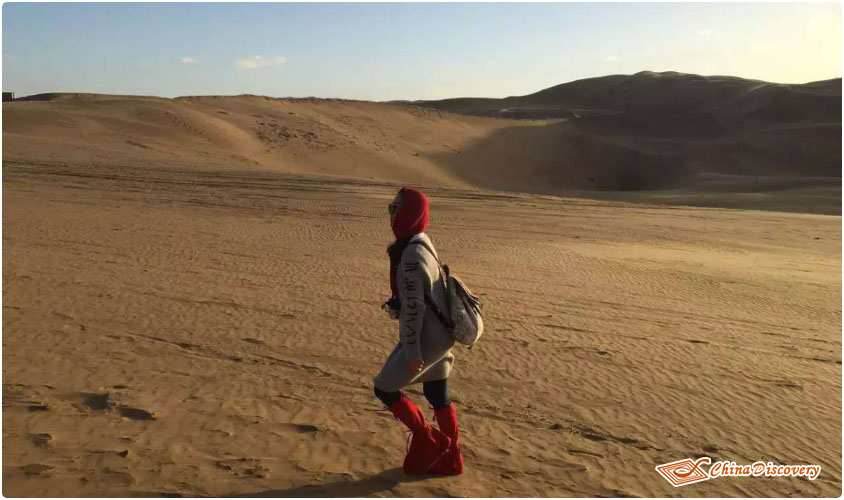 Wendy at Resonant Sand Bay
Notes for traveling in the desert:
1. There is a large temperature difference from morning to evening in the desert, you'd better bring some coats to protect against the coldness.
2. There is strong sunshine in the desert, it's necessary to take sun protection measures.
3. The scenic spot is about 1500 meters above sea level, do not wear high heels or slippers.
Day 4 Flight from Ordos back to Chengdu
Our flight was scheduled around noon, which didn't leave us much time for exploration before heading to the airport. Checking out of the hotel, we bid farewell to the lovely Ordos and flew back to Chengdu with unforgettable memories in mind forever.
Travel with Me
Hi, I'm Wendy. Are you interested in my 4 Days Inner Mongolia Tour? Feel free to contact me, and I will be glad to tell you more stunning stories about the places I have visited. Or, if you want to customize a tour on your own, I'm always ready to help at any time. With my passion, knowledge and understanding of the essence of travel, I promise I will try my best to make the tour memorable and meaningful for you.
Wendy

Travel Consultant
Recommended Tours
Top 3 tours chosen by most customers to explore in the best way. Check the detailed itinerary, or tailor your own trip now with us.
5 Days Inner Mongolia Grassland & Desert Tour

Hohhot / Xilamuren Grassland / Resonant Sand Bay / Baotou / Hohhot
8 Days Beijing & Inner Mongolia Adventure Tour

Beijng / Hohhot / Huitengxile Grassland / Hohhot / Baotou / Ordos
5 Days Best Hulunbuir Tour with Grassland Exploration

Hulunbuir / Erguna / Manzhouli / Hulunbuir
Have a question? Get answers from our travel experts or guests
Your Question:

Your Name:

Your Email: