Riley's 1 to 2 Days Best City Food Tour in Chengdu
Departure Date

Any Time

Travel Length

1 ~ 2 Days

Travel Theme

Food, City, Culture, Friends, Group, Solo

Group Size

Self, with Friends/Families

Travel Route

Chengdu

Highlights

Local Food, Popular Snacks, City Tour

Story Tags

#Chengdu#Chengdu Tour #Chengdu#Chengdu Food Tour#Chengfu Snacks#Chengdu Street Food#Sichuan Food#Sichuan Cuisine
Most people get to know Chengdu only as the land of the famous Chengdu Panda bear, and people come to Chengdu specifically for the pandas. But if you ask the locals what they'd be going to miss if they have to move out of Chengdu. It would never be the pandas at all, it'd definitely be the food. We also say, Szechuanese have "Sichuan stomachs" that would never be satisfied by food from other cities. People barely know that Chengdu is Home to spicy food and lip numbing dishes. Among all kinds of Sichuan cuisine, the street food is the soul. I'll never treat my friends to those fancy restaurants when they come to visit, I take them to those streets where full of snack stalls, that's where locals eat. Now, let me show you where and what to eat in Chengdu. Foodies can read What to Eat in Chengdu and Chengdu Cooking Class to fulfill your taste buds!
What to eat in Chengdu? Chengdu has much more than Hot Pot!
1. Sweet Water Noodles (Noodles with sweet sauce)
Unlike most of spicy food, the sauce is a mixture of some kind of special soy, roasted sesame paste, a little bit chili oil and sugar. The noodle itself is also different from the regular noodle, it's hand-made wheat noodles, thick and chewy. The first bite is sweet, then a bit spicy, then the unique flavor of sesame. Believe it or not, my mouth is watering now!
2. Dan Dan Noodles
Dan dan noodles are probably some of the most well-known Chengdu dishes and can commonly be found on Chinese menus in cities like LA and London. The noodles are topped with ground pork and a spicy sauce with peanut flavor. They can be topped with crushed peanuts or soybeans. Unlike Sweet Water Noodles, they are thin and long, and the sauce is the typical spicy flavor.
3. Roasted Rabbit Head
Yes, it's the real rabbit head, it sounds scary, isn't? It was the last thing I wanted to eat, but once you have a bite, you'd fall in love with it. when eating rabbit heads (or chicken's feet, or duck necks etc.) is that it's not really about the meat, it's about the flavor, and the interaction with that flavor created by engaging with the vessel. Sucking the gum out of the head is all about that time spent with the flavor and the interaction, not about what goes down the hatch.
4. Clear Jelly Noodles in Red Chili Sauce
Sichuanese make the thick translucent noodles from pea starch, sweet potato starch or mung bean starch, mixing them with chili sauce, sesame and peanuts, the Jelly Noodles itself tastes cool, soft, like some special kind of pudding.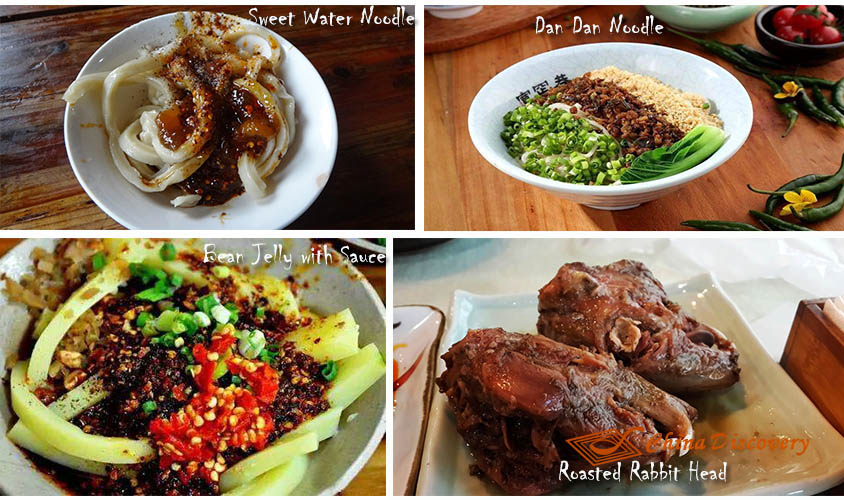 Top Famous Local Snacks in Chengdu
5. Dumplings
Dumplings are a common food all across China, but the Chengdu people like them with a spicy flair. There are red chili dumplings and soup dumplings, locals prefer the spicy one that tastes spicy and salty. The red oil dumplings are made with chili oil, ground or cut up chili pepper, and perhaps sesame oil. The soup dumplings have a light and delicate taste; delicious soup with the dumplings makes you feel healthy, always for elderly and kids.
6. Guokui (Meat Pies)
Guokui is a baked meat pie, crispy outside, moist inside. The tender dough is stuffed twice with ground meat, folded and rolled again into round pancakes, deep fried until golden and then baked in a charcoal pit. One bite into the meat pie, the crispy flaky bits crumble down onto the table. The chili pepper and Sichuan peppercorn spiced tender meat filling. The oozing juice piques all of the sensations in your mouth, begging for your second bite.
7. Pita Bread Sandwich (Another type of Guo Kui)
I know this sounds confusing, but the pita bread sandwich does share the same name with the deep fried meat pie that I introduced earlier in this blog. This type of Guo Kui is a sandwich made with a less oily wheat bread and stuffed with ready-made savory or sweet fillings. You could literally add whatever you like in the bread, the regular fillings are ready-made vegetable salad with spicy sauce, cold braised tender beef, Clear Jelly Noodles in Red Chili Sauce and even noodles. The pita bread itself is grilled until crispy on the outside and tender and warm inside, filled those juicy fillings make a moister taste.
8. Double-Cooked Pork Belly - Huiguo Rou
Double-cooked pork belly is one of the less spicy of the dishes I recommend eating in Chengdu. It consists of a simmered pork belly, which is then sliced thin and stir-fried. Once crispy, it is mixed in a sweet sauce with vegetables (normally leeks) and just a hint of chili. Yes, as much as it is not overly spicy, there's still chili in it.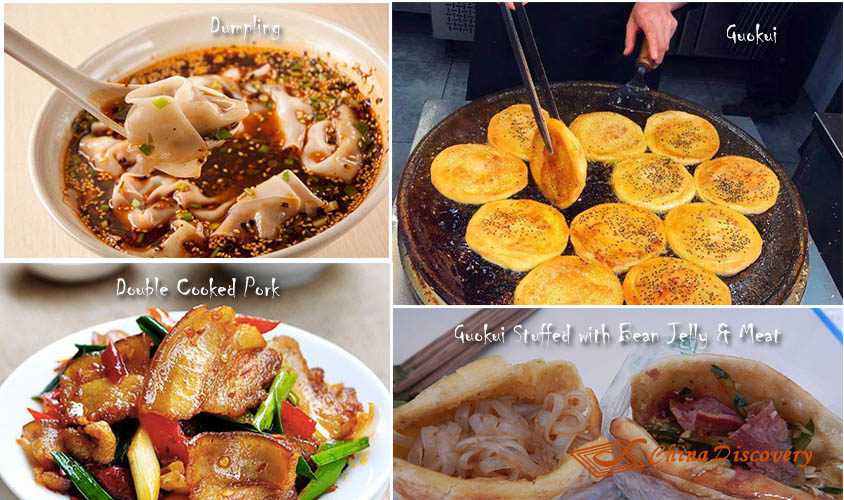 Must-eat Chengdu Food and Snacks
9. Fresh Spring Rolls
First of all, these spring roll wrappers are very special, nothing like dumpling wrappers or rice papers like those used in Vietnamese spring rolls, they are made with a wheat flour springy dough that has the perfect texture. The making of spring roll wrappers is a pure art, they solidify while you smear a big chunk of dough onto a hot cast iron pan. The surface that touches the pan will cook immediately, forming a thin wrapper, leaving the rest of the dough uncooked (see the cool video below). As a result, it makes a super thin cooked wrapper that you can see through. It holds together well and has a slightly chewy texture. You should definitely come and see it in person!
The fillings are almost the same as Pita Bread Sandwich, you literally could wrap whatever you want as long as the thin wrapper could take it.

Handmade Fresh Spring Rolls is a Traditional Folk Snack
10. Sticky Rice Balls
This is one of my favorites! The recipe is pretty simple – they are made from glutinous rice flour rolled into balls, which are then deep-fried in oil and finally topped with sesame seeds. But it's the taste of memory, whenever I eat it, it reminds me of my childhood. For people who don't use to spicy food, it can serve as a refreshment after all that spicy Sichuan food.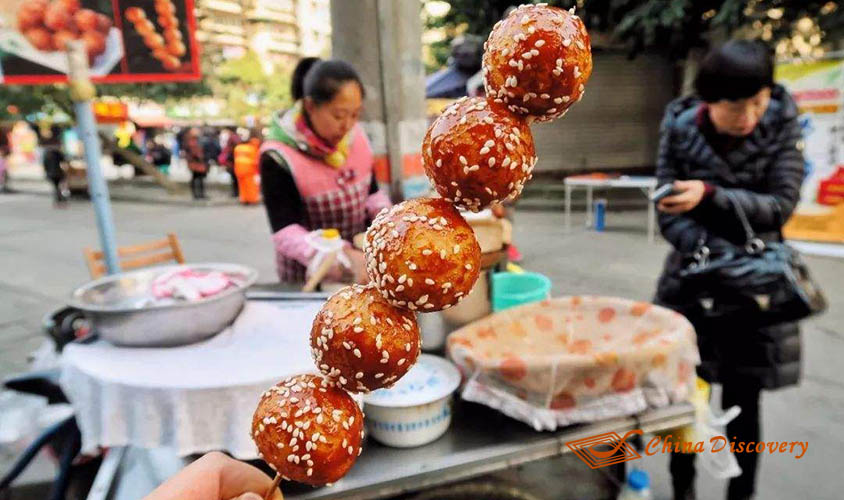 Sticky Rice Balls is Fried Glue Puddings with Sugar-coating
Most Popular Places to Taste Loacal Food & Snacks in Chengdu
I don't think I can list all the tasty Sichuan street food from even one food street, but I can list the most popular places for you to discovery by yourself! Below places are literally where locals would go.
1. Wenshu Temple - 文殊院 (Close to Wenshu Temple, near the center of Chengdu)
● Address: No.15 Wenshuyuan Street, Qingyang District, Chengdu 四川省成都市青羊区文殊院街15号
● How to Get to: Taking Metro line No.1 and get off at Wenshuyuan Station(文殊院站). If you take the bus, you can get off at the "North Street" or "Wenshuyuan" or you can easily reach by taxi.
2. Chunxi Road - 春熙路 (The downtown center of Chengdu city)
● Address: Chunxi Road, Jinjiang District, Chengdu 四川省成都市锦江区春熙路
● How to Get to: you can take metro line 2 or 3, get off at Chunxi Road Station (春熙路站)
3. Yulin Food Street and Yulin Square - 玉林街/玉林广场 (Close to city center)
● Features: Chave night clubs, restaurants and food stalls, popular among young people
● How to Get to: aking Metro line No.1 and get off at Nijia Qiao Metro Station where is still 10-minute walking distance from the food street. Or taking a taxi and asking driver to take you to Yulin Food Street, all drivers knows this place very well.
4. Jianshe Road - 建设路 (Popular among both locals and tourists)
● Location: Jianshe Road, Chenghua District, Chengdu 四川省成都市成华区建设路
● How to Get to: Bus No.101,103 108a,108b can get there. It's located in the downtown area so won't cost much by taking a taxi if you stay in a hotel in Chengdu downtown.
5. Shaxixian Food Street - 沙西线
● Feature: a comprehensive food street, be famous for authentic and cheap food
● Location: It is a little bit of outside from the downtown, but it is more local hangout area too
● How to Get to: Bus No.3, 56, 56A, 93 and 101 can reach there
Above all, Chengdu isn't a place only have pandas and temples, it's a very interesting and attractive city with enthusiastic people and delicious food! Hope my 8-year life experience in Chengdu could somehow help with your travel plan.
Travel with Me
Hi, I'm Riley. Are you interested in my 1 to 2-day Chengdu Food Tour with local flavors? Feel free to contact me, and I will be glad to tell you more stunning stories about the places I have visited. Or, if you want to customize a tour on your own, I'm always ready to help at any time. With my passion, knowledge and understanding of the essence of travel, I promise I will try my best to make the tour memorable and meaningful for you.
Riley

Travel Consultant
Recommended Tours
Top 3 tours chosen by most customers to explore in the best way. Check the detailed itinerary, or tailor your own trip now with us.
2 Days Leisure Chengdu Private Tour with Panda Visit

Chengdu: Jinli Street, Giant Panda Base, Wenshu Temple
2 Days Best Chengdu Food Tour with City Sightseeing

Chengdu / Sichuan Cuisine Museum / Chengdu
3 Days Chengdu Family Tour with Sichuan Opera Show

Chengdu / Pixian / Chengdu
Have a question? Get answers from our travel experts or guests
Your Question:

Your Name:

Your Email: