Travel with Riley: Return to the paradise-like Life in Ruoergai Grassland
Departure Date

2019-05

Travel Length

3 Days

Travel Theme

Nature & Sightseeing

Group Size

5

Travel Route

Ruoergai

Highlights

Ruoergai Grassland, Flower Lake

Story Tags

#Sichuan Tour#Ruoergai Grass Land#Sightseeing#PhotographyNature Tour
I've always wanted to go to a grassland! Imagine riding a horse on the vast grassland, the wind blows the grass, brings you a fresh and good smell of grass and takes away your pressures. Or imagine you just lying on the grassland, reading books under the blue washed sky, all you can see are yaks, horses and flowers, isn't it a desire life?
Lucky me! I live in Sichuan Province where owns Ruoergai Grassland, a 13,745-square miles-grassland. It's around 9 hours ride away from Chengdu where I live in, only one flight available each day, definitely is a place not easy to reach. But it never stops my passion, I took my third trip to Ruoergai Grassland in last May. Actually the best time are July and August, you could see kinds of unknown flowers in full bloom, hills are covered in lush green vegetation. But as a travel consultant, I have to work in best travel season. Traveling in off season, you could always get something unexpected and really enjoy some relaxing "me time".
Here you don't need to find any scenic spots, the scenery along the way is gorgeous. Let me show you some pictures first, there you go.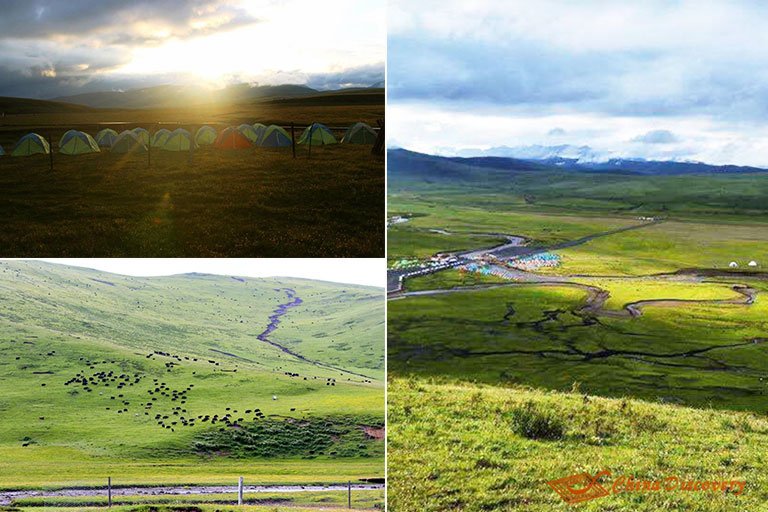 -We enjoyed amazing scenery on the way-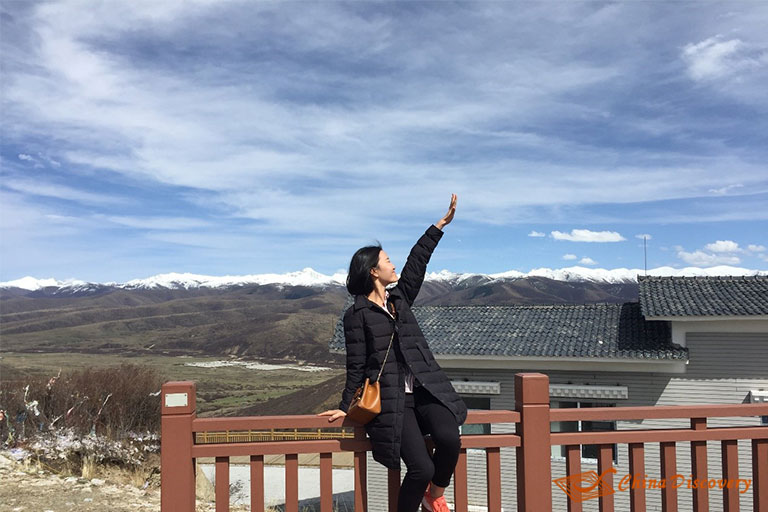 - Great snow mountains all heaped up together-
Besides of these beautiful places along the way, now I am gonna introduce you some famous and "must see" scenic spots in Ruoergai Grassland.
No.1. First Bend of Yellow River
The First Bend of the Yellow River is located in Tangke Township, Zoige County, the junction area of Sichuan, Qinghai and Gansu provinces where Yellow River meets with White River. Because of this converge, a giant S-shape and the magnificent First Bend of Yellow River are shaped.
How to get there: You can either hire a driver or go with a package tour as there is no public transportation directly to the scenic area. Actually the public transportation in Ruoergai county is inconvenient, people prefer driving a car themselves or just joining a package tour.
Accommodation: stay in both Tangke and Ruoergai township are both ok. Tangke township is only 15 mins drive to the scenic area, Ruoergai township is 1 hour away but with better living condition.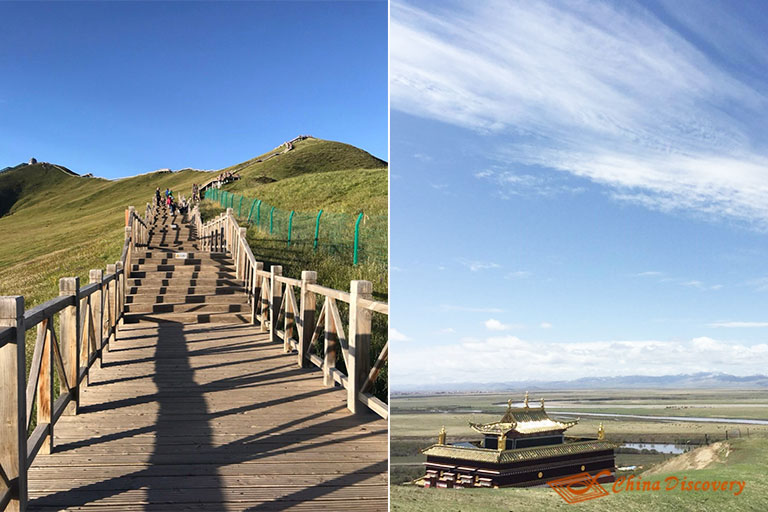 - First Bend of Yellow River-
Trust me, you don't want to miss the sunset and it'll definitely surprise you!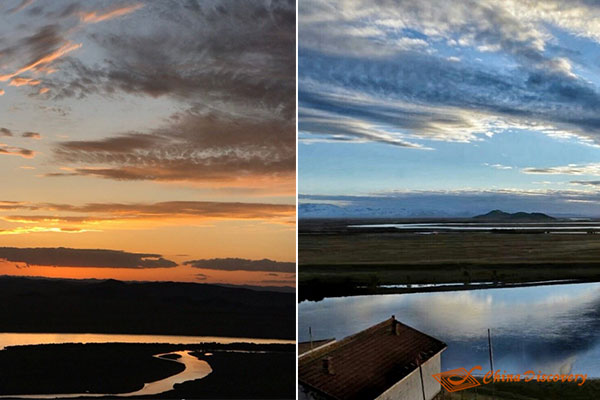 -Sunset at First Bend of Yellow River-
No.2: Moon Bay
Hongyuan Moon Bay (Yueliangwan) is located in Hongyuan County. The beautiful grassland in the scenic area seems like a green carpet, on which a slender curve is drawn by a clear river, like a crescent moon -- that is how the place got its name (Yueliang means moon).
Accommodation: Hongyuan township where is only 10 mins ride away.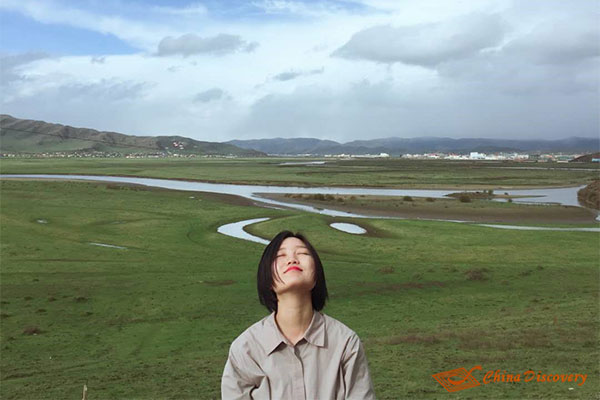 -Moon Bay-
No.3 Flower Lake
Have you ever seen pieces of pretty flowers blooming in the water? If not, then go to Flower Lake!
Flower Lake actually is a magnificent wetland embedded in Ruoergai Grassland. It was once rated as the most beautiful wetland in China by "National Geographic". During summer, the lake is full of flowers while red leaves add to its beauty in autumn. Cattle and sheep can often be found here in groups making it a great place for photography too. I never visited the lake in Summer, it's a pity. But you won't regret going there in other seasons.
Accommodation: Ruoergai Township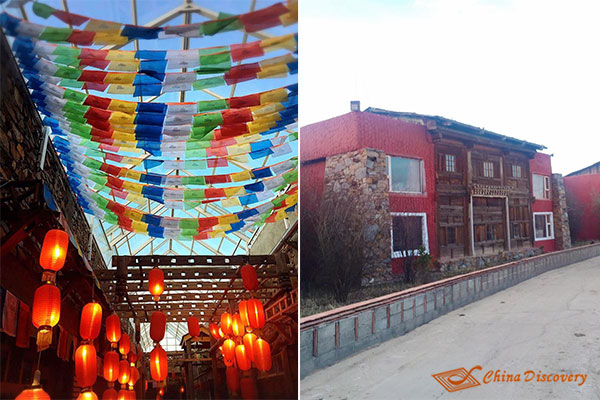 -Tibetan Hotel-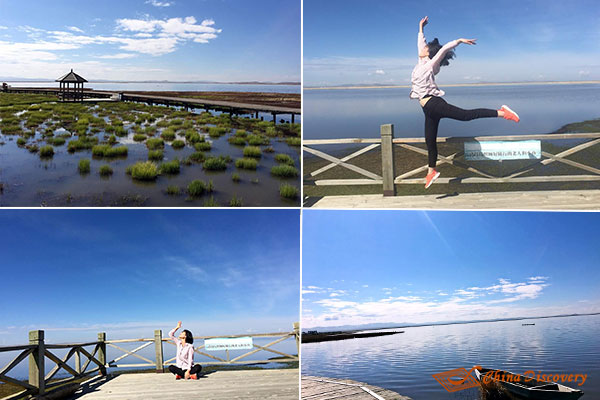 -Flower Lake-
Wanna try horseback riding and archery? There you go!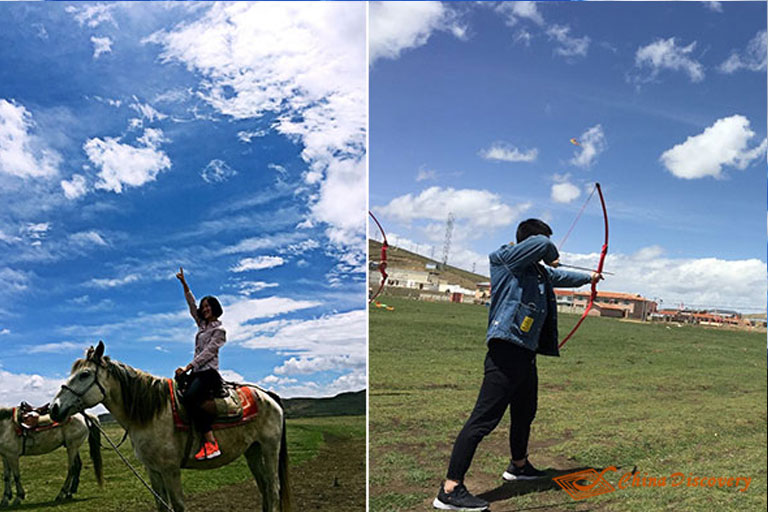 Our Wonderful Activities in Ruoergai
You are not gonna believe that I experienced 3 seasons in 4 days! Extremely hot day1, cool day2 and day3, snowy day4! When I woke up with an eyeful white snow, you can image how excited I was!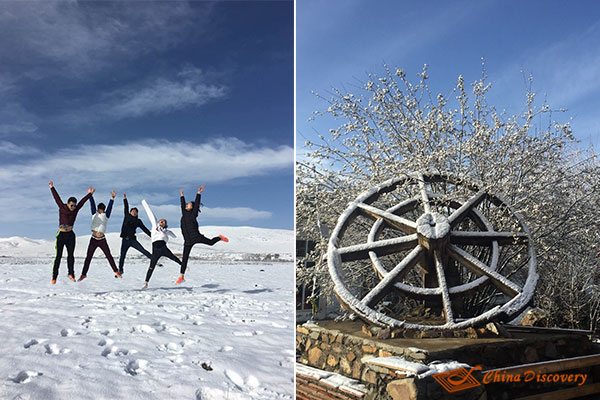 -Snowy Day!-
Warm Tips for Ruoergai Travel
1. If you plan to take a road trip, you'd better prepare some food beforehand, shops are hard to find along the way and you'll definitely need food during the 9-hour journey.
2. Ruoergai has limited infrastructure, you can tell from the inconvenient public transportation and very basic hotel facilities.
3. Ruoergai is 3400m above the high level and the sun ray is extremely strong, remember bring sunglasses, sunscreen. Avoid exercising too hard if you don't want to suffer from altitude sickness.
Hope my experience is helpful to you, if you are interested in Ruoergai Grassland or you wanna know further information, please feel free to contact me!
Travel with Me
Hi, I'm Riley. Are you interested in my 3 Days Ruoergai Tour? Feel free to contact me, and I will be glad to tell you more stunning stories about the places I have visited. Or, if you want to customize a tour on your own, I'm always ready to help at any time. With my passion, knowledge and understanding of the essence of travel, I promise I will try my best to make the tour memorable and meaningful for you.
Riley

Travel Consultant
Recommended Tours
Top 3 tours chosen by most customers to explore in the best way. Check the detailed itinerary, or tailor your own trip now with us.
7 Days Sichuan Discovery Tour

Chengdu / Leshan / Emei / Chengdu / Jiuzhaigou
6 Days Hongyuan & Ruoergai Photography Tour

Chengdu / Huanglong / Jiuzhaigou / Ruoergai / Langmusi / Tangke / Hongyuan
7 Days Jiuzhaigou Ruoergai Prairie Langmu Temple Tour

Chengdu / Chuanzhusi / Huanglong / Jiuzhaigou / Ruoergai / Langmusi / Hongyuan / Chengdu
Have a question? Get answers from our travel experts or guests
Your Question:

Your Name:

Your Email: