Travel with Riley: Discover the Gem of Sichuan - Jiuzhaigou Valley
Departure Date

2019-12-7

Travel Length

3 Days

Travel Theme

Nature, Hiking, Winter Trip

Group Size

1

Travel Route

Chengdu - Huanglong - Jiuzhaigou - Chengdu

Highlights

Jiuzhaigou Valley, Huanglong National Park

Story Tags

#Jiuzhaigou#Huanglong#Jiuzhaigou Winter Trip
I've been living in Chengdu for 7 years but never get a chance to Jiuzhaigou Valley. Though people always say it is a paradise on earth, weather it rains or sun, weather summer or winter. My friends who came back from there told me, once you have the first trip, you'd definitely want a second even third! This year, I finally got myself a chance to take a short trip to Jiuzhaigou Valley to see if it is really as beautiful as people said.
Day1: Chengdu-Huanglong-Jiuzhaigou
I got up at 4am to take bus to Huanglong where is around 7 hours ride away from Chengdu downtown. Seriously, if budget allows, I'd recommend by air which is much more convenient and comfortable!
Huanglong is famous for plentiful different shaped and colorful calcified ponds, caves, waterfalls, streams, stones, which has earned itself the fame of "Heaven Lake" as well as the "Calcification Museum".
I am a good hiker so I prefer hiking up instead of taking cable car which turned out to be a great idea. Because almost all the people took cable car so we had no crowds all along the way up, it seemed I own the whole mountain myself!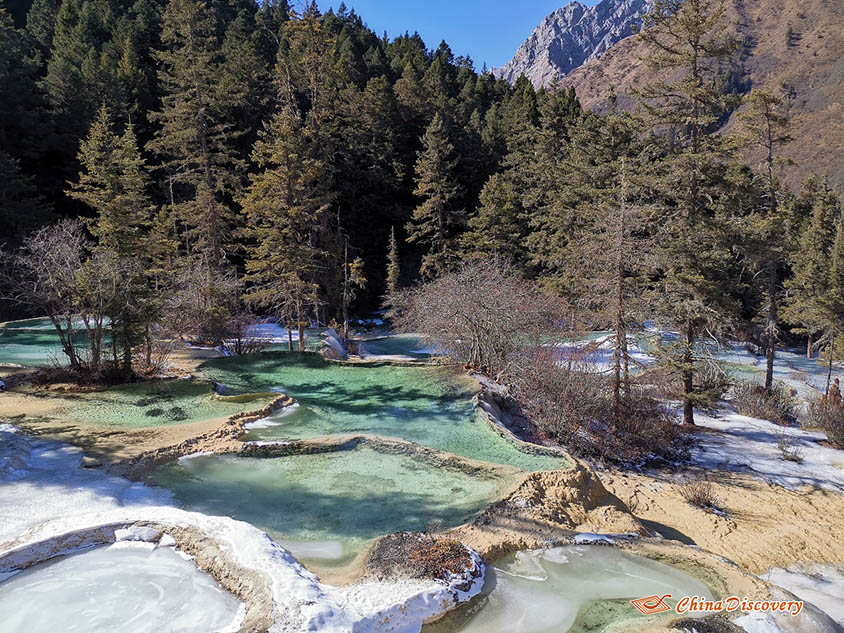 Colorful Ponds Along Huanglong Hiking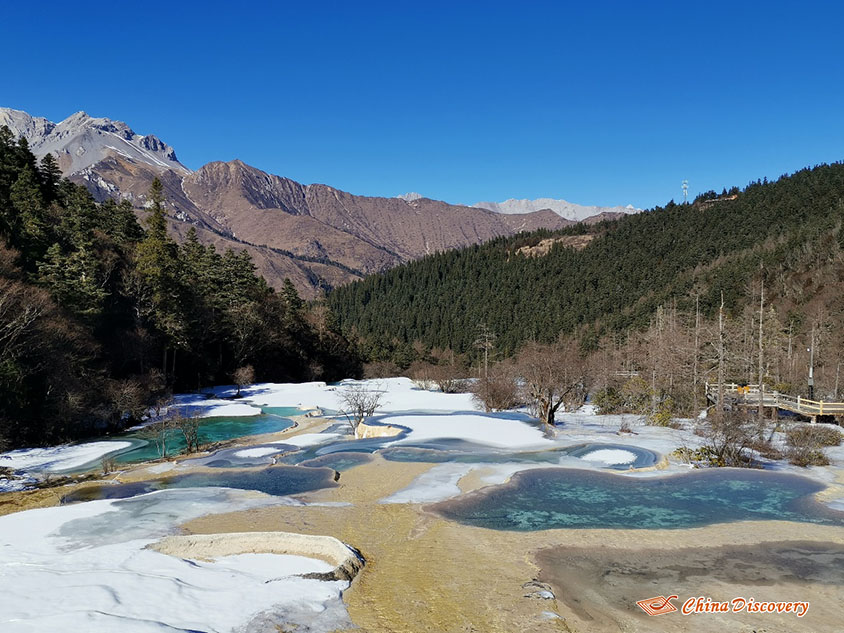 Colorful Ponds Along Huanglong Hiking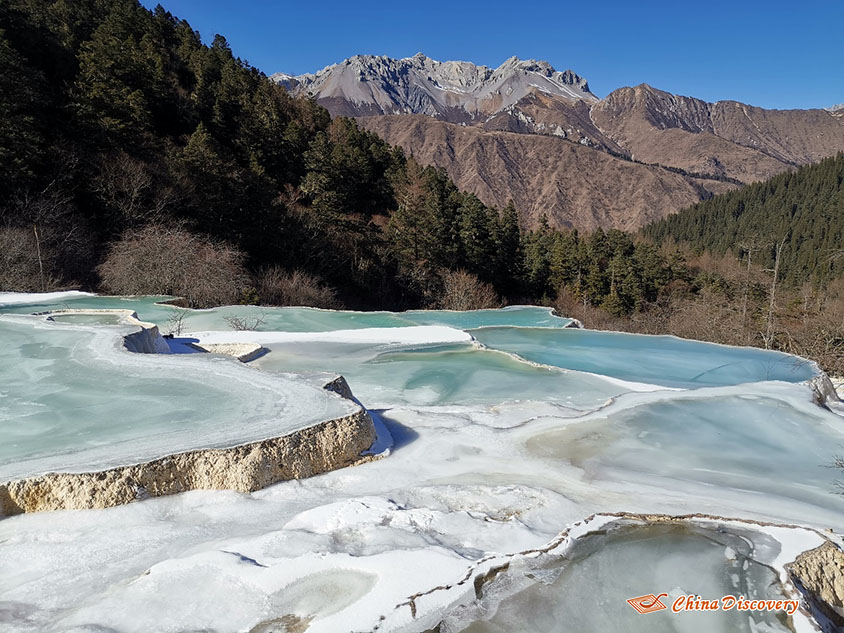 Colorful Ponds Along Huanglong Hiking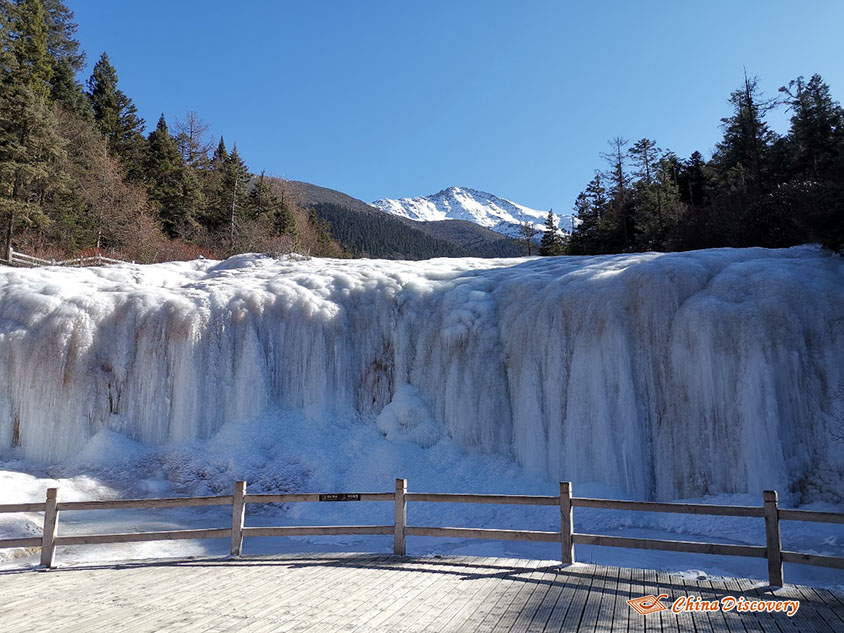 Frozen Waterfall in Huanglong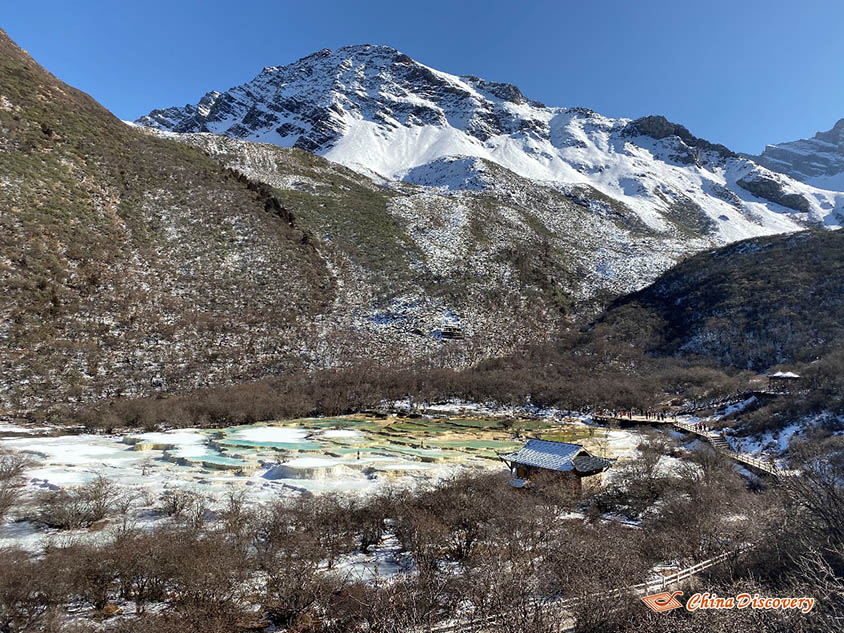 Five-color Pool in Huanglong
Tips from personal experience:
1. Winter is not a good time to see these pools in Huanglong, half of them had dried up, and were not as bright-colored as warm seasons, but still worth going.
2. To save time and energy, take cable car up to the mountain top then hike down is a good idea. If you really are a good hiker and want to avoid crowds, you could hike up and down. But hiking at high altitude is not an easy thing, lack of oxygen makes you out of breath, even headache. Generally, it takes 5 hours hiking to most top attractions – the Huanglong Temple and Five-color Pool then down.
Day2 Jiuzhaigou Valley
I stayed at a hotel near the ticket center of Jiuzhaigou Valley. I spent the entire day in the valley from 8am-5pm.
Jiuzhaigou closed for 2 years after the earthquake in August of 2017, Now the opening areas include Shuzheng Valley(except Flaming Lake), Zechawa Valley and part of Rize Valley (from Nuorilang to Five-flower Lake). Most of the highlighting attractions of Jiuzhaigou are located in the opening areas, such as Long Lake (长海), Five-Color Pond (五彩池), Nuorilang Waterfall (诺日朗瀑布), Mirror Lake (镜海), Shuzheng Lakes (树正群海), Double Dragon Lakes (双龙海).
All travelers have to take the shuttle buses to enter the valley and travel from one attraction to another.
We went to Long Lake first. It is surrounded by mountains and trees and is the longest and widest lake, located south east of the valley.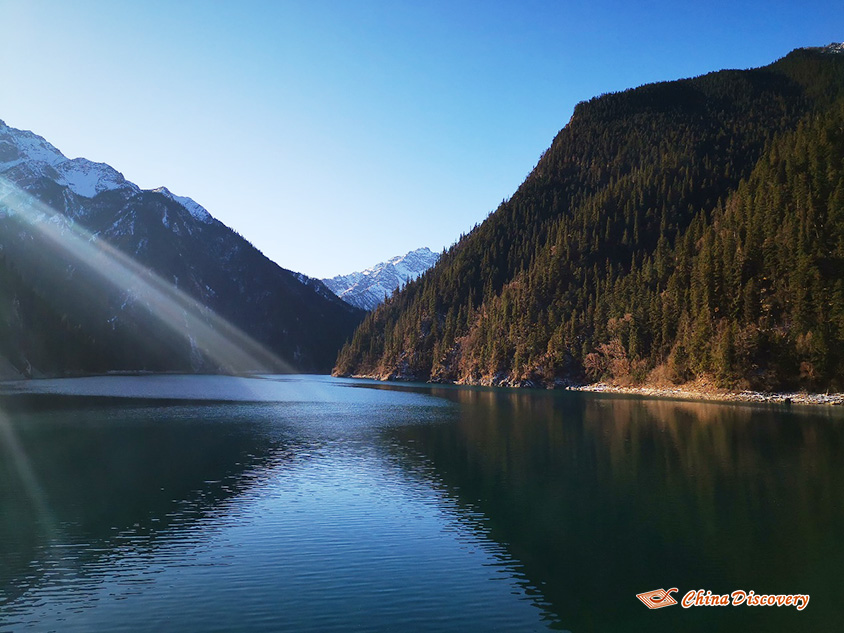 Long Lake in Jiuzhaigou Valley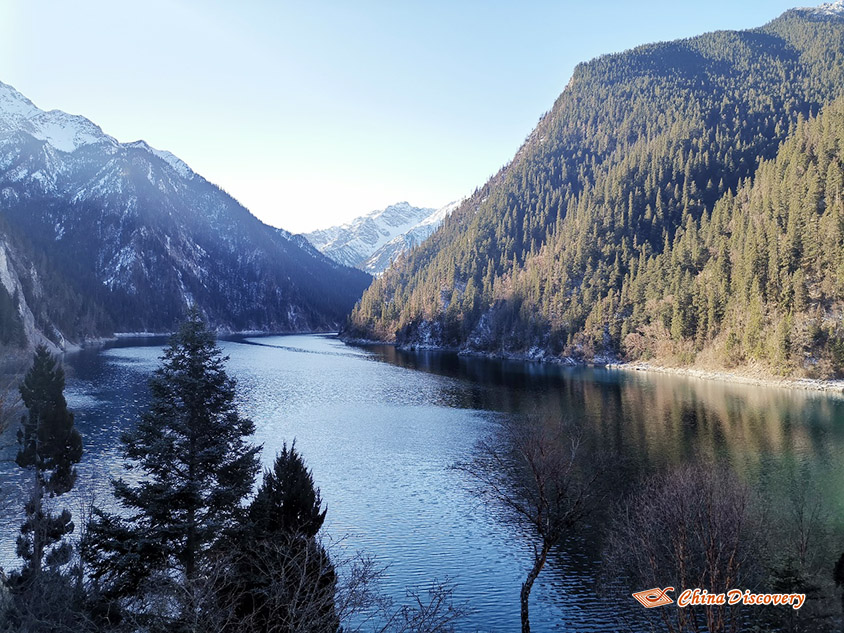 Long Lake in Jiuzhaigou Valley
Then we take a shuttle down the hill to Five Color Pond where is one of my favorite places. It is the smallest lake in the valley though, riches most colors. The water in different depths create different color spectrum from pale blue through aquamarine to emerald green.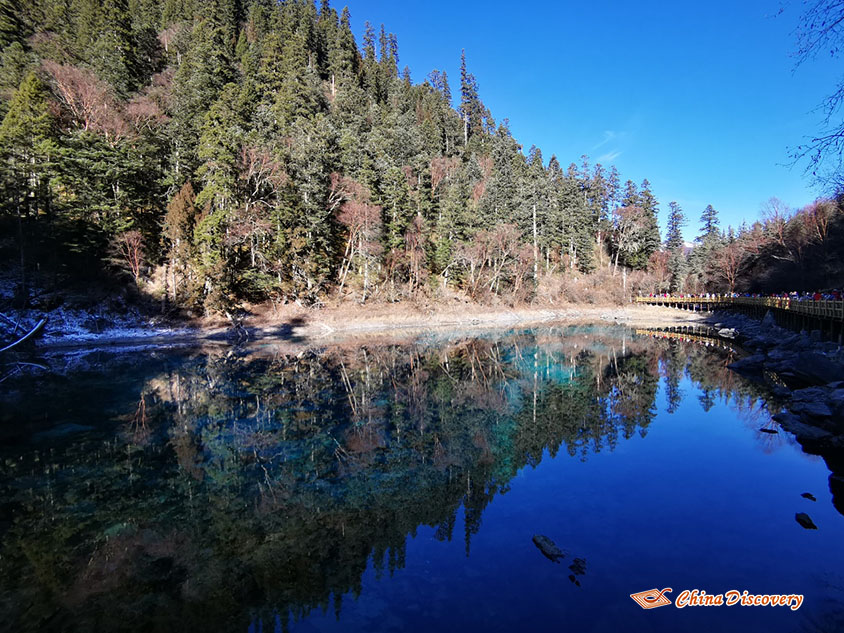 Five Color Pond in Jiuzhaigou Valley
It was just amazing, the color of the water is even bluer than the sky!
Next, we moved on to the Nuorilang Waterfall where very close to the restaurant. There are kinds of waterfalls in the valley, but this is the first one for me. I was worried about the waterfalls being frozen because of the extremely cold weather, but it impressed me, when it appeared in my sight.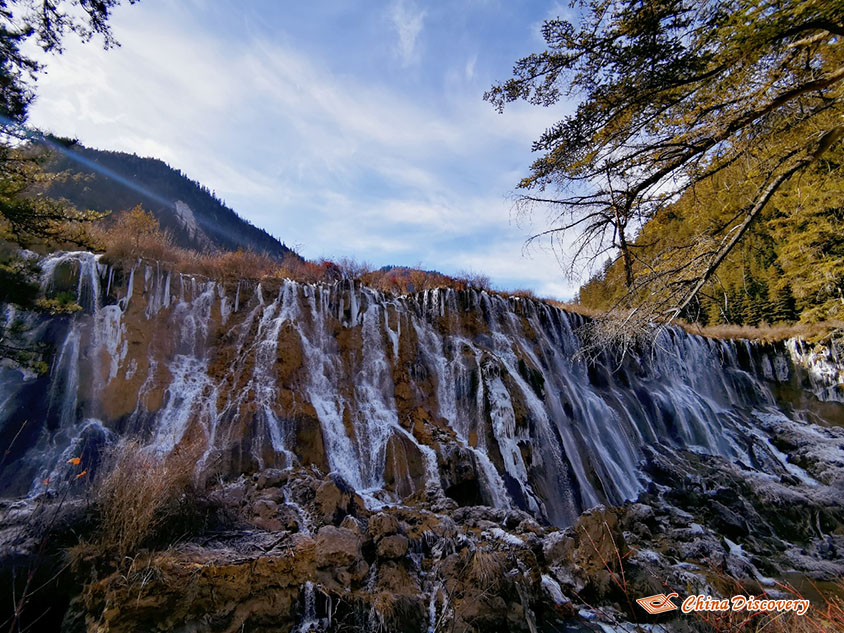 Nuorilang Waterfall in Jiuzhaigou Valley
The picture can't tell even 1/10 of the grandeur and magnificence of the waterfall.
Nuorilang Restaurant is the only place people could eat and have hot water. After lunch, we moved to another highlight of the valley- Five Flower Lake. The reason it got the name of "Five Flower" is people could see different colors by the different angles of light refraction. The old woods sink on the lake bottom is another highlight of the lake.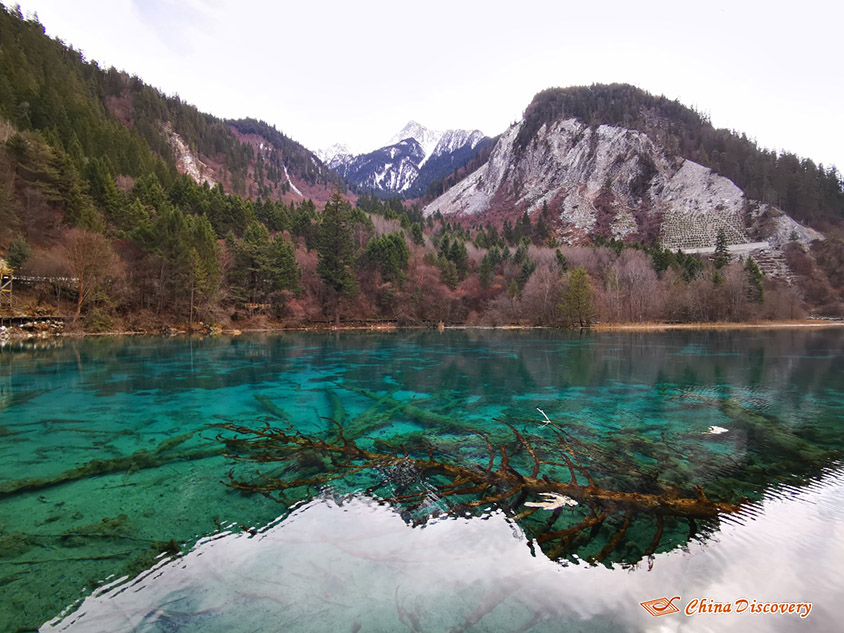 Five Flower Lake in Jiuzhaigou Valley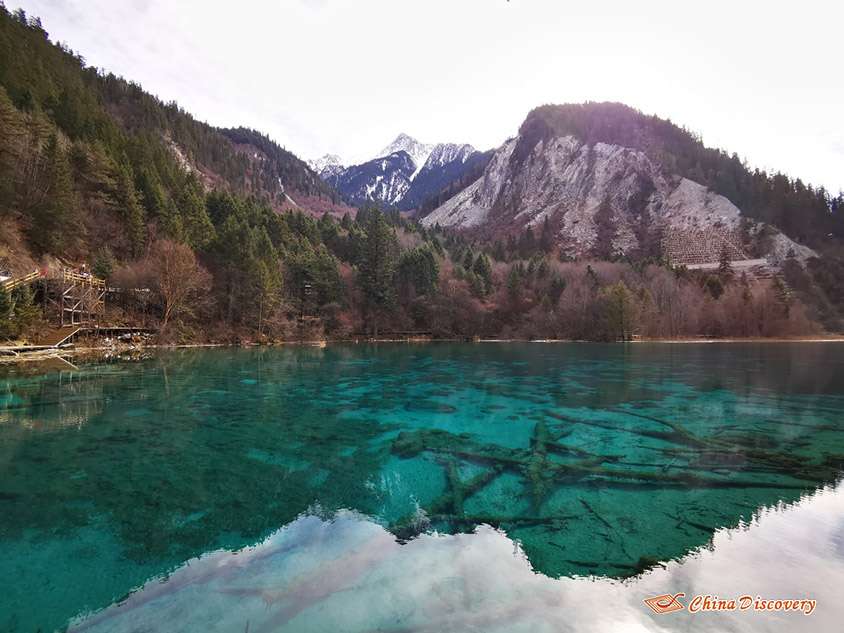 Five Flower Lake in Jiuzhaigou Valley
Then we walked down the hill along a path to Pearl Shoal. If you are a good hiker and prefering more walking, I'd suggest you go down the hill from Five Flower Lake to Pearl Shoal. Walking along the path, put yourself into the forest, passing by kinds of small colorful ponds, that would definitely be better than transferring from one attraction to another by shuttle.
The earthquake of 8th Aug, 2017 brought the huge stone here, nobody knows where this giant stone came from.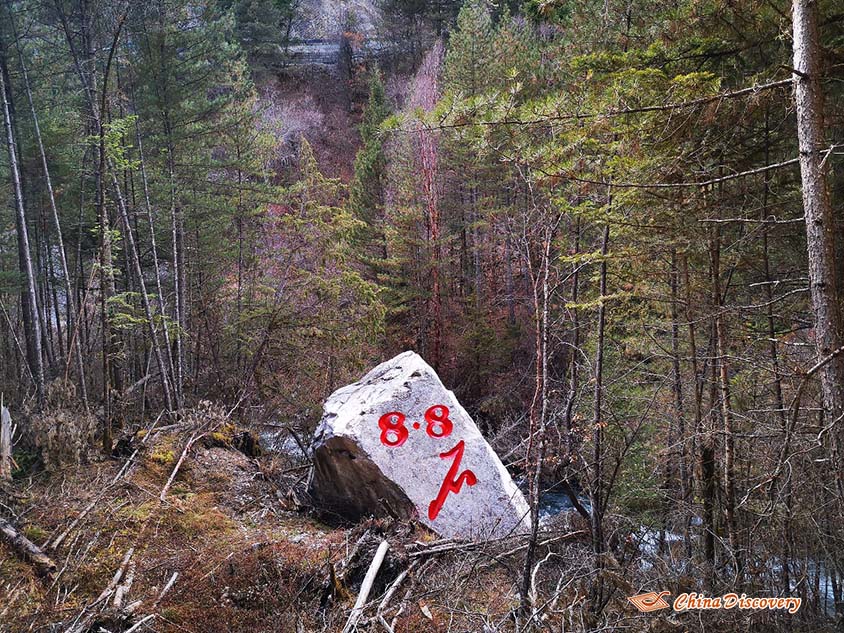 Huge Stone Coming from Nowhere after Jiuzhaigou Earthquake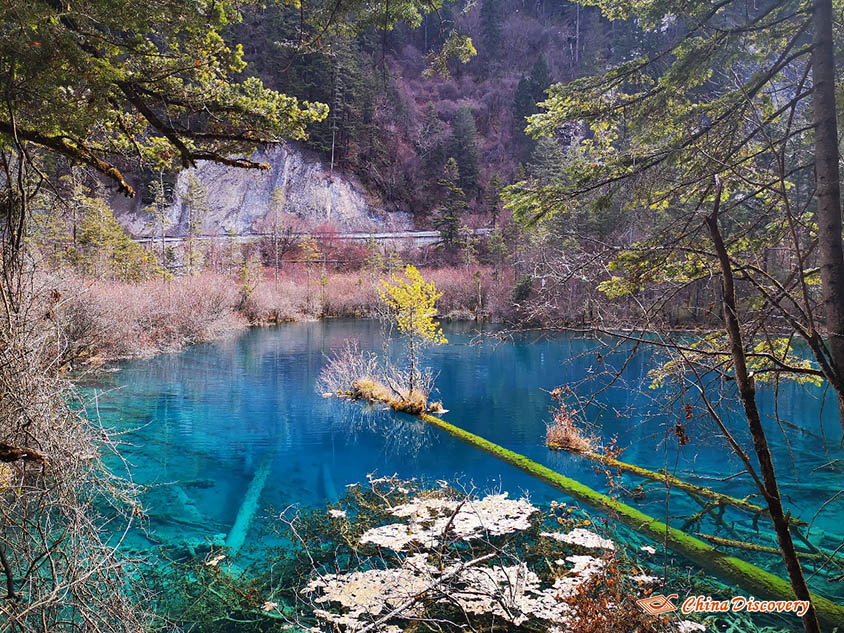 Beautiful Pond Along the Way in Jiuzhaigou Valley
After around 30minutes' walking, the Pearl Shoal Waterfall came into our sight. The 2nd waterfall of the day and I was astounded. There are many pine trees and China firs growing around the waterfall because of the suitable temperature and the wet environment. It is not a waterfall straight down the cliff, but through a shoal face of about 20 degrees at first. When the thin water-course flows over the shoal face, it will be reflecting bright sunshine like the pearls do. So it gets the name Pearl Shoal Waterfall.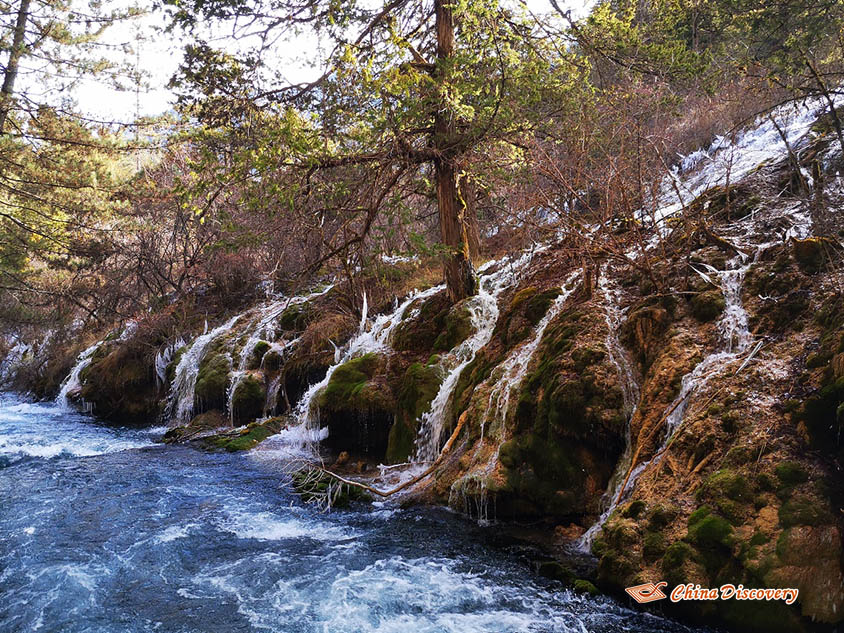 Pearl Shoal Waterfall in Jiuzhaigou Valley
Pearl Shoal Waterfall in Jiuzhaigou Valley
Walking along the path, we reached Mirror Lake. You can tell from the name that the lake is as smooth as a mirror reflects all the view of the mountain and the sky on its surface. It is between the truth and the dream, painting a magic picture of 'fishes swim on the sky and birds fly under the lake.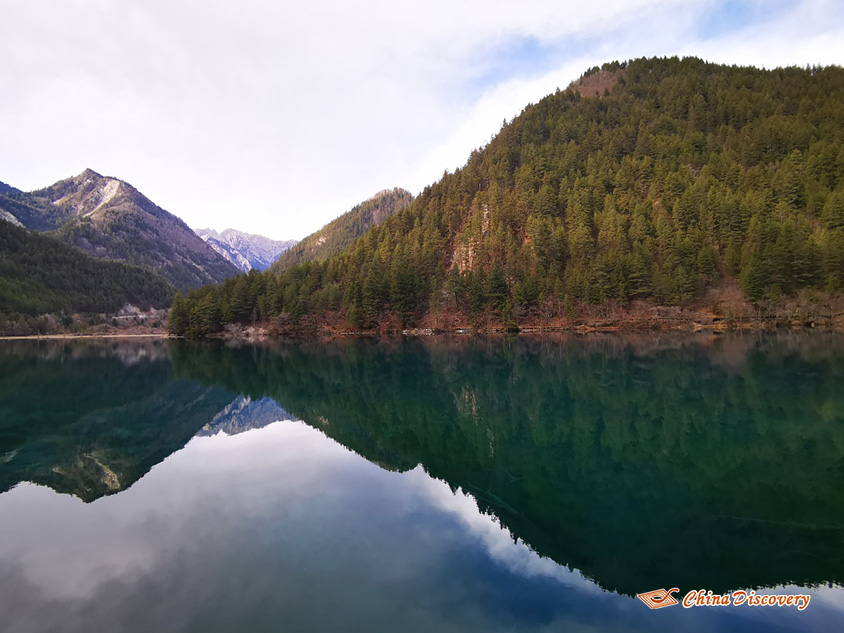 Mirror Lake in Jiuzhaigou Valley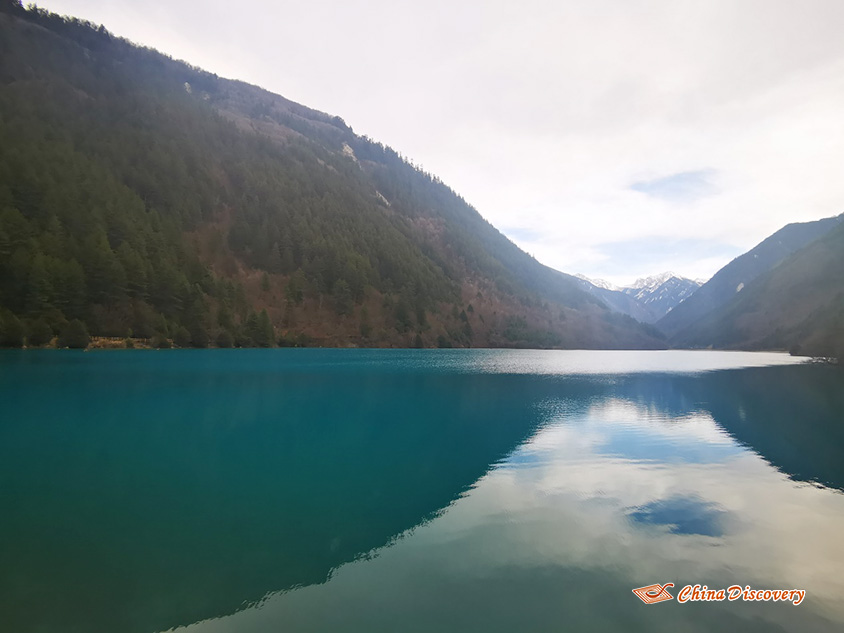 Mirror Lake in Jiuzhaigou Valley
I spent the rest 1.5 hours wandering around, I don't even remember an exact place where I went, but isn't it wonderful just wandering around without thinking about anything and enjoying fresh air?
Day3 Jiuzhaigou Valley-Chengdu
Back to Chengdu by bus, it took me more than 8 hours doing nothing but staying in the bus. It was quite a long day but still worth it.
Tips from personal experience:
1. If budget allows, please take flight to Jiuzhaigou which is way more comfortable and efficient than by bus. If you are on a tight budget, it's better to spend 4 days, don't do the 3-days tour like me, except the 2nd day, I was always in a rush.
2. Don't expect too much of the hotels, they are not as good as in large cities, because of the limited living condition.
3. It's better to prepare some food before going to Jiuzhaigou. There is only one restaurant inside of the park and serving Chinese dishes only, they call it buffet, but I don't think you have many choices.
4. the winter in Jiuzhaigou is extremely cold, always lower than -10℃,you may want to bring your down jackets, warm shoes, hat and gloves.
5. If you are in good health, you don't need to worry too much about the high altitude. Just like my trip to Lhasa, the first day is a bit tough, all you need to do is relax, avoid jumping, running even walking and talking fast.
Hope my experience would be helpful, and if you have any question or would like to know further information about Jiuzhaigou Valley, please feel free to contact me!
Travel with Me
Hi, I'm Riley. Are you interested in my 3 Days Jiuzhaigou & Huanglong Winter Tour? Feel free to contact me, and I will be glad to tell you more stunning stories about the places I have visited. Or, if you want to customize a tour on your own, I'm always ready to help at any time. With my passion, knowledge and understanding of the essence of travel, I promise I will try my best to make the tour memorable and meaningful for you.
Riley

Travel Consultant
Recommended Tours
Top 3 tours chosen by most customers to explore in the best way. Check the detailed itinerary, or tailor your own trip now with us.
3 Days Classic Jiuzhaigou Tour (Flight Arrival)

Chengdu / Huanglong / Jiuzhaigou
7 Days Sichuan Discovery Tour

Chengdu / Leshan / Emei / Chengdu / Jiuzhaigou
4 Days Jiuzhaigou Huanglong Highlights Tour from Chengdu by Private Car

Chengdu / Huanglong / Jiuzhaigou / Chengdu
Have a question? Get answers from our travel experts or guests
Your Question:

Your Name:

Your Email: