Travel with Riley: "Must-sees" in Chongqing with One Day
Departure Date

2020-05-01

Travel Length

1 Day

Travel Theme

Sightseeing, Food

Group Size

2

Travel Route

Chongqing

Highlights

City Scape, Food

Story Tags

#Chongqing Tour#Chongqing Nightlife#Chongqing Food#Chongqing Attractions
Lots of people consider Chongqing as a transit city where to start or end their Yangtze River Cruse trip. But, as a Chongqing local who was born and grew up in Chongqing, I am gonna say, Chongqing is a really interesting place that worth an extra day.
You might say, there are no top-notch sights in Chongqing, but Chongqing makes up with fantastic food and charismatic geography. Chongqing is also called "Mountain City" which means a city be built on a mountain, so navigating some parts of the city on foot, particularly near the riverbanks, can be like a real-life game of chutes and ladders. Something that looks close on a map might be separated by hundreds of vertical feet. So interesting things happen like this, you find a street on the first floor, when you go up to 11th find there is another street. Isn't it interesting?
Useful Links: Chongqing Travel Guide | Top 10 Things to Do in Chongqing | Top Chongqing Attractions
If you only have one day in Chongqing, where you could spend to?
1. E'ling Park
You could have a panorama of Chongqing City on top of the park. It's even more impressive in the evening since the night view of Chongqing is gorgeous.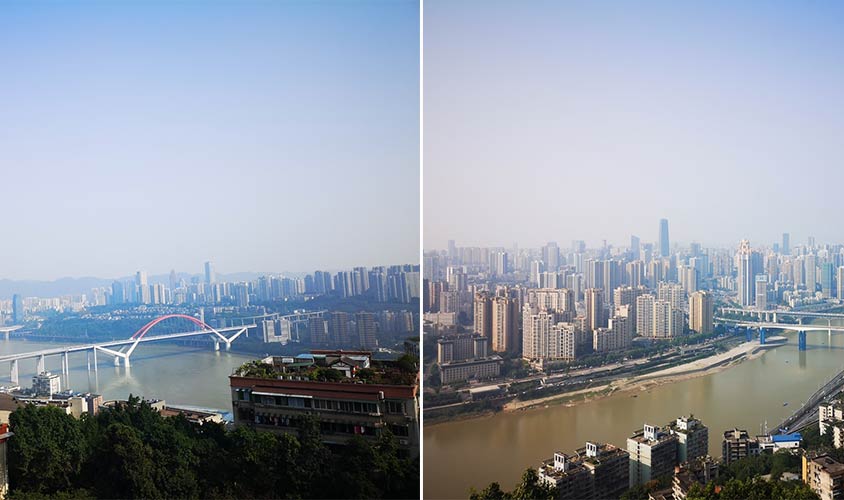 Daytime View from the Top of Eling Park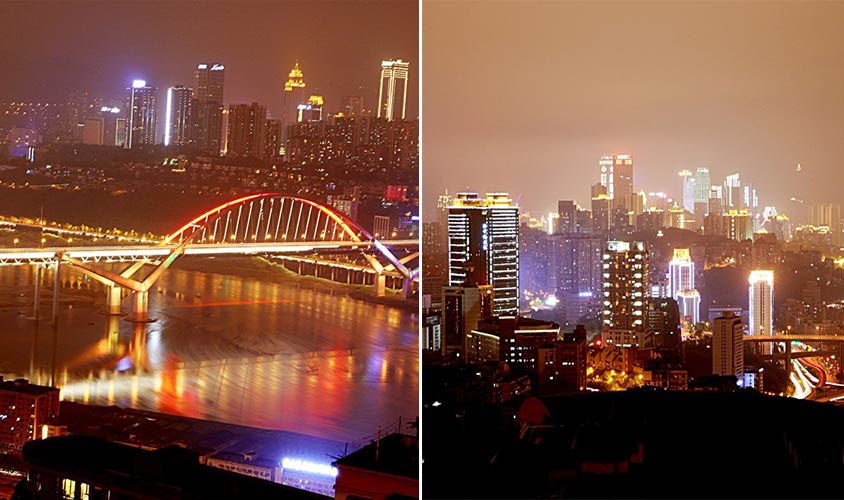 Night View from the Top of Eling Park
2. Liziba Subway Station
Given the special topographical condition, Chongqing's mass transit system has set the internet ablaze for serval times. In 2017, a video showing a light rail passenger train passing through a 19-story apartment building -- where there is a transit stop on the sixth and seventh floor of the building -- went viral. That is Liziba Subway Station.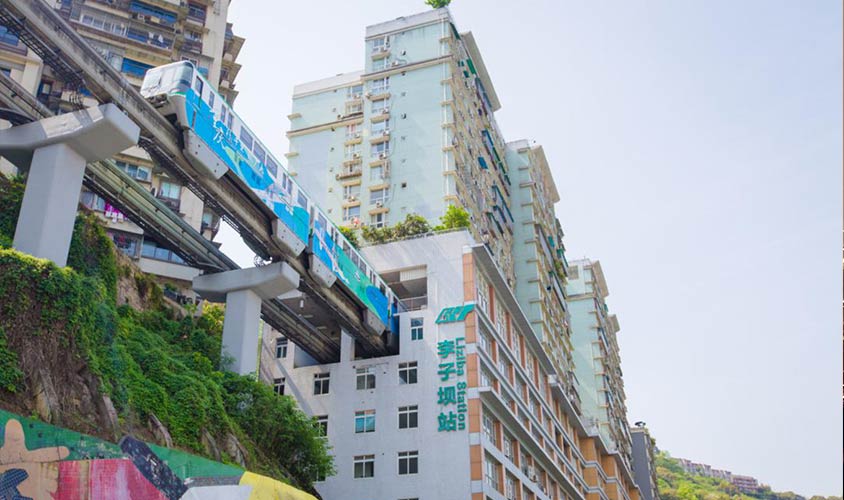 Liziba Subway Station
3. Graffiti Street in Huangjueping Campus of Sichuan Academy of Fine Arts
The works were produced by students of Sichuan academy of fine arts, as well as several workers and artists. It can be said to show a different way of urban beautification. Back in old day, we've been pursuing a neat and unified way of beautification, then this can be said to be a way of personality. Styles are different, but all the paintings are colorful, abstract and novel. It really is a nice place to take pictures!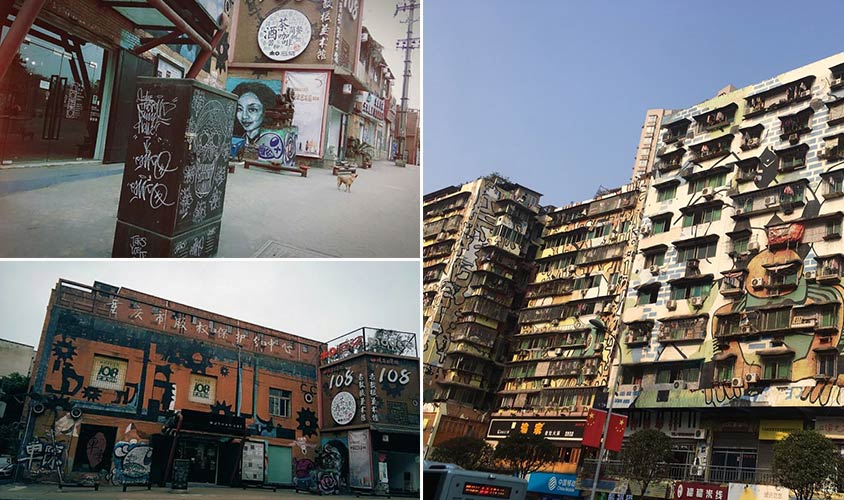 There are many great places for photography
4. Huxi Campus Sichuan Academy of Fine Arts.
Huxi Campus is the new campus of Sichuan Academy of Fine Arts. If you are interested in photography or Graffiti. Huxi Campus is definitely worth visiting, where is more impressive and bolder than Graffiti Street in Huangjueping Campus.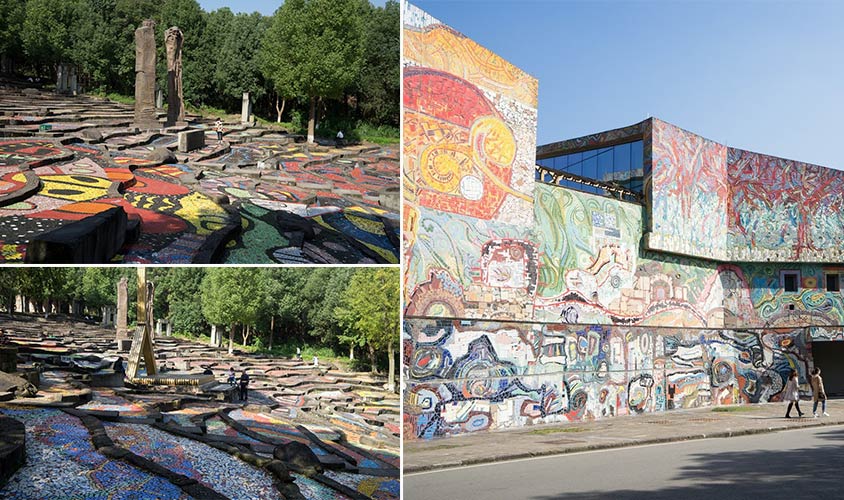 Huxi Campus Sichuan Academy of Fine Arts
6. Hongya Cave
Hongyadong is an 11-story stilt building abutting a steep cliff, located in the intersection riverside zone of Cangbai Road, Yangtze River and Jialing River. It is popular with tourists because it has a similar appearance to a building in Spirited Away - a masterpiece of a famous Japanese cartoonist, Hayao Miyazaki. It is incredible that the 1st floor and the 11th floor are accessible by two different roads. Visitors can take an elevator to each level where various bars, café and restaurants are arranged.
Besides of the restaurants, shops and ancient streets, the nightscape of Hongya Cave is a highlight and is a unique feature of Chongqing, trust me, you won't wanna miss it.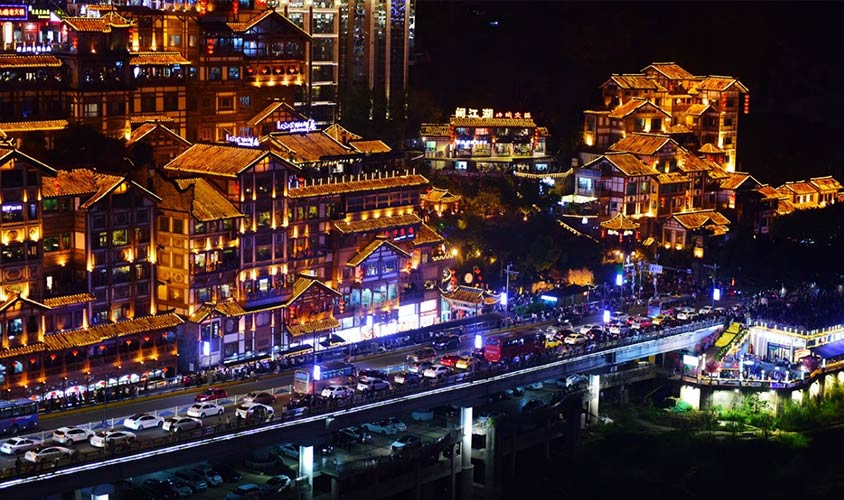 Nightscape of Hongya Cave
Speak of nightscape, besides Hongya Cave and Eling Park, here I have some other awesome places to recommend.
Nanshan Tree Viewing Platform:
Open time: 9:00-22:30
Entrance fee: RMB30/person
Address: Nanshan Mountain in the Nan'an District of Chongqing
It's an open platform formed around a big tree where is one of the best places to overlook the whole Yuzhong District from. Since it's a famous and popular place, there is always a serious traffic jam, so not a prior choice for me.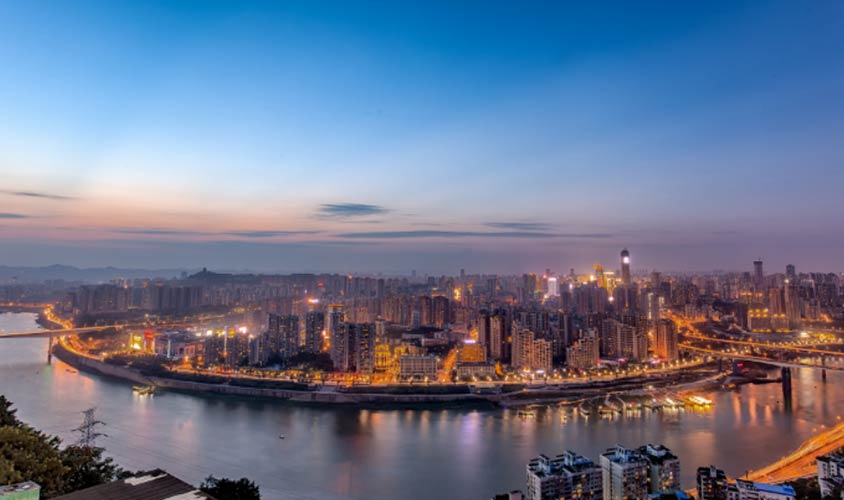 View from Nanshan Tree Viewing Platform
Nanbing Road
Open time: 24 hours a day
Entrance fee: Free
You could either walk along the road to see the nightscape along the riverbank, or just order a cup of coffee at the platform in Danzishi Old Town where is also a café. Besides of amazing night view, it has amazing restaurants, huge number of bars, pubs, cafes and tea houses.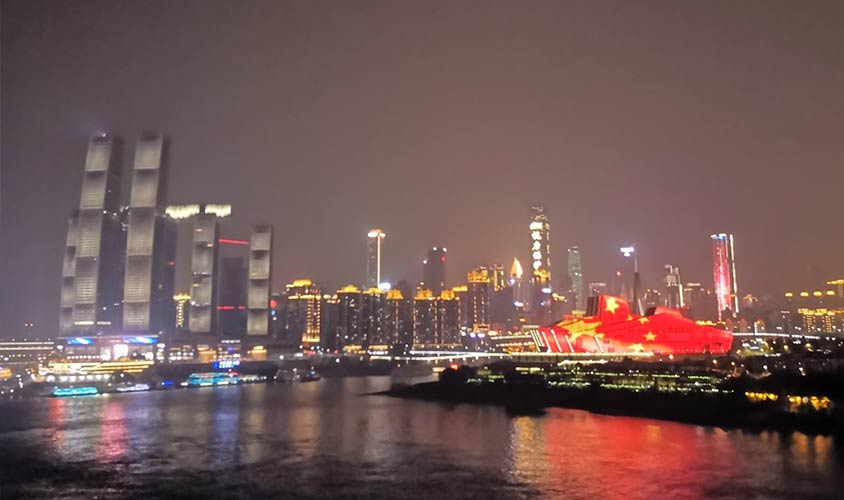 View from Danzishi Old Town
Red Star Pavilion in Pipashan Park-
Open time: 8 am - 10:00 pm
Entrance fee: Free
Adress: Pipashan Hill, Zhongshan Second Road, Yuzhong District
Pipashan Park with the altitude of 345 meters regarded as the highest place in Chongqing Downtown. You can have a bird view of the whole city climbing to Red Star Pavilion, the highest places of the park.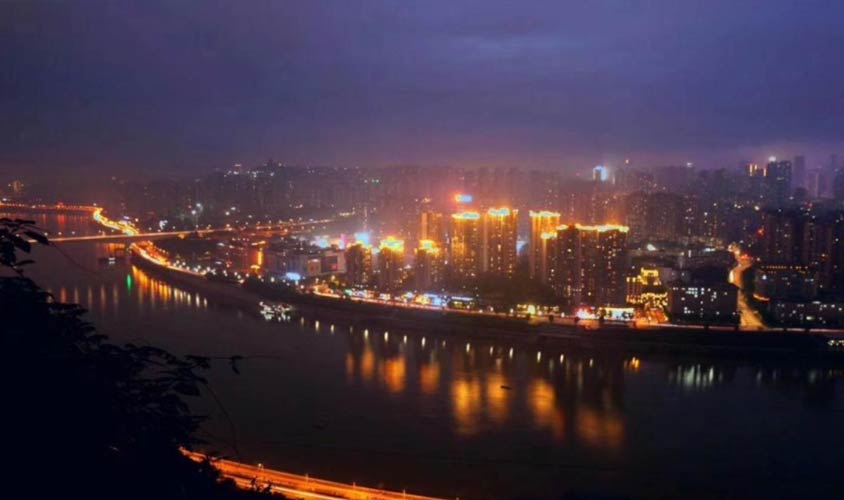 View from Red Star Pavilion
Real Chongqing Food and street food!
1. 曾老幺鱼庄(洞子邮亭鲫鱼): The restaurant is built in a "cave", Chongqing has lots of shelters given its civil war history, now these shelters had been turned into restaurants and shops which is very interesting. This restaurant is famous for its fish dishes and popular among Chongqing locals.
Address: No.37-1, he street, Nan'an District, Chongqing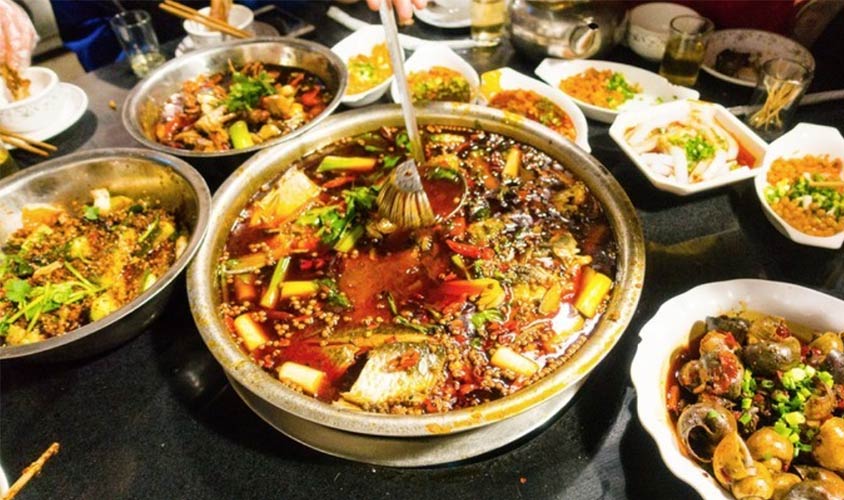 Hot Pot Food in 曾老幺鱼庄(洞子邮亭鲫鱼)
2. 珮姐老火锅(洪崖洞店): It's a typical Chongqing hotpot restaurant, hot and spicy. You may have to line up to get a table because it's very popular. It located in Hongya cave, if you don't want to line up, you could find lots of popular hotpot restaurants nearby.
Address: No. 2 Minzu Road, Yuzhong District, Chongqing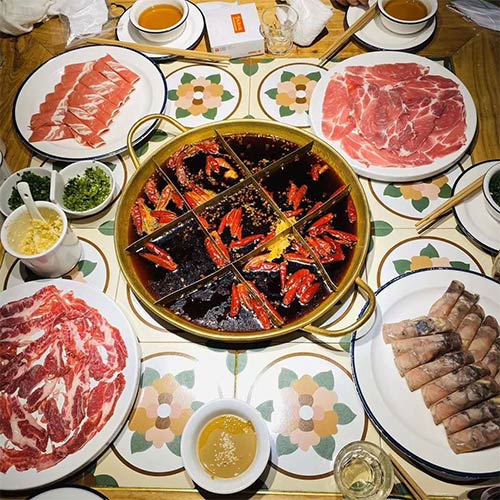 Hot Pot Food in 珮姐老火锅(洪崖洞店)
3. Bayi Food Street -One of the best places to have Chongqing street food/snacks located in Jiefangbei.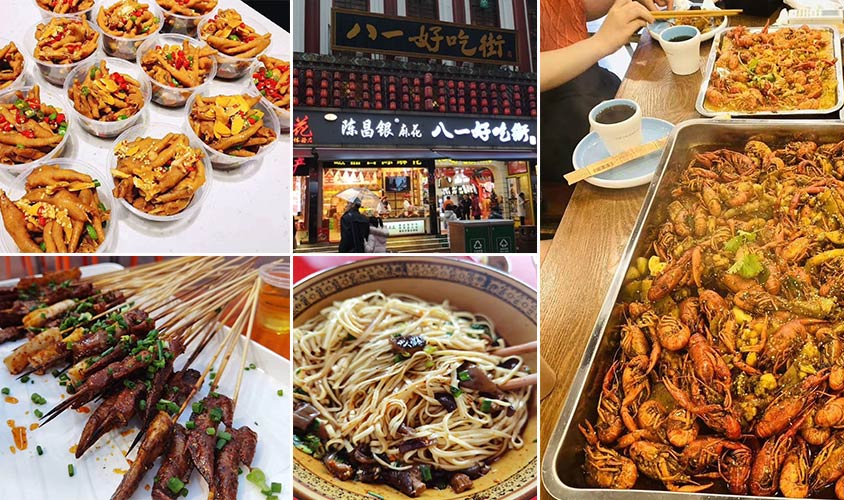 Worth-trying Snacks in Bayi Food Street
Travel with Me
Hi, I'm Riley. Are you interested in a Chongqing tour? Feel free to contact me, and I will be glad to tell you more stunning stories about the places I have visited. Or, if you want to customize a tour on your own, I'm always ready to help at any time. With my passion, knowledge and understanding of the essence of travel, I promise I will try my best to make the tour memorable and meaningful for you.
Riley

Travel Consultant
Recommended Tours
Top 3 tours chosen by most customers to explore in the best way. Check the detailed itinerary, or tailor your own trip now with us.
4 Days Chongqing Essence Tour with Yangtze River Cruise

Chongqing / Yangtze Cruise / Yichang
2 Days Chongqing City Tour with Dazu Rock Carvings

Chongqing/Dazu
1 Day Chongqing Short Stay Tour

Chongqing
Have a question? Get answers from our travel experts or guests
Your Question:

Your Name:

Your Email: