Seek Ice and Snow Wonderland (Jilin & Harbin) with Catherine
Departure Date

2019-12-21

Travel Length

5 Days

Travel Theme

Nature, Architecture, Winter Activity

Group Size

1

Travel Route

Chengdu - Jilin - Mudanjiang - Harbin - Chengdu

Highlights

Jilin Rime Island, China Snow Town, Dream Home Studio, Sun Island, Harbin Ice and Snow World, Zhongyang Pedestrian Street, etc.

Story Tags

#Harbin#Jilin#Harbin Winter Trip#China Snow Town #Harbin Ice and Snow World#Sun Island#Saint Sofia Cathedral
Although I was born in northeast China, I have been working in Chengdu many years. Chengdu is located in southwest China, where snow is rarely seen in winter. So during the annual holiday this year, I chose to go back to my hometown to look for the winter temperature and ice & snow in my memory
Firstly let me share my itinerary
Day 1 Chengdu flight ( 4hrs) to Changchun, Changchun train (45mins) to Jilin, Stay in Jilin
Day 2 Jilin car (1.5 hrs ) to Jilin Rime island, then drive (5 hrs) to Snow Town, Stay in Snow Town
Day 3 Snow Town car (5-6 hrs) to Harbin, Stay in Harbin
Day 4 Harbin City Tour (Songhua River, Sun Island, Laodaowai, Zhongyang Pedestrian Street and Saint Sofia Cathedral, Harbin Ice and Snow World), Stay in Harbin
Day 5 Harbin flight (4hrs) to Chengdu
On the first day, I wasn't so lucky. My flight was delayed. It was supposed to take 4hours, but it took 12 hours to land because of the fog. My plans were disrupted entirely. I plan to visit some sights in the afternoon, but I have to spend all day on the plane. But it is just travel, there are always unexpected things happen. I need build myself up, may some good thing happen tomorrow.
On the second day
At 5am, I got up early. I was driven to Jilin Rime Island with unsettling feeling. The formation of rime requests certain weather condition. I'm not quite sure if I can see the rime. But when I was about to arrive at the island, our vehicle people jumped up, because we saw the rime on the roadside. It's like what I said, keep a good mood no matter what happens, good luck will come.
Rime Island (Wusong Island) is an island in Songhua River, located at Wulajie Manchu Town, Longtan District, Jilin City, Jilin Province. It is the best place to see and take photograph of rime. The best season to visit Rime Island is from the late Decmeber to the end of Feb in next year. The best time in a day to take photos of rime is between 10:00 a.m. and 11:30 a.m.
The weeping willows along the river bank are covered with frost and glitter ice. The fog lingers on the island, making it a fairy-tale world. With the sun shining, the whole tree looks like a crystal statue. Remind me of Frozen, the Disney Animation.
I can't wait to share some photos with you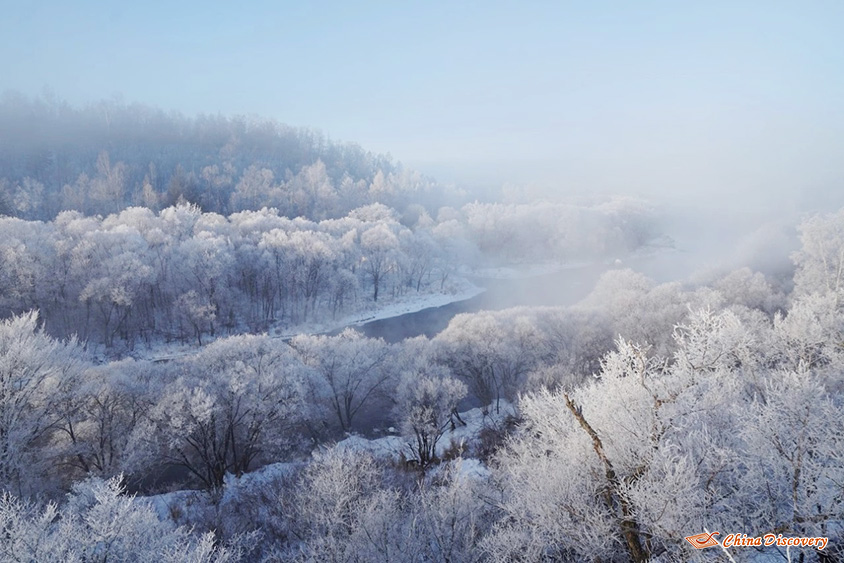 Wide Range of Rime Along Songhua River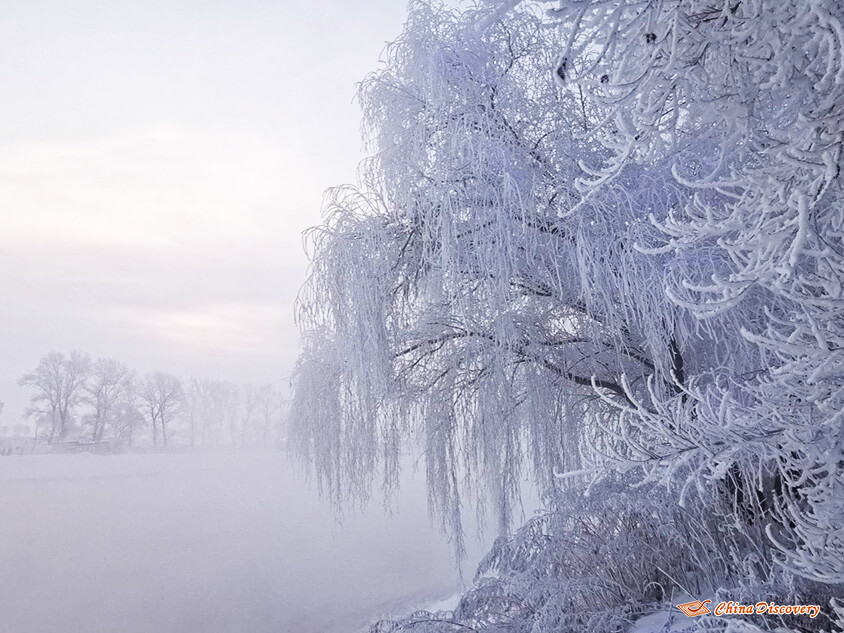 Weeping Willows at River Bank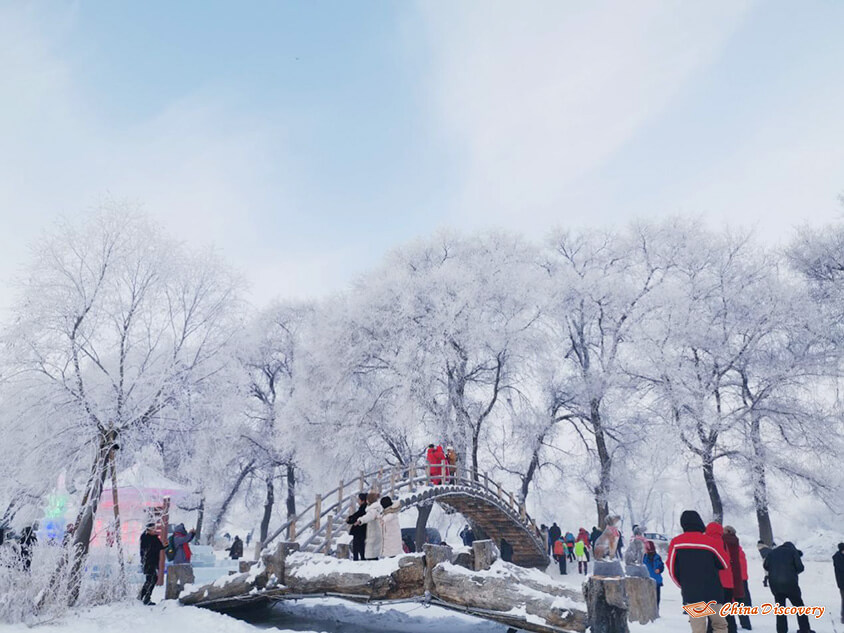 We Finally Arrived at the Fairy-tale World Jilin Rime Island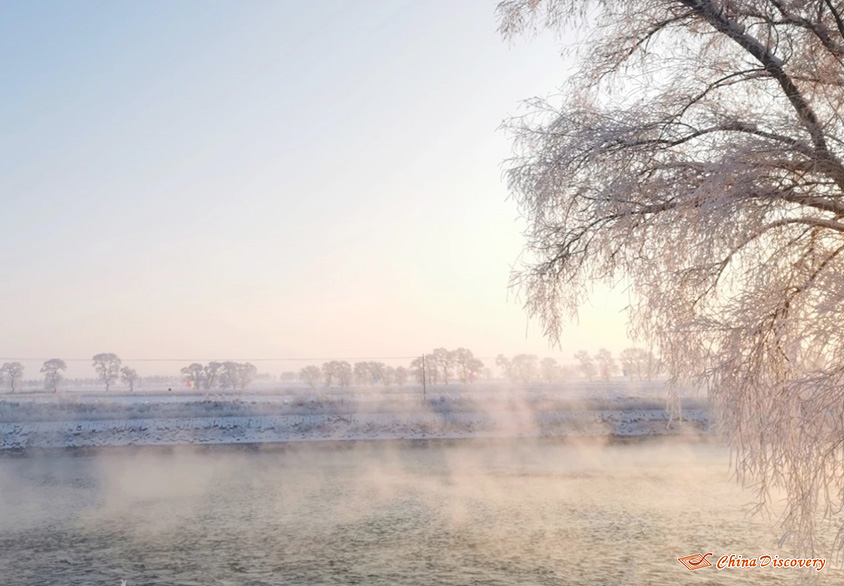 Willow Covered by Frost
With grotesque trees, snow-white frost covered the weeping willows along the river and wind being from the river, all of these make up a splendid picture.
Tips:
1. If you travel to Jilin for rime, it is better to pay attention to the weather forecasts before you go there. As we know, the formation of rime requests certain weather condition. Generally speaking, we cannot have chance to see rime scenery unless the temperature is below -21 °C.
2. The temperature of Jilin is low in winter. It can reach -20-30 °C, so please prepare for coldness. In addition to warm jacket, it's important to select a pair of half tall waist and anti-slip snow shoes.
3. Select the whole mechanical structure of the camera, because the electronic camera cannot work normally at low temperatures.
It's about 9 o 'clock, I was driven to another best place in China to enjoy winter white scenery - Snow Town. Driven about 5 hrs reach there.
China's Snow Town, locally called Zhongguo Xuexiang in Chinese, is originally built as junior skifield in Shuangfeng Forest Farm, under the jurisdiction of Dahailin Forest Bureau in Mudanjiang city, northeast China's Heilongjiang province. The forest farm sits at an elevation of 1,500 meters above sea level and covers a forest area of 500 hectares. The snow period here is up to seven months every year and snow thickness may reach around 2 meters. Especially, the snow here is famous for its thickness and high viscosity. Snow looks like milk scream and hangs from the eaves to the ground, forming a unique scene of "snow curtains".
1:00 p.m. - Local cuisine
After the long drive you'll likely be hungry for local food. Nothing is better than having an authentic local meal in the Snow Town. Speaking of the cuisine in northeast China, there are many dishes to try. To get you started, chicken stewed with mushrooms, fried pork and braised pork with vermicelli are the three dishes that you can't miss here.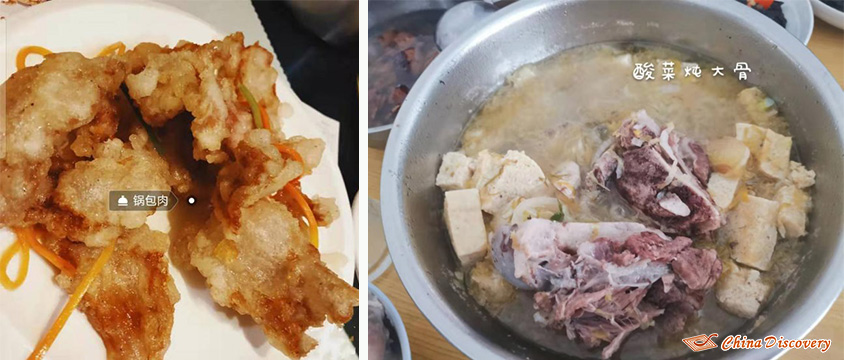 Fried Pork and Big Pork Bones Stewed with Chinese Sauerkraut
3:00 p.m. - Xueyun Street
The 500-meter-long Xueyun Street is the town's central street and is lined with grocery stores, restaurants, hotels and theaters. You can find almost all kinds of local snacks here, such as frozen pears, frozen persimmon and Bingtanghulu, a snack made of sugarcoated haws and other fruit on a stick, etc. Night falls quite early here in winter and all the red lanterns are lit at night, making the entire town more dreamlike.
5:00pm - Night of Dream Home Studio
The Dream Home Studio is one of the most attractive spots in China's Snow Town and a must-see place for photography enthusiasts.
Hiking up to the slope of the hill, you can see lots of "mushrooms", "rabbits" and "turtles" in the town, which are "transformed" by the thick snow covering them. Moreover, the red lanterns hanging under the eaves create a joyful and dreamlike atmosphere to the landscape.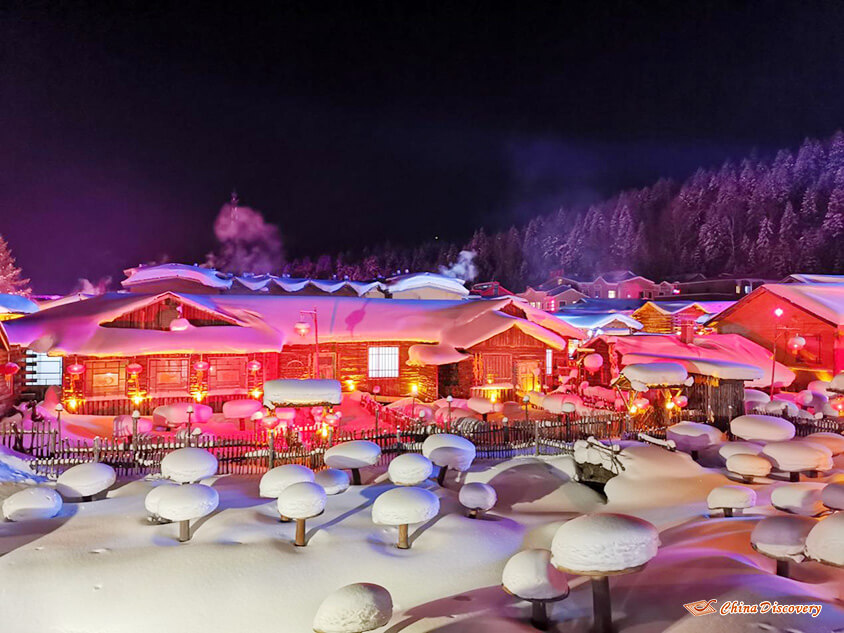 Dream Home Studio at Night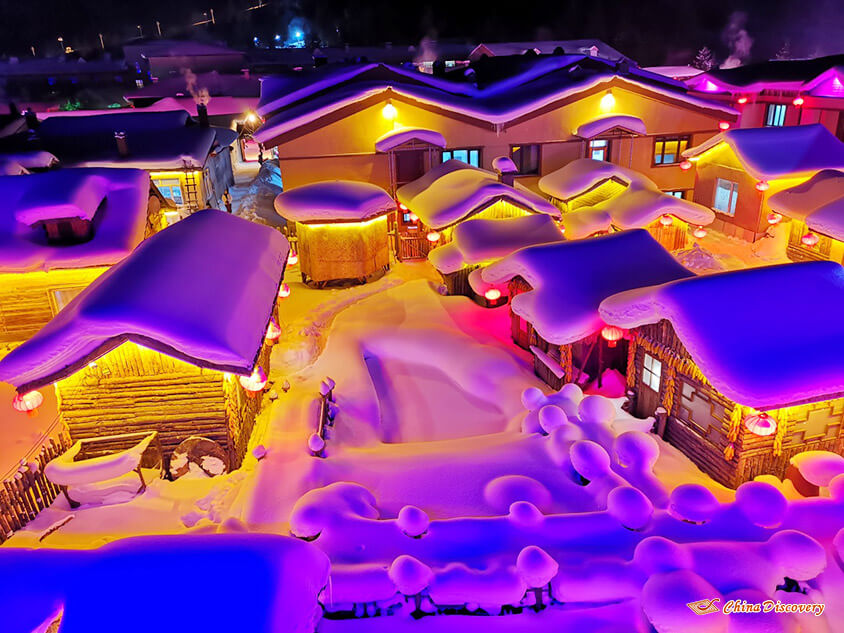 Dream Home Studio at Night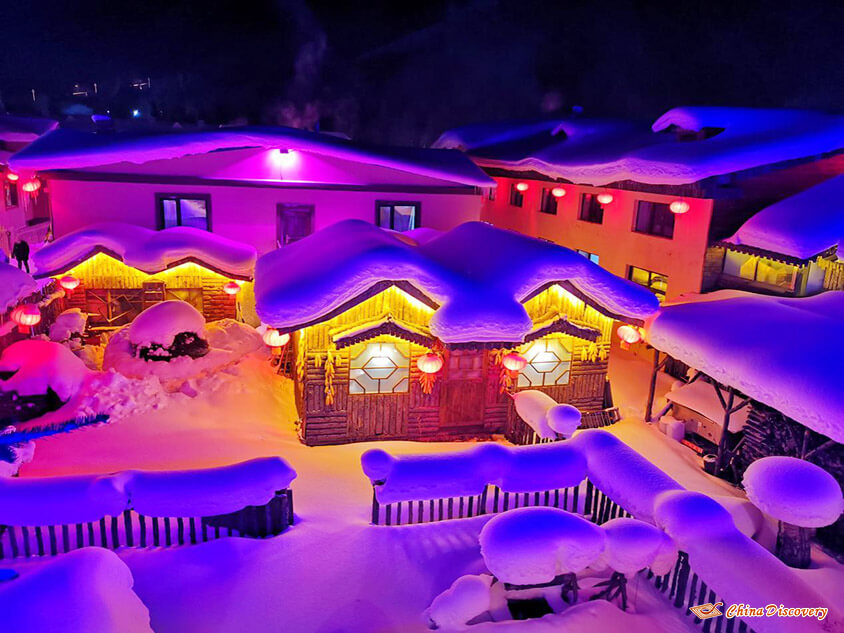 Dream Home Studio at Night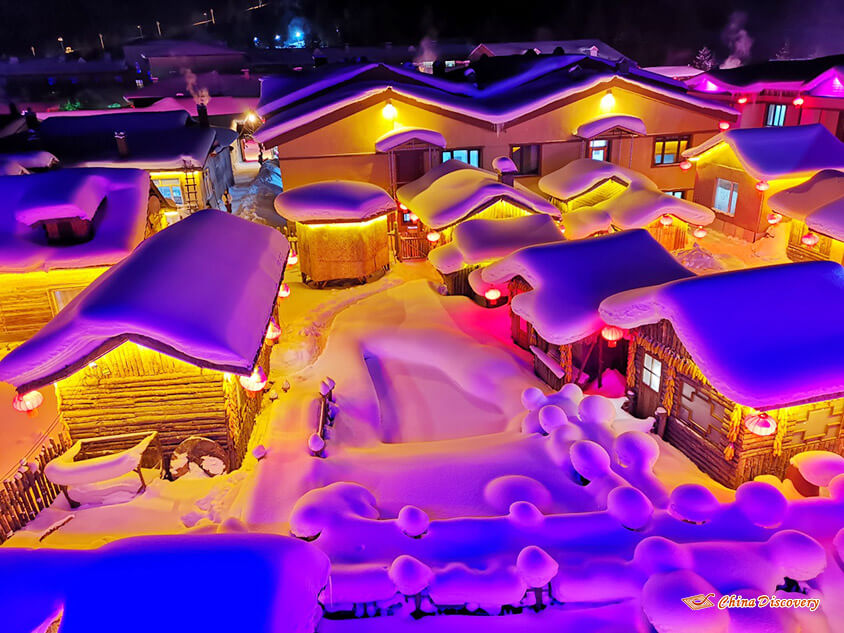 Dream Home Studio at Night
7:00pm - Bonfire Party
In the evening, tourists can participate in a bonfire party together with local people.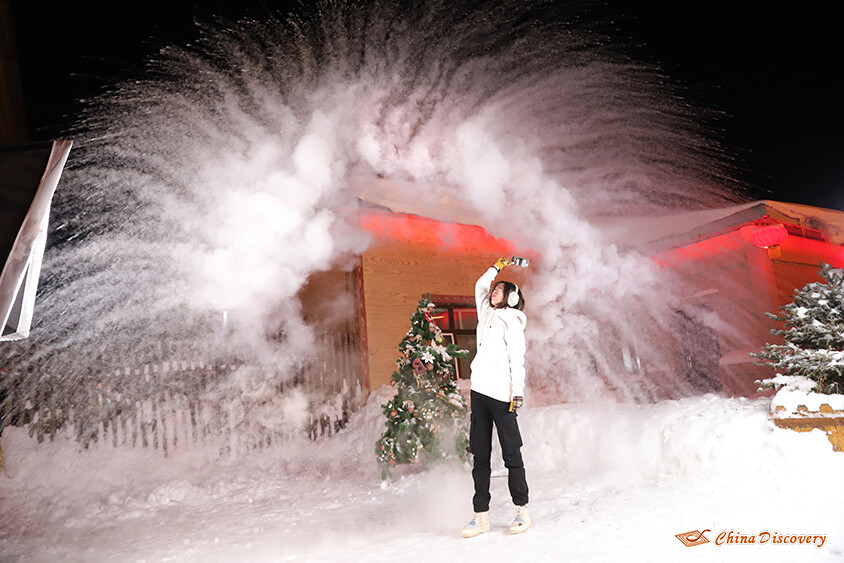 I Poured Hot Water Towards Sky and It Turned into Ice Flower Instantly
9:00 p.m. - Kang bed
Having a sound sleep in the freezing cold weather is never a problem in Snow Town thanks to the kang bed, a brick bed heated with a fire underneath. But the accommodation can be very tight during peak seasons like Christmas, New Year's Day and Spring Festival, so you must book in advance.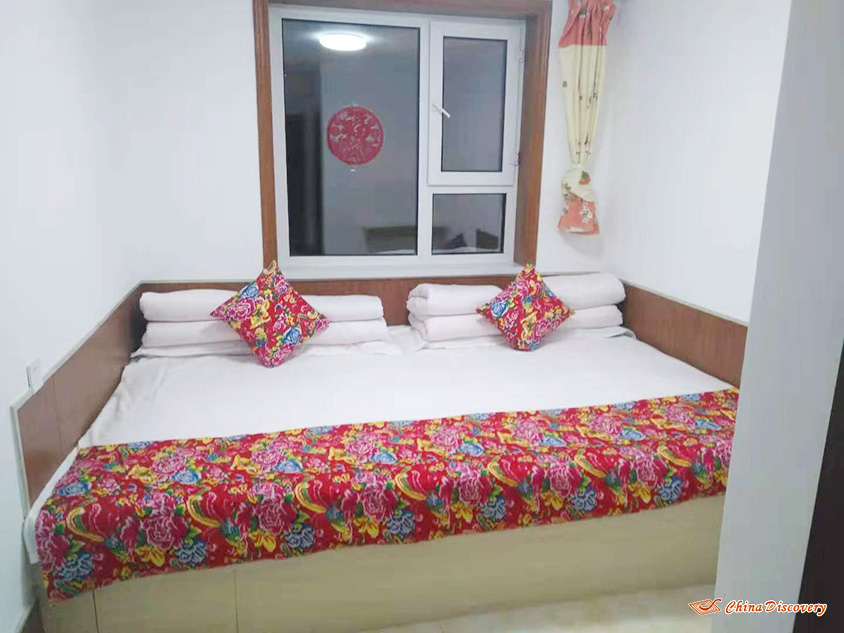 Typical Kang Bed in Northeast China
On Third Day
6:00 a.m. - Yangcao Mountain
Wake up early to enjoy the sunrise at Yangcao Mountain. At about 1,250 meters above sea level, it's the tallest peak in the region and known as the most beautiful place in Snow Town. With its rare trees, it is the best spot to view sunrise and sunset. If you want to enjoy the sunrise view, do remember to come early, as the sun rises at 6:30 a.m. to 7:00 a.m. in winter.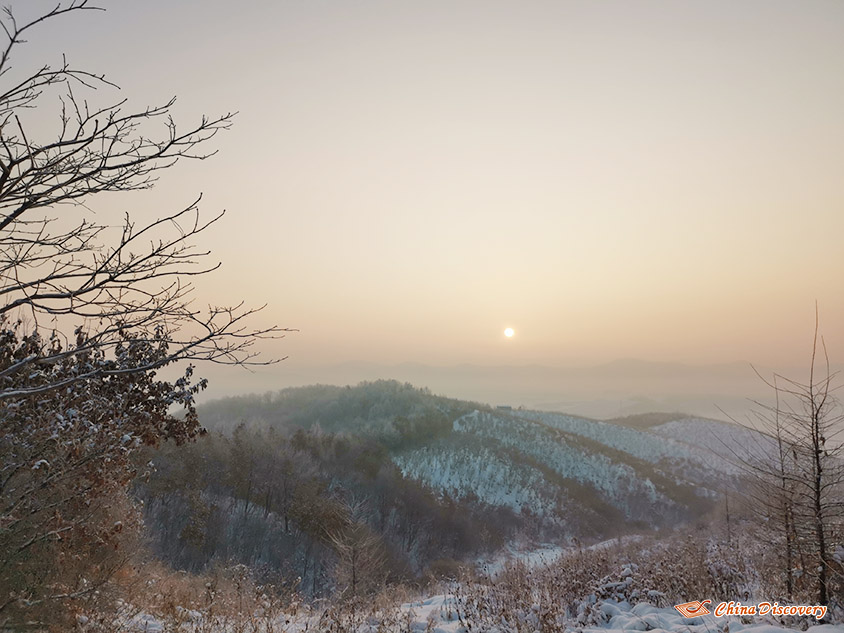 Enjoying Sunrise at Yangcao Mountain
8:00 am - Photograph
As a female who loves beauty, I want to leave some beautiful photos with such beautiful snow view. So I found a local photographer to take some pictures for me.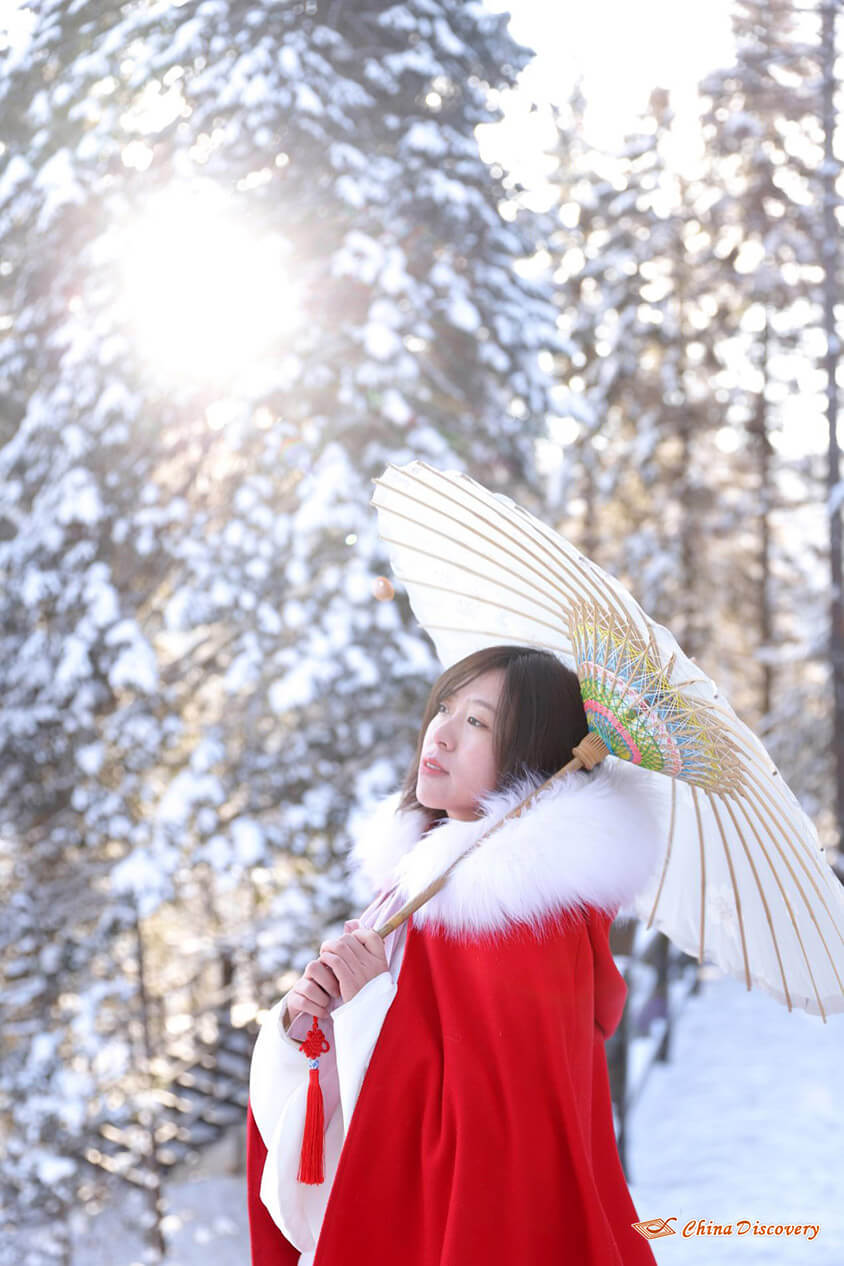 Taking Photos with Beautiful Snow View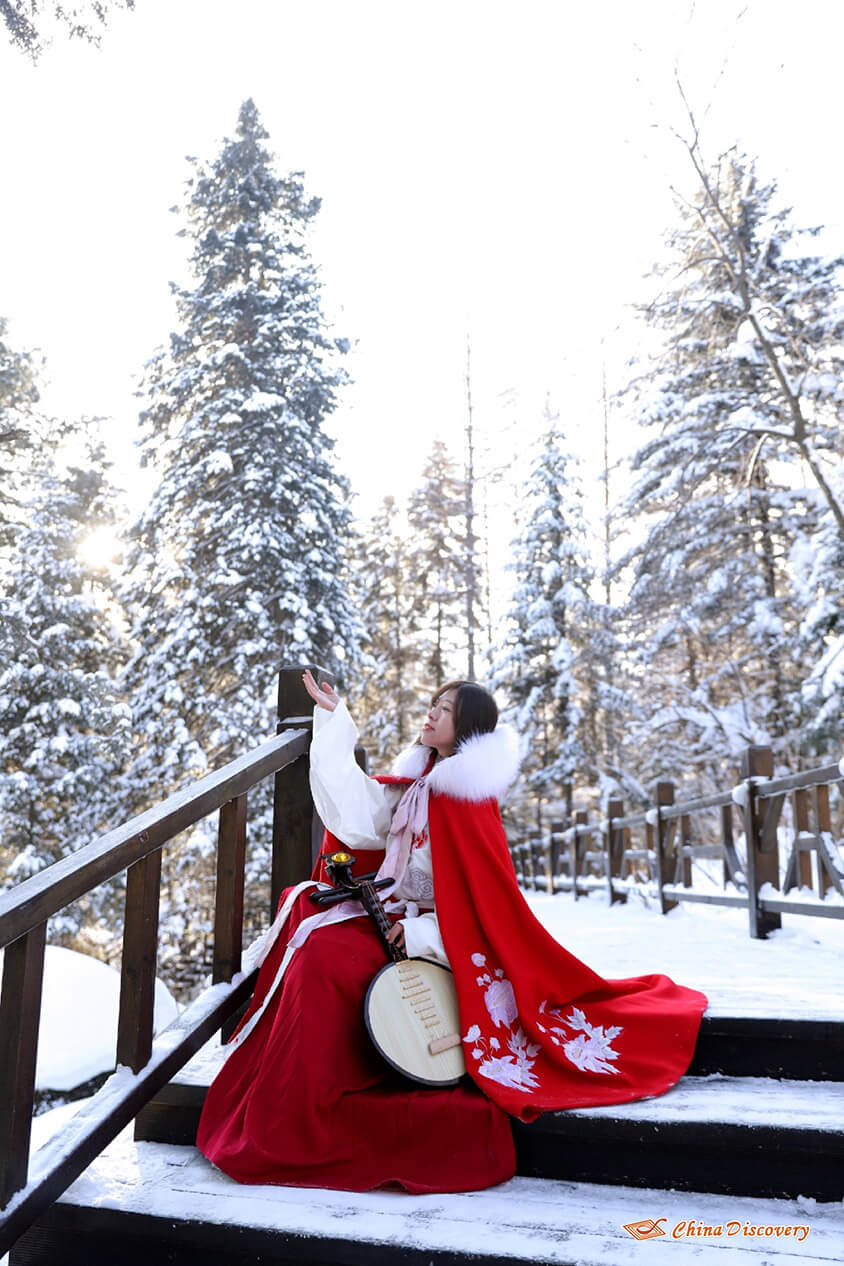 Taking Photos with Beautiful Snow View
9:00 am - Day of Dream Home Studio
I entered into Dream Home Studio again. Because I wanted to see what wooden houses look like during the day. It shows a variety of shapes like horses, lying rabbits, turtles, giant mushroom, etc. It looks more vivid than at night and also very cute. Covered by snow, local traditional wooden houses here show a variety of shapes like horses, lying rabbits, turtles, giant mushroom, etc. and sleep over at their homes. For photography enthusiasts, birches, cedrus, little huts, red lanterns, wattle wall, and sunrise are all wonderful themes. Hence a dreamlike fairyland of snow gets its name.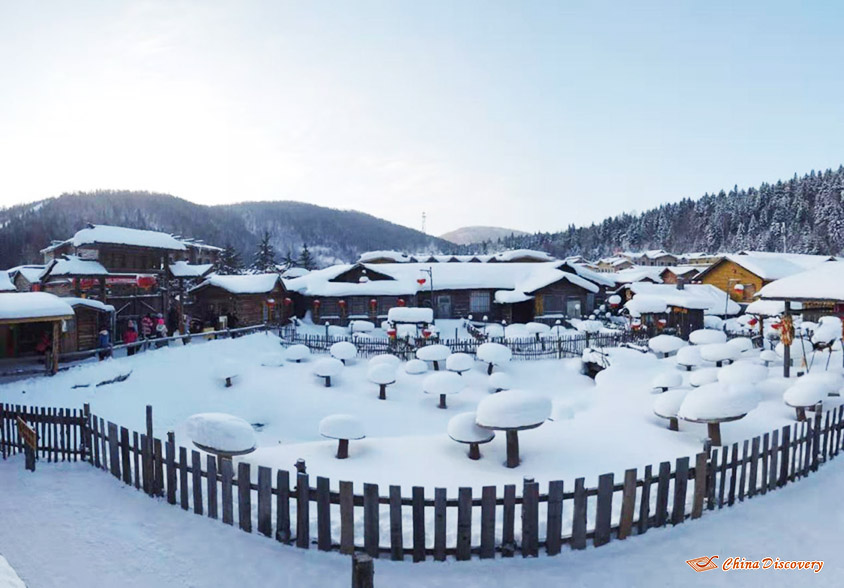 Dream Home Studio in the Daytime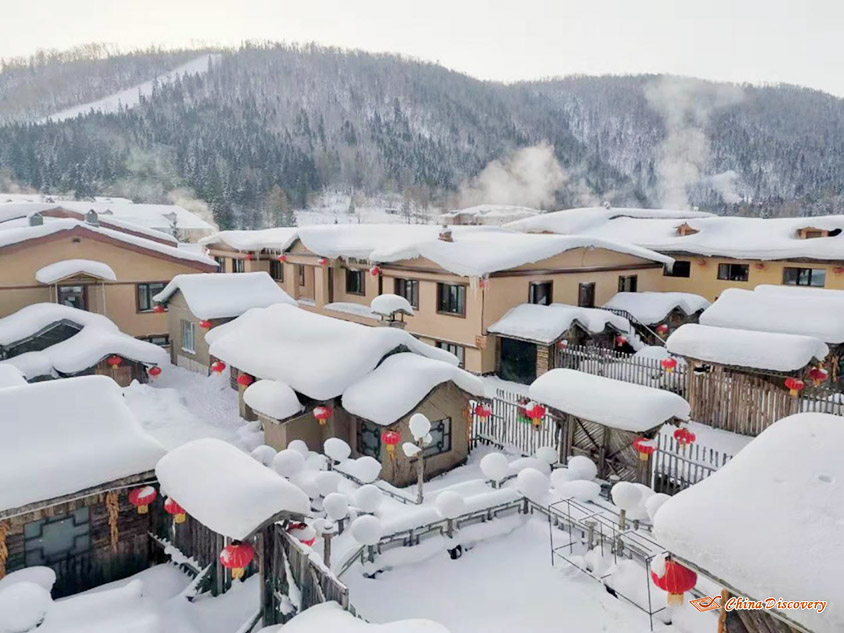 Dream Home Studio in the Daytime
Tips: Entrance of Dream Home Studio allows to enter twice within 48hrs.
At noon, I have to say goodbye to my snow fairy tale world and drive to Harbin. It is 280 kilometers from Harbin city.
On Forth Day - Harbin Day tour
Harbin - The capital of China's northernmost province, Harbin was originally named to mean 'a place for drying fishing nets'. The city grew from a small rural settlement on the Songhua River and today is heralded as the 'City of Ice', home to the world's largest Ice and Snow festival. But there is more to Harbin than record-breaking structures made of ice. The city's parks, winter sports and Russian architecture make it a city where both children and adults can take part in the whimsy and magic of a storybook land.
9:00am - Songhua River
Songhua River (松花江) is completely frozen solid during winter, which makes it a perfect place to play. There are many interesting activities on ice, such as skating car, sliding, winter fishing, etc. on Songhua River. Surrounded by fun and laughter, I fell in love with the joyful atmosphere on the lake.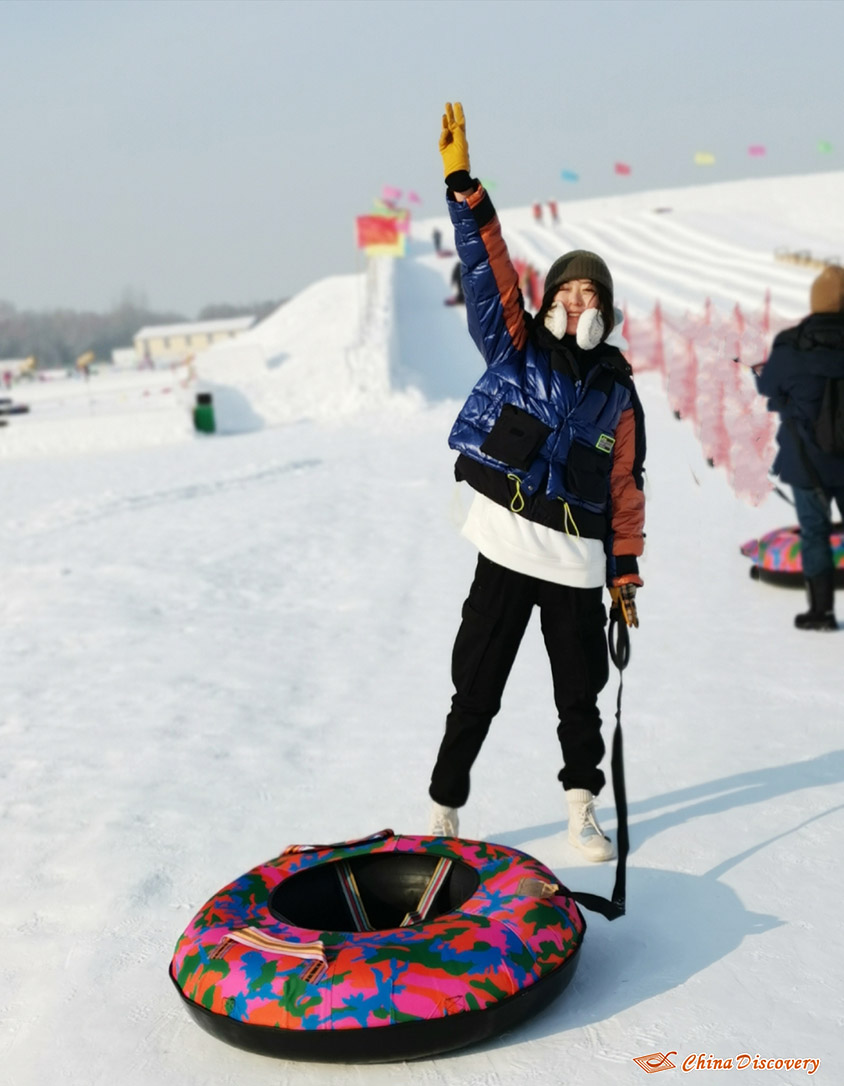 Take the Tyre and Go for An Exiciting Slide on Snow
You can't miss winter swimming show. In winter, the average temperature in Harbin is about -25 ºC (-13 ºF). Many local people gather in the morning at Songhua River for winter swimming. They drill a hole into the icy river and make a simple swimming pool out of it. After warming exercises, the brave swimmers jump or dive into the freezing water. It is very interesting to see swimmers in their bathing suites swimming in the freezing water, while surrounding them are ice and snow, and people wearing very heavy coats.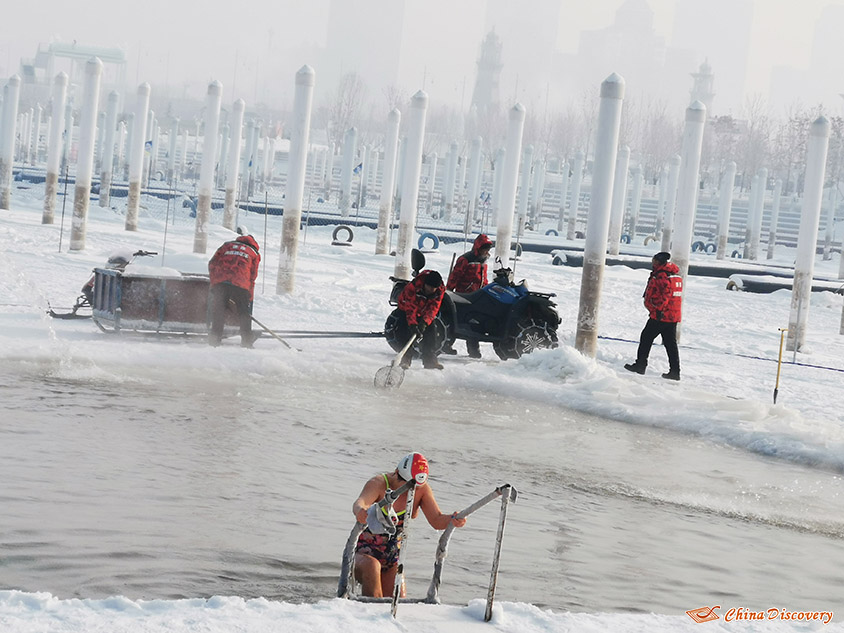 Brave Winter Swimmer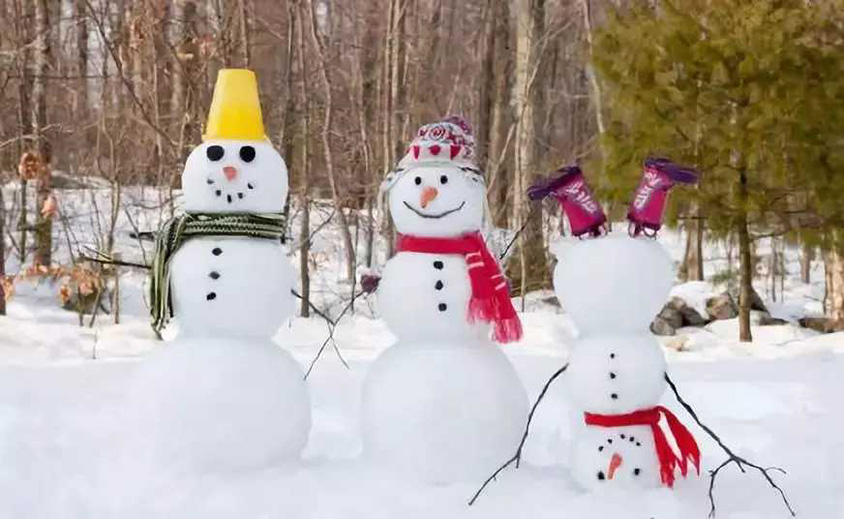 Do You Wanna Build A Snowman
11:00am - Sun Island
The island is in the Songhua River and is about 3,800 hectares (14 square miles) in size. It is connected to smaller islands. It is best known as the snow sculpture display and competition area of the Harbin International Ice and Snow Sculpture Festival, but there are other highlights on the island all year around. In the winter, the island is the venue for many square miles of giant snow sculptures. These 3-D images are gigantic.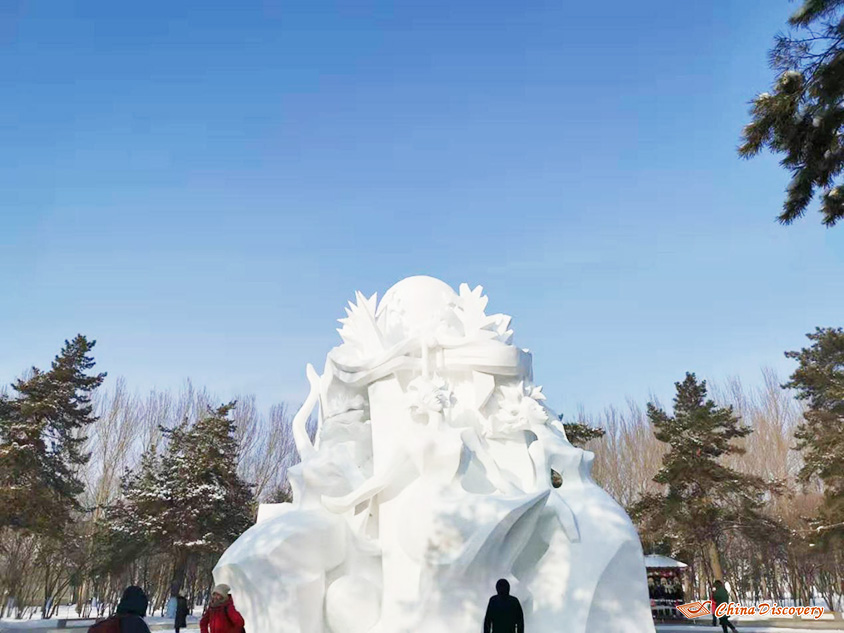 Snow Sculpture at Sun Island in Harbin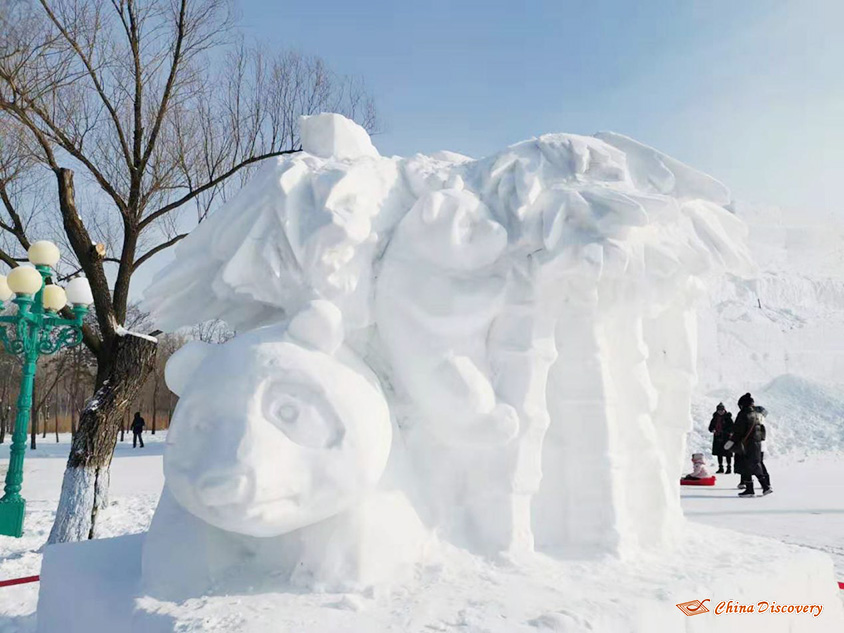 Snow Sculpture at Sun Island in Harbin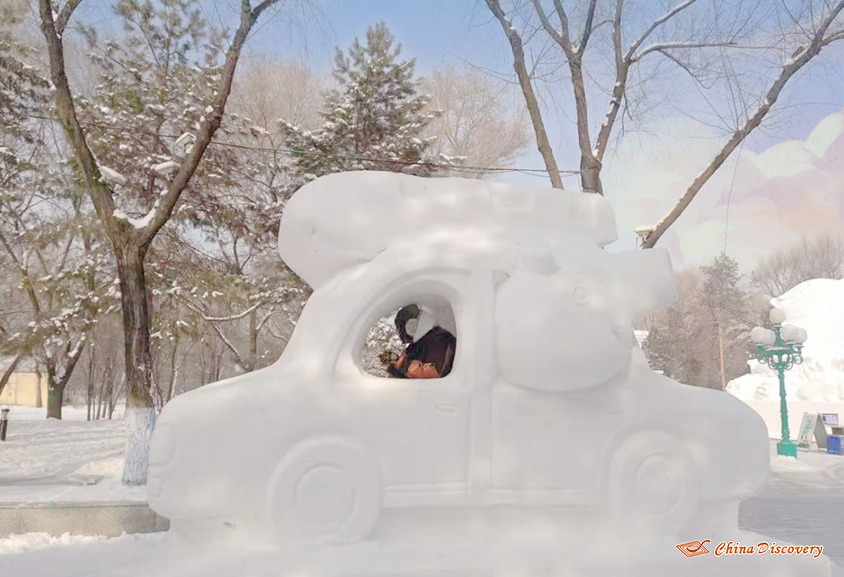 Sitting in a Snow Car at Sun Island in Harbin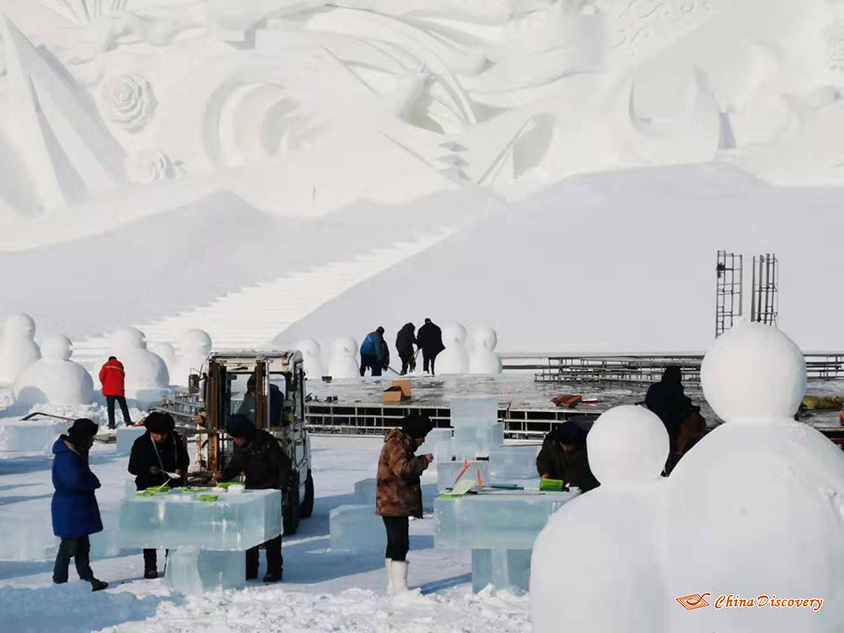 Masters Are Making Ice Sculptures
1:30pm - Laodaowai
This popular featured street block is so far the <largest Chinese Baroque street block in China where boasts many meaningful old Baroque styled architectures with rich romantic color from early 20th century. Most of these buildings are still surmounted by a dome, and the arrows of different colors. Avenues are interspersed by small walkways, which allow walkers to discover the different aspects of the city.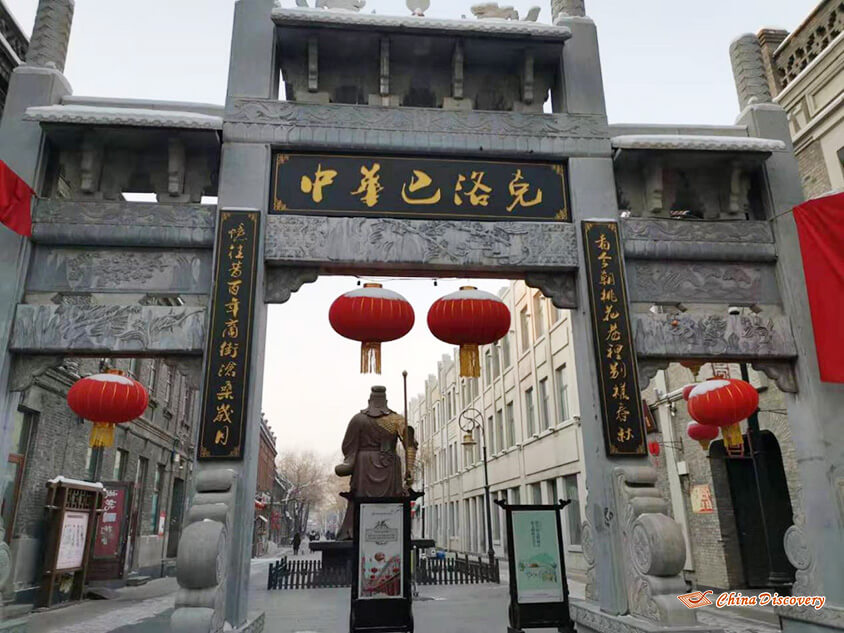 Laodaowai Chinese Baroque District in Harbin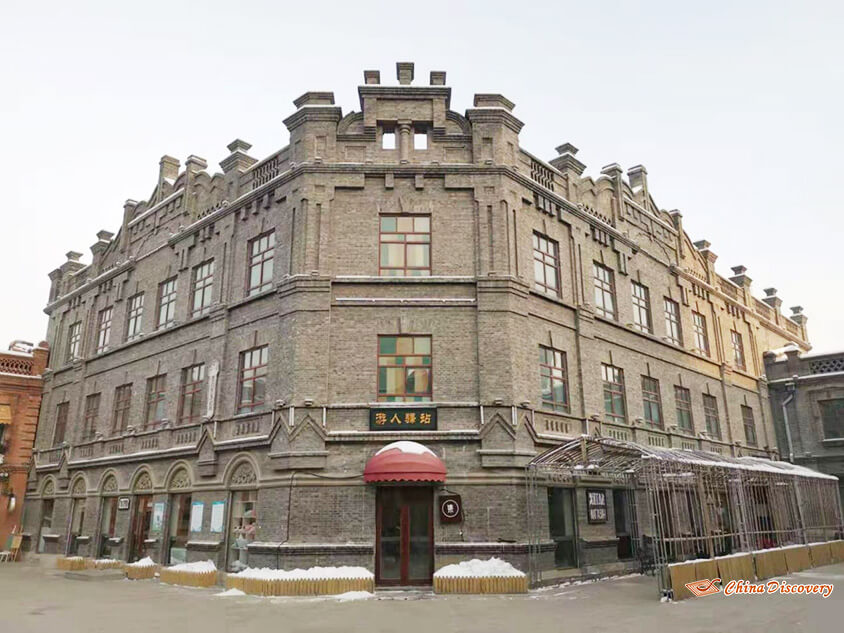 Baroque Architecture in Laodaowai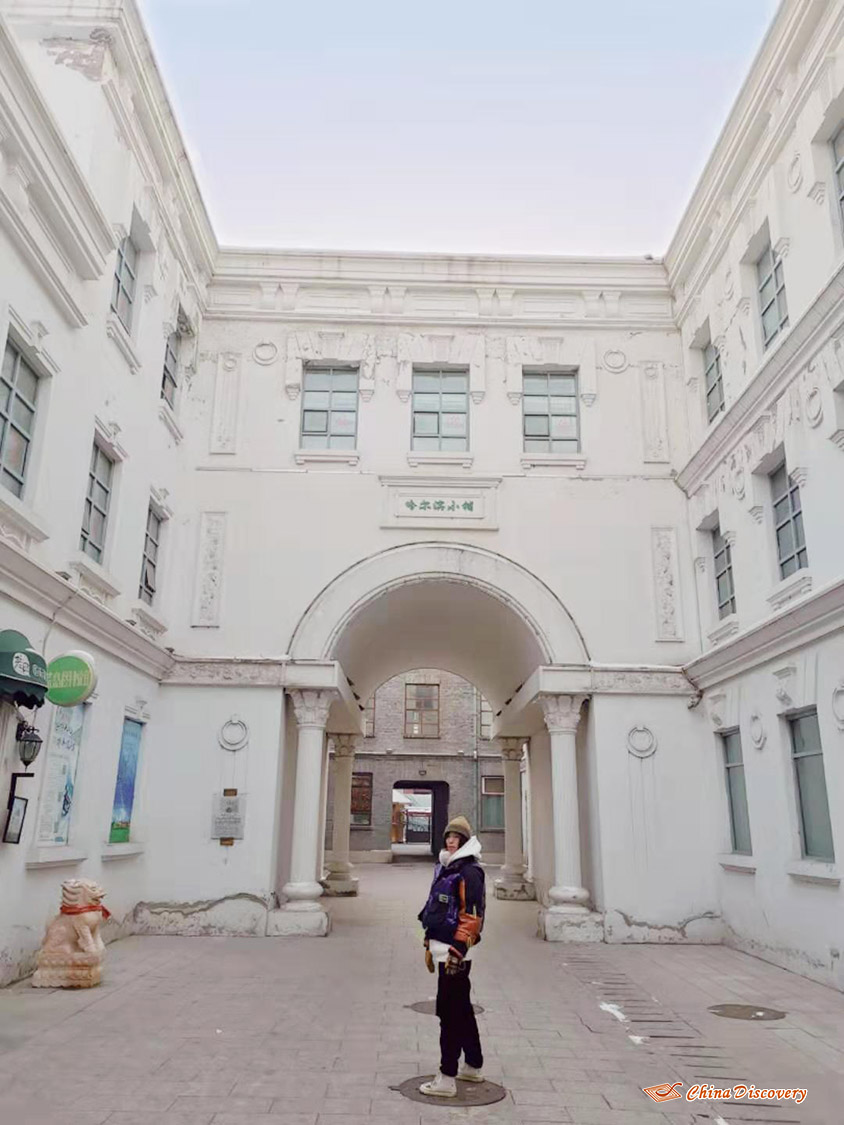 Baroque Architecture in Laodaowai
2:30pm - Zhongyang Pedestrian Street and Saint Sofia Cathedral
It is said to be the most gorgeous street in Harbin. The architecture is really western because of Harbin's history with Russia. During the day, it looks like a quaint Russian street. By night, fairy lights are lit up and the streets turn into the most magical street I've set foot on. As snow falls lightly on your shoulders, snuggle up to your loved one and enjoy the view from the benches along the street.
Here are some pictures of Zhongyang Pedestrian Street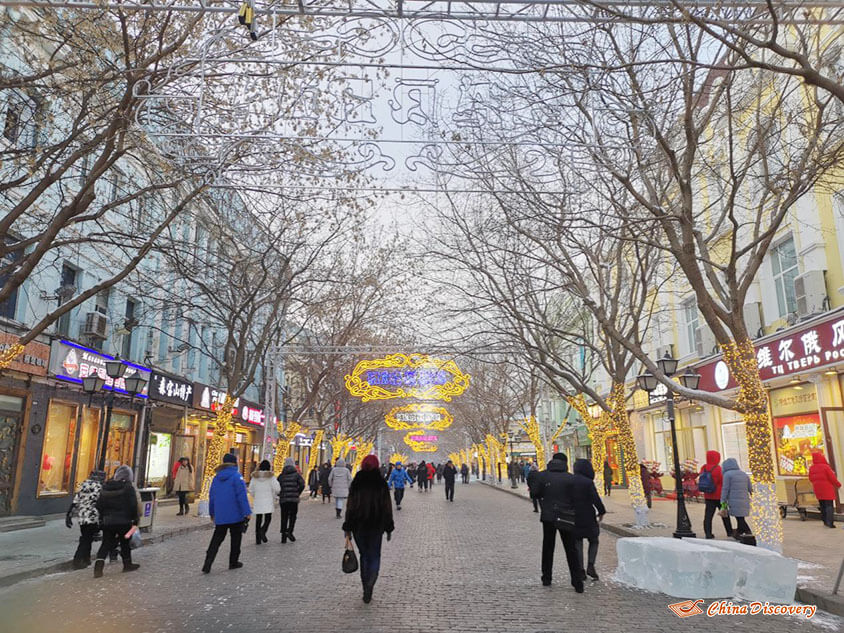 Zhongyang Pedestrian Street at Dusk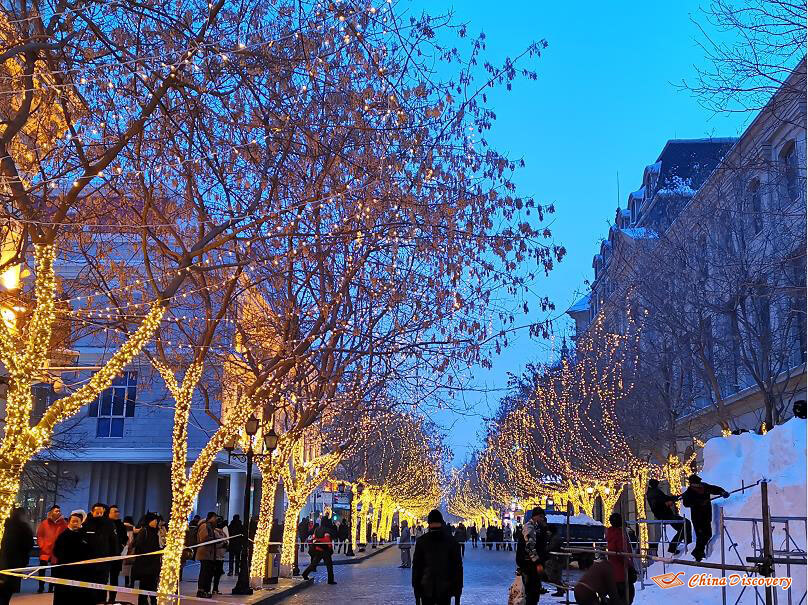 Zhongyang Pedestrian Street with Lights On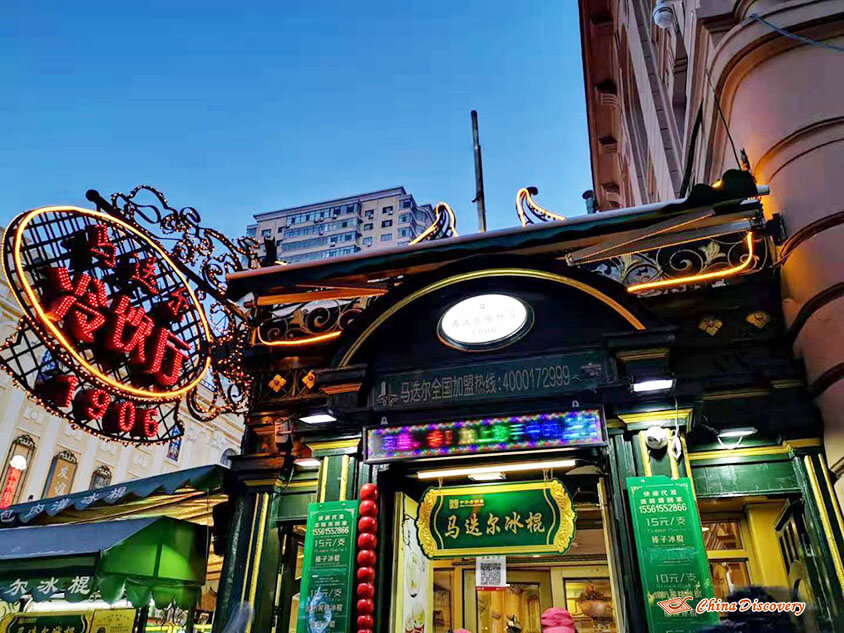 A Cold Drink Shop at Zhongyang Pedestrian Street
Sitting majestically in the centre of town, Saint Sofia Cathedral (索菲亚教堂) is the largest Eastern Orthodox church in the Far East. The Russians built and completed the church in 1932 and it's the perfect spot to snap a photo.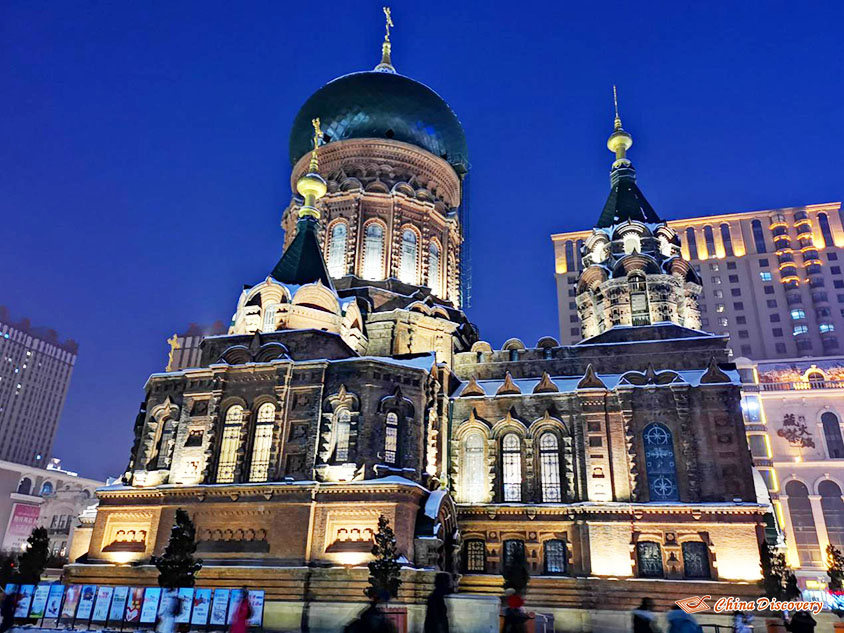 Saint Sofia Cathedral in Harbin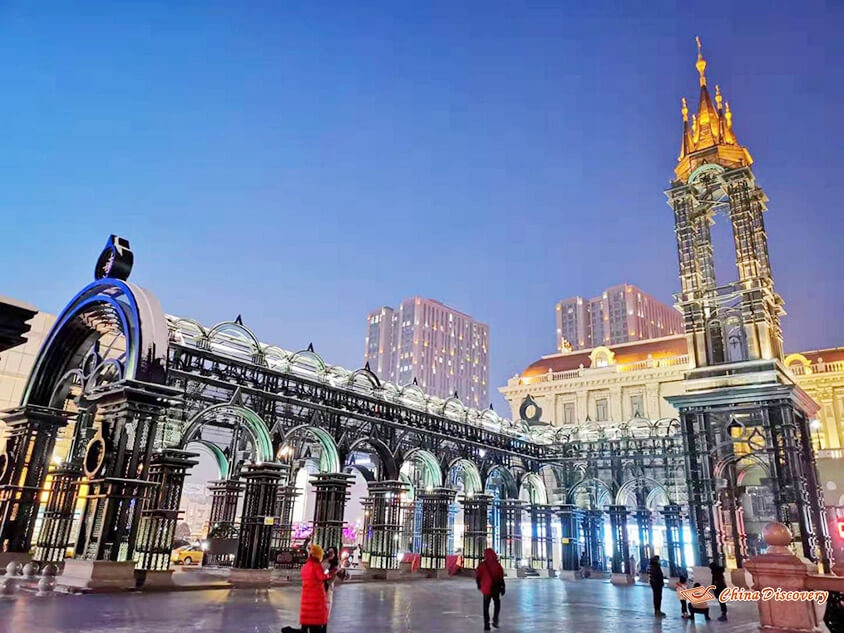 Saint Sofia Cathedral in Harbin
4:00pm - The most highlight - Harbin Ice and Snow World
The Harbin Ice and Snow World, a 600,000-square-meter wonderland. As an important part of Harbin International Ice and Snow Festival, the park has officially opened for the 21st consecutive year.The park is built each winter with ice rather than commonly used construction materials. More than 220,000 cubic meters of ice and snow have been put into use for the construction of the park this year. In the park, tourists can enjoy 21 groups of ice and snow buildings including the 40-meter-high tower Crown of Ice and Snow. One of the highlights for any visitor to the festival is to visit the site at night when multicolored lights set underground illuminate the sculptures, revealing a whole new colorful dimension to the exhibits. The contrasts of the bright and dazzling lights against the dark night sky make the works look all the more spectacular.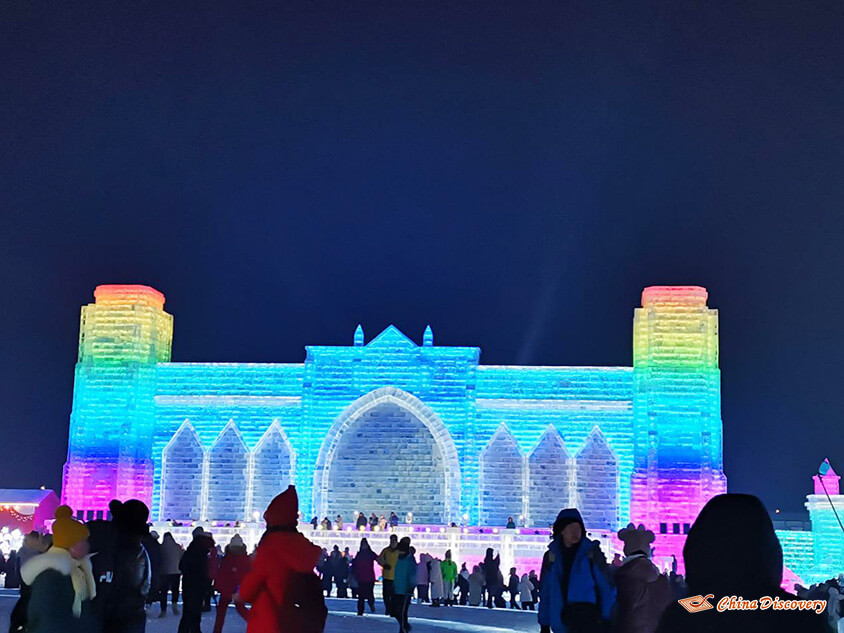 Harbin Ice and Snow World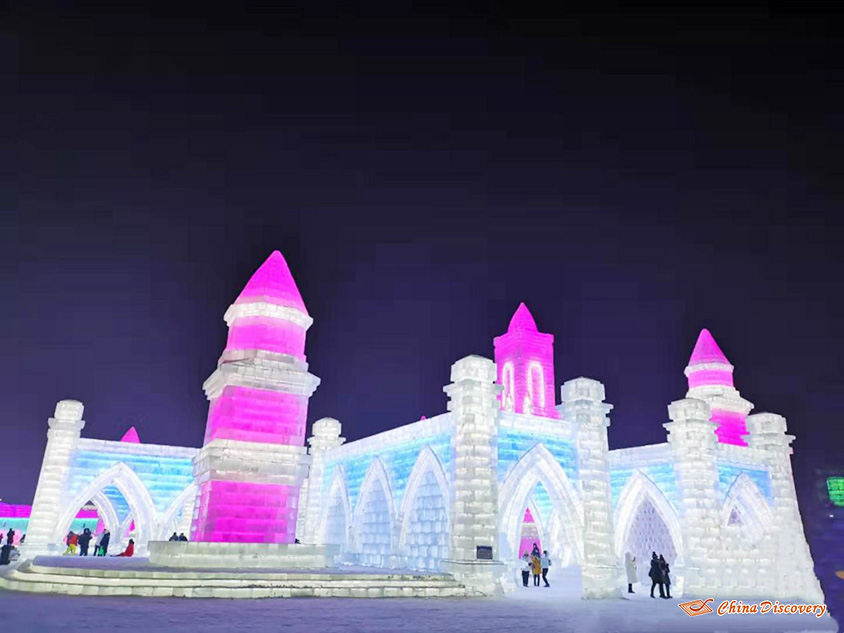 Harbin Ice and Snow World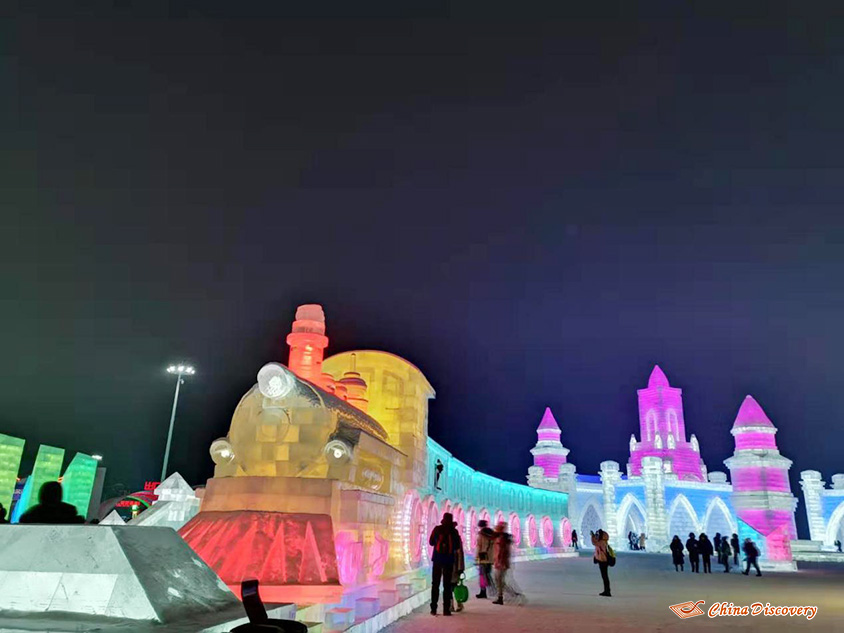 Harbin Ice and Snow World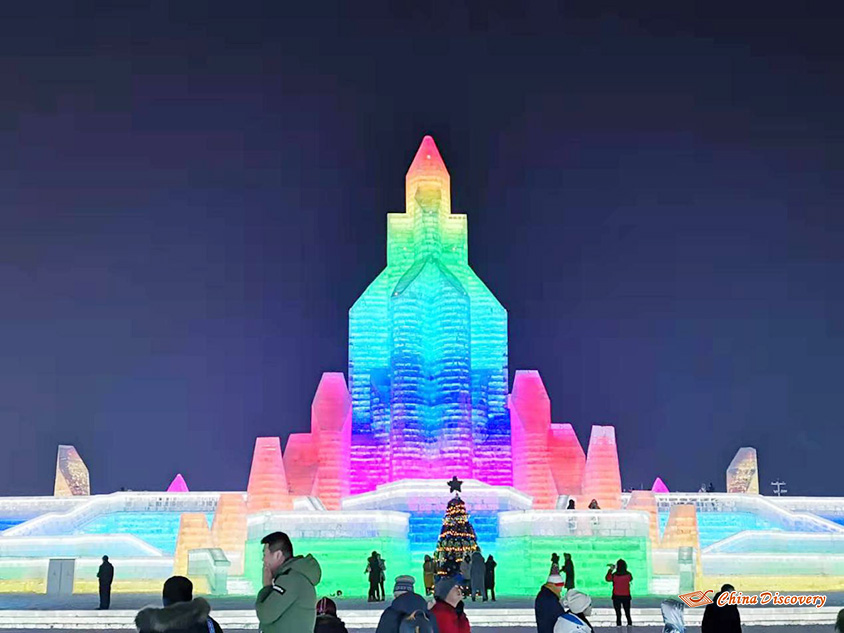 Harbin Ice and Snow World
Harbin Ice and Snow World
Tips: When is Harbin Ice Festival?
The festival is officially held from the end of December through February. Opening dates keep changing, and ending dates partly depends on the weather.
On Fourth Day. I have to say goodbye to my ice wonderland. This trip satisfy my dream of ice and snow world. I enjoyed the most beautiful snow scene and ice sculpture and played a lot of funny ice activities. Compare with other destinations like South Korea, Japan and Europe, Harbin is a really affordable and economic place. But not many people know much about this place. If you plan to somewhere cold and see snow and ice, I highly recommend Harbin .And hope my blog could help you.
Travel Tips:
Sub-Zero Clothing: In Harbin in winter the temperature is from -25°C (-13°F) to -10°C (14°F), and that's without wind chill! Hence thermal underwear, gloves, (scarves, earmuffs), hats, (face masks), and thick arctic clothing and boots are necessary. If you have ski boots they would be ideal.
Wear sunglasses, or better still snow glasses, to prevent snow blindness.
Frostbite prevention: If your hands or feet start feeling chilled, do some exercise to warm them up or go indoors. You can also ask your guide for help to buy some heating pads at local
Protect your batteries: Such as camera, mobile phone, etc.The average January high in Harbin is -13°C (8°F). The cold saps battery life. Usually a fully-charged camera battery will last for 50 photos (without flash), but in these cold conditions around 25 is good. If you take the battery out and warm it for a while, you may be able to take another ten. If you need to use digital camera outdoor, cold-proof protection is necessary. Prepare at least 2 sets batteries. When enter into a room from outside, well prepare for keeping the lens away from damp caused by the temperature difference.
Taxis: In Harbin, it is not easy to take a taxi. Especially in Winter. Harbin is a very crowded city. You can imagine you have to stand long time to wait taxi in extreme cold weather. It is hard to bear it. It will be wise choice to find a reliable agency to offer you a warm and confirmable car for you. it will make your Harbin trip easily.
Travel with Me
Hi, I'm Catherine. Are you interested in my 5 Days Jinlin & Harbin Winter Tour? Feel free to contact me, and I will be glad to tell you more stunning stories about the places I have visited. Or, if you want to customize a tour on your own, I'm always ready to help at any time. With my passion, knowledge and understanding of the essence of travel, I promise I will try my best to make the tour memorable and meaningful for you.
Catherine

Travel Consultant
Recommended Tours
Top 3 tours chosen by most customers to explore in the best way. Check the detailed itinerary, or tailor your own trip now with us.
5 Days Charming Harbin & China Snow Town Winter Tour

Harbin / China Snow Town / Harbin
8 Days Northeast China Tour with Harbin Ice & Snow Festival

Harbin / Jilin / Changchun / Shenyang / Dalian
6 Days Beijing & Harbin Stunning Winter Tour by Flight

Beijing / Harbin
Have a question? Get answers from our travel experts or guests
Your Question:

Your Name:

Your Email: