Updated Datong Maps 2023: Location, Transfer and Tourist Maps
Datong is a great tourist destination for cultural exploration because of its wonderful cultural wonders, especially Yungang Grottoes and Hanging Temple. No matter you are planning a Datong tour or you have already started your Datong trip, holding most updated maps will help you have a better understanding about Datong City and quality travel experience. Here we have collected most some useful maps, including Datong Location Maps, Datong Transfer Maps, Datong Tourist Maps, etc. All Datong maps are downloadable for free.
Datong Location Maps – Where is Datong
Datong city is located in northern Shanxi province, bordering Shuozhou to southwest and Xinzhou in south, while Shanxi province is the part of North China, bordering Hebei to the east, Henan to south, Shaanxi to west and Inner Mongolia to the north.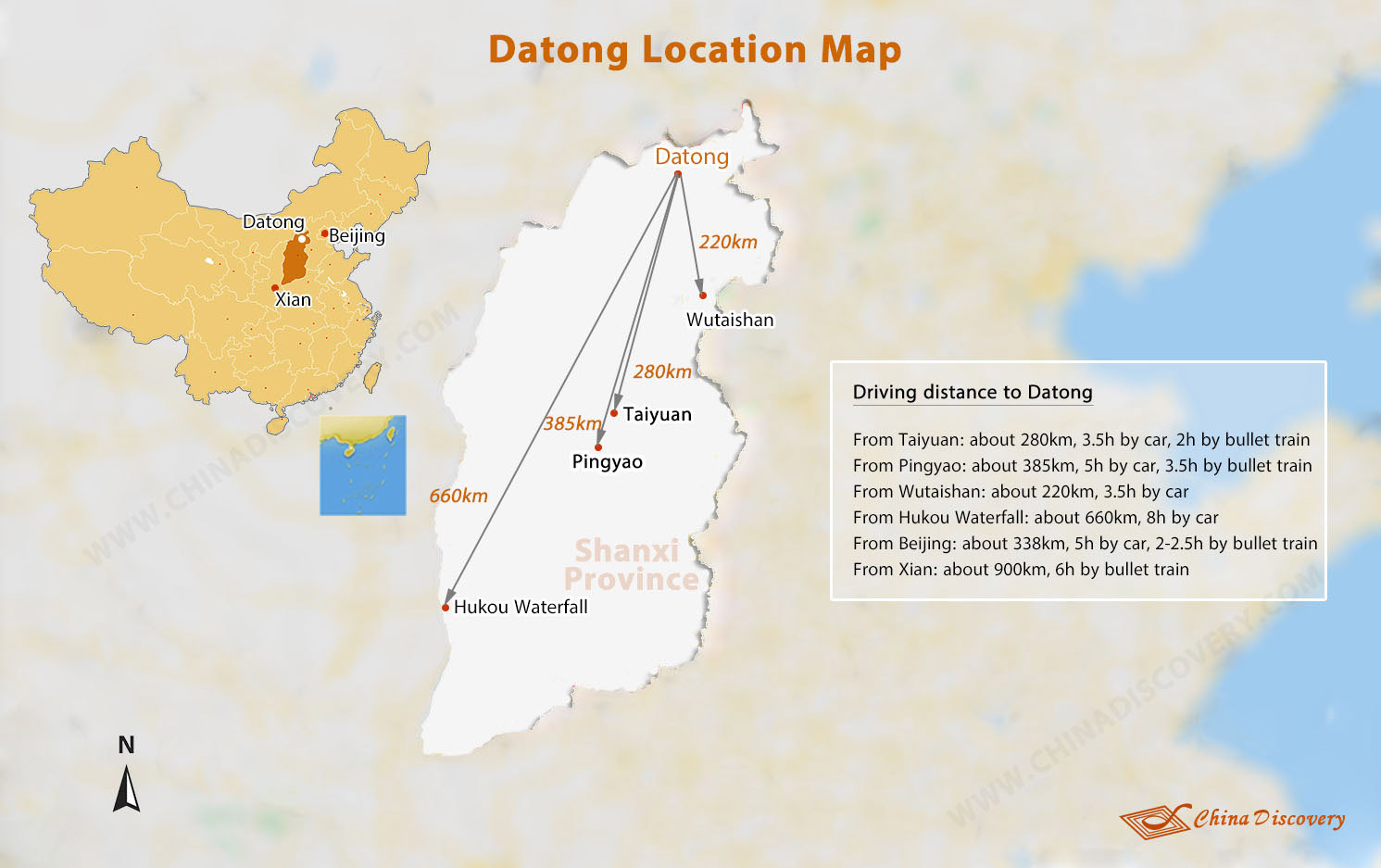 Datong Location Map
Datong Transportation Maps – Get to/around Datong Map
Conveniently equipped with airport and railway station, Datong can be reached by both flights and high speed trains. There are available direct flights to Datong from many provincial capital cities, including Beijing, Xian, Shanghai, Xian, Guangzhou, Hangzhou, Xiamen, etc. Taking a high speed train is favored by many tourists as well. You can take a high speed train to Datong from Beijing, Xian, Hohhot, etc. as well as many other cities in Shanxi, like Taiyuan, Pingyao, Xinzhou, Linfen, etc.
Datong Tourist Maps – How to Travel Datong Map
There are many attractions in Datong worthy of your visit. Apart from most popular Yungang Grottoes and Hanging Temple located in suburb of Datong, many others are located in the city area, like Datong City Wall, Nine Dragon Screen Wall, Huayan Temple, Shanhua Temple, etc.
How to Plan a Datong Tour
It usually needs 2 days to cover the highlights in Datong. Without any doubt, Yungang Grottoes are a must. It consists of 53 grottoes with 51,000 statues and is a real treasure of traditional Chinese art. After that, you can go to Shanhua Monastery to appreciate a set of well-preserved buildings of Liao Dynasty (905-1125). Then, continue to have a look at Nine Dragon Screen, the oldest and largest glazed screen in China and later head to Huayan Temple, which keeps the largest wooden structure of Buddhist temple hall with elegant mural and scriptures. The next day is for the attractions a little far from downtown such as Hanging Temple, an unusual temple standing on the precarious cliff built over 1500 years ago, and Yingxian Wooden Pagoda, the highest wooden pagoda in the world.
☛ 2 Days Datong Yungang Grottoes Tour
☛ 3 Days Datong Culture Tour with Hanging Temple
In addition, the convenient transportation of Datong provides opportunities to discover more of Shanxi to Taiyuan, sacred Buddhist mountain Mount Wutai, world heritage site Pingyao Ancient City, magnificent Hukou Waterfall, etc.
☛ 5 Days Datong & Wutaishan Discovery Tour
☛ 6 Day Datong Pingyao Tour Plus Wutaishan Visit
If you have more days and want to travel outside Shanxi, it is highly recommended to extend your tour to capital Beijing (Great Wall, Forbidden City), time-honored Xi'an (Terracotta Warriors), and modern metropolis Shanghai (the Bund).
☛ 9 Days Ancient Treasures of China Tour
☛ 11 Days Golden Triangle Tour with Shanxi Highlights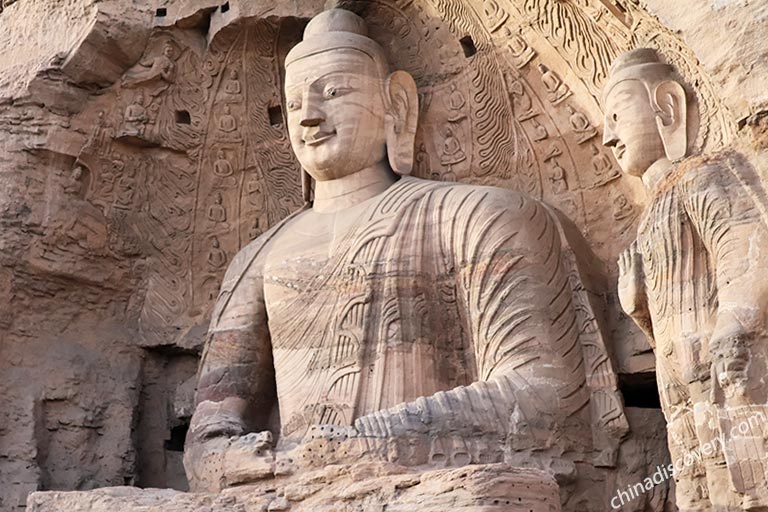 Yungang Grottoes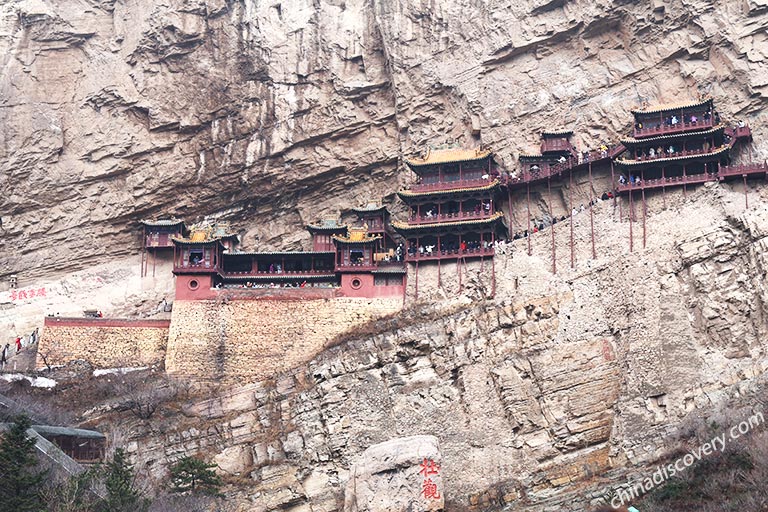 Hanging Temple
Helpful Datong Travel Guide
More about Shanxi Travel Guide
Recommended Datong Tours
Top 3 Datong tours chosen by most customers to explore Datong in the best way. Check the detailed itinerary,or tailor your own trip now with us.
6 Day Datong Pingyao Tour Plus Wutaishan Visit

Datong / Wutaishan / Taiyuan / Pingyao
4 Days Essence of Datong & Pingyao Tour

Datong / Pingyao