Top 5 Datong Activities | Things to Do in Datong
Datong, the capital of the Northern Wei Dynasty (A.D. 368-534), always keeps a low profile but contains infinite energy. When the ancient atmosphere and exotic customs meet here, the city perfectly mixes the multi-ethnic culture into its own blood.
The magnificent Yungang Grottoes in the northern Wei Dynasty is well preserved here; the mysterious Hanging Temple still stands firmly on the cliff. Walk through the lanes and streets, you will meet many architectures that are built hundreds of years ago and when you make a stop, a bowl of sliced noodles will add more flavor to your Datong trip. If you come to this ancient city, do not miss the recommended things to do in Datong listed below.
Top 1: Meet Buddha with Diverse Styles in Yungang Grottoes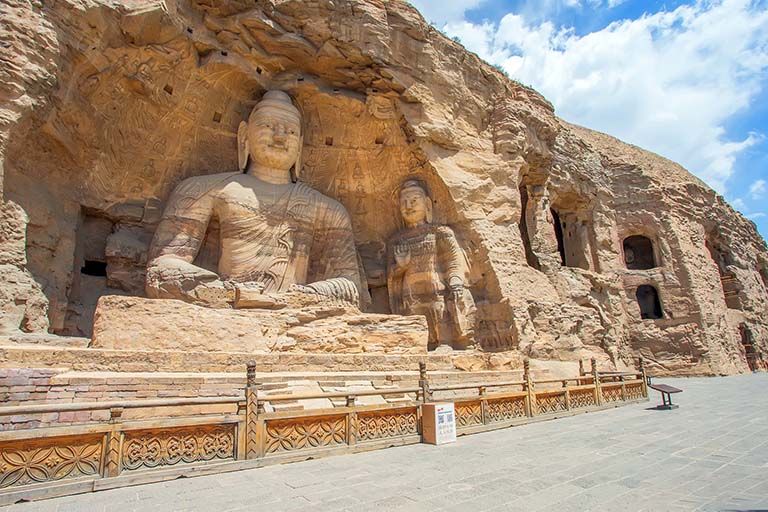 Cave No.20 of Yungang Grottoes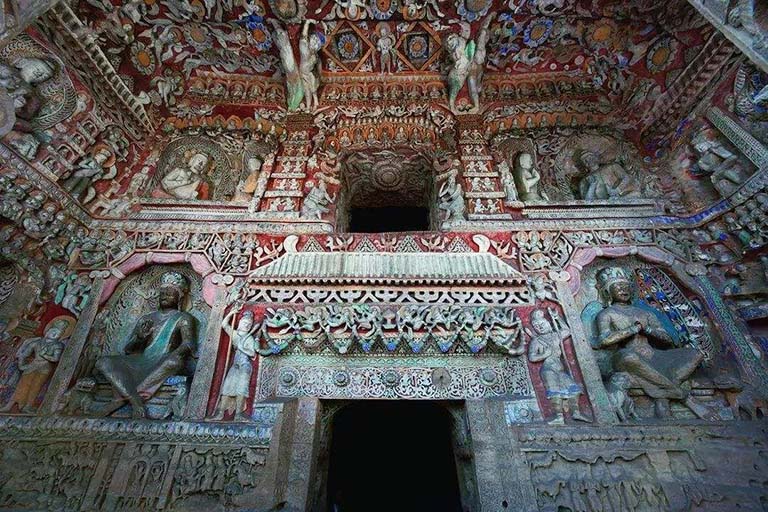 Buddha Statues & Murals in Yungang Grottoes
Address: No. 1, Yungang Town, Yungang District, Datong, Shanxi, China, about 23.5 km (45 min by car) from city center.
Ticket: CNY 120 (April 1st - October 31th); CNY 100 (November 1st - March 31st)
Opening Hours: 8:30-17:30 (April 1st - October 15th); 8:30-17:00 (October 16th - March 31st)
As one of the four great grottoes in China (the other three are Mogao Grottoes in Dunhuang, Longmen Grottoes in Luoyang and Maijishan Grottoes in Tianshui), Yungang Grottoes have always been a treasure sitting in the west of Datong. It has a history of more than 1600 years. Here you can see grand statues of various artistic styles such as the Indian, Gandhara, Greek and Western style. In the early stage of Northern Wei Dynasty (A.D. 368-534), Yungang Grottoes is a royal project that costs a lot of manpower, materials and financial resources, and it takes about 60 years. Later, the statues show distinctive Chinese characteristics influenced by the prosperous Tang Dynasty (A.D. 618-907).
√ 2 Days Datong Yungang Grottoes Tour
Top 2: Find out the Mystery of Hanging Temple Standing on the Cliff for 1500 Years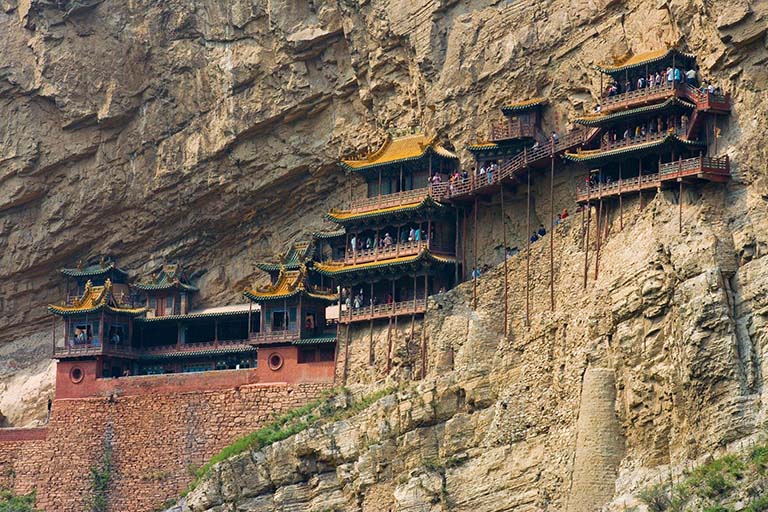 Hanging Temple on the Cliff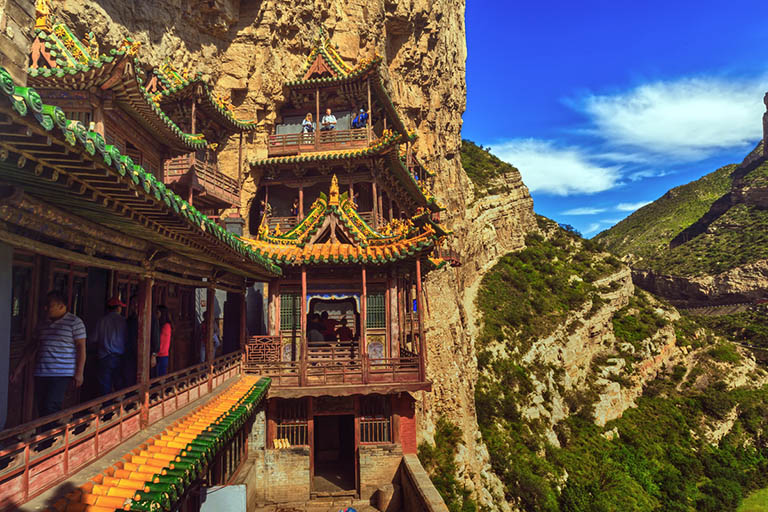 Corridor Connecting Pavilions on Hanging Temple
Address: Southeast side of Hunyuan County, Datong City, Shanxi, China, about 80 km, 1.5 hours' drive from Datong downtown.
Ticket: CNY 125 (March - October); CNY 117 (November - February)
Opening Hours: 8:00-18:00 (June - October); 8:30-17:30 (November - May)
There are many architecture wonders in the world and the Hanging Temple at the foot of Mount Hengshan is definitely one of them. At the first sight, it is like the temple sticks out from the cliff and hangs in the air. Many people will worry that it may fall down one day, but it has been standing there for over 1500 years.
The Hanging Temple has a length of 32m with about 40 pavilions and halls. The two majestic three-eave high-rise buildings in the north and the south seem to face each other in the air, hanging on the knife-like cliff connected by corridors. The temple is about 50 meters above the ground supported by rocks and half inserted beams. It forms a stable wooden frame structure with the corridor railing and upper and lower beam columns, which also increases its seismic resistance and helps it stand firmly.
√ 3 Days Datong Culture Tour with Hanging Temple
Top 3: Feel the History of Datong in Ancient Architectures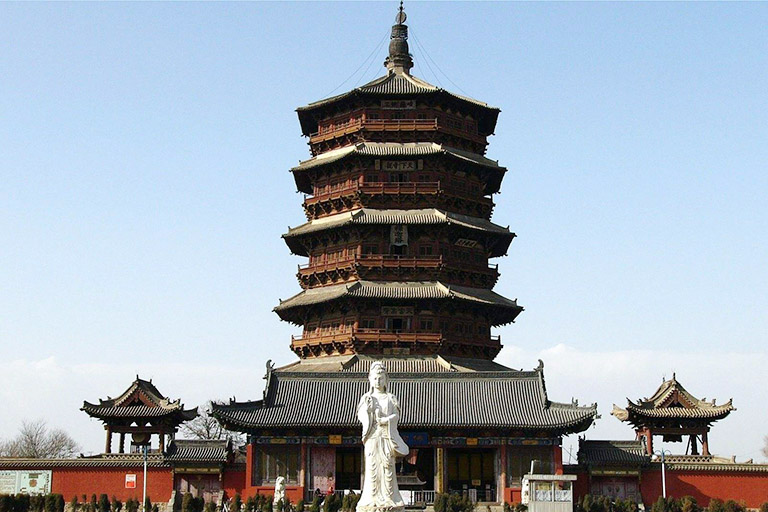 Yingxian Wooden Pagoda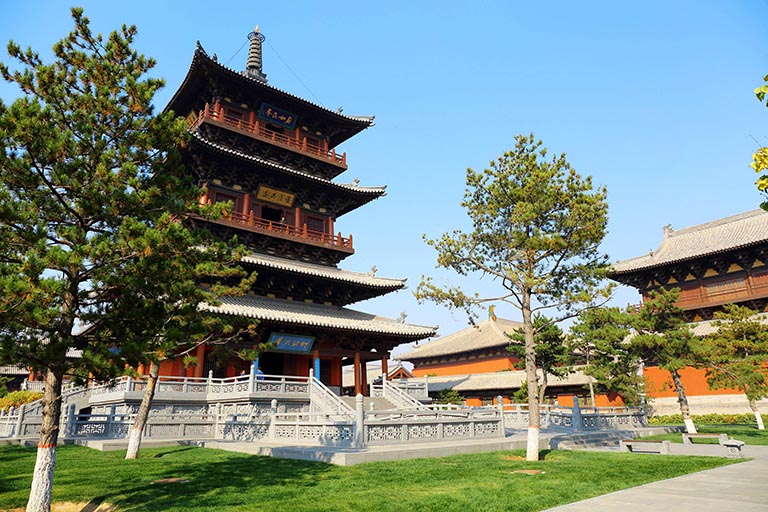 Huayan Temple
As the previous capital of Northern Wei Dynasty (A.D. 368-534), Datong is a city full of cultural relics and historic sites. In the past thousand of years, many architectures that represents the characteristic features of that time has been passed down till now. For example, Huayan Temple (built in A.D. 1038) is a relatively intact temple complex of Liao and Jin Dynasties, Shanhua Temple retains the characteristics of the early Tang Dynasty (A.D. 618-907), Yingxian Wooden Pagoda (built in A.D. 1056) shows the superb wooden building skill of ancient craftsman, and the Nine Dragon Screen (built in A.D. 1392) in the mansion of the 13th son of the first emperor of the Ming Dynasty fully reflects the magnificent momentum of royal family.
√ 4 Days Essence of Datong & Pingyao Tour with Shanhua Temple & Yingxian Wooden Pagoda
Top 4: Take a Walk on Datong Ancient City Wall
Datong City Wall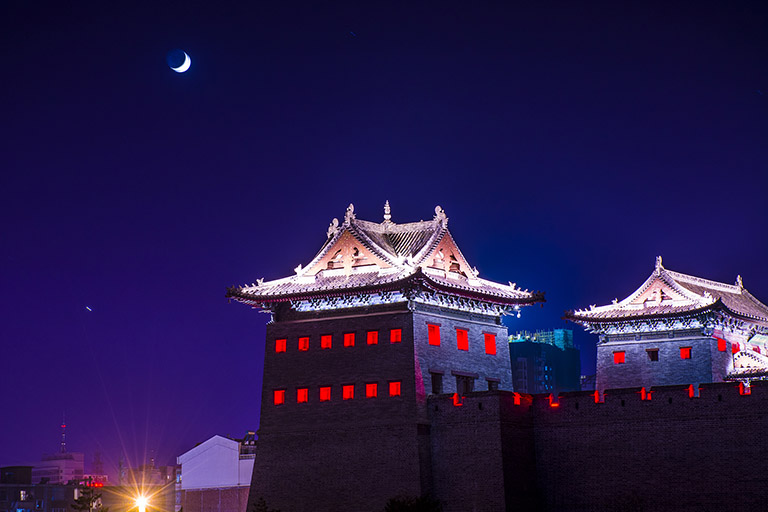 Datong City Wall at Night
Datong ancient city wall is a national AAAA scenic spot and a provincial key cultural relic protection unit located in the central area of Datong. It is quadrilateral with a perimeter of 7270.7 meters, which will need 3-4 hours to take a round on foot. You can climb up and walk down the city wall from its four gates in the north, east, south, and west, among which the south gate is the grandest. Bicycles are available for rent if you do not want to walk for so long a distance. Standing on the city wall, you will have a full view of Datong City. It is especially beautiful when night falls with the lights on.
Top 5: Try Typical Northern China Cuisine in Datong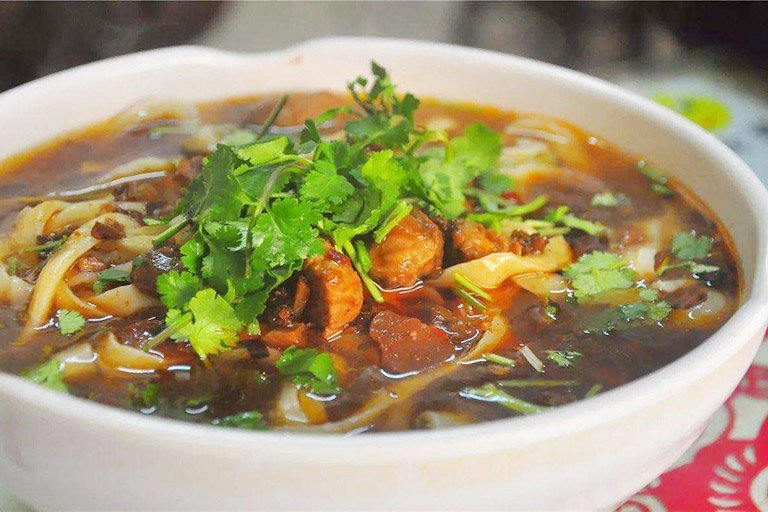 Datong Sliced Noodles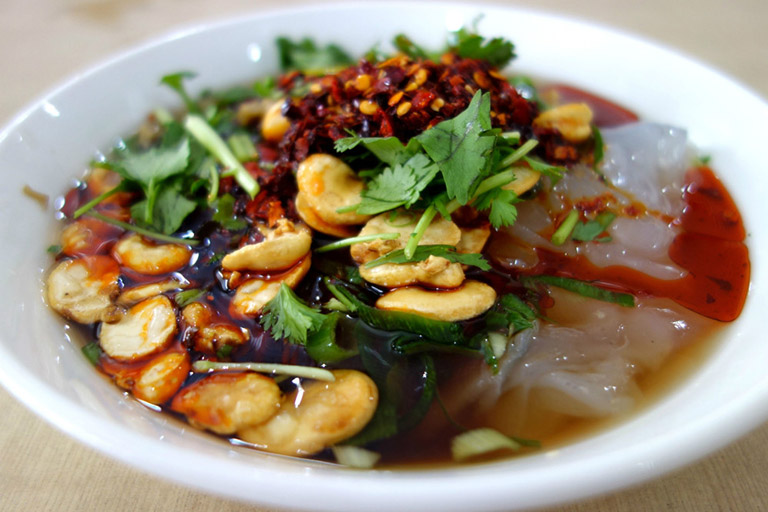 Hunyuan Bean Jelly
Datong is a famous food city in China with innumerable delicious food such as sliced noodles, grilled meat sticks, fried cakes, mutton soup, braised rabbit head, Shaomai and Hunyuan bean jelly that one can not miss if you travel to the Hanging Temple or Mount Hengshan. There are many types of Chinese cuisine. Datong cuisine is the representative of northern Shanxi cuisine, which tastes salty and oily with strong color.
Where to eat: Fenglinge (凤临阁) near Huayan Temple for typocal Datong cuisine, Dongfang Xiaomian (东方削面) at Yingze Street in downtown for sliced noodles, Xiaoxifu Liangfen (小媳妇凉粉) in Hunyuan for bean jelly, etc.
How to Plan a Datong Tour
Best time to visit Datong: March to mid-June, mid-September to November
How to get to Datong: High speed train from Beijing (2-2.5h), Taiyuan (2-2.5h), Pingyao (3-3.5h) and flights from Xian (2h), Chengdu (2.5h), Shanghai (2.5h), etc.
Where to stay in Datong: It is most recommended to stay in Datong downtown near Huayan Temple where there are many choices from 5-star luxury hotels to 3-star economy ones. What's more, it is convenient to get to main attractions in Datong such as Yungang Grottoes and Hanging Temple from this area.
It usually needs 2 days to cover the highlights in Datong. Without any doubt, Yungang Grottoes is a must. It consists of 53 grottoes with 51,000 statues and is a real treasure of traditional Chinese art. After that, you can go to Shanhua Monastery to appreciate a set of well-preserved buildings of Liao Dynasty (905-1125). Then, continue to have a look at Nine Dragon Screen, the oldest and largest glazed screen in China and later head to Huayan Temple, which keeps the largest wooden structure of Buddhist temple hall with elegant mural and scriptures. The next day is for the attractions a little far from downtown such as Hanging Temple, an unusual temple standing on the precarious cliff built over 1500 years ago, and Yingxian Wooden Pagoda, the highest wooden pagoda in the world.
☛ 2 Days Datong Yungang Grottoes Tour
☛ 3 Days Datong Culture Tour with Hanging Temple
In addition, the convenient transportation of Datong provides opportunities to discover more of Shanxi to Taiyuan, sacred Buddhist mountain Mount Wutai, world heritage site Pingyao Ancient City, magnificent Hukou Waterfall, etc.
☛ 4 Days Essence of Datong & Pingyao Tour
☛ 5 Days Datong & Wutaishan Discovery Tour
☛ 6 Day Datong Pingyao Tour Plus Wutaishan Visit
If you have more days and want to travel outside Shanxi, it is highly recommended to extend your tour to capital Beijing (Great Wall, Forbidden City), time-honored Xi'an (Terracotta Warriors), and modern metropolis Shanghai (the Bund).
☛ 9 Days Ancient Treasures of China Tour
☛ 11 Days Golden Triangle Tour with Shanxi Highlights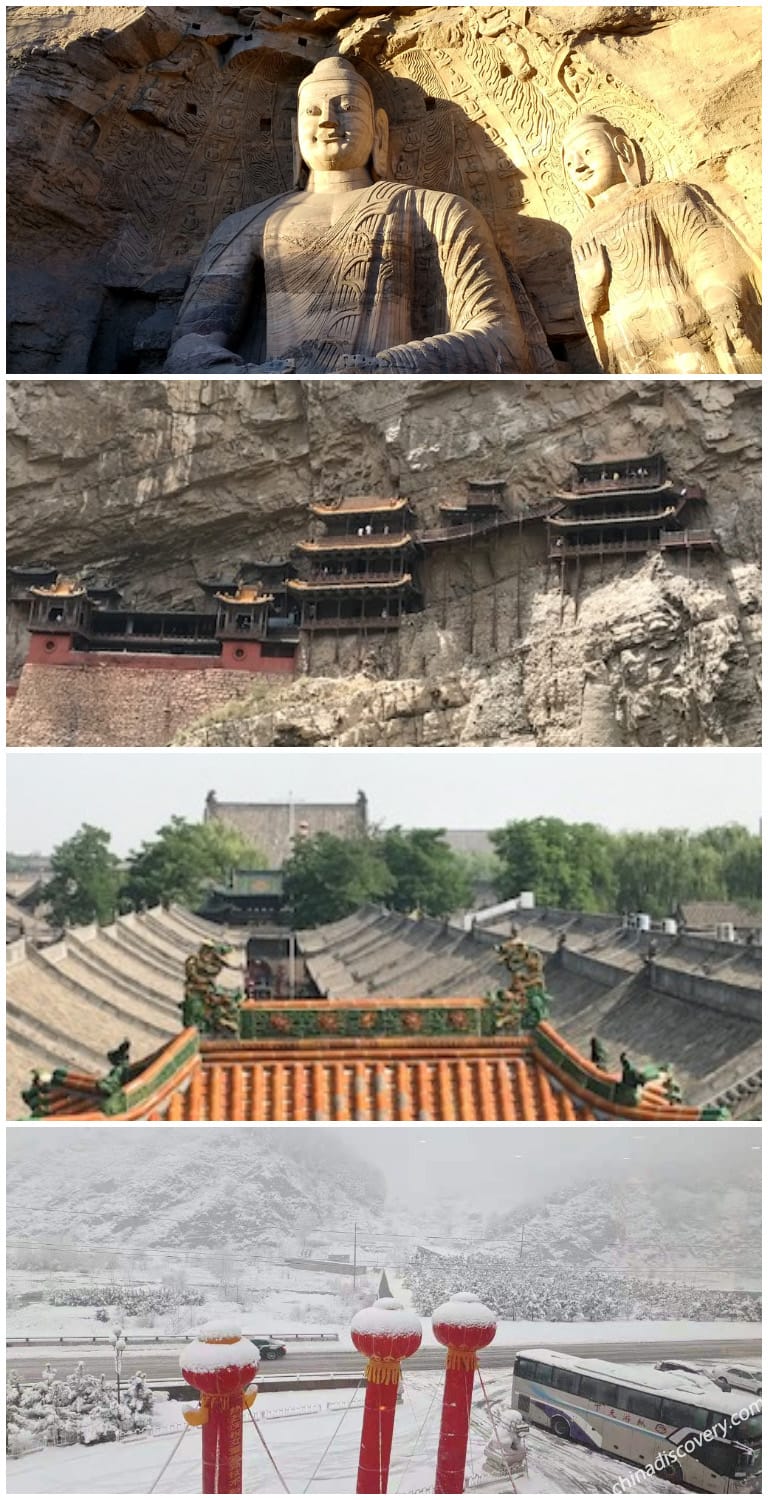 Yungang Grottoes, Hanging Temple, Pingyao and Mount Wutai in Shanxi
Helpful Datong Travel Guide
More about Shanxi Travel Guide
Recommended Datong Tours
Top 3 Datong tours chosen by most customers to explore Datong in the best way. Check the detailed itinerary, or tailor your own trip now with us.
6 Day Datong Pingyao Tour Plus Wutaishan Visit

Datong / Wutaishan / Taiyuan / Pingyao
4 Days Essence of Datong & Pingyao Tour

Datong / Pingyao
Start planning your tailor-made holiday to China by contacting one of our specialists. Once inquired, you'll get a response within 0.5~23.5 hours.
Customize a Trip
Have a question? Get answers from our travel experts or guests
Your Question:

Your Name:

Your Email: