Shanghai Visa Free Transit: 144 Hour & 24 Hour Layover Visa 2023
Notice on Further Adjusting the Visa and Entry Policies for Foreigners Entering China - Updated on March 14, 2023:
In order to further facilitate the entry and exit of Chinese and foreign personnel, it has been decided to make the following adjustments to the visa and entry policies for foreigners entering China, effective from 00:00 March 15, 2023 Beijing time:
1. The entry function of visas which were issued before March 28, 2020 and still valid will be restored.
2. Overseas visa offices will resume issuing various types of visas (including Tourist Visa) for foreigners to travel to China, with specific requirements detailed in the visa application guidelines of Chinese embassies or consulates.
3. Port visa offices will resume issuing various types of port visas for lawful purposes.
4. The policies of visa-free entry for Hainan, Shanghai International cruise arrival, Guangdong for Tourist group entry of foreigners from Hong Kong, Macau, and ASEAN tourist groups entering Guilin, Guangxi will be restored.
China Discovery will keep focusing on the updates of the latest Chinese visa and entry policy! You can also call 86 010 12367 (Official telephone number of China National Immigration Administration) to check further information. Welcome to join in our Facebook Groups to catch up with the latest news!
Do I need a visa to visit Shanghai?
For a trip to Shanghai, there are two different situations: visa-required and visa-exempted. If your visit meeting related visa-free transit or visa waiver regulations, you may enter and stay in Shanghai within limited area and duration for a certain period. Otherwise, you have to apply for a Chinese Tourist Visa (L Visa) ahead of depature to tour Shanghai. Check who enjoy Chinese Visa Exemption and who can apply for TWOV (Transit Without Visa) below.
Do I need a visa for Shanghai layover?
If you are eligible for 24-Hour or 144-Hour Visa-free Transit Policy, a visa is not required for transiting though Shanghai. (But, A Temporary Entry Permit is needed for leaving the port of entry.) If not, you must apply for and obtain a Chinese Transit Visa - G Visa prior to arrival. How to Apply for a Chinese Transit Visa >>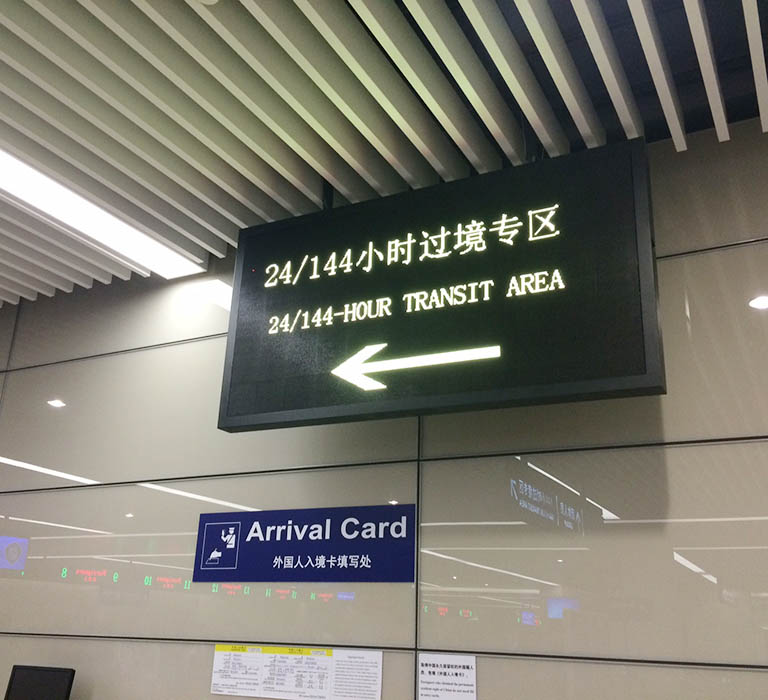 Transit at Shanghai Pudong Airport
Table of Page Contents
● Shanghai 24 Hour Visa Free Transit
From March 15th, 2012, Shanghai Pudong International Airport in Shanghai was firstly approved to implement 24-Hour Visa-free Transit in China. Travelers of any foreign countries can get 24 visa free transit with connecting (air, ship, train) tickets to a third country (region). It allows travelers to transit in Shanghai without going through any immigration inspections. You can stay inside the airport or leave the airport to visit Shanghai within 24 hours.
Advantage: Before taking flights, there is no visa application work to do, which saves both your time and money. Meanwhile, you may get a visa-free chance to quickly tour the city during layover.
● Shanghai 144 Hour Visa Free Transit
Shanghai belongs to a part area of 144-Hour Visa-free Transit in Shanghai-Zhejiang-Jiangsu, Yangtze River Delta since January 30th, 2016. The newest policy not only offers a total 5 ports of entry in Shanghai, 2 ports in Jiangsu (Nanjing & Ningbo) and 1 port in Hangzhou, prolongs the stay period from 72 hours to 144 hours (6 days), but also firstly used in a cross-provincial regions in China.
Advantage: It increases the number of ports of entry, enlarges the movement from Shanghai to adjoining Suzhou, Hangzhou and other cities in Zhejiang & Jiangsu Provinces. Through the extension of duration of stay, tourists have an in-depth Shanghai tour or side trips to nearby destinations.
Until 2021, there are 20 Chinese cities (27 ports) offers 144 Hour Visa Free Transit for international visitors, including Beijing, Xian, Guangzhou, Chengdu, Qingdao, Xiamen, etc. You can get find detailed list of cities from China 144-Hour Visa-free Transit >>.
Carried out over 3 years, the 144-Hour Visa-free Transit in Shanghai has serving more than 140,000 international transit passengers. So who can benefit from the 6-day Shanghai visa service? Which ports are valid for the rule? Can I travel to Hangzhou from Shanghai? What's the requirements and restrictions? Find all answers and instructions below.
Shanghai Transit Visa Free Requirements
Nationals from 53 countries are able to apply 144 Hour visa-free transit in Shanghai, Jiangsu and Zhejiang, when they hold connecting (air, ship, train) tickets to a third country (or region) with confirmed seats and departure date within 144 hours. They can enter or exit through any of the 8 ports, stay within administrative region of Shanghai, Jiangsu and Zhejiang for up to 144 hours without applying a Chinese Visa.
1. Transit Passengers must come from appointed 53 countries

53 Countries Qualified for Shanghai 144 Hour Visa Free Transit (Enlarge to See Full List)
2. Transit Passengers must Hold Valid International Travel Document
The passport or international travel document should have a validity of at least for 3 months. A valid visa for a third country is needed if requires.
3. Transit Passengers must Hold Connecting Tickets to A Third Country (Region)
The 144-Hour Visa-free Transit Policy only applies to a certain transiting route. Therefore, please make sure your departure and onward destinations are different. (Note: Hong Kong, Macau, Taiwan are considered third regions from mainland China. Hong Kong Visa / Macau Visa >>)
Valid Routes:
A. US > Shanghai > Hong Kong or Macau
B. Australia > Shanghai > Hangzhou > Suzhou > Japan
C. US > Shanghai > Hangzhou >Singapore
4. Transit Passengers must Enter & Exit via Designated Ports
There are 8 ports of entry & exit opened in Yangtze River Delta in total, including 5 ports in Shanghai, and 1 airport in Hangzhou, Nanjing and Ningbo respectively. You are free to enter or exit via one of the ports. And it's flexible to directly transit in Shanghai or transfer to Shanghai after enter from Nanjing (Jiangsu Province) or Hangzhou, Ningbo (Zhejiang Province).
Ports of Entry & Exit (8): Shanghai Pudong International Airport, Shanghai Hongqiao International Airport, Shanghai Railway Station, Shanghai Port International Cruise Terminal, Shanghai Wusongkou International Cruise Terminal; Hangzhou Xiaoshan International Airport, Nanjing Lukou Internation Airport, Ningbo Lishe International Airport.
How to Apply for 144-Hour Visa-free Transit in Shanghai?
①. Inform the air company that you will apply for the visa-free transit in Shanghai when boarding.
②. Go to waiting area and fill in an Arrival Card (blue version), after landing at airports or cruise terminals in Shanghai.
③. Submit completed Arrival Card at the specialized 144-Hour Visa-free desk.
Shanghai has adopted Online Application System for 144-Hour Transit Visa Exemption. Applicants may submit application abroad ahead of departure, and print the completed Arrival Card, or fill in on a self-service machine when arriving at airports in Shanghai and other ports of entry. (Online Application Link: https://gaj.sh.gov.cn/crj/ka144/default.jsp)
④. Obtain a Temporary Entry Permit stamped on your passport. (Don't forget to tell the officer you don't want to use the China Visa you already got.)
⑤. Claim your luggage and go through customs and immigration inspections.
⑥. Leave the port of entry to start your layover tour in Shanghai & other cities in Zhejiang and Jiangsu Provinces.
Note: All foreign visitors should make temporary accommodation registration at the local Public Security Bureau within 24 hours upon arrival. For who stay in the hotel, the hotel staff will make the registration for you, others need to go to the Exit-Entry Administration Office personally to get registered.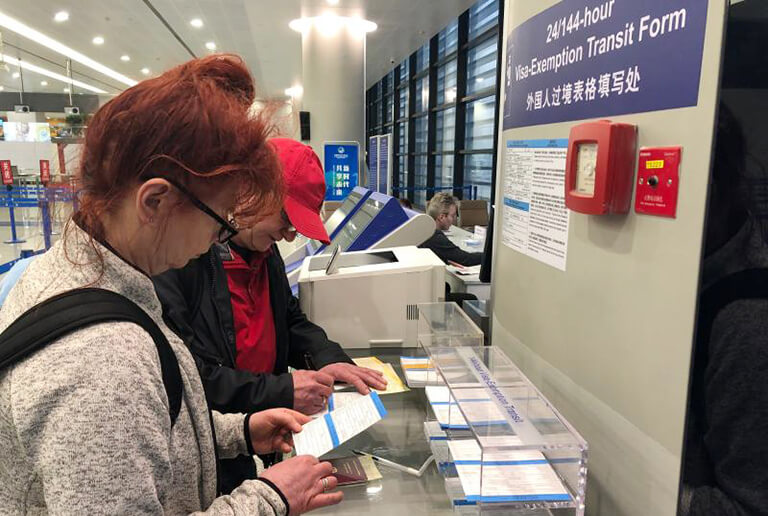 Applicants were filling in Arrival Card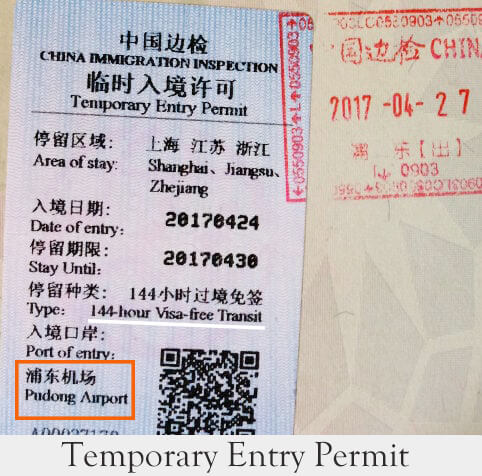 Shanghai Pudong International Airport (上海浦东国际机场, IATA:PVG,ICAO:ZSPD), one of the two major ports of entry valid for 144-Hour Visa-free Transit Policy in Shanghai, has facilitated over 130,000 foreigner passengers during the past 3 year, about 90% of the total applicants. It is the busiest international hub in China, handling airlines between nearly 300 cities in 47 foreign countries. Please read the following guide to help your layover go smoothly.
Location and Transportation
Address: No.6000, Yingbin Avenue, Pudong New Area, Eastern Shanghai (上海市浦东新区迎宾大道6000号), about 30 km (18.6 mi) to downtown, about 1 hour's drive to Shanghai Hongqiao International Airport, Shanghai Hongqiao Railway Station, Shanghai Railway Station.
Upon arrival, tourists can take Maglev Train, taxi, airport shuttle bus, metro, public bus to transfer to city center, or take long-distance bus (coach) to get to Hangzhou, Suzhou, Wuxi (无锡), Yiwu (义乌), and other cities in surrounding area.
Transportation from Pudong Airport to Downtown City:
Shanghai Disneyland is the nearest attraction from Pudong Airport, while other sites are mainly located far away in the downtown area or west of Shanghai.
◆ Pudong Airport to the Bund: about 1 hour & 20 minutes by Metro Line 2; about 50 minutes ~ 1 hour by taxi.
◆ Pudong Airport to Shanghai Museum: about 1 hour's driving/45 km.
◆ Pudong Airport to Yu Garden: about 1hour's driving /42 km; about 1.5 hours by Airport Bus Line 5.
◆ Pudong Airport to Zhujiajiao Water Town: about 1.5 hours' driving.
◆ Pudong Airport to Disney Resort : about 1.5 hours' driving.
◆ Pudong Airport to People's Square: about 1 hour & 20 minutes by Metro Line 2 (passing through Shanghai East Pearl Tower); about 1 hour (48km) by taxi.
Useful Link: ▶ Shanghai Pudong Airport Transfer Guide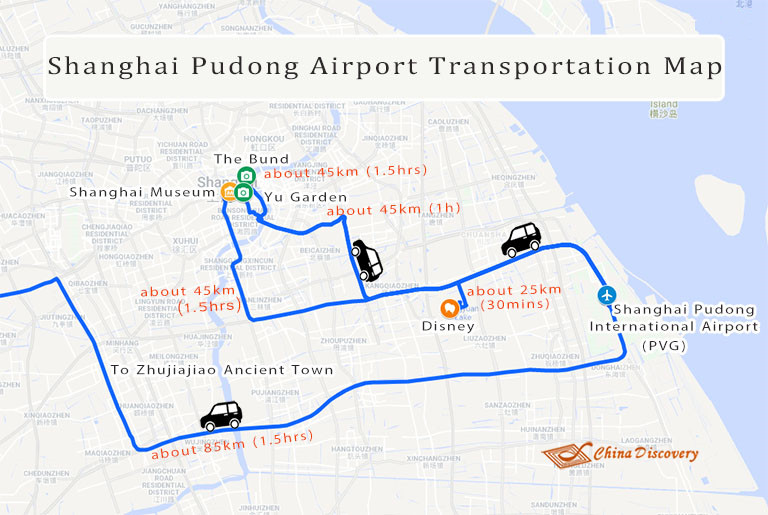 Shanghai Pudong Airport Transportation Map (click to enlarge)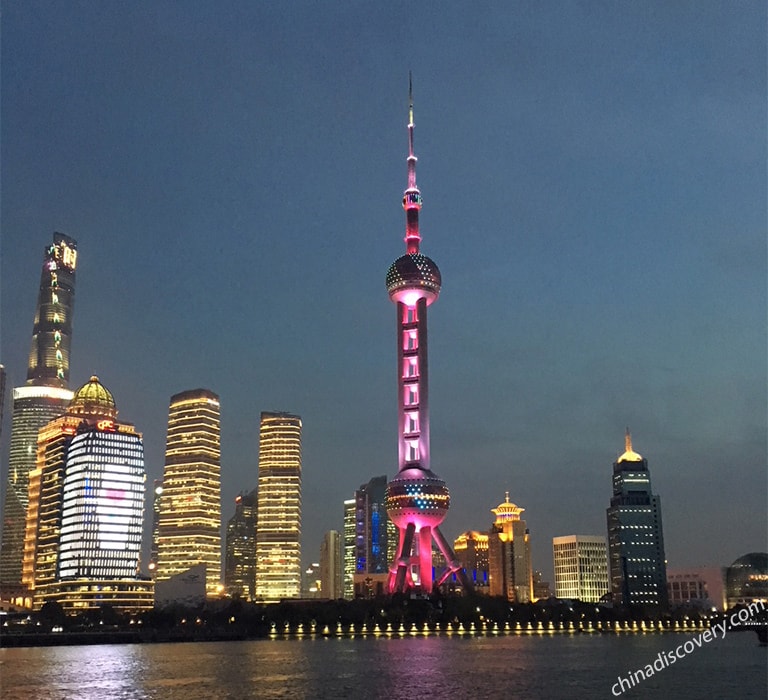 Stunning Night View of The Bund
Where to Sleep during layover in Shanghai?
Airport Transit Hotel
Except regular services like consultance, business loung, baggage storage, currency exchange, there are also (time-charge) hourly hotel with Wi-Fi provided inside the airport. The temporary accommodation service is valid for 24 hours, and located in the dining floor near the entrance of Internationa, Hong Kong - Macau - Taiwan Departures Hall, Terminal 2. The hourly hotel opends 24 hours, which is most suited for who arrive at late night, or will catch early morning flights.
Accommodation in Downtown
With a longer duration of stay, you could visit downtown, book a hotel in a good location with perfect facilities. The best accommodation area is near the Bund.
Useful Link: Best Places to Stay in Shanghai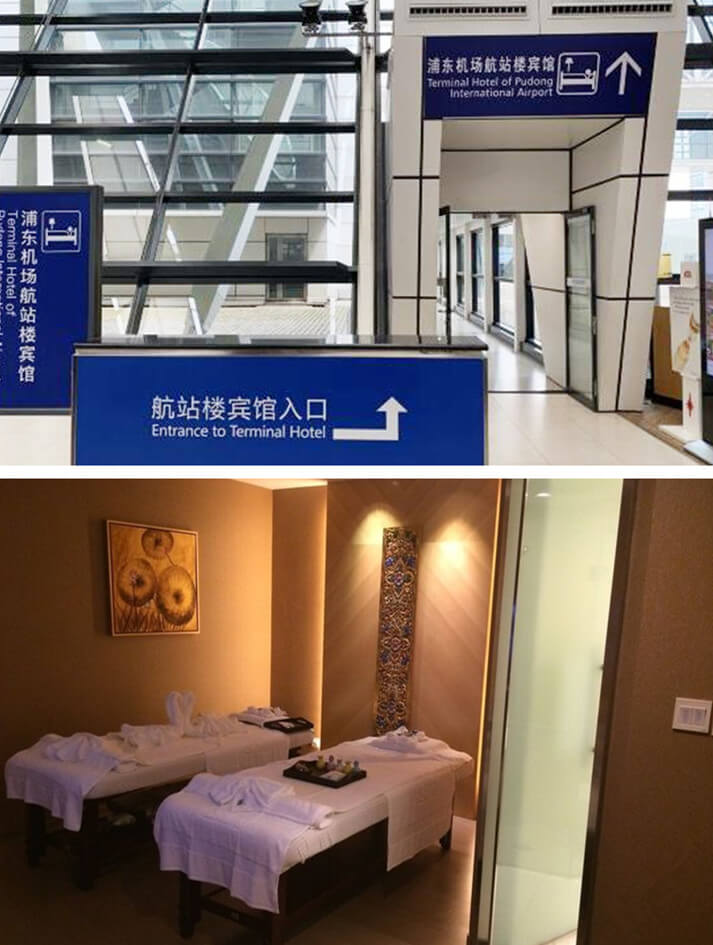 Hourly Hotel in Terminal 2
Shanghai Airport Visa on Arrival
On the basis of related laws and rules, foreigners can submit Port Visa (Visa on Arrival) at the visa office of the Exit-Entry Administration of Shanghai Public Security Bureau at Shanghai Pudong International Airport, if he/she meets one of the following situations:
1. For emergency (being invited at short notice for attending a trade fair, signing economic contract, trade activity, installing equipment or make repairs, settling claims,)
2. For scenitific or technological meeting.
3. For visiting a patient in critical condition or making a funeral.
4. For tourist groups organized by travel agencies in China, Hong Kong or Macau.
Required Documents includes: valid passport, completed Visa Application Form, recently-taken photos, and other supporting documents for urgent visit. Check detailed guide in https://gaj.sh.gov.cn/crj/homeZ (official website of Exit-Entry Administrative of Shanghai Public Security Bureau).
Useful Links: How to Apply for a Visa for China / China Visa Application Required Documents / How to Apply China Visa on Arrival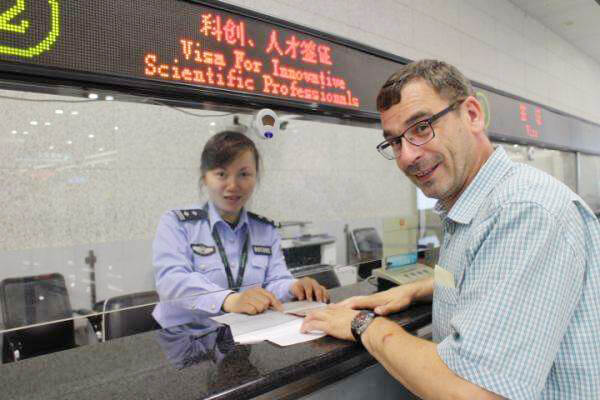 High-tech talent applied Port Visa at PVG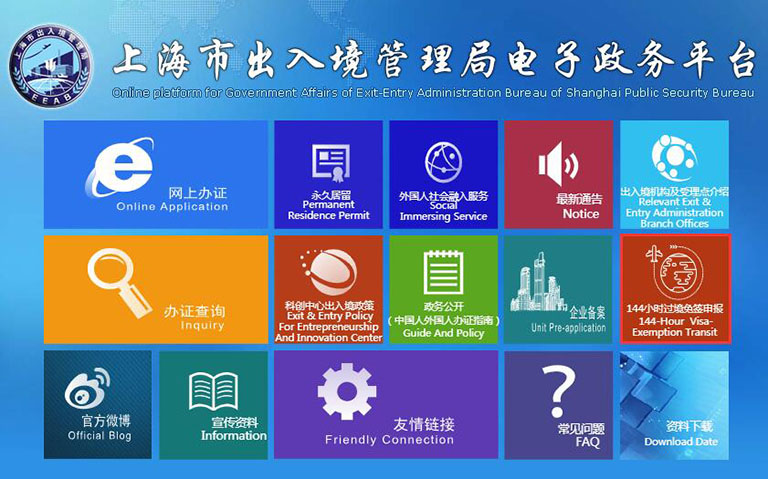 Online Visa Guide of Shanghai PSB
Getting Transit Visa Exemption in Shanghai brings real convenience of enjoying at most 6 days to tour Shanghai and major cities around. It's highly suggested visiting top famous landmarks (the Bund, etc) to witness the bustling metropolis of Shanghai, if the layover period is less than 3 days. For a longer layover, you may have a classic Shanghai tour with major scenic spots, towers and cultural sites, or travel to Hangzhou, Suzhou, Nanjing, Ningbo with Shanghai together to experience different scenery, culture and history of Jiangnan (Southern China) in theYangtze River Delta. Best Shanghai Layover Tours >>
◆ 24 Hours in Shanghai - Shanghai One Day Tour
Top Recommended Attractions: Maglev Train, The Bund, Yu Garden, Shanghai Museum

What to see in Shanghai when having a day or less? Skycrapers, culture sites of traditional eastern style or mixed feautures, urban life scenes, Shanghai gets more than that for your discovery.

You can start from taking a Maglev Train from Pudong International Airport to downtown area. For a daytime layover, you can visit Shanghai Museum in the morning to enjoy the great cultural and historic development of China, then transfer to 600-year-old Yu Garden to view beautiful Chinese garden, later see exotic architectures complex along the Bund and view modern skyscrapers across the Huangpu River.

Tips: We advise you to use Left Luggage Service at the airport and just bring backpack to travel light.

Useful Links: Shanghai Travel Guide / Top Things to Do in Shanghai / Get to & around Shanghai
◆ 3 Days in Shanghai - Shanghai Transit Tours within 72 Hours
Top Recommended Attractions: Magleva Train, The Bund, Shanghai Museum, Yu Garden, Shanghai World Financial Center, Former French Concession, Tianzifang, Shanghai Disney Resort.

For 3 days, you're highly recommended visiting the iconic and highest buildings in Shanghai, experience "old Shanghai" in ancient sites, experience interesting local life and join in feature activities for leisure. You can touch the megacity in traditional and modern style both.

Travelers can spend one day visiting the most notable skycrapers in Shanghai, like Oriental Pearl Tower, Shanghai Tower, or World Financial Center. Yu Garden, Shanghai Museum, Zhujiajiao Water Town are best cultural spots to find the old Shanghai. The Huangpu River Night Cruise are the best way to enjoy the international architectures of the Bund. Besides, you can relax by watching a performance in the Circus World, stroll in Xintiandi or Tianzifang, having family fun in Shanghai Disney Resort.

Most Popualr Shanghai City Tours:
◆ 144 Hours in Shanghai - Travel Shanghai with Suzhou & Hangzhou
Top Recommended Attractions: The Bund, Yu Garden, Shanghai Tower, West Lake, Lingyin Temple, Longjing Tea Fileds, Zhouzhuang/Tongli Ancient Town, Humble Administrator's Garden, Suzhou No.1 Silk Factory.

6 days are far enough for a trip to Shanghai with nearby Suzhou and Hangzhou. So you can experience diverse culture and history in southern China, like watertownships, classic gardens, West Lake, etc.

It's suitable to use 2 days for Shanghai. Then you may drive or take high speed train to picturesque Hangzhou touring 2 days, ramble around the scenic West Lake, learn the Longji Tea culture in the plantation or museum. After arrival in Suzhou, slow down and take 1 to 2 days to enjoy those exquistive gradens, well-designed ancient watertowns, marvellous design building of Suzhou Museum (masterpiece of world famous architect - Ieoh Ming Pei), and fasinating Suzhou silk and Kunqu Opera. Itinerary depends on your taste and free time.

Most Shanghai Suzhou Hangzhou Tours:
1. Other visa-free policies in Shanghai
Except the listed transit visa exemption for 24 hours, 144 hours, Shanghai also own more visa free convenience, for example, 15 days for tourists from Singapore, Brunei and Japan, 15 days for international cruise tour group, etc. More about Shanghai 15 Day Visa Free for Cruise Tour Groups >>
2. Official website of online Shanghai visa guide for foreigners
Check different kinds of visa requirements, application procedures in https://gaj.sh.gov.cn/crj/ka144/default.jsp online platform of Exit-entry Administrative of Public Security Bureau of Shanghai.
3. Visa Renewal and Extension in Shanghai
Aliens already holding ordinary China Tourist Visa can get visa renewal and extension service conveniently at the related visa office of Public Security Bureau. How to Extend and Renew China Visa >>
China Discovery is a professional and experienced travel companion who offers high-value and worry-free tours for you. We not only design an ideal itinerary covering sightseeing, dining, transfer and hotel, but also can provide any support & help you need to travel to China. Except Shanghai, Beijing, Xian, Guangzhou, Hangzhou, Chengdu, Chongqing, Xiamen, Kunming, Wuhan, Nanjing, Qingdao also 144-Hour Visa-free Transit cities. If you have a layover in Guilin, Harbin, Changsha, 72-Hour Visa-free Transit is available. Without visa, you can fulfill your dream tour to China, visiting the great cultural, historical, natural landscape will. If you are interested in China visa-free tour, we could also customize a China visa-free tour in more available destinations if you meet relevant visa requirements.
We have helped many global travelers enjoy their memorable trips to Shanghai for the past few years. Among them, Lawson's Family from UK enjoyed their 19 days China family vacation with Shanghai with our customized tour package and shared us their memorable travel stories! Travel with China Discovery to create your wonderful Shanghai trip memories!