Zhangye to Xining High Speed Train Schedules, Fares, Train Stations 2023
Zhangye, in the middle of Gansu Province, is an important city on the Silk Road with impressive Danxia landform and many historical sites such as Matisi Temple and Giant Buddha Temple. If you want to get a different travel experience after a Zhangye trip, Xining city in Qinghai Province is a good choice. You can not only tour the attractions in Xining such as Taer Monastery and Dongguan Great Mosque, but also indulge yourself in the beauty of Qinghai Lake and Chaka Salk Lake.
Zhangye is located about 340 km to the north of Xining. Now they are conveniently connected by over 10 high speed train a day and the train journey only needs 2 hours. Here is the specific Zhangye to Xining high speed train information of the schedule, duration, ticket, etc. for you to better plan a Zhangye Xining trip.
Zhangye to Xining Transportation Map
Referential Currency: RMB=1USD
Train No.
Departure / Train Staiton
Duration
Seat Type / USD Price / Availability
Note: Train information is subject to final confirmation due to the delay of data occasionally.
▶ Zhangye West Railway Station (张掖西站)
Location: Zhangye West Railway Station is in Danxia Road, Ganzhou District, Zhangye City 张掖市甘州区丹霞路
Zhangye West Railway Station is only about 3km, 10 minutes by car from downtown, about 50km, 70min by car from Zhangye Danxia National Geological Park. All the high speed trains via Zhangye will stop at this railway station. It becomes convenient for tourists to travel between Zhangye and Xian, Jiayuguan, Lanzhou, Xining, Dunhuang, Urumchi, etc. It now mainly serves Lanzhou-Zhangye High-Speed Railway and Lanzhou-Urumchi High-Speed Railway. Read more about Zhangye West Railway Station>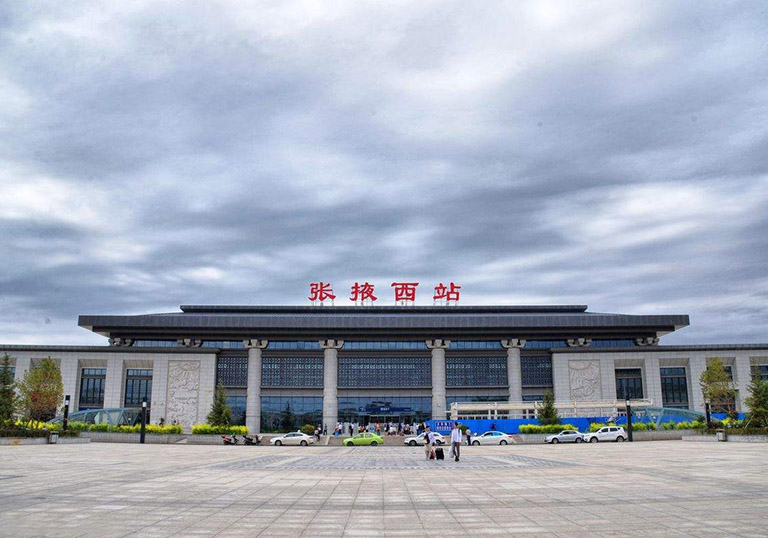 Zhangye West Railway Station
▶ Xininig Railway Station (西宁站)
Location: NO. 128 Huzhu Middle Road, Chengdong District, Xining City, Qinghai Province 青海省西宁市城东区互助中路128号.
Xining Railway Station (西宁站) was firstly built in 1958 and has been expanded for several times. Now it serves both high-speed trains and normal trains, becoming the largest railway terminal in Qinghai-Tibet plateau and an essential part for further completion of the high speed railway network to connect Chengdu, Qamdo, Kunming and more places in western China. It now mainly serves Qinghai-Tibet Railway, Lanzhou-Xining Railway and Lanzhou-Urumqi High-speed Railway. There are a dozen bus routes to transfer you between the railway station and Xining downtown. Read more about Xining Railway Stations>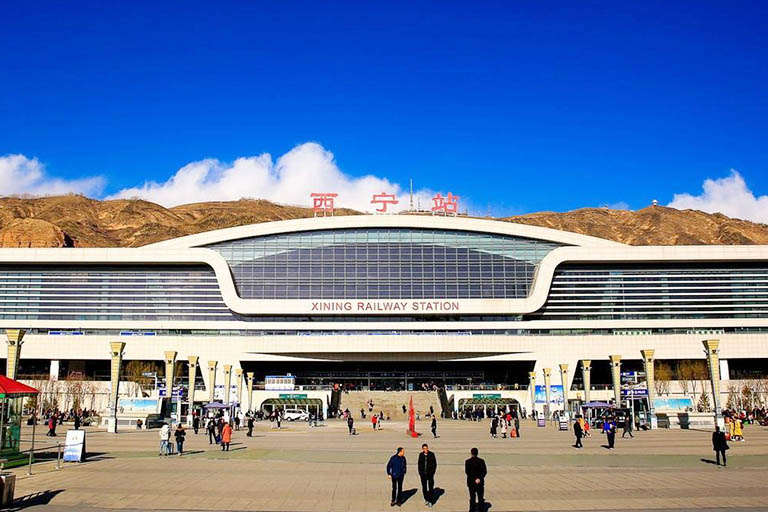 Xininig Railway Station
Note: if you have any questions about the local transfer and train stations in Zhangye and Xining, please directly contact our Travel Consultant for help!
China Train Travel Tips
Class of Ticket
You can usually choose from the First Class Seat, the Second Class Seat or Business Class Seat on the high speed trains. While, there are three types offered on the normal train, including Soft Sleeper, Hard Sleeper and Hard Seat. learn more >>
Book, Collect, Alter and Cancel
Foreign tourists can book train ticket online or via a ticket agency, or buy the tickets physically at the train station with your valid passport. Train ticket alteration and cancellation are only available at ticket counters. learn more >>
Board & Get off
1) Prepare your passport and China Visa; 2) Get to the right train station at least 30 mins in advance; 3) Collect your train ticket; 4) Read your train ticket; 5) Pass the security control; 6) Pass through Security & Luggage Checks; 7) Find the right waiting room; 8) Cross the ticket checking gate; 9) Get to the right platform; 10) Get on your train. learn more >>
Baggage Allowance
Passengers don't need to check luggage separately. Each passenger is allowed to carry luggage in certain weight and volume, but without limitation of amount and types. learn more >>
Facilities and Service
All high speed trains in China are equipped with advanced facilities and good service, including luggage racks, air-conditioner, power socket, dining car, hot water, etc. learn more >>
How to Plan A Zhangye Xining Tour
Though located close in northwestern China, Zhangye and Xining present two different kinds of charm to visitors. It's definitely worth to visit more special and famous destinations to make your once-in-a-lifetime Silk Road journey more memorable, meaningful and unique.
Zhangye is most famous for the colorful Danxia Landform Geopark, where you can see rainbow-like mountains spread endless. Besides seeing the natural wonder, you can spend 1 day more to see the Buddhist culture in Zhangye, pay a visit to Mati Temple to see the mysterious grottoes and to Giant Buddha Temple where preserves the largest Reclining Buddha in Asia. If you get more time, we suggest you trace the ancient "Silk Road" to observe more highlights, such as the Mogao Grottoes in Dunhuang, the westernmost Great Wall in Jiayuguan and further trip to Urumqi in Xinjiang.
Useful Links: Popular Zhangye Tours / Zhangye Travel Guide / Zhangye Attractions
Recommended Zhangye Tour: 3 Days Zhangye Danxia Classic Tour
Xining is a plateau ancient city with more than 2,100 years' history, a vital communication hub between Qinghai-Tibet Plateau to central areas and the starting of Qinghai Tibet Railway. It is more used as a transit point, short transit for 1 to 2 days. In Xining, you can visit Taer Temple (Kumbum Monastery) - one of the six Gelug school of Tibetan Buddhism enjoying high reputation in China, and most people take side trip to Qinghai Lake (Lake Kokonor) - the largest inland lake of China and Chaka Salt Lake - the well-known "Mirror of the Sky".
Useful Links: Popular Xining (Qinghai) Tours / Xining Travel Guide
Recommended Xining Tour: 3 Days Qinghai Short Stay Tour
Our Customers Enjoyed Trip to Zhangye Danxia Geopark
Kumbum Monastery in Xining
Travel Zhangye and Xining with China Discovery
China Discovery is a professional, reliable and experienced travel companion offering best tour services for our guests. We not only provide travel guide and tips online, but also try our best to make sure you enjoy your China travel, supporting you on visa, transport, sightseeing, accommodation, dining and more details. You may select from our popular tour packages, or contact us to customize a special one based on your own interests, budget and itinerary.
Recommended Longer Silk Road Tour with Xining or Zhangye
☛ 15 Days Classic Ancient China Silk Road Tour with Bullet Train Experience
☛ 6 Days Hexi Corridor Discovery Tour
☛ 10 Days Qinghai and Gansu Highlights Tour
Keep Reading About Xining
Keep Reading About Qinghai Attractions
Keep Reading About Qinghai Tours & Travel Guide
Recommended Xining Tours
Top 3 Xining tours chosen by most customers to explore Xining in the best way. Check the detailed itinerary, or tailor your own trip now with us.
3 Days Xining Short Stay Tour including Qinghai Lake

Xining / Qinghai Lake
5 Days Amdo Tibetan Culture Experience Tour

Xining - Tongren - Xiahe - Linxia
4 Days Qinghai Lake Kanbula National Forest Park Geographic Wonder Tour

Xining / Kanbula National Forest Park / Qinghai Lake / Xining
Start planning your tailor-made holiday to China by contacting one of our specialists. Once inquired, you'll get a response within 0.5~23.5 hours.
Customize a Trip
Have a question? Get answers from our travel experts or guests
Your Question:

Your Name:

Your Email: