There are 2 frequently used railway stations in Xiamen, which are Xiamen Railway Station and Xiamen North Railway Station. Xiamen Railway Station is located on Xiamen island and near the center of Xiamen City. Xiamen North Railway Station is at Jimei district, about 20 km away from Xiamen city center. Visitors can get to both stations by car, metro, taxi and public buses. More detailed information about train stations in Xiamen, please visit: How to Get to Xiamen & Xiamen Transportation >>
Fuzhou Railway Station
Location: No.502, Hualin Road, Jin'an District, Fuzhou (福州市晋安区华林路502号)
Fuzhou Railway Station (福州站) is about 7 km north from the city center and 51 km northwest from the airport. The station is 7 km driving distance from the Three Lanes and Seven Alleys and about 11 km driving distance from Gushan Mountain, where you can visit Yongquan Temple. You can get to Fuzhou Railway Station by taking the metro (Metro Line 1), car, taxi or public bus.
Fuzhou South Railway Station
Location: On the east side of Lulei Village, Chenmen Town, Cangshan District, Fuzhou (福州市仓山区城门镇胪雷村东侧)
Compared with Fuzhou Railway Station, Fuzhou South Railway Station (福州南站) is a little bit far from the city center, about 16 km away. It's about 34 km west from Changle International Airport, 14 km driving distance from Gushan Mountain and 17 km driving distance from the Three Lanes and Seven Alleys. Connected by Metro Line 1, visitors can get to the station by car, metro, taxi and public bus.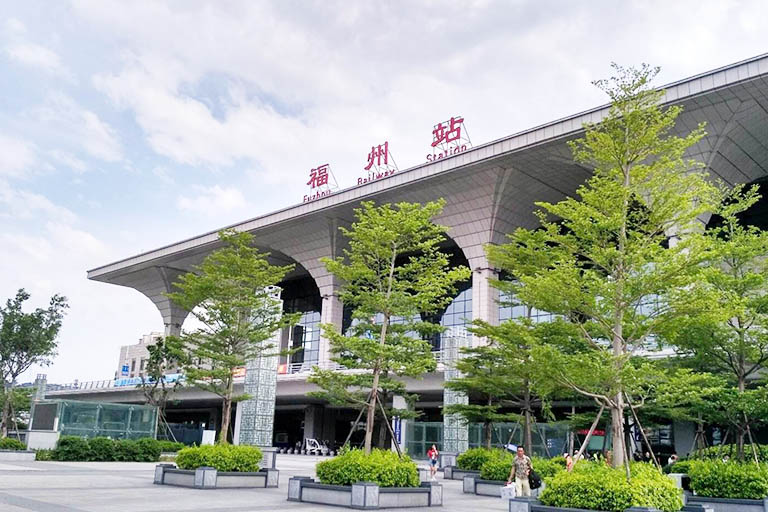 Fuzhou Railway Station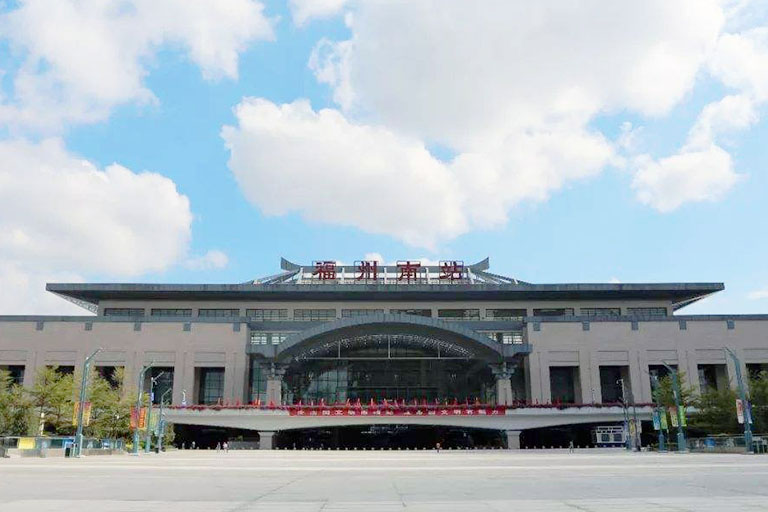 Fuzhou South Railway Station
China Train Travel Tips
Class of Ticket
You can usually choose from the First Class Seat, the Second Class Seat or Business Class Seat on the high speed trains. While, there are three types offered on the normal train, including Soft Sleeper, Hard Sleeper and Hard Seat. learn more >>
Book, Collect, Alter and Cancel
Foreign tourists can book train ticket online or via a ticket agency, or buy the tickets physically at the train station with your valid passport. Train ticket alteration and cancellation are only available at ticket counters. learn more >>
Board & Get off
1) Prepare your passport and China Visa; 2) Get to the right train station at least 30 mins in advance; 3) Collect your train ticket; 4) Read your train ticket; 5) Pass the security control; 6) Pass through Security & Luggage Checks; 7) Find the right waiting room; 8) Cross the ticket checking gate; 9) Get to the right platform; 10) Get on your train. learn more >>
Baggage Allowance
Passengers don't need to check luggage separately. Each passenger is allowed to carry luggage in certain weight and volume, but without limitation of amount and types. learn more >>
Facilities and Service
All high speed trains in China are equipped with advanced facilities and good service, including luggage racks, air-conditioner, power socket, dining car, hot water, etc. learn more >>
Option 3: Transfer between Xiamen and Fuzhou by Flight
● Flight Time: less than 1 hours
● Frequency: 2 - 4 flights per week
● From & To: Xiamen Gaoqi International Airport (XMN) → Fuzhou Changle International Airport (FOC)
Fuzhou is about only 250 km from Xiamen, there are only 4 flights each week (2 on Friday and 2 on Sunday) from Fuzhou to Xiamen, operating by Xiamen Airline and Southern Airlines. And 2 flights each week (1 on Saturday and 1 on Monday) from Xiamen to Fuzhou, operating by Xiamen Airline. The flight takes less than 1 hour.
However, if you are travelling from other far away destinations to Fujian province, you can either choose to land in Fuzhou city or Xiamen City. Both places have a convenient transportation system. Xiamen and Fuzhou have two largest international airports in Fujian province, which are Xiamen Gaoqi International Airport and Fuzhou Changle International Airport. Both airports have numerous domestic lines and international lines.
More detailed information about Xiamen Gaoqi International Airport, please visit: Xiamen Transportation | Get to Xiamen by Air, Train and Car >>
Fuzhou Changle International Airport
Location: Jinhumei Line, Zhanggang Street, Changle District, Fuzhou, Fujian (福建省福州市长乐区漳港街道金湖梅线)
Fuzhou Changle International Airport (福州长乐国际机场), referred to as Fuzhou Airport, is about 55 kilometers away from the city center. Fuzhou Airport has flights to Beijing, Shanghai, Chengdu, Guangzhou, Guiyang, Kunming, Hong Kong, etc. everyday. There are airport shuttle buses to Fuzhou city center (30 minutes a run), Fuzhou Railway Station (unsettled) and Fuzhou South Railway Station (unsettled). Visitors may also take cars or taxis to get to the urban area of Fuzhou.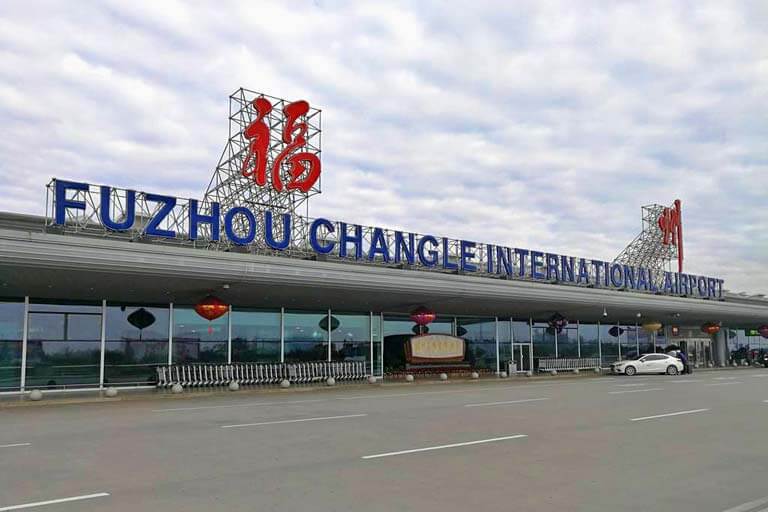 Fuzhou Changle International Airport
How to Get around & Highlights in Xiamen and Fuzhou
Get around Xiamen and Fuzhou
Xiamen and Fuzhou are two largest cities in Fujian Province. Therefore, both cities have well-established public transportation systems. You can take taxis, metro and public buses to travel around the city. However, in order to save you from troublesome traffic transfers and plans, you can also choose to book personalized tour packages with licensed private car and professional English-speaking guide services with us. Let us take care of every detail and you can focus more on the highlights in each destination.
Why Visit Fuzhou? Attractions & Highlights in Fuzhou
Fuzhou has a long history of more than 2,000 years, with a typical style of the ancient city. With the Minjiang River running across and 3 mountains surrounded (the Bird Mountain, the Yu Mountain, the Ping mountain), Fuzhou is a unique city of "mountains in the city, the city in the mountain".
Fuzhou, also known as the "Banyan City", has beautiful scenery and many places of interest. The classic layout of the Three Lanes and Seven Alleys and the large banyan trees planted all over the streets are the characteristics of this port city. Besides, there are many ancient temples, museums, memorial halls and hot springs, which add tranquility and warmth to the city.
Moreover, Pingtan Island in Fuzhou and Meizhou Island in Putian nearby are unmissable places for Island enthusiasts.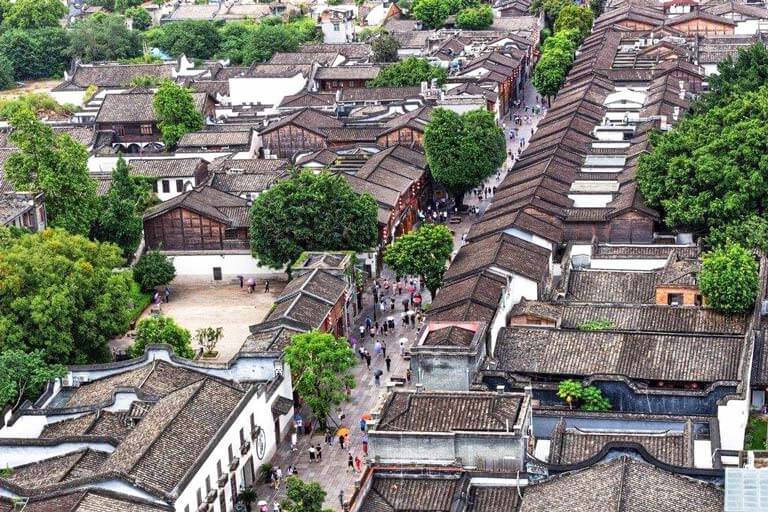 Ancient Three Lanes and Seven Alleys
• Unmissable Attractions in Fuzhou: Three Lanes and Seven Alleys; Yongquan Temple; Gushan Mountain; Shanghang Historic District; Museum of Chinese Ship Administration Culture; Meizhou Island, etc.
• Hottest Fuzhou Tour: ✔ 2 Days Fuzhou Classic Tour
Why Visit Xiamen? Attractions & Highlights in Xiamen
Xiamen is a city suitable for leisure walking, setting in a trance and basking under the sun. Xiamen has a pleasant climate and beautiful island landscape. Visiting Xiamen, you may not only experience the unique customs of hometown of overseas Chinese, Fujian and Taiwan cultures, but also taste delicious seafood dishes, special snacks. Moreover, all kinds of exotic buildings in Gulangyu Island add an idiosyncratic temperament to Xiamen, which makes the whole city a feast for the eyes.
Xiamen is also being considered as the gateway city to visit Fujian Tulou. Fujian Tulou Area is only about 140 ~ 160 km west from Xiamen, which takes 2-2.5 hours to the famous Tulou clusters in Nanjjing County and Yongding County.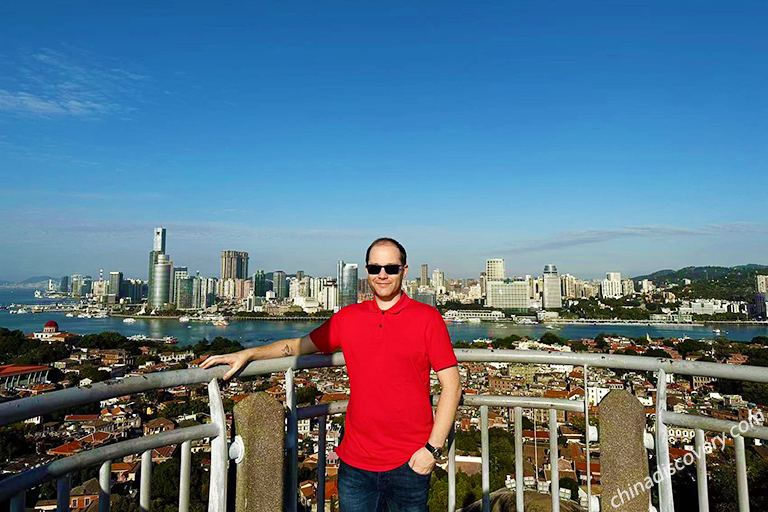 Exquisite Xiamen Gulangyu Island
How to Plan a Xiamen Fuzhou Tour?
Visitors usually spend about 1~3 days in Fuzhou. Visiting the Three Lanes and Seven Alleys and Yongquan Temple for 1 day. Then use another day to explore museums, memorial halls and historical blocks in the city. If you would like to spend more days here, Pingtan Island or nearby Meizhou Island are attractions around quite worth visiting.
✔ 2 Days Classic Fuzhou City Tour
Most visitors like to visit Fuzhou with other destinations in Fujian to catch more wonders in this fantastic region. You can spend 1 day in Xiamen exploring picturesque Gulangyu Island or 1~2 days more in Fujian Tulou admiring the gigantic and marvelous earthen buildings and exploring the legendary Hakka culture?
✔ 4 Days Classic Xiamen Nanjing Tulou Tour with Fuzhou Highlights
Would like to enjoy more natural scenery? Take 2~3 days to visit Wuyi Mountain - the sacred Natural and Cultural Site in Fujian.
✔ 3 Days Classic Wuyi Mountain Tour
If you are a photography enthusiast? Xiapu Mudflat is the natural splendor you can't miss. It only takes about 1 hour to get to Xiapu County from Fuzhou by high speed train. A 3-4 day Xiapu tour will leave you more lifelong memories!
✔ 4 Days Fujian Xiapu Mudflat Photography Tour
For an in-depth Fujian tour, add 1-2 days to the Starting Point of Maritime Silk Road - Quanzhou would definitely highlight your trip. Covering all the above highlights, it usually takes around 8-10 days.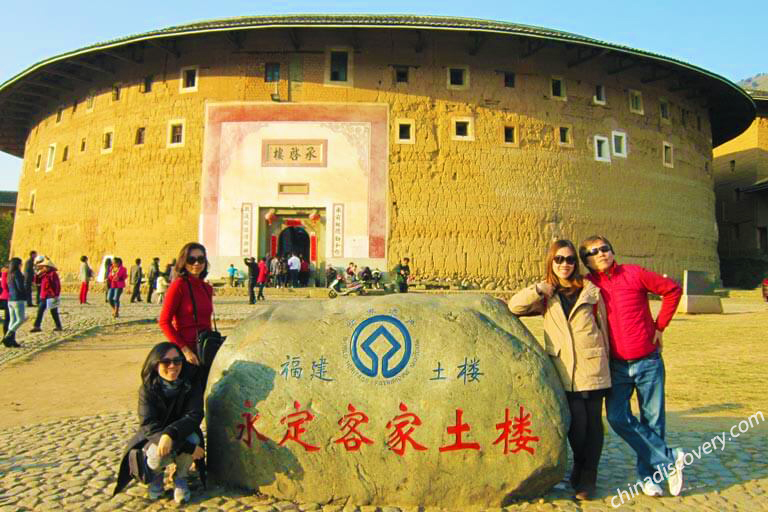 Our Customers at Yongding Chengqi Building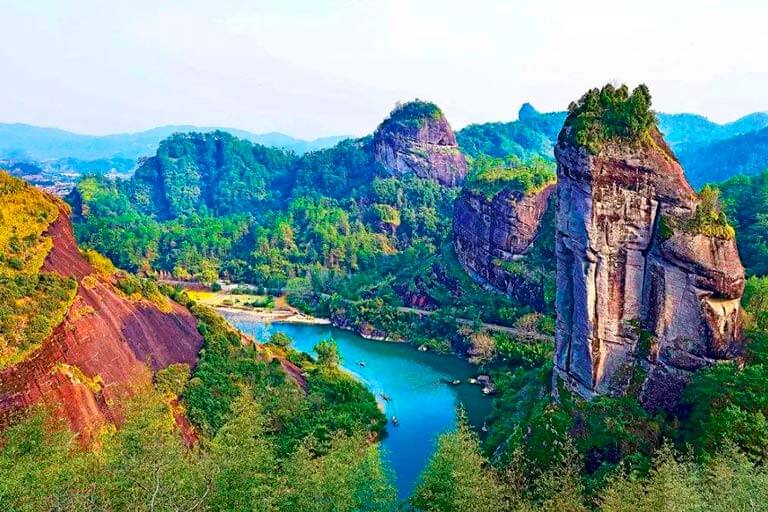 Wuyi Mountain - Tianyou Peak
Travel Xiamen Fuzhou With China Discovery
China Discovery is an experienced, professional and reliable travel companion devoted to offering high-quality and the best tour services for all travelers to China. In order to have a hassle-free travel and focus on the trip itself, it's highly recommended travelling with China Discovery. So, you can enjoy convenient airport pick-up and drop-off service and transportation to all scenic spots in a safe, clean, comfortable, air-conditioned and non-smoking vehicle. Also, we will arrange knowledgeable local English-speaking tour guide, excellent accommodation and dining arrangements to ensure you rest well and get better understanding of highlights in Fujian. The tour can be tailor-made according to your interests, time, group size, budget and every special need. If you are interested, please feel free to contact us to customize your tour!