Lhasa to Xining: Trains, Flights, Schedules, Fares, Maps 2024
Lhasa, the capital of the Xizang Autonomous Region, is the center of the Tibetan Buddhist world, the transportation hub to/off Tibet, while Xining is the capital of Qinghai province in western China, a melting pot of many ethnic groups on Qinghai Tibet Plateau with picturesque highland scenery. It is an important gateway city to Lhasa and the northwestern regions of China. The distance from Lhasa to Xining is about 1,956km (1,215 mi). There are mainly 2 ways from Lhasa to Xining, namely trains and flights.
• Option 1: Lhasa to Xining: 20-22 hours, price from CNY 250 to CNY 500 - Recommended
• Option 2: Lhasa to Xining Flight: 2 - 2.5 hours - Fast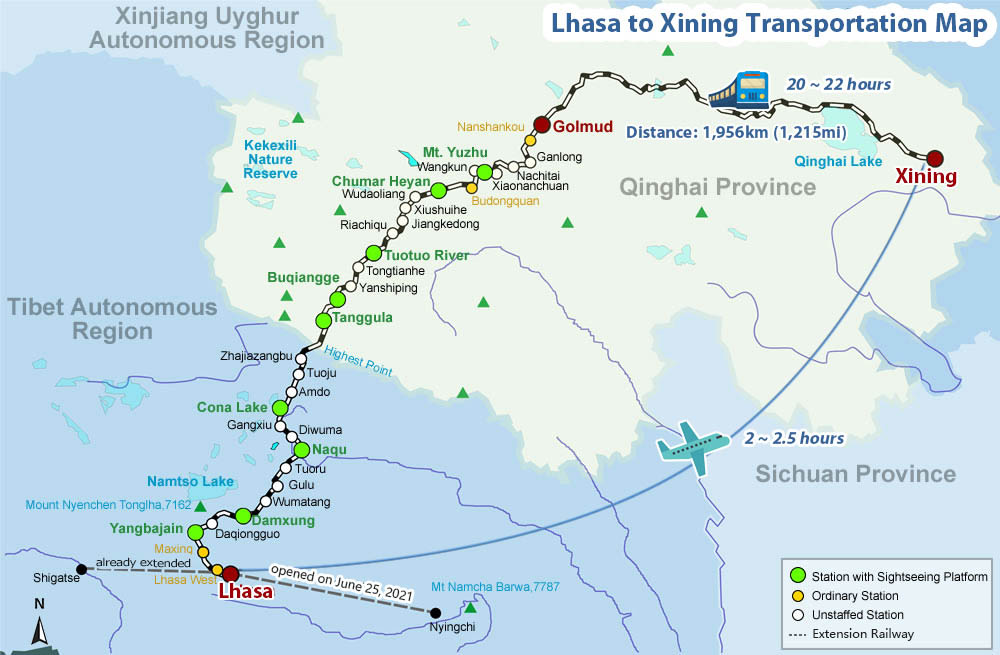 Lhasa Xining Transportation Map
Get from Lhasa to Xining by Train - Top Recommended
Xining Lhasa Railway or Lhasa Xining Railway, aka Qinghai Tibet Railway, includes 2 sections: Xining Golmud Section (814 km) and Golmud Lhasa Section (1,142 km). It is the highest plateau railway in the world with an avg elevation above 4,000 meters. There are about 5 overnight Z trains running from Lhasa Xining, taking about 20 - 22 hours, departing at Lhasa Railway Station and getting to Xining Railway Station . Please check the following train schedules to see the detailed train info.
Railway Station Information
Lhasa Railway Station 拉萨火车站
Location: Tongzhan Road, duilongdeqing District, Lhasa City, southwest of Lhasa, Tibet, China,拉萨市堆龙德庆区通站路 about 2 kilometers to the Liuwu Bridge of the Lhasa River, which links central Lhasa to Lhasa Railway Station, 8 kilometers to downtown Lhasa, 20 kilometers to the southwest of the Potala Palace.
Xining Railway Station 西宁火车站
Location: NO. 128 Huzhu Middle Road, Chengdong District, Xining City, Qinghai Province 青海省西宁市城东区互助中路128号, about 6 km (20 min by car, 40 min by bus) to downtown, 28 km (40 minutes' drive) to Xining Caojiabao International Airport.
Referential Currency: RMB=1USD
Train No.
Departure / Train Staiton
Duration
Seat Type / USD Price / Availability
Note: Train information is subject to final confirmation due to the delay of data occasionally.
China Train Travel Tips
Class of Ticket
You can usually choose from the First Class Seat, the Second Class Seat or Business Class Seat on the high speed trains. While, there are three types offered on the normal train, including Soft Sleeper, Hard Sleeper and Hard Seat. learn more >>
Book, Collect, Alter and Cancel
Foreign tourists can book train ticket online or via a ticket agency, or buy the tickets physically at the train station with your valid passport. Train ticket alteration and cancellation are only available at ticket counters. learn more >>
Board & Get off
1) Prepare your passport and China Visa; 2) Get to the right train station at least 30 mins in advance; 3) Collect your train ticket; 4) Read your train ticket; 5) Pass the security control; 6) Pass through Security & Luggage Checks; 7) Find the right waiting room; 8) Cross the ticket checking gate; 9) Get to the right platform; 10) Get on your train. learn more >>
Baggage Allowance
Passengers don't need to check luggage separately. Each passenger is allowed to carry luggage in certain weight and volume, but without limitation of amount and types. learn more >>
Facilities and Service
All high speed trains in China are equipped with advanced facilities and good service, including luggage racks, air-conditioner, power socket, dining car, hot water, etc. learn more >>
Get from Lhasa to Xining by Air
Besides overnight trains from Lhasa to Xining, if you would like to get to Xining in the shortest time, taking a flight is your best choice. Every day, there are about 5 to 10 flights taking off from Lhasa Gonggar International Airport to Xining Caojiabao Airport, and the flights are usually scheduled at afternoon and night with a duration of 2-2.5 hours.
▶ Please check the real-time Lhasa Xining flight info for your reference.
Airport Information
Lhasa Gonggar International Airport 拉萨贡嘎国际机场 (IATA: LXA)
Location: Gyazuling Town, Gonggar County, Shannan Prefecture, Tibet, 山南市贡嘎县友谊路 about 60km from Lhasa downtown, about 60km from Lhasa downtown. It costs about 100~200 CNY to the Barkhor Street area of Lhasa city by taxi.
Xining Caojiabao Airport 西宁曹家堡机场 (IATA: XNN)
Location: Huzhu Tu Autonomous County, Haidong, Qinghai 青海省海东市互助土族自治县, about 33 km to the southeast of Xining city
How to Plan a Xining Trip
How to Get to Xining: You can fly to Xining from Beijing (2.5h), Shanghai (3h), Guangzhou (3h15min), Lhasa (2-3.5h), Xian (1.5h), etc. or take a bullet train to Xining from Xian (4-5h), Lanzhou (1h10min-1.5h), Zhangye (2h), Jiayuguan (3.3.5h), Dunhuang (6h), etc.
Best Time to Visit Xining: Months from May to October are the best because the temperature is moderate and comfortable.
Where to Stay in Xining: Xining downtown is most recommended. If you are going to visit Qinghai Lake or Chaka Salt Lake, you can also choose the hotels nearby.
Xining is the starting point and transfer center for a Qinghai tour. It's suitable to spend 1 day discovering the top attractions in Xining, including the Kumbum Monastery, Dongguan Mosque, Tibetan Medicine & Tibet Culture Museum. The vast and beautiful Qinghai Lake, about 2.5 hours' drive from Xining is the No.1 must-visit attraction. You can spend one day here appreciating the water scenery, hiking or biking along the lake or taking a Qinghai Lake cruise (cruise is only available from May to October). With one more day, you can expand trip to the Chaka Salt Lake, known as Mirror of the Sky for its stunning reflected natural landscape on the salt lake. Another day is needed. Usually, people take 3~4 days to visit the three destinations together to explore the cultural and natural highlights of Qinghai.
☛ 3 Days Qinghai Short Stay Tour
☛ 4 Days Enchanting Qinghai Lake Chaka Salt Lake Tour
With short driving distance, there are a few less-known but incredible destinations you can visit, such as the Tongren with authentic Amdo Tibetan Buddhist culture and famous Regong Arts, Kanbula National Forest Park with magnificent Yellow River and Danxia landform. If you're interested and have more time, you can continue the Buddhist cultural trip to Xiahe (Labrang Monastery) and Linxia (Bingling Temple) in southern Gansu.
☛ 4 Days Qinghai Lake Kanbula National Forest Park Geographic Wonders Tour
☛ 4 Days Qinghai Lake Landscape Tour plus Tongren Authentic Tibetan Culture & Art Exploration
☛ 5 Days Amdo Tibetan Culture Experience Tour
Northwest and southwest China are mysterious lands full of natural beauty and cultural charms. Tourists often make a long trip from Qinghai to neighboring Zhangye (Rainbow Mountains), Jiayuguan, Dunhuang (Mogao Caves) of Gansu along the Silk Road, or make a Sky Train trip to "Roof of the World" - Tibet, visit Potala Palace, Mount Everest, Namtso Lake..., or explore Badain Jaran Desert in Western Inner Mongolia, go further to Urumqi, Turpan and more destinations in Xinjiang and travel land to Jiuzhaigou, Ruo'ergai of Sichuan.
☛ 7 Days Qinghai Lake Zhangye Danxia Badain Jaran Desert Wonders Tour
☛ 6 Days Xining to Lhasa Train Tour by Qinghai Tibet Railway
☛ 6 Days Xining to Lhasa Train Tour by Qinghai Tibet Railway
☛ 12 Days Epic Silk Road Tour including Qinghai Lake and Zhangye Danxia
You can choose from our most popular Qinghai tour packages covering excellent sightseeing and the best local experiences. As an experienced and professional China travel agency, China Discovery also offers customized tour service to help you design a unique trip on your own. Just contact us, tell us your schedule and preferences, we will create a memorable China Qinghai tour for you.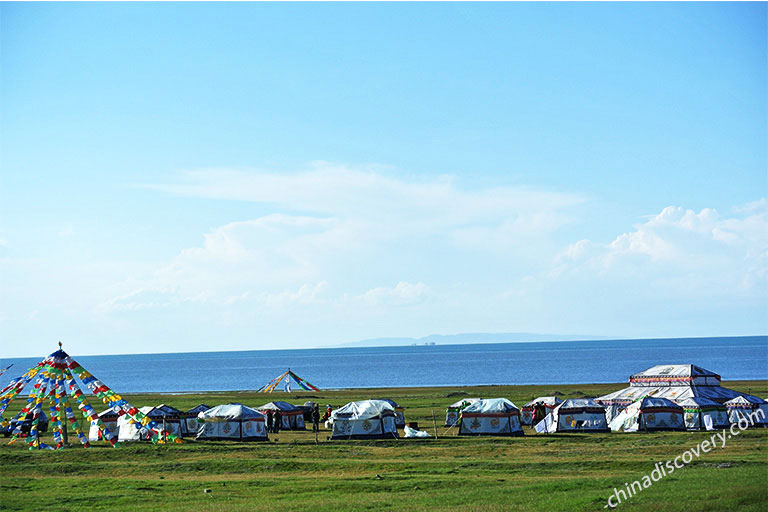 Erlangjian Scenic Area in Qinghai Lake
Tibetan Monks in Rongwo Monastery of Tongren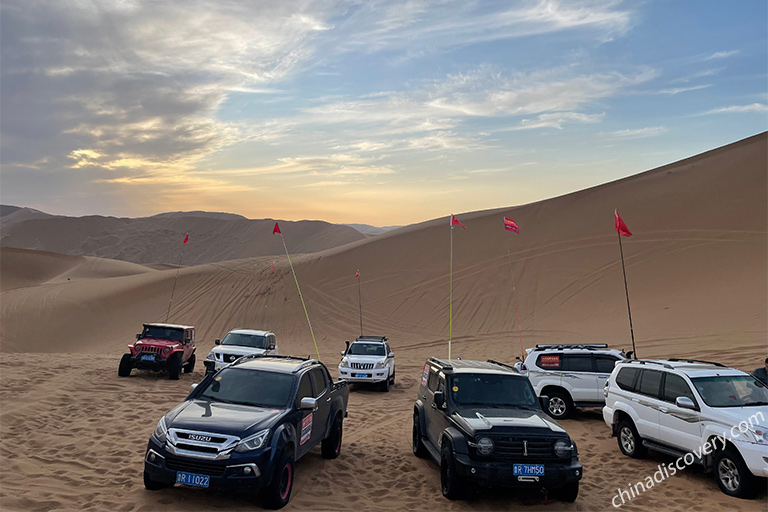 Badain Jaran Desert Jeep Safari
Xining to Lhasa Train on the Qinghai Tibet Railway
Keep Reading About Xining
Keep Reading About Qinghai Attractions
Keep Reading About Qinghai Tours & Travel Guide
Recommended Xining Lhasa Tours
Top 3 Xining Lhasa tours chosen by most customers to explore Xining Lhasa in the best way. Check the detailed itinerary, or tailor your own trip now with us.
6 Days Xining to Tibet Lhasa Train Tour by Qinghai Tibet Railway

Xining - Qinghai Lake - Lhasa
10 Days Qinghai Tibet Plateau Exploration with Trip to Mount Everest

Xining - Qinghai Lake - Lhasa - Gyantse - Shigatse - Mount Everest - Lhasa
10 Days Panda & Qinghai Tibet Railway Memorable Tour

Chengdu / Xining / Qinghai Lake / Lhasa / Namtso
Start planning your tailor-made holiday to China by contacting one of our specialists. Once inquired, you'll get a response within 0.5~23.5 hours.
Customize a Trip
Have a question? Get answers from our travel experts or guests
Your Question:

Your Name:

Your Email: