Most Popular Shanghai (High Speed) Railway Maps & Train Station Map 2022
Located in the Yangtze River Delta of China's east coast, Shanghai is a world famous transport hub that has been perfectly linked with convenient sea, land and air transportation. It also makes up a principle departure point of the Eight Vertical and Eight Horizontal High Speed Railway Network Plan of China, handling more than 800 high speed trains to hundreds of Chinese cities every day. Connected by Beijing Shanghai High Speed Railway, Shanghai Hangzhou High Speed Railway and other rail lines, Shanghai departs regular high speed trains to Beijing, Xian, Chengdu, Chongqing, Hangzhou, Suzhou, Nanjing, Guilin, Kunming, Guiyang and most destinations in China.
Besides, Shanghai is the only city with the Maglev Train (running between Shanghai Pudong International Airport and Longyang Road Station) of China. In the future, Shanghai will expand longer rail networks to more domestic cities. Read the following Shanghai High Speed Railway Map to get inspired for your China high speed train trip.
Shanghai High Speed Railway Map
Most Popular Shanghai High Speed Railway Maps
Shanghai, bordering Jiangsu and Zhejiang Provinces in estuary of the Yangtze River, serves as a top terminus of lots of high speed rail lines, such as Beijing Shanghai High Speed Railway, Shanghai Hangzhou High Speed Railway, Shanghai Kunming High Speed Railway and etc. Starting from Shanghai, you can take high speed trains to hike (Mutianyu) Great Wall in Beijing, watch Terracota Warriors in Xian, enjoy Yangtze River Cruise from Chongqing, climb the Huangshan Mountain in Anhui, see the beautiful West Lake in Hangzhou and tour different regions in vast China. Please feel free contact us to get more Shanghai train schedules, tickets, fares and route maps.
Most Recommended China Shanghai Tours with High Speed Train Experience:
☛ 6 Days Beijing Shanghai Tour by High Speed Train / ☛ 5 Days Shanghai Hangzhou Suzhou Highlights Tour
☛ 5 Days Shanghai Huangshan Tour by Bullet Train / ☛ 7 Days Shanghai Suzhou Beijing Contrast Tour
☛ 9 Days East China & Huangshan Mountain Tour / ☛ 14 Days Wild China Tours from Shanghai to Yunnan on Expresses
Shanghai Railway Station Map
Shanghai has 4 major train stations for passenger service: Shanghai Hongqiao Railway Station, Shanghai Railway Station, Shanghai South Railway Station and Shanghai West Railway Station. Compared with others, Shanghai Hongqiao Railway Station is the biggest and most important high speed train station serving on Beijing Shanghai High Speed Railway, Shanghai Wuhan Chengdu High Speed Railway (Huhanrong Passenger Dedicated Line), Shanghai Kunming High Speed Railway, Shanghai Hangzhou High Speed Railway and Shanghai Nanjing Intercity High Speed Railway. The station can be reached by Metro Line 2 and Line 10, taxi and bus. You can check the Shanghai Train Station Map below and learn more about Shanghai Railway Station >
How to Plan a Shanghai Tour
How to Get to Shanghai: You can fly to Shanghai directly from Hong Kong, Tokyo, Seoul, London, Los Angeles & many overseas countries (regions) and almost all major Chinese cities, like Beijing, Xian; or take high speed bullet train to Shanghai from domestic cities.
Best Time to Visit Shanghai: March to May (in spring) & September to November (in autumn), because these periods offer beautiful nature scenery and comfortable weather for outdoor sightseeing and activities.
Top Attractions to Visit in Shanghai: The Bund, Lujiazui Skyscrapers, Yu Garden, Shanghai Museum, French Concession, Shanghai Disney Resort…
Best known as an international popular tourist destination, Shanghai perfectly preserves mixed culture of the western and eastern. The duration and theme of your Shanghai tour can be flexibly arranged based on your time and interests. Usually, tourists spend 2 days on sightseeing the most famous landmarks, including the Bund, Yu Garden, skyscrapers like Shanghai Tower, World Financial Center, Former French Concession, Shanghai Museum, etc. With one extra day, you can enjoy family fun in Disneyland Park or visit Zhujiajiao Water Town in the suburb. Don't miss the Shanghai Maglev Train, wonderful nightlife and Shanghai Cuisine.
✔ 2 Days Classic Shanghai City Tour
✔ 3 Days Shanghai Past and Present Contrast Tour
✔ 3 Days Shanghai Highlights & Zhujiajiao Water Town Tour
Travel Shanghai with Hangzhou Suzhou, More Nearby Destinations
Convenient transportation makes it quite efficient and popular to make day trips from Shanghai to Hangzhou, Suzhou, and longer vacation in Huangshan Mountain, Nanjing, Mount Jiuhua and other places in surrounding areas. So you can visit West Lake and learn Chinese tea culture in Hangzhou, marvel at tasteful classical gardens and witness Chinese silk productive process. Splendid rocky mountains with exotic pine trees are highlights in Huangshan Mountain.
✔ 5 Days Shanghai Hangzhou Suzhou Highlights Tour
✔ 6 Splendid East China Tour by Bullet Train
✔ 5 Days Shanghai Huangshan Tour by High Speed Train
Travel Shanghai with Beijing, Xian & More China Destinations
Beijing Xian Shanghai are golden triangle cities often visited together for a week holiday. You can use 3 days to visit the Great Wall and major iconic spots like Forbidden City, Temple of Heaven in Beijing, and leave 2 days for fulfilling your Terracotta Warriors tour in Xian. With more time, you can extend the trip from Shanghai to Zhangjiajie, Guilin, Chengdu, Yunnan, Silk Road, Tibet and more phenomenal destinations to enrich your China discovery. (more top China tours from Shanghai >>)
✔ 6 Days Beijing Shanghai Tour by High Speed Train
✔ 8 Days Best of China Tour (Beijing/Xian/Shanghai)
✔ 7 Days Shanghai Suzhou Beijing Contrast Tour by High Speed Train
Travel with China Discovery
As a leading travel agency in China which dedicates to offering high-quality China tours, China Discovery has helped thousands of travelers enjoy their trips to Shanghai, Beijing, Xian, etc., in China. Travel with us, you can enjoy worry-free tour services as well as well-organized itineraries, even our assistance of Chinese Visa application, convenient airport/train station pick-up & drop-off and transfer between all scenic spots, knowledgeable tour guide, safe & licensed private vehicle, satisfactory accommodation and dining and so on. You are free to choose from our most popular Shanghai tour packages or contact us to design a memorable holiday in Shanghai, China.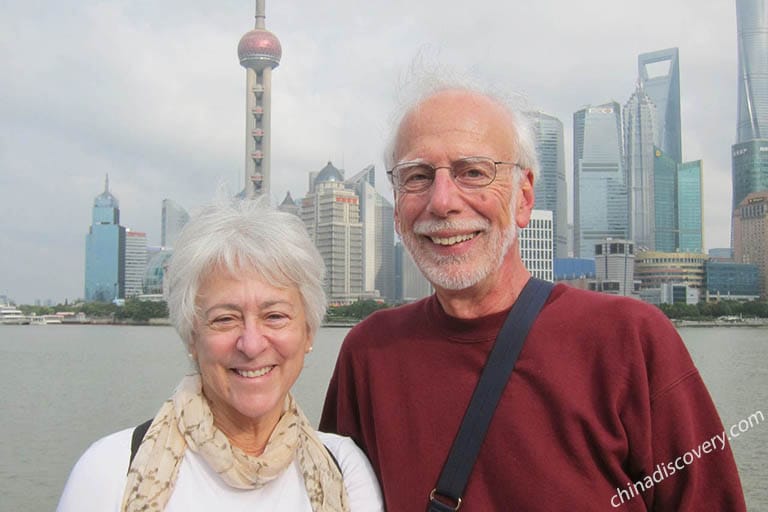 Paul & His Wife Visited the Bund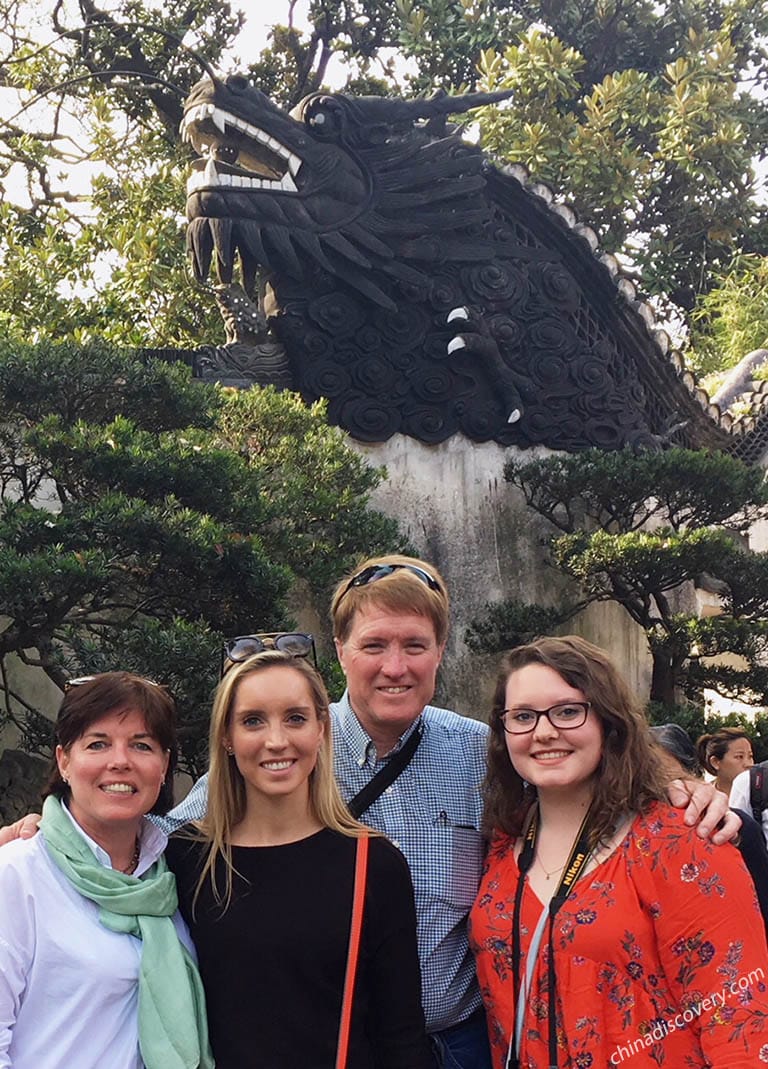 Timothy Family in Yu Garden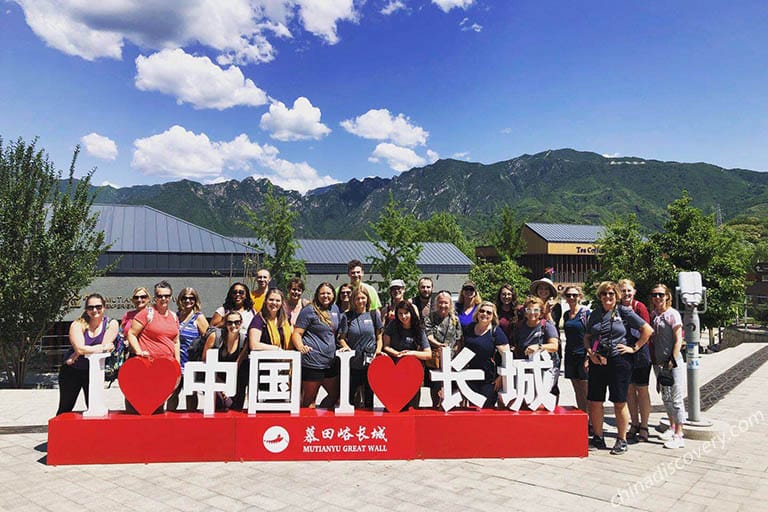 Tailor-made Group Tour to Mutianyu Great Wall, Beijing
Shanghai Travel Guide
China Train Travel Guide
Recommended Shanghai Tours
Top 3 Shanghai tours chosen by most customers to explore Shanghai in the best way. Check the detailed itinerary,or tailor your own trip now with us.
8 Days Best of China Tour (Flight/Bullet Train Covered)

Beijing / Xian / Shanghai
5 Days Shanghai Hangzhou Suzhou Highlights Tour

Shanghai / Hangzhou / Suzhou / Shanghai
5 Days Shanghai Huangshan Tour by High Speed Train

Shanghai / Huangshan