How to Travel from Chengdu to Urumqi: Flights, Trains...
Known as the hometown of the Giant Pandas, Chengdu, is reputed as the Land of Abundance with a "laid-back" living pace. It's large and diverse, boasting its authentic Sichuan cuisines with many famous attractions scattered around, while Urumqi the capital of Xinjing, is usually a starting point to explore western China, Xinjiang, and the Silk Road with breathtaking lakes, picturesque grasslands, desolate desert scenery, and exotic atmosphere...
These two cities are 2695km away from each other. For the long distance, it is most recommended to travel to Urumqi from Chengdu by air, and it takes about 3.5 hours. There is also one normal overnight train available to Urumqi from Chengdu but it will take about 34 hours. For travelers, visiting both Chengdu and Xinjiang is a good tour combination if you want to have a panda and cuisine explore in southwest China and the stunning natural beauty and wildness in the exotic Xinjiang. The article has provided you with more specific information about how to travel from Chengdu to Urumqi to help you plan a better Chengdu Xinjiang tour.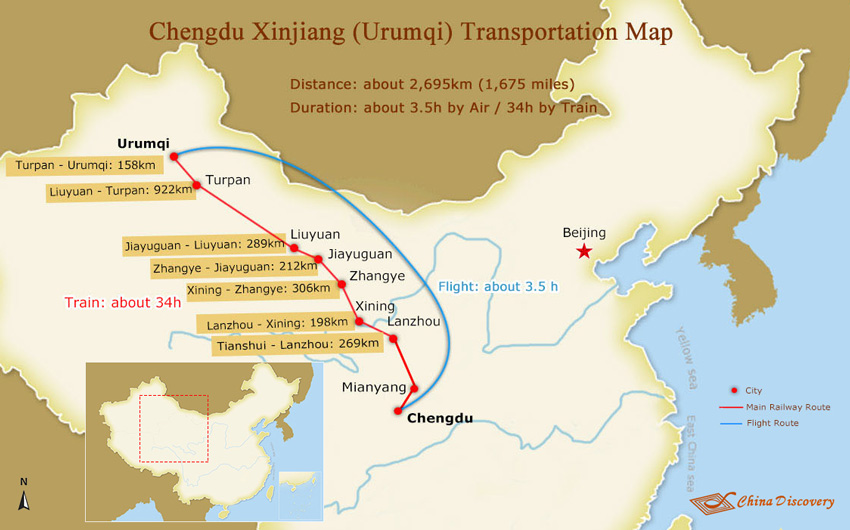 Chengdu Urumqi Transportation Map
Chengdu to Urumqi by Flight - Top Recommended
Taking a flight is the most recommended way to travel from Chengdu to Urumqi. You can choose the direct flights from Chengdu to Urumqi and it takes about 3.5 hours to reach Urumqi from Chengdu.
Since Urumqi is a popular tourist destination during the summer and autumn peak season, please book your flight in advance. Flight schedules can be influenced by many factors. Please feel free to contact us for the most suitable flight for you according to the date of your travel plan.
Airport Information
Chengdu Shuangliu International Airport (成都双流国际机场, IATA: CTU)
Location: Jichang Yinbin Road, Shuangliu District, Chengdu 四川省成都市双流区机场路
Transportation: It is about 19 km, 0.5 hour's drive from Tianfu Square, city center; about 28.5 km, 40 minutes' drive from Chengdu Railway Station; around 23.5 km, 30 minutes' drive from Chengdu East Railway Station.
Urumqi Diwopu International Airport (乌鲁木齐地窝堡国际机场, IATA: URC)
Location: Yingbin Road, Xinshi District, Urumqi City, Xinjiang Uygur Autonomous Region 新疆维吾尔自治区乌鲁木齐市新市区迎宾路
Transportation: It is about 20km to the city center of Urumqi, 30 minutes by car; 1 hour by subway line 1. It's about 25 km to Urumqi Grand Bazaar; about 75 km to Tianshan Mountaina & Tianchi Lake, about 1.5 hours by car.
Check the real-time Chengdu to Urumqi (Wulumuqi) flight schedule below with updated airline company, flight numbers, times, tickets and fares.
Chengdu to Urumqi by Train
Besides taking a flight, the other choice to Urumqi is taking a train from Chengdu. For the long distance, there is only one normal overnight train connecting the two cities, namely train K2058 departing from Chengdu Railway Station and arrive at Urumqi Railway station and the duration is about 34 hours. The price for a hard seat ticket is about CNY 290.5, and CNY 491.5 for the hard sleeper, CNY 775.5 for a first class soft sleeper (updated on 8, June 2021).
▶ Check the Real-Time Chengdu to Urumqi Train Schedules.
Railway Station Information
Chengdu Railway Station 成都火车站
Location: No.1 Zhandong Rd, Jinniu District, Northern Chengdu (成都市金牛区站东路1号)
Transportation: about 22km for 1 hour's driving to Chengdu Shuangliu International Airport; about 13km for 0.5 hour's driving to Chengdu East Railway Station; about 5km for 20 minutes' driving to Chengdu Tianfu Square, city center.
Urumqi Railway Station 乌鲁木齐火车站
Location: No.1, North 6th Road, high speed railway, Toutunhe District, Urumqi 乌鲁木齐市头屯河区高铁北六路1号
Transportation: It's about 9 km (20 min by car) to downtown area, 10 km (30 minutes' drive) to Urumqi Airport, 70 km (2 hours' drive) to Tianshan Mountain & Tianchi Lake.
How to Plan a Chengdu Xinjiang Tour
How to Travel in Chengdu
It usually needs 1 to 2 days to travel in Chengdu city. Traveling in Chengdu, you could see the lots of giant pandas in Chengdu Panda Base, or you can visit Wenshu Monastery, sip a cup of tea in the Renmin Park, stroll along the ancient Jinli Old Street and Kuanzhai Alley, know about the history and culture of the Three Kingdom period in Wuhou Temple, go to Jinsha Museum to admire the historical relics, and go to Dufu Thatched Cottage to savor the brilliant culture about ancient Chinese poems, and moreover, you could taste the delicious hot pot, and famous Sichuan cuisines, etc. For most travelers, the beauty of Chengdu is far more than the downtown area, taking 1 or 2 more days down to the south, you can take a bullet train to the suburban Leshan to appreciate the Giant Buddha sitting by the river and hike on the famous Mount Emei to explore deep into the Buddhist atmosphere, lush vegetation, unlimited waterfalls, wild monkeys. Moving to the western suburban, you are also recommended to visit the enduring Dujiangyan Irrigation System and hike on the well-known Taoist Mountain Qingcheng.
Recommended Chengdu Tours
☛ 2 Days Leisure Chengdu Tour with Panda Visit
☛ 2 Days Mount Emei Leisure Hiking Tour from Chengdu
Giant Pandas in Chengdu Panda Base
How to Travel in Xinjiang
Tourists often start a Xinjiang tour from Urumqi. With about 3 to 7 days, you can explore the highlights in Xinjiang and Urumqi, Turpan and Kashgar are usually the three most unmissable destinations. You can have one or two days visiting the top attractions in & near Urumqi city, including Tianchi Lake and Tianshan Mountain and then leave for Turpan to visit the Flaming Mountains, Grape Valley and Thousand Buddha Caves. Later, you can head to Kashgar to visit the famous Kashgar Old City, Karakul Lake, and Kashgar Bazaar. After that, you can fly back to Urumqi or explore more attractions in Hotan. Also, for those who are interested in natural scenery, you can travel more of the southern Xinjiang such as the Kanas Lake, Sayram Lake, Swan Lake, Tangbula Grassland, Hemu village, Kalajun Grassland, etc. Traveling from Urumqi from/to Xining, Dunhuang, Zhangye, Jiayuguan along the ancient Silk Road is also an awesome and rewarding experience highly suggested for you.
Recommended Xinjiang Tours
☛ 5 Days Urumqi Discovery to Turpan and Heavenly Lake
☛ 9 Days Taklamkan Desert Ancient Silk Road Tour
Tianchi Lake
Travel Worry-free with China Discovery
If you just want to focus on the trip itself without worrying too much about anything else, you can consider travelling with us! We China Discovery provide comfortable and efficient private travel service for our clients who have booked one of our tour packages. No matter when your flight/train arrives, our friendly tour guide and driver in every city will wait for you there, then escort you to your hotel or any location you want to visit with an air-conditioned and non-smoking vehicle. During the trip, everything such as a ticket, transfer, accommodation, the meal will all be taken care of and you only need to focus on what you are interested in. The tour can be tailor-made according to your plan, time, interests, and demands. If you are interested, please feel free to contact us and tell us your needs.
Xinjiang Tours & Travel Guide
Recommended Xinjiang Tours
Top 3 Xinjiang tours chosen by most customers to explore Xinjiang in the best way. Check the detailed itinerary, or tailor your own trip now with us.
11 Days In-depth Wild Silk Road Adventure Tour (Cultural Relic & Unrivalled Landscape)

Lanzhou / Zhangye / Jiayuguan / Dunhuang / Turpan / Urumqi / Kashgar
4 Days Urumqi Holiday Tour with Southern Pasture Landscape and Kazak Culture Experience

Urumqi - Heavenly Lake - Southern Pasture
Start planning your tailor-made holiday to China by contacting one of our specialists. Once inquired, you'll get a response within 0.5~23.5 hours.
Customize a Trip
Have a question? Get answers from our travel experts or guests
Your Question:

Your Name:

Your Email: