Brief Impression about Wuhou Temple
Built in 223 AD, Wuhou Memorial Temple is the unique Emperor's tomb integrated with his prime minister's shrine in one temple. It is listed in National 4A Scenic Spots and referred to as the most Far-reaching Museum of Three Kingdoms Period and Key Cultural Relics Protection Unit with its intense fragrance of culture, idiomatical Chinse style architecture and gorgeous garden rich of spectacular vegetation. Every year, Wuhou Temple attracts millions of tourists from home and abroad to explore the fabulous Three Kingdom history.
Historic Background of Temple
Origin of Wuhou Temple
In AD 223, Liu Bei's bier was sent to and buried in Chengdu after he died. His tomb was named Hui Tomb. According to Han's tradition, where there is a tomb there is a temple. So the temple for commemorating Liu Bei was built which is Hanzhaolie Temple in Wuhou Temple today.
In AD 234, Zhuge Liang fell ill from constant overwork and then passed away in Wuzhangyuan (in Shaanxi) at the age of 54. To commend the magnificent contribution made by Zhuge Liang, a temple was built near to Liubei Mausoleum, which was also for the purpose to memorize the enlightened king-subject relationship between Liu Bei and Zhuge Liang. Since Zhuge Liang was conferred as "Wu Xiang Hou", the temple was named as Wuhou Temple.
In the Southern and Northern Dynasties (A.D. 420-589), previous Wuhou Temple, Hui Tomb combined with Hanzhaolie Temple became present Wuhou Temple.
Rebuilt in Qing Dynasty
Emperor Kangxi in Qing dynasty (A.D. 1636-1912) appreciated the wisdom of Zhuge Liang very much, and eagerly wanted to have a prime minister like Zhuge Liang to help him rule the empire. So he gave the order to rebuild Wuhou Temple in the fifth year after his enthronement. That is why today you can find the statues in Wuhou Temple are dressing bright-colored costumes.
The Story of Zhuge Liang and Liu Bei
Zhuge Liang
Zhuge Liang (A.D. 181-234), also named Zhuge Kongming, was an eminent strategist & statesman in Chinese history with ability to divine the unknown. He spared no effort to mastermind schemes for Shu State during his lifetime. Many famous battles were directed by Kongming, like the Battle of Red Cliffs, the Battle of taking Jingzhou, Capturing and Releasing Meng Huo Seven Times, Borrowing Enemy's Arrows, etc. Except for his resourcefulness, Zhuge Kongming is highly complimented for his loyalty to Shu. His allegiance and persistence moved numerous people through all ages. "When Sacrifice was made yet triumph was not achieved when starting. Such sorrow results always made heroes deeply sad ever since" Du Fu once said with tears when he visited Wuhou Temple.
Liu Bei
Liu Bei (161-223) was the first emperor of Shu in Three Kingdom Period (A.D. 220-280) and an outstanding militarist & politician as well. He sought talented people with strong eagerness and he had visited Zhuge Liang's thatched cottage thrice in succession until Zhuge Liang promised to assist him to crave for the throne. He treasured talents so he succeeded to attract a lot faithful civil official and military officers. Liu Bei applied Confucianism which advocates the values of propriety, righteousness, integrity, and honor in his politics. As a result, his benevolence, clemency, fairness made him beloved by his people and futurity.
√ 4 Days Chengdu History & Culture Tour with Wuhou Memorial Temple
Statue of Zhuge Liang
Statue of Liu Bei
Highlights of Wuhou Temple
The main attraction of Wuhou Temple is the Historical Site Area where you can visit the Front Gate, the Second Gate, Liu Bei Temple, a foyer, Wuhou Temple, Sanyi Temple, Mausoleum of Liu Bei, the garden area, and the Culture Exhibition Hall, etc.
What's more, you can wander in the surrounding Southern Suburb Park to see the fascinating sightseeing and enjoy the delicious Chengdu snacks as well as the local life in Jinli Ancient Street.
The Historical Site Area
The Front Gate of Wuhou Temple
A horizontal inscribed board with four characters "Han Zhao Lie Miao (汉昭烈庙)" ( meaning the Temple of Liu Bei, the King of Shu Han state) hangs highly above at the Front Gate of Wuhou Temple. Stepping in, you can admire the Ming Tablet composed in 1547 AD and the precious Tang Tablet that is also called "three consummations tablet", because it is famous for superb composition, calligraphy and carving.
The Second Gate of Wuhou Temple
Here in Wuhou Temple, vivid statues of vital people of the "Three Kingdoms" period are there, with small stone tablets in front to introduce their own personal information and main contributions. 14 resourceful administrators lead by Pang Tong in the east, and 14 brave generals with Zhao Yun being the head in the west sit there in colorful costumes. You may feel that they are alive in front of you for the reason that their eyes are so bright. Along the corridor, you can find "Chu Shi Biao", the famous memorial work of Zhuge Liang.
Liu Bei Temple
This temple is constructed higher than other buildings in Wuhou Temple with a gentle slope caved with dragons and clouds in front, which represents Liu Bei's status of emperorship is higher than other people. Inside the temple, you can admire a 3-meter high golden gilt statue of Liu. The shining imperial crown on his head, the exquisite golden decorations above and two sincere servants by side completely show his royal and majestic feature.
On the left of Liu Bei Temple sits a statue with dark complexion of Zhang Fei, the most famous general in China. Standing aside are his son and grandson. Statues of Guan Yu and his son are in the room on the right of Liu Bei Temple. Guan Yu wears a royal diadem, a golden costume with blue decorations, because he was respected as an emperor in Song Dynasty.
Front Gate
Two Statues of General
Statue of Zhang Fei
Wuhou Temple
Behind Liu Bei Temple, in the foyer you can see the board with three big characters "Wu Hou Ci" ( meaning of Wuhou Temple) and the pillars of classic poems from other famous historical people to compliment Zhuge Liang.
The statue of Zhuge is worshiped here in Wuhou temple. The feather fan in his hand, the golden costume and his facial expression show the vivid appearance of this charming and versatile figure. Inside here are ebonies pillars with high value, on which are the words from the article that were written by him to educate his son.
Sanyi Temple
Walking across a wide courtyard, you can see an ancient building called "Sanyi Temple" that is the memorial place for the brotherhood of Liu Bei, Guan Yu, and Zhang Fei, and is one of the "must see" places in Wuhou Temple. Going inside, you can appreciate the clay sculptures of these three great historical men sitting calmly but with their own personal characteristics.
The Garden Area
Take a deep breath of the fresh air here in this most verdant part of Wuhou Temple. Inside the garden that is covered with azaleas in rose red, pure white, and lovely pink, imposing stone carving works of the three brothers, tremendous sorts of bonsais, wide spread of cypresses, willows, ginkgoes, bamboos are elaborately decorated there. Ear-pleasing song of birds, the whisper of trees, the sound of streams, all provide you the most comfortable environment to embrace nature after appreciating the historical culture in the relic temples.
People in Sanyi Temple
Statues of Taoyuan Jieyi
Garden Area
The Mausoleum of Liu Bei
Wandering through the alley with red walls, you can reach the most solemn part in Wuhou Temple, the Mausoleum of Liu Bei. Since Liu Bei loves the people according to the history, this place is called "Hui Ling" (meaning the mausoleum of this emperor who loves his people). After his death, Zhuge selected this treasured place to bury him, and later, Queen Gan and Queen Wu of Liu were buried there in Wuhou Temple together.
This peaceful round burial mound, covered with lush green trees and white flowers, has a perimeter of 180 meters and a surface height of 2 meters. Walking across the tomb passage with sculptures of horses and kylins (mascot dragon in China) , you will see the highly hung board showing the name "Han Zhao Lie Ling" of this mausoleum above the gate.
The Culture Exhibition Hall
Between the Mausoleum and the Exhibition Hall, there is an antique garden with cypresses, rills, blossoms, pavilions, and ancient stone pillars in the royal court left from the "Three Kingdoms" period. Standing on this magic land in Wuhou Temple, you may have an illusion of travelling back to the ancient China. If not, you can go in the Exhibition Hall, because countless historical relics are collected here, like potteries of different styles, all kinds of weapons, calligraphy works from famous historical people, figure sculptures in excellent skills and other valuable items in the "Three Kingdoms" period and other Dynasties.
Tomb Passage
Relics in Culture Exhibition Hall
Tourists Attractions Next to Wuhou Temple
Jinli Ancient Street - Local Lifestyle of Chengdu
Almost all people would come to Jinli Ancient Street after visiting Wuhou Temple for its unique antique flavor. Roaming on the 550 meters long street that is said to have been bustling since Qin Dynasty, you can admire the charming old buildings and find diverse shops selling interesting ancient handicrafts, in contrast to the modern bars and restaurants. Furthermore, you can taste the covered-bowl tea and appreciate the Sichuan Opera. Besides, the multiple types of delicious food along the Snack Street will give you a brand-new experience.
Jinli shows the most attractive look at dusk. All the colorful lights are lit, the reflections of the ancient buildings and plants wave softly and the gentle singing in the pubs mix subtly with the opera sound, making it a gathering place for traditional Chinese life and the vigorous modern culture.
Jinli Ancient Street
Recommended Route to Visit Wuhou Temple
Classical route
Enter the Front Gate of Wuhou Temple to see the "Three Consummations Tablet", and walk to the Second Gate, you can enjoy the sculptures of the 28 administrators and generals in the corridors, then, go to Liu Bei Temple to see the statues of Liu Bei, Zhang Fei, Guan Yu, and other historical figures. After visiting here, walk across a foyer with "Wu Hou Ci", you will find the statues of the three generations of Zhuge Liang. Next is Sanyi Temple, you can enjoy the sculptures of the three brothers and know about their story. Then, you can return according to the original route. It will take you about 1.5 hours to visit the ancient site of the "Three Kingdoms" period.
In-depth Route
Step in the Front Gate to admire the "Three Consummations Tablet", and walk to the Second Gate of Wuhou Temple to enjoy the sculptures of the 28 subjects of Liu Bei. Then, go to Liu Bei Temple to see the statues of Liu Bei, Zhang Fei, Guan Yu. Next, walk across a foyer with the character of "Wu Hou Ci", you will appreciate statues of the three generations of Zhuge Liang. Then move to Sanyi Temple to enjoy the sculptures of the three brothers and their brotherhood. Coming out to the Garden area to admire the beautiful flowers and multiple trees, and then move to the Mausoleum of Liu Bei to see his giant tomb. Walk through the gate to appreciate historical relics in the Cultural Exhibition Hall. After admiring the rich culture of the "Three Kingdoms" in Wuhou Temple, wander in the Southern Park to see the lake and the Tomb of Liu Xiang. Then, go through the Gallery of Stone Inscription of Song Dynasty to arrive at Jinli Ancient Street, where you can experience the traditional ancient Chengdu life and taste the unforgettable Sichuan food. And then, come out from the front gate of Jinli. Within 2-3 hours, you can enjoy all the attractions in and next to Wuhou Temple.
√ 4 Days Chengdu History & Culture Tour with Wuhou Memorial Temple
Location & Transportation of Wuhou Memorial Temple
Being located in the prosperous downtown, the transportation is really convenient to Wuhou Temple with multiple bus choices. If you want to get rid of hustle of public transportation and troublesome navigation, you can book a private tour package which covers sightseeing, dining and transfer from us. Our local tour guide and driver will escort you to Wuhou Temple with speed and convenience, and take care of all the details. You just need to focus on sightseeing.
Public Transportation: several city bus lines (Line 1, 57, 82...); or take Chengdu Metro Line 3 and Line 5, get off at Gaoshengqiao Station and walk about 10 minutes to Wuhou Temple.
Wuhou Temple Location Map
Useful Wuhou Memorial Temple Travel Tips
Best Time to Go
Seasonal advice - Different views in different seasons
In spring, you can appreciate a harmonious picture made up by emerald Ginkgo trees, dark green cypresses and flamboyant Azaleas.
In summer, Wuhou Temple is a nice division and superexcellent summer resort to escape from heat.
In autumn, the yellow fallen leaves matched with Red Wall and paved roads show a more antique flavor.
In winter, especially during Chinese New Year Festival, a big temple fair will be held for about half a month, when the temple would be decorated by colored lantern or lamp. Ticket is charged for attending the fair.
Service & Facility
Free Wi-Fi is available and you can listen to audio introduction (only Chinese mandarin at present) through WeChat app.
Most items are explained in Chinese combined with English and Japanese.
Ticket Selling Hours: 8:00-19:00 in Summer (May - October) ; 8:00-17:30 in Winter (November to April Next Year)
About Tour Buses: You can take tour-express to any other scenic spots in Chengdu, like Du Fu Thatched Cottage, Jinsha Relic Site, Kuanzhai Alley, Tianfu Square, Shuangliu Airport etc.
How to Plan a Chengdu Trip with Wuhou Memorial Temple
In a Chengdu trip, it is most recommended to arrange your Wuhou Memorial Temple visit with Jinli Ancient Street in the afternoon or at night according to its opening hours in different seasons. So in the morning, you can go meet the cute pandas in Chengdu Panda Base. Then see some exquisite Buddhist architecture in Wenshu Temple and have a cup of tea in Renmin Park.
★ Recommended Chengdu Tour with Wuhou Memorial Temple:
√ 4 Days Chengdu History & Culture Tour
√ 4 Days Ancient Three Kingdom History Tour
If you plan to spend more days on exploring Chengdu, there are more different kinds of attractions worth a visit, such as Kuanzhai Alley, Dufu Thatched Cottage, Jinsha Site Museum in Chengdu city, and wonderful UNESCO World Herigates like Jiuzhaigou, Leshan, Emeishan in Sichuan Province, or you can expand your trip to Beijing - capital of China, Shanghai - modern metropolis, and Xian - time-honored ancient capital to have a deeper understanding of China.
★ Recommended Tours including Chengdu:
√ 7 Days Sichuan Discovery Tour (Chengdu / Leshan / Emei / Chengdu / Jiuzhaigou)
√ 7 Days Ancient China Tour with Panda (Beijing / Xian / Chengdu)
If you have more questions about a Wuhou Memorial Temple trip, please feel free to contact us. We are specialized in customized tours according to your interests, budget, traveling time, etc. Just tell us your needs, and we will provided you with a satisfactory tour.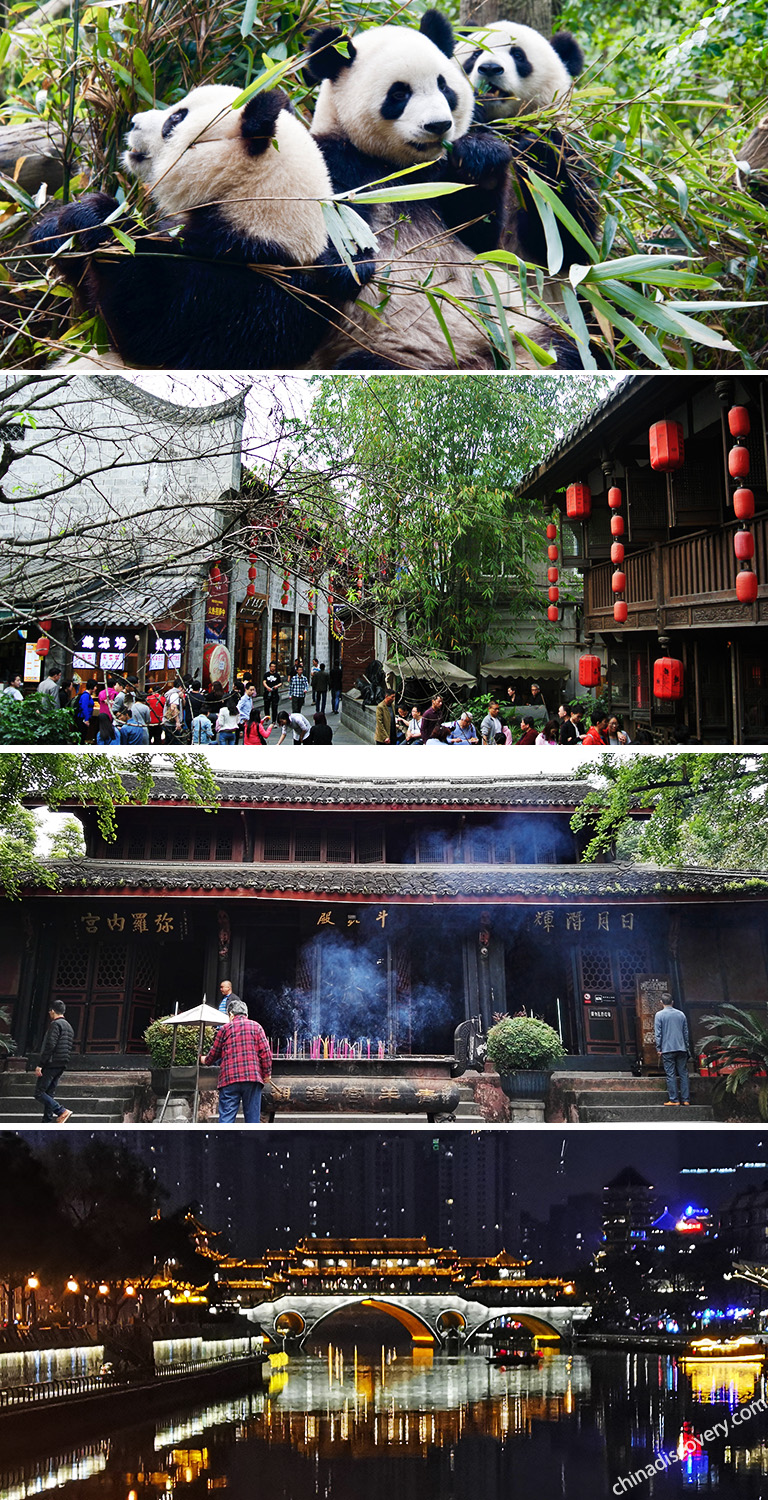 Chengdu Attractions
Top Attractions in Chengdu
Useful Chengdu Travel Guide
Recommended Chengdu Tours
Top 3 Chengdu tours chosen by most customers to explore Chengdu in the best way. Check the detailed itinerary, or tailor your own trip now with us.
3 Days Chengdu Highlights Tour plus Leshan Giant Buddha

Chengdu: Chengdu Panda Base, Leshan Giant Buddha, Jinli Street
4 Days Jianmen Pass & Langzhong Ancient City Tour with History Exploration

Chengdu / Jianmenguan / Langzhong / Chengdu
Start planning your tailor-made holiday to China by contacting one of our specialists. Once inquired, you'll get a response within 0.5~23.5 hours.
Customize a Trip
Have a question? Get answers from our travel experts or guests
Your Question:

Your Name:

Your Email: