Overview & History of Wenshu Monastery
Wenshu Monastery is located at the downtown of Chengdu City and it's the top monastery among the Top Four Monasteries in the middle and downstream area of Yangtze River. It's also the largest and the best-preserved Buddhist Monastery in Chengdu.
First built in Sui Dynasty, between 605 ~ 617, Wenshu Monastery has a history over 1000 years. It was first called Xinxiang Temple, and it was renamed after a Buddhist Monk Cidu who lived there in the late 17th century. Local officials concluded that he must be the reincarnation of Manjusri and the monastery was renamed Wehnshu (means Manjusri in Chinese). At present, the monastery is a Buddhist holy land which combines Buddhism, ancient architecture, worship, sightseeing and religious study into together. And it's also the home to Buddhist Association of Sichuan Province and Chengdu City.
Technically, Wenshu Monastery is not a travel attraction, but a real Buddhism temple. The monastery is free opened to the public, and the incense burned by people are provided by the temple also free. Besides, tourists can participate the Buddhism activities as well. To give, rather than take – this may be the significance of Wenshu Monastery.
Buddhism Activity in Wenshu Monastery
Architectural Layout of Wenshu Monastery
Wenshu Monastery covers an area of 200, 000 m2 and its front door facing south. Once enter into the monastery, you will pass five halls in sequence, and there are Tianwang Hall, Sandatu Hall, Daxiong Hall, Shuofa Hall and Cangjing Hall. Drum tower, monk dorm, guest dorm, meditation room, dining room and praying hall are located at the eastern side and western side of the monastery. All architectures form an enclosed quadrangle dwelling. At present, there are about 190 rooms in the monastery, and the building area is about 20, 000m2.
Top Highlights of Wenshu Monastery
Cultural Relics & Treasures
Wenshu Monastery exhibits many precious cultural relics and treasures. Highlights here are over 300 Buddha statues of various materials including iron, mud, stone, wood and jade dating from the Liang Dynasty to the Qing Dynasty. Among the statues, the most famous one is the jade Buddha Statue, which was brought back from Burma by Monk Xinglin in 1922 after he begged for alms on the way he walked to Burma.
Furthermore, the monastery's Cangjing Pavilion also holds an abundance of history and arts. You can find everything from famous handwriting exhibits, to paintings and artwork. The masterworks of art of both ancient and contemporary China, serve as a testimony to Wenshu Monastery friendly exchange with the world.
Teahouse
The teahouse inside Wenshu Monastery is extremely famous. It is an ideal location for visitors to appreciate Chinese tea and tea culture while enjoying shows presented by folk artisans in beautiful surroundings.
Vegetarian Restaurant
If you visit the monastery, definitely have a meal at the vegetarian restaurant next to the teahouse. Dishes range from 4-75 RMB, and they are excellent. Don't be worried by the words "pork" and "beef" all over the bilingual menu, they use fake substitutes for meat. Also, don't be scared away by dishes which the menu says are spicy. Compared to hotpot, they aren't really spicy at all. On another floor, you can order dishes as you like to taste.
Once you come to Wenshu Monastery, everything here will not only guarantee you peaceful and sacred atmosphere, but also the local life and essence of Buddhism.
>> 2 Days Chengdu City Break (Chengdu)
>> 3 Days Chengdu Highlights Tour (Chengdu)
>> 4 Days Sichuan Buddhism Tour (Chengdu / Xindu / Leshan / Emei / Chengdu)
Exquisite Buddha Statue
Tea House
Chengdu Tour with Wenshu Monastery
How to Get to Wenshu Monastery - Location and Transportation
Wenshu Monastery is located at Wenshuyuan Street, which is in the north of city center, inside the First Ring Road. Chengdu Metro Line 1 has a Wenshu Monastery Station very close to the temple.
By Flight: Chengdu Shuangliu International Airport is about 20km from Wenshu Temple and if you take a taxi, this will cost at least 40 minutes to get there. A cheaper way is taking airport bus to the city center, get off at Renminzhonglu Erduan (人民中路二段), and then walk to Wenshu Monastery (walk about 1km). Or you can transfer two or three more time by subway (quite complicated and time-consuming, not recommended for foreigner travlers). If you are going to stay Chengdu for few days, then it's suggested to get to your hotel first, and then visit Wenshu Monastery
By Train: Tourists can take Chengdu Metro Line 1 at Chengdu North Railway Station and Chengdu South Railway Station to get to Wenshu Monastery, and it will spend less than 30 minutes to get there. If arrival at Chengdu East Raiwlay Station,first take Chengdu Metro Line 2 and then transfer to Line 1 at Tianfu Square, nearly 40 minutes needed.
Visit Wenshu Monastery by Private Tour (Top Recommended)
If you want to get rid of hustle of public transportation and troublesome navigation, you can book a private tour package which covers sightseeing, dining and transfer from us. Our local tour guide and driver will escort you to Wenshu Monastery with speed and convenience, and take care of all the details. You just need to focus on sightseeing.
Attractions Near Wenshu Monastery
Downtown Chengdu has lots of famous tourist attractions for travelers to explore together, most are free and the transporation between them is very conveninet.
● Kuanzhai Alley: One of the best places to feel the leisure Chengdu life. Walk through the three alleys, see the old style buildings, try local snacks and watch Sichuan Opera, or drink a cup of tea, relax as time slow down here. (about 3.5km/15 minutes by car)
● Tianfu Square: Tianfu Square is the center of Chengdu. There are subway and shopping areas underground. Also, there are several spots next to the square, including the newly-built Chengdu Museum, Sichuan Science and Technology Museum. (about 2.5km/10 minutes by car)
● Renmin Park: It's also known as People's Park, where tourists can see real local daily life here, such as playing Tai Chi, doing exercises, dancing, singing, cleaning ears, playing musical instruments, etc. Better enjoy a couple of hours in the Heming Teahouse.
Drink Tea in Heming Teahouse, Renmin Park
Useful Travel Tips
1. Best Time to Visit
Weather and climate in Chengdu has distinct four seasons, and Wenshu Monastery is a religious site rather than a natural scenic spot, so you can visit it all year round. One thing need to be noticed is from March to October, there are many Buddhism activities held in the temple, so if you are interested in it, you can visit from March to October. Better avoid visiting on weekends and during public holidays.
2. Try Chengdu Snacks around Wenshu Monastery
Wenshu Monastery is located at the oldest district of Chengdu, thus there are many authentic Chengdu snacks. At present, more and more old famous snack stores are disappearing with the development of Chengdu, thus, the existing old stores are very precious. Luckily, tourists can still tastes the most authentic flavors at the neighborhood of Wenshu Monastery. For more information, please see Sichuan Cuisine & Food: What & Where to eat in Chengdu >>
How to Plan a Chengdu Trip with Wenshu Monastery
Famous as "Land of Abundance" in China, Chengdu has many tourism resources for exploration. During your Chengdu tour, the No.1 must-visit site is the cute pandas in Chengdu Panda Base (morning visit is highly suggested). Besides, you can try different kinds of local snacks in Jinli Ancient Street, watch a Sichuan Opera in Shufeng Yayun Opera House, have a joyful tea time in Renmin Park.
★ Recommended Chengdu Tours with Wenshu Monastery:
If you plan to spend more days in Chengdu, there are other attractions such as Kuanzhai Alley, Dufu Thatched Cottage, Jinsha Site Museum in Chengdu city, and wonderful UNESCO World Herigates like Jiuzhaigou, Leshan, Emeishan in Sichuan Province, or you can expand your trip to Beijing - capital of China, Shanghai - modern metropolis, and Xian - time-honored ancient capital to have a deeper understanding of China.
★ Recommended Tours including Chengdu:
√ 7 Days Sichuan Discovery Tour (Chengdu / Leshan / Emei / Chengdu / Jiuzhaigou)
√ 7 Days Ancient China Tour with Panda (Beijing / Xian / Chengdu)
If you have more questions about a Chengdu travel, please feel free to contact us. We are specialized in customized tours according to your interests, budget, traveling time, etc. Just tell us your needs, and we will provided you with a satisfactory tour.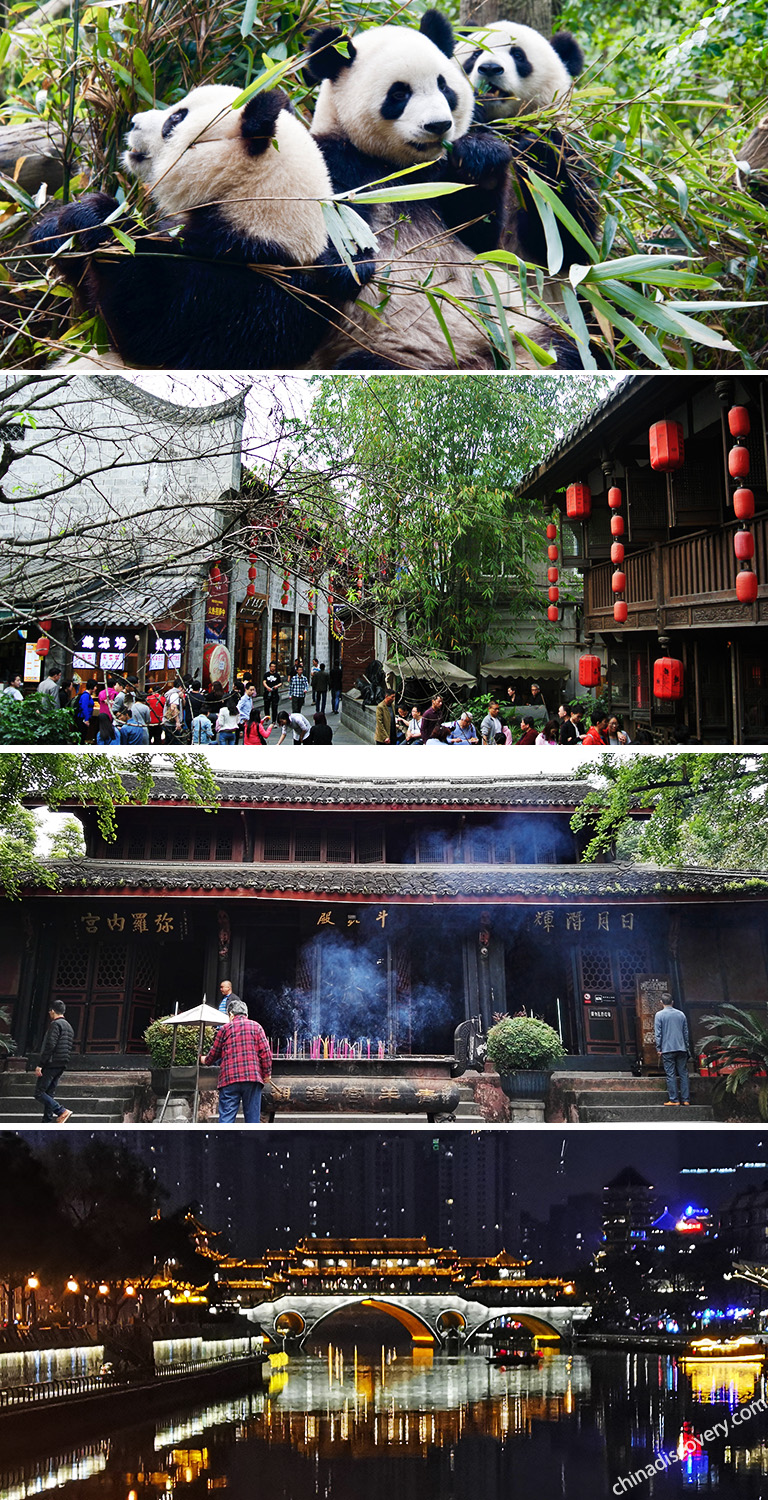 Chengdu Attractions
Top Attractions in Chengdu
Useful Chengdu Travel Guide
Recommended Chengdu Tours
Top 3 Chengdu tours chosen by most customers to explore Chengdu in the best way. Check the detailed itinerary, or tailor your own trip now with us.
2 Days Leisure Chengdu Private Tour with Panda Visit

Chengdu: Jinli Street, Giant Panda Base, Wenshu Temple
1 Day Chengdu Relaxing Panda Highlights Tour

Chengdu (Chengdu Banda Base, People's Park, Jinli Old Street)
3 Days Chengdu Highlights Tour plus Leshan Giant Buddha

Chengdu: Chengdu Panda Base, Leshan Giant Buddha, Jinli Street
Start planning your tailor-made holiday to China by contacting one of our specialists. Once inquired, you'll get a response within 0.5~23.5 hours.
Customize a Trip
Have a question? Get answers from our travel experts or guests
Your Question:

Your Name:

Your Email: