Shufeng Yayun Sichuan Opera House
Ticket Fee: 120-320 Yuan/per person (ticket varies from plays and seat)
Opening Hour: 18:30-21:30
Add: No.23 Qintai Road, Qingyang District, Chengdu (Inside Chengdu Culture Park)
Surroundings: Chengdu Culture Park, Qingyang Palace, People's Park, Kuanzhai Alley, Du Fu Cottage
How to get there: City bus, subway (Metro Line 1, walk 500m from Tonghuimen Station), taxi, private car service
Other Services: Shufeng Yayun also can give the performance outside our theater. They can also hold conferences, business meetings, wedding ceremonies, birthday celebrations, and other activities in Shufengyayun as well; you will be satisfied with this wide range of choices.
Shufeng Yayun (蜀风雅韵), located inside Chengdu Culture Park on Qintai Road, is the ideal theater to experience the local arts and watch a splendid Sichuan Opera. It is also the only one of its kind and the most famous place where you may enjoy the local tea, Sichuan Opera and Sichuan folk arts shows in Sichuan Province.
Featuring the Chinese traditional opera performances, unique talent shows, as well as opera costumes, exquisite handicrafts exhibits, the theater is not only a tea house but also a fantastic stage for you to enjoy the local arts and culture. It has two Opera houses: Chinese Opera House (VIP House) and Liyuan Opera House, the former is much more expensive than the later.
Chengdu Tourist Attractions Map
Why Go to Shufeng Yayun Opera House?
Built in 1998 and functioned for over 20 years, Shufeng Yayun Opera House is a multifunctional theater showing local Sichuan Opera and folk wonders. Performances held in each evening has attracted distinguished performers from across Sichuan Province and many audience at home and abroad.
Shufeng Yayun is located within the ancient buildings of Qingyang Palace, very close to Dufu Thatched Cottage and Wuhou Memorial Temple. When siting arounded by the old buildings, you can drink a cup of tea like local citizens and meanwhile enjoy different kinds of amazing show, including the famous face changing, spitting fire, cloth changing, hand shadow play of Sichuan Opera, etc.
The evening show time usually is held at 20:00 – 21:30
. You'd better book the ticket at least 2 hours in advance, and collect ticket half an hour before starting. You're suggested to go there a little bit earlier, for you may have the chance to see how the performers make up, how they put their costumes on and even you can take some photos with them. Even, a featured activity in Shufeng Yayun Opera House is that, you can pay to wear those beautiful costumes like performers.
√ 3 Days Chengdu Family Tour with Sichuan Opera Show
Curious about their costumes? You can find the secret in the dressing room.
Must-see Highlights in Shufeng Yayun Opera House
As one of the traditional Chinese opera, Sichuan Opera is mainly popular in central and east Sichuan Province, Chongqing, part of Guizhou and Yunnan. It has 5 tunes and Chengdu is the best city to watch an authentic Sichuan Opera.
In Shufeng Yayun, you can see the best typical performances of Sichuan Opera and other Sichuan folk shows. Those very bright spots are authentic excerpts of Sichuan Opera with many amazing talents as well as requested programs where you can make the request beforehand. The originality and charm may satisfy many of their opera lovers. Don't miss the mysterious face changing and fire spitting - two most-known wonders. Also, you can see actors dressing in unique costumes with face painted colorful, telling story in dramatic tune,amazing rod puppet show and else more.
4 Most Classic Performances in Shufeng Yayun Opera House
With colorful shows in different styles, you may also taste the profound Chinese opera arts and experience the pure essence of traditional culture of Western Sichuan. This daily show continues to spread the traditional art to a new generation and keep the historic culture alive.
Erhu Performance - A Chinese Traditional Bowed String Instrument
Vivid Sichuan Opera Performance of the Chinese Typical Pieces
Virtual Vision from Our Tourists
" Amazing"
We went to see the show in the Culture Park after our hotpot dinner. We paid 260 RMB per person. The theater is outdoor theater with fans on the top. The program was composed of opera, short comedy show, puppet, show, hand shadow, music instruments mimic horse and people conversation, and the face (mask) changing show with fire spitting. My teenage son and I did not lose our attention throughout the show (about one hour) even we just arrived at Chengdu (from Kathmandu). The face changing segment in the show is just amazing. We kept saying it is impossible. One time the performers even walked to the audience from the stage and changed their mask right in front of the audience! We went to Kungfu show in Beijing, and Tang Dynasty show in Xi'An. This show is far more the most interesting and entertaining one. What a great start for our Chengdu tour!
Shufengyayun Sichuan Opera Experience: take a photo with the performers at last.
Travel Chengdu with China Discovery to Shufeng Yayun
Watching Sichuan Opera in Shufeng Yayun is one of the featured experience to learn local culture, and there are plenty more great things to do in Chengdu, such as the Giant Panda, leisure life and delicious food. You can still have an in-depth discovery in Chengdu, for the "Three Kingdom Culture", Sanxingdui civilization, brilliant UNESCO World Herigates in Leshan, Emeishan and Jiuzhaigou.
√ 3 Days Chengdu Family Tour with Sichuan Opera Show
During your Chengdu city tour, you can visit the Chengdu Panda Base in the morning to see the cute pandas, and visit other attractions in downtown, such as Renmin Park, Jinli Old Street, Kuanzhai Alley, Jinsha Site Museum, etc. Like local experience? Try a afternoon tea time in Renmin Park, enjoy a cooking class in Sichuan Cuisine Museum. Your Chengdu tour can be interesting and relaxing.
★ Recommended Chengdu Tours :
√ 2 Days Chengdu Highlights Tour with Hakka Ancient Town
√ 4 Days Chengdu Culture & History Tour with Panda Base
If you want to get rid of hustle of public transportation, troublesome navigation and language communication, you can book a private tour package with China Discovery which covers sightseeing, dining and transfer from us. Our local tour guide and driver will escort you to Shufeng Yayun Opera House with speed and convenience, and take care of ticket and all the details. You just need to focus on enjoy the show and scenery.
★ Recommended China Tours including Chengdu:
√ 7 Days Sichuan Discovery Tour (Chengdu / Leshan / Emei / Chengdu / Jiuzhaigou)
√ 7 Days Ancient China Tour with Panda (Beijing / Xian / Chengdu)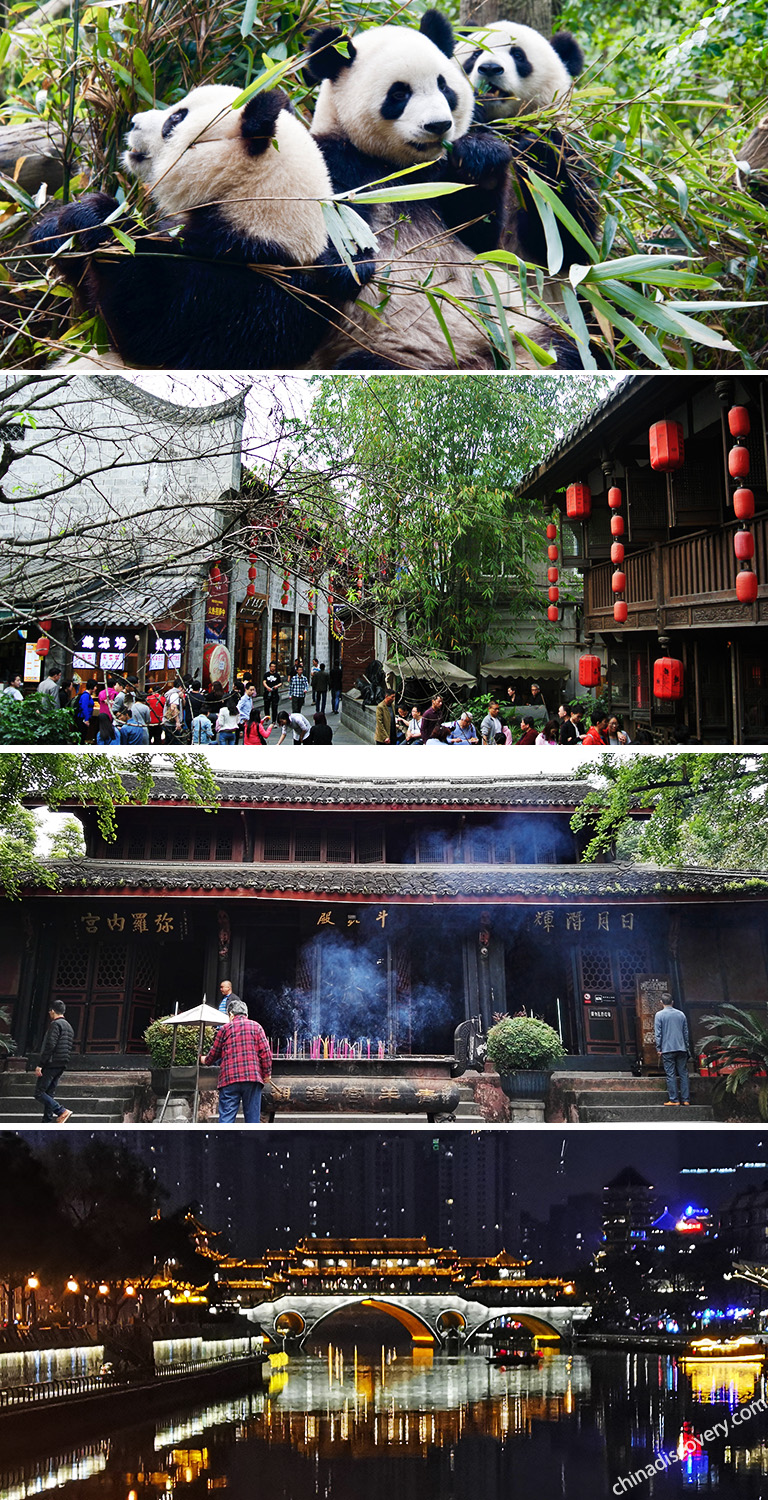 Top Chengdu Tourist Attractions