Brief Introduction of Sanxingdui Museum
Found in 1929, Sanxingdui site is the only one archaeological discovery of ancient state with largest area of 12 square kilometers, longest duration and richest culture in southwest China. The finding of this site shows that the brilliant Sanxingdui Civilization is both one of the greatest archaeological discoveries in 20th century and the "Origin of Yangtze Civilization". Also, this significant finding confirms the existence of ancient Shu Kingdom (Sichuan) and pushes the history of Sichuan region back for over 2000 years. For tens of years, a plentiful of historical relics were excavated here, such as, pottery, jade, bronze, gold, stone, ivory, seashells, etc.
A wonderful myth tells that there were three handfuls of clays scattered by the Jade Emperor (the Supreme Deity of Taoism) on the bank of Qian River in Guanghan, and then became three big mounds on the plain, which seemed like three stars on one straight line, so it is called Sanxingdui (Three-star Piles) from then.
Sanxingdui Museum
Since 1993, Sanxingdui Museum has been holding exhibitions around the world. People in Australia, Canada, Denmark, France, Germany, Japan, US, UK, Switzerland, and so on are all amazed by these treasures of mankind.
Exhibitions in Sanxingdui Museum
Two exhibition halls of vast scale are designed in Sanxingdui Museum to show the culture and historical process of Sanxingdui Civilization and give visitors the exciting experience of traveling back to ancient state. Moreover, classical buildings nearby, grass lawn, lakes, rockeries and recreational facilities make Sanxingdui Museum a charming place of garden and history.
Exhibition Hall One: Three Stars Accompany the Moon - Brilliant Ancient Shu Civilization
Six sections are divided to exhibit the precious wares of gold, bronze, jade, stone, pottery, ivory, seashells, etc. excavated from Sanxingdui site to introduce the notable success in each domain, the history outline, and the vital status of ancient Shu. Several outstanding relics are introduced as following:
1. The Gold Stick
This is the oldest gold stick worldwide dating back to 4000 BC to 3600 BC, symbolizing the kingship that is similar to that in ancient Egyptian Civilization. Collected in Sanxingdui Museum, this valuable gold ware is 142 cm long and 2.3 cm in diameter. You can appreciate its fine patterns of human head on one end and a pair of birds with two fishes below. So people guess the patterns on this gold stick symbols Yu Fu (literally fish bird), and it may confirm the existence of Yu Fu who is the legendary king of ancient Shu Kingdom.
2. The Holy Bronze Tree
Among all the unearthed bronze wares unearthed from Sanxingdui site, an eye-catching relic is the Holy Bronze Tree of 396 cm high that is the biggest bronze tree found so far in China. The tree is growing in the middle on the base carved with patterns of sun and clouds, and there are 9 holy birds as well as 27 fruits on its 9 branches. Embraced with a bronze dragon down, the whole tree is so sacred and expresses the admiration of ancient people to sun and the deity of sun. Besides, this Holy Bronze Tree uncovers the religious values of man being an integral part of nature, and the mutual communication between man and deity, therefore, it is the finale of romantic charm in Exhibition One.
3. Three-legged Cooking Pottery
This cooking vessel of 44 cm high is found in 1986 from Sanxingdui site. You can see this model is so similar to the present vessel for hotpot in Sichuan, so people guess that it is the original form of Sichuan hotpot and the ancestors have enjoyed it using such cookware long ago.
4. Jade Zhang
38.2 cm long, this outstanding jade ware in Sanxingdui Museum presents the shape of a fish. In the open "fish mouth", there is a delicate carving of a bird, meaning a legend of the King Yu Fu in ancient Shu.
Exhibition Hall
The Holy Bronze Tree
Exhibition Hall Two: Three Stars Shine Forever - Mysterious Bronze Kingdom
Sanxingdui site is the significant representative of civilization of bronze from 16th century BC to 14th century BC. Abundant collections of bronze wares are displayed here in Exhibition Hall Two in Sanxingdui Museum, like the bronze wares shaped like the sun, snakes, alters, a group of little figures doing sacrifice, and some verisimilar figures like the images in the famous movie "Avatar", so you can admire their elegance and the rich culture of Chinese bronze wares while strolling in the hall.
1. Bronze Human-head Figure with Gold Mask
This is one of the "not to be missed" relics in Sanxingdui Museum for its shining gold mask adhered to on the face. With big eyes, wide mouth and long ears, this figure looks so cool like a leader. However, experts still wonder the function of the gold mask at that period. Since the figure looks much more honorable than other excavated relics, is it the symbol of royalty? Or did it represent different complexion?
2. Bronze Crowned Mask with Protruding Eyes
64.5 cm high, this is the biggest bronze mask with protruding eyes in the world. With a mysterious smile, exaggerated facial expression, eyeballs protruding 16.5 cm out from the eye sockets, this mask looks like the legendary image of Qianliyan (clairvoyance).
3. Bronze Figure
262 cm tall and weighing 180 kg, this is the biggest and most complete bronze figure over the world and is praised as the "King of Bronze Figure World" and the "Oriental Giant". Standing in front of him, you may think he is doing ballroom dancing for his posture of arms and tuxedo like costume.
Mysteries of Sanxingdui Civilization
Although multiple historical relics were unearthed from Sanxingdui site, there are still several unsolved mysteries about Sanxingdui civilization. Time for Thinking:
1. The Origin
All the bronze figures have long nose, deep eyes, wide mouth, and big ears with hole, not like ancient Chinese but people from other continents. Are they local Chinese, hybrids with foreign people, or even aliens from other planets?
2. The Peculiar Cultural Relics
A lot of excavated ivories, too big than the Chinese ones, are proved to be the Asian ivories abundant in India and Bangladesh, and the unearthed seashells have never been found in other contemporary civilizations in China. Where did these peculiar objects come from? And how did they solve the inaccessibility if they have developed trade with other people?
3. The Connection with Mayan Civilization and ancient Egyptian Civilization
The unearthed bronze statues and gold stick are very similar to those of Mayan Civilization and ancient Egyptian Civilization. Is there any connection between these mysterious cultures? And how did Sanxingdui Civilization disappear suddenly like them?
4. Patterns or characters?
There are some irregular graphical symbols on the potteries and gold stick. Are these symbols just patterns or the characters at that time? If they are just some patterns, why haven't people of Sanxingdui created their own characters since they had talent skills and splendid culture? If they are characters, why there is no document or related material found till now?
5. How have the jade wares and bronze wares been made so exquisite?
People are often surprised at the excellent skills that are rarely seen in that remote period. Did they learn form the adjacent countries? What kind of tools did they use to process?
Gold Mask
Bronze Figure in Sanxingdui Museum
Bronze Ware Like The Sun
Recommended Route to Visit Sanxingdui Museum
After entering the gate of Sanxingdui Museum, appreciate the wares of jade, gold, pottery, etc. and the Holy Bronze Tree in the Exhibition Hall One and admire the brilliant history of ancient Shu. Then, go to the Exhibition Hall Two to enjoy the excellent bronze wares, like the Bronze Mask with Protruding Eyes, Bronze figure, etc., so you could know why this site is so mysterious and significant in historical field.
>> 2 Days Chengdu & Sanxingdui Tour
>> 4 Days Chengdu Culture & History Tour with Panda Base
How to Get to Sanxingdui Museum
Sanxingdui Museum lies about 50 km north of Chengdu city center (Tianfu Square). Most travelers choose to visit Sanxingdui Museum from Chengdu by a private car.
By China Discovery's Private Tour (Top Recommended)
If you want to get rid of hustle of public transportation, troublesome navigation and language communication, you can book a private tour package from China Discovery which covers sightseeing, dining and transfer from us. Our local tour guide and driver will escort you to Sanxingdui Museum with speed and convenience, and take care of all the details. You just need to focus on sightseeing.
Click to Enlarge the Tourist Map of Sanxingdui Museum
By Direct Tourist Bus from Chengdu
There are tourist through buses departing from Chengdu Giant Panda Base and Wuhou Temple. You will arrive at Sanxingdui Museum directly.
By High Speed Train from Chengdu
You can take high speed train from Chengdu East Railway Station to get to Guanghan North Railway Station. After arrival, you can take a taxi, about 15 minutes (10km) to get to the museum.
By Bus from Chengdu (Time-consuming, NOT Recommended)
This may be the budget choice but also requires good understanding of Chinese and have good sense of direction. Because you can take bus from Zhaojuesi Bus Station to Guanghan, about 20 minutes. Then extra bus transfer to the museum is needed.
Useful Tips to Visit Sanxingdui Museum
1. English guide service is provided in Sanxingdui Museum, for RMB120 / time.
2. The natural sightseeing in Sanxingdui Museum is also worth enjoying after appreciating the historical relics in the two galleries.
How to Plan a Chengdu Trip with Sanxingdui Museum
Chengdu is most known as "the Land of Abundance" in China, with three most representative brands: Giant Panda, leisure life and delicious food. Actually, there are more charm hidden in and around Chengdu, including the "Three Kingdom Culture", Sanxingdui civilization, brilliant UNESCO World Herigates. Once you come to Chengdu, you don't want to leave after you really into it.
During your Chengdu city tour, you can visit the Chengdu Panda Base in the morning to see the cute pandas, and visit other attractions in downtown, such as Renmin Park, Jinli Old Street, Kuanzhai Alley, Jinsha Site Museum, Chunxi Road, etc. Like local experience? Try a afternoon tea time in Renmin Park, or watch a Sichuan Opera Show in Shufeng Yayun Opera House, enjoy a cooking class in Sichuan Cuisine Museum. Your Chengdu tour can be interesting and relaxing.
★ Recommended Chengdu Tours :
With more time, travel beyond the city center to nearby Leshan to wacth Leshan Giant Buddha and hike the Mount Emei,even you can go further to northwestern Sichuan to Jiuzhaigou Valley and western Sichuan for less-tourist but amazing beautiful scenery. China is vast and rich land, which offers a great variety of great destinations to travel with Chengdu. Therefore, you can expand your trip to Beijing - capital of China, Shanghai - modern metropolis, and Xian - time-honored ancient capital to have a deeper understanding of China.
★ Recommended Tours including Chengdu:
√ 7 Days Sichuan Discovery Tour (Chengdu / Leshan / Emei / Chengdu / Jiuzhaigou)
√ 7 Days Ancient China Tour with Panda (Beijing / Xian / Chengdu)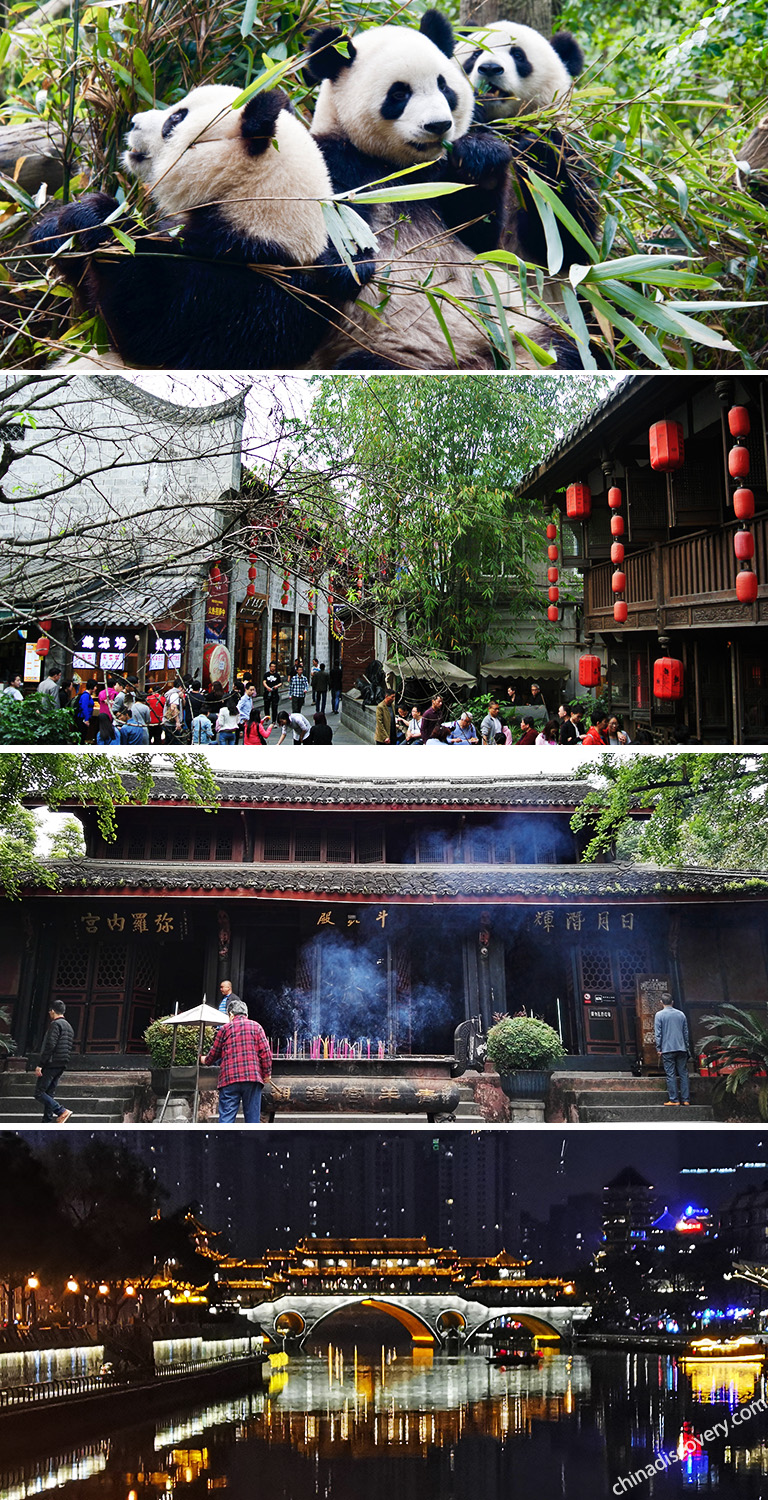 Chengdu Attractions
Recommended Chengdu Tours
Top 3 Chengdu tours chosen by most customers to explore Chengdu in the best way. Check the detailed itinerary, or tailor your own trip now with us.
3 Days Chengdu Highlights Tour plus Leshan Giant Buddha

Chengdu: Chengdu Panda Base, Leshan Giant Buddha, Jinli Street
2 Days Chengdu City Tour including Sanxingdui Museum Visit

Chengdu / Guanghan (Sanxingdui)
Start planning your tailor-made holiday to China by contacting one of our specialists. Once inquired, you'll get a response within 0.5~23.5 hours.
Customize a Trip
Questions & Discussions
Following are latest questions and answers from our webusers and customers. You can learn many useful information from the discussion and cases. You can also join in the discussions or ask your own question. Our experts will help you ASAP.
Purchase
We have watched a program on CGTN regarding your museum. Is it possible to purchase items from your gift shop?

Regards,
Tom A
Hi Tom,

It seems Sanxingdui Museum's gift shop only provide domestic post service. But you can try to learn more or contact them by phone. Check their official website https://www.sxd.cn/en/#/
Have a question? Get answers from our travel experts or guests
Your Question:

Your Name:

Your Email: