Overview of Kuanzhai Alley
Situated in the downtown of Chengdu city, Kuanzhai Alley (宽窄巷子), or Wide & Narrow Alleys, consists of Kuan Alley (Wide Alley), Zhai Alley (Narrow Alley), and Jing Alley. The three streets are the left part of the buildings after the chaos of war in the Qing Dynasty (A.D. 1636-1912). Still maintaining the original looks for hundreds of years, Kuanzhai Alley has been attracting millions of tourists by the typical buildings in ancient Qing style of quadrangle courtyard, Chengdu local snacks, life of old Chengdu, etc. Moreover, fashionable bars with many young singers and various restaurants are abundant in Kuanzhai Alley, making this place a combination of traditional Chinese culture and modern life.
Highlights in Kuanzhai Alley
Leisure at Kuan Alley
Anciently called "Xingren Hutong", Kuan (宽) Alley is the district of leisure where ancient life of Chengdu people is reproduced. It is said that military officers of high status lived here then and they went out by carriage, so Kuan Alley is built with a width of 7-8 meters. Nowadays, wandering along this alley, you can appreciate more than 20 old courtyards and ancient doors of exquisite decorations, like "Kai Lu" that is one of the most representative doors in Kuanzhai Alley.
Every corner in Kuan Alley shows the nostalgic feature, so you can choose a tea house to taste the famous covered-bowl tea or try the world famous Sichuan cuisine in a restaurant to feel the old life of Chengdu.
Taste at Zhai Alley
Zhai (窄) Alley, 5 meters in width, was called "Taiping Hutong" in Qing dynasty. The architectural style of Zhai Alley has been changed into the mixture of western feature and traditional Chinese style, since groups of foreign people purchased and rebuilt houses here during that period. The "Horse Hitching Statue"(拴马石) is also a well-known spot in Kuanzhai Alley.
Visitors and local young artists often gather here in Zhai Alley to spend time, taking photos or chatting. You can closely taste the slow but modern life of Kuanzhai Alley with a cup of coffee in a high quality western restaurant. In addition, coffee shops, standing-sell snack shops, other themed shops are placed one by one here to show the leisure culture.
Fun at Jing Alley
Jing (井) Alley is called "Ruyi Hutong" or "Mingde Hutong" in Qing dynasty. It is said that after many Qing troops came to Chengdu, the water was insufficient, so people dug a well in the west end of this alley, so, it has been called Jing Alley (alley of well). As the residents here were almost servants during that time, the buildings are a little humble and worn-out on this alley.
Here in Jing Alley, you can feel both the traditional history and modern culture. A wall of 500 meters long is standing to exhibit the photos of folk life, and there is another same long wall for the historical culture show. Moreover, tasting various kinds of delicious local food, enjoying liquor in a bar, etc. in Jing Alley to feel the "new life" of Kuanzhai Alley is really unforgettable. Besides, the French style mansion in green and white is also a "must visit" place here.
Tour Chengdu - Kuan Zhai Alley
Senior People Dinking Tea in Kuan Alley
Courtyard in Kuan Alley
Horse Hitching Statue in Zhai Alley
Recommended Route to Visit Kuanzhai Alley
Wander along the Kuan Alley to experience the life of old Chengdu and enjoy the ancient style courtyards. Next, stroll into Zhai Alley to appreciate the special buildings of mixture styles and feel the slow life in Kuanzhai Alley, and then, go to Jing Alley to see the old pictures of Chengdu and taste local snacks along the street. (For about 1-2 hours)
Accommodation in Kuanzhai Alley
There are multiple hotels of various levels in and near Kuanzhai Alley, like Diaoyutai Boutique Hotel Chengdu (luxury) and Jinhe Hotel (comfort).
The most famous and special hotel in Kuanzhai Alley is Chengdu Demenrenli Hotel(德门仁里, luxury) where you can truly feel the traditional and modern leisure life in Chengdu for different themes in every antique room.
Best Time to Go to Kuanzhai Alley
Kuanzhai Alley is suitable to visit all year round. In the daytime, see the leisure life in Kuanzhai Alley, like the elders enjoying the local tea on the bamboo chairs, adorable kids playing along the alleys that are decorated by lush vines and flowers.
At night, all the colorful lights change Kuanzhai Alley into another appearance. Soft music, wine, delicious food and fashionable young people having fun in the pubs, etc., all show the modern characteristic of Chengdu.
A Bar Called "Gebizi" in Zhai Alley
Wall of Picture in Jing Alley
Location & Transportation of Kuanzhai Alley
Kuanzhai Alley is very close to Chengdu Culture Park and Renmin Park, it takes about 15 mins' walking to get to Kuanzhai Alley from the park respectively. You can take Chengdu Metro Line 4 and get off at Kuanzhai Alley Station(宽窄巷子站), or take Chengdu Metro Line 2, get off at Tonghuimen Station (通惠门站), walk about 5 minutes to the Kuanzhai Alley.
Recommended Place to Visit with Kuanzhai Alley: Shufeng Yayun Opera House is just 15 minutes' walking distance from Kuanzhai Alley. It's highly recommended to spend several hours at night to watch a Sichuan Opera there. It's quite interesting and impressive to see the actors do the Face Changing, singing and dancing of Sichuan Opera, hand shadow show and special folklore performances when drinking tea. Even visit backstage to see the make up and unique costume. Really a local leisure way!
Book Our Private Tour to Kuanzhai Alley:
Want to have a worry-free Chengdu tour with Kuanzhai Alley? You can book a private tour with our China Discovery. We are specialized in customized tour which are made according to your interests, budget, travelling time, etc. We will provide you with professional guide, skillful drive, comfortable private car and all you need to do is enjoying your trip.>>Contact Us Now
Click to Enlarge the Map of Kuanzhai Alley
Face-Changing Performance in Shufeng Yayun Opera House
How to Plan a Chengdu Trip with Kuanzhai Alley
Kuanzhai Alley is just next to Renmin Park where many stores open in the afternoon and at night. So before going there, you can start your Chengdu trip by visiting the cute giant pandas in Chengdu Panda Base in the morning and see some exquisite Buddhist architecture in Wenshu Monastery. If there is still some time left, you can pay a visit to Wuhou Memorial Temple to learn some history about the Three Kingdoms Period (A.D. 220-280).
★ Recommended Chengdu Tours :
If you plan to spend more days on exploring Chengdu, there are other attractions such as Jinli Old Street, Dufu Thatched Cottage, Jinsha Site Museum in Chengdu city, and wonderful UNESCO World Heritages, like Jiuzhaigou, Leshan, Emeishan in Sichuan Province, or you can expand your trip to Beijing - capital of China, Shanghai - modern metropolis, and Xian - time-honored ancient capital to have a deeper understanding of China.
★ Recommended Tours including Chengdu:
√ 7 Days Sichuan Discovery Tour (Chengdu / Leshan / Emei / Chengdu / Jiuzhaigou)
√ 7 Days Ancient China Tour with Panda (Beijing / Xian / Chengdu)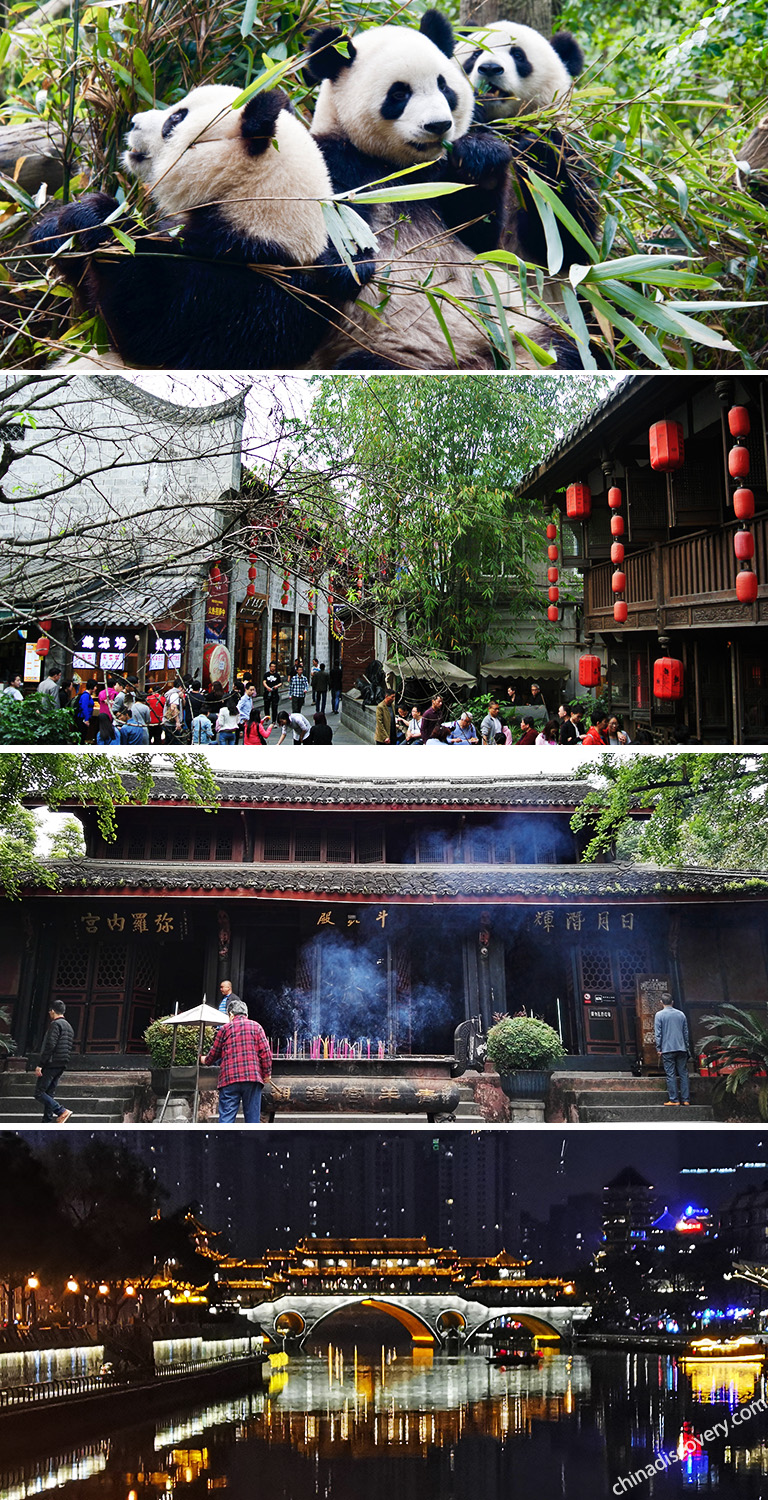 Chengdu Attractions
Top Attractions in Chengdu
Useful Chengdu Travel Guide
Recommended Chengdu Tours
Top 3 Chengdu tours chosen by most customers to explore Chengdu in the best way. Check the detailed itinerary, or tailor your own trip now with us.
2 Days Leisure Chengdu Private Tour with Panda Visit

Chengdu: Jinli Street, Giant Panda Base, Wenshu Temple
3 Days Chengdu Highlights Tour plus Leshan Giant Buddha

Chengdu: Chengdu Panda Base, Leshan Giant Buddha, Jinli Street
Start planning your tailor-made holiday to China by contacting one of our specialists. Once inquired, you'll get a response within 0.5~23.5 hours.
Customize a Trip
Have a question? Get answers from our travel experts or guests
Your Question:

Your Name:

Your Email: