Brief Introduction about Jinsha Site Museum
Jinsha Site, verifying that Chengdu has a long history of more than 5,000 years, is confirmed to be another important arisen center of culture, economy and politics in Chengdu Plain after the decline of Sanxingdui civilization that is the 9th "World Miracle". Archaeologists have found a lot of valuable relics from 12th century to 7th century B.C. here in 2001, among which the "Sun and Immortal Bird" gold ornament of exquisite patterns has become the symbol of Chengdu city. Also, many others like golden wares, jade wares, ivory wares, stone wares, elephant tusks, etc. that were all produced with excellent skills, demonstrating this place was once the capital of ancient Shu kingdom that was in the right prosperous period. Covering a wide area of about 300 thousand square meters, Jinsha Site Museum is situated between the 2nd ring road and 3rd ring road, near the downtown of Chengdu city.
Exhibitions in Jinsha Site Museum
Jinsha Site Museum mainly consists of Relics Hall, Exhibition Hall, Sun and Immortal Bird Sculpture, Ebony Forest, Jade Road, etc. so you can closely experience its historical culture.
Relics Hall
From the East Entrance of Jinsha Site Museum, you can see the Relics Hall shaped in semicircle. Stepping in, you will be amazed by the so large scale hall that is the original excavation place of those unearthed relics. Walking on the roads paved with wood to see the historical sites within 1 meter, you will feel the antique atmosphere of the sacrificial places where tens of thousands of cultural relics were found, the biggest palace of pre-Qin dynasty in southwest China, tomb places of multiple types, over 70 house foundations, etc.
Relics Hall in Jinsha Site Museum
Exhibition Hall
Five halls are reasonably arranged within this tall building, so you can visit along a logical route starting from the Exhibition Hall No. 1, No. 2, No. 3 to the Exhibition Hall No. 4 and No. 5.
1. Exhibition Hall No. 1 - Private Homeland
Enter the second main spot in Jinsha Site Museum and go up to the second floor to the Exhibition Hall No.1 where you can enjoy the lifelike scene of ancient daily life in Shu Kingdom with birds chirping, dogs barking, vigorous animals growing in the forest, two brothers taking the game back home to share with their family, etc. Appreciating such scene, you will feel life of ancient people is really idyllic and harmonious. Apart from that, a rich number of unearthed relics of physical components of animals are displayed.
2. Exhibition Hall No. 2 - King Palace at a Glance
Exiting from the Exhibition Hall No. 1, you can get to the Exhibition No. 2 directly. Various aspects of ancestors about 3000 years ago are showing here in Jinsha Site Museum, such as, residences, tools, potteries, making of jade wares, tombs, all proving the high talent of people in remote time.
3. Exhibition Hall No. 3 - Immortal Heaven and Earth
Go down to the east of the first floor to the Exhibition Hall No. 3. A series of elephant tusks that are the important relics in Jinsha Site Museum are on display here. Besides, quantities of historical relics are exhibiting here according to materials, like jade, bronze, gold, stone, Bu Jia (oracle tortoise sell), etc. You will be attracted by the solemn and mysterious atmosphere here with the dark light and bead curtains dividing the room.
Lifelike Scene of Ancient Life
Daily Life of Ancient People
Hall 3 - Immortal Heaven and Earth
4. Exhibition Hall No. 4 - Peak of Perfection
In the west of the first floor is the Exhibition Hall No. 4. In the center, you can appreciate the essence of Jinsha Site Museum, the "Sun and Immortal Bird" gold ornament, which is 0.02 cm thin, 12.5 cm in outer diameter and 5.29 cm in inner diameter. With a sun with 12 dentate rays in the middle and 4 immortal birds flying around the sun, this ornament expresses people's respect to sun as well as bird and their pursuit to harmonious life and bright future.
Moreover, you can admire more than 30 exquisite unearthed objects, like the bronze human shaped ware, gold mask, ten sectioned jade Cong, stone tiger, etc.
5. Exhibition Hall No. 5 - Seeking Answers to the Mysteries of Jinsha
Walking to the basement first floor, you can see this hall in the west where you can enjoy from Sanxingdui culture, Jinsha-12 bridge culture, to the culture of ancient Shu Kingdom, and have a better knowledge of the historical background of Shu Kingdom.
6. 4D Cinema
At the basement first floor. The specially made movie "Dreaming Back to Jinsha" with 4-dimension skill takes you back to 3000 years ago to experience the abundance and beauty of Jinsha in ancient Shu Kingdom. (RMB 20/person)
Gold Mask in Hall 4
4D Cinema in Jinsha Site Museum
The Memorial Sculpture of Chinese Cultural Heritage
The sculpture that is both the logo of Chengdu city and the Symbol of Chinese Cultural Heritage is one of the "must see" spots. It is located on the pass from the Exhibition Hall to the South Entrance of Jinsha Museum.
Ebony Forest
Ebonies are the valuable old trees that were buried under the ancient riverbed and later carbonized after thousands of years. Here in the southeast of Jinsha Site Museum, you can appreciate more than 60 precious ebonies.
Jade Road
Near the South Entrance of Jinsha Site Museum lies the Jade Road that is paved with the unearthed jade and small pebbles. Walking on the road, you can feel the hard process of ancient Shu people carving jade wars.
Apart from the spots above, some other places in Jinsha Site Museum are also worth seeing, like the beautiful natural sightseeing in Waterscape Plaza, high-quality movies in Jinsha Theater, etc.
Memorial Sculpture of Chinese Cultural Heritage
Ebony Forest in Jinsha Site Museum
How to Get to Jinsha Site Museum
Jinsha Site Museum is located about 7.5 km (20 minutes by car) northwest of Tianfu Square. You can take a taxi, city bus or Chengdu Metro Line 7 (get off at Jinsha Site Museum Station and walk about 2 minutes) to get to the museum from downtown area. There are no tourists attractions close to Jinsha Site Museum, but you could visit Renmin Park (People's Park), Kuanzhai Alley and Chengdu Culture Park if depart from city center.
If you want to get rid of hustle of public transportation and troublesome navigation, you can book a private tour package which covers sightseeing, dining and transfer from us. Our local tour guide and driver will escort you to Jinsha Site Museum with speed and convenience, and take care of all the details. You just need to focus on sightseeing.
Click to Enlarge Jinsha Site Museum Location Map
Recommended Route to Visit Jinsha Site Museum
Enter from the East Entrance to see the site in the Relics Hall, and go to the Exhibition Hall to enjoy the vivid life of ancient people and to appreciate the "Sun and Immortal Bird" gold ornament and other precious unearthed objects. Then, go to see the Memorial Sculpture of Chinese Cultural Heritage inspired from the "Sun and Immortal Sun" ornament. Next, go to feel the hardship of ancient Shu people in Jade Road and admire the precious ebonies in Ebony Forest. Also, you can wander along the road to enjoy the beautiful sightseeing in Jinsha Site Museum.(for about 1-2 hours)
Services in Jinsha Site Museum
There are different Ticket Offices located in three Entrance Gates (North/South/East Gate);
Umbrellas, wheelchairs, baby strollers, drinking water;
Escalators, elevators and other barrier-free facilities;
Clinic with professional medical personnel and well-equipped facilities;
Three parking lots for over 200 cars;
Voice tour guide, information desk, rest area, etc. in Tourist Center (audio guide has Chinese/English/Janpanses/Korean/French/German/Spainish, and using needs rent and depoist for each device);
Explanatory Guide service for fee (should be reserved at South or East Gate, about 90 mins):
| Number of Visitors | Fee |
| --- | --- |
| 1-5 people: | Chinese: RMB 100/time; foreign language: RMB 150/time; |
| 6-10 people: | Chinese: RMB 150/time; foreign language: RMB 200/time; |
| 11-15 people: | Chinese: RMB 200/time; foreign language: RMB 250/time; |
| 16-20 people: | Chinese: RMB 250/time; foreign language: RMB 300/time |
Note: The above fees are for your reference only, please contact our Travel Consultant for the updated and detail information.
How to Plan a Chengdu Trip with Jinsha Site Museum
Jinsha Site Museum is one of cultural highlights in a Chengdu trip. You can either go there in the morning or in the afternoon and enrich you trip by seeing some exquisite Buddhist architecture in Wenshu Monastery, having a cup of tea in Renmin Park, and sampling local snacks in Jinli Ancient Street. If you have one more day, you can meet the cute pandas in Chengdu Panda Base or head to Guanghan to find another great archaeological discovery in Sanxingdui Museum.
If you plan to spend more days travelling, there are other attractions such as Kuaizhan Alley, Dufu Thatched Cottage, Wuhou Memorial Temple in Chengdu City, and wonderful UNESCO World Herigates like Jiuzhaigou, Leshan, Emeishan in Sichuan Province, or you can expand your trip to Beijing - capital of China, Shanghai - modern metropolis, and Xian - time-honored ancient capital to have a deeper understanding of China.
★ Recommended Tours including Chengdu:
√ 7 Days Sichuan Discovery Tour (Chengdu / Leshan / Emei / Chengdu / Jiuzhaigou)
√ 7 Days Ancient China Tour with Panda (Beijing / Xian / Chengdu)
If you have more questions about a Chengdu Jinsha Site Museum trip, please feel free to contact us. We are specialized in customized tours according to your interests, budget, traveling time, etc. Just tell us your needs, and we will provided you with a satisfactory tour.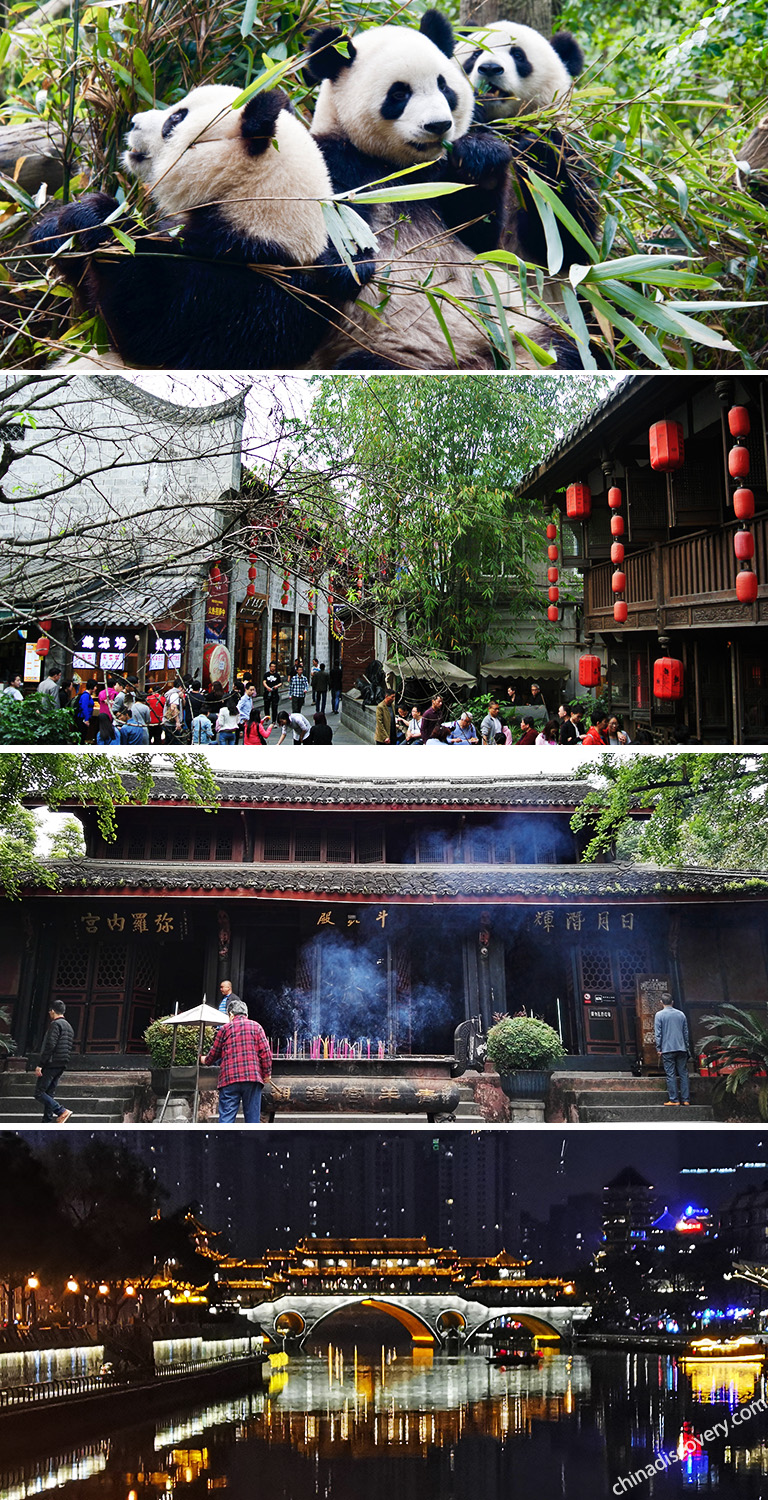 Chengdu Attractions
Mysteries of Jinsha Site Museum
The discovery of Jinsha Site has given the proof of the long existence of Chengdu, but there are still many mysteries with no answers. You could think about them as following to experience the great and mysterious culture and history of Jinsha.
1. What does the pattern on the "Sun and Immortal Bird" gold ornament mean?
If the central fireball on the gold ornament stands for the sun, does the 12 rays represent the 12 months in one year or the 12 units (1 unit is equal to 2 hours in today) in one day, or the 4 birds stands mean the 4 seasons in one year? Is this whole pattern the understanding and expression of ancient people to the sun? How did ancient people made it as thin as 0.02 cm?
2. What is the connection between Ba, ancient Shu and people of other cultures?
There was no continuous history following the Sanxingdui Culture, and no one knows where ancient Shu people went. After the finding of Jinsha Site, people guess that people of Sanxingdui might transfer to Jinsha or Jinsha people was a branch of them. Moreover, the unearthed relics confirmed that the ancient Shu people to some degree had connection with Ba people and even others from South Asia and Central Asia.
3. Why the relics from Jinsha are smaller than that from Sanxingdui?
Many relics from Sanxingdui site are very big, like the bronze figure of 180.6 cm, but those from Jinsha are most small, such as the little bronze figure less than 15 cm. Was there any bigger bronze wares? Could the ancient Jinsha people have the right to make them if Jinsha was a smaller kingdom below Sanxingdui? Are there any bigger bronze wares undiscovered from Jinsha?
4. Why there are so many ivories found in Jinsha, since Chengdu plateau is not an original place for elephants.
There are over 1,000 ivories found here and the longest ivory is 1.85 meters. This is the unique finding among the world prehistoric sites. Were they from the South Asia, Southeast Asia? Were there many elephants growing in Chengdu?
5. What does the same direction of north by west mean?
All the stone Bi, stone Zhang, tombs and most building sites were facing the north by west. It is strange that the present structure Chengdu city and main streets in the downtown are also facing north by west. What does that mean? Is there any profound theories?
Top Attractions in Chengdu
Useful Chengdu Travel Guide
Recommended Chengdu Tours
Top 3 Chengdu tours chosen by most customers to explore Chengdu in the best way. Check the detailed itinerary, or tailor your own trip now with us.
3 Days Chengdu Highlights Tour plus Leshan Giant Buddha

Chengdu: Chengdu Panda Base, Leshan Giant Buddha, Jinli Street
2 Days Chengdu City Tour including Sanxingdui Museum Visit

Chengdu / Guanghan (Sanxingdui)
Start planning your tailor-made holiday to China by contacting one of our specialists. Once inquired, you'll get a response within 0.5~23.5 hours.
Customize a Trip
Have a question? Get answers from our travel experts or guests
Your Question:

Your Name:

Your Email: