Overview & History of Jinli Ancient Street
Located in the east of Wuhou Memorial Temple of Chengdu, Jinli Ancient Street, or Jinli Pedestrian Street Chengdu is called "the first street of Shu Kingdom". Also extolled as the "Riverside Scenes at Qingming Festival" (a famous Chinese painting) of Chengdu. Jinli Ancient Street will bring tourists into the distant Three Kingdoms Period, over 1800 years ago. Covering an area of over 30,000m², the overall street length of Jinli Ancient Street is about 550m. The street was decorated with the western Sichuan style architectures of Qing Dynasty (A.D. 1636-1912), and was supported by the culture of Three Kingdom Period and the folk culture of Chengdu. Jinli Ancient Street will hold various performances regularly, like traditional wedding, folk music, folk drama and costume show, etc. There are also many traditional activities held in festivals. But the most attractive part of Jinli Ancient Street is that tourists can taste various Chengdu featured food and local snacks here. In one word, Jinli Ancient Street is the spiritual post house to feel the romance and leisure of Chengdu.
Jinli Ancient Street (Jinli Pedestrian Street) Highlights
When you enter into this street, every step is highlight no matter it is daytime or at night.Jinli Ancient Street is one of the oldest shopping streets. Strolling down the narrow street, you will find yourself surrounded by a world of stores selling Shu Embroidery, lacquer products, folk handicrafts, curios, calligraphies and paintings. On the street, you could witness the real Chengdu local life and authentic culture.
Sichuan Opera Performance
In the middle of the street, there is a wooden stage looking like an ancient pavilion which is used from time to time to perform classic Sichuan Operas. Sichuan Opera is one of the famous operas in Chinese operas. With a long history, it still reserves many traditional characteristics. The most famous stunt of Sichuan Opera is Face Changing, which is used to reveal the characters' emotional changes. The Face Changing may be the essence of Sichuan Opera, and when the actor performs Face Changing, he will tear off, rub or blow away the mask on his face to reveal another mask. Besides the stage, tourists can watch Sichuan Opera in some restaurants or tea houses in Jinli Ancient Street, and as long as you eat or order a cup of tea in these places, you can watch the Sichuan Opera performance for free.
Find more interesting facts about Sichuan Opera >>
Local Snacks & Specialties
Speaking of Jinli Ancient Street, local people will firstly think that it's a paradise for Chengdu snacks. At the end of Jinli Ancient Street, there is a section of road which sells various Chengdu snacks. Spicy or sweet, crispy or soft, you will always find your favorite here. In general, the local snacks in Jinli Ancient Street are rather authentic, and the prices for them are very fair. Before you visit Jinli Ancient Street, make sure you have an empty stomach.
Apart from the local snacks, tourists can also find many Sichuan specialties which are rare in Chengdu city center. If you want to purchase some gifts for your foodie friends, this is a good place to go.
Folk Art
At the roadside stands, tourists can see many folk artisan performances on the street. Jinli Ancient Street is a great place to experience the local folk art culture. Sugar painting, clay figurines, paper cutouts, and puppet shadow show, etc. are all available on the street. You can purchases these products, and they will make the perfect gifts for your friends or family.
Sichuan Opera Performance
Local Snack
Shadow Puppet
Location & Transportation of Jinli Ancient Street (Jinli Pedestrian Street)
Jinli Ancient Street is located at the city center of Chengdu City, just next to Wuhou Memorial Temple. If you are interested in the "Three Kingdoms Culture" of Sichuan, you may visit them together. To get to Jinli Street, you can take one public buse, like bus No.1, No.57, No.304, No.306, etc. Chengdu Shuangliu International Airport is about 17km from Jinli Ancient Street, and the drive will take about 30 minutes if you take a taxi. From Chengdu North Railway Station to Jinli, there is about 8km, and it will take about 20 minutes to get there.
Get to Jinli Ancient Street by Private Tour (Top Recommended)
If you want to get rid of hustle of public transportation and troublesome navigation, you can book a private tour package which covers sightseeing, dining and transfer from us. Our local tour guide and driver will escort you to Jinli Ancient Street with speed and convenience, and take care of all the details. You just need to focus on sightseeing.
Click to Enlarge Chengdu Tourist Attractions Location Map
Accommodation at Jinli Ancient Street (Jinli Pedestrian Street)
Tourists can stay overnight at Jinli Ancient Street. All inns in Jinli are built in Qing Dynasty style, and tourists can have a special experience by living in Jinli Ancient Street. The inns are fully equipped, however, the price for these inns are higher than normal hotels. So if you want to find more economic hotels, then you can accommodate near the Jinli Ancient Street.
Best Time to Visit Jinli Ancient Street
As a pedestrian street, you can visit Jinli Ancient Street all year around. However, the most confortable time is from March to June and September to November. Though, the temperature in summer and winter is not very high or low, however, the air humid is high in Chengdu. So summer is a bit of stuffiness and winter is a bit of clamminess. Spring and autumn are the best seasons.
Comparing with the day view, the night view of Jinli Ancient Street is more beautiful. At this time, there are fewer tourists, and all the red lanterns on the street are lit on, very beautiful.
Tips: 1.) As a popular scenic spot in Chengdu, expect crowds, especially during weekends and public holidays. So watch out during visiting in the evening. 2.) Except tasting local snacks and watching craft shops, you can also buy gifts, panda toys and else specialty in Jinli Street. 3.) When visiting Jinli during Chinese Spring Festival, you're suggested to enjoy the super hilarious temple fair in Wuhou Memorial Temple (ticket is charged).
Night View of Jinli
How to Plan a Chengdu Trip with Jinli Ancient Street
In a Chengdu trip, it is most recommended to arrange your Jinli Ancient Street visit in the afternoon or at night as the shops and snack stalls are open. So in the morning, you can go meet the cute pandas in Chengdu Panda Base. Then see some exquisite Buddhist architecture in Wenshu Temple and have a cup of tea in Renmin Park. If you are interested in history, you can go to Wuhou Memorial Temple first and then go to Jinli Old Street which is just across the street.
★ Recommended Chengdu Tour with Jinli Old Street:
√ 2 Days Chengdu Gourmet Tour with Cooking Class
If you want to spend more time on discovering Chengdu, there are other attractions such as Kuanzhai Alley, Dufu Thatched Cottage, Jinsha Site Museum in Chengdu city, and wonderful UNESCO World Herigates like Jiuzhaigou, Leshan, Emeishan in Sichuan Province, or you can expand your trip to Beijing - capital of China, Shanghai - modern metropolis, and Xian - time-honored ancient capital to have a deeper understanding of China.
★ Recommended Tours including Chengdu:
√ 7 Days Sichuan Discovery Tour (Chengdu / Leshan / Emei / Chengdu / Jiuzhaigou)
√ 7 Days Ancient China Tour with Panda (Beijing / Xian / Chengdu)
If you have more questions about a Chengdu Jinli Ancient Street trip, please feel free to contact us. We are specialized in customized tours according to your interests, budget, traveling time, etc. Just tell us your needs, and we will provided you with a satisfactory tour.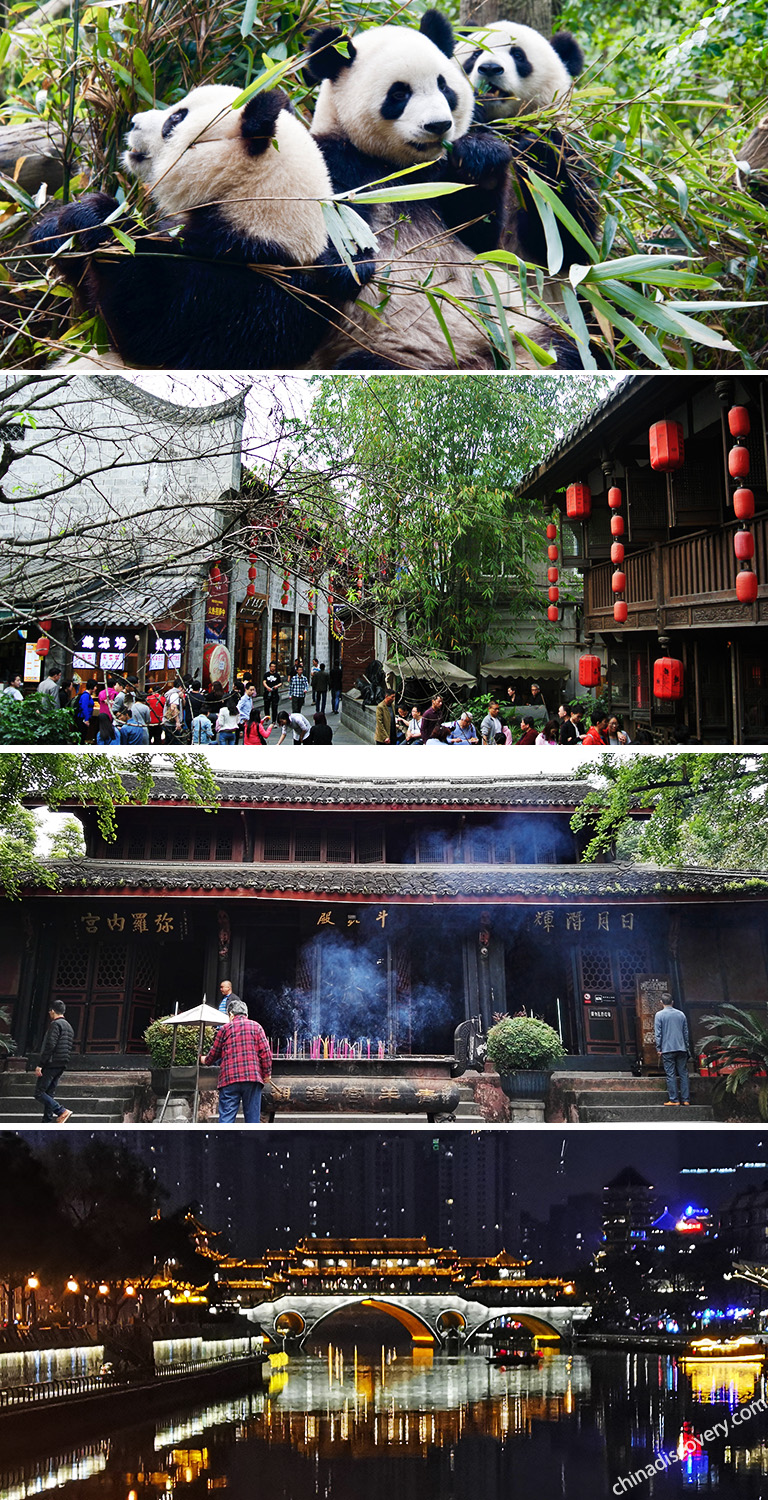 Chengdu Top Tourist Attractions
Top Attractions in Chengdu
Useful Chengdu Travel Guide
Recommended Chengdu Tours
Top 3 Chengdu tours chosen by most customers to explore Chengdu in the best way. Check the detailed itinerary, or tailor your own trip now with us.
2 Days Best Chengdu Leshan Giant Buddha Tour

Chengdu / Leshan Giant Buddha / Chengdu
2 Days Leisure Chengdu Private Tour with Panda Visit

Chengdu: Jinli Street, Giant Panda Base, Wenshu Temple
3 Days Chengdu Highlights Tour plus Leshan Giant Buddha

Chengdu: Chengdu Panda Base, Leshan Giant Buddha, Jinli Street
Start planning your tailor-made holiday to China by contacting one of our specialists. Once inquired, you'll get a response within 0.5~23.5 hours.
Customize a Trip
Have a question? Get answers from our travel experts or guests
Your Question:

Your Name:

Your Email: