Brief Impression about Du Fu Thatched Cottage
Being the former residence of Du Fu, Du Fu Thatched Cottage has witnessed Du Fu's productive years of creation. He has composed more than 240 poems in his thatched cottage which no longer existed after he left Sichuan. With several times reconstruction in the subsequent years, Du Fu Thatched Cottage became one famous museum combined with memorial temple and celebrity's old House as well as cultural temple with ancient-style architecture and tranquil garden. As a result, it ranked as National Key Cultural Relics Protection Unit and National 4A Scenic Spots. What's more, it was also granted as National Top Level Museum, just as Wuhou Temple, Guanghan Sanxingdui Museum, Zigong Dinosaur Museum and Deng Xiaoping's Former Residence.
Historic Background of Du Fu Thatched Cottage
In AD 759 of Tang Dynasty, Du Fu took refuge in Chengdu from An-Shi Rebellion. With the help of his friend Yan Wu, Du Fu built his small cottage beside picturesque Huanhua Brook. He has lived there for 4 years until Yan Wu passed away. After his leaving, the cottage collapsed.
Later, the Poet Wei Zhuang found Du Fu Thatched Cottage and recovered it. Then Du Fu's cottage has experienced some reconstructions and the overall size and layouts were confirmed
In 1997, Du Fu Thatched Cottage Museum recovered Thatched Cottage according to the description in Du Fu's Poetry and the layouts designed in Ming Dynasty.
Brief Introduction to Du Fu
Du Fu was a prominent realism poet whose glory shines all ages. He is called China's Shakespeare in Harvard Announcement. Du Fu had profound influence on Chinese classic poem and was hailed as Poet-Historian & Poet-Sage while his poetry praised as History of Poetry for he achieved to record Tang Dynasty from boom to bust with his pen. Du Fu was also a patriotic poet, and what he concerned most were his country and the toiling masses though Du Fu himself suffered from poor life even his child died from hunger. In his "My Cottage Unroofed by Autumn Gales", Du Fu said, "Could I get mansions covering ten thousand miles, I'd house all poor scholars and make them beam with smiles. In wind and rain these mansions would stand like mountains high. Alas! Should these houses appear before my eye? Frozen in my unroofed cot, content I'd die."
Du Fu Thatched Cottage
Du Fu
Highlights to Visit in Du Fu Thatched Cottage
Du Fu Thatched Cottage has many attractions including main architectures, Shaoling Thatched Cottage Tablet Pavilion, Thatched Cottage, Flowery Path, Pagoda etc. The main architectures were built in the axis, from front to back as follows: Front Gate, Grand Lobby, Hall of Historic Poetry, and Gongbu Temple. Highlights are as follows
Hall of Historic Poetry
A stony paved road leads you from The Lobby to the Hall of Historic Poetry. On each side of the road, there is an exhibition room where you can explore Du Fu's rough life experience and meaningful scene in his poetry. In addition to that, a lot of books of Du Fu's poetry in old version are on display.
Gongbu Temple
The last building of major architecture of Du Fu Thatched Cottage is Gongbu Temple. During Du Fu's stay in Chengdu, he used to act as an adviser in Gongbu, so the Gongbu Temple was built to commemorate him. Du Fu is not an emperor or minster but he swayed the descendants deeply just by his creations, so Gongbu Temple is rather plain and unadorned instead of being gorgeous and magnificent.
Besides the shrine for Du Fu, you can also find shrine for Lu You and Huang Tingjian (Both are well-known patriotic poets) equipped with oblation. Therefore, Gongbu Temple is also called Three Sages Hall.
On the southeast and southwest of Gongbu Temple stands two room named Shuizhu Residence and Suitable Ferrying. They three shape like a "品".
Shaoling Thatched Cottage Tablet Pavilion
This Pavilion hatted with a thatched roof is the first landmark of Du Fu's Cottage. In the center of Shaoling Thatched Cottage Tablet Pavilion lies a stony tablet inscribed with "Shaoling Thatched Cottage" which was also wrote by Prince Guo. People always take Shaoling Thatched Cottage Tablet Pavilion as a sample of Du Fu Thatched Cottage.
Hall of Historic Poetry
Tablet Pavilion
Thatched Cottage
Thatched Cottage
Leaving Shaoling Thatched Cottage Tablet Pavilion and walking east, you must be given a great shot by the poetic image made up of a small bridge over flowing stream and a looming cottage roofed with straw among the verdant bamboos. This is Thatched Cottage which reverts to the scene in one thousand years ago. Thatched Cottage is a functional house equipped with kitchen, bedroom, and central room. Here you can imagine Du Fu's real life.
Ruins of Tang Dynasty
Ruins of Tang Dynasty is a pavilion where relics ruins and a large amount of cultural treasures were excavated in the end of 2001. It verifies the truth of the natural features,the daily life and Thatched Cottage described in Du Fu's poem. What's more important is that it deepens the atmosphere of history and enriches the cultural connation.
Flowery Path
Origin Flower Path was a wonderful path lined with colorful trees and flowers. Du Fu once mentioned this elegant path in his poetry, "My path is full of petals -- I have swept it for no others. My wicket gate has been closed -- but now opens for you." Today's Flower Path which is flanked with two red walls connects major memorial architectures and previous Cao Tang Temple. In the end of the path is another landmark of Du Fu Thatched Cottage, Screen Wall of Thatched Cottage. There are two Characters "Cao Tang" made of blue and white porcelain fragments inlaid in the wall.
Wanfo Pagoda
Wanfo Pagoda (rebuilt in 2005) stands in the Phebe trees in the east of Du Fu Thatched Cottage now. Ascending the stone steps and entering the gate, you will find that the underground peristele of Ancient Wanfo Pagoda through the glass. The second story exhibits various tiny statues of representative poets with their creations, such as Li Qingzhao, Qu Yuan, Sima Xiang Ru etc. There were many articles for daily use excavated and most of them were display on the third floor.Mount up to the fourth story, and you can feast on a sea of fresh green trees. Just like Chinese old saying goes, "In the east there is Chongli Pavilion, in the west there is Pagoda of Buddha" Pagoda of Buddha really plays an important role.
Ruins of Tang Dynasty
Flowery Path
Wanfo Pagoda
Recommended Route of Du Fu Thatched Cottage:
Classical route:
Walk along with the axis and you can explore the major memorial architectures from Front Gate to Gongbu Shrine one by one. Later, go to the first landmark of Du Fu Thatched Cottage-Shaoling Thatched Cottage Tablet Pavilion then turn to Thatched Cottage to feel Du Fu's living environment when he was alive. Next, visit Ruins of Tang Dynasty of to enjoy the historic and cultural relics before appreciating a great variety of vegetarian in the Bonsai Garden. Afterwards, stroll through Flowery Path to Hall of Odes to view the statues of excellent poets in wide-ranging ages. The trip ends and you can leave from the South Gate. The whole journey may cost you about 2.5 hours.
In-depth Route:
After appreciating the major memorial architectures (Front Gate, Grand Lobby, Wicket Gate and Gongbu Shrine), go west to Pavilion with Panoramic Views and then turn to Glum Garden to enjoy the sweet-smiling flower. After that you can visit Thatched Cottage and Ruins of Tang Dynasty. Corridor for Collecting Du Fu's Wood-carved Poems, Bonsai Garden and Flower-Washing Temple are your next destination. Then, Flowery Path leads you to Hall of Odes. At last, don't miss Wanfo Pagoda where you can have a sight of the great green sea in Du Fu's cottage. To cover the whole route, 3 hours are needed.
Most Popular Chengdu Tour with Du Fu Thatched Cottage:
√ 4 Days Chengdu Culture & History Tour with Panda Base
Attractions near Du Fu Thatched Cottage
● Huanhuaxi Park(literally means Flower-washing Brook Park) is the key area of Huanhuaxi historic & cultural scenic spot. It is located between the First Ring Road and the Second Ring Road and next Du Fu Thatched Cottage to north while Sichuan Museum to east. Benefited from its largest area and most investment, it is granted AS the unique 5-star open Urban Public Forest Park in Chengdu so far. On a deep historic and cultural background, Huanhuaxi Park is a mixture of natural landscape, city view, ancient style garden and modern architecture. With two streams (Huanhua Brook and Gan River) passing through the garden, an idyllic picture appears in Huanhuaxi Park. (about 150m/5 minutes by walk)
●Sichuan Museum is located in the "Huanhuaxi Historical and Cultural Scenic Reserve", enjoying the best natural sightseeing in the central Chengdu city. As a first-class national museum, Sichuan Museum stores about 3 million pieces of historical relics about ancient Sichuan, bronze wares, paintings of Zhang Daqian, ceramics, potteries, etc. (about 700m/ 10 minutes by walk)
●Qingyang Palace is a famous Taoist temple in China, with over 2,000 years' history. Apart from the precious Taoist literature preserved, the temple has exquisite architectures and Taoists daily life to watch. (about 3km/10 minutes by car)
Huanhuaxi Park
Qingyang Palace
How to Get to Du Fu Thatched Cottage - Location & Transportation
Being located in the flourishing city center, within the west Second Ring Road, Du Fu Thatched Cottage is convenient to get to from your downtown hotel within a few minutes regardless of traffice jam. You can take Chengdu Metro Line 4 (get off at Caotang Road North Station) and walk about 15 minutes (1km) to Du Fu Thatched Cottage. Taking a taxi is also convenient.
After Du Fu Thatched Cottage, you can visit Sichuan Museum, Wuhou Temple, Kuanzhai Alley, Jinli Street etc. in several minutes' drive.
Get to Du Fu Thatchaed Cottage by Private Tour (Top Recommended)
If you want to get rid of hustle of public transportation and troublesome navigation and language commucation, you can book a private tour package which covers sightseeing, dining and transfer from us. Our local tour guide and driver will escort you to Du Fu Thatched Cottage with speed and convenience, and take care of all the details. You just need to focus on sightseeing.
Useful Travel Tips
With help of an English-spoken Guide, you can better enjoy this cultural site. Our experienced and knowledgable tour guide will give you abundant introduction to this cottage, help you learn more story about Du Fu, his poems and Chinese poetry.
There is a small bookstore called Caotang Bookstore in Du Fu Thatched Cottage where you can buy some memorial books, folding fans or picture albums.
Taking picture is allowed but using flash is forbidden especially in these exhibition rooms.
Free umbrella is offered until your trip to Du Fu Thatched Cottage ends and 50 RMB is needed as deposit.
Before entering, better prepare yourself some water and food if you plan to visit for a long time.
As a cultural site, Du Fu Thatched Cottage is not as crowded as other hot attractions in outdoor. So you can enjoy quiet and slower tour here.
Barrier-free facilities are limited. If you need related services, check with tour guide first.
How to Plan a Chengdu Trip with Du Fu Thatched Cottage
Chengdu is most known as "the Land of Abundance" in China, with three most representative brands: Giant Panda, leisure life and delicious food. Actually, there are more charm hidden in and around Chengdu, including the "Three Kingdom Culture", Sanxingdui civilization, brilliant UNESCO World Herigates. Once you come to Chengdu, you don't want to leave after you really into it.
During your Chengdu city tour, you can visit the Chengdu Panda Base in the morning to see the cute pandas, and visit other attractions in downtown, such as Renmin Park, Jinli Old Street, Kuanzhai Alley, Jinsha Site Museum, Chunxi Road, etc. Like local experience? Try a afternoon tea time in Renmin Park, or watch a Sichuan Opera Show in Shufeng Yayun Opera House, enjoy a cooking class in Sichuan Cuisine Museum. Your Chengdu tour can be interesting and relaxing.
★ Recommended Chengdu Tours :
With more time, travel beyond the city center to nearby Leshan to wacth Leshan Giant Buddha and hike the Mount Emei,even you can go further to northwestern Sichuan to Jiuzhaigou Valley and western Sichuan for less-tourist but amazing beautiful scenery. China is vast and rich land, which offers a great variety of great destinations to travel with Chengdu. Therefore, you can expand your trip to Beijing - capital of China, Shanghai - modern metropolis, and Xian - time-honored ancient capital to have a deeper understanding of China.
★ Recommended Tours including Chengdu:
√ 7 Days Sichuan Discovery Tour (Chengdu / Leshan / Emei / Chengdu / Jiuzhaigou)
√ 7 Days Ancient China Tour with Panda (Beijing / Xian / Chengdu)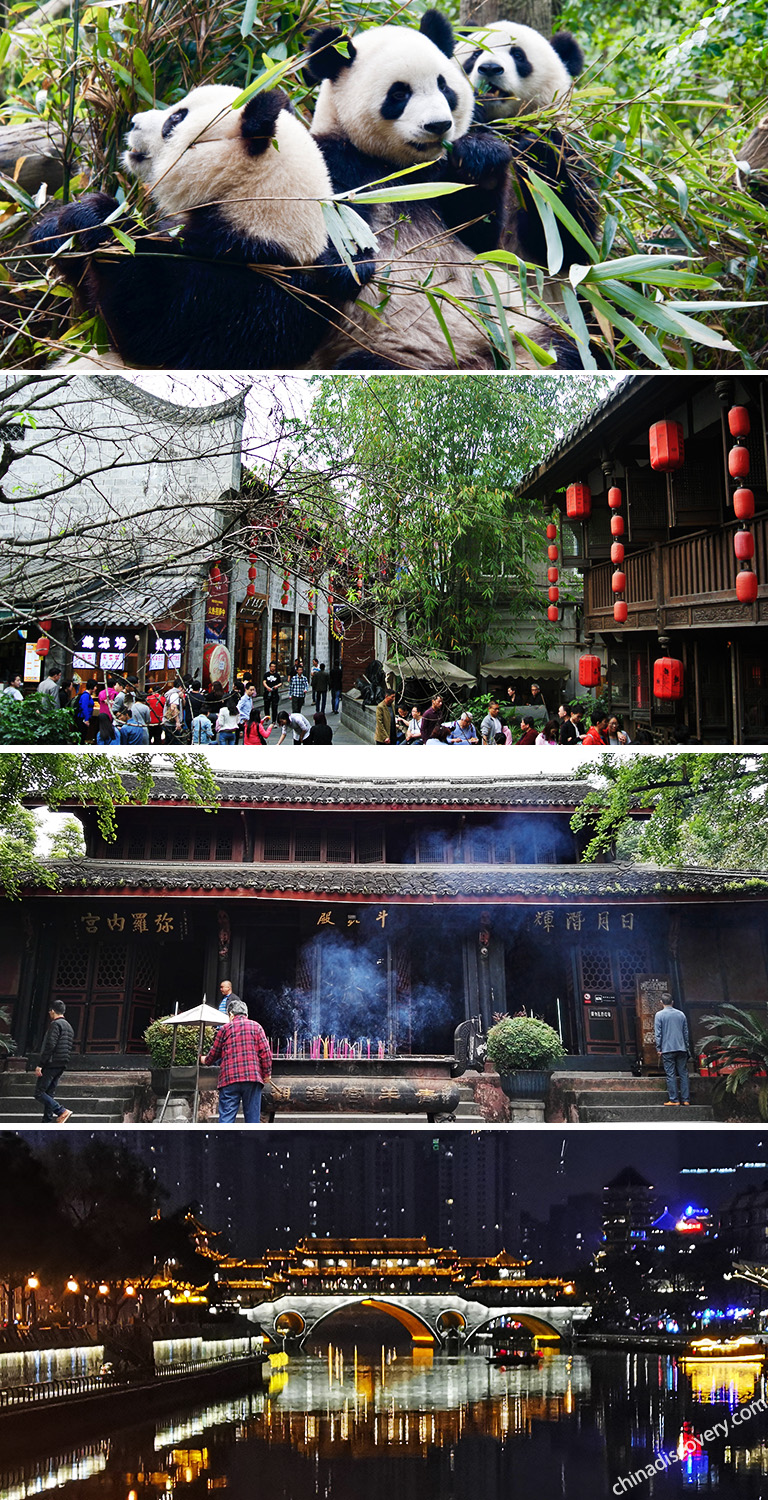 Chengdu Attractions
Top Attractions in Chengdu
Useful Chengdu Travel Guide
Recommended Chengdu Tours
Top 3 Chengdu tours chosen by most customers to explore Chengdu in the best way. Check the detailed itinerary, or tailor your own trip now with us.
2 Days Leisure Chengdu Private Tour with Panda Visit

Chengdu: Jinli Street, Giant Panda Base, Wenshu Temple
4 Days Classic Leshan Buddha & Mount Emei Tour from Chengdu

Chengdu / Leshan / Mt. Emei / Chengdu
Start planning your tailor-made holiday to China by contacting one of our specialists. Once inquired, you'll get a response within 0.5~23.5 hours.
Customize a Trip
Have a question? Get answers from our travel experts or guests
Your Question:

Your Name:

Your Email: