Chengdu Airport Layover and Transit Guide 2023/2024
Currently, Chengdu has one international airport in operation - Chengdu Shuangliu International Airport and one new airport - Chengdu Tianfu International Airport under construction (planed to run in the first half of 2021). The Chengdu Airport repeatedly mentioned in this article refers to the Chengdu Shuangliu International Airport. As the busiest airport in central-western China, Chengdu Shuangliu International Airport offers more than 120 international & regional airlines to worldwide destinations and is the only entry port implemented 24-hour & 144-hour Transit Visa Free for qualified foreign visitors to visit Chengdu and 10 other cities within Sichuan.
If you are going to transit through China in Chengdu and get confused about the visa procedures and possibility to make a Panda Tour from the airport, please check detailed Chengdu airport layover guide below to plan your Chengdu layover tour.
How to Get Visa Free Transit at Chengdu Shuangliu International Airport
Being Chengdu's only international airport in service now, Chengdu Shuangliu International Airport has implemented 24-Hour Direct Transit Visa Free long ago and started the 144-Hour Transit Visa Free (TWOV) policy since January 1, 2019. According to the rule, air travelers from appointed 53 foreign countries can get China Transit Visa exempted, enter and stay in Chengdu for up to 144 hours as long as he/she hold passport with a validity of minimum 3 months and departure flight ticket to a third country or region within 144 hours. Good news was that, from December 1, 2019, the visa-free stay area has been expanded from Chengdu to Leshan (Leshan Giant Buddha & Mount Emei), Deyang, Suining, Meisha, Ya'an (Bifengxia Panda Base), Ziyang, Neijiang, Zigong, Luzhou and Yibin (Shunan Banboo Sea), total 11 cities in Sichuan.
4 Steps to Get Visa-free Transit at Chengdu Shuangliu International Airport:
① - When boarding, inform the air company staff of your application of (24-Hour or 144-Hour) Visa-Free Transit in Chengdu. They will deliver your request to the Immigration Authority at Chengdu Shuangliu International Airport.
② - After landing at Chengdu Shuangliu International Airport, fill in the Arrival Card (blue version) at specialized desk, and then follow guide to the "Exclusive Channel for Transit Visa Exemption". There you shall wait and submit application with passport, connecting flight ticket to onward destination, and related travel itinerary.
③ - The Exit and Entry Immigration officer will seal a Temporary Entry Permit on your passport to grant your short-term entry to Chengdu after verification.
④ - Go through customs and immigration formalities, and you can leave Chengdu Shuangliu International Airport, enter and stay in Chengdu and other 10 cities of Sichuan, for 6 days.
You can click Chengdu 144-Hour Visa Free Transit to find more requirements, application tips and advice for your Chengdu Airport Layover.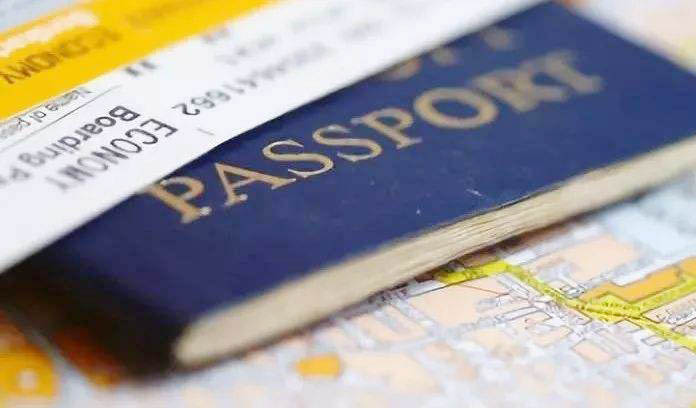 Chengdu Transit Visa Free Requirements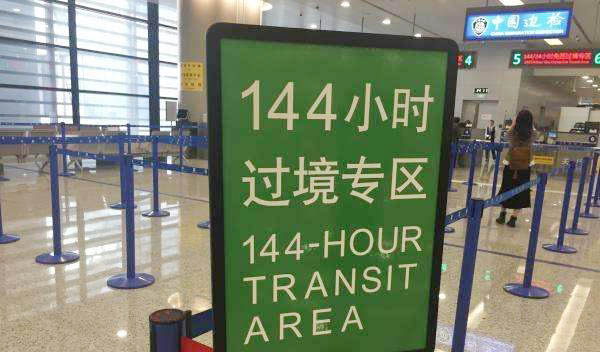 Chengdu 144 Hour Visa Free Transit
Note: 24-hour Transit Visa Free has no limitation of nationality of foreign passport holders and even allows multiple transit in China within 24 hours. So most travelers with a connecting air ticket to onward countries can get the Transit Visa Exemption easily after landing without pre-arrival application. No extra appcation is needed if you stay inside the airport, but a Temporary Entry Permit should be ontained (free of charge) if you plan to leave the airport.
Chengdu Shuangliu International Airport Address & Transportation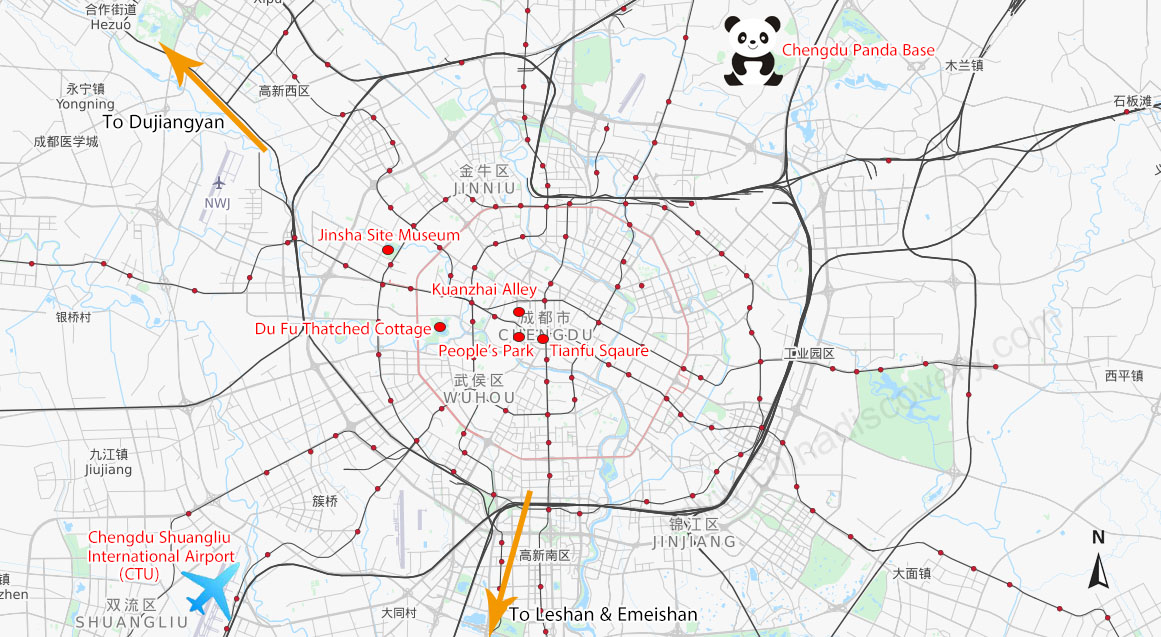 Chengdu Shuangliu International Airport Location Map
Address: Airport Road, Shuangliu District, Chengdu, Sichuan 四川省成都市双流区机场路
Chengdu Shuangliu International Airport (成都双流国际机场, IATA:CTU,ICAO:ZUUU) at present runs nearly 350 air routes to most cities at home (like Beijing, Shanghai, Guangzhou, Lhasa,Zhangjiajie, Urumqi, Kashgar...) and lots of overseas cities (including New York Los Angeles, London, Sydney, Tokyo, Singapore, Kathmandu, Kuala Lumpur, Seoul, Bangkok.. ).
It is located in southwest of Chengdu, about 18km (30 minutes' drive) from city center - Tianfu Square. The airport has excellent transportation network. You can leave the airport to downtown Chengdu by taxi, airport shutte bus (5 lines), subway (Chengdu Metro Line 10), city bus and take long-distance coach and fast intercity trains to surrounding cities (such as Leshan, Emeisha, Yibi..)
Chengdu Airport to Major Attractions in Chengdu:
Chengdu Airport to City Center (Chunxi Road): about 20km, 30~50 minutes by taxi
To Chengdu Research Base of Giant Panda Breeding (Chengdu Panda Base): about 38km (1 hour's drive)
To People's Park: about 20km, 30~50 minutes by taxi
To Wenshu Monastery: about 22km, 40 minutes by taxi
To Jinli Ancient Street: about 19km, 50 minutes by taxi
Chengdu Airport to Nearby Destinations (by High-speed Train):
To Leshan: about 10 C trains every day, for around 40-50 minutes
To Emeishan: about 4-5 daily trains, for about 1 hour 20 mintues
To Yibin: about 10 daily trains, for about 1.5-2 hours
Enjoy Chengdu Layover Tour by China Discovery's Private Tour
First-time visitors in Chengdu need to spend a lot of time on researching the available way to get to attractions by public transportation, which is time-consuming during the short layover. Therefore, the most conveninet and efficient way is to travel with China Discovery, an expeirenced and professional travel agency based in Chengdu. We can pick you up at the airport and directly escort you to the Panda Base and spots in downdown you want to visit. Our knowledgeable tour guide and reliable driver will ensure you enjoy the layover tour worry free in a comfortable car and have a quick understand of local culture and history of Chengdu. We can also help you apply a full Chinese Visa, book tickets, find satisfactory dining and accmmodation and solve all tour-related details. Just contact us to tell your travel plan to customize a perfect Chengdu tour!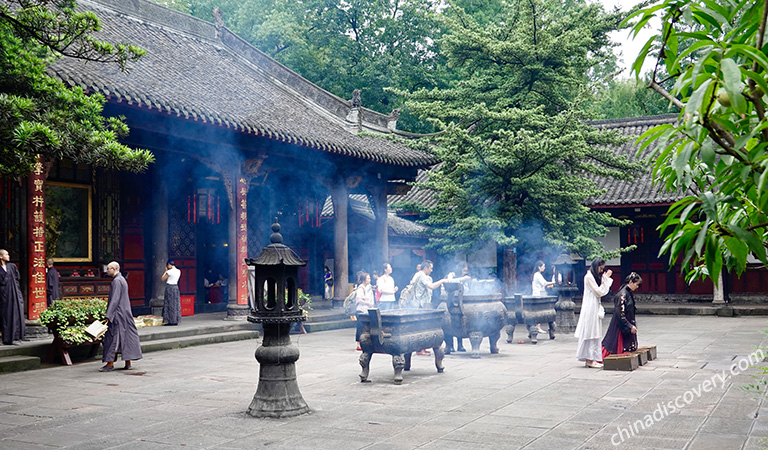 Chengdu Wenshu Monastery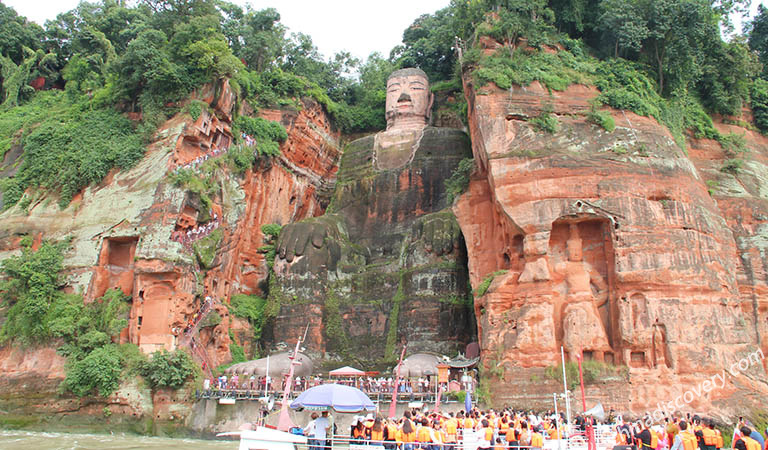 Leshan Giant Buddha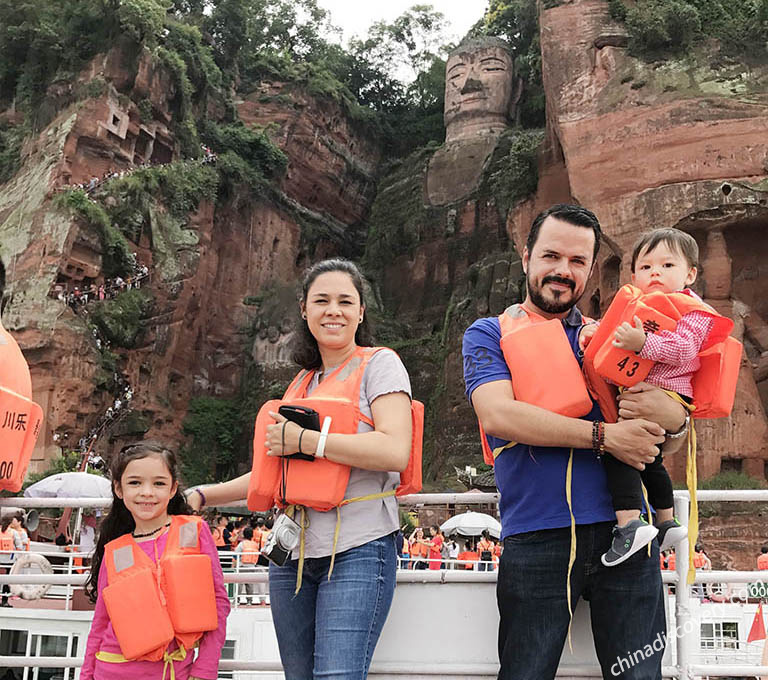 Leshan Giant Buddha Family Tour from Chengdu
What can You do in Chengdu Layover - Recommended Chengdu Layover Tours
What can I do during the layover? How much time is enough to visit Giant Pandas between the connection? Is it worth to see anything in Chengdu if only have several hours ' layover? What are the most recommended sites to visit in Chengdu? Major attractions are mostly scatter in downtown Chengdu and there is barely scenic spots near Chengdu Shuangliu International Airport. Thus, the possibility to have a Chendgu layover tour and its length completely depend on your own situation. If you get 24-hour Transit Visa Free, you're only allowed to stay in Chengdu and all 11 designated cities no exceeding 24 hours. Once you're approved 144 hours, you have 6 days to rich your layover trip in Chengdu.
Attention: Jiuzhaigou Valley and Huanglong Scenic Valley are both located in Aba, western Sichuan, not included in the 144-hour Transit Visa Free stay area.
1.Panda Tour from Chengdu Shuangliu International Airport
You need at least 1 hour's driving to Chengdu Reseach Base of Giant Panda Breeding from Chengdu Airport, while public transportation (subway/airport shuttle bus+city bus) costs nearly 1.5 to 2 hours. Most importantly, the Giant Pandas are more active in the morning, so make sure you have more than half a day for a quick panda visit and better go there in the early morning. (leave a couple of hours to get through immigation formality, clear customs after landing and check in about 2 hour before taking-off ). It's highly advised to Travel with China Discovery to enjoy the fast and convenient transfer and considerate tour services.
√ 1 Day Giant Panda Visit & Leshan Giant Buddha
√ 2 Days Chengdu & Lifetime Panda Volunteer Tour
2.Other Attractions Recommended to Visit in Chengdu City Center
For a tight schedule, except the cute Giant Pandas, Chengdu downtown area also have lots of good sites to explore, such as, the serene Buddhist shrine - Wenshu Monastery, most famous local life stage - People's Park, Jinli Ancient Street with contrast of modern and ancient style, Jinsha Site Museum with original archaeological excavation site, Du Fu Thatched Cottage witnessed great poetry's production, Wuhou Temple presenting Three Kingdoms Culture of ancient Shu, metropolitan flourish in Chunxi Road and Taikoo Li, etc. 1 day is suitable for panda visit and 2 or 3 central sites and 2 to 3 days are enough to have a look at main spots. Local experiences like drinking tea in a city park, watching a Sichuan Opera show and tasting famous Hotpot and Sichuan Cuisine are highlights you shouldn't miss.
√ 1 Day Chengdu Tour with Panda & Cooking Experience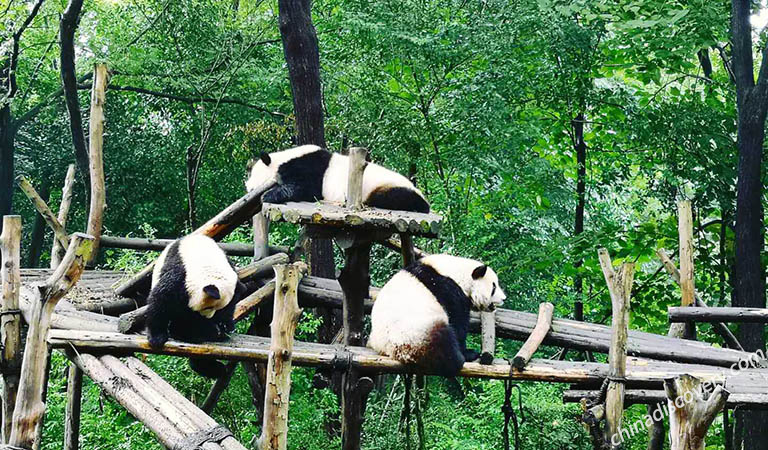 Cute Pandas in Chengdu Panda Base
Tea Time in People's Park, Chengdu
3.Great Destinations to Go nearby Chengdu
Dujiangyan (Dujiangyan Irrigation System & Mount Qingcheng), Leshan (Leshan Giant Buddha and Mount Emei) are most favorite side trip places from Chengdu. And Xiling Snow Mountain is a nice winter destination close to Chengdu. Usually, 1 day is doable for a brief trip to each attraction. Most tourists like to visit Mount Qingcheng and do the Panda Volunteer Program in Dujiangyan for 2 days, travel Leshan Giant Buddha and Emei Mountain for 2-3 days. China Discovery can customize your Chengdu tour with Dujiangyan, Leshan and Emeishan with essence based on your travel schedule.
√ 2 Days Best Chengdu Leshan Giant Buddha Tour
√ 4 Days Classic Leshan & Mount Emei Tour from Chengdu
Dujiangyan Panda Base Volunteer Program
Where to Stay During Layover in Chengdu
It's best to choose your accommodation by where you plan to visit and how long you're permitted to stay in Chengdu.
1.Hotels in & near Chengdu Shuangliu International Airport
If you will have night time layover, or several's short connection in Chengdu or your are going to cacth an early morning flight to leave Chengdu, or just get 24-hour Transit Visa Free, you're suggested to book a hotel near the Chengdu Shuangliu International Airport. The Chengdu Airport Take A Nap Capsule Hotel inside the airpirt offers hourly-paid rest place with basic service (no shower facilities). so it's better to find a hotel that close to the airport so you can rest well. You can save time on transfer, meanwhile, most hotels offer pick-up and drop-off service for your convenience.
Recommened Hotels:
● Chengdu Airport Take A Nap Capsule Hotel (T2, T1)
● Chengdu Airport Hotel (luxury hotel, about 500m of Terminal 1, Chengdu Shuangliu International Airport)
● Chengdu Aviation Hotel
● Holiday Inn Chengdu Airport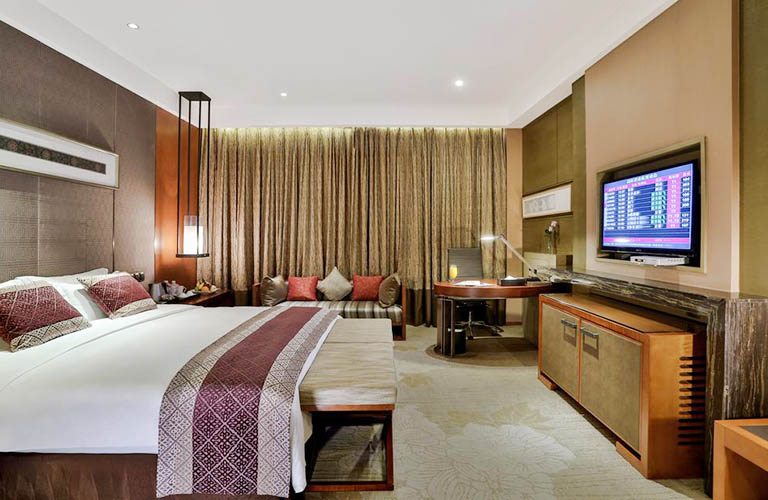 Chengdu Airport Hotel
2.Hotels in Downtown Area & Near Major City Attractions - The Best Tourist Stay Area
For those who luckily get 144-hour Transit Visa Free without paying any visa fees, make sure you get to the top choosen acoomodation area in downtown Chengdu. It has a wide varity of choices at different price and styles, from budget hostel to luxury brands and boutique hotels with good reputation. Besides, hotels in city center has the best location to main tourists attractions and many options of shopping and dining.
Recommened Hotels:
● The Temple House (5-star boutique hotel,near Taikoo Li, Chunxi Road, Daci Temple)
● Niccolo Chengdu, Shangri-La Hotel Chengdu, InterContinental Residences Chendgu City Center, JW Marriott Hotel Chengdu (5-star luxury hotel)
● Dorsett Chengdu, The Ritz-Carlton Chengdu, St.Regis Chengdu (5-star luxury hotel, close to Tianfu Square, Wenshu Monastery)
● Dorsett Chengdu, The Ritz-Carlton Chengdu, St.Regis Chengdu (5-star boutique hotel, near Kuanzhai Alley)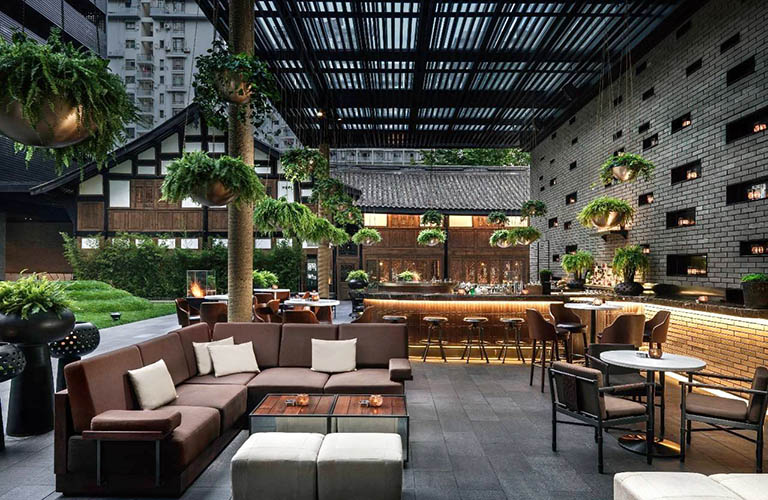 The Temple House near Taikoo Li Chengdu
More FAQS about Chengdu Airport Layover
1.How long it takes to clear custom and pick up the luggage?
That all depends on the specific circumstance. Usually it takes at least 1 hour and may needs longer sometime.
2.Do I have to pick up the luggage when I switch the flights in Chengdu?
Tourists taking international flights or regional flights from Hong Kong, Macau and Taiwan need to transfer baggage if change to domestic flights in China, or another international/regional flights leaving China. Only Sichuan Airline direct forwards baggage to onward flight for its passengers flying specific route, like Bangkok, Vancouver, Osaka, Melbourne, etc.
3.How many hours before the flight we should get back to the airport?
Since transiting visitors need to take international/regional flights, may be need to check luggage, so you should arrive at the airport at least 2 hours before the departure time.
4.Want to visit Leshan. I wonder whether the transfer time is enough?
You can take high-speed intercity train to get to Leshan Railway Station in Leshan from Chengdu Shuangliu International Airport Station. The train travels about 40-50 minutes. And touring Leshan Giant Buddha needs around half a day, so it requires at least 10 hours to visit Leshan, including the returning trip and prepared check-in time for connecting flight.
Useful Chengdu Travel Guide
Popular Chengdu Tours
Recommended Chengdu Tours
Top 3 Chengdu tours chosen by most customers to explore Chengdu in the best way. Check the detailed itinerary, or tailor your own trip now with us.
2 Days Leisure Chengdu Private Tour with Panda Visit

Chengdu: Jinli Street, Giant Panda Base, Wenshu Temple
3 Days Chengdu Highlights Tour plus Leshan Giant Buddha

Chengdu: Chengdu Panda Base, Leshan Giant Buddha, Jinli Street
Start planning your tailor-made holiday to China by contacting one of our specialists. Once inquired, you'll get a response within 0.5~23.5 hours.
Customize a Trip
Have a question? Get answers from our travel experts or guests
Your Question:

Your Name:

Your Email: