Chengdu Shopping - What & Where to Buy in Chengdu
Ranking the third place in Shopping Districts of China, Chengdu is really the paradise for shopaholics. When tour Chengdu, never worry about what kind of souvenirs you could take to your family and friends. Shu Brocade andmbroidery, lacquer wares and bamboo products which are made by the locals will immediately attract your eyes with the elegant appearance and Chinese style.
Map of Chengdu
What to Buy in Chengdu?
There are five shopping districts or streets with own unique style which will make you Chengdu travel more unforgettable and memorable.
Shu Brocade
Being one of the most important cultural heritages and well-known traditional craftworks of China, Shu Brocade is the leading one amongst the famous Four Chinese Brocades, i.e. Song Brocade, Yun Brocade, Zhuang Brocade and Shu Brocade.
Shu Brocade is featured for classic elegance in color and concinnity in quality. The history of sericicuiture and silk handcraft can be traced back to the ancient Sichuan, the cradle of Chinese silk.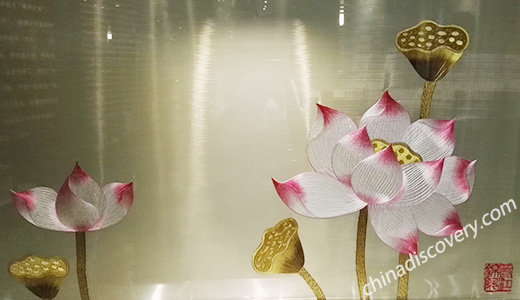 Shu Brocade is featured for classic elegance in color and concinnity in quality.
Shu Embroidery
Shu Embroidery, called "Chuan Embroidery", is renowned for its superb workmanship, smooth and bright in quality. It featured as the saying goes "fine and smooth needlework, simple and elegant colors, graceful and easy lines and the traditional paintings' style." It mainly expresses the themes of auspicious happiness.
The unique designs on Shu embroidery include flowers, birds, landscapes, fish, worms and human figures. You can find them being made into pillowcases, embroidered slippers, mirror curtain, wedding dress, scroll, hats and shoes, skirts, quilt facing, etc.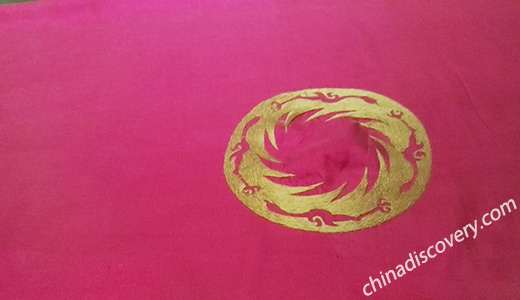 Shu Embroidery mainly expresses the themes of auspicious happiness.
Lacquer Wares
Chengdu is one of the major producers of lacquer ware. Chengdu lacquer has a refined and pretty surface, profound and plain pigmentation, and rich and colorful ornamental techniques. It is regarded as an ornate flower of Sichuan crafts through the ages.
Many different types of lacquer ware including wall decorations and screens. Some pieces are covered with flax, paper or plastic before they are painted to avoid the wood rotting.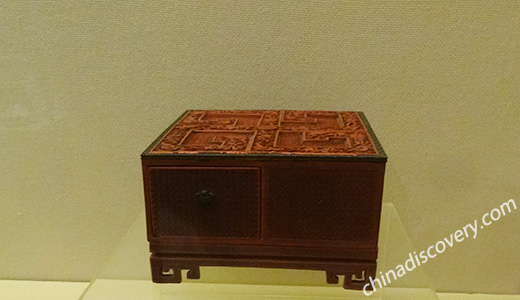 Chengdu is one of the major producers of lacquer ware.
Bamboo Products
Placemats, vases, lampshades and a thousand other beautifully woven products made from bamboo are available at a steal in Chengdu. The bamboo is dyed different colors, using one distinctive technique, producers can intertwine bamboo and porcelain to create ornate designs and decorative pieces. In the market, you can witness the producers take a piece of porcelain like a teapot, or bowl, and weave very fine bamboo around it to form a very tight covering.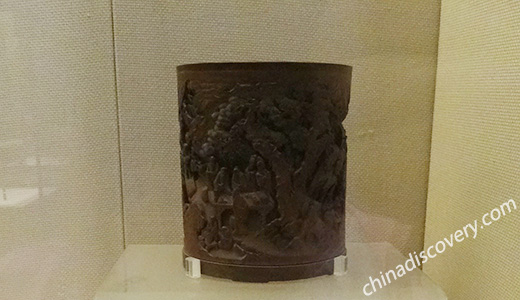 Bamboo Products, want to buy one?
Five Featured Shopping Areas in Chengdu
Chengdu Chunxi Road - Yanshi Kou - Luoma Shi: Shopping Districts Leading the Fashion
Chunxi Road got its name in 1924 and is now 88-year-old. Being the busiest street in Chengdu, Chunxi Road is also the Number One Street in southwest China. Today, more than 700 shops ranging from large shopping malls, department stores, supermarkets to street stalls, boutiques, modern cafes and a spacious square mainly sell brand name foreign goods or their Chinese counterpart.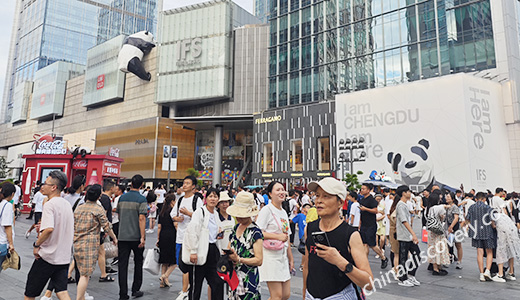 Chengdu Chunxi Road: Shopping District Leading the Fashion
Across from Chunxi Road, to the south, is Yanshi Kou, the actual hub of shopping for locals (most young girls) looking for bargain deals on clothing and accessories. Shopping here can be fun, even you can witness thousands of people crowd the lanes in between the small plazas around Chunxi Road and many are to see and be seen as well.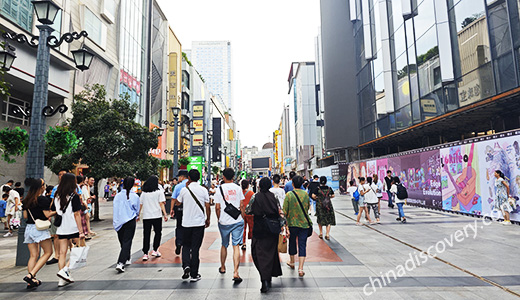 Yanshi Kou: the Actual Hub of Shopping in Chengdu.
Located at the crossroads for Chunxi Road and Zongfu Road, visitors can shop all day in Luomashi Area. There are many old-timey bookstores, architectures in both Chinese and European styles and characteristic restaurants. You can drop into a shopping mall for a larger selection of manufactured goods or visit the street vendors for sounveniers and small handicrafts.
Qintai Road: a Gathering Place of Jewelry
Qintai Road became famous for an ancient love story between Sima Xiangru and Zhuo Wenjun. Walking along the street, you can appreciate the old-styled buildings lined alongside the street. It's really eye feast when visiting at night.
Qintai Road is a jewelry street. Full of stores selling goods, silvers and other types of stone jewelry, it is one of the luxurious streets in Chengdu. Pearls, jewelry and colorful antique stores or shops can be found everywhere along Qintai Road including many large jewelry companies. If a man wants to find some jewelry for his woman, he must go to this street to get the gifts. Visiting Qintai Road, you may not only find your perfect jewelry, but you may start your beautiful love story here.
You won't be disappointed when you tour Qintai Road, Sichuan Opera and other tourist attractions such as Baihuantan Park, Huanhuaxi Park and Dufu Thatched Cottage are waiting for you.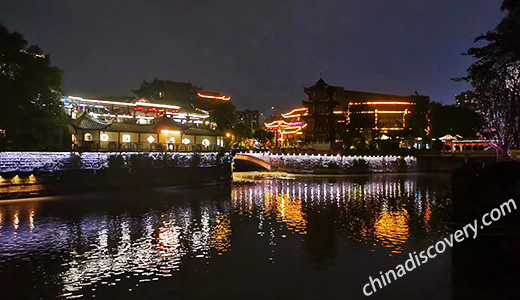 Qintai Road: a Gathering Place of Jewelry.
Wuhouci Cross Street: a Street for Tibetan Arts & Crafts
Wuhouci Cross Street an authentic Tibetan district shows the lifestyle of Chengdu's Tibetans and offers a chance to buy Tibetan crafts, such as prayer wheels and Thangka, as well as an opportunity to sample Tibetan food. Lots of Tibetan Buddhist religious articles, statues, clothing, jewelry and pop music, Tibetan cowboy hats, Tibetan souvenirs can be found in Ximianqiao Cross Street and Wuhouci Cross Street.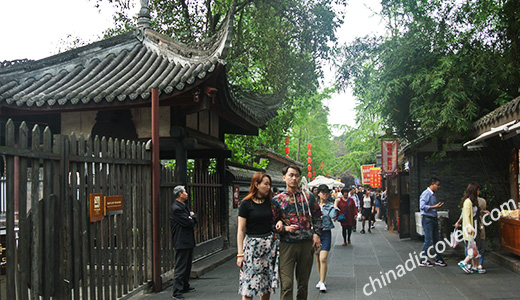 Wuhouci Cross Street: a Street for Tibetan Arts & Crafts.
Some stores carry woolen clothing, scarves and bags that make for ideal gifts. Also you can taste the real yak milk and Tibetan food in Tibetan restaurant. Tibetan dishes such pan fried yak meat and potatoes with Tibetan bread are available. Yak seems to be a feature of Tibetan cuisine.
A visit to Wuhouci Cross Street, you could experience all the holy things just as Tibet can bring to you.
Jinli Old Street: A Place with Atmosphere of Folk-Custom
Listed in "the ten commercial pedestrian streets of the Nation" in 2005, Jinli Old Street is equivalent with Wangfujing Street in Beijing.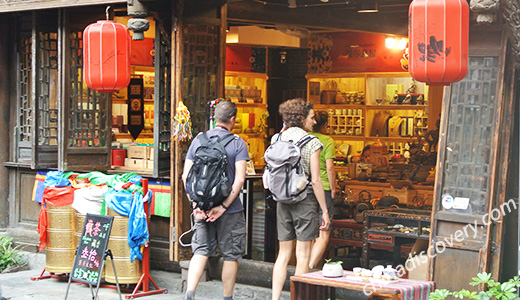 Eye Feast - a Colorful Artifacts World!
When you enter into Jinli Old Street, every step is highlight no matter whether is daytime or night. Jinli Old Street is one of the oldest shopping streets, strolling down the narrow street, you will find yourself surrounded by the a world of stores selling Shu Embroidery, lacquer products, folk handicrafts, curios, calligraphies and paintings. On the street, you could witness the real Chengdu local life and authentic culture.
Songxianqiao Art City: Expansive Collection of Art & Antiques
Located in the well-known Huanhua culture and scenic area, Chengdu's Songxianqiao Antique & Art City creeps up on the visitor. The bottom levels and rows of booths by the river mainly deal in family adornment, calligraphy and painting, jewelry, jade, embroidery, and bone carve, rare stone, antique and rare curiosa, Chinese pottery as well as ancient family furniture, ancient books, and archaized fitment.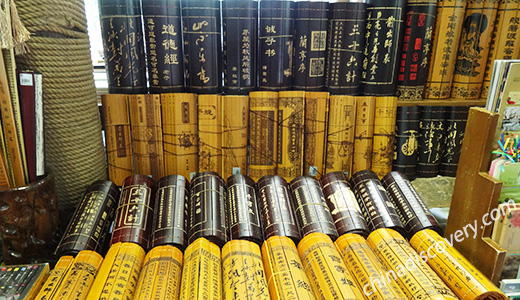 Songxianqiao Art City: Expansive Collection of Art & Antiques
Songxianqiao is a great place to bargain shop for friends and family and to pick up odds and ends for an eclectic home. Surely, local people and tourist both home and abroad will be able to get what you like.