Chengdu Nightlife - Bars & Nightclubs, Teahouses, Sichuan Opera
Chengdu, "a Land of Abundance", is not only famed for profound and intensive culture, but also noted for its colorful nightlife here. From traditional teahouse, theaters to modern bars and nightclubs, Chengdu converts into a party playground after sunset. Jinli Old Street is one of the perfect places to experience the evening haze with its red lanterns that burn throughout the morning. On the street, you could witness the real Chengdu local life and authentic culture.
Map of Chengdu
Chengdu Highlights:
Bars & Nightclubs in Chengdu
For its growing numbers of bars and nightclubs, Chengdu is called "China's Party City". The long Fanglin Road is one of the first "Street of Bars" appointed by the municipal government. People here are known for their laid back attitude and for knowing how to enjoy life.
Bars and nightclubs in Chengdu are the big draw, becoming part of leisure activities that people indulge in. Bars and nightclubs are scattered throughout Chengdu, you could find them on Renmin South Road and West Yangshi Street.
Highlights
The bars and nightclubs in Chengdu also including bowling, disco, Karoake, fashion shows, spirit rock bands and DJ competitions are other type of nightlife Chengdu locals and visitors enjoy. In these places, you can enjoy cafe, wine, alcohol, beer, and tea that are available.
Special Style of the Bar in Kuan Zhai Alley
Recommended Chengdu Bars & Nightclubs
1. Underground Bar
It is a foreign-owned (British and Malaysian) bar with a wide-selection of world beers, cocktails, spirits and wines. A friendly, comfortable environment to chat, drink, play games, listen to good (mainly British) music and, on occasions, enjoy live entertainment.
Add: Jiuyan Qiao, 12-13 Taiping Nan Jie, Block 6
Tel: 028-85294142
Review: "Great atmosphere, great prices, and friendly owners"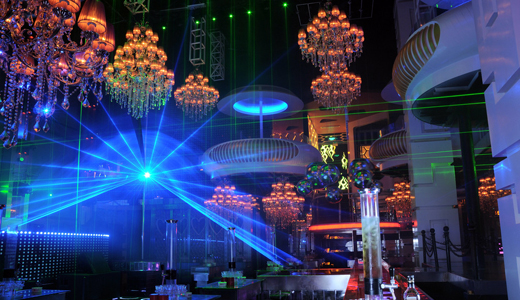 Bars & nightclubs are part of leisure activities that people indulge in.
2. Red Age Club (Hongse Nianidai Club)
Add: No.30, 4th Section, South Renmin Rd.
Tel: 028-85538185
Show & Performance in Chengdu
Sichuan Opera is a must-see when you tour Chengdu, you will wow at face-changing, long-sleeve fluttering, fire-spitting and shadow play.
Highlights
Sichuan Opera features vivid, humorous narration, singing and acrobatics. It also boasts a system of stylized movements and its acting is both exquisite and lively. Sichuan Opera performances are always full of wit, humor, lively dialogues, and pronounced local flavors.(Check the details about Sichuan Opera)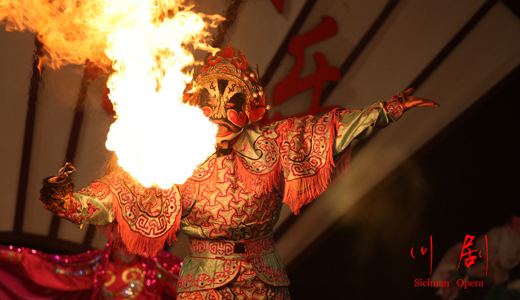 Sichuan Opera Highlight: Fire Spitting
Recommended Chengdu Theaters
1. ShuFengYaYun Sichuan Opera
Show Time: 20:00 – 21:30
Add: Qintai Road
Tel: 028-89653205
Review: "Sichuan Opera- A Taste of the Delights of the Orient"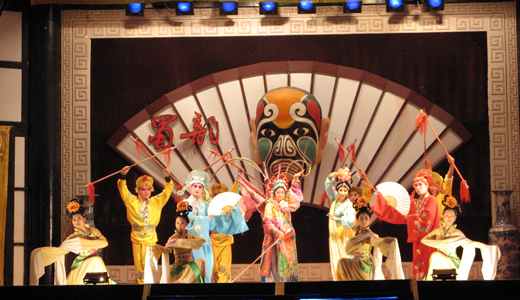 Sichuan Opera Highlight: Long Sleeve Fluttering
2. Sichuan Opera Theater
Add: No. 20, Zhuangyuan Street
Tel: 028-86655966
Teahouses in Chengdu
Teahouses have been playing a significant role in the lives of Chengdu locals. They are the perfect places for relaxation and social activities and even more, as a reflection of Chengdu People's life.
Teahouse is a delight in Chengdu and each teahouse has a distinct character, location, and entertainment.
The Chengdu tea traditions consist of sipping jasmine, Maofeng, or Zhuyeqing as a form of socialization. Staying one of Teahouses in Chengdu, you can appreciate these Chinese teas.
Recommended Chengdu Teahouses
1. Renmin Park Teahouse
Heming Teahouse is outdoors in Renmin Park setting and Yuelai Teahouse which combines opera performances with tea. A large variety of tea houses can be found on Renmin Road.
Opening hours: 6:00 – 19:00
Add: in Renmin Park, Shaocheng Road No. 12, Qingyang District
Review: "a teahouse with a feeling of old Chengdu"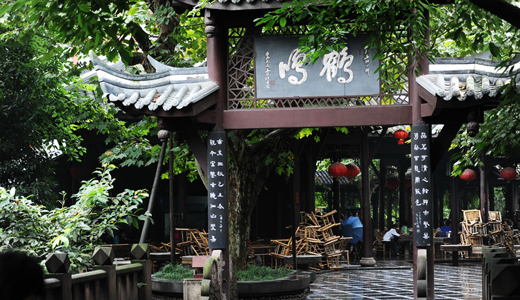 Teahouses have been playing a significant role in the lives of Chengdu locals.
2. Shunxing Teahouse
It is a combination of architecture of Ming and Qing Dynasties. Here you can enjoy the traditional Sichuan Opera and shadow play while sipping tea.
Add: 3F Chengdu International Exhibition Center, ShaWan Rd., Jinniu District
Tel: 028-87649999
3. Wenshu Monastery Teahouse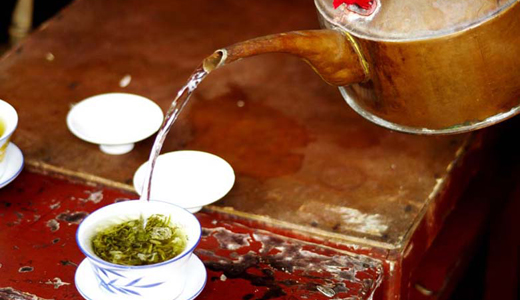 Wenshu Temple
Wenhsu Monastery's teahouse is extremely famous. It is an ideal location for visitors to appreciate Chinese tea and tea culture while enjoying shows presented by folk artisans in beautiful surroundings. (Check detail about Wenshu Monastery teahouse)
Add: No. 15 Wenshu Yuan Street