Chengdu Nightlife: What to Do in Chengdu at Night 2023
Chengdu, "Land of Abundance", is not only famed for profound and intensive culture, but also noted for its colorful nightlife here. From traditional teahouse, theaters to modern bars and nightclubs, Chengdu converts into a party playground after sunset. Hunting for food in the night markets, enjoying the music by the riverbank, shopping at the commercial streets of Chengdu, watching the traditional Sichuan opera with nice tea, you will feel the city's pulse during the nighttime.
Chengdu is the capital city of Sichuan Province. To get to learn the culture here, Sichuan Opera is a must-see when you visit Chengdu, you will wow at face-changing, long-sleeve fluttering, fire-spitting and shadow play. 
Features: Sichuan Opera features vivid, humorous narration, singing, and acrobatics. It also boasts a system of stylized movements and its acting is both exquisite and lively. Sichuan Opera performances are always full of wit, humor, lively dialogues, and pronounced local flavors.
There are two recommended theaters to go, namely Shu Feng Ya Yun Opera House and Jinjiang Opera House.
♦ Useful Link: Sichuan Opera | ShuFengYaYun Opera House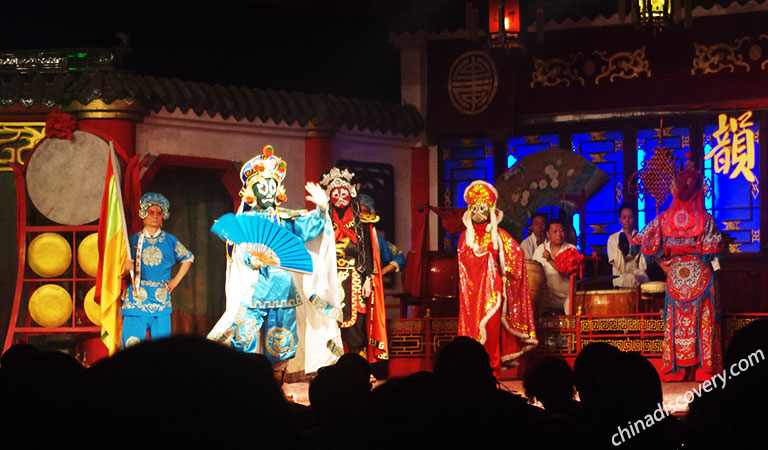 Sichuan Opera - Fire Spitting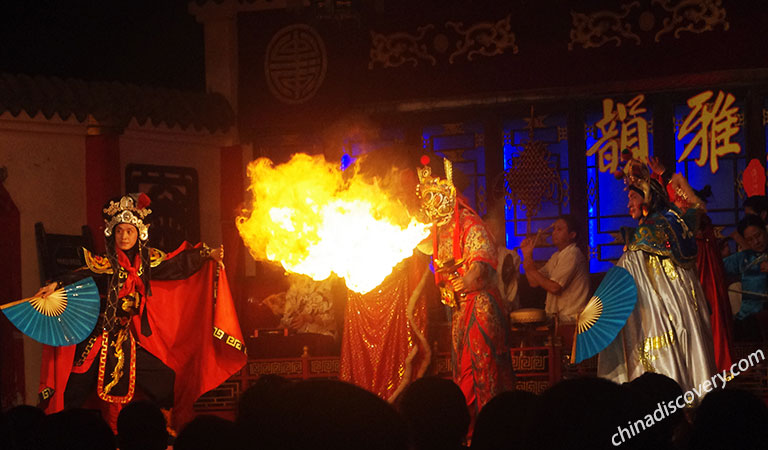 Sichuan Opera - Face Changing
ShuFengYaYun Opera House 蜀风雅韵
it is an outdoor old theater with a history of 20 years. There are not only national first-class artists, but also a variety of operas, such as Chinese instrument performance, hand shadow show, puppet show, Sichuan Opera, clown show, in addition to the classic face changing and fire-spitting of Sichuan Opera. You can also enter the backstage of the theater to see the busy but orderly backstage preparation before the performance, getting to know the actors' makeup process, learn more about the culture of Sichuan Opera, plus the free cup tea and peanuts provided by the theater.
▶ Location: Cultural Park, Qintai Road, Qingyang District, Chengdu 成都市青羊区琴台路文化公园内
▶ Show Time: 20:00—21:20 (Duration: 80min)
▶ Opening Time: 14:00-22:00 (Jan, 1st - Dec,31st Monday to Sunday); 16:00-16:40(Shadow Show Time) (Jan, 1st - Dec,31st Monday to Sunday)
▶ Ticket:A Ticket - CNY 240; B Ticket - CNY 180; B Ticket - CNY 140; VIP Ticket - CNY 320 (FREE Ticket: for children under 1.2m without providing a sea)
▶ Tips: ① You can not choose a certain seat. Instead, it will be arranged by your booking time, so it's suggested to book your ticket in advance to get a better seat and get to the theater in advance to get your ticket. ② During the peak season of performance, the theater may temporarily increase and adjust the number of showtimes, and inform the guests in advance. 
Jinjiang Opera House 锦城艺术宫
Jinjiang theater, also known as Sichuan Opera House, is a public indoor theater since the Qing Dynasty with a history of nearly 100 years. The representative work of the theater is the legendary face-changing show of "Furong quintessence", which has professional Sichuan Opera actors and actresses with beautiful lighting and music design, and focuses on the wonderful Sichuan opera performances with a scenario story. The venue is set in a more modern indoor theater, which is conveniently located in the city center and easy to get there.
▶ Location: No. 54, huaxingzheng Street, Jinjiang District, Chengdu 成都市锦江区华兴正街54号锦江剧场内
▶ Show Time: 20:00—21:20 (Duration: 80min)
▶ Ticket:A Ticket - CNY 280; B Ticket - CNY 200; B Ticket - CNY 150
Some people say that visiting the night market is the best way to know about a city's food culture. Sichuan cuisine is well-known in the world. As the capital of Sichuan, Chengdu discovers diverse Sichuan food and snacks, most of which are spicy, with various ingredients used. The recommended night markets for people who visit Chengdu for the first time are Jinli old street, Kuanzhai alley. When night falls, the red lanterns are lit on hanging over the streets with traditional Chinese architectural style. The scenery there is particularly beautiful. There is also Jianshe lane near the University of Electronic Science and Technology, which is popular with the locals. The snacks sold there are mainly Sichuan flavor, and the price is cheaper than the scenic area. There is also a popular night owl night market near Babao Street, where the snacks are abundant gathering the yummy snacks from all over the country.
♦ Useful Link: What & Where to Eat in Chengdu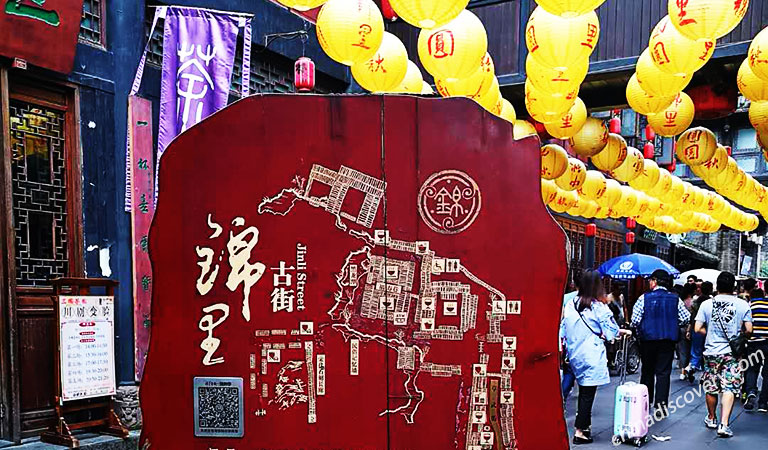 Jinli Street Nightscape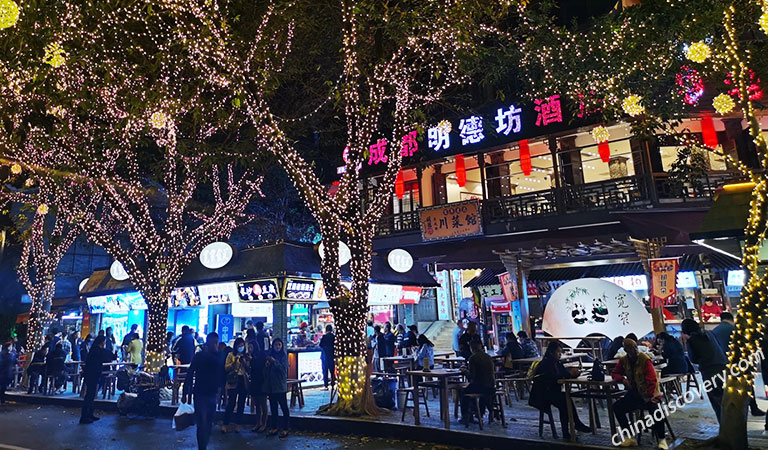 Jianshe Road Night Market
Recommended Night Markets in Xian
① Jinli Pedestrian Street 锦里 ▶ Location: No. 231-1, Wuhouci Street, Wuhou District, Chengdu成都市武侯区武侯祠大街231号附1号 
Recommended Food & Snacks: Cold Rice Pudding, Spicy Jelly Noddles, Leave Wrapped Sticky Rice Ball, Fired Sesame Sticky Rice Ball, Steamed pork Wrapped with bamboo leaf, spicy kebabs in chilly soup, buckwheat noodles with beef, Sandapao Sticky Rice with Bean Powder
② Kuanzhai Alley 宽窄巷子 ▶ Location: #127 Changshun Shangjie, Qingyang, Chengdu成都市青羊长顺上街127号
Recommended Food & Snacks: Sweet Potato Noodles with Intestines, Spicy Jelly Noodles, Lane Yogurt, Bake Pea flatbread, Spicy Dumplings, Spicy Rabbit Head, Sweet Sticky Rice Dumplings Soup
③ Jianshe Road Night Market 建设路夜市 ▶ Location: 26 Jianshe Road, Chenghua District, Chengdu (near University of Electronic Science and Technology) 成华区建设路26号(电子科技大学附近)
Recommended Food & Snacks: Spicy chicken feet, sticky rice inside roast chicken wings, baked spicy pig's brain, fried sticky rice cubes with iced sweet jelly, roast hooves
④ Night Owl Night Market夜猫子夜市 ▶ Location: No.1, West Street, Qingyang District, Chengdu (close to new city square) 成都市青羊区西大街1号靠近新城市广场
Recommended Food & Snacks: Fried yogurt, Cheese Durian Cake, Pan-Fried Bun, Shrimps and Quail Eggs BBQ, Crystal Sticky Rice Cake, Pineapple Rice
Chengdu is a popular tourist destination. There are not only yummy food here, but also many shopping places. Whether it's expensive luxury goods or special souvenirs, you can buy what you want in Chengdu. Here are some recommended shopping malls, streets, and shops.
♦ Useful Link: Chengdu Shopping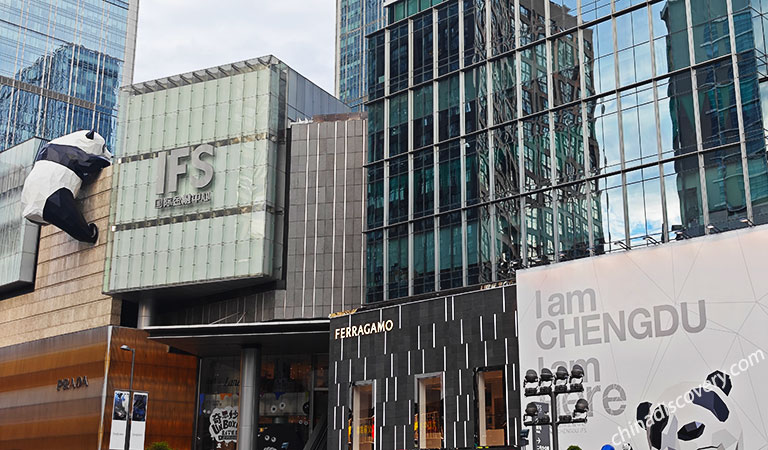 IFS at Night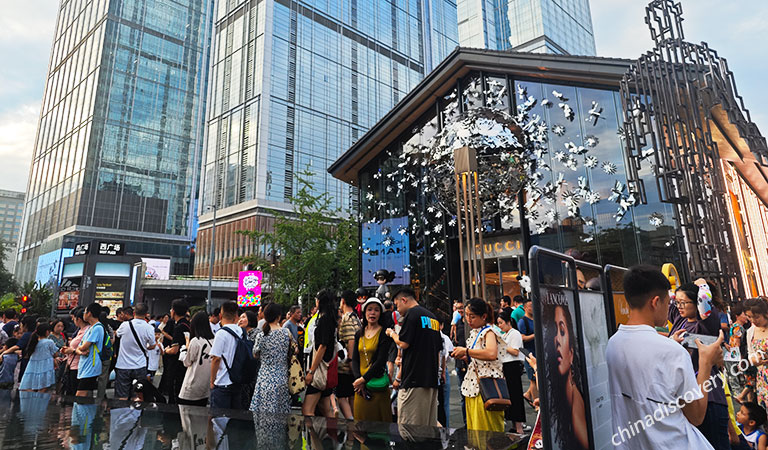 Taikoo Li Nightscape
Chunxi Road 春熙路
▶ Location: Chunxi Rd, Jinjiang District, Chengdu 成都市锦江区春熙路
Chunxi Road is one of the oldest commercial streets, the landmark site in Chengdu. Today, Chunxi Road is still bustling. There are many brand stores, old shopping malls, and many famous restaurants in Chengdu. IFS is near Chunxi Road with the giant Panda Statue climbing upward the building. IFS consists of five-star hotels, office buildings, and skating rinks and countless high-end stores. Compared with the historical sense of the previous scenic spots, here reveals a completely modern and fashionable new Chengdu atmosphere.
Takoo Li 太古里
▶ Location: #8 zhongshamao street, Jinjiang District, Chengdu 成都市锦江区中纱帽街8号
One of the fashion landmarks in Chengdu, close to Chunxi Road and behind Daci Temple, lies an open area for shopping, food, leisure, and entertainment. Taikoo Li, the Chinese style buildings, together with the post-industrial design, are popular with young people. The Shopping area holds brands like Muji (the largest in Asia), Victoria Secret, Gucci, Prada, LV, MK Bag, Sephora, YSL, Dior, Lancome, Ole, Fangsuo (one of the most beautiful bookstores in China).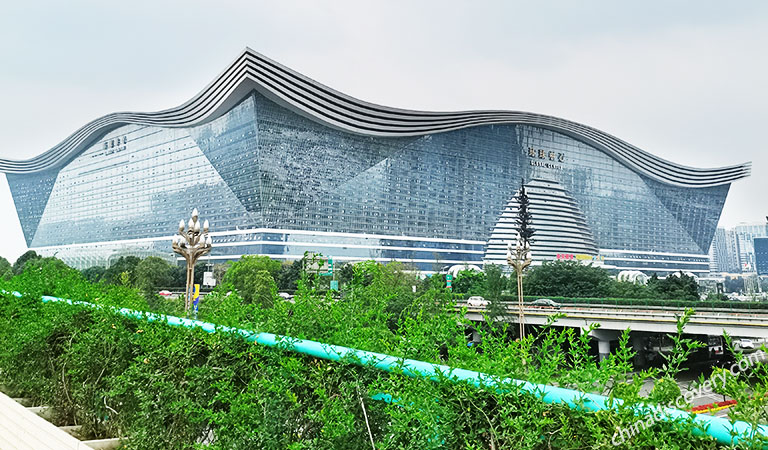 New Century Global Center in the Dusk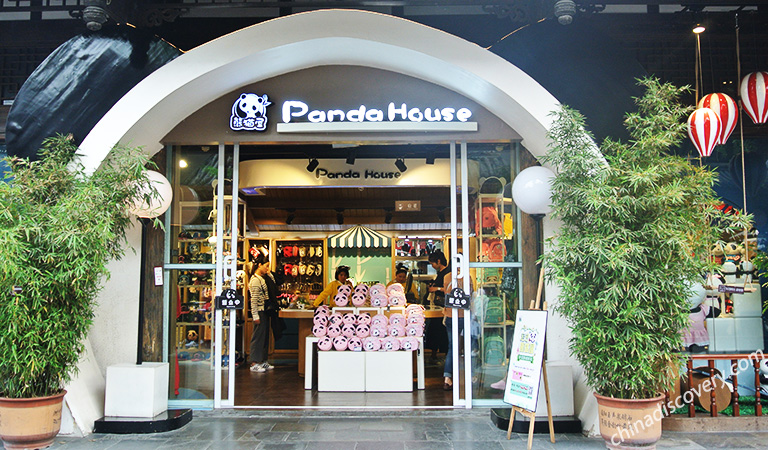 Panda House
New Century Global Center 环球中心
▶ Location: #1700, north section of Tianfu Avenue, Wuhou District, Chengdu 成都市武侯区天府大道北段1700号
The new century global center is located in the South of Chengdu, high- tech Zone, which is the largest single building in the world. It is a multifunctional building integrating entertainment, exhibition, restaurants, business, media, shopping and hotel. As the largest indoor shopping center in Chengdu, it holds many luxury and boutique shops, among which a large indoor water park is also placed inside.
Panda House 熊猫屋
▶ Location: #20-2 jingxiangzi, Qingyang District, Chengdu 成都市青羊区井巷子20号附2号
Panda House is an unmissable shop in Chengdu, one of the best-known stores selling panda element toys and gifts in Chengdu. There are many branches in Chengdu, among which the one located at Kuanzhai Alley is the most popular. There are all kinds of souvenirs related to pandas, such as costumes, shoes and hats, backpacks, key chains, ornaments, stationery, etc. it is a paradise for panda lovers. It's a good choice to buy souvenirs or mail them to friends. The price is a little expensive than the normal stationery. It is not allowed to take photos in the shop.
According to historical records, the earliest teahouse in China originated in Sichuan. Chengdu is a laid-back city with a slow pace of life. Playing mahjong and relaxing in the teahouses have become a very popular style in Chengdu since the ancient time. In Chengdu, there are teahouses in downtown areas, teahouses in old streets, teahouses in parks, teahouses in universities and teahouses everywhere. Besides the famous outdoor teahouse in Chengdu in the daytime, such as Heming teahouse in the people's Park, Outdoor Teahouses in Wenshu Monastary, and Baihuatan Park where you could see all walks of people drinking tea, playing mahjong and digging their ears, you can also go to some indoor teahouses to experience the culture of Chengdu teahouse. Shunxing teahouse is the most recommended one.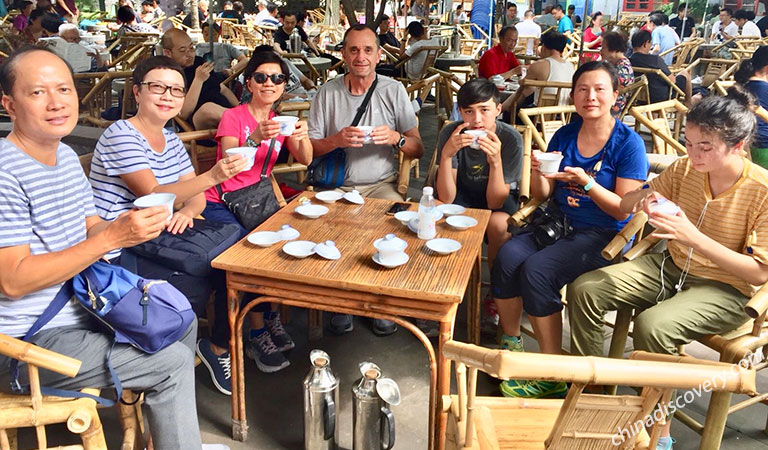 Heming Teahouse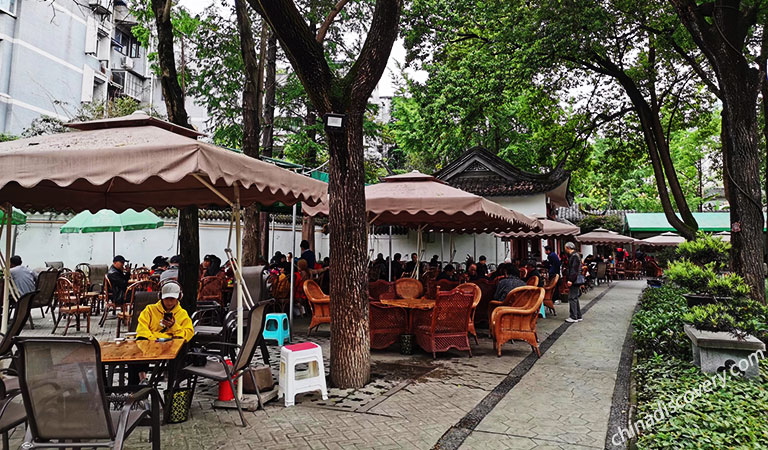 Tea Art Show at Shunxing Teahouse
Shunxing Teahouse
Shunxing teahouse is an old teahouse with a long history, where you can see the Sichuan Opera. It is a good place for foreigners to know Chengdu.
▶ Location: Third floor, Chengdu International Convention and Exhibition Center, No.166 xishulangqiao, Wuhou District, Chengdu 成都市武侯区西蜀廊桥166号. 成都国际会议展览中心三楼
If you want to be in a better seat, you'd better book it in advance. The lowest cost for tea is CNY 28 per person. Here is a tea culture and History Museum integrating Ming and Qing architecture, wall carvings, window decorations, wood carvings, furniture, tea sets, costumes, and tea arts. You can drink the tea, eat authentic Sichuan cuisine and snacks, and enjoy the opera and paintings. After 8 o'clock every night, the wonderful performances will start, which include Sichuan Opera, erhu, etc. It's a good place to appreciate the folk customs of Chengdu. The closer the table is to the performing stage, the more expensive the seat will be and you may need to book in advance during the peak season.
Chengdu is the city with the largest number of bars in China. Bars and nightclubs in Chengdu are the big draw, becoming part of leisure activities that people indulge in, located throughout Chengdu city, and the number of bars has surpassed that of Beijing, Shanghai, and Guangzhou. According to incomplete statistics, the number of bars in Chengdu is over 2078, most of which are music bars. 
In addition to Jinli Street and Kuanzhai alley, the bars near there are mainly cultural. For Chengdu people, the most popular place to the bar area is Jiuyanqiao bar street near Anshun bridge, and those bars are built along Funan River in Chengdu with the best night view in Chengdu city. The bar street on the other side of the river is LanGuiFang bar street. Nearby is Shuijingfang, an ancient site of Sichuan liquor factory enduring the Yuan, Ming and Qing Dynasties.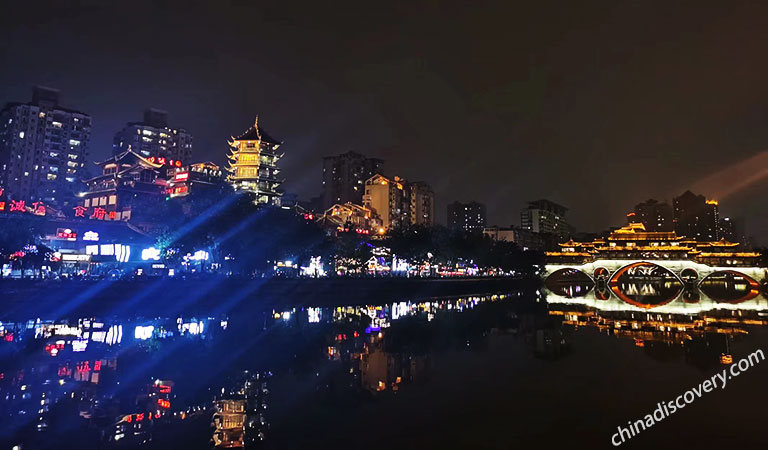 Nightscape Near Anshun Bridge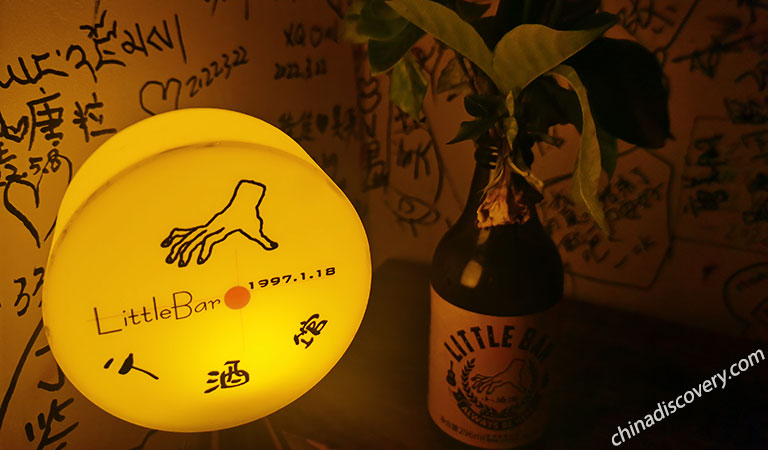 Jellyfish Bar
Top Recommended Bars in Chengdu
▶ Little Bar 小酒馆 - Popular Bar Written in a Widely Known Song
Location: #55 Yulin West Road, Wuhou District, Chengdu成都市武侯区玉林西路55 Lotus Palace Bar 莲花府邸 - Near Jinli Street
▶ Lotus Palace Bar 莲花府邸 - Near Jinli Street
Location: #231 Wuhouci Street, Wuhou District, Chengdu 成都市武侯区武侯祠大街231号
▶ White Night 白夜酒吧 - Near Kuan Zhai Alley
Location: #32-3 Zhai Xiang Zi, Qingyang District, Chengdu成都市青羊区窄巷子32号附3号
▶ Jellyfish Bar 水母酒吧 - LanGuiFang Bar Street
Location: #1 Shuijin Street, Jinjiang District, Chengdu成都市锦江区水津街1号
▶ ErmaBar贰麻酒馆 - Right By the Anshun Bridge
Location: Near no.9-37, Binjiang East Road, Jinjiang District, Chengdu成都市锦江区滨江东路9-附37号附近