Visit Chengdu in Winter - Weather, Scenery, Packing List & Tips
Entering the low season of travelling Chengdu, winter is an ideal time to go there because most attractions in Chengdu are suitable to visit all year round and there will be fewer tourists. As a professional travel agency based in Chengdu for many years, here we have provided you with some insider information about Chengdu in winter, such as the weather, scenery, packing suggestions and travel tips to help you better plan a Chengdu trip.
Chengdu Weather in December, January and February
Chengdu in winter is cold and dry. It doesn't rain much and even if it rains, it's usually at night, so it won't have much influence on your trip. The temperature is usually above 0°C, so there is a small chance of snowing. According to historical data, the average temperature of Chengdu in December is 7°C / 45°F, in January is 6°C / 42°F, and in February is 8°C / 46°F. The chart below shows the day by day temperature of Chengdu from December, 2019 to February, 2020.

Chengdu Temperature from December, 2019 to February, 2020
What to See & Do in Chengdu in Winter
Though in cold winter, Chengdu is still welcoming its guests with open arms. Except for the regular travelling itinerary, there are some winter-specific activities for you to try.
Visit the Same Appealing Attractions with Much Fewer Tourists
More about to discover the local life and learn the culture and history of this city, visitors coming to Chengdu can see the same appealing attractions just as they come in other seasons of the year. But in winter, there will be fewer tourists, which will give you a better travel experience. Jinli Old Street, Renmin Park, Wenshu Monastery, Jinsha Site Museum, etc. are all open to you. What's more, the pandas are more active in winter than summer, so it is also a good opportunity to see them at Chengdu Panda Base.
★ Recommended Chengdu Tour: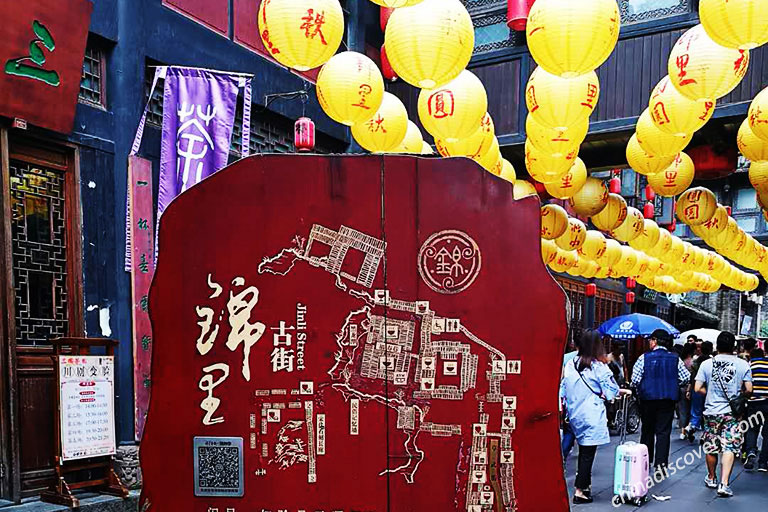 Jinli Old Street at Night with Laterns On
Enjoy the Joyful Festive Atmosphere around the City
With the New Year and Spring Festival approaching, people can gradually notice the festive atmosphere around Chengdu city. Streets and shops are in new year decoration with colorful lights, red lanterns are hung in the attractions and people are in joy expecting the holiday. There will be a grand temple fair held in Wuhou Memorial Temple every year lasting for nearly 20 days from several days before the Spring Festival to the Lantern Festival (15th of the first lunar month). At that time, there will be many traditional Chinese handcrafts for sale and a series of celebrating activities.
★ Recommended Chengdu Tour: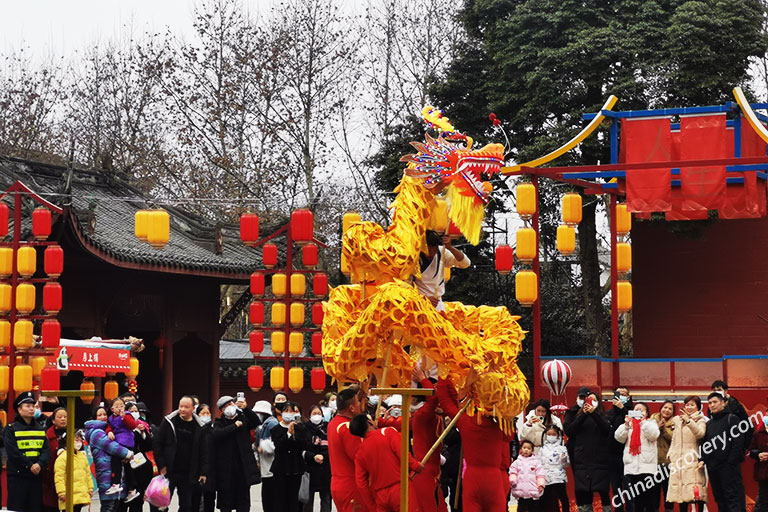 Performance at Wuhou Temple Fair
Chase the Coldness Away with a Hot Pot
How can one come to Chengdu but leave without trying the hot pot, especially in winter? Hot pot is definitely the top 1 on Chengdu people's favorite food list. Sit in a warm hot pot restaurant and get your seasonings ready. Have some drink while waiting for the meat and vegetables cooked thoroughly in the boiling spicy broth. What chases the coldness away is not only the spicy flavor and hot food, but also the heat ambience that hot pot is born with. There are many hot pot restaurants in Chengdu, if you don't know which to choose, you can try some reputed ones such as Shujiuxiang, Dazhaimen, Xiaolongkan, etc.
★ Recommended Chengdu Tour: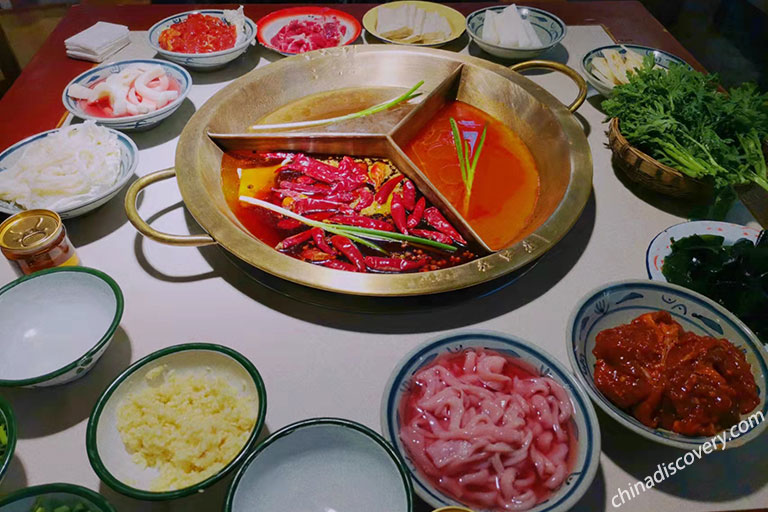 Chengdu Hot Pot
Have Fun Skiing at Xiling Snow Mountain
Though Chengdu seldom snows, there are still places to go for snow lovers. Xiling Snow Mountain which is only 95km from Chengdu is a paradise for snowscape and winter activities. It is the largest ski resort in China and provides over 20 activities in ski field for visitors to completely enjoy the excitement of ski sports. No matter you are a beginner or an advanced skier, coming with friends or families, you can always have fun here.
★ Recommended Chengdu Tour:
√ 2 Days Xiling Snow Mountain Ski Tour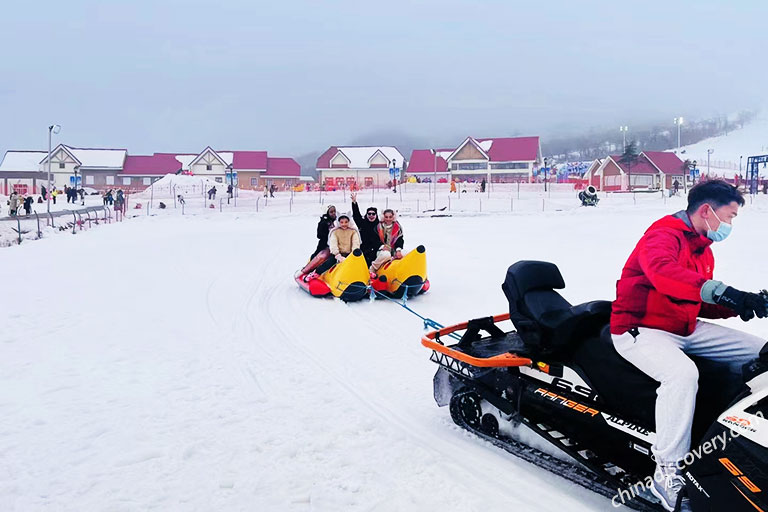 Xiling Snow Mountain
What to Wear & Pack for a Chengdu Winter Trip
What to wear: A warm sweater and a downcoat are usually sufficient if you just plan to stay in Chengdu downtown. But if you are going to Xiling Snow Mountain or other attractions such as Mount Emei and Jiuzhaigou, thermal underwear will be needed to keep you warm. A pair of comfortable anti-skid shoes is always a good choice.
What to pack: Hand cream, facial cream and lip protector are recommended to protect your skin from the dry weather. You can also pack hat, scarf, and gloves according to your own condition.
Chengdu Winter Travel Tips
● There is a large temperature difference between day and night, indoors and outdoors, so be sure to keep yourself warm.
● Though Chengdu people always joke about the smog in winter, it has been getting better. There are occasionally hazy days in Chengdu, you can wear a mask if that bothers you.
● Chinese New Year (Spring Festival) is around late January or early February. While enjoying the joyful holiday, be prepared that there will be more crowds than usual.
How to Plan a Chengdu Winter Tour
Generally speaking, people will spend 1-2 days exploring Chengdu excluding the arrival and departure days. On the first day, you can meet the cute pandas in Chengdu Panda Base in the morning. Then see some exquisite Buddhist architecture in Wenshu Temple and have a cup of tea in Renmin Park. After that, it is about dinner time, you can try some local snacks in Jinli Old Street or have a hot pot near Chunxi Road. On the next day, if you are interested in culture and history, you can visit other attractions such as Jinsha Site Museum, Chengdu Museum and Du Fu Thatched Cottage. Or you can appreciate the snowscape in Mount Emei or take some winter sports in Xiling Snow Mountain.
★ Recommended Chengdu Tours:
If you plan to spend more days travelling, you can try some popular panda volunteer programs, go to the wonderland Jiuzhaigou, or expand your trip to Beijing - capital of China, Shanghai - modern metropolis, and Xian - time-honored ancient capital to have a deeper understanding of China.
★ Recommended Tours including Chengdu:
√ 7 Days Sichuan Discovery Tour (Chengdu / Leshan / Emei / Chengdu / Jiuzhaigou)
√ 7 Days Ancient China Tour with Panda (Beijing / Xian / Chengdu)
If you have more questions about a Chengdu trip, please feel free to contact us. We are specialized in customized tours according to your interests, budget, traveling time, etc. Just tell us your needs, and we will provided you with a satisfactory tour.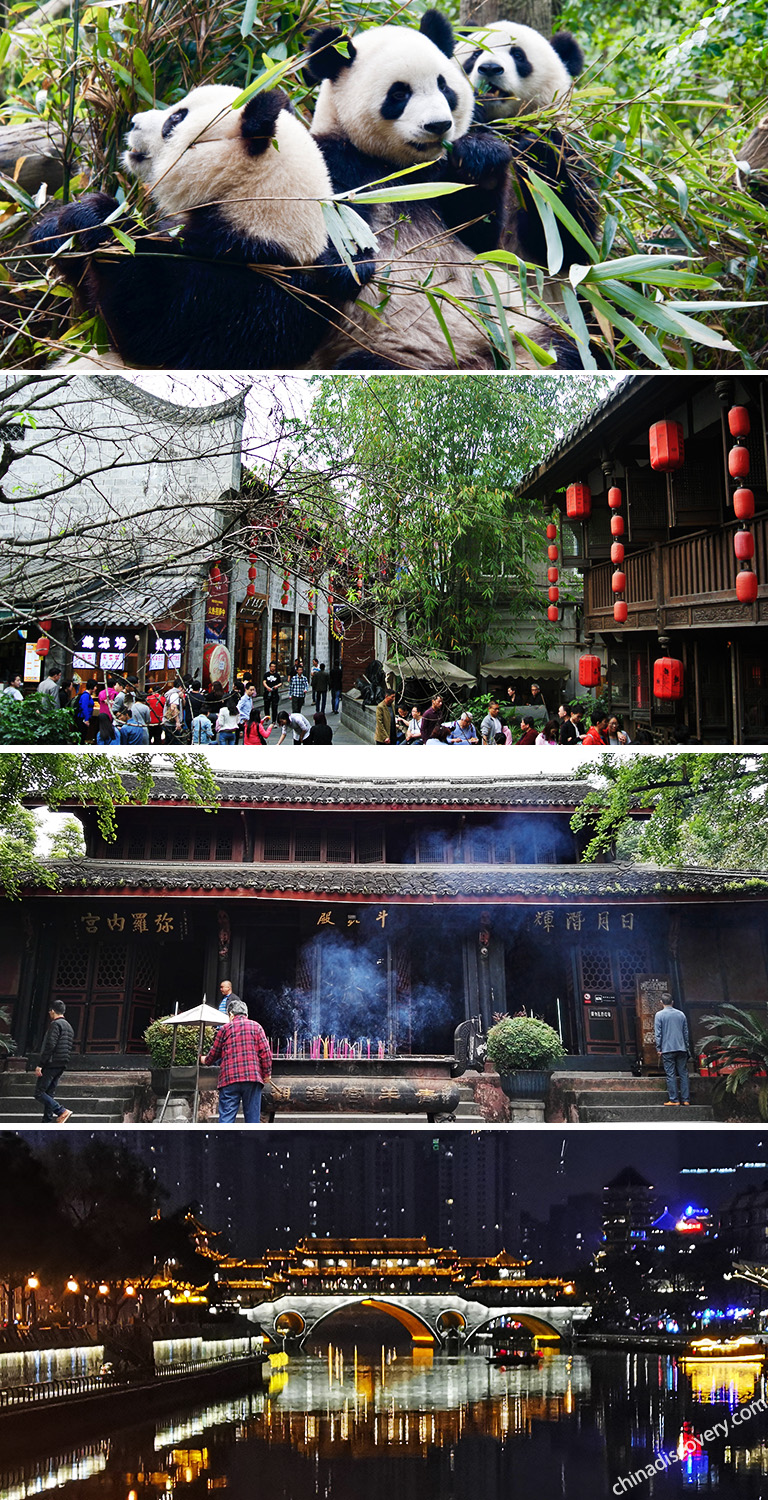 Chengdu Attractions
Keep Reading on Chengdu Weather
Useful Chengdu Travel Guide
Recommended Chengdu Tours
Top 3 Chengdu tours chosen by most customers to explore Chengdu in the best way. Check the detailed itinerary, or tailor your own trip now with us.
4 Days Chengdu & Xiling Snow Mountain Winter Tour

Chengdu / Xiling Snow Mountain / Chengdu
3 Days Mount Emei Winter Tour with Skiing and Hot Spring Experience

Chengdu / Leshan Giant Buddha / Chengdu / Mount Emei
3 Days Jiuzhaigou Winter Tour

Jiuzhaigou Valley
Start planning your tailor-made holiday to China by contacting one of our specialists. Once inquired, you'll get a response within 0.5~23.5 hours.
Customize a Trip
Have a question? Get answers from our travel experts or guests
Your Question:

Your Name:

Your Email: