Visit Chengdu in Summer - Weather, Scenery, Packing List & Tips
Chengdu is a city with fine greening space. Visiting Chengdu in summer, you will see the thriving nature which is not only a pleasure to eye but also a refreshment to mind. The temperature will undoubtedly go up but to a bearable extent. As a professional travel agency that is exactly based in Chengdu, here we have provided you with some useful information about Chengdu in summer, such as the weather, scenery, packing suggestions and travel tips to help you better plan a Chengdu trip.
Chengdu Weather in June, July and August
Chengdu in summer is not that hot compared with other main cities in China. As the rainy season, it rains a lot in July and August, so sometimes it may feel a little sultry. The average temperature of Chengdu in June is 24°C / 75°F, in July is 26°C / 78.8°F, and in August is 25°C / 77°F. But some days the temperature can get as high as 38°C / 100.4°F. The chart below shows the day by day temperature of Chengdu from June to August, 2019.

Chengdu Temperature from June to August, 2019
What to See & Do in Chengdu in Summer
Apart from visiting the regular attractions in Chengdu, summer is a good time to feel the enthusiasm of local people through the colorful night life activities. In the meantime, its high greening rate and rich mountain resources will bring you cool in this hot summer.
Explore the Attractions in Chengdu During the Day
Worried about the strong sunray and high temperature? Don't be. Actually, all the indoor attractions in Chengdu are well air-conditioned and the outdoor ones are well afforested. You can have a cup of tea in the shade of trees or appreciate the lotus exhibition in Renmin Park; take your time in Chengdu Museum learning Chengdu history and appreciating the interesting shadow puppetry; or see the cute pandas in Chengdu Panda Base which is covered by a large area of lake and bamboo grove. But please be kindly noted that it is best to go there at around 9 in the morning because pandas will stay inside when outdoor temperature reaches 28℃.
★ Recommended Chengdu Tour: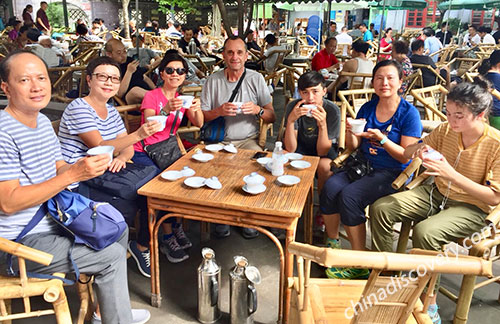 Heming Teahouse in Renmin Park
Feel the Ebullient Chengdu at Night
With the temperature going down and florid lights on, Chengdu at night becomes even more ebullient than it is in the day. People will call some of their friends out for a hot pot dinner, which always comes with a cold drink or local soymilk, or hang out for shopping at the busiest street Chunxi Road, or sit together at a local bar, talking, drinking, watching TV or listening to live music. Anshun Bridge (in Jiuyanqiao area) is one of the places most Chengdu people like to go. There is not only beautiful nightscape, but also a lot of restaurants and recommended bars such as LanGuiFang, Muse, Only, Erma, etc.
★ Recommended Chengdu Tour: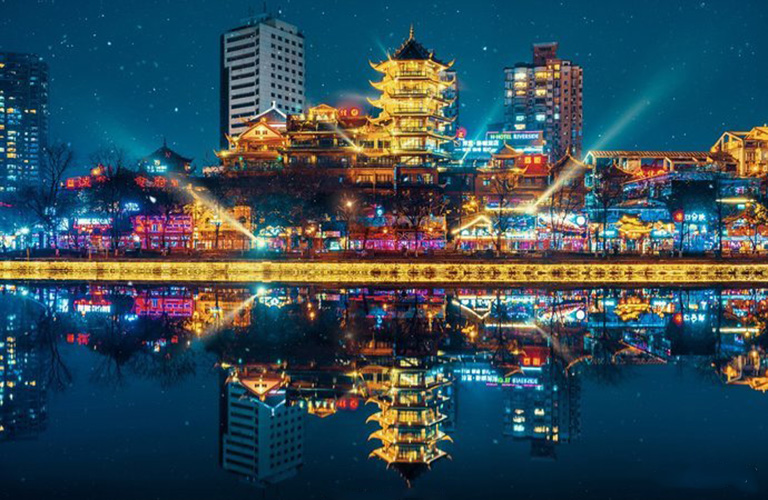 Bar Street Along Anshun Bridge
Escape the Summer Heat on Nearby Mountains
Chengdu Plain is surrounded by numerous hills and mountains where you can take a good hike on summer days. And with the increasingly perfect transportation system, you can either drive or take a bullet train there conveniently. For example, Mount Qingcheng, which is regarded as the back garden of Chengdu, is only 1.5 hours' drive (30 minutes by bullet train) away. With rich Taoist culture, an altitude of only 1260m and lush green trees all year round, it becomes one of the ideal places to go around Chengdu in summer. If you are willing to travel a little further, Leshan (1h by train) with the giant Buddha and Mount Emei (75min by train) with magnificent Golden Summit will make your Chengdu summer trip more memorable.
★ Recommended Chengdu Tour:
✔ 2 Days Best Chengdu Leshan Giant Buddha Tour
✔ 3 Days Chengdu & Mt. Qingcheng Taoism Tour with Mount Heming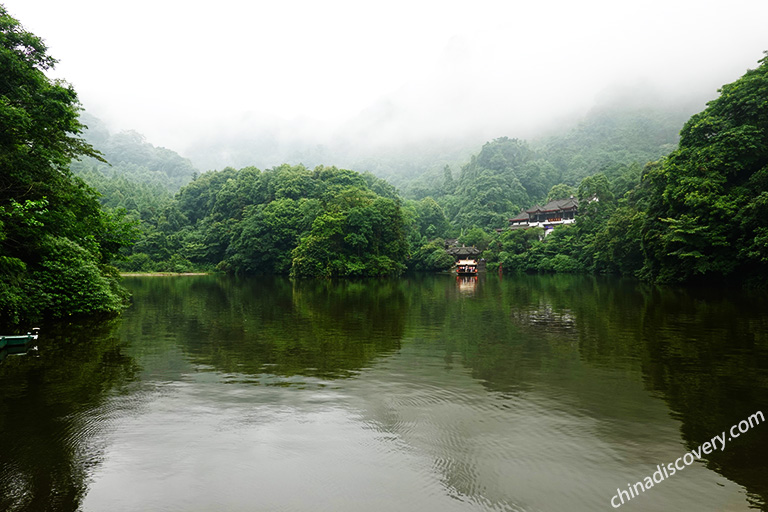 Lush Forest on Mount Qingcheng in Summer
What to Wear & Pack for a Chengdu Summer Trip
What to wear: Just wear what's cool and comfortable for a trip such as a T-shirt or dress, sports shoes or sandal. High heels are not recommended. You can also wear a sunhat or a pair of sunglasses to prevent from the sunray.
What to pack: Sunscreen cream is a must. A small bottle of mosquito repellent will be useful, but if you are not sure if it can get on the plane, you can buy one at the local supermarket in Chengdu.
Chengdu Summer Travel Tips
● Pay attention to the weather forecast in this rainy season so that you can prepare an umbrella or light raincoat in advance.
● July and August is the summer holiday of the schools in China. Just be prepared that there may be many crowds. If you happen to schedule your trip during this period, visiting in weekdays instead of weekends will be better.
● Try to avoid statutory holiday such as Dragon Boat Festival (usually a 3-day holiday in mid-June).
How to Plan a Chengdu Summer Tour
Generally speaking, people will spend 1-2 days exploring Chengdu excluding the arrival and departure days. On the first day, you can meet the cute pandas in Chengdu Panda Base in the morning. Then see some exquisite Buddhist architecture in Wenshu Temple and have a cup of tea in Renmin Park. After that, it is about dinner time, you can try some local snacks in Jinli Old Street or have a hot pot near Chunxi Road. On the next day, if you are interested in culture and history, you can visit other attractions such as Jinsha Site Museum, Chengdu Museum and Du Fu Thatched Cottage. Or you can travel to the nearby Mount Qingcheng, Leshan or Mount Emei to get close to the cool nature.
★ Recommended Chengdu Tours:
If you plan to spend more days travelling, you can try some popular panda volunteer programs, go to the wonderland Jiuzhaigou, or expand your trip to Beijing - capital of China, Shanghai - modern metropolis, and Xian - time-honored ancient capital to have a deeper understanding of China.
★ Recommended Tours including Chengdu:
☛ 7 Days Sichuan Discovery Tour (Chengdu / Leshan / Emei / Chengdu / Jiuzhaigou)
☛ 7 Days Ancient China Tour with Panda (Beijing / Xian / Chengdu)
And for those travelers visiting China in summer for the second or third time, most of them prefer to discover Zhangjiajie (3-5 days), Jiuzhai Valley (2-3 days), Yangtze River Cruise (4-5 days), Emeishan (1-2 days), Tibet (3-11 days), Guilin / Yangshuo / Longsheng (3-6 days), Huangshan (3-5 days), etc. to see the emerald top landscape and brilliant culture in China with lower temperature. If you want to enjoy a cool summer vacation with refreshing nature like mountains, forests, grassland, water, and other seasonal landscapes, you are recommended plan an itinerary to Guizhou (3-7 days), Yunnan (5-9 days), Inner Mongolia (3-6 days) and Qinghai (3-6 days), etc. to escape from the summer heat. Check all China Summer Tours >>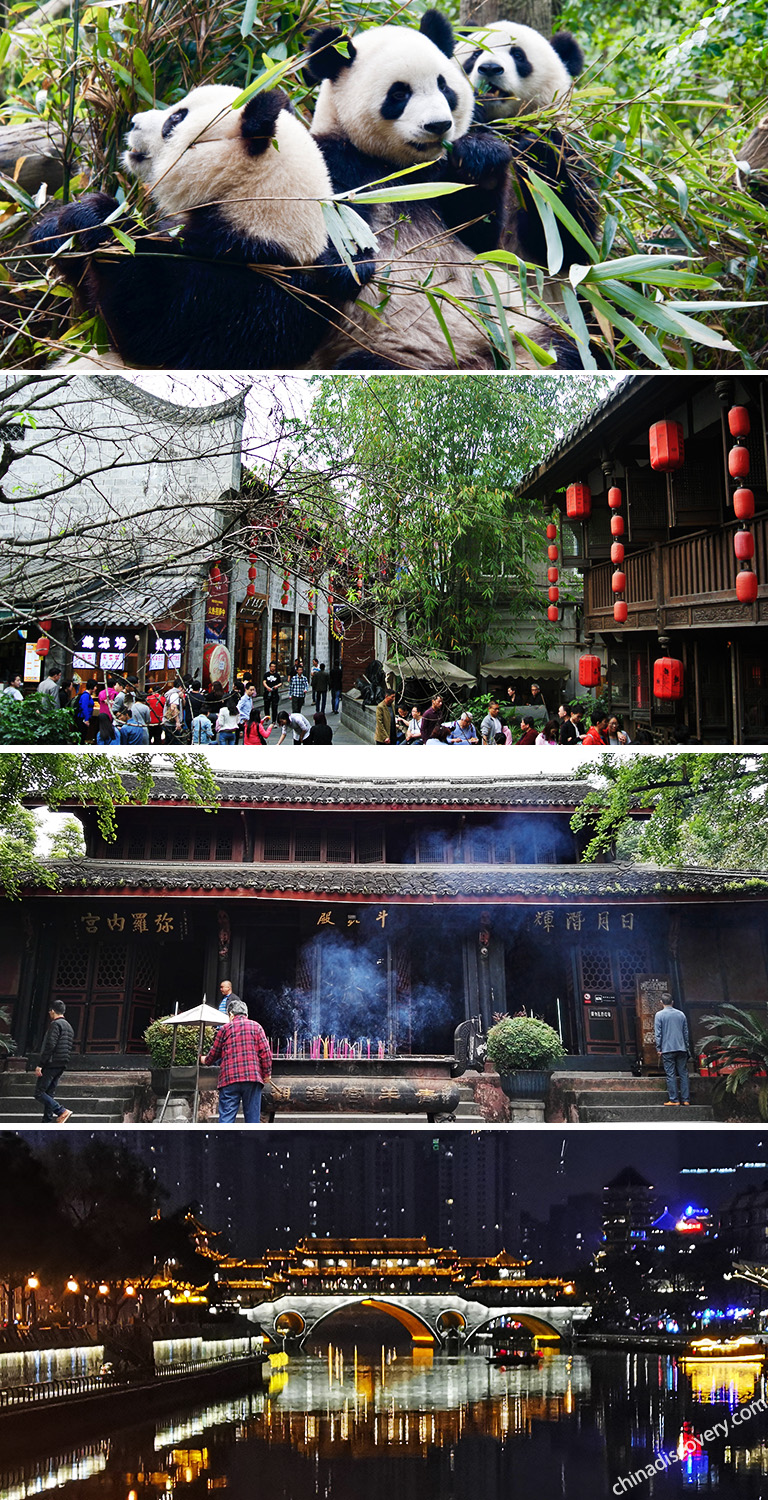 Chengdu Attractions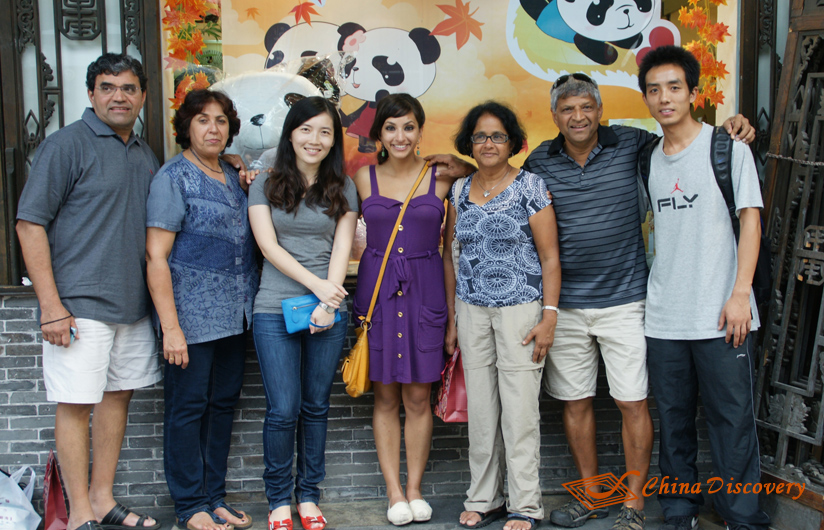 Umesh and his group visited Chengdu Panda Base
Travel with China Discovery
If you have other ideas or questions about a Chengdu Tour, please feel free to contact us. We are also specialized in tailor-made tours that fit you best according to your own interests, requirements, traveling time, etc. We will provide you with reliable drivers, professional guides and comfortable vehicles. You don't need to worry about the tickets, meals, accommodation or any other problem; all you need to do is just enjoying your trip!
We have helped many global travelers enjoy their memorable trips to Chengdu for the past few years. Among them, Lawson's Family from UK enjoyed their 19 days China family vacation with Chengdu with our customized tour pacakge, our warm guest Ronald from USA enjoying 3 China trips with us also dicovered Chengdu and met us... They all shared us their memorable travel stories after the trips! Travel with China Discovery to create your wonderful Chengdu trip memories!
Keep Reading on Chengdu Weather
Useful Chengdu Travel Guide
Recommended Chengdu Tours
Top 3 Chengdu tours chosen by most customers to explore Chengdu in the best way. Check the detailed itinerary, or tailor your own trip now with us.
2 Days Leisure Chengdu Private Tour with Panda Visit

Chengdu: Jinli Street, Giant Panda Base, Wenshu Temple
3 Days Chengdu Highlights Tour plus Leshan Giant Buddha

Chengdu: Chengdu Panda Base, Leshan Giant Buddha, Jinli Street
4 Days Classic Leshan Buddha & Mount Emei Tour from Chengdu

Chengdu / Leshan / Mt. Emei / Chengdu
Start planning your tailor-made holiday to China by contacting one of our specialists. Once inquired, you'll get a response within 0.5~23.5 hours.
Customize a Trip
Have a question? Get answers from our travel experts or guests
Your Question:

Your Name:

Your Email: