Visit Chengdu in Spring - Weather, Scenery, Packing List & Tips 2023
The temperate weather and unique spring scene have added more glamour to the already attractive Chengdu city. As a professional travel agency that is exactly based in Chengdu, here we have provided you with some useful information about Chengdu in spring, such as the weather, scenery, packing suggestions and travel tips to help you better plan a Chengdu trip.
Chengdu Weather in March, April and May
Chengdu in spring is generally warm and cloudy. It rains a little but it is usually at night, which is not annoying but will bring you fresh air in the morning. The average temperature of Chengdu in March is 12°C / 54°F, in April is 17°C / 63°F, and in May is 21°C / 70°F. The chart below shows the day by day temperature of Chengdu from March to May, 2019.

Chengdu Temperature from March to May, 2019 (Zoom in to enlarge map)
What to See & Do in Chengdu in Spring
Spring is one of the best seasons to visit Chengdu. Apart from the regular attractions, it is a good time to get close to the lovely nature in the parks, gardens, and mountains.
Wander around Chengdu City in Spring Breeze
There are many sites in Chengdu that you can visit but at a more relaxed pace in spring. The gentle breeze seems to have the power to slow you down and linger for a while. Panda Base is a must-see. If you are a culture lover, go to Sichuan Museum or Jinsha Site Museum. If you are a foodie, you will like Jinli Old Street. If you want to see the modern Chengdu, Tianfu Square or New Century Global Center would be a good choice. Or you can just go wherever you feet lead you. After all, part of the charm of Chengdu lays exactly on the streets and lanes where local people live.
★ Recommended Chengdu Tour: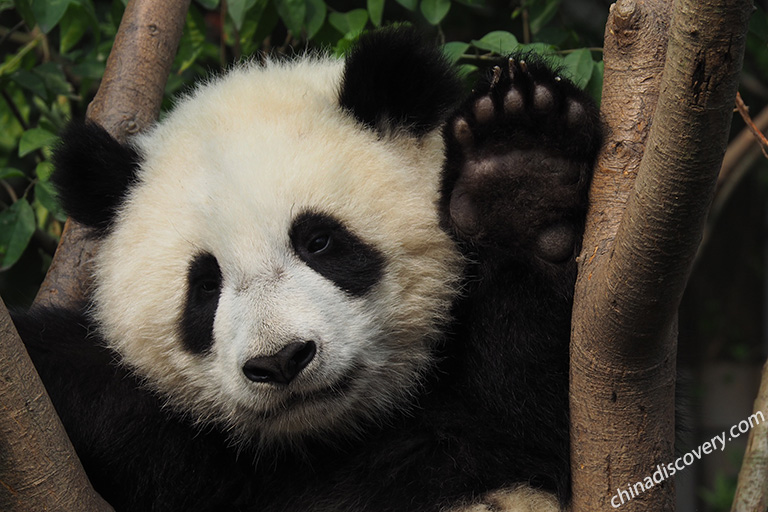 Chengdu Panda Base
Indulge in the Sea of Flowers in the Parks & Chengdu Suburb
There are thousands of parks such as Wangjianglou Park, Baihuatan Park, Huanhuaxi Park in Chengdu, each of which has a pleasant environment with greening. When spring approaches, yulan magnolia, cherry, peach blossoms all secretly climb up to the trees. They blend into the surroundings with the trees and lakes perfectly. If you are willing to go a little further, Longquan in eastern Chengdu has over 12000 mu (800 hectare) of peach trees. Shixianghu in Pujiang, Chengdu will not disappoint your with its vast area of violets, tulips, hyacinths, etc. That's literally a sea of flowers.
★ Recommended Chengdu Tour: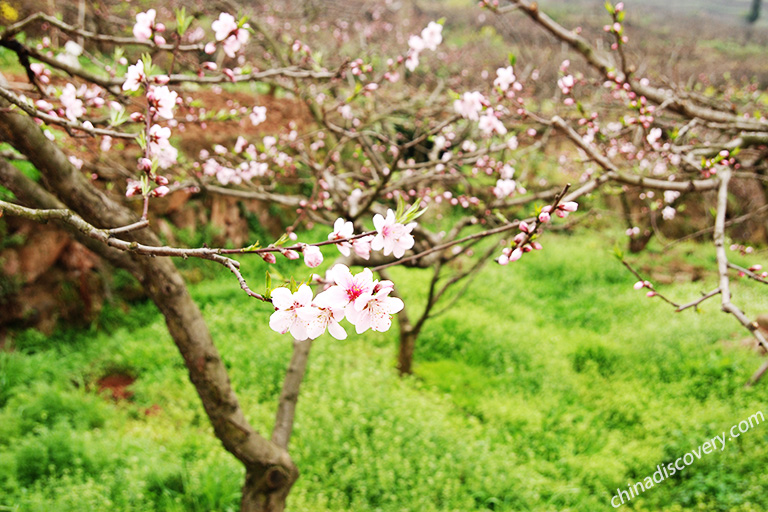 Shixianghu Scenic Area in Spring
Pick Fresh Spring Tea on the Mountain
Chengdu people love tea. You can see tea houses everywhere. If you really want to travel like a local, sit down at a teahouse with a cup of tea and have some leisure talk with the natives. But if you come here in spring, there is something better. With about 2.5 hours' drive, you can go to the tea plant on Mengding Mountain or Mount Emei to pick tea-leaves by yourself when they are at the most tender and fresh state. You can also learn the whole process of making tea with the local farmer. It must be a very different feeling to drink tea again after this experience.
★ Recommended Chengdu Tour: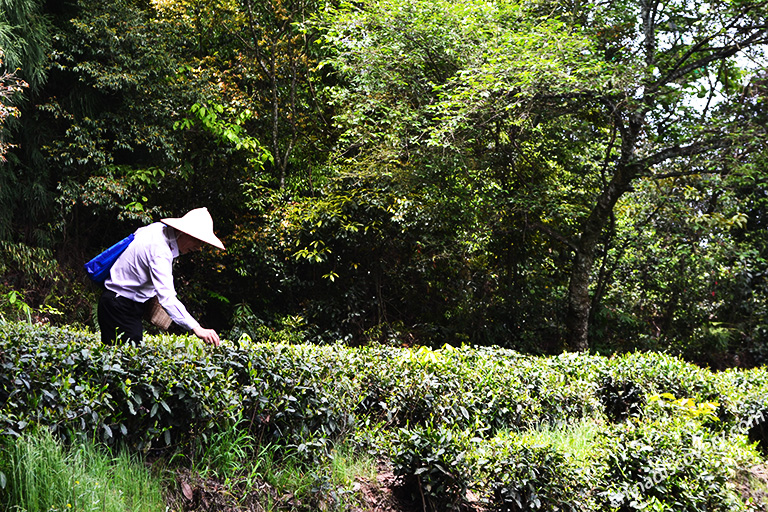 Pick Tea-leaves at Mengding Mountain
What to Wear & Pack for a Chengdu Spring Trip
What to wear: In March, it is recommended to wear sweater and coat. When it enters April, long-sleeved shirt with a light coat will usually be sufficient. With temperature going up, you can change your heavy boots to light comfortable shoes.
What to pack: Except for the necessities such as your passport, visa, credit card, etc. you can pack a pair of sunglasses. In early spring, facial cream and hand cream are recommended.
Chengdu Spring Travel Tips
● Chengdu in spring, especially March, the temperature varies largely day by day or even on the same day. Please dress accordingly so as not to catch a cold.
● Try to avoid arranging your trip during statutory holidays such as Tomb-Sweeping Day (usually a 3-day holiday in early April), Labor Day holiday in early May and Dragon Boat Festival (usually in mid-June).
● As the bloom season, there will be more pollen in the air than other times. If that bothers you, you can wear a mask when going out.
How to Plan a Chengdu Spring Tour
Generally speaking, people will spend 1-2 days exploring Chengdu excluding the arrival and departure days. On the first day, you can go meet the cute pandas in Chengdu Panda Base in the morning. Then see some exquisite Buddhist architecture in Wenshu Temple and have a cup of tea in Renmin Park. After that, it is about dinner time, you can try some local snacks in Jinli Old Street or have a hot pot near Chunxi Road. On the next day, if you are interested in culture and history, you can visit other attractions such as Jinsha Site Museum, Chengdu Museum and Du Fu Thatched Cottage. Or you can go to the attractions mentioned above such as Longquan and Shixianghu to feel the spring atmosphere.
★ Recommended Chengdu Tours:
If you plan to spend more days travelling, you can try some popular panda volunteer programs, go to the wonderland Jiuzhaigou, see the giant Buddha in Leshan, or expand your trip to Beijing - capital of China, Shanghai - modern metropolis, and Xian - time-honored ancient capital to have a deeper understanding of China.
★ Recommended Tours including Chengdu:
√ 7 Days Sichuan Discovery Tour (Chengdu / Leshan / Emei / Chengdu / Jiuzhaigou)
√ 7 Days Ancient China Tour with Panda (Beijing / Xian / Chengdu)
If you have more questions about a Chengdu trip, please feel free to contact us. We are specialized in customized tours according to your interests, budget, traveling time, etc. Just tell us your needs, and we will provided you with a satisfactory tour.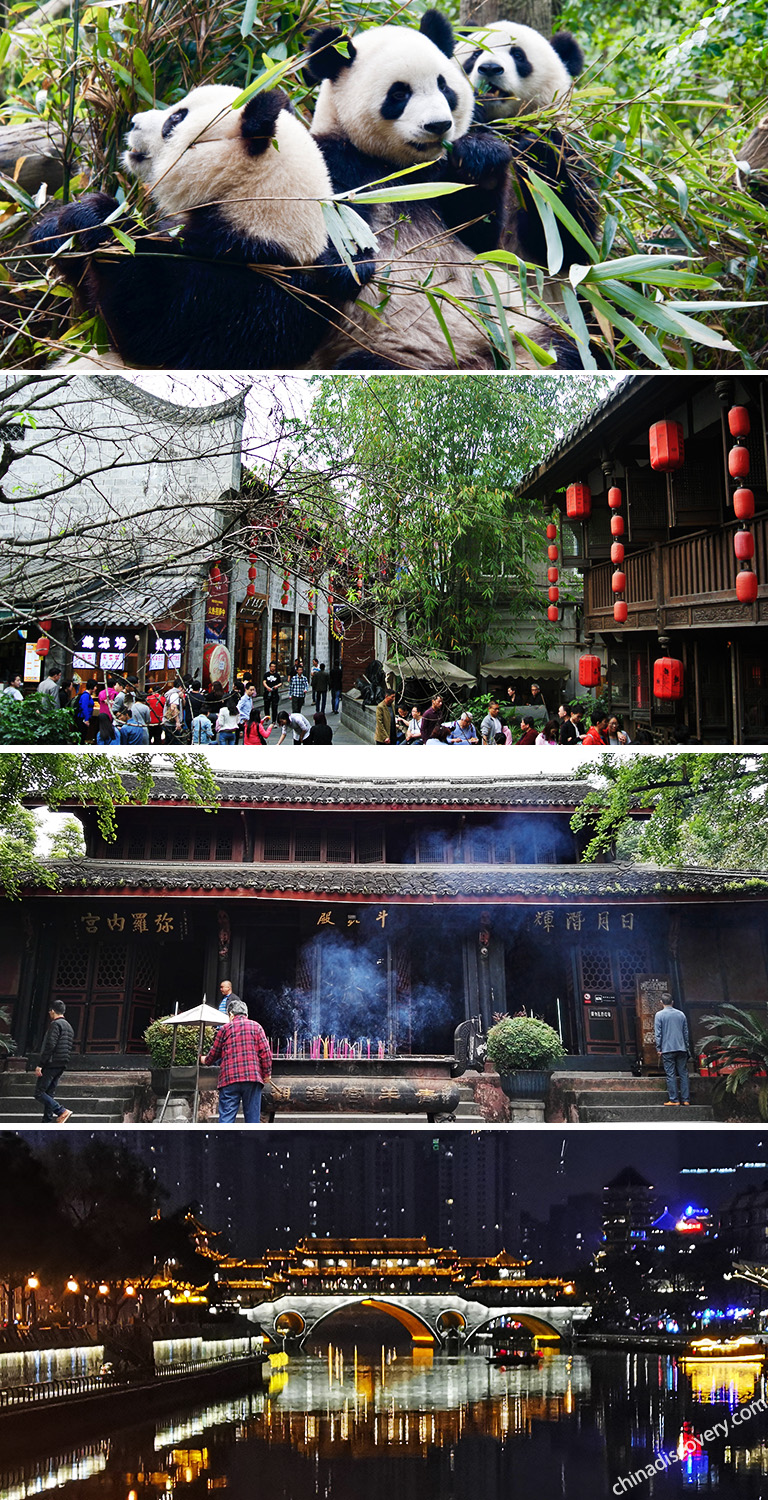 Chengdu Attractions
Keep Reading on Chengdu Weather
Useful Chengdu Travel Guide
Recommended Chengdu Tours
Top 3 Chengdu tours chosen by most customers to explore Chengdu in the best way. Check the detailed itinerary, or tailor your own trip now with us.
2 Days Leisure Chengdu Private Tour with Panda Visit

Chengdu: Jinli Street, Giant Panda Base, Wenshu Temple
1 Day Chengdu Relaxing Panda Highlights Tour

Chengdu (Chengdu Banda Base, People's Park, Jinli Old Street)
4 Days Classic Leshan Buddha & Mount Emei Tour from Chengdu

Chengdu / Leshan / Mt. Emei / Chengdu
Start planning your tailor-made holiday to China by contacting one of our specialists. Once inquired, you'll get a response within 0.5~23.5 hours.
Customize a Trip
Have a question? Get answers from our travel experts or guests
Your Question:

Your Name:

Your Email: