Visit Chengdu in Autumn - Weather, Scenery, Packing List & Tips
Autumn is probably the best season to visit Chengdu with the temperature dropping, summer holiday ended, and the city dyed yellow by gingko leaves. As a professional travel agency based in Chengdu for many years, here we have provided you with some insider information about Chengdu in autumn, such as the weather, scenery, packing suggestions and travel tips to help you better plan a Chengdu trip.
Chengdu Weather in September, October and November
From the perspective of temperature, Chengdu actually has a short autumn. The early autumn is somewhat like the summer and the late autumn is like you are already in winter. But in general, most days in Chengdu in autumn are cloudy or overcast with comfortable weather. The average temperature of Chengdu in September is 22°C / 71°F, in October is 17°C / 63°F, and in November is 12°C / 54°F. The chart below shows the day by day temperature of Chengdu from September to November, 2019.

Chengdu Temperature from September to November, 2019
What to See & Do in Chengdu in Autumn
Spring and autumn are two seasons when you can see a colorful Chengdu. Touring around this leisure city in such a lovely season is really an enjoyment.
Visit Representative Chengdu Attractions in Refreshing Autumn
Speaking of Chengdu, many people will think about the pandas. Actually, autumn is a good season to visit Chengdu Panda Base because most pandas are born in early autumn, which means you will have a bigger chance to see the cute baby pandas. Other attractions such as Jinli Old Street - paradise for foodies, Wenshu Temple - Buddhist holy land, Chunxi Road - busiest shopping street, Tianfu Square - center of Chengdu, etc. are all landmarks that you can pay a visit to. Besides, every year a grand chrysanthemum exhibition will be held in People's Park from late October to late November.
★ Recommended Chengdu Tour: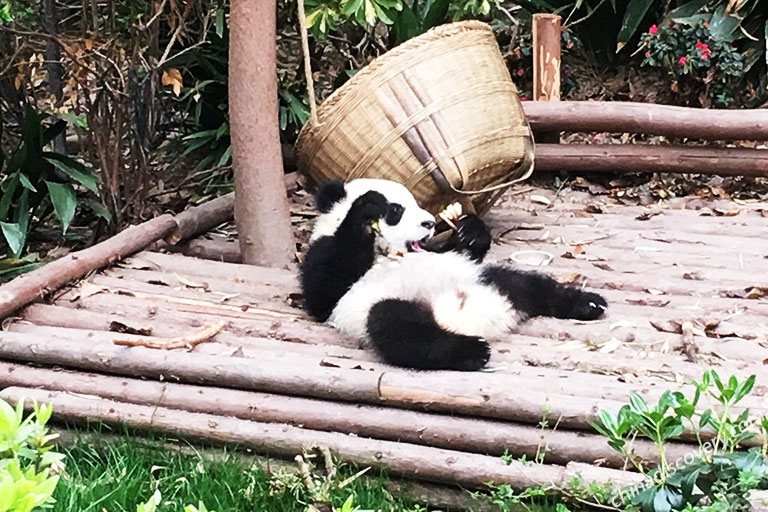 Baby Pandas at Chengdu Panda Base
Can't Miss the Golden Gingko around Chengdu City
Golden gingko is one of the symbolic scenes of Chengdu in autumn. You can see them almost everywhere, streets, parks, universities, attraction sites, etc. Chengdu people like to find places with beautiful gingko scenes and take some pictures there with their friends and families. One of the most popular spots is University of Electronic Science and Technology of China. It will be open to the public during its annual Gingko Festival. People's Park attracts a lot of fans when the gingko adds more charm to the already pleasant environment, and the gingko trees in Qingyang Palace is in perfect harmony with the ancient architectures.
★ Recommended Chengdu Tour: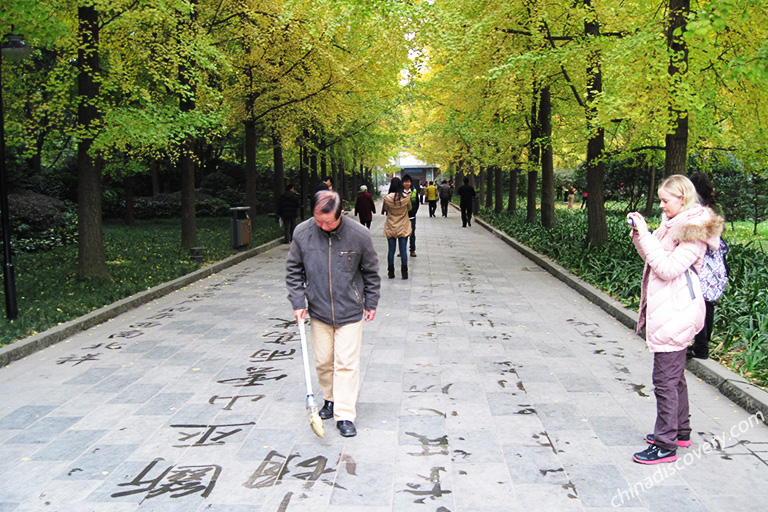 Gingko Trees in People's Park
Have a Deeper Understanding of Chengdu in Various Museums
After seeing the beautiful Chengdu autumn scene, it is time to know more about the city itself, its past and present, culture and history. There are many museums in Chengdu. Sichuan Museum features the history of Sichuan province and paintings of Zhang Daqian, while Chengdu Museum is more about the development of Chengdu city and Chinese shadow puppetry art. Jinsha Site Museum introduces the 3000-year-old Shu kingdom culture and it's also where the symbol of China Cultural Heritage - the Golden Sun Bird comes from.
★ Recommended Chengdu Tour: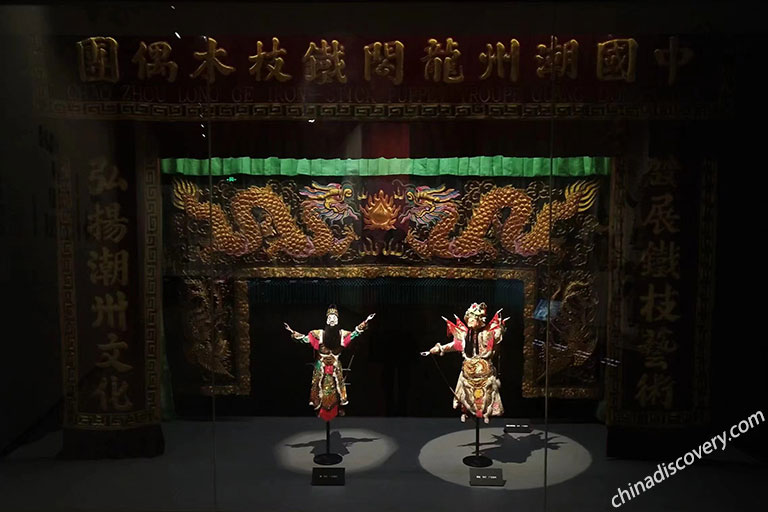 Shadow Plays in Sichuan Museum
Travel to Fairyland Jiuzhaigou from Chengdu
Jiuzhaigou has won fame both at home and abroad for the turquoise & emerald crystal lakes, layered waterfalls, authentic Tibetan villages and towering peaks. And autumn is the best time to go there as Jiuzhaigou Valley shows its colors to the fullest. It is located about 440km to the north of Chengdu. You can take a bus (8-10 hours) there or fly (40 minutes) to Jiuzhaigou Huanglong Airport, then take an airport shuttle bus to Jiuzhaigou (about 2h) or stop by at Huanglong.
★ Recommended Chengdu Jiuzhaigou Tours:
√ 3 Days Classic Jiuzhaigou Tour by Flight
√ 4 Days Jiuzhaigou Private Tour from Chengdu by Private Car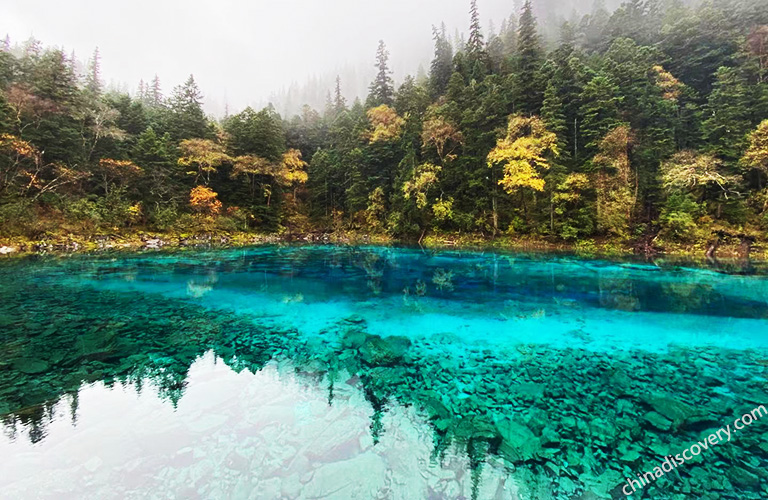 Jiuzhaigou in Autumn
What to Wear & Pack for a Chengdu Autumn Trip
What to wear: A long-sleeved shirt and a light coat will be sufficient in September and early October. Then you will need a thick coat and sweater as the temperature drops in late October and November. But scarf and gloves will not be necessary.
What to pack: The rainfall starts to decrease so the weather may get a little dry. You can bring facial cream and hand cream to protect your skin.
Chengdu Autumn Travel Tips
● As the connecting season between hot summer and cold winter, the temperature of Chengdu in autumn sometimes varies greatly. Please pay attention to the weather forecast and dress accordingly.
● Try to avoid scheduling your trip in Mid-Autumn Festival (usually a 3-day holiday in mid September) or the National Day Holiday (1st - 7th, October).
How to Plan a Chengdu Autumn Tour
Generally speaking, people will spend 1-2 days exploring Chengdu excluding the arrival and departure days. On the first day, you can go meet the cute pandas in Chengdu Panda Base in the morning. Then see some exquisite Buddhist architecture in Wenshu Temple and have a cup of tea in People's Park. After that, it is about dinner time, you can try some local snacks in Jinli Old Street or have a hot pot near Chunxi Road. On the next day, if you are interested in culture and history, you can visit other attractions such as Jinsha Site Museum, Chengdu Museum and Du Fu Thatched Cottage.
★ Recommended Chengdu Tours:
If you plan to spend more days travelling, you can try some popular panda volunteer programs, visit the soul of Shangri-La - Daocheng Yading, go to the wonderland Jiuzhaigou, or expand your trip to Beijing - capital of China, Shanghai - modern metropolis, and Xian - time-honored ancient capital to have a deeper understanding of China.
★ Recommended Tours including Chengdu:
√ 7 Days Sichuan Discovery Tour (Chengdu / Leshan / Emei / Chengdu / Jiuzhaigou)
√ 7 Days Ancient China Tour with Panda (Beijing / Xian / Chengdu)
If you have more questions about a Chengdu trip, please feel free to contact us. We are specialized in customized tours according to your interests, budget, traveling time, etc. Just tell us your needs, and we will provided you with a satisfactory tour.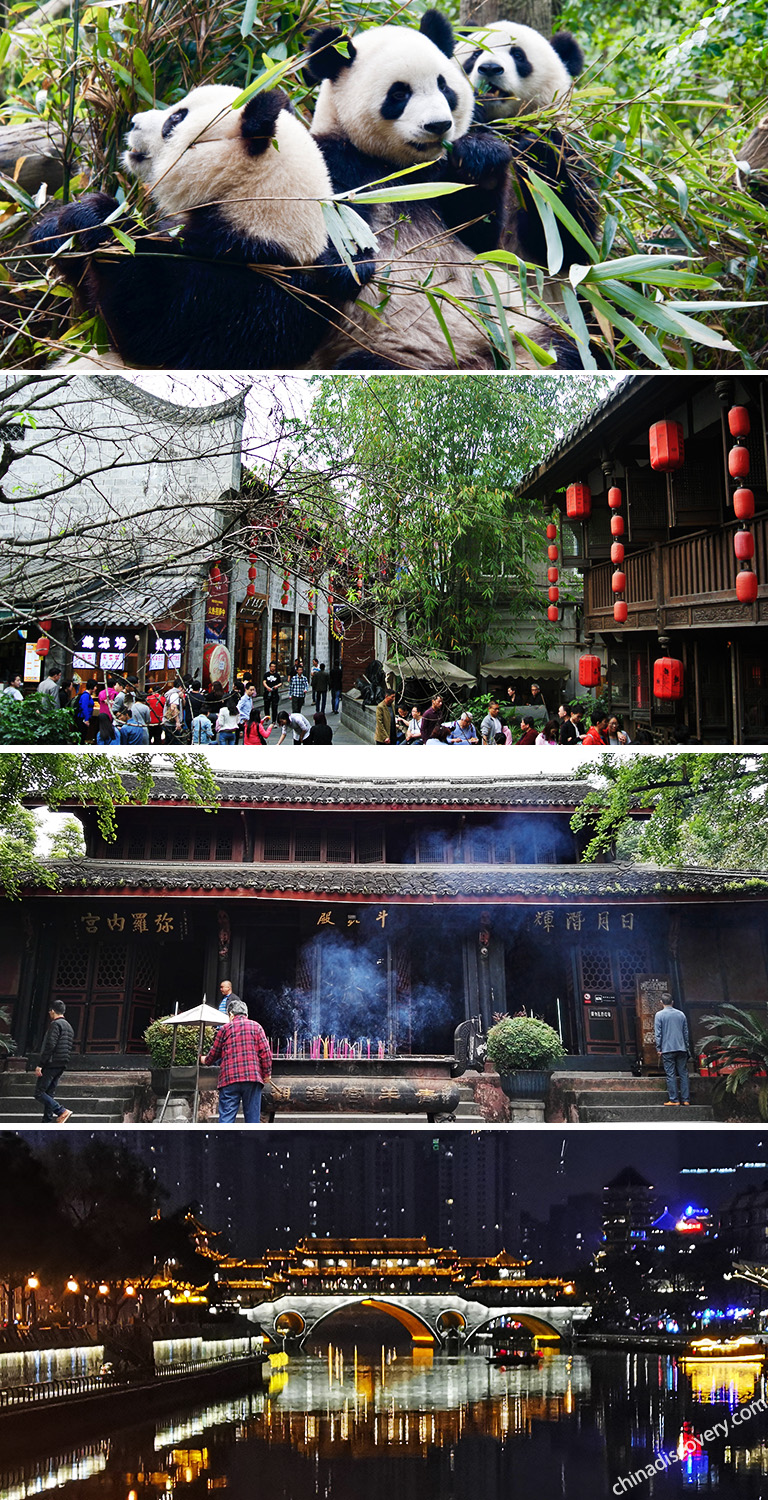 Chengdu Attractions
Keep Reading on Chengdu Weather
Useful Chengdu Travel Guide
Recommended Chengdu Tours
Top 3 Chengdu tours chosen by most customers to explore Chengdu in the best way. Check the detailed itinerary, or tailor your own trip now with us.
3 Days Chengdu Highlights Tour plus Leshan Giant Buddha

Chengdu: Chengdu Panda Base, Leshan Giant Buddha, Jinli Street
5 Days Chengdu Jiuzhaigou Comfortable Tour

Chengdu / Huanglong / Jiuzhaigou
Start planning your tailor-made holiday to China by contacting one of our specialists. Once inquired, you'll get a response within 0.5~23.5 hours.
Customize a Trip
Have a question? Get answers from our travel experts or guests
Your Question:

Your Name:

Your Email: