Hotels in Changsha: 6 Best Changsha Hotels
Being the bustling capital of Hunan Province, Changsha City boasts a mix of great accommodation options, from high-quality luxury hotels to mid-range, value, and basic hostels. All the hotels in Changsha guarantee you a pleasant sleep. Besides, the price of these hotels is affordable.
Where to Stay in Changsha, Hunan, China?
The best and most popular place to stay in Changsha is the area near Wuyi Square at the eastern bank of Xiangjiang River. Here, you will find a range of good hotels, including super luxury hotels like Sheraton Changsha Hotel, Changsha Muyi H Hotel (or called Grand Mercure Changsha Downtown), etc. If you stay at a hotel here, you will find the lively Taiping Pedestrian Street in merely 10 minutes' walking distance and other most popular Changsha highlights like Orange Island, Yuelu Academy and Kaifu Temple in only 3~4 kilometers' driving. Another popular place to stay in Changsha is the area near Changsha South Railway Station. Seldom tourists choose to stay near Changsha Huanghua International Airport, because the airport is only 1 hour away from Changsha downtown by car. However, if you are heading to catch your early flight or will land in Changsha late, the hotels near the airport are also recommended.
Recommended Changsha Tour Packages:
✔ 2 Days Classic Changsha Tour
✔ 7 Days Hunan Discovery Tour from Changsha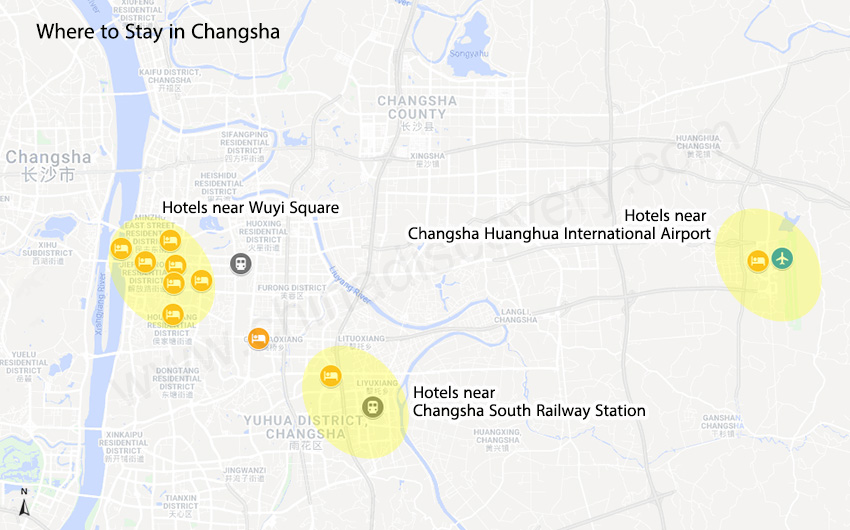 Where to Stay in Changsha
How to Plan a Changsha Tour?
How to Get to Changsha: Changsha can be easily reached by international flight, domestic flight and high speed train. Hot cities connected Changsha by bullet train include Shanghai (4~7 hrs.), Zhangjiajie (2.5~3.5 hrs.), Guilin (2.5~3.5 hrs.), Hangzhou (3.5~5 hrs.), and so forth.
Best Time to Visit Changsha: late September ~ next May, especially in autumn if you want to meet with the best golden autumn vista of Yuelu Mountain.
Top Changsha Attractions: Orange Island, Yuelu Mountain and Yuelu Academy, Hunan Provincial Museum, Huangxing Road Pedestrian Street, etc.
Changsha, the capital and transportation hub of China's Hunan Province, is a national historical and cultural city that rich in historical monuments, ancient temples, academies and antediluvian traditions. Normally, tourists spend 1~2 days in Changsha to sample its highlights, like Yuelu Mountain, Yuelu Academy, Orange Island, Hunan Provincial Museum, Tianxin Pavilion, etc.
✔ 2 Days Classic Changsha Tour
In addition to the profound cultural flavor in Changsha, Hunan Province also boasts world-class natural landscapes, ancient towns and villages and man-made wonders. Almost all Hunan visitors would plan 3~4 days to Zhangjiajie to appreciate the Avatar mountains. And a one-day Fenghuang Ancient Town tour is also popular. Visit Changsha, Zhangjiajie and Fenghuang in one go takes about 6~7 days.
✔ 7 Days Hunan Discovery Tour from Changsha
✔ 6 Days Zhangjiajie, Fenghuang and Changsha Tour
✔ 5 Days Changsha & Zhangjiajie Avatar Scenery Tour by Bullet Train
If you have more days and are looking for an in-depth exploration of Hunan, you are suggested to spend 1 day to Shaoshan, the birthplace of the great leader in Modern China - Chairman Mao, 1 day to Yueyang, another famous cultural city with a long history of over 2500 years, or 1 day to Mount Heng, one of the Five Sacred Mountains in China.
✔ 3 Days Changsha & Shaoshan Essences Tour
Beyond Hunan, the diverse China has a lot to offer. You can extend your trip to explore sacred Mount Fanjing and the primitive minority villages in nearby Guizhou Province. Also, you can add a 5 Days & 4 Nights Yangtze River Cruise into your trip. Besides, you can travel further southwest to admire the marvelous Karst Landscape in Guilin and Yangshuo. Get further south to visit Guangzhou, Xiamen, Hong Kong is also great. If you like, you can also visit splendid Great Wall in Beijing, meet with historical Terracotta Warriors in Xian, date with adorable pandas in Chengdu and so on. Have your preference? Please feel free to tell us your likes, and our professional travel consultants will customize a perfect tour for you!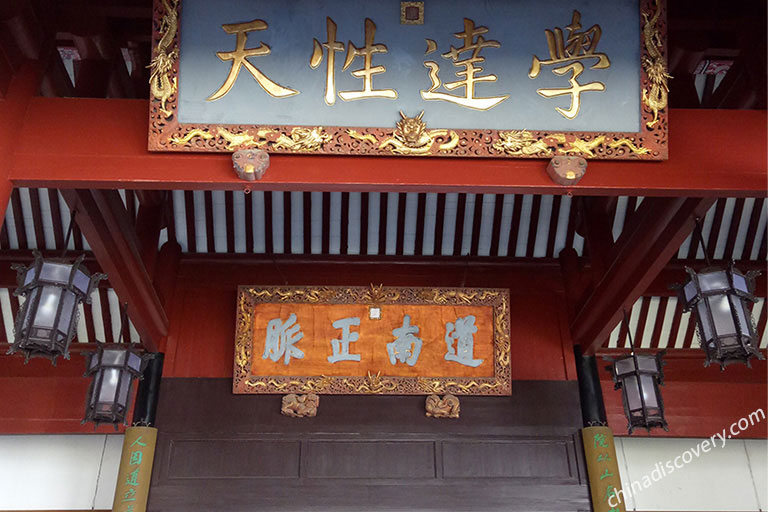 Yuelu Academy in Changsha
Anatar Mountain in Zhangjiajie National Forest Park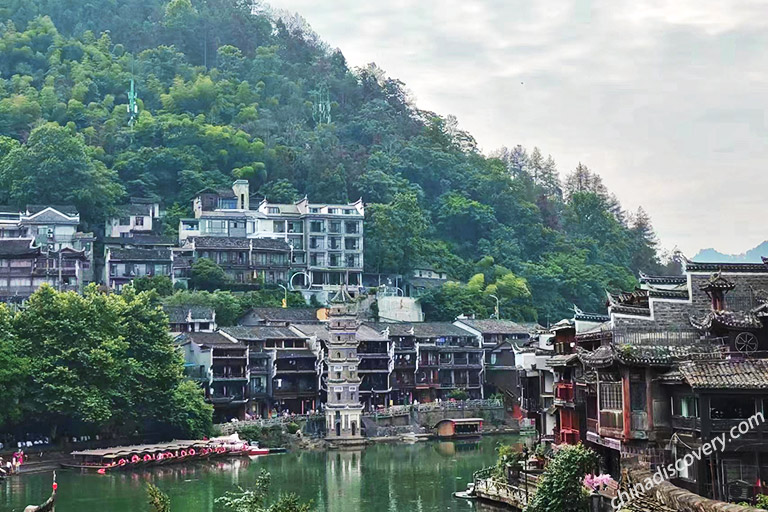 Fenghuang Ancient Town
Travel Changsha with China Discovery
China Discovery is an experienced, professional and reliable travel companion devoted to offering high-quality and the best tour services for all travelers to China. In order to have a hassle-free travel and focus on the trip itself, it's highly recommended travelling with China Discovery. So, you can enjoy convenient airport pick-up and drop-off service and transportation to all scenic spots in a safe, clean, comfortable, air-conditioned and non-smoking vehicle. Also, we will arrange knowledgeable local English-speaking tour guide, excellent accommodation and dining arrangements to ensure you rest well and get better understanding of highlights in Xiamen and Fujian. The tour can be tailor-made according to your interests, time, group size, budget and every special need. If you are interested, please feel free to contact us to customize your tour!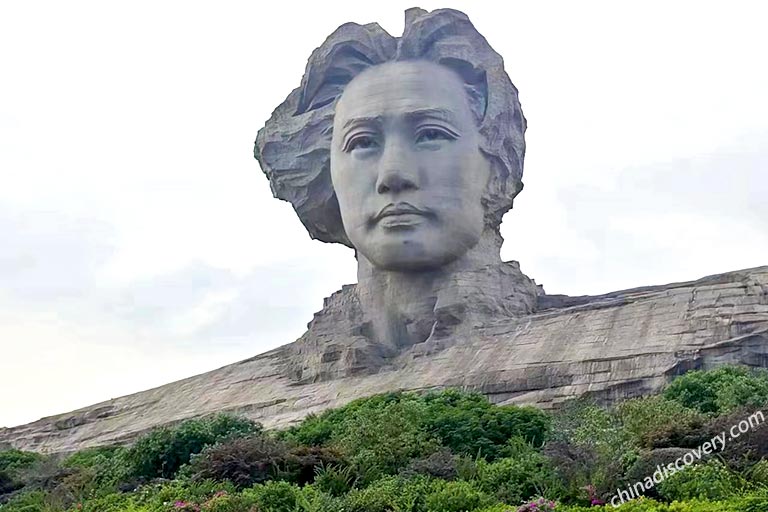 The Statue of Chairman Mao on Orange Island in Changsha
More about Hunan Travel Guide
Recommended Changsha Tours
Top 3 Changsha tours chosen by most customers to explore Changsha in the best way. Check the detailed itinerary, or tailor your own trip now with us.
2 Days Classic Changsha Tour

Changsha
7 Days Hunan Discovery Tour from Changsha

Changsha / Shaoshan / Zhangjiajie / Fenghuang / Zhangjiajie
6 Days Zhangjiajie, Fenghuang and Changsha Tour

Zhangjiajie / Fenghuang / Changsha