Changsha (长沙), nicknamed "Star City", is the capital of Hunan Province in central China. This famous cultural and historical old city of more than 2,000 years has been a key strategic area for the Chu Kingdom in Spring and Autumn War Period about 200 BC. With the advantageous location and convenient transportation network by bullet train and flights, Changsha is one of the most important traffic hub cities for transferring to / from most cities (regions) in China and also some international destinations.
It is well known domestically that Changsha is famous with its mouth-watering local food and national famous entertainment satellite television programs. However, this vibrant and gourmet city is also home to Mawangdui Han Dynasty Tomb praised as the No.8 Miracle in the World, Yuelu Academy with over thousand year history, famous isle scenery praised by Chairman Mao, lots of other pleasant forest mountains, historical sites, cultural museums, and more outstanding places to savor the special elegant and hot Hunan charm!
Why Visit Changsha, Hunan, China:
Favored Advantageous Traffic Hub City: Changsha offers a mature traffic network of frequent flights and high speed trains to and from majority places in China like Beijing, Shanghai, Guangzhou, Chengdu, etc. and lots of international flights with other countries (regions), thus, it is a major transportation hub for travel within Hunan and also a important stopover for a China travel. It also has convenient bullet trains and coaches for your expecting visit to Zhangjiajie and Fenghuang Ancient Town in Hunan!
Mawangdui Han Dynasty Tomb: Praised as "Pompeii in the Orient", it has huge value for studying the development of handicrafts and scientific technology and history, culture and social life of early Western Han Dynasty (206 BC - 24 AD). With over 300 well preserved relics of silk manuscripts, maps, silk products, musical instruments, inscribed wooden tablets, etc. and the incredible female corpse well preserved for over 2,100 years as a miracle in the world, Mawangdui is reputed as one of the "World's Ten Largest Tomb Treasures!"
Amazing Authentic Hunan Cuisine & Snacks: Hunan Cuisine is one of the eight cuisines in China, while Changsha is the center of Hunan Cuisine. Therefore, there absolutely provide countless local amazing Hunan snacks with the authentic flavors of sour, spicy, aromatic, fresh, etc. Around every street and lane for your fresh try. The most famous Stinky Tofu, Taste Shrimp, Sugar Oil Baba Cake, etc. are highly recommended to try!
Wonderful Entertainment City: Changsha is awesome entertainment nightlife and daytime fun. Enjoy to the most in the bars, pubs, foot care centers, cinemas, etc. to feel the leisure and wonderful of Changsha City!
Top Changsha Attractions
Changsha has abundant great places for your fun and interesting time during your trip. You can visit the mountains, lakes, parks, museums, old academy, former residences, local streets, etc. Check more about All Top Attractions in Changsha >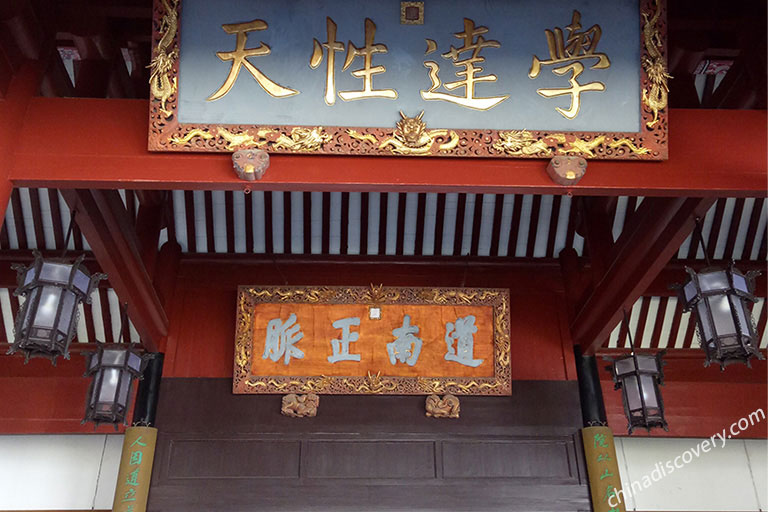 Yuelu Academy
Yuelu Academy at the foot of Yuelu Mountain is one of the four great academies in ancient China, which is built in 976 AD and still well keeps the traditional Chinese academy architectures with old trees for a nice savory of ancient Chinese literal charm!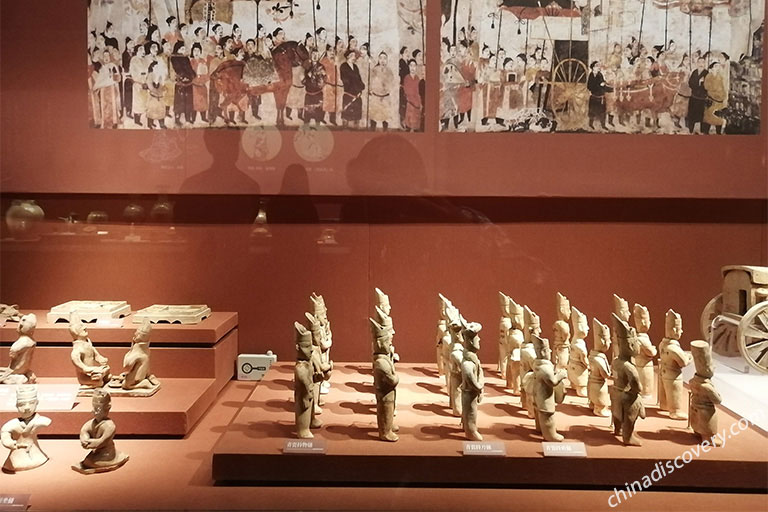 Hunan Provincial Museum
This national comprehensive museum collects over 3,000 precious cultural relics for a worthy admiration, including unbelievable undecayed female corpse from Western Han Dynasty, silk manuscripts, topographic maps, and more national treasures of Hunan.!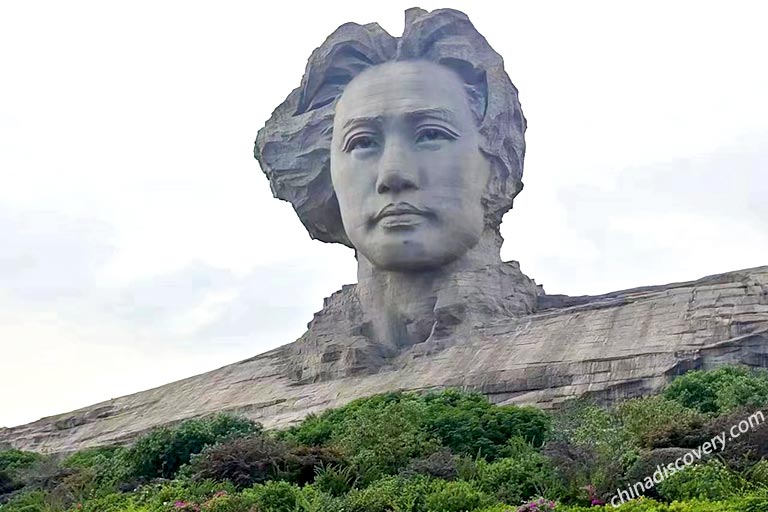 Orange Island
Orange Island is the landmark of Changsha. Located at central Xiang River in the downtown, this isle of about 10-li long has beautiful sightseeing during four seasons and the large head statue of Chairman Mao and is a must-see in Changsha!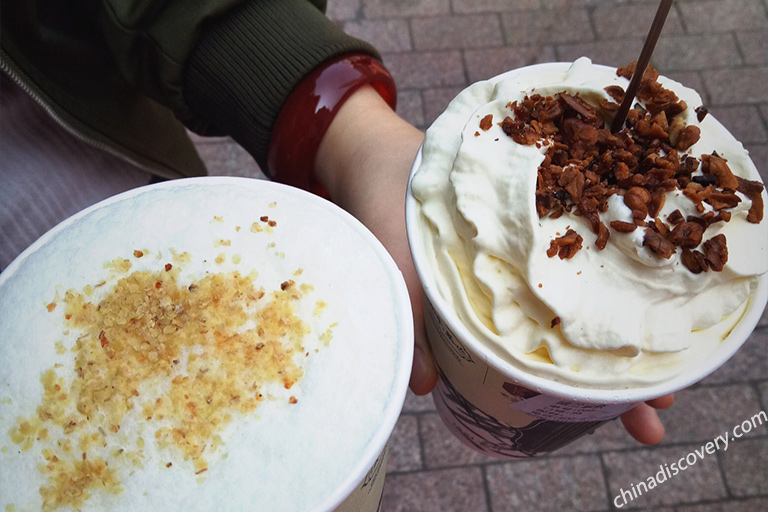 Huangxing Road Pedestrian Street
This prosperous pedestrian street of about 838 meters long is one of the most poplar food streets in Changsha, which gathers diverse delicious food and local Changsha snacks for the satisfaction of your taste bud! A night walk here is nice!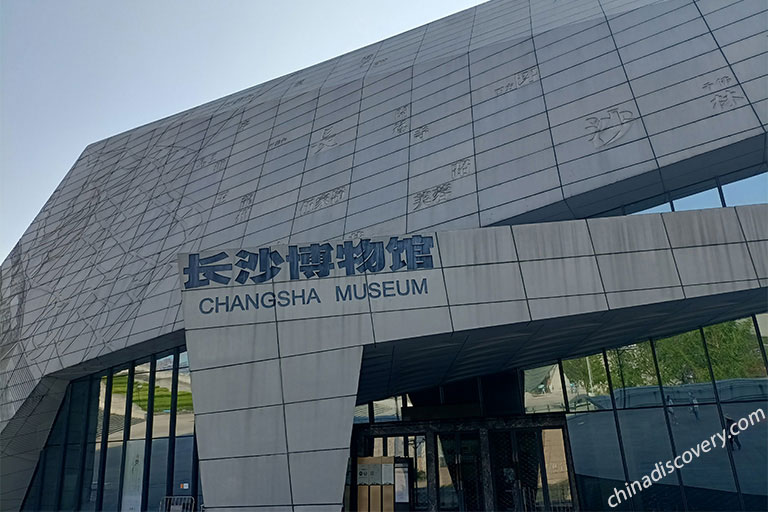 Changsha Museum
This excellent museum is superb to have a comprehensive knowledge of Changsha with over 50,000 pieces of cultural relics from the Old Stone Age to Modern Times, including bronze, porcelains, jades, etc.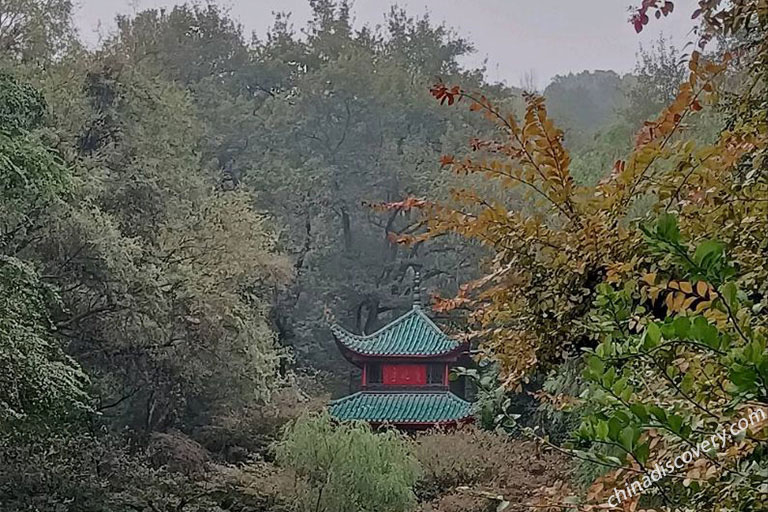 Yuelu Mountain
The mountain with an altitude of 300m is popular for locals doing exercise where you will meet the beautiful Aiwan Pavilion, more lakes, flowers, and cultural sites with verdant forest. Do not miss the bird's eye view of Xiang River!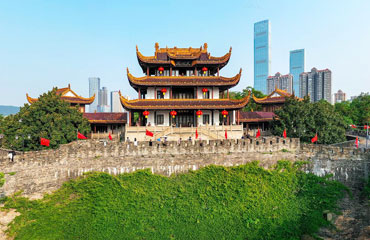 Tianxin Pavilion
It is the witness of Changsha's long history with the 2200 year old ancient city wall. Walk on the 500-year old pavilion with ancient lingering charm, watch old houses standing by modern skyscrapers and the see leisure life of local citizens at the foot.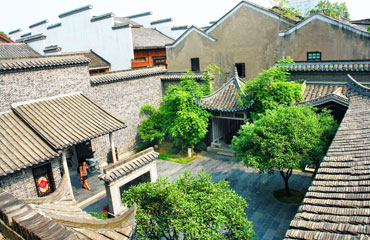 Jia Yi Former Residence
The quaint former residence of Jia Yi who was the Grand Preceptor of Changsha Kingdom in Western Han era. Walk in the more than 500 year old structures with dark bricks and gray tiles and feel its elegant and literal quality!
Top Things to Do in Changsha
What to do in Changsha? Visiting interesting museums and exhibitions, tasting not-missing Changsha local food, relaxing with feet bath, having fun at theme parks, and so forth. You'll just find you time not enough to do all the wonderful things in Changsha!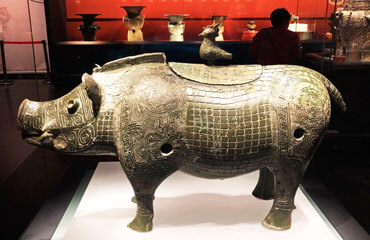 Visiting Museums
Changsha has many amazing museums for your cultural, historical and artistic knowledge of it and Hunan, including Hunan Province Museum, Changsha Museum, Hunan Embroidery Museum, Changsha Bamboo Scripts Museum, etc.
Trying Changsha Food
No one shall miss the famous and delicious Changsha food in a Changsha trip! No matter the spicy formal Hunan Cuisine dishes or various local Changsha snacks including Stinky Tofu, Taste Shrimp, etc. will make you drool around those delicacies!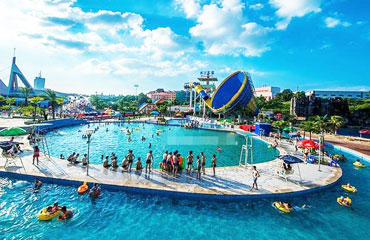 Having Fun at Theme Parks
Create more laughter and fun with your children! Window of the World and Changsha Sea World are top popular to enjoy many miniatures of famous international landscapes and landmarks, abundant entertainment activities, performances and shows!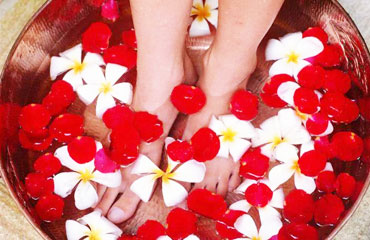 Enjoying Feet Bath
People in Changsha like feet bath, and such culture is famous around the country! Why not try at least once to get your feet fully relaxed after walks in the trip and benefit your sleeps at night! Several good types of foot massages you can choose!
Changsha Weather & When to Go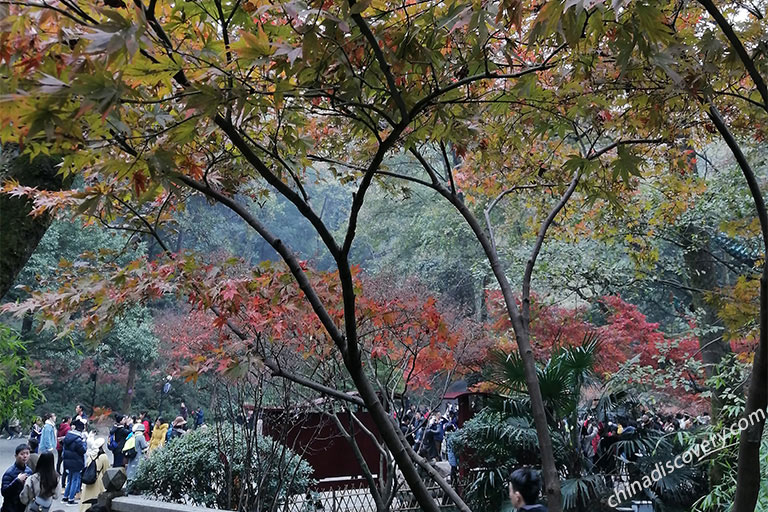 Changsha belongs to the subtropical monsoon climate zone with four distinct seasons. The annual average temperature is about 17.2℃ in urban area. Usually July is the hottest month with an average temperature of around 30℃, while January is the coldest month with an average temperature about 4.4℃-5.1℃. March to May are usually the rainy season.
Best time to Visit Changsha
Visitors can visit Changsha all around the year, however, spring, autumn, and winter are the best season to go! Temperature usually rise in spring (mid-March to May) but varies a lot during day and night hours and it is romantic to see many fresh blossoms. Autumn (late September to October) is quite beautiful to enjoy pleasant and clear sky and the scene of Orange Island is attractive. Rain gear is suggested in spring and autumn. Winter (November to Mid-March) is a little cold with moist and with sometimes snow, so it is recommended to prepare some warm clothes including down jackets and sweaters. However, summer is usually very hot in Changsha, sun block and sunglasses are highly suggested! Check more about Weather & Best Time to Visit Changsha >
Changsha Transportation
Changsha is an important traffic hub city in China with convenient transportation connection by flights, trains, coaches for visitors to reach this attractive place. Many visitors planning to discover Zhangjiajie, Fenghuang Ancient Town and other destinations in Hunan and China will make a stopover in Changsha.
How to Get to Changsha
By Flight
Changsha Huanghua International Airport (IATA: CSX) is one of the busiest airports in China. It offers more than 180 routes to destinations in about 10 foreign countries (regions) such as Sidney, Melbourne, Los Angeles, Singapore, Tokyo, Bangkok, Seoul, Jeju Island, Hong Kong, Macau, Taiwan, etc. and over 90 domestic cities, including Beijing, Shanghai, Xian, Chengdu, Guangzhou, Zhengzhou, etc. Changsha Airport is about 24 km from city center, which usually takes about 50-60 minutes by car. Besides, airport shuttle buses are available!
In January 2016, China has implied the 72-hour Visa Free Transit Policy in Changsha. Thus citizens from the appointed 53 countries holding connecting flight tickets can enter Changsha only from Changsha Huanghua International Airport and stay in Hunan Province (including Changsha, Zhangjiajie, Fenghuang Ancient Town...) within 72 hours. Check more about 72-hour Visa Free Transit Policy >
By Train
Changsha has two railway stations, namely Changsha Railway Station and Changsha South. there are daily bullet trains to Changsha from many domestic cities like Zhangjiajie, Beijing (5.5 hrs), Shanghai (4.5-5.5 hrs), Xian (5 hrs), Wuhan (1.5 hrs), Chongqing (5.5 hrs), Guangzhou (2.5 hrs), Hangzhou (4.5 hrs), Zhengzhou (3.5 hrs), Kunming (5 hrs), etc. Changsha Railway Station is in the downtown, while Changsha South Railway Station offers more train shifts for your more convenient selection. Check more about Changsha High Speed Trains >
Travel Around Changsha
By the end of 2020, Changsha has 6 metro lines, maglev, public bus, taxi, bicycles, etc, convenient for you to travel around this big city! Also, it is recommended for international visitors to travel by our local private car to save time and energy!
Changsha to Zhangjiajie
Changsha and Zhangjiajie is 321 kilometers away, which needs about 4.5 hours by car. Taking a 4.5-5.5 hours' bullet train is most popular. Besides, there is one daily flight available. Also, lots of coaches are also served from major bus terminals in Changsha.
Changsha to Fenghuang Ancient Town
Fenghuang Old Town is about 333 kilometers from Changsha, which needs about 5.5-6 hours by car. By the end of 2020, there is no direct train between. Independent visitors can take a coach there.
Travel Changsha with China Discovery
To help you enjoy a worry-free trip to Changsha, it is highly recommended travel with China Discovery. So our local guide and driver will escort you from your accommodation to/from the tourist spots, railway station, airport, etc. By the comfortable nonsmoking licensed private vehicle of China Discovery in speed and safety, and you can focus more time on the highlights instead of navigation and hard communication with locals! Please contact us if you need any help!
Check more about How to Get to & Around Changsha | How to Get from Changsha to Zhangjiajie | How to Get From Changsha to Fenghuang
Changsha Accommodation
Changsha has abundant diverse kinds of accommodation in the downtown and suburb areas, from luxury international hotel brand chains to budget inns and homestay. Most hotels offer great facilities and equipment for your comfortable sleep and some is well arranged with local transportation stops, supermarkets, shopping malls, attractions, etc. For your convenience during a Changsha Trip
Where to Stay in Changsha
The area around Wuyi Square is most popular for visitors, where offers many luxury hotels including Sheraton and are convenient to visiting Orange Island, Yuelu Academy, Kaifu Temple, Taiping Pedestrian Street, and more recommended places to go! Besides, if you are planning an early train to Zhangjiajie, Fenghuang Ancient City, etc., you can arrange your hotel around Changsha Railway Station where also has many different types of hotels and hostels. Moreover, Changsha Huanghua International Airport surrounding is also good if you have an early or late flight to catch! Check more about Where to Stay in Changsha & Recommended Accommodation >
Useful Changsha Maps
To help you know the location and transportation of Changsha as well as its tourist spots clearly, we have collected some useful Changsha maps for you, including Changsha China Map, Changsha Hunan Map, Changsha Tourist Map, etc. All are downloadable and printable! Check more Changsha Maps 2022>
Other Popular Destinations in Hunan
Apart from Changsha, there are many other wonderful destinations in Hunan Province for your discovery of the nature, culture, history, food... of this diverse province in central China!
Other Popular Destinations in China
China is vast and diverse. You can choose your favorite destination among more than 70 tourist destination and regions. Following are 4 popular destinations you may get interested in. Check all destinations in China >
Plan your Changsha Tour
1-2 days is usually planned to enjoy top highlights in Changsha with transportation to and off, including Orange Island, Yuelu Academy, Hunan Provincial Museum, Huangxing Pedestrian Street, Kaifu Temple, etc.
For most visitors, they prefer extend to Zhangjiajie to discover Zhangjiajie National Forest Park, Zhangjiajie Grand Canyon, Tianmen Mountain, etc. for 2-4 days, to Fenghuang Ancient Town to savor the Western Hunan ethnic minority culture for 1 day. It usually take about 6-7 days to enjoy a Changsha, Zhangjiajie and Fenghuang tour. If you are interested in Chinese culture and history, you can extend 1 day to Shaoshan that is the hometown of Chairman Mao, 1 day to Yueyang that is home to famous Yueyang Tower and Dongting Lake, etc. to enjoy more sightseeing and charm of Hunan!
Besides, it is also very popular to travel Changsha and Hunan with other popular destinations in China in one go, such as Fanjingshan, Kaili, Guilin, Chengdu, Yangtze River, Shanghai, Beijing, Xian, Guangzhou, Hong Kong, etc. All our tours can be customized according to your interests, group size, needs, travel time, budget, etc. If you have any idea about planning your Changsha tour or Hunan tour, please feel free to contact us for a customized tour 2022/2023!
Recommended Tours
MORE