National Museum of China Discovery
The National Museum of China is located on the east side of Tiananmen Square and the south side of East Chang'an Street, right at the city center of Beijing, facing the Great Hall of the People. It is a comprehensive museum focusing on collection exhibition, archaeology research, public education and cultural exchange.
By the end of 2013, the National Museum of China has more than 1,050,000 collections and 48 exhibition halls, with many of the priceless collections which can not be found anywhere else in China and the rest of the world. It is the third largest museum in the world and one of the richest collections of Chinese cultural relics. Its overall scale ranks first in the world museums. In 2013, the number of visitors reached 7.45 million, the second most visited museum, just after the Louvre. Thanks to its great location and massive collections, it is one of the most popular museums in the world.
▶ National Museum of China Entrance Fee
There are regular exhibitions and special exhibitions. The regular and permanent ones are Free for all the people who come to visit it with valid ID documents and you can collect your free tickets at the Ticket Office.
The identity documents include ID Card, student ID card, passport, Exit-Entry Permit for Travelling to and from Hong Kong and Macao, Mainland Travel Permit for Taiwan Residents, driving license.
If you would like to visit a special exhibition, you can book the ticket on the official website of National Museum of China, or purchase tickets at the Ticket Office, the service counter of the West Hall, and the entrance of the exhibition hall.
▶ National Museum of China Opening Time
From 9:00am to 17:00pm
Last admission at 16:30, closed at 17:00 
Closed on Mondays (including statutory national holidays)
Recommended Beijing Tour
>> 4 Days Classic Beijing Tour Package
>> 5 Days Experience the Real Hutong Life of Beijing
Layout & Construction of National Museum of China
The National Museum of China is the third largest museum in the world with 65,000 square metres in area. The total land area is about 70,000 square meters. The building is 42.5 meters high, 5 floors above ground and 2 floors below ground.
The building consists of two zones. The two areas are: the north and south two exhibition areas separated by the central hall in the central axis. The west gate faces Tian'anmen Square, opposite the Great Hall of the People, and the north gate faces Chang'an Street. The North-South Art Corridor is 260 meters long and 28 meters high. At present, except for the negative second floor, all other floors are open to the public.
▶ Level -1: permanent exhibition Ancient China, public service areas, Broadcasting Room, Theatre and Lecture Hall. 
▶ Level 1: Theatre, Lecture Hall, Experts Building and the museum access.
▶ Level 2: North Galleries (N1-N4), VIP room, South Galleries (S1-S5), the permanent exhibition The Road of Rejuvenation, public service areas and Central Hall (C1).
▶ Level 3: public services areas, the permanent exhibition The Road of Rejuvenation, North Galleries (N8-N11) and South Galleries (S6-S10).
▶ Level 4: North Galleries (N16-N19), South Galleries (S11-S14), Central Hall 2 (C2), and the museum access.
▶ Level 5: Jade Hall (C3), VIP rooms, and public service areas.
Various Exhibitions to See at National Museum of China
The National Museum holds various kinds of exhibitions all year round. Besides the representative special exhibitions, it also displays regular and permanent exhibitions, including exhibitions related to the history of the founding and development of P.R. China, gifts from other countries to China. However, the most distinctive and most priceless exhibition recommended is a series exhibitions about ancient China, which have covered the most famous archaeological collections from every dynasty in China, representative unearthed cultural relics from almost every province of China, such as the world-renowned Sanxingdui bronze mask (about 3600-3100 years ago), the fish-pattern pottery basin (5000 BC - 3000 BC), the vivid drumming and singing pottery figurine in the Eastern Han Dynasty (25 AD - 220 AD), the Jade Dragon symbolizing authority in neolithic (about 5000 years ago), the exquisite Phoenix crown of the Empress Xiaoduan from the Ming Dynasty (1368 AD - 1644 AD), etc. According to the different types of collections, the permanent exhibits are distributed in different areas from the negative first floor to the fifth floor. Here are six recommended regular/permanent exhibitions.
Ancient China
● Venue: Level -1
"Ancient China" exhibits 2026 cultural relics, including 521 first-class cultural relics. It takes Dynasty replacement as the thread and precious cultural relics as the core of the exhibition, showing the continuous development of Chinese civilization. The exhibition can be divided into eight parts: ancient period, Xia, Shang and Western Zhou Dynasty (2070 BC - 771 BC), Spring and Autumn Period (770 BC - 476 BC), Warring States Period (475 BC - 221 BC), Qin and Han Dynasty (221 BC - 220 AD), Three Kingdoms Period (220 AD - 280 AD), Jin and Southern and Northern Dynasties Period (265 AD - 581 AD), Sui, Tang and Five Dynasties Period (581 AD - 979 AD), Liao, Song, Xia, Jin and Yuan Dynasties Period (949 AD - 1402 AD), By appreciating these exquisite exhibits in every dynasty, you can understand the general context of the development of Chinese culture and have a certain understanding of the cultural and artistic characteristics of each period.
Ancient Chinese Jades
● Venue: Gallery S13
At least 8,000 years ago, Chinese ancestors discovered a beautiful stone, jade. Ancient Chinese believed that jade is the quintessence of heaven and earth. It is sacred, often personified, and endowed with aesthetic values, even in modern times, some certain kind of jade is also expensive. The National Museum of China has more than 80,000 ancient jades, all of which are considered by scholars to be the most representative jades in China from the Neolithic (about 5000 years ago) to the Qing Dynasty (1616 AD -1912 AD). They reflect the traditions and aesthetic tastes of the ancient Chinese people.
Step down from the white marble base at the rear of the Hall of Preserving Harmony, a wide courtyard separates the outer court from inner court.
Ancient Chinese Porcelain Art
● Venue:Gallery N17
Chinese Porcelain has a long history. The National Museum of China has a rich collection of porcelains and has selected more than 100 pieces (sets) for display. The exhibits ranged from the Western Zhou Dynasty (1046 BC - 771 BC) to the late Qing Dynasty (1616 AD - 1912 AD). Among them, there are several masterpieces in the history of Porcelain, such as lotus-pattern Celadon of the Southern and Northern Dynasties (420 AD - 581 AD), olive-green porcelain of the Tang Dynasty (618 AD - 907 AD), cloud-dragon-pattern blue-and-white jar of the Yuan Dynasty, Peony-pattern blue and white trays, etc.
Ancient Chinese Money
● Venue: Gallery S11
The earliest money in China appeared at least in the Western Zhou Dynasty (1046 BC - 771 BC) and developed in the Eastern Zhou Dynasty (770 BC - 256 BC). During the Qin Dynasty (221 BC - 207 BC), the emperor unified various currencies. Chinese money is also famous for its excellent calligraphy and casting skills.
There are more than 1700 items on display, including early shells, knife-shaped coins, round coins and coins with a square hole in the middle. These coins have been used for more than 2000 years, and the machine-made copper or silver coins appeared in the late Qing Dynasty (1616 AD - 1912 AD).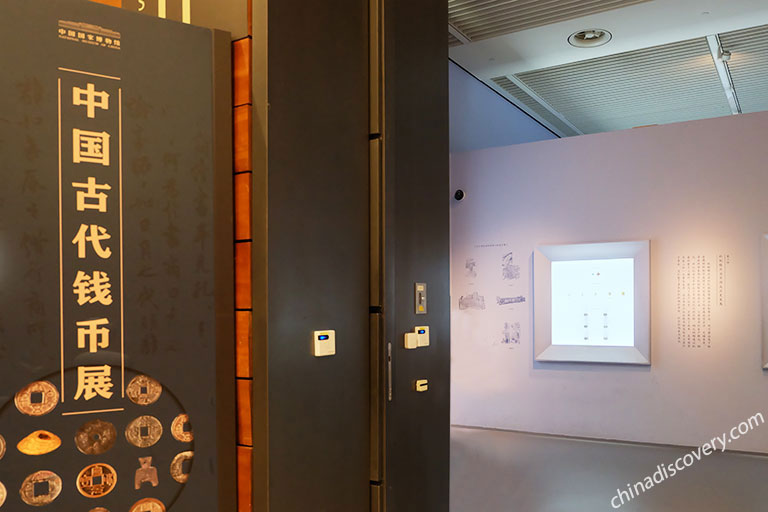 Ancient Chinese Money (221 BC - 1912 AD)
Ancient Chinese Buddhist Sculpture
● Venue:Central Hall 2
After Buddhism spread into China around the 1st century A.D, it gradually reformed under the influence of Chinese culture. The themes, materials and crafts of ancient Chinese Buddhist sculptures vary from region to time. These sculptures show the evolution of Chinese Buddhist sculptures and inspire ancient Chinese people's understanding of Buddhist philosophy through artistic expression.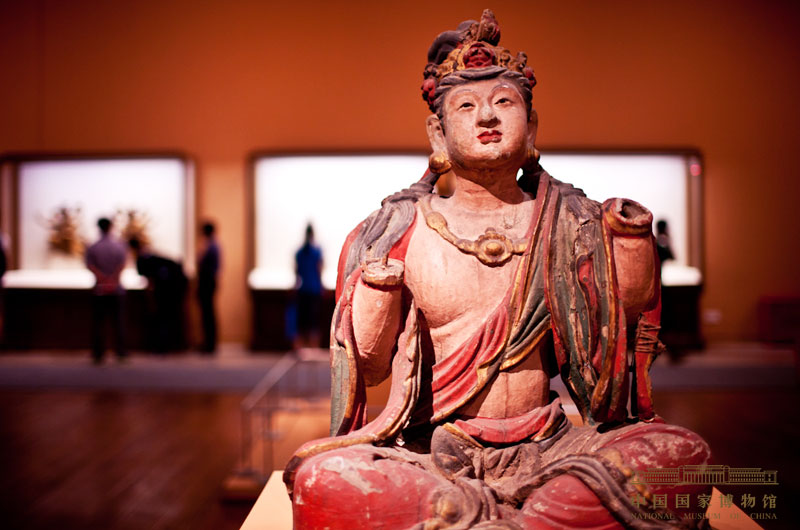 Multicolored Buddha Sculpture (960 AD - 1279 AD)
Stone Sculpture Art of the Song Dynasty
● Venue : Public Place on the Platform of F3
The exhibition holds 30 stone carvings collected by the National Museum of China from Sichuan, representing the best stone carvings unearthed from tombs of the Song Dynasty (960 AD - 1279 AD). Most of them are in delicate bas relief with vivid and realistic characters. These exhibits, featuring vivid characters and unique musical instruments, help people understand more of the living customs, costume characteristics and entertainment methods in the Song Dynasty, and they are valuable materials for the study of the history of Song.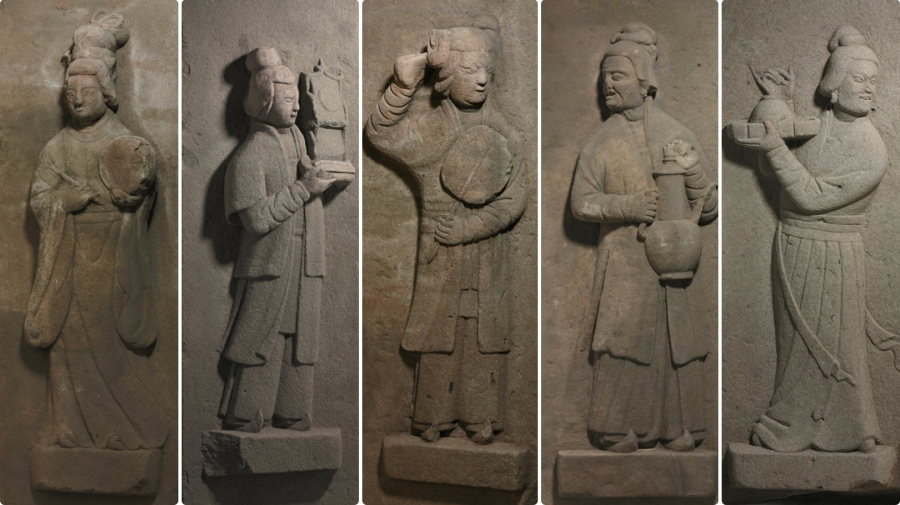 Stone Carvings of the Song Dynasty (960 AD - 1279 AS)
Where is National Museum of China
National Museum is located right in the city center of Beijing. It is very close to Tiananmen Square and reachable to the Forbidden city within 15min on foot.
◣ Address: 北京市东城区东长安街16号, East side of Tian'anmen Square,16 East Chang'an Avenue, Dongcheng District, Beijing 100006, P. R. China.
• 1km from Forbidden City
• 5 km from Temple of Heaven
• 5 km from Beijing Hutongs
• 8 from  Beijing South Railway Station
• 9 km from Beijing West Railway Station
• 16 km from the Olympic Park
• 20 km from Summer Palace
• 34 km from Beijing Capital Airport
National Museum Location Map (Click to Enlarge)
How to Get to National Museum of China
By Subway: You can take Metro Line 1 and get off at Tiananmen East Station (天安门东站) or Metro Line 2 at Qianmen Station (前门站), and National Museum of China is in between the two stations.
By Bus: There are lots of buses to National Museum, and the followings are 3 closest stops where you can get off and walk to the Museum within 10min.
Tian'an Men East Station (天安门东站 Pinyin: Tiananmen Dongzhan), Routes: 1, 2, 10, 20, 37, 52, 59, 82, 99, 120, 126, 203 (night), 205 (night), 210 (night), 728, Special 1, Special 2
QianMen Station (前门站 Pinyin: Qianmen Zhan), Routes: 5, 17, 20, 22, 48, 59, 66, 69, 71, 82, 120, 126, 301, 626, 646, 690, 692, 729
Tian'an Men Square East Station (天安门广场东站 Pinyin: Tiananmen Guangchang Dongzhan), Routes: 2, 5, 20, 22, 120, 126, 203(night), 210(night), special1, special2
Walking Route from Nearby Stations to National Museum (Click to Enlarge)
Travel with China Discovery
If you want to get rid of hustle of public transportation and troublesome navigation, you can book a private tour package which covers sightseeing, dining and transfer from us. Our local tour guide and driver will escort you to the National Museum with speed and convenience, and take care of all the details. You just need to focus on sightseeing.>>Contact Us Now
Attractions Around National Museum of China
Tiananmen Square
Tiananmen Square (天安门广场) is the heart of Beijing City and the largest center plaza in the world. It was first built in Ming Dynasty when Emperor Zhudi (朱棣) laid out the city of Beijing. It has been an imperial square enclosed by railings out the Forbidden Palace and civilians are forbidden to enter. As more than 500 years passed, Tiananmen Square became a diamond in the crown of Beijing. On 1st October 1949, Chairman Mao proclaimed the establishment of People's Republic of China in Tiananmen Gate. As a site of many important events, Tiananmen Square has a great political, historical and cultural significance.>>Read More
Forbidden City
Once forbidden and now permitted. It was an amazing experience visiting a huge palace once built by the Ming and Qing Dynasties. The cultural richness of china is truly reflected at this historical palace. Following the order of Emperor Yongle (Zhudi朱棣), Forbidden City was constructed from 1406, the fourth year of his reign. 14-years hardworking by one million civilian workers presented the largest ancient imperial architecture complex, 72 hectares area with 8703 rooms. It's truly a stunning masterpiece in Chinese architectural history.>>Read More
Tiananmen Square
Forbidden City
Other Recommended Museums in Beijing
By the end of 2018, there are 172 museums of various types in Beijing, which is a city with the second largest number of museums in the world. Apart from the most representative National Museum and the Palace Museum. There are also other museums recommended, such as the Capital Museum, the Ming Tomb Museum, the Yonghe Palace Museum of Art, and the Beijing Museum of Ancient Architecture. If you are interested in art, you are also recommended to visit the China Museum of Fine Arts, the Central Academy of Fine Arts Museum. If you go to Songzhuang (宋庄) or 798 Art District, you will have more private museums to explore.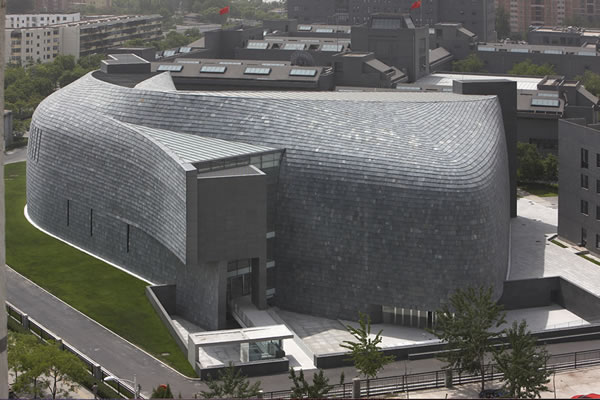 Central Academy of Fine Arts Museum
Useful Tips to Visit National Museum of China
① Before Entering
Your luggage and personal belongs shall be deposited after security checking.
The following items are not allowed to bring inside: Food and drinks, knives, lighters, compact discs, dangerous articles, pets.
② While Visiting
All the objects on display shall not be touched.
Visitors can not smoke.
Please keep your voice down and mute your phone.
③ Photo-taking Instructions
Photography is permitted for permanent exhibitions and on regular displays, but no flash, selfie stick or tripod. For temporary exhibitions, please observe signs in the galleries.  If photo-taking is prohibited, obvious reminders will be put both at the entrance of and inside the hall; your should pay attention to such reminders or consult the staff inside the exhibition hall. 
④ Facilities
Besides the exhibition area, there are also Café, Tea Room for you to rest and Gift Shop and Book Shop where you can buy exclusive gifts and souvenirs, replicas, luxury items including jewellery, tea set, silk scarves and books about ancient Chinese history, archaeology, art history, and collections.
How to Plan a Beijing Tour
As the capital city of China for centuries, Beijing is an internatinal metropolis with numerous historic scenic sites. Besides National Museum of China, you can also visit the Forbidden City to witness the royal buildings of the ancient China empire, hike on the incredible Great Wall, and wander along the traditional hutongs to experience the authentic local life...all of your dreams about Beijing can be tangible in our Beijing tours.
In only 2 or 3 days, you can have a trip in Beijing which will cover the most popular attractions - Forbidden City, Great Wall, Temple of Heaven, Summer Palace, Hutongs, which is available for to 144 Hours Visa-free for Transit in Beijing. If you have more time, you can go for an in-depth Great Wall hiking or photography tour, and explore more attractions in the city.
Also, you can easily travel from Beijing to any other hot travel destinations in China by flight or train, such as Xian, Shanghai, Guilin, Lhasa, Hong Kong, etc. China Discovery has designed many classic China tour packages including Beijing for you. Let us customize one Beijing Tour including National Museum for you.
Recommended Beijing Tour
>>2 Days Beijing Layover Highlights Tour
>>3 Days Beijing Essential Short Stay Tour
Beijing Attractions
Keep Reading About Beijing Attractions
Top Beijing Tours & Travel Guide
Recommended Beijing Tours
Top 3 Beijing tours chosen by most customers to explore Beijing in the best way. Check the detailed itinerary, or tailor your own trip now with us.
Start planning your tailor-made holiday to China by contacting one of our specialists. Once inquired, you'll get a response within 0.5~23.5 hours.
Customize a Trip
Have a question? Get answers from our travel experts or guests
Your Question:

Your Name:

Your Email: