Beijing Walking Experiences - Places to Go For A Walking in Beijing
Beijing, the old and present capital city as well as the political and cultural center of China, has too much to show off. Many travelers visit Beijing to touch China's long history and rich culture. However, just reaching the top cultural tourist spots to get a brief view of what they look like is not enough. For walking enthusiasts, it makes a travel more memorable to explore the charm of Beijing on foot.
Beijing absolutely offers a great opportunity to walk or hike. You can either pass through Beijing's busy avenues or narrow hutongs to seek for the different life styles in Beijing. You can also extend your trip to the outskirts to find something adventurous, like trekking on/between the wild sections of Great Wall or in the tranquil forests. There are many walking routs with different degrees of difficulty to allow you to stretch your legs while traveling in Beijing.
Great Wall Walking Experience - Appreciate Architectural Wonder
Length:Depending on which sections your choose
Physical Level: flexible
Highlights: Manmade Architectural Wonder – Great Wall of China, Natural Beauty
Great Wall of China is the world's largest military structure with great historic, strategic and architectural significance. More than that, the natural landscape seen from Great Wall is attractive as well. No matter you want an easier walking or a physical-demanding trekking, different sections of Great Wall can fulfill your demand. The Great Wall hiking experience can be also tailor-made according to y our own physical condition, budget and dates.
Flexible Walking on Most Popular Great Wall
With well-preserved walls and towers and beautiful surrounding scenery, Mutianyu Great Wall is the most popular section among foreign travelers. It is also well equipped with cableway and slide way, which offers a quick way to ascend or descend the way if you want to save energy for your hiking on the wall. Besides, Badaling Great Wall which is well preserved and restored, can be an substitute.
Amazing Wild Great Wall Hiking
For adventurers, hiking on wild sections of Great Wall is a must. You will get amazed by an adventurous hike to see the most dangerous parts of Great Wall, take a detour through military land and enjoy the great tranquility. Most recommended sections of Great Wall include Jiankou Great Wall, Gubeikou Great Wall, Simatai Great Wall, etc.
>> 2 Days Wild Great Wall Hiking with Camping Experience
>> 2 Days Jiankou - Mutianyu & Huanghuacheng Lakeside Great Walls Hiking Tour
>> 2 Days Jinshanling and Simatai Great Wall Scenic Hiking
Useful Related Links: Great Wall of China Hiking | Great Wall Tours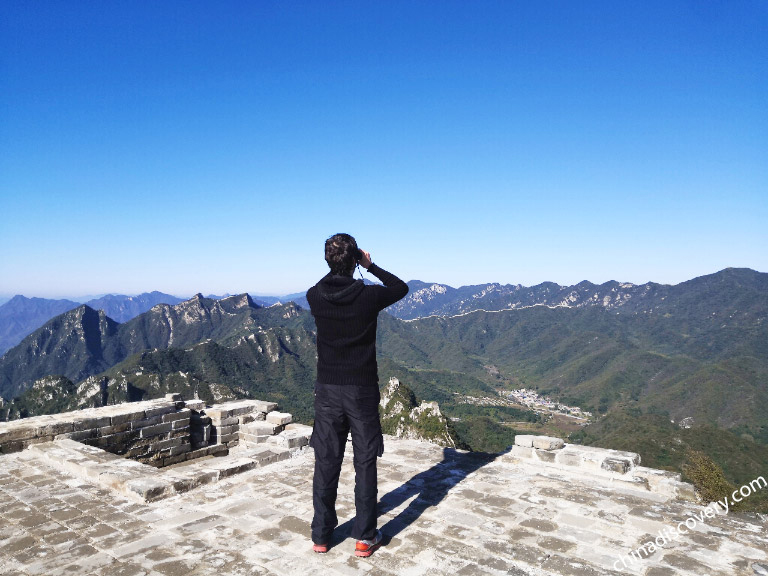 Hiking on Jiankou Great Wall
Hutong Walking Experience – Feel the Old Beijingers' Local Life
Length: about 4 hours
Physical Level:
Highlights: Beijing Local Life, Old Hutongs
Beijing Hutong is a type of narrow alleys formed by lines of Siheyuan (Quadrangle Dwellings) – traditional courtyard residences. Visiting Hutong is one of the best ways to explore Beijing's local life. There are many Hutongs in Beijing and you can walk through them to have lots of fun.
You are suggested to start your walking from Yingding Bridge which links the two streets on the banks of Houhai River. Then walk to Yandaixie Street – the oldest commercial street and traditional Hutong in Beijing. In the street you will find many souvenir shops, boutiques and interesting bars. Go on with your walking and you will get to another famous Hutong – Nanluoguxiang which show real old Beijing atmosphere. After have a good meal in Nanluoguxiang, you can pass through several hutongs and rach Yonghegong Street where there are many historic sites, including Temple of Confucius and Guozijian. From these sites, you are able to get a better understanding of Chinese imperial examination system. After sightseeing, visit glittering Lama Temple, a Tibetan Buddhist Temple with highest status. It enjoys a combination of Han and Tibetan styles architecture. The whole hiking journey takes about 4 hours, but you can get a wonderful sight Beijingers' local life.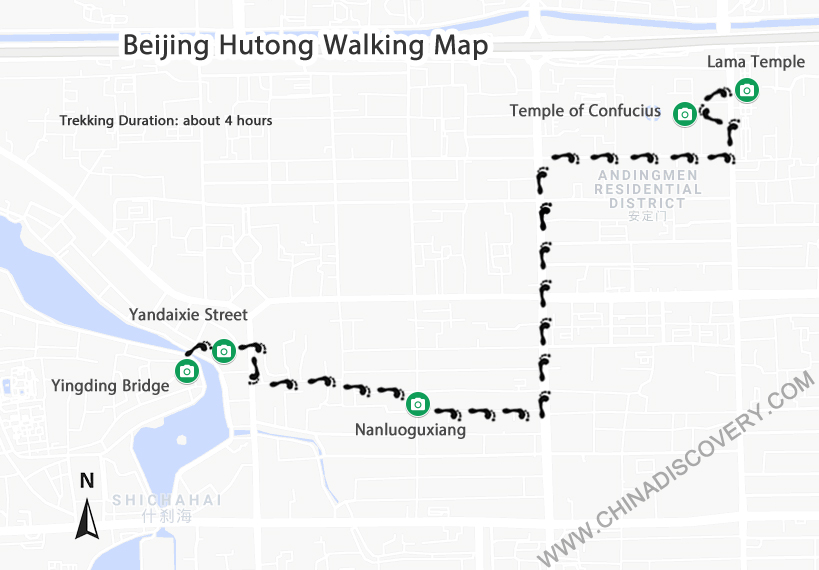 Beijing Hutong Walking Map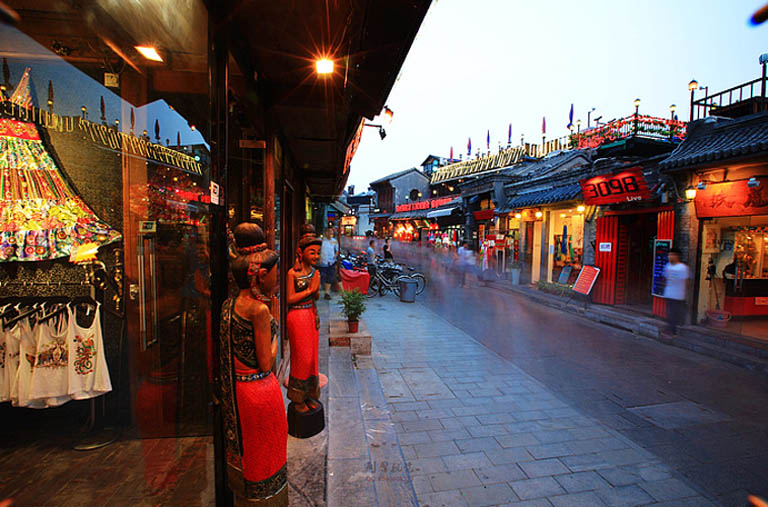 Yandaixie Street
Beijing Central Axis Walking – Pass through the Old Imperial City
Length: about 5 hours
Physical Level:
Highlights: Beijing's Landmarks, Well-paved Road
The central north-south axis of old Beijing Imperial cities is scattered with many worth-seeing attractions, both ancient and modern ones. It stretches from Yongding Gate to Bell Tower, about 7.5 kilometers long.
It is top recommended to start your walking from Yongding Gate which can easily by subway east line of Line 14 and south line of Line 8. You will walk towards north. Firstly, you will pass through Temple of Heaven where the emperors offer sacrifice to Heaven. Now it becomes a park for local people and you may see some people play Ta Chi in the morning. Walk about 35 minutes and you can get to Qianmen Street, a famous commercial street with many time-honored stores. Continue your walking and reach to Tianmen Square. Tianmen Square is the heart of Beijing and enjoys a great political, historic and cultural importance. Mao Zedong Memorial Hall and National Museum are located beside the square. Then there comes the highlight of Beijing City – Forbidden City which deserves your 3 hours' stay. It is the world's most magnificent Imperial Palace. Then get off Forbidden City from the North Gate and visit Jingshan Park from which you can get a bird's-eye view of Forbidden City. Then continue your walking to bustling Yandaixie Street and historic Bell Tower.
The old Beijing central axis ends here, but the new central axis extends to Olympic Park. If your energy allows, you can walk to Olympic Park to get a view of the modern architectures. The hiking from Bell Tower to Olympic Park takes about 1.5 hours and covers about 6km.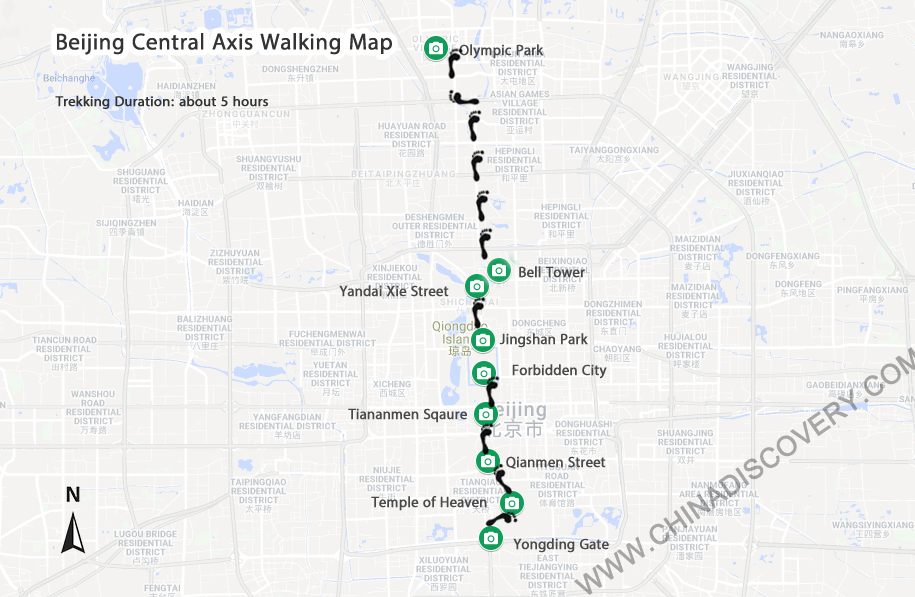 Beijing Central Axis Walking Map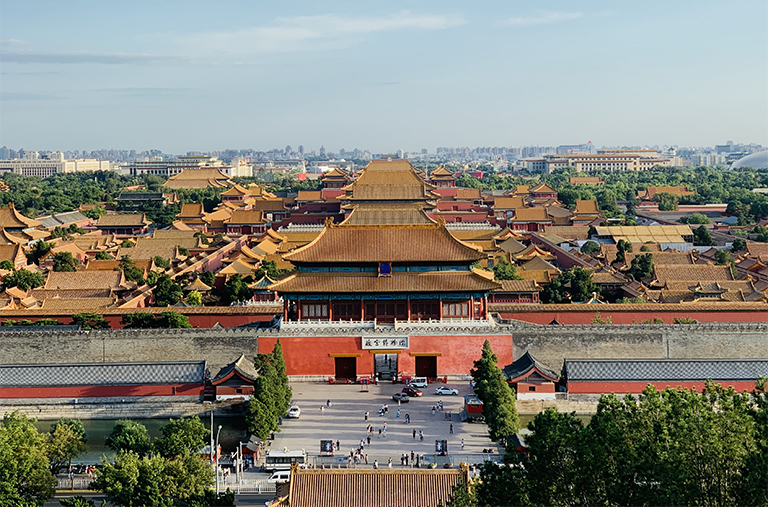 Seeing Forbidden City from Jingshan Park
Jingxi Ancient Path Trekking – Be Immersed in the Natural Beauty
Length: about 6 hours
Physical Level:
Highlights: Wild Nature, Peaceful Environment
Want to get away from the hustle and bustle of this modern city and have a hike in more peaceful site, just turn to Jingxi Ancient Path (京西古道). Beijing is surrounded by mountains in its three sides and the mountains in west are collectively called Xishan (translated as West Mountain in English). West Mountain was rich in coal, so many businessmen from Beijing City came here for coal since Yuan Dynasty (1271~1368). That's how Jingxi Ancient Path comes. The length of Jingxi Ancient Path reaches 12 kilometers and it takes about 6~7 hours to trek.
The whole path is divided into three parts, including Xishan Path, Yuhe Path and Xintan Path. Most sections of the road are mud or paved with irregularly shaped stones. Trekking along the old path, your eyes will be overwhelmed by tree-capped peaks, clear springs, wild plants and various kinds of insects, etc. Since few villagers reside there nowadays, you can imagine the prosperity in the old times.
Transfer: Take metro Line 1 to Pingguoyuan Station (苹果园站) and then get to Shiguyan Station by public bus No.929.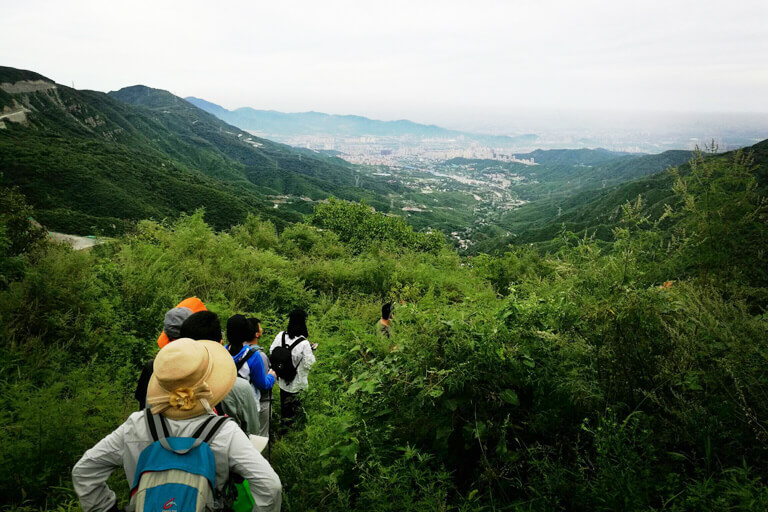 Hiking along Jingxi Ancient Path
Beijing Tour with China Discovery
China Discovery has helped lot of overseas travelers finish their Beijing tours with trekking experience. We offer customers private cars with skilled drivers, so there is no need to worry about transportation. Our local travel guides are knowledgeable of walking routes and Beijing culture. With their help, you won't miss the highlights on your trekking.
In addition to hiking tour, we offer many other Beijing tours with different experience involving cultural exploration, kids-friendly activities, featured food, photography, etc. Want to plan a worry-free time in Beijing now? Don't hesitate to contact our professional travel guide. You are also warmly welcomed to contact us and customize your Beijing tour in your own style.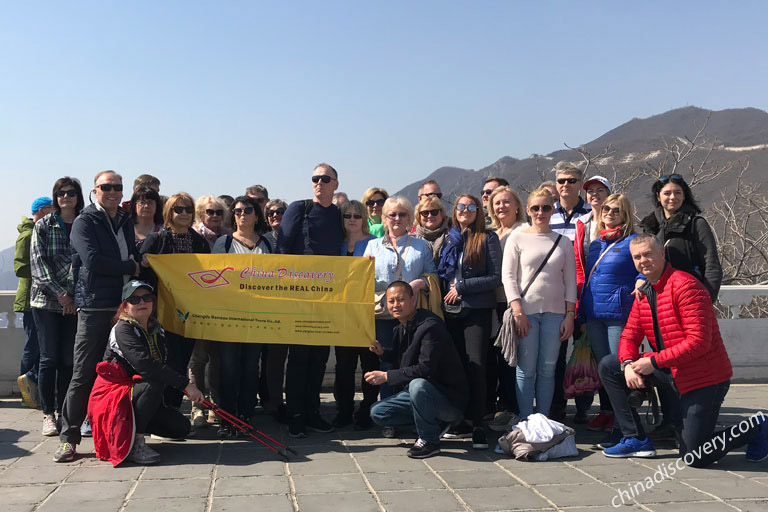 Woo's group from Latvia traveled Mutianyu Great Wall with China Discovery
>> 2 Days Beijing Layover Highlights Tour
>> 3 Days Beijing Essential Short Stay Tour (Visa Free)
>> 4 Days Classic Beijing Tour Package
>> 4 Days Beijing Essence Tour with Simatai Great Wall Night Sightseeing
Tips for Beijing Walking / Hiking
Wearing: A pair of comfortable and sturdy shoes is a must for walking. Hiking on Great Wall, you need to climb lots of steps. Warm, comfortable and firm clothing is helpful to protect you from cold and wind in winter. If you travel in summer, remember to bring sum cream to protect you from sun burn.
Food and Drinks: If you walk in Beijing City, you can easily buy some food and drinks for supplement. If you hike in other places, you need to prepare something to eat and drink. Except for Mutianyu Great Wall and Badaling Great Wall, there is no food and drinks for sale in other walls usually.
Trekking with a Guide: In some walking routes, there are no clear road signs marking the direction to your walking destination. It's top recommended to hire an experience tour guide to accompany you.
Recommended Beijing Hiking Tours
Top 3 Beijing Hiking tours chosen by most customers to explore Beijing Hiking in the best way. Check the detailed itinerary, or tailor your own trip now with us.
4 Days Beijing Essence Tour with Simatai Great Wall Night Sightseeing

Beijing / Jinshanling / Simatai / Gubeikou Water Town / Beijing
3 Days Beijing Walking Tour

Beijing
7 Days Beijing Xian Tour with Great Wall and Mount Huashan Hiking

Beijing / Xian / Mount Huashan
Start planning your tailor-made holiday to China by contacting one of our specialists. Once inquired, you'll get a response within 0.5~23.5 hours.
Customize a Trip
Have a question? Get answers from our travel experts or guests
Your Question:

Your Name:

Your Email: