Top 8 Populus Euphratica Forests in China
Populus euphratica is an ancient tree species of the Tertiary period. It grows slowly and has a long lifespan. Most of the world's Populus euphratica grows in China, and more than 90% of China's Populus euphratica forests grow in the Tarim River Basin of Xinjiang and part of Inner Mongolia.
Populus euphratica in Uyghur means "the most beautiful tree". Because of its tenacious vitality, as well as its amazing ability to resist drought, wind, sand, salt and alkali, people also call it the "heroic tree on desert". There is an old saying in China to praise this ancient tree as it "lives a thousand years after it is born, stands a thousand years after it dies, and remains imperishable for a thousand years after it falls".
Every October, Populus euphratica will change from dark green to golden yellow, just like a burning flame in the vast desert, which seems to dye the whole desert into a golden picture, making people feel the beauty of nature and the tenacity of life. Therefore, the best time to visit Populus euphratica is from late September to October. Time has left many marks on the earth, changed many scenes and taken many lives, but Populus euphratica still stands on the desert.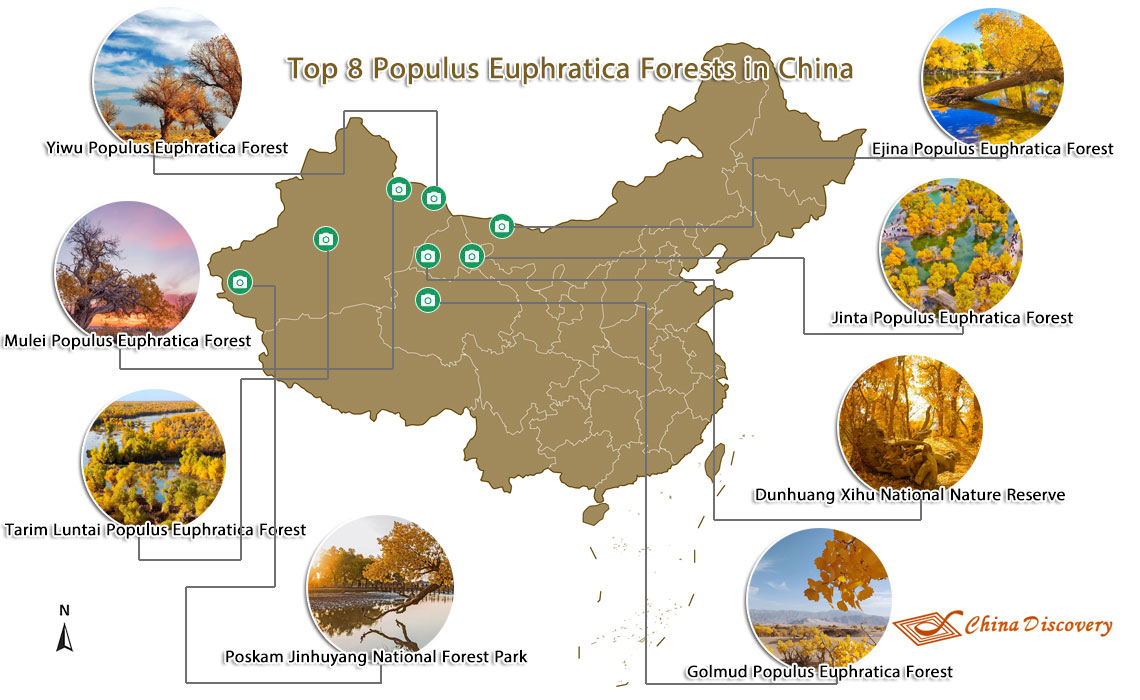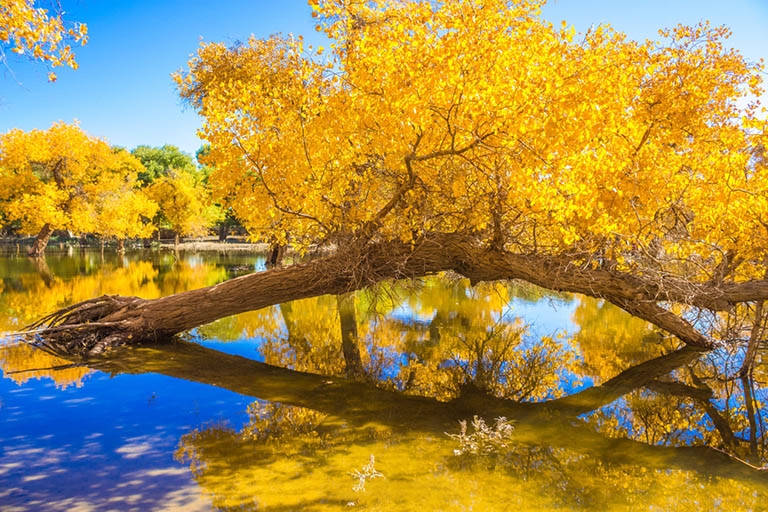 The Second Bridge in Ejina Populus Euphratica Forest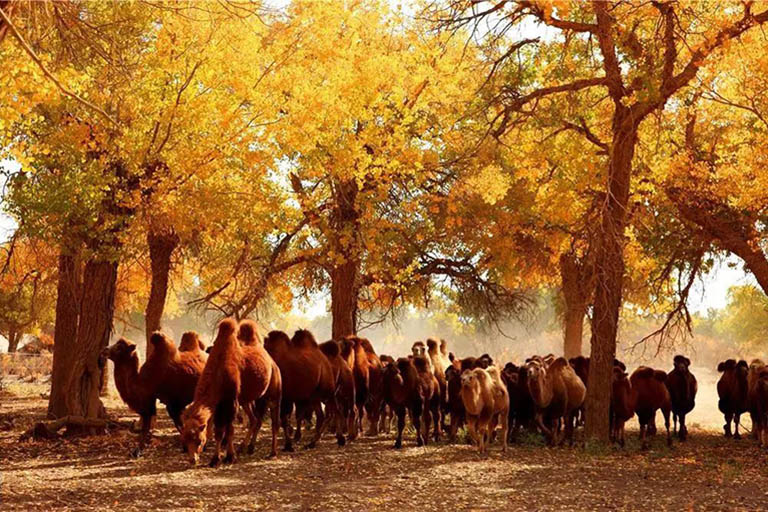 Camels in Ejina Populus Euphratica Forest
Location: Dalaihob Town, Ejina Banner, Alxa League, Inner Mongolia
Opening Hours: 7:30 ~ 18:00 (Sept. 1 - 25); 5:00 ~ 19:00 (Sept. 27 - Oct. 8); 7:00 ~ 19:00 (Oct. 9 - 30); 8:30 ~ 18:00 (May 20 - Aug. 31)
Ticket: CNY 240 for 1 day, CNY 350 for 3 days (both including tourist bus)
Ejina Populus Euphratica Forest is the most famous and popular Populus euphratica forest in China. It is an important barrier to prevent the Badain Jaran Desert from spreading northward and a natural ecological treasure in Western China.
Ejina Populus Euphratica Forest consists of eight bridges (areas) and each one has their distinct features. Among them the most popular are the Second Bridge - Reflection Forest, the essence of Ejina Populus Euphratica Forest and it is a favored place for many photographers, especially for the beautiful sunrise; the Fourth Bridge - Hero Forest with the most concentrated populus euphratica where the movie Hero was shot; the Seventh Bridge - Dreamland Forest ushering the approach of autumn with leaves turning yellow at the earliest; and the Eight Bridge, which is a desert kingdom where you can take part in many desert activities and enjoy the magnificent sunset.
Recommended Ejina Populus Euphratica Forest Trips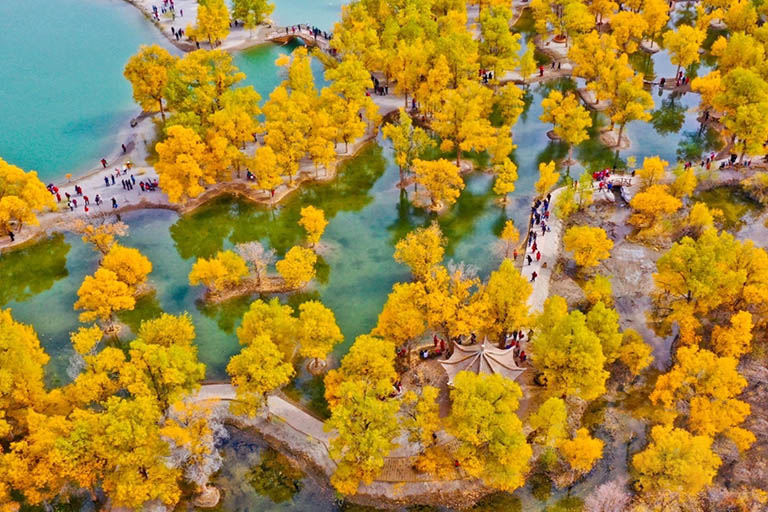 Overlook Jinta Populus Euphratica Forest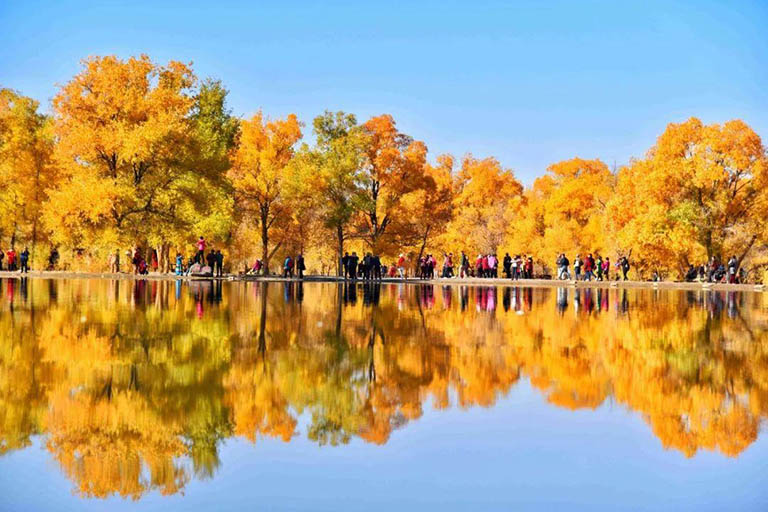 Poplar Trees Reflected on Jinbo Lake
Location: 6 km to the northwest of Jinta County, Jiuquan City, Gansu Province
Opening Hours: 6:00 ~ 19:00 (July - October); 8:00 ~ 18:00 (November - June)
Ticket: CNY 65
Jinta Populus Euphratica Forest is the largest artificial Populus euphratica forest in northwestern China. It is located in the north of the middle section of the ancient Silk Road, covering an area of more than 53.3 km². It consists of five areas: Populus Euphratica Forest-Jinbo Lake Core Tourist Area, Elaeagnus Angustifolia Forest Tourist Area, Hanhai Rose Willow Conservation Area, Desert Entertainment Experience Area and Desert Reed Labyrinth.
Jinbo Lake ripples in the sunshine and the poplar forest looks dazzling golden in autumn, together with fragrant russianolive flowers, various wild animals, soft sand beach and comfortable sunshine, they form the highlight of Jinta Populus Euphratica Forest. Visiting here, you can fully admire the desert landscape, appreciate the poplar culture, adventure in the woods… It is a tourist resort integrating ecological afforestation, wind prevention and sand fixation, catering and entertainment, photography and sightseeing, and is rated as the most beautiful place in autumn in Gansu Province.
Recommended Jinta Populus Euphratica Forest Trip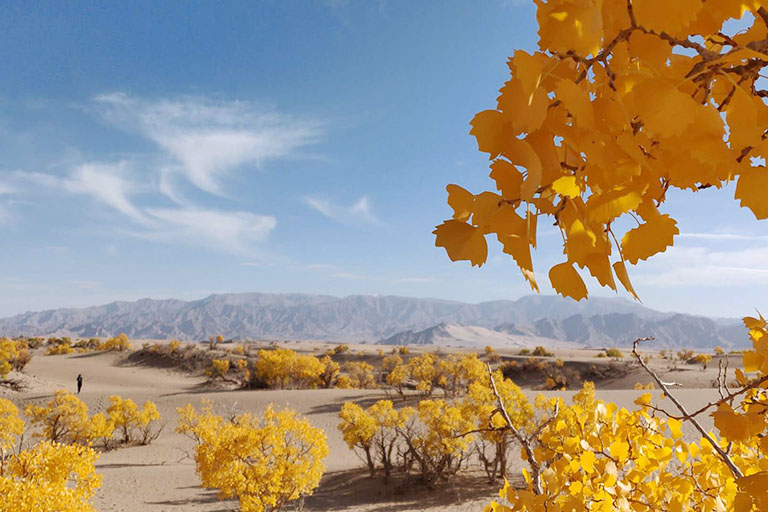 Golmud Populus Euphratica Forest and Distant Mountains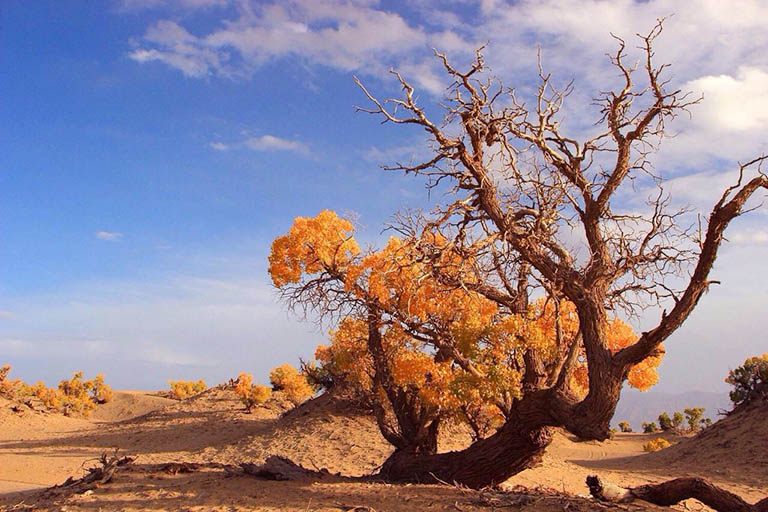 Golmud Populus Euphratica Forest on Desert
Location: 50 km to the west of Golmud, Qinghai
Opening Hours: All day
Ticket: CNY 50
Golmud Populus Euphratica Forest is located in the northwest of Altunquk Grassland, in Tuole Lake area which is named after Tuola Heihe River. Tuole Lake, in Mongolian, means "a place with a lot of Populus euphratica." Golmud Populus Euphratica Forest is about 60 kilometers away from Golmud City. It is the only Populus euphratica forest in Qinghai Province and the highest in the world with an altitude of about 2780 m. Therefore, it is possible to see snow mountains on fine days. The Populus euphratica forest is close to the towering Kunlun Mountains in the south and the vast Gobi salt beach in the north, which makes it especially precious in the desertification zone. A seasonal river called Tuolahai flows from the sand and curves beautifully around the woods. The forest is accompanied by sand plants such as the reed, haloxylon ammodendron, red willow, alhagi and so on. Together with wild animals such as pheasant, fox, wolf and hare, they form a special ecosystem.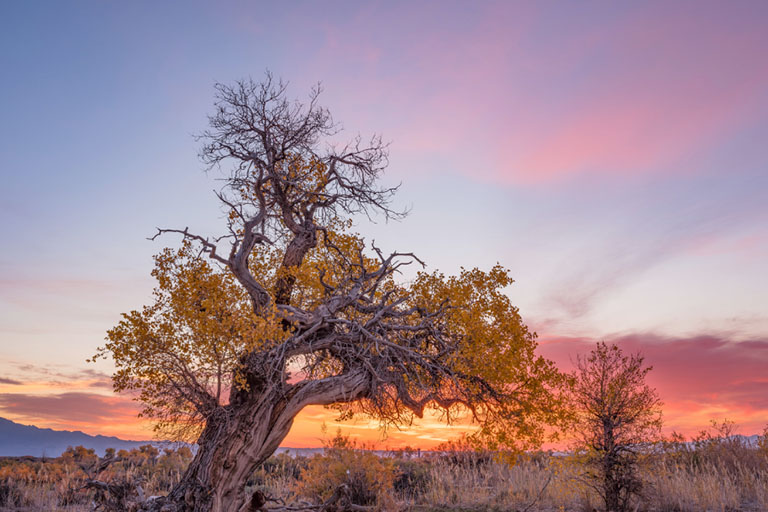 Mulei Populus Euphratica Forest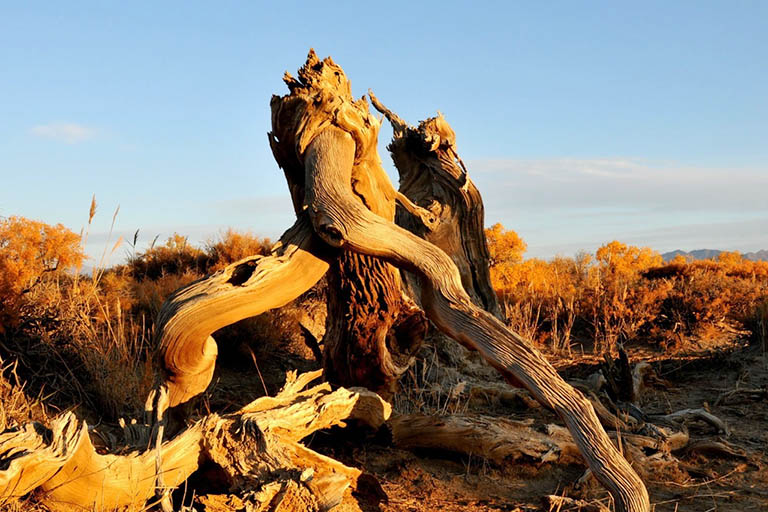 Oddly-shaped Dead Poplar Tree Trunk
Location: 30 km to the north of Mingsha Mountain in Mulei
Opening Hours: 10:00-20:00
Ticket: CNY 80
30 kilometers northbound from Mt. Mingsha in Mulei, you can see a lush and sun-blocking forest, which is the famous original Populus euphratica forest. It is said that this Populus euphratica forest with an area of more than 30 square kilometers has a history of at least 65 million years (the oldest in China). Although it has gone through ups and downs, it still retains its original style. The height of the tree can reach 20 meters. It has layers of green leaves with different shapes such as round eggs and willow leaves. Walking into the Populus euphratica forest, you can feel the primitive rhythm of life. The majestic upward momentum shows you the indomitable spirit, and the uncanny shape makes you feel the magnificence of nature. For thousands of years, they have been fighting against the erosion of desert with tenacious will. You can see a large scale of dead trees here. What's amazing is that these sturdy trunks are in various shapes. Some are like the wings of a wild goose, some are like the galloping hooves in the air, and some are like slender girls. It's a natural art palace.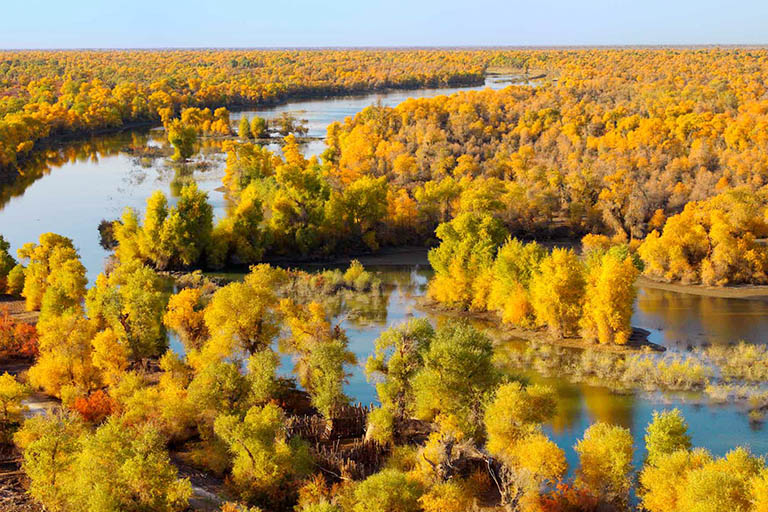 Bending River in the Forest
Tarim Luntai Populus Euphratica Forest
Location: 70 km from South Desert Road, Lunnan Town, Luntai County
Opening Hours: 10:00 ~ 19:00
Ticket: CNY 30
Luntai Populus Euphratica Forest was built in February 2004 with a total area of 100 square kilometers. It can be divided into three areas: tourist center, sightseeing area and entertainment area.
Sightseeing area is a 17 km long path with 126 bends. You can enjoy the most ancient and primitive Populus euphratica in different seasons and shapes along the road. In the entertainment area, there is a 13 km long circular sightseeing railway connecting 4-5 large lakes in the forest. Populus euphratica grows very luxuriantly by the lake with is golden in autumn with beautiful reflection in the water. Taking the sightseeing train (ticket: CNY 100) passing through the green grassland, rose willow forest, reed marshes, running Qiayang River, and lakes in the forest, you can fully enjoy the beauty of the scenic area. Climbing up to the 24 meters high observation tower (ticket: CNY 20), what you can see is endless Populus euphratica forest. Golden leaves shine in the sun and decorate the monotonous desert into a fairy tale world.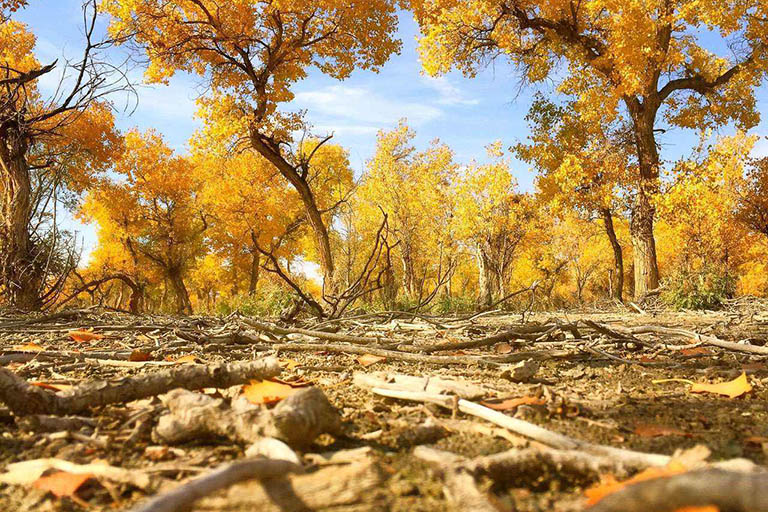 Poskam Jinhuyang National Forest Park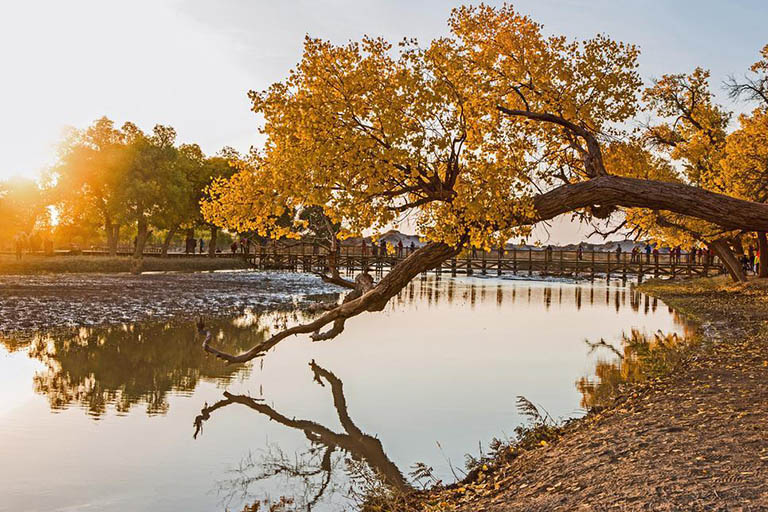 Populus Euphratica Contracts Finely with River
Location: About 40 km to the southwest of Poskam County, near Kashgar
Opening Hours: 10:00 ~ 19:00
Ticket: CNY 20
Poskam Jinhuyang National Forest Park is the sixth national 5A tourist attraction in Xinjiang and the first one in southern Xinjiang, with its unique features of vast natural Populus euphratica forest, expansive Yeerqiang River, the barren Gobi desert on both sides of the river and Mount Kunlun in the distance.
In the park lies the relatively well-preserved poplar forest covering 4.6 square kilometers, which is a very magnificent scene. It contracts finely with the river and that's why it is called "Jinhuyang" (golden poplar forest). In spring, the birds sing happily in the forest and everything is full of vitality; in summer, the sun is covered with thick shade and the trees are dotted by flowers; in autumn, the leaves are dyed yellow like a poetic picture; in winter, it becomes a world of pure snow. The Populus euphratica, river, oasis and Gobi show people a unique picture Xinjiang, which is a rare tourist holy land on the southwest edge of Tarim Basin.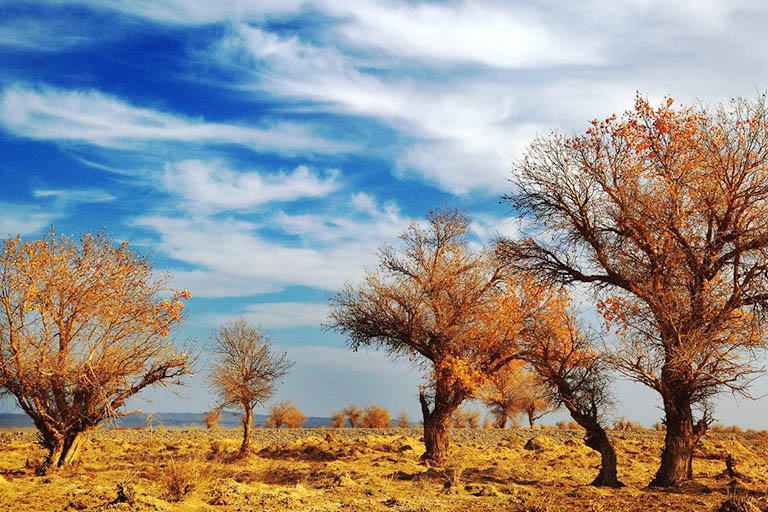 Yiwu Populus Euphratica Forest
Populus Euphratica in Strange Shapes
Location: 10 km to the east of Naomaohu Town, Yiwu County, Hami City, Xinjiang
Opening Hours: No specific time
Ticket: CNY 35/person, CNY 50/car
There are many Populus euphratica forests in Xinjiang, and Yiwu Populus Euphratica Forest (also called Yiwu Primitive Populus Euphratica Forest) is the most peculiar. It has the most concentrated poplar trees in China. It is also the world's oldest Populus euphratica forest with the trees in the strangest shapes. The road to the forest is well paved. You can fully appreciate the 317.3 km² populous forest ageing from 1000 to 9000 years old on the 38 km sightseeing path.
Yiwu Populus euphratica forest faces a more difficult living condition than any other Populus euphratica forest in the world. It has fought thousands of times in the fierce wind, and resisted the raging sandstorm with its own body. The trees are deeply rooted under the thick alkali soil. Despite the burning sun and the howling wind, the trees stand doggedly. Year after year, due to the hard environment, Yiwu Populus euphratica trees show different twisting shapes and look like a palace of abstract art.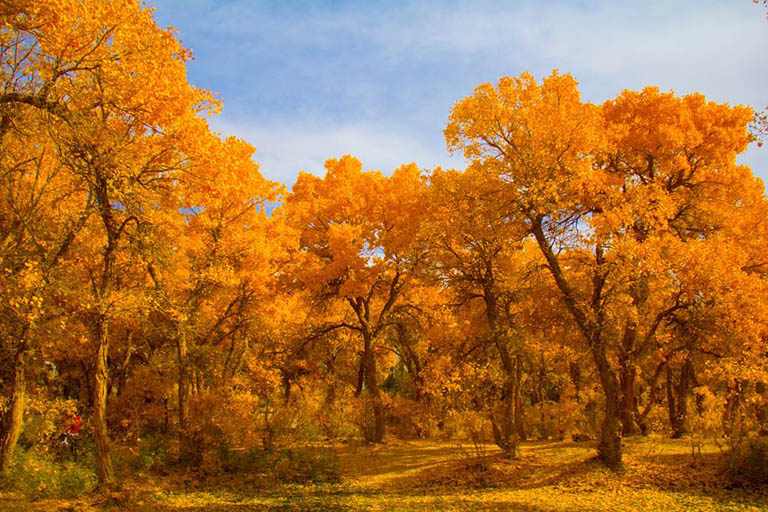 Dunhuang Xihu National Nature Reserve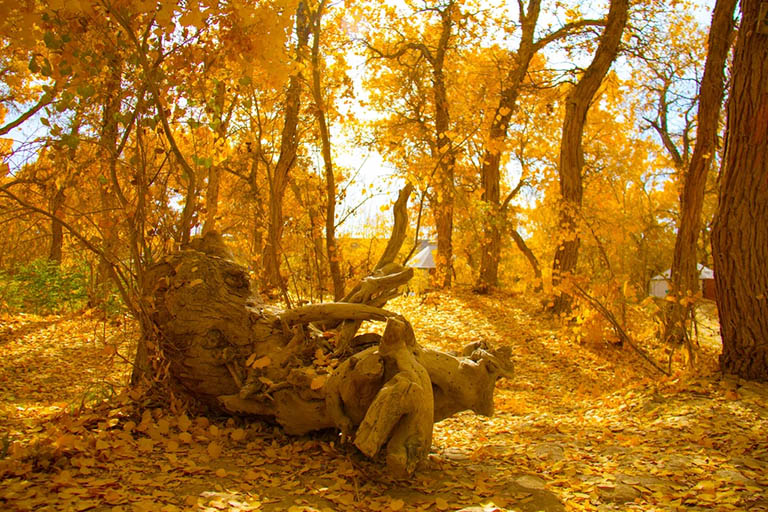 Golden Trees in Late Autumn
Location: 120 km to the west of Dunhuang
Opening Hours: No specific time
Ticket: No ticket
Dunhuang Xihu National Nature Reserve was built in 1992 with an area of 440 km². As a world-famous desert oasis, Dunhuang has a unique natural ecological landscape, and Xihu National Nature Reserve is rather representative. It is located between Yumenguan and the devil city, becoming the last green barrier to prevent the Kumtag Desert from moving eastward to Dunhuang and Mogao Grottoes. Historically, it is also the first post station of the ancient Silk Road outside Yumenguan.
Dunhuang Xihu National Nature Reserve has the third largest Populus euphratica forest (102 km²) in China, only smaller than the ones in Tarim in Xinjiang and Ejin Banner in Inner Mongolia. Besides wetland scenery, it offers more amazing and magnificent scenery: the vast desert, the red Gobi, the Silver Sand Bay known as paradise in desert, the mysterious valley of sand sea, and the Mars City that looks like another world...
Travel China Top Populus Euphratica Forests with China Discovery
Want to enjoy a worry-free Populus euphratica forest tour in China? Just travel with China Discovery! China Discovery is a leading travel agency offering private China tour packages with great flexibility, comfort and personalized services for decades. We have got 1,460+ good reviews on TripAdvisor.com, and 4,050+ China travel reviews from the customers. Before your travel, our experienced travel expert will communicate with you one-to-one and organize everything (accommodation, transfer, itinerary…) well. In your trip, our local travel guide will accompany you all the way and introduce the highlights of every place to you. Private transfer service allows you to enjoy a comfortable and safe trip. Every detail will be taken care of and all you need to do is focusing on sightseeing! Besides, you can enrich your Populus euphratica forest tour to more attractions on the ancient Silk Road to feel the charm of Mogao Grottoes, Zhangye Danxia Landform, ruins of the Great Wall, etc. or find more beautiful sites on the vast land of China for a photography trip. All the experience can be tailor-made according to your group size, travel time, physical condition, personal interest, travel budget and other needs. Please feel free to contact us if you need any help!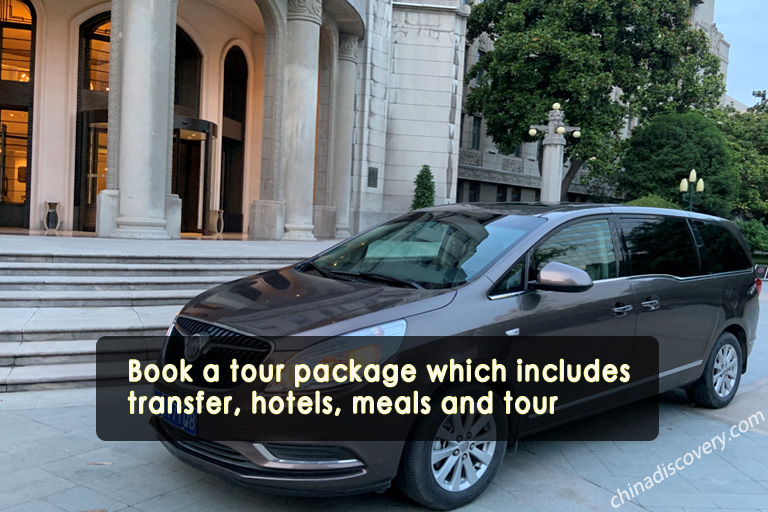 Private Transfer with China Discovery
Start planning your tailor-made holiday to China by contacting one of our specialists. Once inquired, you'll get a response within 0.5~23.5 hours.
Customize a Trip
Have a question? Get answers from our travel experts or guests
Your Question:

Your Name:

Your Email: