Ejin Banner (or Ejina, Ejina Banner, Ejina Qi) is in Alxa League in western Inner Mongolia, bordering Gansu Province in the west and southwest, and Mongolia in the north. Banner is like county in other cities. Ejin is the banner with the largest area (114,600 km²) and the least population in Inner Mongolia Autonomous Region.
Ejin is a hidden treasure in northwestern China that not many tourists know. But in autumn, especially from late September to middle October, the vast golden populus euphratica forest is like sending an invitation to the world and it becomes the busiest time in Ejina.
Why visit this city:
The Most Beautiful Autumn Scenery - Ejin Banner is famous for Ejina Populus Euphratica Forest. Populus euphratica is not commonly seen and the one in Ejina is the most renowned in China. Especially from late September to middle October in autumn, the 260 km² golden forest will lead you to a fairyland.
Trace of Ancient History - Heicheng Historic Site, or Heicheng Ruins has a history of over 1000 years. What remains now tells people the past of Xixia Dynasty.
Diverse Travel Experiences - Apart from the Populus euphratica forest, Ejin Banner is mainly composed of Gobi, hills, deserts, rivers, lakes and oases to offer you different and typical travel experiences in northwestern China.
Top Attractions in Ejin Banner
What you can not miss is certainly Ejina Populus Euphratica Forest, which is most beautiful in autumn. Apart from that, the ancient sites, vast desert, strange forest, informative museum, rivers and lakes also worth a go. See more about Ejin Banner Attractions >
Ejin Banner Weather and Best Time to Go
Ejin Banner Transportation
Where to Stay in Ejina
Ejina Maps
For a better understanding of the location of Ejin Banner and how to travel in Ejina, here we provide some Ejina Maps for you, including Ejina Location Map, Ejina Attractions Map and Ejina Populus Euphratica Forest Tourist Map. Check more Ejina Maps >
Top Destinations Traveled with Ejina
Ejina is in western Inner Mongolia and it is usually reached by car. It is near to the cities on the ancient Silk Road such as Dunhuang (Mogao Caves), Jiayuguan and Zhangye, so a road trip with these cities are very popular. If you want to see the wild and rough desert landscape, Badain Jaran Desert which is also in western Inner Mongolia is a good choice.
Other Popular Destinations in China
China is vast and diverse. You can choose your favorite destinations among more than 70 tourist destinations and regions, like Beijing, Shanghai, Xian, Chengdu, etc. Following are 4 popular destinations you may be interested in. Check all destinations in China.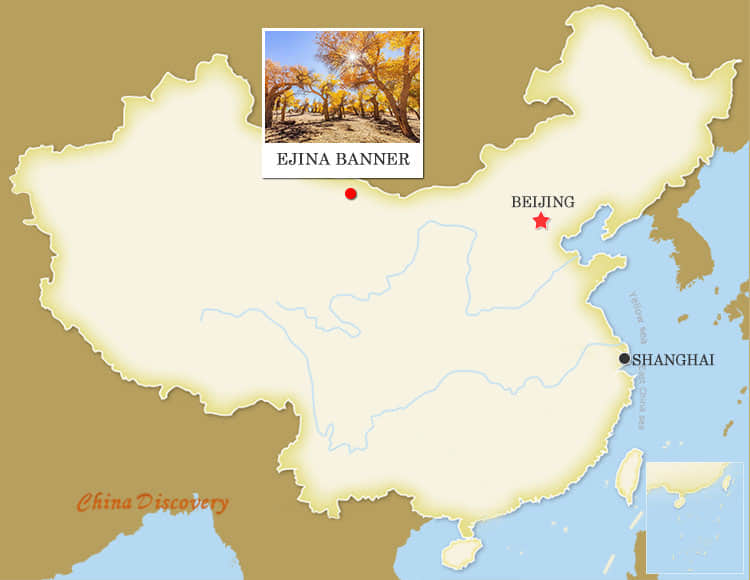 Chinese Name: 额济纳旗
Chinese Pinyin: é jì nà qí
English Name: Ejin Banner, Ejina, Ejina Qi
Population: 32,000
Language: Mandarin & Mongol
Tel Code: 0483
Zip Code: 735400
Time Zone: (UTC+8)
Logo: Populus Euphratica Forest
Plan Your Ejin Banner Tour
It usually needs 3-4 days for an Ejin Banner trip including the arriving and departing day. Ejina Populus Euphratica Forest is the highlight and must-see in the trip. You can spend a day fully immersing yourself in the dreamland of golden trees and having fun in the desert kingdom. Heicheng Ruoshui Huyang Scenic Area is a combination of nature and history with Heicheng Historic Site, Strange Forest and Ruoshui River. If you want to catch the most brilliant sunrise in Ejina, don't miss Juyan Lake.
If you have more days, you can extend your Ejina trip to the Badain Jaran Desert with the world's tallest stationary dunes, colorful lake and mysterious echoing sand hills. Besides, many travelers travel Ejina with Dunhuang, Zhangye, Jiayuguan on the ancient Silk Road, which is very suitable for a road trip to discover the landscape and history of northwestern China.
Recommended Tours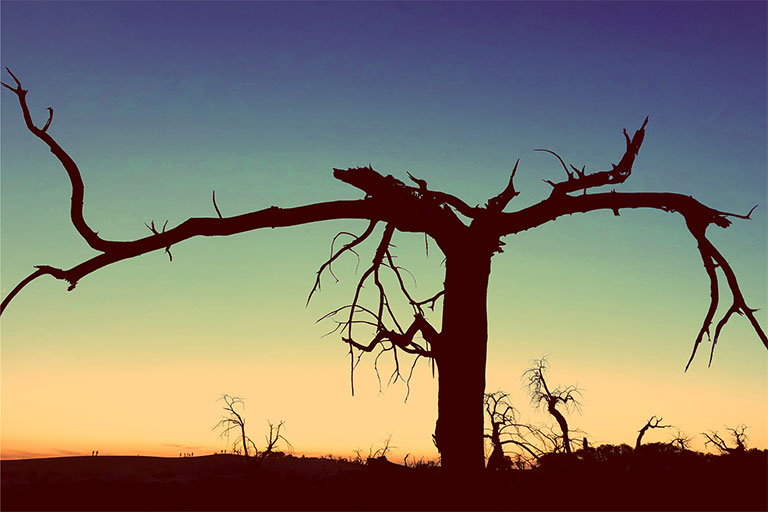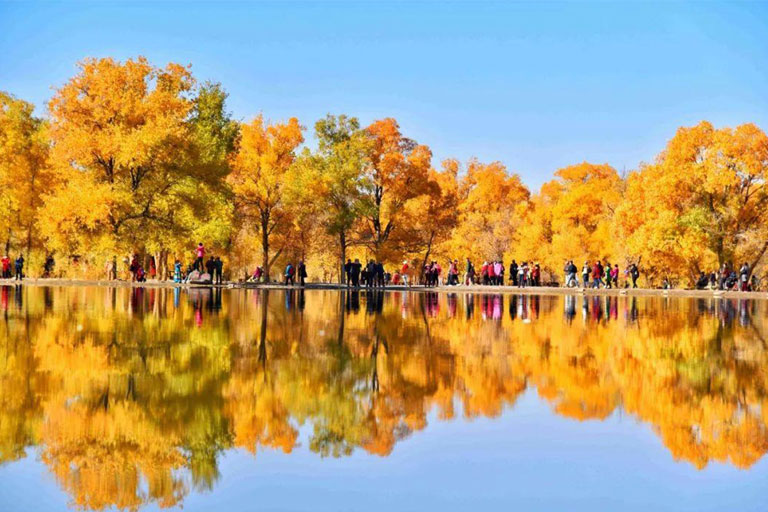 MORE