Wuhu, also known as Jiangcheng or "Wu" for short, is a prefecture level city in southeastern Anhui Province and an important scientific research and education base and industrial base in East China. Since ancient times, it has enjoyed the reputation of a fertile "land of fish and rice".
During the over 2000 years' history, Wuhu today has remained its original advantages and added some modern charm. It's a place you can enjoy mountain scenery, Hui culture, Buddhism, and contemporary entertainment.
Why visit this city:
Immersed in Pleasant City Environment: Wuhu has always been a prosperous city in the history and has a livable environment with lakes and hills. You can take a stroll along the Yangtze River or spend a couple of relaxing hours in various parks.
Attending Exciting Activities While Enjoying Natural Landscape: Maren Mountain (Maren Qifeng) Scenic Area is not only a national forest park and geopark, but also an exciting place where you can try walking on the glass bridge and plank walk hanging 180 m high in the air.
Exploring Historical & Cultural Sites: The long history has left Wuhu with many sites. You can pay tribute to the Buddha in Guangji Temple and experience Hui culture in Jiuzi Old Town.
Top Attractions in Wuhu
Wuhu is a city you can really slow your pace down and enjoy the local life. When you are in downtown, you can pay a visit to Zheshan Park or Jinghu Park, or learn more about Huizhou merchants in Jiuzi Old Town. If you have more time, do not miss Maren Mountain Scenic Area with marvelous mountain view.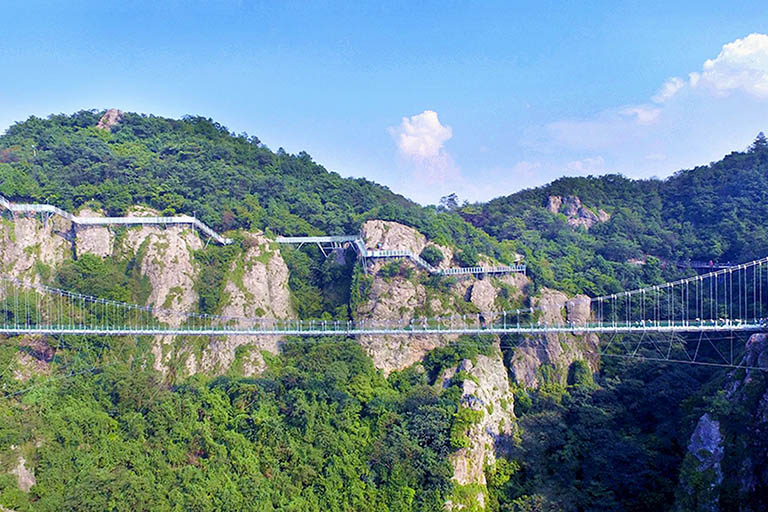 Maren Mountain Scenic Area
Maren Mountain has unique landscape composed of lifelike strange peaks and stones, lush forests, rare birds, and ancient temples. Apart from the beautiful scenery, there are many exciting activities. You can take a walk on the 388 m Feilong Glass Bridge and the glass plank walk it connects, drift down the longest and largest forest high-altitude glass drift project in the world (3000 m long with an altitude difference of 180 m), take a jungle adventure and so on.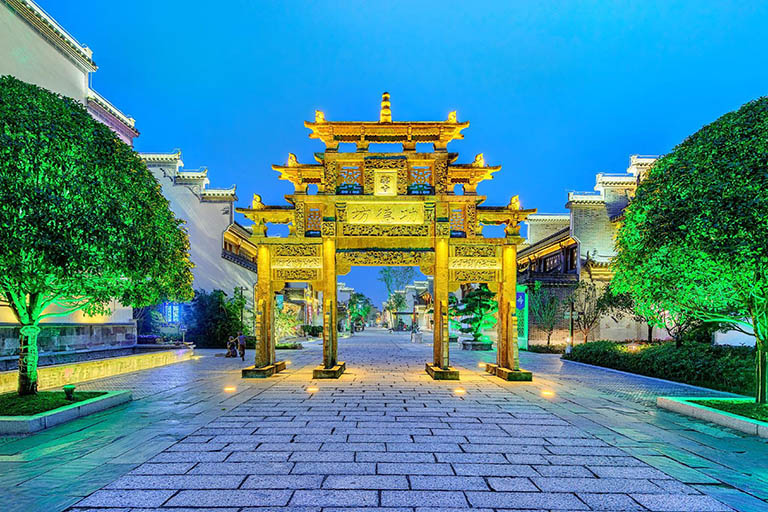 Jiuzi Old Town
Jiuzi Old Town is 1200 m long and 500 m wide, divided by Biandan River. It is China's first commercial cultural tourism area themed in Hui merchants. Along the river, it covers 10 characteristic blocks, more than 10 kinds of immersive performances of Hui culture, 16 major cultural attractions, more than 30 intangible cultural heritage experience projects, and more than 50 time-honored brands of Huizhou merchants.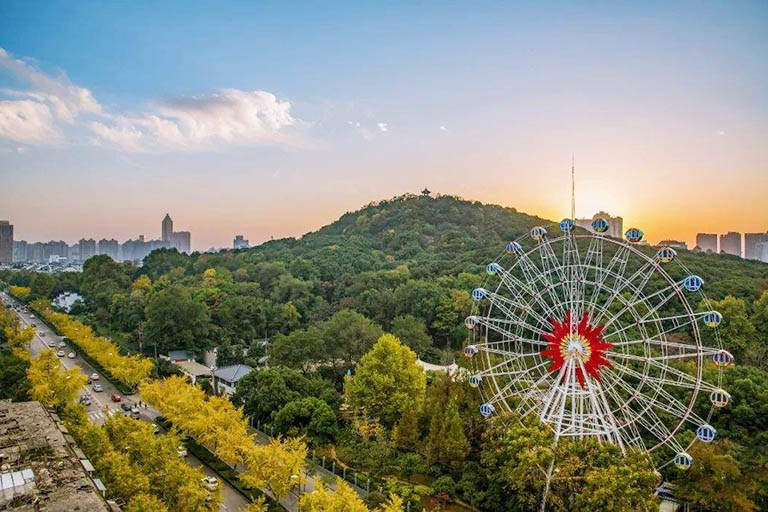 Zheshan Park
Among the more than 50 hills with different scenery in Wuhu City, the most famous is Zheshan Hill and it has become a symbol of Wuhu. Zheshan Park has many historical sites and is covered by all kinds of trees, flowers, and dotted by lakes. Some entertainment facilities such as ferris wheel are added to meet the demands of local people. What's more, it has always been an ideal place for people to overlook Wuhu City.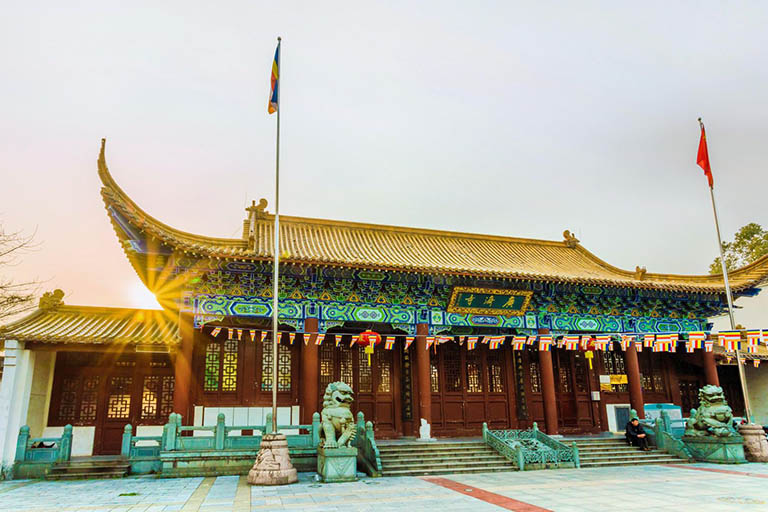 Guangji Temple
The magnificent Guangji Temple was firstly built in the Qianning Period (A.D. 894-898) of Tang Dynasty. Following the 88 stairs, you can visit Tianwang Hall, Yaoshi Hall, the Great Buddha's Hall, Dizang Hall and Guangji Temple Pagoda. Here you can worship Maitreya Buddha, Weituo Buddha, Bodhisattva of Medicine, etc. Guangji Temple is renowned as "Little Jiuhua" and is a national key temple of Han Buddhism.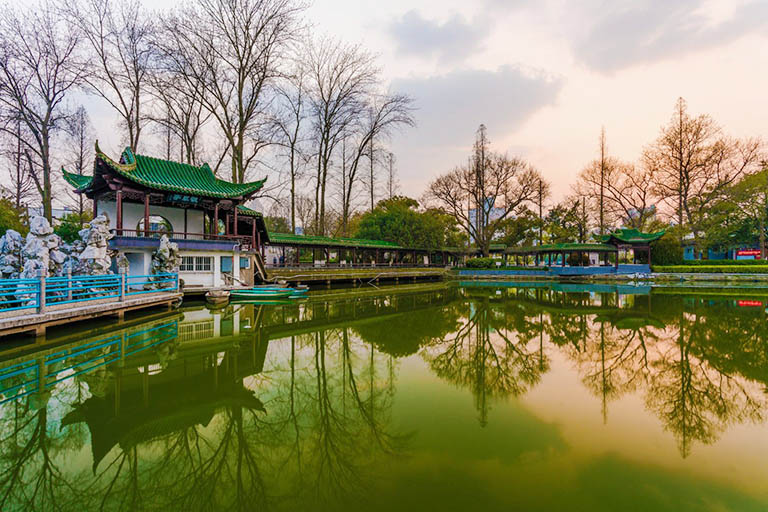 Jinghu Park
Jinghu Park is composed of two parts: the big mirror lake (also called Taotang) and the small mirror lake (also called Wangjiatian). Jinghu in Chinese means mirror lake. It gets the name because of its clear water and round shape. Jinghu Park is located in the center of the city, adjacent to the most prosperous Wuhu Zhongshan Road Pedestrian Street and Jiuzi Square. It is an ideal place to take a leisure walk.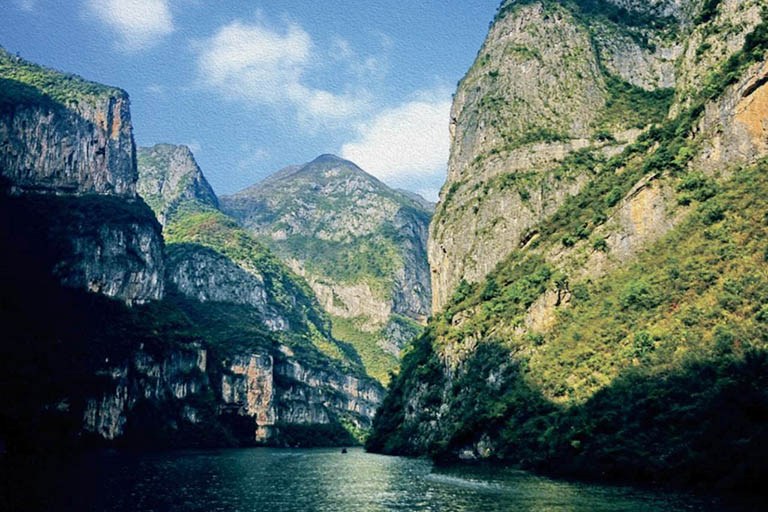 Wuhu Tianmen Mountain
Located on the Yangtze River in the northern suburb of Wuhu City, Tianmen Mountain is famous for a poem written by Li Bai (A.D. 701-762), one of the greatest poets in China's history. Tianmen Mountain is also called Dongliang Mountain. It stands out in the river opposite Xiliang Mountain with Yangtze River running through. Seen from the distance, they are like the two eyebrows of a young lady.
Wuhu Weather and When to Go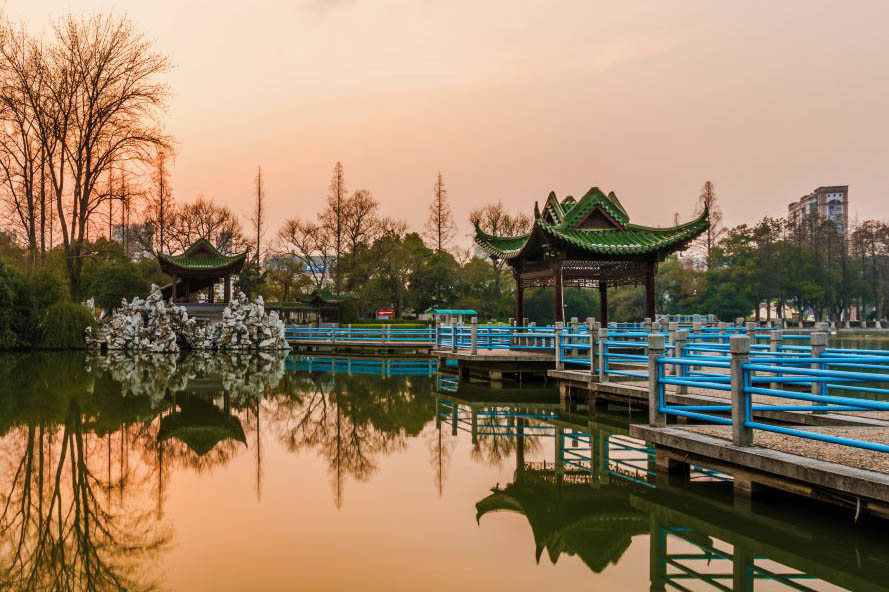 Wuhu City has a subtropical humid monsoon climate, which is characterized by abundant sunshine, plentiful rainfall and four distinct seasons. The annual average temperature is 15-16 ℃, and the annual sunshine hours are about 2000 hours. The hottest month is July or August with an average temperature over 28 ℃, but the highest temperature can be close to 40 ℃. The coldest month is January with an average temperature of only 3 ℃. But sometimes it will drop below 0℃. Wuhu has an annual rainfall of 1200 mm, but the precipitation is unevenly distributed, mainly concentrates in spring, plum rain season (usually June to July) and early winter. The frost free period is 219-240 days a year.
Best time to visit: Endowed with both natural and cultural sites, Wuhu is suitable to visit all year round. But to ensure a more pleasant trip on a comfortable day, the best time to visit is in spring (March to May) and autumn (September to November).
Wuhu Transportation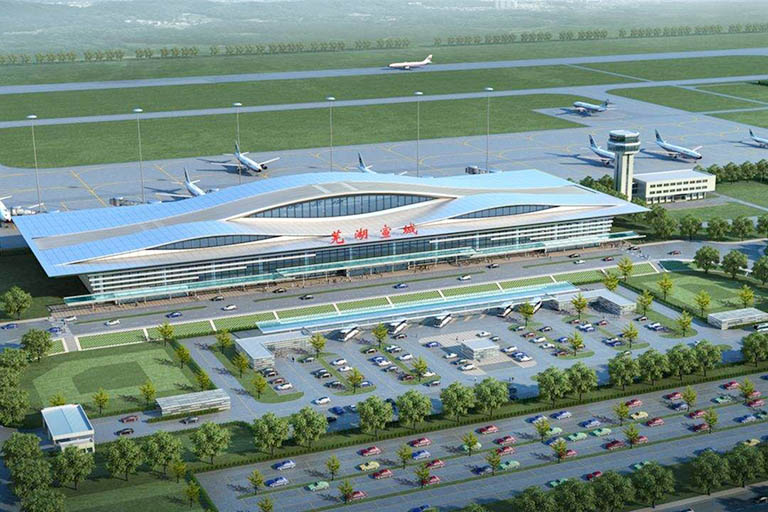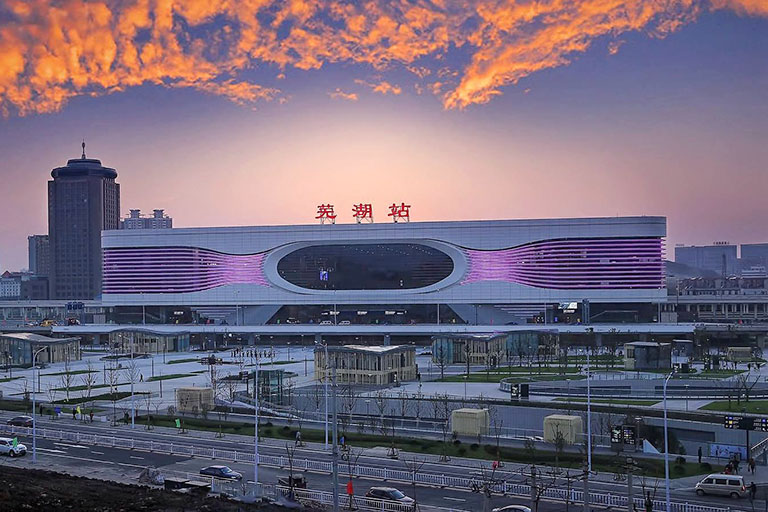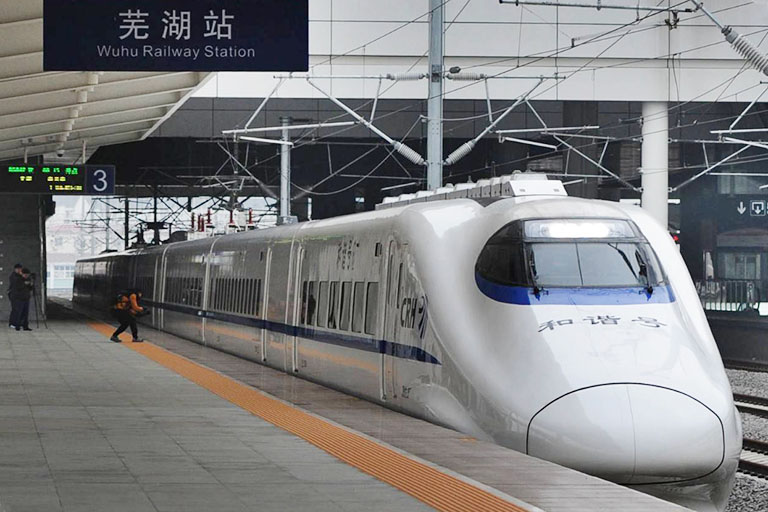 How to Get to Wuhu
Wuhu is now usually connected with other cities by train. The airport is expected to open in 2021, so it will be more convenient to get to Wuhu in the future.
Flights to Wuhu: Wuhu Xuanzhou International Airport (芜湖宣州国际机场 IATA:WHA) is about 40 km from Wuhu downtown and 20 km from Xuancheng downtown. It is planned to be put into operation on June 30, 2021. At that time, you can take a flight to Wuhu from main cities in China such as Beijing, Nanjing, Shenzhen, Guangzhou, Chengdu, Xian, Chongqing, etc. in about 2 hours. It will also gradually open international flights to Japan, Korea, Thailand, Singapore and other Asian countries.
Trains to Wuhu: You can take a high speed train to Wuhu from many cities in China such as Beijing (4.5h), Shanghai (2.5-3h), Hangzhou (1.5h), Suzhou (2-2.5h), Guangzhou (7.5h), Hefei (1h), Chizhou (1h), and normal train from Huangshan (4.5h).
How to Get around Wuhu
The attractions in Wuhu can be reached by bus or taxi. Subway is not available in Wuhu. If you want to extend your trip to the nearby Yellow Mountain and Mount Jiuhua, you can chart a car or take a train to get there.
Wuhu to Yellow Mountain: Yellow Mountain is in Huangshan City, about 190 km from Wuhu. You can charter a car (about 3 hours) to get to Yellow Mountain or take a long-distance bus (about 3.5h) at Wuhu Bus Station to get there. Trains are also available. You need to take a train (4.5h) from Wuhu to Huangshan City first, then travel another 60 km (1 hour by car) to the scenic area.
Wuhu to Mount Jiuhua: Mount Jiuhua is in Chizhou City, about 140 km from Wuhu. Apart from charting a car (about 2h), long-distance bus (about 3.5h) is also available and Jiuhuashan Bus Station is only hundreds of meters away from Mount Jiuhua Scenic Area. Or you can take a high speed train (1h) to Chizhou first. At Chizhou Railway Station, there will be tourist bus to Mount Jiuhua and it takes about 40 minutes.
Where to Stay in Wuhu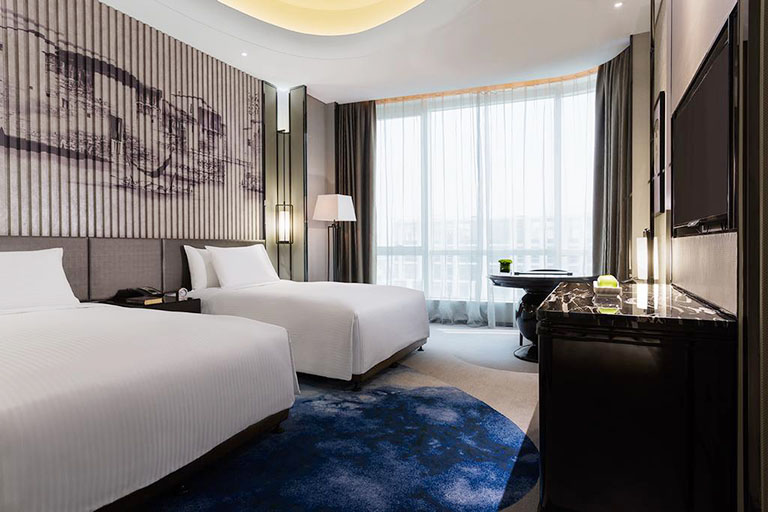 If you are to stay a night in Wuhu, it is most recommended to stay in the downtown area near Jinghu Park. In this area, you will have more choices of the well-equipped 5-star hotels such as Wanda Realm Hotel Wuhu (芜湖富力万达嘉华酒店) and some comfortable 4-star hotels. You can also easily get to the train station, bus station, Jiuzi Square and Zhongshan Road Pedestrian Street. It is also very convenient to get to the attractions in Wuhu.
Note: As Wuhu is not an international city like Beijing or Shanghai, the hotels may be not as luxurious as the ones in those cities and the standards of star-rated hotels are different. To ensure a comfortable stay, 5-star or 4-star hotels are more recommended.
Wuhu Maps
For a better understanding of the location of Wuhu City and how to travel in Wuhu, here we provide some Wuhu Maps for you, including Wuhu China Map, Wuhu Anhui Map and Wuhu City Google Map.
Top Destinations near Wuhu
Apart from Wuhu, we strongly suggest you travel two other destinations in Anhui, namely Huangshan (with picturesque Yellow Mountain and many charming old villages) and Chizhou (with sacred Buddhist mountain - Mount Jiuhua). Besides, it is also recommended to extend your Anhui tour to other destinations of Yangtze River Delta area such as Hangzhou, Suzhou, and Nanjing.
Other Popular Destinations in China
China is vast and diverse. You can choose your favorite destinations among more than 70 tourist destinations and regions, like Beijing, Shanghai, Xian, Chengdu, etc. Following are 4 popular destinations you may be interested in. Check all destinations in China.
Chinese Name: 芜湖
Chinese Pinyin: wú hú
Population: 3,778,000
Language: Mandarin & Wuhu Dialect
Tel Code: 0553
Zip Code: 241000
Time Zone: (UTC+8)
Plan Your Wuhu Tour
Wuhu is a time-honored city with both cultural and natural beauty. It usually needs 2 days to explore the highlights of Wuhu. You can spend a day touring around the main attractions in and near Wuhu downtown such as Jiuzi Old Town to experience the Hui merchant culture, Zheshan Park to have a full view of Wuhu, Guangji Temple to worship the Buddha, etc. On the other day, have fun in Maren Mountain Scenic Area. Take an exciting walk on the glass bridge or drift down while appreciating the mountain scenery.
On the vast land of Anhui, to extend your Wuhu trip, you can pay a visit to the capital city Hefei, admire the magnificent Yellow Mountain and various Hui villages such as Hongcun and Xidi in Huangshan, and take a Buddhism pligrimage to Mount Jiuhua in Chizhou, or you can go further to cities outside Anhui Province like Beijing, Shanghai, Hangzhou, and Suzhou.
Recommended Tours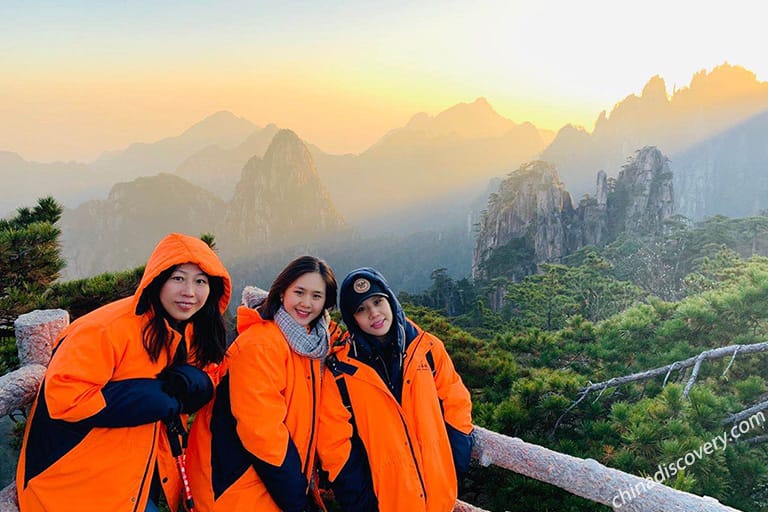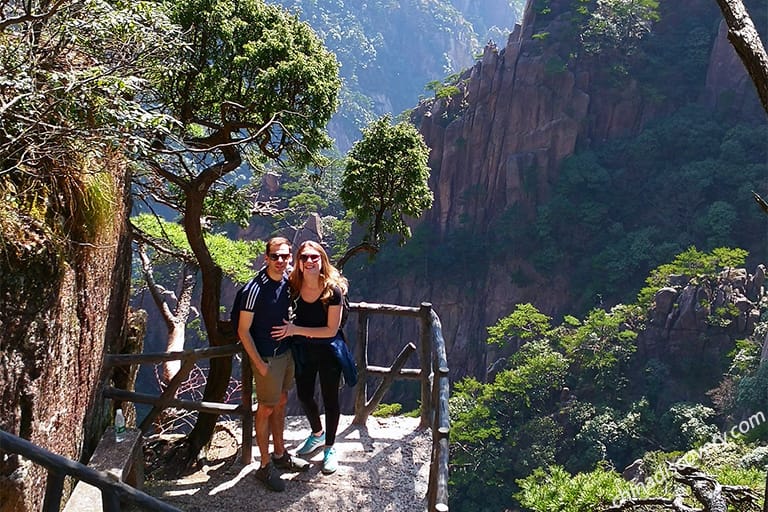 More Anhui Tours