Why Visit Xixi National Wetland Park
About 5,000 years ago, the flash flood occurred and the water rushed into the lowland part and became a lake. In the periods of drought, the lake disappeared and a wetland appeared. In Song Dynasty, the government built Xixi Town near the wetland, so Xixi Wetland came into being.
Located in the west of Hangzhou City and occupying about 10 square kilometers, Xixi National Wetland Park, or called Xixi Wetland Park, is China's First National Wetland Park combining urban life, ecological resources and culture wetland together. For its rich ecological resources, amazing nature scenery and brilliant culture, the Xixi National Wetland Park is recognized as an International Important Wetland in 2009 and National AAAAA Scenic Area in 2012. In addition, it was listed in Three Wonders in Western Hangzhou with West Lake and Xiling Society of Seal Arts. Many streams, moderate temperature and fresh air in Xixi National Wetland Park attract birds and animals to reside here. The emperors and officials as well as ancient poets also like to visit this idyllic garden, leaving lots of poems and articles to describe the beauty of the Xixi Wetland Park. Some scenes of famous Chinese film If You Are the One (非诚勿扰) were shot here.
Layout of Xixi National Wetland Park
Xixi National Wetland Park is divided into three parts - east part, central part and west part. The east part is the main tourist area of this park. It enjoys more natural scenery spots like Hazy Fisher Village (烟水渔庄), Anchorage Thatching (泊庵), Deep Pool Mouth (深潭口), Xixi Plum Villa (西溪梅墅), Plum and Bamboo Manor (梅竹庄园), Xixi Water Atti (西溪水阁) etc., and you could go sightseeing by boats or electric bicycles. Visiting west part of Xixi National Wetland Park enables you have a cultural Tour because it enjoys a village for experiencing folk culture.
Xixi National Wetland Park Highlights
Three Causeways
Fu Causeway (福堤):Fu Causeway (Fu literally means "good fortune" in Chinese) stretches 2300 meter from south to north. Being an ecological and cultural causeway, it connects the main attractions together and links with 6 Fu Bridges.
Green Causeway (绿堤): Just as the name suggests, Green Causeway is located in a sea of green plants. Here you can have a look at Xixi Wetland Plants Garden which enjoys strange aquatic grasses and wild flowers. It is an important site for some experts to research.
Longevity Causeway (寿堤): Longevity Causeway is the longest causeway of the three with length of 3600 meters. Standing in this causeway offers you a good view of densely crisscrossed watercourses and century-old wooden wharf.
Hazy Fisher Village
With dense weeping willow, mist-shrouded water and smoke from the chimney constituting a charming hazy picture, this small village got its poetic name of Hazy Fisher Village. Walking along the road on the bank, you can smell a slight fragrance given off by some unknown plants. Visiting one of the riverside teahouses is suggested, relax yourself and have a good sight of this quiet place over a cup of tea. In this village, you could have a deep exploration of Hangzhou Silk, farming, fishing, local wedding and folk custom because there are special exhibition halls for you. Restaurants are available there.
Anchorage Thatching
Boarding on the wooden wharf and walking through a path in the bamboo forest, a small hut on a straw hat comes into your eyes. This hut is Anchorage Thatching which was the residence of Zhou Xiaozhi, a hermit in the late Ming Dynasty and early Qing Dynasty. He concentrated on reading without any appetite to seek fame or official ranks. He and his two brothers live in a simple life and enjoy reading and farming. In that time, this hut was hidden in the thick reeds. Looking from above, the thatching looks like an island floating on the water.
Xixi Plum Villa
Xixi Plum Villa is a group of traditional farmhouses situated in the southwest part of Xixi National Wetland Park and near Autumn Snow Thatching. Plum blossom of Xixi has been well-known from ancient times. In South Song Dynaty, many literati always came here and had fun. A small wooden house in the manor has tea, coffee and other drinks for sale.
Xixi Thatched Cottage
Xixi Thatched Cottage is a small but exquisite yard. The ground is scattered with green grass and surrounded by bamboo fence. The white wall is shaded by the verdant bamboo. A peaceful picture made by old well, stone seat, grape trellis and swallows unfolds in front of you. The former owner of this cottage is a famous litterateur called Feng Mengzhen (冯梦真).
Fu Causeway in the Twilight
Pictureque Hazy Fisher Village
Peaceful Anchorage Thatching
Xixi Plum Villa
What to Do at Xixi National Wetland Park
Watching Dragon Boating Event
In the Dragon Boat Festival (Chinese Lunar 5th May), nearby villagers will gather in Xixi National Wetland Park and join a great event. It is said that Emperor Qianlong once watched the performance and dragon boating in Xixi Wetland Park and praised "What a Grand Event". As a result, Hangzhou people last this event for more than 500 years. Traditional opera, Kungfu Show, dragon dancing and lion dancing will take place in the ancient stage of the park. Most highlight of that day is the dragon boating competition. Hundreds of villagers will take part in the competition and hundreds of the boats shuttling back and forth.
Appreciating Flowers in Xixi Flower Fair Festival
Xixi Flower Fair Festival is a big day in Xixi National Wetland Park. It occurs in Chinese lunar 15th February. According to the legendary, Flower Faery will come down to earth in that day and color the flowers and decorate the charming Hangzhou. In order to share the beauty of flowers, Flower Fair Festival is held in every year. With the theme of "love, happiness, beauty and charm", a lot of activities will be launched. While you are savoring a mass of flowers in different color and different shapes, you can also have a good time with your family and friends.
Beautifully-designed Dragon Boats
Colorful Flowers during Flower Fair Festival
Recommended Visiting Routes of Xixi National Wetland Park
Cruise Tour: It is suggested you start your wetland tour from Zhoujia Wharf. Taking an electric boat or sculling boat to Xixi Plum Blossom Villa, you will experience a rural amorous feeling. Then transfer to Xixi Water Pavilion to have an overlook of this huge wetland. On your way to your next destination - Autumn Snow Thatching, you could across the reeds. At last, get back to Zhoujia Wharf and tour ends. The whole jurney covers about 2 hours
Walking Tour: Walking is a good way to explore Xixi National Wetland Park deeper and stretch your legs. Start from Zhoujia Village and walk to Plum and Bamboo Manor. Then turn to Anchorage Thatching and Hazy Fisher Village to feel the local folk custom. Crossing Xiaogu Bridge, you will get to Hezhu Street. After replenishing energy in Jiangjia Market, go to Hongzhong's Former Residence, Lihang Temple, Wondering Stream Hut, Gaozhuang, Yulin Town. After that, visit the top attractions Xixi Water Pavilion, Xixi Xixi Plum Villa, Xixi Thatched Cottage and left from Zhoujia Village. The walking route covers about 8 km and you need to cost 4 hours to finish it.
Xixi National Wetland Park Electric Boat
Xixi National Wetland Park Location & Transportation
Where is Xixi National Wetland Park
Xixi National Wetland Park is located in the west part of Hangzhou city, about 20 kilormeters away from Hangzhou city center and 12 kilometers away from the Northeast Gate of the West Lake in Hangzhou.
Hangzhou Xiaoshan International Airport to Xixi National Wetland Park: 43.5 km and 1.5~2 hours by car
Hangzhou East Railway Station to Xixi National Wetland Park: 19 km and 1 hour around by car
Hangzhou Railway Station to Xixi National Wetland Park: 14.5 km and 1 hour around by car
West Lake to Xixi National Wetland Park: 12 km and 1 hour around by car
Lingyin Temple to Xixi National Wetland Park: 8 km and 0.5 hour around by car
How to Get to Xixi National Wetland Park
There are city buses that can take you to Xixi National Wetland Park. However, those buses will waste you a lot of time on the way to get there. Normally, taxis or private cars are better and more popular for visitors.
Travel Xixi Wetland Park with China Discovery
If you want to get rid of hustle of public transportation and troublesome navigation, you can book a private tour package which covers sightseeing, dining and transfer from us. Our local tour guide and driver will escort you to Xixi National Wetland Park with speed and convenience, and take care of all the details. You just need to focus on sightseeing.
How to Travel around Xixi National Wetland Park
Three kinds of transportation are available for visiting Xixi National Wetland Park.
Electric Boat: There are four wharfs in the park and you can buy ticket in the tickets office of each wharf. The boat will have a stop in every wharf so you can get off to enjoy the beautiful scenery. You have only four opportunities to get on the boat. The ticket is CNY 60 per person.
Sculling Boat: Renting a sculling boat, you will have a rather free tour and you are able to choose to turn to each direction you want. The rental fee of one sculling boat is CNY 100 per hour and one boat can hold up to 6 people.
Electric Bike: Tourists are not permitted to take their own bikes to the park, but you rent one electric bike inside the scenic area. However, there is no specific biking trail there. And compared with biking, boating and walking are more popular.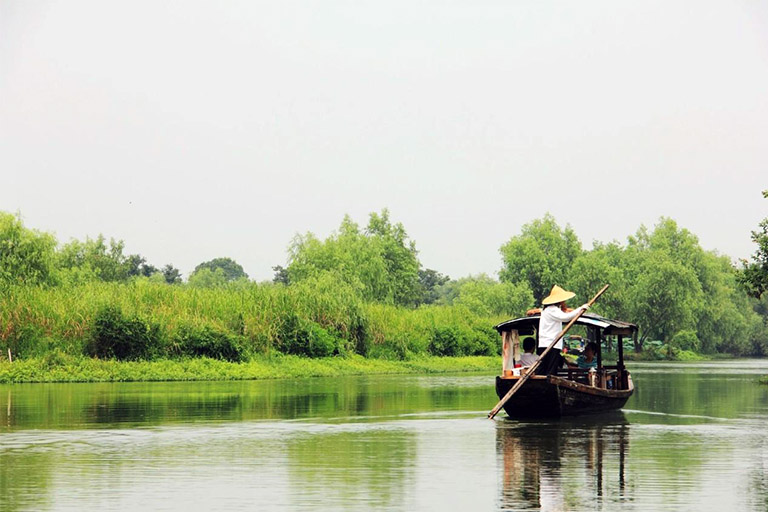 Xixi National Wetland Park Sculling Boat
Warm Tips for Xixi National Wetland Park
Long-sleeved clothes are necessary to prevent mosquito bite. Because the tree branches are rather low in Xixi National Wetland Park any might scratch your umbrella, hat is more advisable to protect your from rain or strong sunlight.
The park will stop selling ticket (for park admission and boat tickets) at one hour before the close time.
How to Plan a Hangzhou Tour
Things to Do in Hangzhou: West Lake, Lingyin Temple, Longjing tea Plantation, Hefang Street, Xixi National Wetland Park, China National Tea Museum, China National Silk Museum…
How to Get to Hangzhou: International flights from Singapore (5 hrs.), Seoul (6.5 hrs.), etc., domestic flights from Guangzhou (2 hrs.), Beijing (2 hrs.), etc., or high speed trains from Shanghai (1~2 hrs.), Suzhou (1.5~3 hrs.), Huangshan (1.5~2 hrs.), etc.
Best Time to Visit Hangzhou: all year around
Usually, visitors spend 2 days around to enjoy a classic Hangzhou tour to visit the West Lake Scenic Area, including the amazing West Lake, Lingyin Temple, Longjing Tea Plantations, etc. If you want an in-depth Hangzhou tour, you can also pay another half day or so to visit Xixi National Wetland Park, one day around to Beijing-Hangzhou Grand Canal, or one day or so to Thousand Islands Lake, etc. Check all Hangzhou Tours >>
☛ 2 Days Essence of Hangzhou Tour
☛ 3 Days Classic Hangzhou Tour Plus Tea Plantation Exploration
Also, you can spend 1 day to take a side trip to the nearby water towns like Wuzhen and Xitang in Jiaxing, 2~3 days to Putuoshan - one of the four sacred Buddhist Mountains in China, or 1 day to the popular Nanxun Old Town in Huzhou. Check more about Zhejiang Tours >>
☛ 3 Days Best Hangzhou Tour with Wuzhen Water Town
Besides, compared with just travelling Hangzhou, most of the visitors prefer to travel the metropolis Shanghai, Suzhou Gardens and Hangzhou Lakes in One Go! Such an amazing tour will take 5~6 days.
☛ 3 Days Hangzhou & Suzhou Beauty Tour by High Speed Train
☛ 5 Days Shanghai Hangzhou Suzhou Highlights Tour
Some visitors also ride a high speed train to Huangshan to visit the world-famous Yellow Mountain. A Hangzhou Huangshan tour needs about 5 days around.
☛ 5 Days Yellow Mountain Tour from Hangzhou
Have your preferences? Please feel free to tell us your likes and let our professional travel consultants customize a personal tour for you!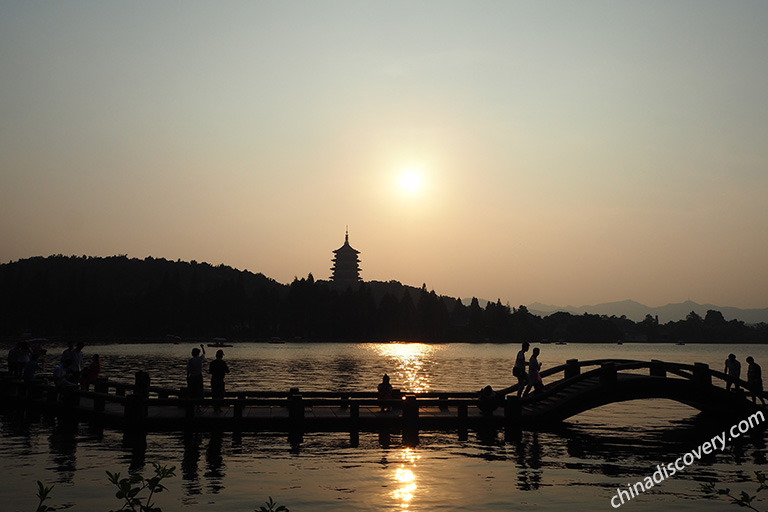 Hangzhou West Lake Summer Sightseeing
Our Customers visited Meijia Dock Longjing Tea Plantation, Hangzhou
Get Inspired by Real Travel Stories of Our Customers
Since 2012, we China Discovery have helped numerous customers to visit Hangzhou and surroundings. With our fully-inclusive private tour packages, all of our customers enjoyed their trips to the West Lake, Lingyin Temple, etc. Some of them kindly shared their precious photos and stories about their Hangzhou journey, just get inspired now.
"Impression Show is a must see when visiting Hangzhou…" - shared by Nguyen (Read her entire travel story: The Pursuit of Natural Beauty with the Beloved one - 14 Days Beautiful China Exploring Tour)
"This last night in Hangzhou led us to explore a different side of West Lake, vastly changing our erstwhile bland impression of the famed tourist site…" - shared by CS from Singapore (Read her entire travel story: Delightful Journey to Poetic Jiangnan Area)
Besides the wonderful travel stories, many customers who visited Hangzhou with China Discovery also send us their first-hand feedbacks about their trip, feel free to read the Hangzhou Reviews and learn what they say about their experience. If you want to start your Hangzhou tour now, don't hesitate to contact us.
More about Zhejiang Travel Guide
Recommended Hangzhou Tours
Top 3 Hangzhou tours chosen by most customers to explore Hangzhou in the best way. Check the detailed itinerary, or tailor your own trip now with us.
3 Days Best Hangzhou Tour with Wuzhen Water Town

Hangzhou / Wuzhen
5 Days Yellow Mountain Tour from Hangzhou

Hangzhou / Huangshan
Start planning your tailor-made holiday to China by contacting one of our specialists. Once inquired, you'll get a response within 0.5~23.5 hours.
Customize a Trip
Have a question? Get answers from our travel experts or guests
Your Question:

Your Name:

Your Email: