Brief Introduction about Qiangtang River Tidal Bore
The spectacular Qiantang River Tidal Bore is known as one of the largest tidal bores in the world. In a year, there are about 120 days to watch tidal waves which the largest is on the eighteenth day of the eight month on Chinese lunar calendar (during Chinese Mid-Autumn Festival). Watching tidal bore has been a great tradition in Hangzhou for over 2000 years' history. Starting from Han Dynasty and blooming in Tang and Song periods, on the eighth month of the lunar calendar, people have gathered along the shores of Qiantang River to witness the waves of its famous bore tide. As early as the Northern Song Dynasty, the famous poet Su Shi praised "Aug. 18 tidal waves, the magnificent in the world" (八月十八潮,壮观天下无).
Why Qiantang River Tidal Bore is Formed?
Qiantang River, also called Zhe River, originates in the border region of Anhui and Jiangxi provinces. It runs for 459 kilometers through Zhejiang, passing through the capital city – Hangzhou and Yanguan Town, Haining City before flowing into the East China Sea via Hangzhou Bay.
The forming of Qiantang River is influenced by principle of universal gravitation, the shape of the bayou, riverbed, hydrology, climate, etc. On the first day and fifteen day of every lunar month, especially the eighteenth day of the eighth month of Chinese lunar calendar, the sun, moon and earth are located more or less on a line in space. Hence, the tide generating force reaches up to the largest. Another reason is that the Hangzhou Bay is trumpet-shaped. The inside part of the bayou is very narrow while the outer part can be as wide as 100 kilometers. When the seawater flows to the bayou, it suffers more restriction from the narrowing banks as it goes further to the inner part. The seawater is forced to rise higher and higher. In addition, the water of the Qiantang River is also held back as it tries to empty into the sea. Therefore, the water level is increased and an upright water wall is formed. More seawater joins together to create more water walls, stirring up one great tide after another. Besides, it blows southeast wind or east wind along Zhejiang's coastal area. It makes the tidal bore stronger for the direction of the wind is similar with the direction of the tide. The highest tidal bore can reach up to 9 meters (30 feet) high.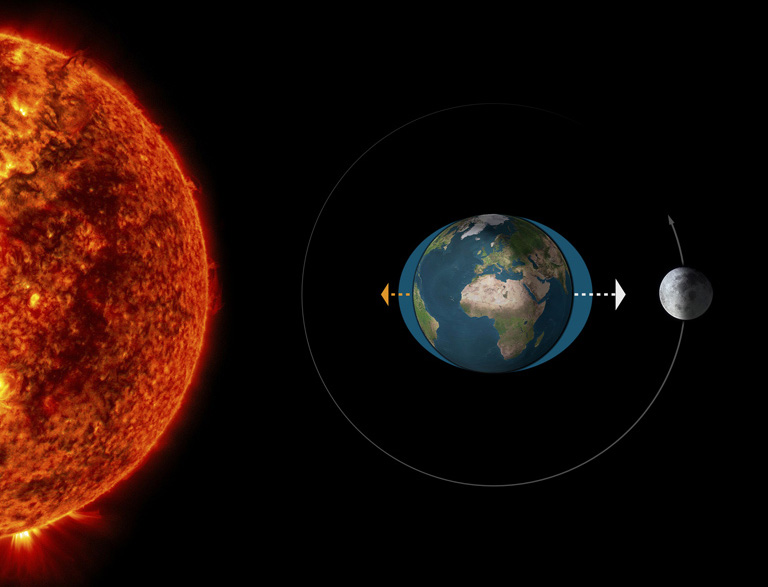 The Sun, Moon and Earth on a line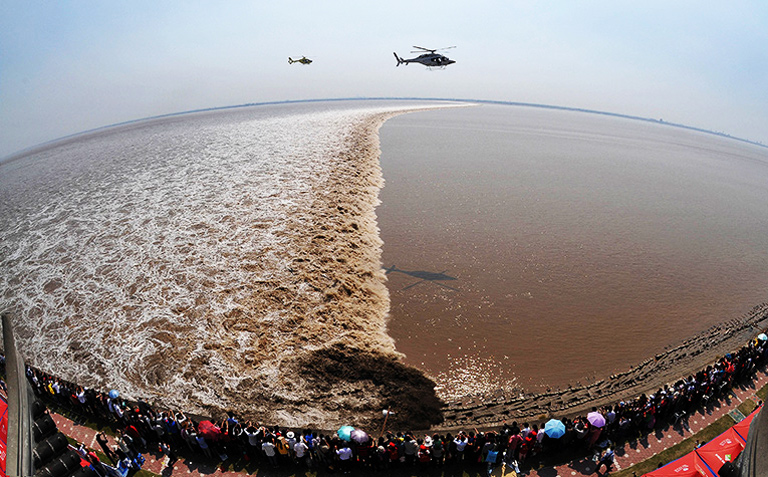 Qiantang River Tidal Bore
Best Time to Watch Qiantang Tidal Waves
To watch Qiantang River tidal waves, travelers can come to Qiantang River on the first, second , third, fourth, fifth, fifteenth, sixteenth, seventeenth, eighteenth, nineteenth and twentieth day of each Chinese lunar month. In total, there are about 120 days with tidal bores while the largest is on the eighteenth day of the eight month on Chinese lunar calendar. Travelers should arrive half an hour before the report time to wait for the tide which is usually at 11:45 to 14:15. (For tidal time changes everyday, please ask your tour guide for the exact time or check the information reported by the tourist sites.)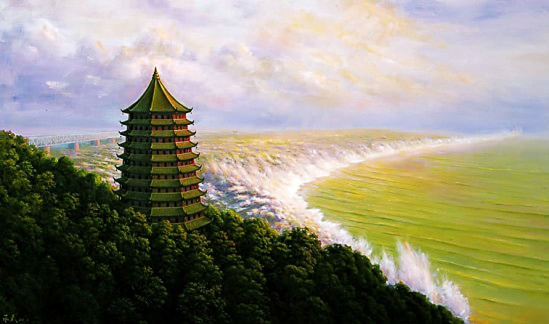 Liuhe Listening to the Wave Sound
Best Sites to Watch Qiantang River Tidal Bore
Haining City, about 50 kilometers from Hangzhou, is the most recommended city to watch Qiantang River autumn tide. There are three best locations in Haining – Haitang, Babao and Laoyanchang.
The first location is Haitang, located in the southeast of Yanguan Town. The tide features "Silver Lined Tide" (一线潮) with pageantry spectacularity. When it begins to arise far away, it appears in a silver thread, but as it gradually approaches, it becomes a wall of jade, a snow-laden ridge, bordering the sky on its way. Its gigantic roar is like thunder as it convulses, shakes, dashes and shoots forth, swallowing up the sky and inundating the sun, for its force is supremely vigorous.
The second location is Babao, about 8 kilometers east of Yanguan Town. Travelers can see two kinds of tidal waves striking each other violently. For the different terrain, the south bank tide is quicker than the north bank tide. The south tide is striking the north tide at the right time, plumes of water flew into the air and splashed up to a height of several meters with huge sound.
The third location is Laoyancang, about 12 kilometers west of Yanguan Town. The tide features "Returning Tide" (返头潮). Here, travelers can usually watch the tidal waves at 9 meters and 650-meter in length which seems like a huge arm making vigorous effort to turn the situation. When the tide rushing to "Dingzi Dam", it suddenly becomes a lion springing, caused numerous of waves. At the same time, the tide turns its direction running to the bank with an extraordinary roar of anger, making views run away from the bank.
Besides the above three locations, there are many other locations to watch tidal bores, like Liuhe Pagoda, Jiuxi, Nanxing Bridge, City Urban Balcony, Sanbao, Qibao, Xiasha Bridge, Xiaoshan Tide Watching Town in Hangzhou.
How to Get There
To see tidal bore in Yanguan Town, travelers should first reach Haining City and then take bus to Yanguan Town. In Hangzhou Xiaoshan International Airport, there are airport shuttle bus taking you directly to Haining around 1 hour. When arrived at Haining Passenger Tourist Center, you can take bus to the exact location.
Travel with China Discovery
If you want to get rid of hustle of public transportation and troublesome navigation, you can take a private tour package which covers sightseeing, dining and transfer from us. Our local tour guide and driver will escort you to see Qiantang River tidal bore with speed and convenience, and take care of all the details. You just need to focus on sightseeing.
If you have more questions about Qiantang River tide, please feel free to contact us and our professional travel consultants are here ready to help!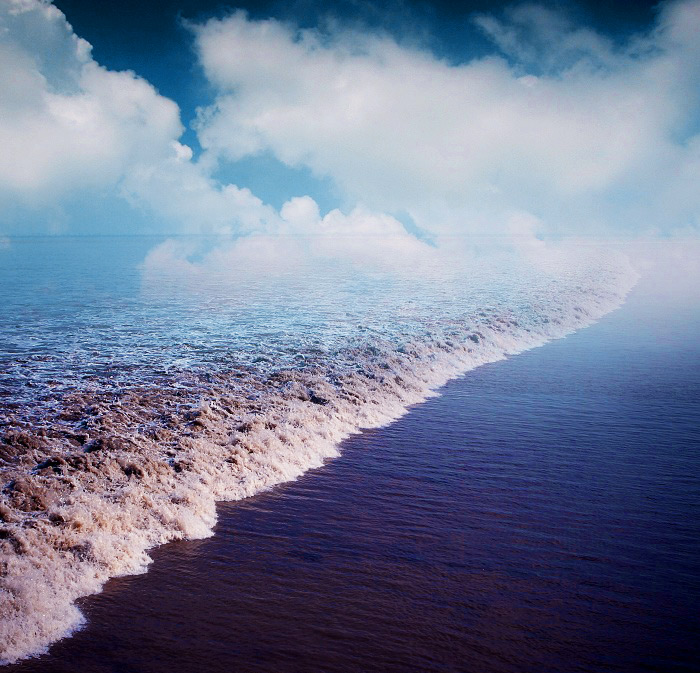 Watch Silver Lined Tide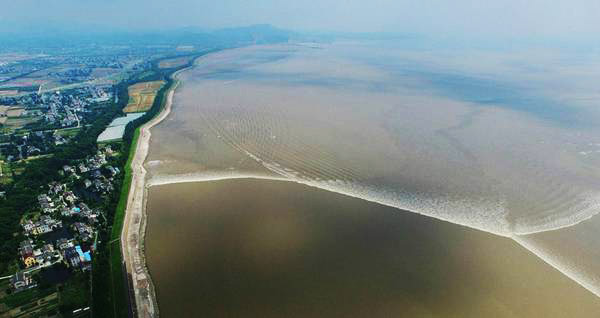 Two Tides meeting and striking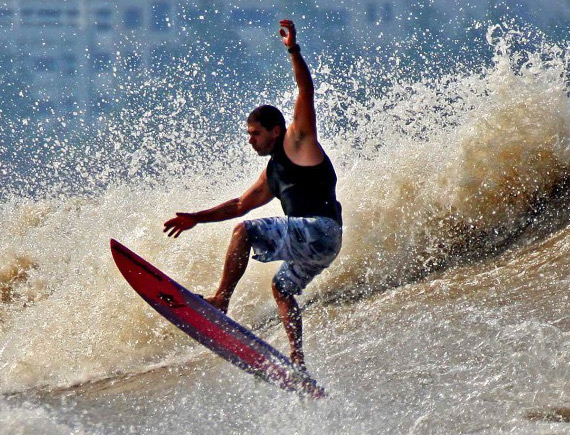 Have fun with tide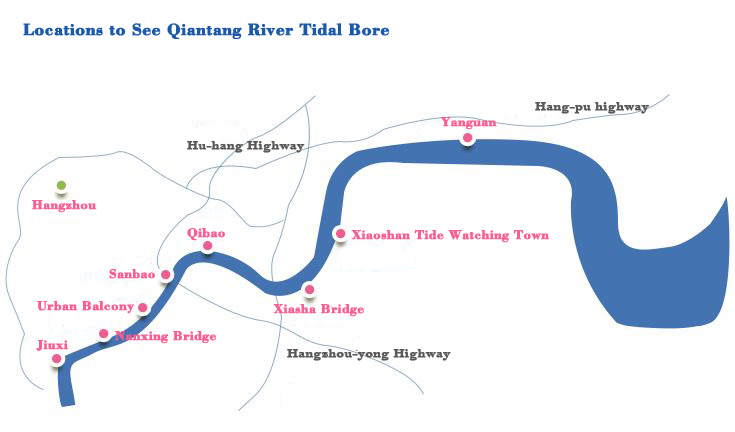 Click to Enlarge Location Map of Qiantang River Tide
The Legends of Qiantang River Bore
Our historical legends may tell you why the wave of Qiantang River is so terrific. In Spring and Autumn Period (770 BC~476 BC), Wu Zixu(伍子胥), the authoritative marshal of Wu State prevailed on King Fu Chai (夫差) not making peace with Yue State after getting the final victory in the battle between Wu and Yue States. However, some wicked men's speaking ill of Wu Zixu together with the seeming compliance and deference of Yue State made Fu Chai in complacence and arrogance. In contrast, he began to suspect the loyalty of Wu Zixu due to a series of annoying and disrespected words and alarms from Wu Zixu. Eventually, Wu Zixu was executed and thrown into Qiantang River, but before the execution, Wu Zixu declared his eternal will of hanging eyes on the wall of town to see the overthrow of Wu State, and his body was covered with cloth and floated on Qiantang River and became the wave of anger and hatred. This is the side of Wu State.
On the other hand, Official Wenzhong (文种) of Yue State donated six great solutions to helping King Gou Jian(勾践) overthrowing Wu State, but unfortunately, he was envied and suspected by King Gou Jian due to his unbelievable talents, and finally he was murdered as well in the excuse of unfounded cases. And Wenzhong's tomb was moved by wave of Zixu on a rainy night. Since then, the waves of Qiantang River turned more and more dangerous and threatened the daily life of local residents. The local people said there were two waves each time, the front is Wave of Zixu, which is stout and full of valor, and the rear is Wave of Wenzhong, which is soft but dangerous.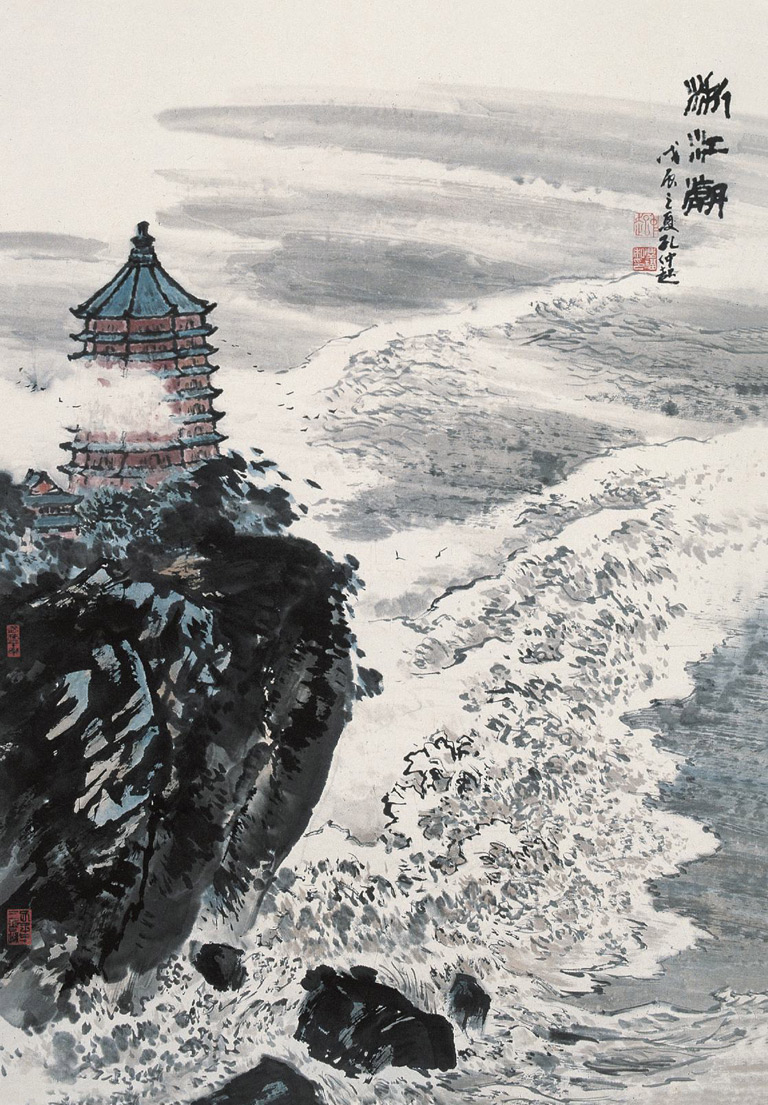 Traditional Chinese painting depicting "Qiantang River Tidal Bore"
Warm Tips
1. Safety First
Travelers should stay in a safe location to view the tidal waves. Pay attention to the warning signs, don't climb over the handrail, play around the bank with risking danger. No swimming in the river. When the waves move toward you, you should evacuate immediately.
2. Photography
Bring waterproofing equipment when shooting Qiantang River tidal waves. Arrive half an hour in advance to choose a better location for photography.
3. Night Tide Appreciation
Travelers can enjoy night tide in Yanguan County of Haining. And the tidal time is at 22:10 to 03:15. The exact tidal time of your day should be checked with your tour guide in advance. Take care of yourself when visiting in the evening.
Recommended Hangzhou Tours
Top 3 Hangzhou tours chosen by most customers to explore Hangzhou in the best way. Check the detailed itinerary, or tailor your own trip now with us.
2 Days Essence of Hangzhou Tour

Hangzhou
5 Days Yellow Mountain Tour from Hangzhou

Hangzhou / Huangshan
Start planning your tailor-made holiday to China by contacting one of our specialists. Once enquired, you'll get a response within 0.5~23.5 hours.
Customize a Trip
Have a question? Get answers from our travel experts or guests
Your Question:

Your Name:

Your Email: