Hangzhou Nightlife: Shows, Music Fountains, Walking & Bars
Wondering about how to spend your night in Hangzhou? In this poetic and romantic city, no matter when you come, you'll have a lot of choices to enjoy every moment - you can take the rare chance to enjoy awesome performance - "Most Memorable is Hangzhou" to appreciate east-meets-west elements showed in G20 Summit night gala, join in the locals to enjoy the stunning musical fountain and amazing light shows, or just take a leisure walk under the starry trees along Nanshan Road, even, you can invite your friends to the bustling Hefang Street to taste different kinds of Hangzhou specialty and feel the Southern Song Dynasty atmosphere...Or, avoid the crowds to sit quietly in Changqiao Bridge Park to immerse yourselves in the peaceful West Lake scenery and appreciate splendid Leifeng Pagoda afar.
Below are the detailed travel information about Hangzhou classic night shows, musical fountain shows, featured light shows and other nightlife activities. You are sure to enjoy the most memorable night in Hangzhou!
Type One: Hangzhou Famous Night Shows
1. Enduring Memories of Hangzhou (Impression West Lake)
Enduring Memories of Hangzhou, formerly called Impression West Lake, ranks at the top of the list of best shows in Hangzhou. This new version of Impression West Lake Show was firstly offered during the G20 Summit held in 2016. It is performed on a stage built on the surface of the West Lake, with the beautiful surrounding sceneries of West Lake as the backdrop. The fantastic and dreamlike performance, directed by Zhang Yimou (the director of the opening and closing ceremonies of the 2008 Summer Olympics in Beijing), combining Chinese and Western, classical and modern elements will amaze travelers and the whole world in an upgrading way. During the show, travelers may have the chance to enjoy "Spring River in the Flower Moon Night", "Dance of Picking Tea Leaves", "A Tale of Chinese Romeo and Juliet", "High Mountains and Flowing Waters", "Ballet Swan Lake", "Mu Country and I", "Moon Light", "The Unforgettable Jasmine Flower" and "Ode to Joy".
At that time, travelers can enjoy dancers performing in the beautifully lit background on a floating platform which seems like dancers is dancing on the surface of West Lake. In such a setting, together with wonderful music background and awesome performance, the show should be the most memorable one, helping travelers spend the most memorable night in Hangzhou.
>> Check more about Top 7 Impression Shows in China
Recommended Rating:

Time: every night at 19:30, 21:00 (It is unavailable booking during winters for the cold weather. Contact us for actual information.)
Ticket: 300 Yuan per person for ordinary ticket; 480 Yuan per person for VIP seat.
Location: No.82 Beishan Road, Xihu District, Hangzhou (the opposite of Yue Temple)
How to Get There: Buses No.7, 52, 27, 118, Y10, 103 and more can take you to "Impression of West Lake" ticket office.
Travel Tips: Tickets can be booked now and you'd better book it in advance for numerous travelers are looking forward to enjoying this amazing show.
Popular Hangzhou Tour with Optional Enduring Memories of Hangzhou Show:
2. "The Romance of the Song Dynasty" Show
The Romance of Song Dynasty is another symbolic performance of Hangzhou. The Romance of Song Dynasty, together with the O show in Las Vegas and the Moulin Rouge in Paris, are regarded as the "Top 3 Famous Shows in the World".
It is divided into six parts: "Preface: Light of Liangzhu", "Scene 1: Song Palace Dance", "Scene 2: Armored Cavalry", "Scene 3: West Lake Legend", "Scene 4: Charming Hangzhou". Through the story telling, travelers can have a rough understanding about the ancient Hangzhou culture about Neolithic Age of 8000-5000 years ago, the Southern Song Dynasty, the patriotic story about Yue Fei and his army, the legend about Chinese Romeo and Juliet - Liang Shanbo and Zhu Yingtai, the love between Bai Suzhen and Xu Xian, also enjoy the charming Hangzhou through its tea culture, silk culture and Jiangnan beautiful scenery.
Recommended Rating:

Time: three or four performance daily usually begins at 12:40~13:40, 14:00~15:00, 18:00~19:00, 19:30~20:30 and each performance lasts for 1 hour
Ticket: 300 Yuan per person for ordinary ticket
Location: Songcheng Grand Theater in Songcheng Scenic Area, No.148 Zhijiang Road, Hangzhou City
How to Get There: Buses No.334, 287, 4, 103, 318, 324, 103, 121 and more can take you to Songcheng.
Travel Tips:
1. The show includes the entrance ticket for Songcheng Scenic Area.
2. The opening of the park and performance time may be adjusted according to the number of travelers, festivals, extremely bad weather, maintenance, etc. For example, during the National Day, it may have 8 performances from noon till night.
Type Two: Hangzhou Musical Fountain & Light Shows
1. West Lake Musical Fountain
The 126-meter-long West Lake Musical Fountain takes full advantage of the vast West Lake as background that travelers can enjoy the amazing musical fountain show at the fixed time every night. Rhymed with dulcet music, the fountain is dancing over the quiet lake with willows waving in the wind.
Every night, travelers can enjoy three songs about West Lake, Chinese and Western classical music and pop music, like "The Butterfly Lovers", "Once Every a Thousand Years", "Impressions of the West Lake", "Tea Picking Dance", "Love My China", "Good Time", "Blue Danube", "My Heart Will Go On", "The Power of Love", "Scarborough Fair", "Welcome Symphony", "The Magnificent Seven", "The Prayer", "Time to Say Goodbye"…
Recommended Rating:

Time: every night at 19:00, 20:00 and each performance lasts for about 15 minutes;
Ticket: free
Location: at the lakeside near Third Park of West Lake
How to Get There: 1. Take metro Line 1 to get off at Longxiang Bridge Stop and walk 200 meters to the Third Park; 2. Buses No.271, 51, Y10, 7, 12, 59, 60, 133, 25, 4, 287 and more have a stop near Third Park which takes 5 minutes to walk here.
Travel Tips:
1.For travelers' safety, limited travelers are allowed to enter into Third Park during the music fountain show. It is suggested to get there early (at least about half an hour) to find a good place and get a seat to watch and take photos. If arriving late, travelers just can enjoy the show far away along the lakeside.
2. It may be canceled during the extremely bad weather, like thunder and lightning, thunderstorm, typhoon. Travelers can check the exact info through broadcast and LED display screen at the music fountain square.
3. Many 3 to 5 star hotels, like Hyatt Regency Hangzhou, are located near Third Park, travelers can walk from your hotel to this musical fountain. Also, there are many restaurants nearby to enjoy the famous Hangzhou cuisine and snacks that you can enrich your life after the fountain show.
2. Wulin Square Music Fountain & 3D Light Show
Wulin Square is surrounded by tall buildings, like Hangzhou Tower, Hangzhou Theater, Zhejiang Exhibition Hall, etc. The elegant fountain is designed in the style of plum blossom with eight fairy ladies in the middle.
When the music begins, water spews out from the ground and the fairy ladies seem like playing music and dancing - three of them in the middle dancing and flying over the ground and other five like standing on five petals to play classical music with Chinese lute, Lusheng, flute, Konghou intoxicatingly. With the beautiful rhyme, the fountain goes up and down and the highest can reach 36 meters. Travelers can enjoy six songs, like "William Tell Overture", "The Butterfly Lovers", "Voice of Spring", "Swan Lake", "Water Melody", "Ode to Joy".
About 20 meters on the north is the Zhejiang Exhibition Hall where you can enjoy the 3D light show at 20:00 on its wall. In 15-minute story, you will travel through 8000 years' old history till the modern Hangzhou. With perfect sound effect, travelers will hold your breath to appreciate flying huge dragon, spectacular Qiantang River Tide, Three Pools Mirroring the Moon, lotus fully blossom in West Lake, roaring high speed train…
Recommended Rating:

Time: every night at 19:30, 20:30 to watch the music fountain at Wulin Square; at 20:00 to enjoy 3D light show on Zhejiang Exhibition Hall which lasts for 15 minutes;
Ticket: free
Location: Yan'an Road, Wulin Square; northeast side of West Lake and about 2.4 kilometers from Broken Bridge;
How to Get There: 1. take metro Line 1 to Wulin Stop; 2. Buses Y8, 290, 12, 13, 133, 102, 801 and more buses can take there.
Travel Tips:
1. Wulin Square is comparatively less crowded than West Lake Musical Fountain show and Qianjiang New Town Music and Light Show. To get rid of the crowds, it is a good choice to head to Wuling Square at night.
2. On Fridays and Saturdays evenings, travelers may have the chance to see the third musical fountain show at 21:00. The situation depends on the weather, number of travelers and other factors.
3. Qianjiang New Town Music Fountain & Light Show
As the sun goes down, the Qianjiang New Town becomes dazzling and brightly which seems like the amazing night of Shanghai Bund along Huangpu River. The whole Qianjiang New Town is like a young lady putting on her evening dress, showing her grace to the public.
Qiantang New Town has 35 main buildings (like Hangzhou Grand Theater, Hangzhou International Convention Center, Hangzhou Fortune Finance Center, Hangzhou Civic Culture Tower, Wanxiangcheng, etc.) with 4G signal for the light show. This light show is themed with "City, Water, Light and Reflection" to display the essences of China, Jiangnan, Hangzhou and Qiantang New Town. The whole light show is divided into three parts - "Soul of City", "Spirit of Water" and "Reflection of Light" that every traveler can touch the brilliant culture of China and Hangzhou. To enjoy the "Spirit of Water" - Musical Fountain show, travelers should get to the Hangzhou Grand Theater. To enjoy the light show displaying on the tall buildings, travelers should climb up to Hangzhou City Balcony. The musical fountain show and light show take place at the same time.
Recommended Rating:

Time: at 18:30, 19:30 to watch the music fountain at the Hangzhou Grand Theater and enjoy light show at Hangzhou City Balcony
Ticket: free
Location: north side of Qiantang River, Southeast of Hangzhou City and about 5.1 kilometers from West Lake;
How to Get There: 1. Take metro Line 1 to Jinjiang Road to transfer metro Line 4 to Citizen Center and walk about 800 meters to Hangzhou Grand Theater; 2. Buses No.K32, K517, 809, k536, K71, k29 and more can take you to the stops near Qiantang New Town.
Travel Tips:
1.The above show time is not fixed yet and it is usually available on Fridays and Saturdays evenings. For the exact time when you are in Hangzhou, Please feel free to contact your tour guide or our professional travel consultants.
2. Since it is crowded during the show time, please mind your step when climb up and get down from Hangzhou City Balcony.
Type Three: Free Wandering at Night or Hit Hangzhou Bars and Night Clubs
1. Enjoy Sunset and Awesome Night View in Changqiao Park
It would be one of the most awesome moment when look at the sun going down from West Lake the glow shining on its golden water. The whole lake gives you a feeling of peace and joy. It will be a romantic and comfortable moment if you are with your family or friends walking slowly along the West Lake or sitting quietly in a pavilion in Changqiao Park. As the sun goes down, you can appreciate West Lake night view when the light opening in the Leifeng Pagoda area, Three Causeways, Three Islands and City God Temple and more.
2. Explore along Hefang Street
Compared with the quiet West Lake area, the glittering Hefang Street is in hustle and bustle where thousands of travelers get here to taste the local snacks (Hangzhou Streamed Bun, Beggars' Chicken, Ears of Cat, etc.), hunt for satisfying souvenirs (silk, tea, fan, scissor, etc.), involve in some interesting folk activities (throwing sandbags, etc.) and know the story about Yue Fei, a patriotic hero in the Southern Song Dynasty. Walking and exploring leisurely along the old Hefang Street with traditional buildings standing by, you are sure to travel through hundred years' history to the Southern Song Dynasty (1127~1279).
3. Take a Leisure Walk along Nanshan Road
Nanshan Road is located in the core area of Hangzhou with West Lake to its west and Hefang Street, Mount Wu, Wansong Hill to its east, linking with Hubin Road in its north and Yuhuang Road in its south. Three of the famous Ten Scenes of West Lake are located near Nanshan Road, including "Leifeng Pagoda in the Sunset (雷峰夕照)", "Orioles Singing in the Willows (柳浪闻莺)" and "Evening Bell Ringing at the Nanping Hill (南屏晚钟)".
When the sun goes down, Nanshan Road with tall plane trees standing erectly light up which turns into another starry and romantic world. You can either walk along the street, or stop to have a cup of coffee at its nearby bar, or enjoy a light walk into the beautiful parks near West Lake.
4. Hit Hangzhou Bars & Night Clubs
In addition to the light shows, music fountains and leisure night walkings, Hangzhou also offers a dizzying array of bars and night clubs for you to let off some stream after a day of sightseeing. There are cozy bars for music lovers, including jazz bars, electronic music bars, rock music bars, etc. Also, there are bistros where you will be treated with various delicious snacks and dishes in both Chinese and Western styles. Besides, there are Normally, you can find the best bars on Nanshan Road and Shuguang Road in Hangzhou. And the most popular bars and clubs include the Maya Bar, Traveler Bar, Jz Club, etc.
How to Plan a Hangzhou Tour
Things to Do in Hangzhou: West Lake, Lingyin Temple, Longjing tea Plantation, Hefang Street, Xixi National Wetland Park, China National Tea Museum, China National Silk Museum…
How to Get to Hangzhou: International flights from Singapore (5 hrs.), Seoul (6.5 hrs.), etc., domestic flights from Guangzhou (2 hrs.), Beijing (2 hrs.), etc., or high speed trains from Shanghai (1~2 hrs.), Suzhou (1.5~3 hrs.), Huangshan (1.5~2 hrs.), etc.
Best Time to Visit Hangzhou: all year around
Usually, visitors spend 2 days around to enjoy a classic Hangzhou tour to visit the West Lake Scenic Area, including the amazing West Lake, Lingyin Temple, Longjing Tea Plantations, etc. If you want an in-depth Hangzhou tour, you can also pay another half day or so to visit Xixi National Wetland Park, one day around to Beijing-Hangzhou Grand Canal, or one day or so to Thousand Islands Lake, etc. Check all Hangzhou Tours >>
☛ 2 Days Essence of Hangzhou Tour
☛ 3 Days Classic Hangzhou Tour Plus Tea Plantation Exploration
Also, you can spend 1 day to take a side trip to the nearby water towns like Wuzhen and Xitang in Jiaxing, 2~3 days to Putuoshan - one of the four sacred Buddhist Mountains in China, or 1 day to the popular Nanxun Old Town in Huzhou. Check more about Zhejiang Tours >>
☛ 3 Days Best Hangzhou Tour with Wuzhen Water Town
Besides, compared with just travelling Hangzhou, most of the visitors prefer to travel the metropolis Shanghai, Suzhou Gardens and Hangzhou Lakes in One Go! Such an amazing tour will take 5~6 days.
☛ 3 Days Hangzhou & Suzhou Beauty Tour by High Speed Train
☛ 5 Days Shanghai Hangzhou Suzhou Highlights Tour
Some visitors also ride a high speed train to Huangshan to visit the world-famous Yellow Mountain. A Hangzhou Huangshan tour needs about 5 days around.
☛ 5 Days Yellow Mountain Tour from Hangzhou
Have your preferences? Please feel free to tell us your likes and let our professional travel consultants customize a personal tour for you!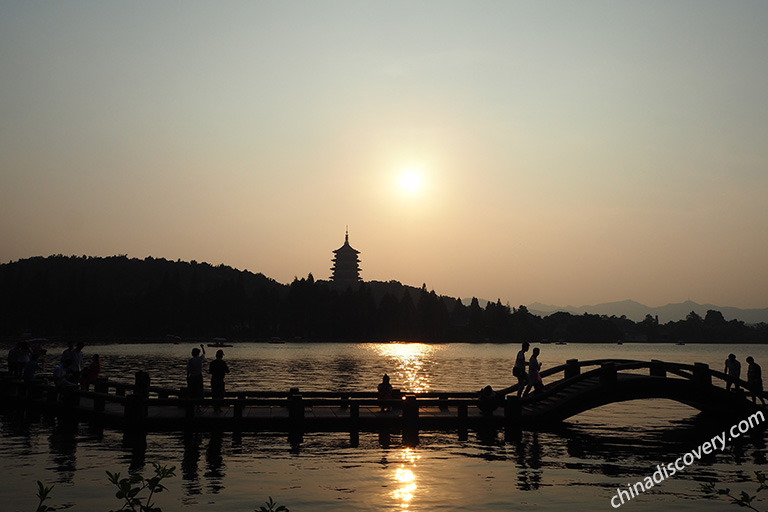 Hangzhou West Lake Summer Sightseeing
Our Customers visited Meijia Dock Longjing Tea Plantation, Hangzhou
Get Inspired by Real Travel Stories of Our Customers
Since 2012, we China Discovery have helped numerous customers to visit Hangzhou and surroundings. With our fully-inclusive private tour packages, all of our customers enjoyed their trips to the West Lake, Lingyin Temple, etc. Some of them kindly shared their precious photos and stories about their Hangzhou journey, just get inspired now.
"Impression Show is a must see when visiting Hangzhou…" - shared by Nguyen (Read her entire travel story: The Pursuit of Natural Beauty with the Beloved one - 14 Days Beautiful China Exploring Tour)
"This last night in Hangzhou led us to explore a different side of West Lake, vastly changing our erstwhile bland impression of the famed tourist site…" - shared by CS from Singapore (Read her entire travel story: Delightful Journey to Poetic Jiangnan Area)
Besides the wonderful travel stories, many customers who visited Hangzhou with China Discovery also send us their first-hand feedbacks about their trip, feel free to read the Hangzhou Reviews and learn what they say about their experience. If you want to start your Hangzhou tour now, don't hesitate to contact us.
Travel with China Discovery
If you want to get rid of hustle of public transportation and troublesome navigation, you can take a private tour package which covers sightseeing, night shows and activities, dining and transfer from us. Our local tour guide and driver will escort you to any destinations with speed and convenience, and take care of all the details. You just need to focus on sightseeing.
If you have more questions about the shows and nightlife ideas, please feel free to contact us and our professional travel consultants are here ready to help!
More about Zhejiang Travel Guide
Recommended Tours
Top 3 tours chosen by most customers to explore in the best way. Check the detailed itinerary, or tailor your own trip now with us.
5 Days Shanghai Hangzhou Suzhou Highlights Tour

Shanghai / Hangzhou / Suzhou / Shanghai
3 Days Best Hangzhou Tour with Wuzhen Water Town

Hangzhou / Wuzhen
Start planning your tailor-made holiday to China by contacting one of our specialists. Once inquired, you'll get a response within 0.5~23.5 hours.
Customize a Trip
Have a question? Get answers from our travel experts or guests
Your Question:

Your Name:

Your Email: